SendX
is an easy-to-use email service provider that helps small & medium businesses to send large volumes of bulk or automated emails to their subscribers at an affordable cost. Apart from that, it also helps marketers build landing pages and popup forms to grow the subscriber base without any coding involved. SendX is best known for its high email deliverability, which helps businesses avoid spam boxes and land their emails in the inbox. If you are a business owner or marketer sending a large volume of emails and need help switching to SendX, they will help you migrate for free! So let's get to know more about Sendx.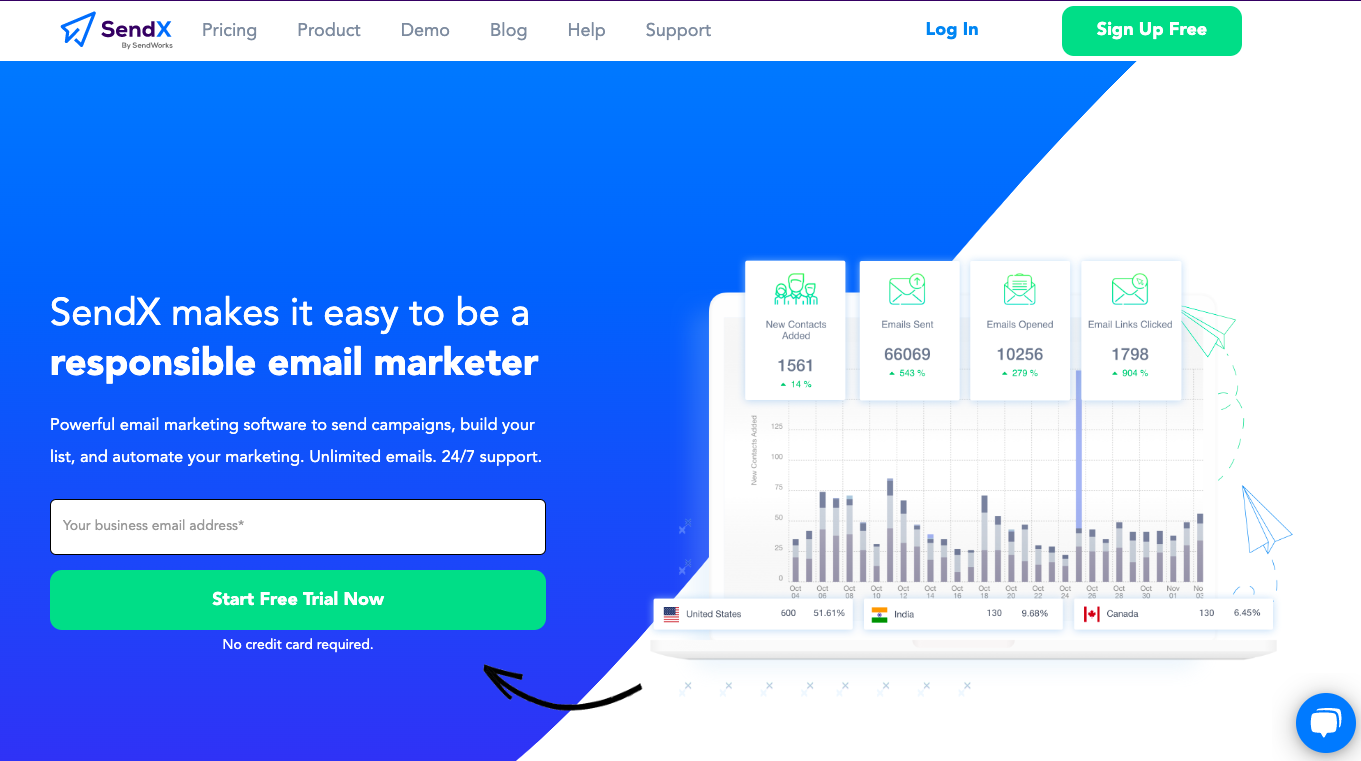 SendX's value prop is that they are not here to police what you send to your list and mention this, particularly on their website:
"We're here for the good guys building legitimate subscriber bases — regardless of which industry you're in, including ones who get unfairly banned like cryptocurrency & blockchain, gambling, cannabis, supplements, affiliate marketing, and so many others.
If you're looking for black hat tricks or sneaky ways to get your email into your victim's inbox, this is not the platform for you. But if you're an experienced & responsible email marketer working towards becoming known, liked, and trusted, we'll make sure your emails hit the inbox every time."
The focus of the tool is to help email marketers improve their email deliverability and build better relationships with their leads or customers. This would help them generate more revenue from using SendX without them having to do much work because the software is efficient. SendX can send emails at times when people are more likely to open them or act on them. It can have dynamic content based on things that people did in the past.
How Did the Founders Come Up With SendX?
While working on a marketplace idea, the founders got introduced to the world of email marketing & lead generation. This led to trying out many tools in the market, but they were disappointed in how complex & expensive the tools were. So they started building SendX – an intuitive email marketing platform that gives you all the necessary features without burning a hole in your pocket. SendX was initially just a tool to create simple HTML emails and send them to subscribers. Then, after feedback from the customers, it evolved to have pre-made templates that anyone can easily customize according to their brand. Initially, there were no pop-up builders or landing page templates. Now there are 30+ such templates that are highly customizable and mobile-friendly.
Main Features
Drag-and-drop editor
Using SendX doesn't require one to know coding to create a great-looking and high-converting email. It provides a drag-and-drop email editor to create visual emails. You can embed buttons, image blocks, GIFs, video blocks, texts, etc., by dragging the elements into the editor. You also get pre-made templates that you can customize to your choice and brand guidelines. You don't need to recruit a big team or coders to help you create your emails. It's all DIY. The emails that you create using the drag-and-drop editor or the pre-made templates are mobile-friendly, so you don't have to do any extra settings to make them look good across devices.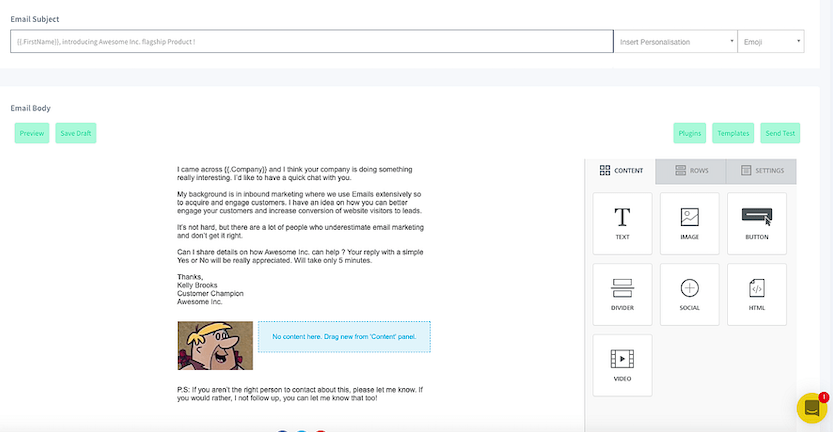 Forms and Landing Pages:
To grow your email subscribers, SendX provides pre-made templates to create signup forms or landing pages. These can be easily stitched up with your website to turn traffic into leads. All the forms and landing pages are customizable. You can even define the placement of the signup form – bottom right corner of the page, on-exit, in the middle of the page, or as a static bar at the top of the page.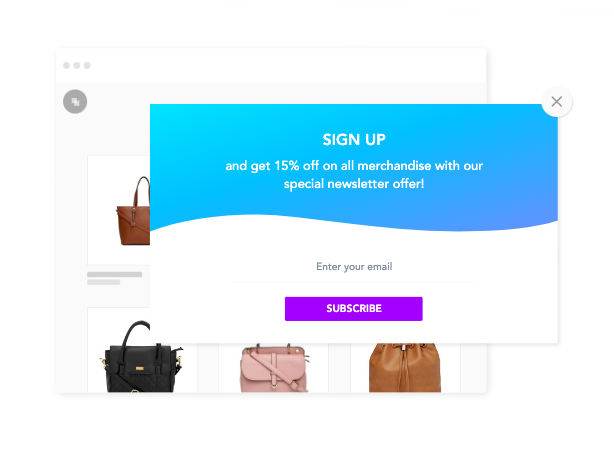 The subscribers coming into your list from various forms can be sent different emails (welcome email or follow-up email) depending on the form they came from. You can also auto-tag subscribers based on the forms that they are coming from.
Tags & Segmentation:
With SendX, you can create groups of your email subscribers based on their behavior, past actions, or preferences. Once you collect the subscriber data, simply put a rule to identify them with the data points you have. The system will then take care of bucketing your subscribers. If you don't want to create groups of subscribers but still want to identify them based on their characteristics, you can use tags. Applying tags can be automated by defining the criteria to apply a tag to a subscriber. There is no cap on the number of tags or segments you can create.
No-code, Easy But Powerful Automations:
SendX helps you automate your email marketing with a powerful rules-based interface so you can send the right message to the right user at the right time. You will find a variety of pre-built triggers and actions for various use cases. You can find automation to clean your list, send abandoned cart emails, run onboarding campaigns, etc.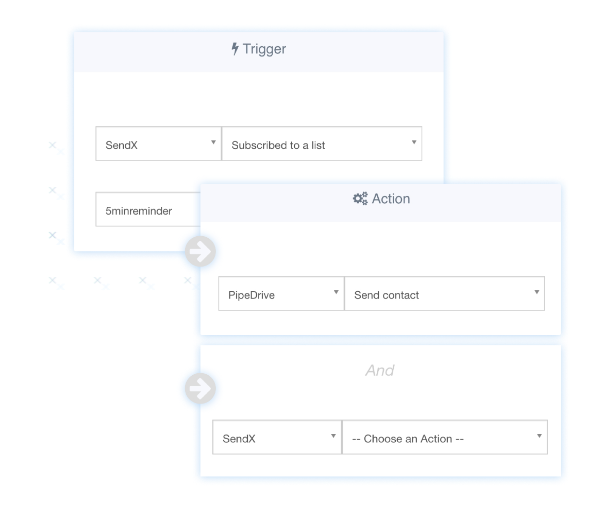 Analytics:
SendX provides a detailed analytics dashboard and heatmap to see your key metrics in one place. You can see the open rate, click rate, unsubscribe rate, bounce rate, etc., across campaigns. Heatmaps will show you how people reacted to each email content – where did they click the most, how much did they scroll, which CTA was pretty hot amongst your subscribers & more. All of this can help you tweak your strategy to change things that are not working or double down on things that are helping you grow.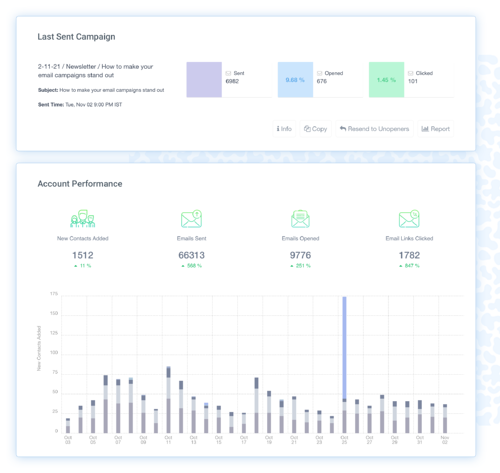 Deliverability:
SendX uses its own servers for email delivery & doesn't rely on any third-party apps. This helped them carefully design the architecture & implement the best security features. They can view logs for incoming & outgoing emails anytime, which helps in resolving any issues instantly without going through the hassle of coordinating with a third party. Due to a solid technical foundation, they've taken all the measures to ensure high deliverability. They intelligently keep your account safe even if you are using an IP from the shared pool. You can connect with their email experts to check your email deliverability numbers and get tips on how to improve them further. They also have the option to give you dedicated IP addresses. Since you are not sharing the IP with anyone else, this ensures that you are in complete control of your email deliverability.
Other notable features:
You can import your contacts from a CSV file. If you have any duplicate entries, those will be highlighted, and you can remove those easily before the final upload.
You can A/B test your subject line to see what piqued the interest of people to open your emails, or you can A/B test your email content to see what kind of content people resonate with.
You can send your emails according to the time when people are most likely to open them. This will be automatically calculated by SendX based on the past behavior of people in your list.
If you have automated campaigns, you are worried if the email is sent on a weekend, it won't be read then, don't worry; you can choose the option to 'skip weekends' when creating your drip campaigns.
Support
SendX support is available 24/7, and the email experts on the other end are super friendly. You can get the assistance you need without worrying about time-zone or location. There are 3 ways to get in touch with them —
If you want to resolve your issue by yourself, you can head to their huge knowledge base. It has articles on every small and big thing related to email marketing and SendX features. You can get step-by-step instructions to create campaigns, grow your list, automate your drip campaigns, clean your list, create smart scheduling, integration, etc. If you are looking to migrate to SendX from another service of setting up your email marketing for the first time, we'll help with our smooth onboarding & free migration services. You can focus on the business while we take care of setting up your email marketing.
Pricing
3000+ companies worldwide trust SendX for simple, effective & intuitive email marketing. Because of this scale, they have been able to keep their prices affordable. If you want to try it for yourself, take the 14-day trial & test all the features. It's quick to sign up & you don't need a credit card for that. Here's how much you would pay per month for the different number of subscribers if you choose a yearly contract: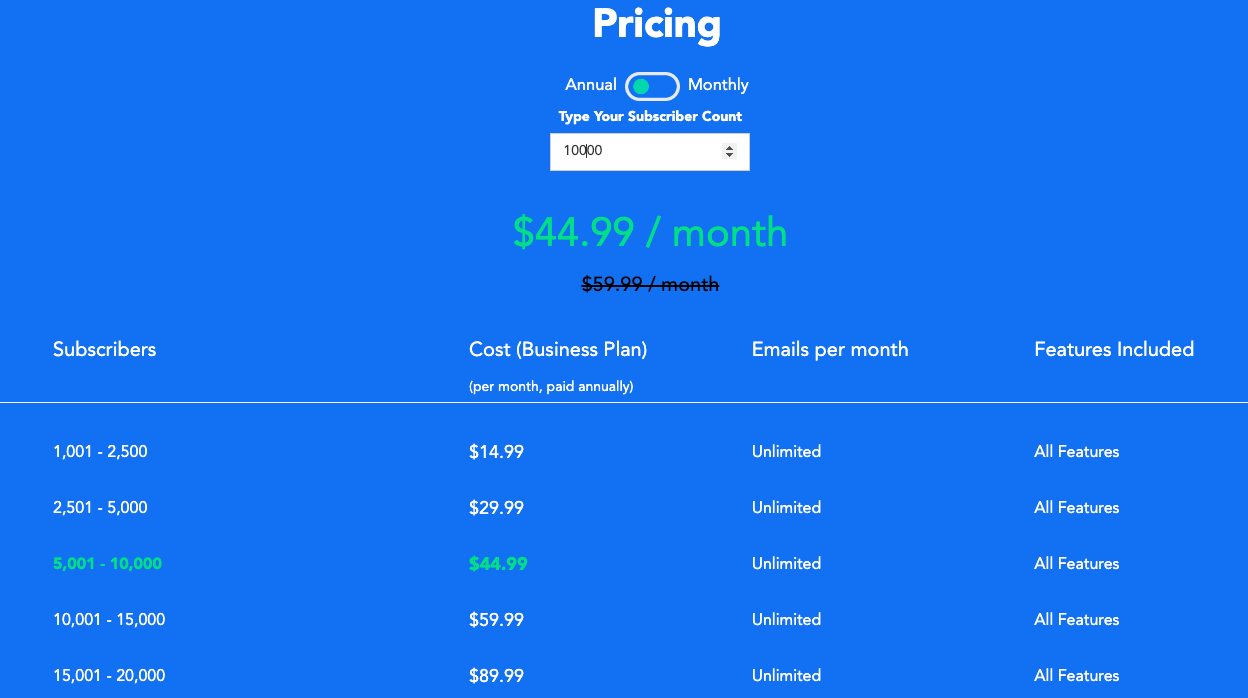 What are the plans for SendX for the near future?
In the near future, SendX will keep updating the features based on customers' feedback. Additionally, SendX has recently become part of a bigger suite of email-sending tools called SendWorks. The other tools are — SendPost (our core email sending engine), SendVerify (email list cleaning solution) & SendHealth (email health solution). By owning its own email-sending infrastructure, SendX can continue to accommodate the current customers while improving services for the long run and solve the main challenge of keeping pricing affordable and not increasing it (like many other tools tend to do once they do an overhaul!). At SendX, we want to help responsible email marketers send emails and not police any company from running their business, so we help crypto companies, gaming companies, and such that are otherwise banned by popular email marketing software to run their marketing campaigns with SendX. Email marketing is the central pillar in the marketing strategy of many small and medium businesses. We want to empower them to grow their business, make an impact and not rely on expensive tactics like running ads or spending endlessly on influencer marketing.