With 57% of consumers now saying that social media influences their shopping habits, these platforms have become some of the most potent marketing tools available.
Of the social media sites, Facebook, with 2.23 billion active users (i.e., users who've logged in within the last month) is the largest and most valuable.
44% of users interviewed stated that Facebook specifically has influenced their shopping decisions
. In order to keep your audience engaged, you'll need to consistently provide them with fresh and interesting content—
you'll also need to make sure that it's being published at a time when they are most likely to see it
. One of the best ways to ensure this is by
scheduling your posts ahead of time
. This can be done using a variety of tools, or even through Facebook's own built-in post scheduling function.
Scheduling Posts Using Facebook
If you want to schedule posts without paying for any tools or installing additional applications, it's possible to simply do it through Facebook itself
. Doing this is fairly straightforward, and while you'll miss out on the additional benefits provided by using a third party tool, it's still useful for those just starting out. Scheduling a post through your Facebook's business page consists of five easy steps.
First, you'll need to create your post along the top of your page's timeline
Once your post is created, click the down arrow that's next to the "Publish" button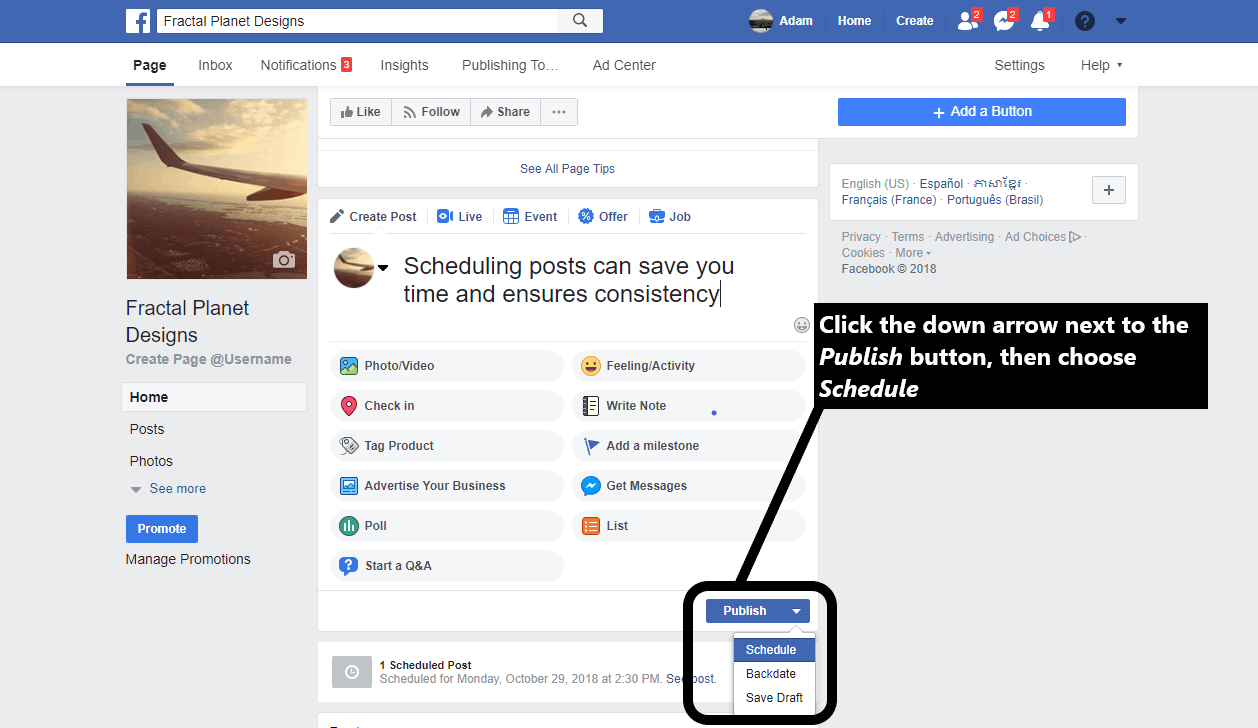 Choose the "Schedule" option in the drop-down menu
Under "Publishing Schedule" there will be a field where you can enter the date and time that you'd like your post to go live
Finally, click the button labeled "Schedule" and your post will publish on the chosen day and time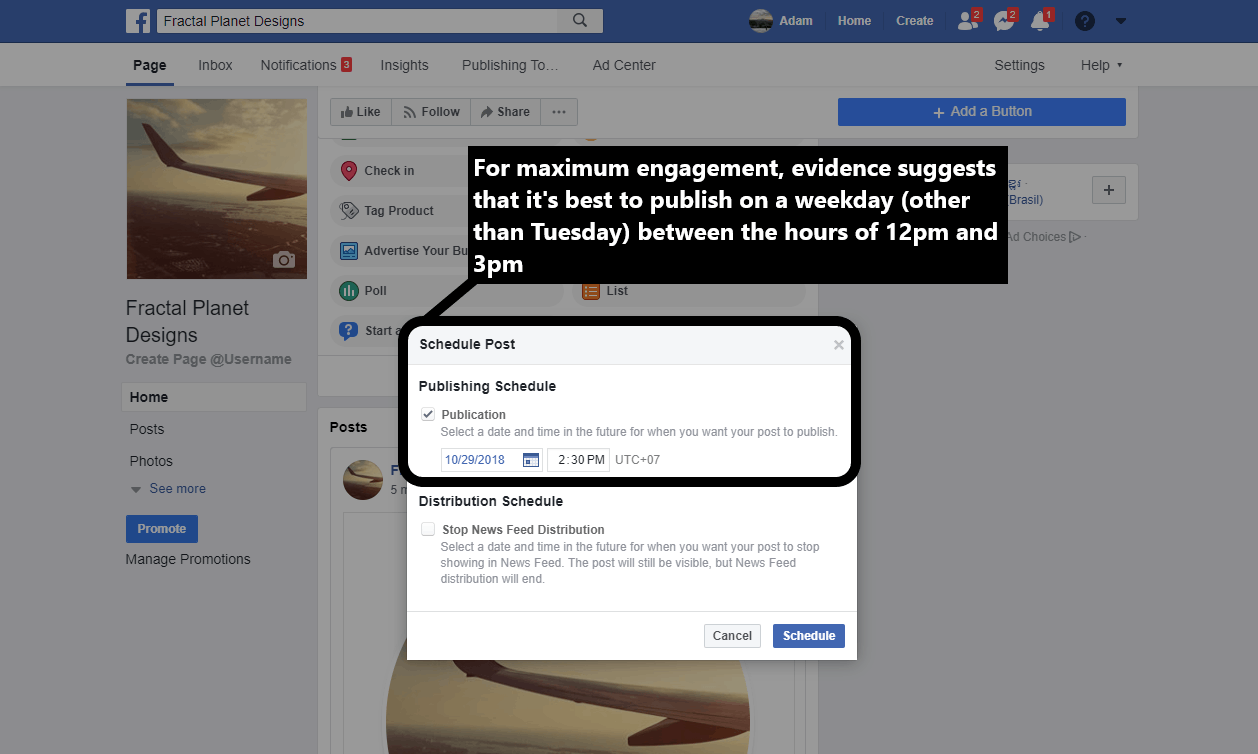 Once you've created a scheduled post,
it's possible to edit, reschedule, or delete it should you decide to alter your strategy
. Simply click "
Publishing Tools
" along the top of your page, look to the left column and click "
Scheduled Posts
." Find the post that you wish to edit, and click the "
Edit
" button, or the down arrow if you'd like to publish, delete, or reschedule it.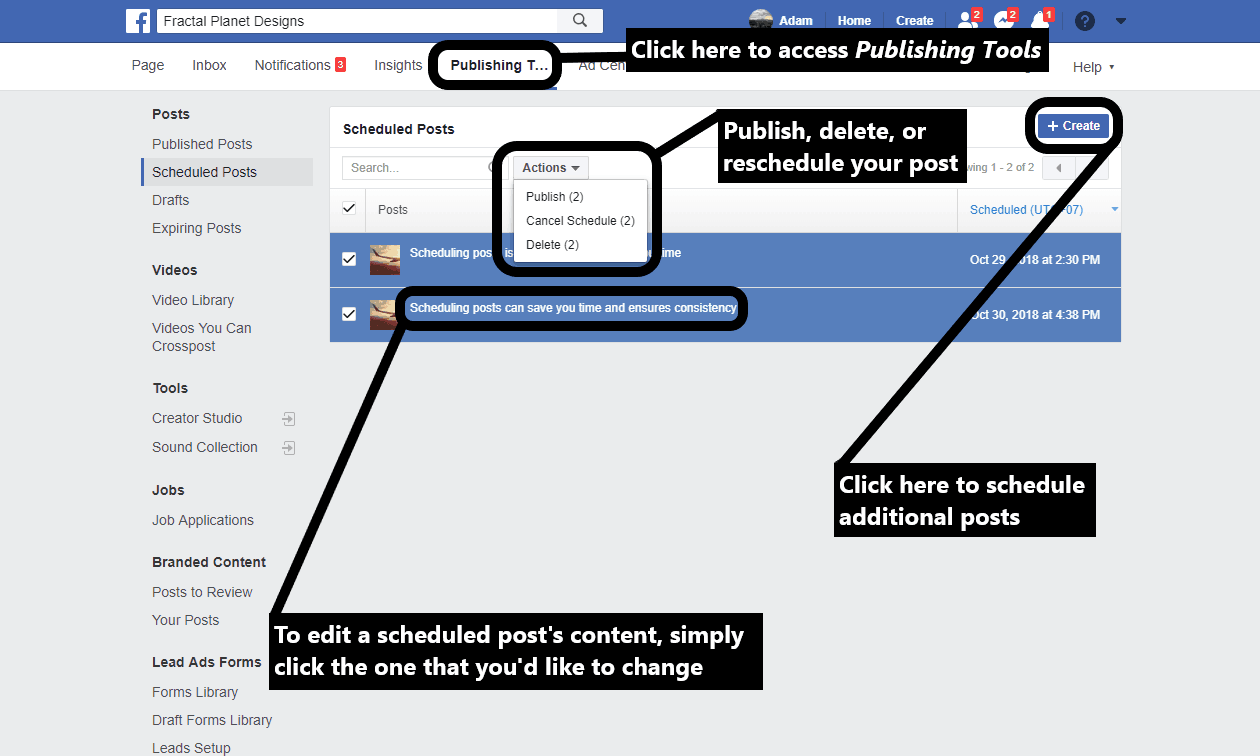 Tools for Scheduling Posts
If you'd like a tool with a bit more functionality, analytics, and other useful social media management options, you may prefer to use a third party tool to schedule your posts.
These are especially useful if you have a presence across multiple social media channels, as they usually work on all of the major platforms
. There are plenty of these tools available, but Hootsuite and Sprout Social are among the
best social media management tools
you can choose. For more information, read our expert reviews of
Hootsuite
and 
Sprout Social
.
Scheduling Facebook Posts with Hootsuite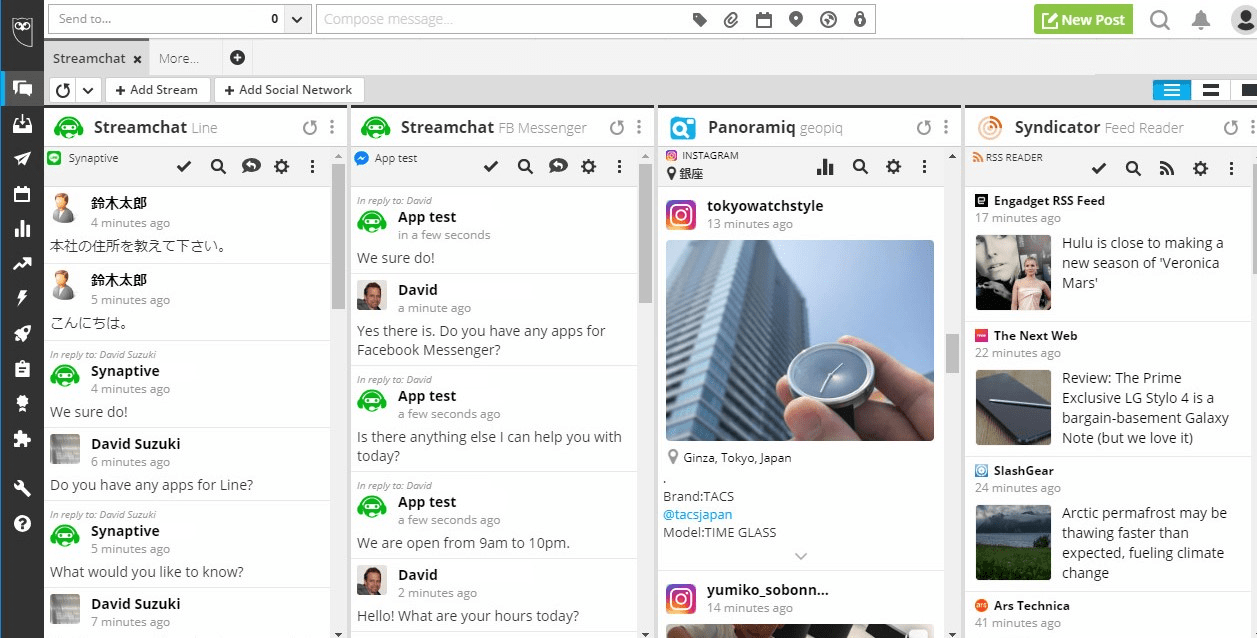 As one of the most popular social media management tools currently on the market, Hootsuite has many useful functions available for an internet marketer (see the full list on
Hootsuite
's website). One of their simpler functions is the ability to schedule posts for a variety of social media platforms, including Facebook. The steps to scheduling a post through Hootsuite are simple:
Sign into your Hootsuite account and click on "Compose Message"
Type the message that you'd like posted
If your post includes any links, shorten them using Hootsuite's URL shortener, Ow.ly
Choose the Facebook profile that you'd like your post to appear on, this can be found in the "Profile Picker" box along the left-hand side of the screen
Click the calendar icon along the bottom of the message box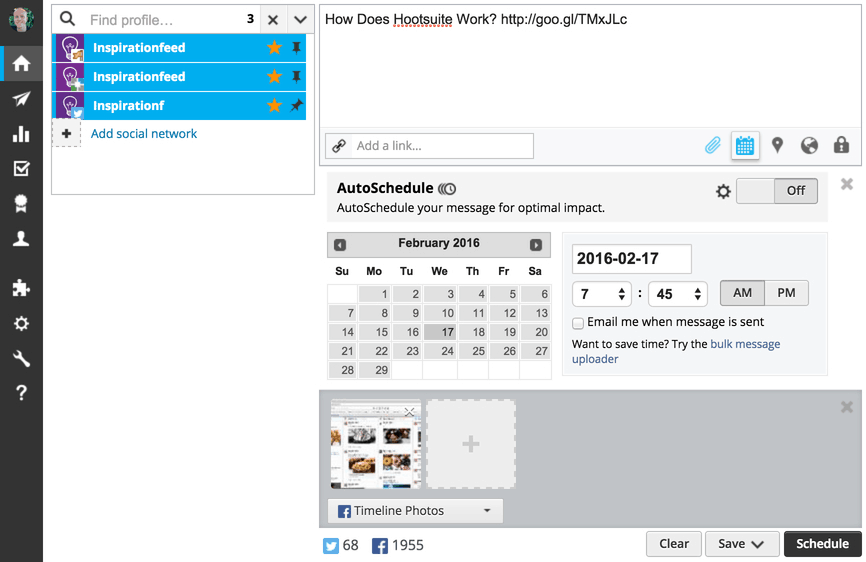 Use the calendar to choose which date you'd like your content to be posted on
To the right of the calendar, there will be another field for entering the time
Once you have your date, time, and post content filled out correctly, simply hit the schedule button and it'll be posted according to your parameters
Scheduling Facebook Posts with Sprout Social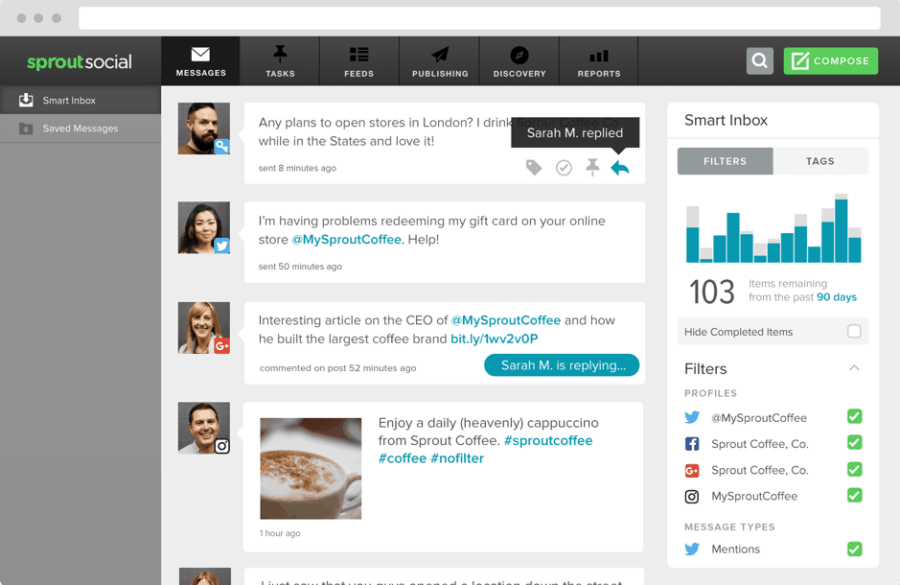 Similar to Hootsuite, Sprout Social makes scheduling and analyzing social media posts a breeze.
Whether you need to schedule a post, want an easy way to manage multiple accounts across various platforms, or access to invaluable analytics, Sprout Social greatly simplifies the managing of your social media presence
(get the full list of features on
Sprout Social
's website). Scheduling posts with this tool is incredibly easy, and only involves five simple steps:
Click the green "Compose" button along the top left-hand side of the screen, and fill in the subsequent window with the content you'd like posted
Just under the message box, you'll see a small calendar icon, click here to choose the date and time you'd like your content to be posted
If you'd like the same content to be posted multiple times, choose as many days and corresponding times for recurring content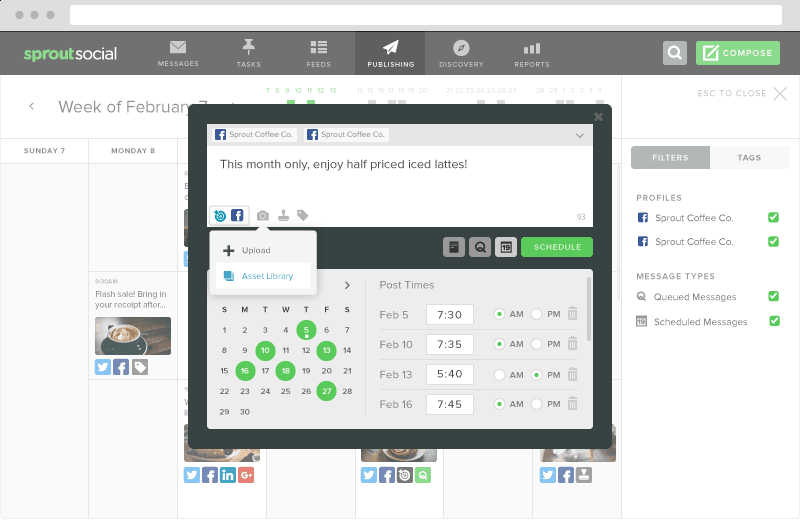 Choose which profile you'd like the post to appear on from the "Profile Picker" which can be located within the "Compose" window
Once you have all the necessary information filled in as you want it, click the "Schedule" button to complete the process
Time of Day and Frequency of Posts
Before we get into some of the better methods available for scheduling your posts, we should discuss timing.
While the content of your post is ultimately the most important aspect to keeping your audience engaged, the time and frequency are also vital if you want to increase both visibility and click-through-rates
.
On average, only 11.64% of your organic reach (users who see your unpaid content) will engage with the post
. So unless you have an incredibly large number of followers, or the income to invest heavily in advertising, increasing your organic reach is essential to your success. By scheduling your posts to be released at the ideal time, and with a high enough frequency, you'll increase your reach and the likelihood that your followers will see your content.
According to Pew Research, 71% of Facebook users visit their profile at least once per day
, more than any other social media platform. The times they're likely to log on varies by the day of the week, but it's generally mid to late afternoon. According to Hootsuite, the best times to schedule a post for the highest level of visibility, click-through-rates, and engagement rates are:
Monday and Wednesday: Weekdays (other than Tuesdays) have the highest engagement rates, with the best time to post being between 12pm and 3pm
Tuesdays: Compared to other weekdays, Tuesdays receive slightly lower engagement rates, although the ideal time doesn't really change, being between 1pm and 3pm
Thursday and Friday: These weekdays have similarly high engagement rates as Mondays and Wednesdays, but the best times for maximum engagement varies slightly, being between 1pm and 3pm (although some studies suggest that these days are no different, with 12pm to 3pm being ideal)
Saturday and Sunday – Overall weekends have a lower engagement rate, as fewer people are logged on; that being said, the click-through-rates for the weekends are highest between the hours of 12pm and 1pm
While these times are a great general guideline,
it's also important to test the times that work best for you, as they may slightly differ depending on your target audience
. Also, don't forget to take the time zone of your target audience into account, and schedule your posts accordingly. Testing what works best involves releasing the same post at different times and analyzing the ones with the highest engagement rates. Another effective approach is observing when and how often your competitors typically share their content. This provides valuable insights into what strategies are successful (or unsuccessful) within your industry.
Deciding the Best Method for You
If you hope to perfect your Facebook marketing game, you need to learn how to implement the best strategies available and schedule posts that'll keep your audience coming back. When it comes to scheduling Facebook posts, social media marketers are almost overwhelmed with available options. From expensive social media management tools, to the built-in functionality within Facebook itself, figuring out what it is that you need can be tricky.
A good way to approach this is by first using Facebook's free scheduling function to get the hang of scheduling posts. As your brand grows, and your social media influence increases and spreads across platforms, you may need better tools or more functionality
. Social media management tools such as Hootsuite and Sprout Social are designed for those who take their marketing campaigns seriously, and need serious tools to back them up. So as you grow, it's a good idea to upgrade the tools you use as well. But like most things in life,
finding what works best for you will all come down to necessity and personal preference
. Given enough time, you'll find what suits your brand and marketing strategy best.
---
Sources
https ://www.statista.com/statistics/268136/top-15-countries-based-on-number-of-facebook-users/
https ://www.wordstream.com/blog/ws/2017/11/07/facebook-statistics
https ://www.salesforce.com/research/customer-expectations/
https ://blog.hootsuite.com/best-time-to-post-on-facebook-twitter-instagram/#facebook
https ://www.facebook.com/help/389849807718635
https ://blog.hootsuite.com/how-to-schedule-facebook-posts/
https ://sproutsocial.com/insights/schedule-facebook-posts/