Resolver is the UK's biggest free complaints website. Over the last decade, we have helped over 6.7 million people sort out complaints about everything from parking tickets to pensions. People using our website can make complaints, seek help or ask questions about over 200 products and sectors. Of course, Resolver can only work if we successfully bring together businesses and their customers. So we work very hard to ensure we help the people who use our site to make clear, focused complaints. As a result, businesses can understand exactly what they need to do to resolve the matter quickly and effectively – and learn more about the key factors and topical issues that might be driving complaints. People using Resolver are also able to 'escalate' their complaints to the next level – in this case, an Ombudsman, Alternative Dispute Resolution (ADR) scheme, or mediation service. This gives us a unique insight and dataset into how individual businesses and sectors are handling the complaints they receive. The complaints cases our consumer platform processes every year provides us with a huge amount of valuable insight into complaints management, consumer behaviour, and impact on customer experience. We have used this insight to develop a SaaS-based online dispute resolution product that enables organisations to manage their customers more efficiently, better support their vulnerable population, and provide better customer experience.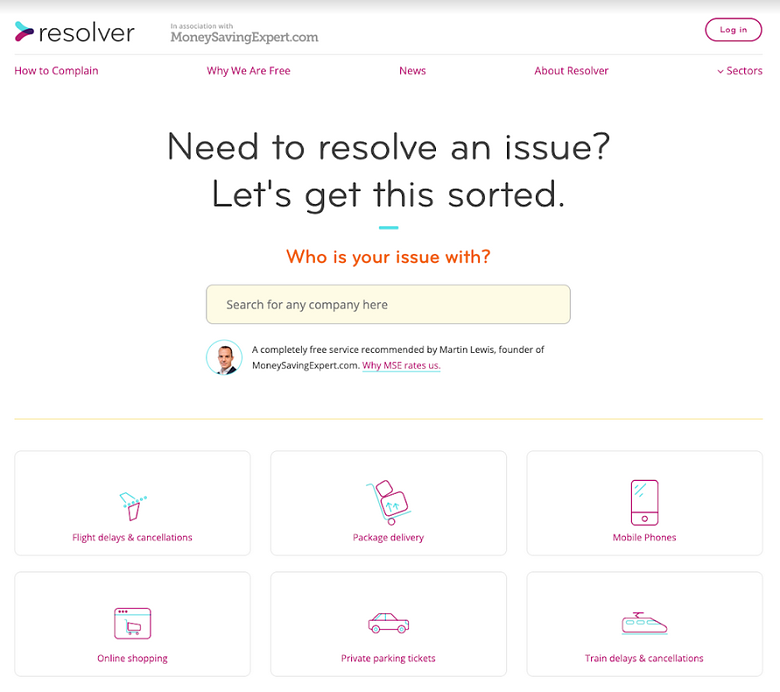 What is the inspiration behind Resolver?
Resolver was created to tackle one of the big frustrations we all face at one time or another – trying to sort out a problem when you don't think your voice is being heard. In the UK, we have a wide range of laws, regulations, and regulatory oversight that protects consumer rights, building confidence in business sectors in the process, so in theory, we shouldn't have to make as many complaints as we do. It became apparent that the wide disparity between the way businesses handle complaints across different sectors (and sometimes within them) was leading to a huge amount of confusion and dissatisfaction. It was clear from all the accredited research and reported data that we studied on consumer complaints that many problems were minor but became exacerbated because people were struggling to articulate what they were unhappy with – and businesses, in turn, found it difficult to grasp the key things that their customers wanted sorting out. Resolver was created to simplify the process of making a complaint by creating a single 'one size fits all' template to help people make structured and focused complaints that businesses can easily understand and address quickly and appropriately.
What support can a customer expect once they have submitted a case through Resolver?
Resolver is a free service, so we do all we can to keep the costs down – but we don't automate our own customer service. We keep the process of making a complaint really simple, but if people are struggling, we have a customer service email address where our team of experts are on hand to answer questions about the process. We also focus our energies on guides, tips and in-depth overviews of complaint issues in every business sector, so people using our site have the tools they need to make a complaint. This also allows people to 'self-diagnose' whether they have a valid case or not. Our guides are designed to support businesses too. By explaining the perils and pitfalls that can happen in various scenarios, we're helping people avoid problems while knowing their rights.
Please explain the products and services that you offer? Are there any costs associated with any of these?
Our consumer website is a completely free service. But we do have to make money, of course! The Resolver Group provides a range of tailored business solutions to help companies, regulators and ombudsmen, legal and tribunal services, and Government bodies manage, resolve and learn from their complaints. This can involve anything from helping companies develop a better understanding of their market by delivering insights on cross-sector complaints data to building software so businesses and organisations can automate and make more transparent the whole process of complaint resolution. This matters because taking complaint resolutions services alone, the UK's ombudsman and ADR schemes are estimated to handle around 1.2 million inquiries and resolve 400 complaints each year. Yet the impact of the pandemic has already resulted in unprecedented pressure on these schemes, the court system and the businesses that people relied on during the last year. We're also focused on recognising the businesses that are going out of their way to provide excellent customer service.  This year we launched our 'Resolver Recognised' scheme where we identify the best performing businesses for complaint resolution across a range of metrics, published regularly on our news website.
Can a customer lodge a complaint about a company that is not currently reflected on your system?
They certainly can! If a business isn't on our system, you have the option to send us the (basic) details and where possible, we'll add them to our system. We already have over 30,000 firms listed on the Resolver website, but with up to 200 different products and sectors available on our site for people to seek help with, we're constantly reaching out to new businesses.
What sectors do you support?
I'm proud to say that Resolver allows people to make a complaint about pretty much any sector they can think of in the UK. Each of those sectors faces unique challenges in these post-pandemic times, so we work hard to understand the problems they are facing so we can support them and manage expectations with the people who use our website. We also provide regular updates to businesses about the trends in complaints we're seeing – and our advice and guides are fixtures on the TV, radio, and in the press too, I'm pleased to say. Though keeping on top of all the emerging trends is a challenge when being interviewed sometimes!
What can we expect to see from Resolver in the future?
As we approach our 7 millionth complaint in the coming year, the whole nature of customer service faces fundamental challenges. Lots of businesses are moving towards automation and losing the interaction with their customers. We're a tech company, so we're not Luddites, but this shift needs to be well managed as well over half of our pandemic complaints mentioned problems and frustrations in contacting businesses and a lack of human interaction. That's why we're working with the Government, leading consumer rights groups and charities, regulators, and key influencers to simplify and define what good customer service is – in a similar way to our own ethos when we began a decade ago. While it might be wholly appropriate to automate some aspects of service, I believe that it makes good business sense to invest in front-line customer service with a human face. All the evidence shows that this is both wanted and expected by the paying customers. It's my job to make sure that our evidence, insight, and research on what drives people to seek help is used to grow confidence and trust in businesses and organisations that we turn to for help with when things go wrong.