This interview was originally published on October 31, 2018.
Reactful
is an AI-driven marketing engine that allows you to automatically display personalized content based on user behavior. In this interview, CTO Roger Ruttimann explains how you can use AI to convert website traffic into paying customers.
Please Describe the Company Background and its Evolution so Far.
The company has a long history. It started in 2013 when a couple of developers got together with the vision to make website creation better, more automated and more interactive. The idea took off when we received an investment from a US fund, who caught up on the idea and wanted to support it. They were running it with the goal of converting website users in real-time, to perform a specific goal. The entire solution is focused on the conversion of users so that anyone who has a website can engage with visitors and convert them. At the time, it was a very complicated thing to do and it required lots of manual steps, so our aim was to automate reactions as much as possible. What then happened is that we started getting lots of big customers in the US, and only a few in Europe and Israel, so the investors decided to move the company from Tel Aviv to California, and reinvest in that division of the company. We expanded the team and took our mission further, from pure conversion to user engagement. Essentially, Reactful is there to guide users through the website by showing them the content that's most relevant to them, based on their behavior. By analyzing user behaviors and digital footprints, we can dynamically generate content that will engage them in performing the goals that the marketers have set up for them. In 2017 we on-boarded lots of new customers, with some interesting names like MongoDB, Symantec, American Greetings and others.
How Does Reactful Work?
Reactful
can be used by anybody with a website. To engage with visitors, you want to show content; you want to use a lead capture; you want them to sign up for your newsletters, webinars, or events; buy your products, subscribe to your channel, etc. Basically, you want to leave them on your website for as long as possible. Anybody can use Reactful, and it is there to make sure that your visitors complete the actions that the marketers have set out for them. You first set up the goals and then you start to create content. You can decide how to engage with visitors when they are on your website, which content to display to which users, and which actions will trigger which response. After a short while, you will have all the analytics you need to give you feedback. Did you have more subscribers? More articles read? More products purchased? Now you can refine the goals to get even better results. Perhaps you'll discover that you've been missing something, or that you need to make an element more dominant or find another tool for engagement. Companies spend millions of dollars to bring traffic to their website, but they only spend a fraction of that money into converting that traffic into paying customers. When users reach a website, they are often confused, they don't know how, where and if they will find the content they are looking for. So we observe their behavior and collect information such as which pages people are looking at. We bring the right Call to action (CTA) to help them stay on the website and complete the goals.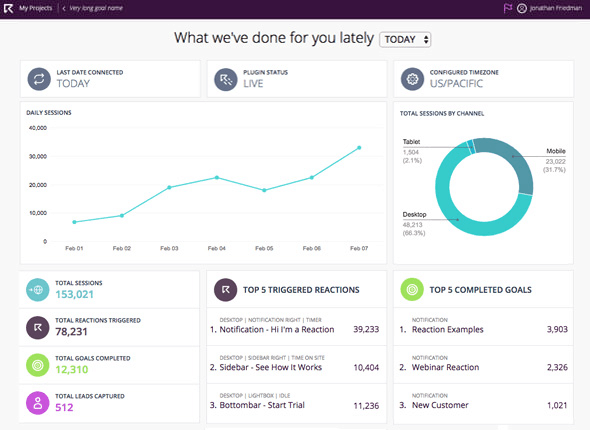 How can AI be Used to Improve Conversions?
The AI part is actually machine learning in the browser. It observes the user behavior while browsing the website and it looks for patterns. For example, if you visit multiple pages rapidly, it usually means you are lost. That's a behavior that indicates the need to engage with you and help you. This is where we would normally bring the slide-in or tooltip, or highlight a box on the screen. A common example of that is the page exit intent; when the user is about to click the exit button, a dialogue box will appear, asking them to stay and helping them navigate to more relevant pages. If the user has been on the page for a long time without performing any actions, it would be a good idea to engage with them by giving them something new and relevant. If the user is moving the mouse like he's reading, and you know what they are reading about, you can engage them by offering related content or directing them through your funnels at the right moment. So overall the AI part is built to guide users to the right page by letting them lead the way. We do this for mobile, tablets and desktop users, but the behavior varies a lot across different devices. The speed on the phone is a lot higher than on desktop, as well as the reader's attention span. That's where AI comes in to detect what the user is doing and predict their intent by pattern matching. We also use machine learning to record events in the backend, but we don't look at the history of the user. Rather, we know the patterns and identify positive responses. Our report can show you which behaviors or responses worked best for which user. Our actionable insights can be used to optimize pages that don't have reactions. The goal is to keep them interested and achieve the goal the marketers set. Engage guide and convert users in real time.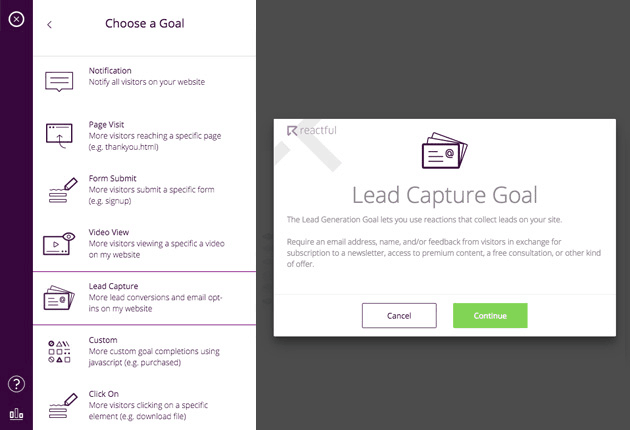 How Does Reactful Coincide with the New GDPR Privacy Regulations?
This was a big topic this year. All of our customers started asking about how we handle personal information. How we store it to manage it, and how can their customers request the deletion of their personal information. The answer is very simple. We observe the behavior, but we don't collect personal or historical information. The behavioral data that we aggregate is completely anonymous, and it's aimed to find patterns that are common to a large number of users. If you visit a website and you know what you're doing, you won't see any actions. However, if you start to click through and scroll restlessly, your behavior has changed, so our system will react differently. That's the kind of data we looking at and it is only relevant in real time, so there are no traces back to the user.
What Integrations are Available with Reactful?
Reactful is an overlay based on the browser, so there is no limit to the type of website or CMS. We are a young company, but already we have integrations with tools like Marketo, Oracle Marketing Cloud, and Salesforce. You can forward analytics data to other analytics tools to gain more profound reporting. We use API's internally so we can plug into any device, and send messages from google analytics to enhance any product. Overall I'd say we play very nicely with others.
How Do You See the Future of Digital Marketing?
The original mission of Reactful was to automate as many parts of the website as possible, and this is still very relevant and important. To do that with the tools that are available today would require more cloud computing. Right now you have to configure what kind of behaviors we want to capture, which is a semi-manual process. The machine can detect what is the right content to show to users, when to do it and how to engage with them. Once you build the automated process, you can trust the system and have better results, while concentrating on the content. The rest is done automatically by the system. Two weeks ago I started a project with University of San Francisco (USF), where we study the digital behaviors and see best responses, to understand the psychology behind human behaviors, and how they can be mapped to the digital realm. Our main question is how can we use what is already known about psychology, and map it to get better responses and engagement. I'm really excited about this research. Throughout history, researchers have extensively examined various subjects. With the current advancement in computing power, we can now analyze this vast wealth of information and deliver tailored content to individual users. By achieving full automation, manual intervention will no longer be necessary. Digital marketing is a very crowded market with a lot of competitors, particularly in user engagement delivery. In my perspective, Reactful has an edge with AI, as we leverage it for our advantage rather than rules matching. We have a good foundation because we can apply the results of the research without needing to rewrite the entire code. Native cloud applications written in the cloud have the scalability to use machine learning tools, and today, it is paying off and allows us to move forward faster than our competitors.