Website Planet had the chance to sit down and chat with Carlos Luis Briceño Torres, Project Manager at
Quo Agency
, an Agency providing web and branding design services. He helped us compare some of the best tools out there, and discuss the future of the CMS industry. He explained the differences between all types of CMS available, how they will evolve, and how to choose between very different CMSs. You will see that choosing the right CMS is no easy task, as the omnipresent WordPress is not the one-size-fits-all solution you may think, and there are many
sitebuilders
on the market each one with its use case.
Introductions first: Please present Quo Agency to our audience
My name is Carlos. I'm a project manager at Quo Agency. We're a web development and web design agency. We have been working for over five years now together. I've been with the company for about four years and we pretty much do anything from UI, UX design to web development, CMS integration, API integrations and such, and our team is made of different people from all over the place: we have people working from South America remotely, people in the US and we used to have also some teammates in Europe.
Which kind of CMS do you see trending more, and why?
Right now I am thinking about two sorts of branches for CMS tools, which I believe are aiming towards two different audiences. These would be CMS like Webflow, and the likes of Strapi and Prismic, but now, for this specific conversation, there is another branch, the Wix-like, do-it-yourself CMS. So, three important branches on the CMS world:
do-it-yourself, low-code to no-code, and headless
Do-it-yourself CMS
We are talking about Wix, Squarespace, Godaddy etc. No code, no design: everything is templated and made easy to run for business owners.
Low-code to no-code CMS branch
Webflow is an example of a no-code/low-code CMS. It's not completely like Wix, cause it's much more customizable, but it's also not a headless CMS or something that requires a lot of code.
Headless CMS
I believe headless CMS are moving forward with more of a website builders approach instead of just a CMS one, allowing the possibilities for people to create their own websites based on a few sections that developers like us can create for this kind of editors. Besides that, you can play around a little bit with them and create landing pages or even inner pages for your website. I believe we are moving forward with finding some kind of middle ground between the last two branches, the low-code no-code and headless. The trend with headless is to allow users to create even without knowing much about coding or programming, andI believe that's a good approach, especially from the side of headless because they're creating an interesting playground at our hands: for example, I'm just a project manager who doesn't have much knowledge in terms of coding or the actual work of programming. And pretty much in that regard the sky's the limit, these headless CMS make projects super customizable; the only limitation is pretty much the imagination of the designer and the creativity of the developer in terms of how to tackle specific challenges. But aside from that, it's pretty, pretty vast. Headless is just a huge possibility for people to create their own websites or web pages based on sections that developers like us can create for them to customize and add to their websites, move things around, experiment, iterate and get the information that they need from the experiments that they're running. Based on that, those people can optimize their website every single time: periodically every month, every week, or however they would like to approach it.
What are the things to consider with a headless CMS approach compared to the do-it-yourself one?
I believe that there's a lot to think about whenever you're deciding to, whenever you're deciding what kind of solution you're going for in terms of your website:
Budget
Headless CMSs may need a higher initial investment than DIY CMSs. Obviously low to no code solutions are cheaper because you're not going to need to hire a developer. Maybe you can hire a designer, but sometimes people just go ahead and buy a template and customize it with their imagery, colors, and iconography. There's the budget side of it all. If you have a low budget at the moment, you can go with one of these do-it-yourself solutions like Wix or Squarespace, and it's great that they exist.
Scalability
Headless CMSs are flexible enough to grow under any set of functionalities and requirements the future brings for the website
Do you see this website growing in the future?

If you want to have something that's going to last in your plans, it's going to grow substantially in the near or near future or meet for the long term, or if you have specific plans of how you want the website to grow, maybe it's a good idea to start investing in headless from the get-go and then see how you save money and time as your website grows because you have the foundation of it all in headless. That's a good idea for serious business owners.
Complexity and size
Headless CMSs allow developers to code solutions to address any complexity, and marketers to manage vast amounts of content. But if you have just one landing page plus a contact form, then it's not always required for you to have a headless CMS to manage that content.
And what should site owners consider with a low-to-no-code CMS?
There's a middle ground: something like
Webflow
, which is customizable and low code – or low-to-no code –. These solutions target medium size websites with a little bit more of a budget, but not that big to go full on into a headless CMS kind of website. By the way, things like Webflow have been growing recently as well, and they've been adding stuff like e-commerce options and whatnot, so that's also something pretty interesting that people are also available to do that.
Shopify
also has pretty interesting solutions in terms of low-code to no-code with their themes 2.0. They have themes that are completely free for people to just customize or add their own products, their images, and branding to their website, in case they want a quick solution. Those options are there, and it's a good thing that they are again, because there's a lot of people who can teach themselves how to create their own website, and whenever they need something more custom or more specific that requires programming, then they can call people like us to jump on complex projects.
So how to choose between a DIY, low-to-no-code, or headless CMS?
Something like
Squarespace
or
Wix
, which are in a higher tier at the moment, compared to a lot of new solutions like Canva, have a pretty comprehensive platform in their hands for designers or non designers to self-create websites. And by the way, we use Canva a lot with our clients, some very big clients. So it might not necessarily be a budget thing, but maybe it is just what is the tool that is better suited for a specific scenario.
Budget is one of the things to take into consideration, but also scalability
, as I was mentioning.
How big are your plans for your website, how is it going to grow?
You can have a big budget, but if all you want is a landing page where you promote your burger shop, or a candy shop or whatever, then maybe it's not necessary for you to have a headless website. That is
one
of the things to take into consideration. The final one will be
how comfortable does a client feel working with a specific CMS or another
, because that's key as well. You may think that the best solution for one website could be using something like Prismic or Strapi, which are headless, but maybe they don't feel that comfortable using some of that kind of CMS. Maybe they're more visual and they would like to have a what-you-see-is-what-you-get website builder. Some clients might already know what they want:
"Okay I'm a WordPress guy"
"I'm a Webflow guy and I want my website to be hosted on that platform".
We will always tell them when their suggested platform is probably not the best for their purpose. You want to scale this up, and make sure they can be okay with your choice:
"I don't have the budget to move to headless CMS, or I do have the budget, but I don't really feel comfortable moving to a different CMS that it's not Webflow, or Wix, or Squarespace, and I prefer to stay here, even if it means that it's going to be a little bit convoluted when the CMS needs to be integrated, or it's going to need a lot of custom coding."
That again
depends on the client and how they feel.
Let's take a step back before recommending or not a headless CMS… What is a headless CMS, exactly?
Think about something like Prismic or Strapi (headless CMSs), and then something like Foxy, which is headless e-commerce or Shopify Plus… What does headless mean? You can integrate these platforms with your website to manage the content of it all. No matter what your website is. Your website could be hosted on your own server, and if you set it up correctly, you can use these platforms, these specific apps, or third party apps, however you want to call them, to manage the content of your website. So you can have a website, again, the whole code, the whole HTML, CSS of the different pages hosted on your own server, that it's under your control. And then you use this platform so you connect them and will be able to manage the content. Sometimes it's required to have an admin for a specific reason, like you would like to manage users or profiles on your website, and you need an admin environment for that part of it all to manage permissions and whatnot. Shopify Plus and Foxy let you have a completely custom website that, again, is hosted around your server, but you would like to have specific e-commerce functionalities and you don't want to limit yourself to a payment gateway. Let's say you don't have something like Stripe at your disposal, but you would like to have more than that. You would like to have the whole engine of a Shopify, for example, one that has a lot of experience working with e-commerce and you would like to manage other stuff like inventory and whatnot.
So is headless going to be the future of the web?
It's interesting because as I mentioned before, there's some kind of middle ground that you're finding between the more visual solutions for your website or e-commerce. So thinking about that, why is it coming to a common ground? Thinking about something like Prismic with their slices and the slice machine, what do they want to accomplish with this? Having some kind of website builder that it's not that visual compared to what you have on Webflow, or Wix, or Squarespace, but it's also very custom and very user-friendly as well. It may not be that visual, but it can be very user-friendly if you set it up correctly. If you explain correctly how that's going to be managed and you set it up in a way that it's user-friendly, then it's a good way to go around it and it's not going to be lacking that accessibility for the people that are not knowledgeable in terms of coding or programming. CMS technology has come a long way. Headless is evolving as well, getting more user friendly and powerful for no-coders and no-designers. CMS were way more abstract in the past, or more limited in terms of what you do. And you will still be very dependent on the developer or programmer. Now it's moving into a ground that it's closer to being more user friendly and being closer to the people. The content editors are not that knowledgeable in terms of coding, but they can still do pretty big changes. That's I believe the way that it's evolving and that it's getting closer and closer to more people. And that's the best part, because it's more inclusive. If you have little to no knowledge in terms of coding or programming with those solutions, you are still going to be able to play a role in this, being a website builder instead of only managing content, and I believe again. The more low-code to no-code versions of these solutions are getting closer to more customizable stuff, and they're allowing more integrations and even more custom coding if required. The headless versions are getting closer to having something more visual or more user friendly, so more and more people will be able to manage the content and build websites. Webflow, a low-code to no-code CMS, has been disrupting the industry as well. I just recalled this webpage, the history of the web, which was a demonstration on the possibilities that this interactions tool from Webflow is allowing designers with. It just was interesting for me to remember their presentation on the first sort of websites, which were the kind of websites that I'm showing on my screen right now.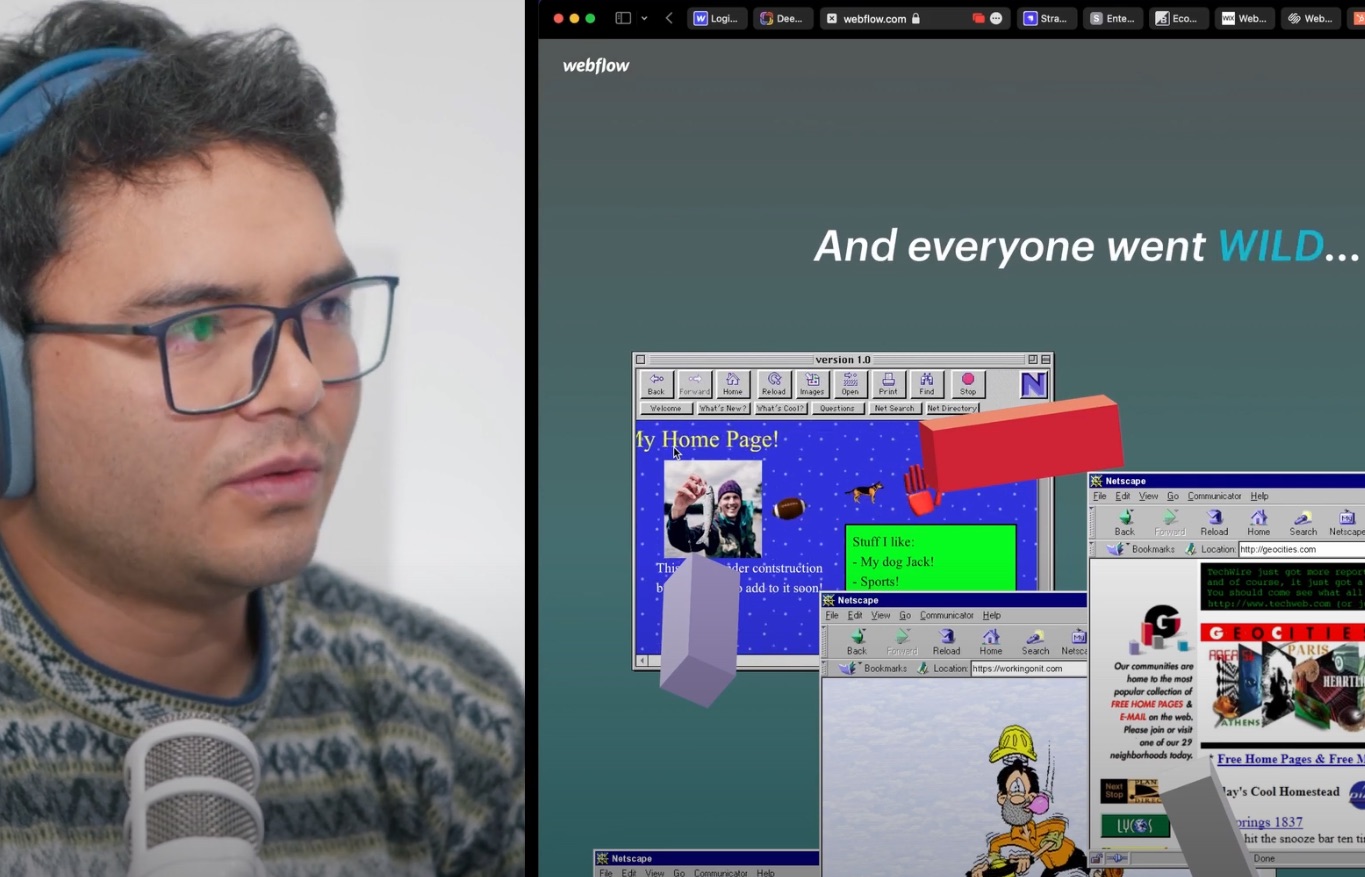 Yeah. Very. 1996. Very 90. And we have had a big evolution. There's something that was very interesting for me when I recall this webpage. Webflow has been disruptive among a thousand applications that are surely doing the same and innovating in their own ways, but the reason Webflow was interesting for me, is that they were giving designers the possibility to create layouts freely. Webflow is in its essence an HTML builder, a bootstrap builder, but also a CMS.
What does the future of Webflow look like for its users?
I believe the future for Webflow is in exploring a little bit more about integrations on web apps with their new beta of users or accounts profiles, allowing users to have that available. Extended memberships functionalities on Webflow were before possible only through custom integrations like using Google Firebase or Member Stack, but now Webflow websites could have members sections functionalities. It's pretty helpful. It's now in their 2.0 version as well. Memberstack was one of the key or flagship integrations that Webflow had, because certainly it was lacking in Webflow, but now they're having the member sections and everything. So I guess their new member beta functionality is the way that they want to go and explore. They already explored e-commerce, but I guess they have in mind more stuff in that regard that allows users to sell their products or services through the platform. Maybe having something also very helpful in that area, like e-commerce slash, selling or promoting your services instead of just products. Something like subscriptions and stuff like that. Maybe that's something that they will have in mind for the future in terms of e-commerce. Regardless, I definitely believe they want to have a more comprehensive CMS and also give users some kind of web apps in their websites, allowing them to see some kind of dashboards people subscribe to in order to see a specific content or get a specific service or products etc.
What do you think Webflow could add in terms of e-commerce that is currently missing?
Hybrid subscription models and one-time purchases model are the future for eCommerce, not only Webflow.
Maybe adding subscriptions could be something pretty interesting to explore because the future has more about subscriptions than one-time purchases in terms of products and services. Big companies like Disney or Warner Brothers, Discovery and Paramount are moving with their own streaming platforms because they think the subscription model is the future, but I believe the future is more of a hybrid in general, like having both one-time purchases and subscriptions. But subscription is definitely something to explore and that's definitely something very interesting with a lot of money there for companies to grab from their loyal base of customers. Specifically, big brands or brands that have created a certain amount of loyalty between or among their base of customers, will find it very useful.
Bulk editing for Webflow
Something else that Webflow is currently working on, is having the visual aspect of the CMS or the content management of the website a little bit more comprehensive and a little easier for you to bulk edit, which was something that it was lacking, especially on e-commerce. If you have a lot of products on your website, Webflow wasn't very user-friendly in that regard. You probably saved a lot by creating some kind of integration with something like Airtable, for example, to manage your inventory. I believe that if they can move forward with something with filters and making bulked and pretty comprehensive and user-friendly, that's going to be a good, definitely a great feature for e-commerce, especially with companies that have a vast catalog of products. They're already working on that, especially on the CMS. They already allow bulk editing and stuff like that, which, for example, was possible on Shopify, but not available on Webflow, and believe they're going in the right direction in that regard.
And how about Hubspot? Their CMS is kind of a category of its own
That's an interesting one because
HubSpot
is not only a CMS, but an entire marketing hub at your disposal that goes from a CRM to a CMS and email marketing landing pages, blocks. It's huge. It allows you to have so much analytics as well, so on and so forth. However,
Hubspot is not for everyone.
For one thing, it's definitely costly – not everyone has the opportunity to pay the monthly fees that Hubspot has and sometimes there's a lot of tools that you're going to pay for and not going to use.
Hubspot is a hub, which means that there are many tools that might not be used by some organizations hiring the platform, if the purchase of the service is not properly planned.
Imagine buying the latest iPhone and using it just to play Tetris or Candy Crush… The same may applies to Hubspot, although it's not a device, but a SaaS. Even if they have a plan for everyone, it's really if you would like to use Hubspot for your website and manage the CMS to be able to be really custom, you are probably going to need some kind of professional plan or anything like that. Usually
Hubspot is for companies that have large teams
. Marketing teams are working on different parts of the whole marketing funnel or sales funnel from the CRM to the landing pages. And for email marketing it has enough. And if you want to have a website, and if you also want to set up the CMS, you need to know Hubspot's programming language. Hubspot's CMS can be heavily customized, but it is also very visual, and this makes it an example of the middle ground that we have foreseen becoming a trend in the future. So it's very interesting because the Hubspot CMS is closer to what I was talking about in terms of being a middle point, or a middle ground between something that's very custom and something that is more visual, but you have to program the CMS to create your custom website hosted on Hubspot.
Hubspot has actually one of the most beautiful interfaces for content editors, but it's code heavy
. It's not what-you-see-is-what-you-get [during this stage], but after that, the CMS is very visual. You actually see the page on one side and see the menu of the customizable options on the other side. So they are side to side and you can pretty much interact with the page: it's that middle ground, pretty visual. Hubspot, after all of the heavy work that is being done by developers, becomes the most beautiful interface that I have had as an editor so far. It's a real time-change, more than Strapi or Prismic. On headless, if you connect it and set it up properly, you can have the options to preview what you've done to the specific page and to preview it, but you have that option, with Hubspot you get it in (almost) real time. Like you're changing it on one side of your browser and on the other side you're actually seeing the page, and you just have to wait a few seconds to see the updates side by side. That's pretty for users, content managers, or content editors that are very visual. Super helpful. These are the reasons why Hubspot fits into a category of its own, which is not for everyone. I initially felt prompted to classify Hubspot inside the same group of Webflow, WordPress, etc., but it is definitely not like that. It is not even something like Wix, and it is definitely not like Prismic and Strapi. So I suppose that there's a specific category – a middle ground, a full hb rather than a CMS.. It is in the name of the brand: a software hub that is supposed to be gravitating towards marketing and sales. So around that, there is a ton of CRM, but there are also email management, ads, and other tools. Looking outside Hubspot, you have MailChimp for email marketing, Unbounce for landing pages, Webflow, Prismic, or Strapi for CMS, and a CRM such as Zoho, but with Hubspot you get everything on the same app. It's a lot, but there again, it can be expensive. But I believe that's probably not good for us to judge. I believe we don't have enough experience in terms of using it as a marketing tool. We have obviously done it for our clients, but we're not on that specific side of the bench to know how much of return of investment they get from paying for Hubspot. But here is
a good reason to use Hubspot: integrations with the other hubs
. I believe there's a reason why we still use Qwerty keyboards: they're already there, everywhere. It is very expensive for humanity to switch from Qwerty to another keyboard layout. That change would be so expensive that it is just better to stay as we are. Change is expensive for organizations. So I believe that maybe the reason why some brands will be using HubSpot or not, is that if they already have their marketing with HubSpot, then it will be interesting for them to continue to use HubSpot for their website. If they're already using the Hubspot environment for everything else and they wanna integrate their website with what they are already doing with the CRM, then that will be an amazing move for the editors and for the marketing team. And even if it can get expensive at the Professional and Enterprise tiers, I don't think that it will be a deal breaker for big brands looking to address their overall marketing. Beware, though, because
Integration with the ecosystem, doesn't necessarily mean loyalty.
Think about the cost of trying to explore something that you didn't know. If you already know HubSpot, use it, and everything is there, and they're offering an amazing way for your marketing team to edit your website, why would you not take that option? HubSpot is not a CMS first, it is an entire marketing hub, and if your brand is currently focused on marketing and you're offered a tool that is sharp-focused on marketing, that would be a pretty interesting alternative. So you see that
another reason to use any particular CMS is familiarity.
There's some things that are definitely objective in terms of cost or scalability, but also subjective preferences and how comfortable I am with a specific interface are key factors, and I have everything under the same roof with Hubspot. They already offer me an option and I am already familiar with this interface and I use it pretty much every day. Why not do it? That happens with stuff like WordPress as well: it has been around for a long time, people are very familiar with it, and they feel comfortable managing content on that platform. It works for these people and that's awesome.
Quick recap: what will shape the future of CMSs and the web
We already talked about Webflow. We already talked about headless. We already talked about HubSpot and how it is so different to the former approaches. We already talked about the do-it-yourself branch of CMSs. We talked a bit about e-commerce, and Shopify Plus, which is headless. The future is diverse. I believe the solutions in the market are more and more custom, and allow people to feel more familiar or more comfortable with a specific way to build your website. You can use something like Squarespace or Wix, and if you want something that 's bigger, more scalable, or more code-heavy, those solutions are available as well. And then hybrids, that are getting closer to each other: these companies are targeting people very knowledgeable in terms of programming, but also people that are much orientated to design and the content management of it all.
In the future CMSs will be more diverse and more inclusive
for people that don't know anything about coding, but at the same time very helpful for those who know how to code. I think the lines are going to get more blurry between no code and low code, and what is going to be code heavy or headless and this kind of other solutions for more experts. Let's see what happens. Diversity is definitely in the future. Another couple of things that will shape the future of the web, aside from CMS, are
experimentation and automation tools.
Experimentation is about marketing on websites, often called A/B testing. It doesn't have to be strictly A/B, but I will call it that because it is perhaps the most popular way you will Google it. Think about the Airtable-like group of applications… Airtable is a lot of things. The future has also a lot to do with integrations between different apps, and integration is a very useful niche because people want to save time, which is why more and more applications are adding integrations, and that's really interesting because sometimes you're pretty comfortable having everything on the same roof. Maybe that's not possible. Sometimes you don't have a Hubspot, but more and more apps are leaning towards having native integrations, and they're available on Zapier, allowing people to have this kind of ecosystem that saves them time and creates a more effective workflow. There's a lot of companies, not only Airtable, as a lot of different software as a service companies are leaning towards integrations: they have their own app store and they're pretty much creating a whole ecosystem inside their own application. Something like
Salesforce
, for example, which has their own app store, where developers can contribute and have their own kind of functionality or feature that they would like to showcase. And there is another category that I will just mention:
Experimentation
. The idea with Optimizely and Google Optimize is you don't know what is going to work on a website, or you may have an idea but you don't know if this beautiful landing page you created, that you like so much, is actually going to work. No matter how experienced the designer, and I'm saying this as a designer, you can't take for granted if it is going to perform well, until it is tested. Tools like Optimizely and Google Optimie let you create a control sample and some variations that you are going to compare. You're going to get visits and measure the behavior of those visitors, and, after you have collected enough data, you will then know which was the variation that performed better. You are not driving changes based on your guts or your taste for design, for what looks better, or for what
you think
will do better. Let's say that you have already built your website. You want to try a new landing page for marketing and you got a design. So you can create a variation that you will test against your original design, and you'll then be able to know what worked better and you will go on with another experiment. I am absolutely convinced that this is something that will be shaping the future of our industry because for brands, it is very common to skip this process of testing and just go ahead and launch new things. I believe
this is definitely going to improve results, while diminishing money spent on marketing campaigns
. Experimentation to the web is like sport analytics has been to baseball or football very recently, and every industry will follow this trend. For example sports like baseball or football have been leaning so much into analytics and gathering data or big data and the like. It's very interesting that these kinds of industries that are very human-like or not that analytic or math oriented at first, are leaning a lot towards stuff like stats analytics, experimentation, testing and whatnot. Obviously I believe so too that the numbers, the analytics that we are going to be able to get, is definitely going to allow us to know more about what works and what doesn't, and save money in general because of that.
Lastly, what is in the future of Quo Agency?
So the one new thing is we are launching a podcast very soon. We are up to record our first episode in the podcast and it is a podcast that will be containing general topics, like there's no limit on what we were talking about. Of course we're talking about this kind of thing related to our industry. But overall there's not like one single topic that we're gonna be talking about. So for instance, we will be discussing further about the Airtable things, about the integrations about Microsoft, Google Suite and AB experimentation and so on. But maybe something that is news and it is exciting to me to be talking within the very first row of episodes on that podcast is: there is a problem on this industry of websites, I believe there's a big problem and it is about how to measure. If you're in the industry of buying houses, for instance, you can measure somehow how large a home is: you're having meters or feet. Or you can certainly compare two different homes or offices and measure them by distance or by square meters. You can totally compare them and get to know which one is bigger than the other. And that is only one dimension, but it is one dimension that you can take into account when it comes to comparing which one will perhaps be more expensive than the other. Again, this is only one dimension. One being bigger than the other is very much not the same, that one being more expensive, but anyways, you're having one way to measure things in that area. Now with websites, who can you tell if one page is bigger than the other? Do you use pixels? If you are comparing the same page on a huge 4K monitor, and also you're opening that in a small tablet, in a small, tiny tablet, it is this very same page and one is going to be having more pixels than the other. So pixels might not be a good approach for measuring how large one page will be. So what do we use? That is one thing that we're gonna be talking about on that podcast. And the other one that is related to the former is how do we come up with costs. We use these sections or units that we call blocks that we identify and have measured the average time in minutes that takes our team to come up with one of these blocks in different stages of the design and development process, and we have our own calculator for that. That's how we estimate the cost of a website at the moment, and it's been very helpful for us. It's something that we've been refining for the past few years and it's, again, it's something that has worked for us as an agency because, as mentioned previously, there's definitely an issue in terms of how to estimate the extension of one website. And there is some subjectivity to it as well, in regards to design, because there's a creative aspect to consider: there's an artistic aspect of it all as well with the graphics and everything that you're adding to a user interface. There's definitely a lot to take into consideration. Then there's also
development.
It's not an exact science, but it's definitely something that we can talk about based on our experience so far. So yes, that is I believe a good way to close up this conversation, with an invitation to join us on that row of episodes and our new podcast that will be aiming or will be exploring the difficulties, the challenges, and several approaches and ideas on how to measure and how to estimate costs for websites.