PSafe is a leading provider of mobile privacy, security, and performance apps for the Android platform. Their flagship antivirus and anti-hacking app, dfndr security, has 150+ million installations globally and was recently named as a top-rated antivirus software by the AV-TEST Institute — the world leader in security and antivirus research. In this interview, we spoke to PSafe Founder and CEO Marco DeMello to find out why mobile security is so important, and what users can do to stay protected. 
Please describe the story behind the company: What sparked the idea, and how has it evolved so far?
PSafe was born after the explosive growth in Android smartphone use in Brazil, which created a need to help protect Brazilian users when they go online with their phones. 
The Brazil app market is largely free, so I reached out to two business partners, Benjamin Myers and Ram Rao, to help design a fully-featured free app, supported by advertising. We delivered a great free product and have won continuous support from our users.
The USA was our second primary market. As Android smartphone quality improved, and more people began using them in the USA, we saw a great opportunity to grow, so we began to provide premium features for paid subscriptions. 
We've also launched iOS versions of Apps to help protect Apple / iPhone users.
Our latest expansion went into the B2B SaaS market in Brazil, with data leak prevention (DLP), and endpoint protection (EDR) product, focused on the needs of small and medium businesses: self-service, auto-remediation, and ease of use.
When it comes to data leaks and ransomware, SMEs face the same issues as large companies do, but they lack the dedicated teams needed to implement and run more complex solutions. By leveraging our lessons from the consumer space, we've been able to develop a fully-featured SaaS product to address the needs of SMEs in Brazil.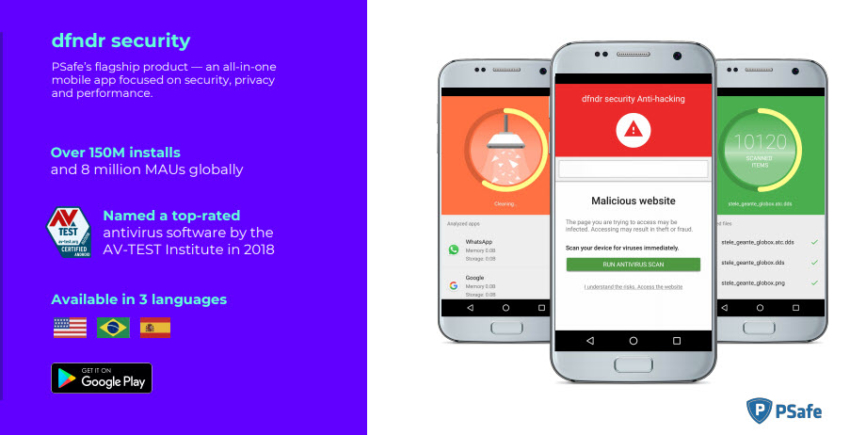 While privacy regulations like GDPR and CCPA continue to evolve, cyber-threats seem to be skyrocketing. How do you explain that?
The privacy laws, which also include Brazil's new LGPD, are society trying to react to the fact that hackers now consider user or company data to be among their most valuable targets. In fact, they treat them as commodities for trade.  While the new laws try to force companies to better protect this data, hackers will inevitably continue to develop new ways to access it. The value of data is constantly on the rise, therefore the threats will continue to evolve.
If you were a policymaker, what would you change in the way PII (Personally Identifiable Information) is being handled?
Data protection laws and their focus on fines/penalties have had some unintended consequences. They encourage hackers to blackmail companies when they want to conceal the fact they have been breached. Perhaps a better way would be to give incentives to companies who demonstrate compliance, similar to how the IRAs give tax breaks to encourage investing/ saving, rather than focusing on penalties and fines. 
Which trends and technologies do you find to be particularly intriguing these days?
Artificial Intelligence assistants still have a long way to go, but some recent advances are about to expand the capabilities of the virtual assistant repertoire in a much more natural fashion. Some time ago, Google revealed a system called BERT, that can complete sentences with missing words. In a multiple-choice test, the system did as well as humans in filling gaps.
These improvements, along with better speech synthesis, will change our relationship with AI assistants. Let's move from simple commands to complex conversations. There is a real possibility that these changes will facilitate daily tasks such as taking notes, finding information on the web, and even online shopping.
Of course, as AI advances, there are also security implications. Hackers will undoubtedly continue to employ advances in AI to security protocols — and security providers will need to be ready to respond.   
How do you envision the future of your industry?
The age of "traditional antivirus" or traditional security players is over.  At PSafe, we focus on offering protection to consumers and businesses, which helps them avoid personal data leaks, phishing attacks, and WhatsApp cloning. We help prevent their data from being used against them (e.g., ransomware). The future of security will be about accompanying and protecting the users in how they access data, whether it be their personal data or their workplace's data.