Pixlr
is a state-of-art online photo editor with just the right amount of easy to enable a quick and slick user experience for the non-experienced user. In this interview, hear all about the story behind Pixlr from founder and CEO Ola Sevandersson.
Please describe the background behind founding Pixlr and the way it has evolved so far.
Pixlr was created as a pet project over 10 years ago with the idea to enable photo blogging. While the initial groundwork took about a year to create, the first version of Pixlr became an instant hit among the creative community and it accelerated from there. In 2011, about three years post-launch, Pixlr was acquired by Autodesk, with a hit of 5-10 million unique monthly users. The following years focused on Pixlr's product launches for web, mobile and desktop respectively. When I left the company, Pixlr had grown to over 60-70 million monthly users with just a handful of us working on it. With Autodesk going through a business model transition, they decided to focus on their core product portfolio that resulted in Pixlr's development to come to a standstill for years. In 2017, Pixlr was acquired by 123RF, a premium stock image library, and one of the core business products of Inmagine.com. The founders of 123RF reached out to me to inquire if I still wanted to continue working on the products again. Since then, my main focus is to move the existing web products from the old technology to HTML5/WebGL as well as to leverage on all the new possibilities that come with Machine Learning (ML) and Artificial Intelligence (AI).
What makes Pixlr unique?
Pixlr successfully came out on top and became the world's largest online photo editing service because we focused on the right aspects: a simple and quick experience without any hassle such as login, start screens and loading time. Today, we still focus on the same aspects, helping users to be more creative and achieve the results easily and quickly on any given platform.
The world of graphic design has changed tremendously over the past decade. How would you advise designers to keep their edge in this constantly evolving scenery?
Even though much has changed over the past decade, with trends in design that come and go, somehow it will always find its way back again. With that said, look out for inspiring artists across all fields and follow them on Instagram, Dribbble, Behance, etc., but also don't be afraid to create and challenge your own style! On another note, an aspiring designer should ensure repetitive tasks are avoided. For this reason, one can always leverage on both the power of the hardware and software as well as utilize new tools that use AI and ML to perform actions like bulk cropping, background-removal, auto-adjusting, and mockup creation. This will free up time for you to focus on the craft and be creative.
Below is one example of what you can do with Pixlr's photo editor: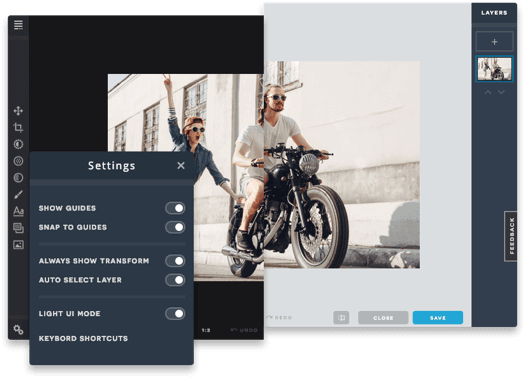 Which technologies do you find exciting these days, and why?
Surprise, surprise! I would have to say Artificial Intelligence (AI) and Machine Learning (ML). There is no business that's going to be left untouched by the advantages we are seeing with ML and AI. Every simple and/or repetitive task is going to be solved by computers and machines.
How do you see the future of graphic design in 5 years from now?
I think and hope the trend of live filters and superficial images will shift to portray a more authentic and natural style. We are at a point where a photo taken with a smartphone is not a representation of the real world, but an automated machine photoshopped version. In years to come, we anticipate seeing more seamless designs across different screen sizes and scenarios, communicating with users as they go from a small screen on their wrist, to a medium-sized screen on their phone, to the tablet in their car or desktop at home. Being able to stay connected with them and provide a flawless experience across all devices will help tools like ours to keep their edge.