NetBase Quid makes the world make sense. There is so much going on in the world – so much data and so much information that is all happening at any given time. We enable companies to really make sense of what is happening in their market or in the product and service that they are delivering. The way that we do this is that we apply artificial intelligence to consumer and market data which enables businesses to understand how quickly the market is changing and reinvent themselves accordingly. An example of the need for this is looking at how much the market and consumer behaviour has changed as a result of Covid-19. We help customers respond to these changes preemptively rather than after the fact. We do this by reacting every single day. We aggregate and provide insights and intelligence to literally billions of different pieces of data that come across externally from various channels, and also information that the customer is retaining themselves through their customer service and point of sale teams, etc. We analyze that data and provide insight and intelligence to do both prescriptive as well as predictive changes that will drive the success of the company.
What role does NetBase Quid play once a customer signs up for your product?
We offer three different things.
Self-service: The customer subscribes to our platform of offerings so that they can find identify insights for themselves
The customer can work with one of our professional service teams to provide them with the insights
The customer enables our professional services team to do it on their behalf
NetBase Quid dashboard presentation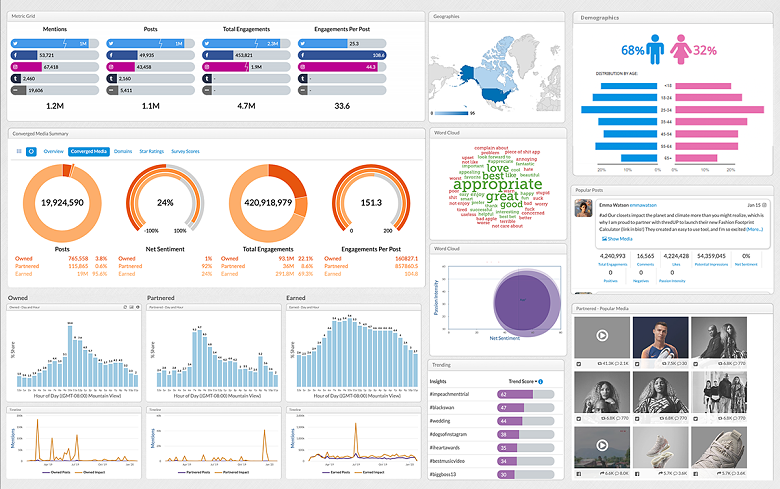 What is the competition like in your industry and what makes you stand out?
The competition in our industry is pretty fierce. There are literally dozens and dozens of companies that attempt to do what we do in this market. Our differentiator is that we do everything. Most of our competition does part of what we do. So if you are looking for a one-stop-shop around your consumer market intelligence, you come to NetBase Quid and we can do all those things, and you only have one product to interface. I believe that we stand out as a result of our speed of introduction of new capabilities, coordination, and validation with our customers. And thirdly, not only the quality but the accuracy of the insights that we deliver is very, very important is a key differentiator for us We are the only vendor I know in our space that introduces new capabilities every three weeks. We just have a great engineering team that is on it all the time. We have a very deep relationship with our customers. 80% of the capabilities that we introduce every three weeks are vetted by our customer base. We have a key group of customers that are of different sizes in different regions around the world that provide input into our release plans. Our solution, quality, and accuracy of insight are super important. There are solutions out there in the market that will have the ability to analyze the data, but the ability to analyze data and drive real intelligence from it is very hard to do. As an example: " I love Coke, I hate Pepsi." There are solutions out there in the market that will assume that that is a neutral statement because there is a positive and negative built-in. Our solution will actually analyze the statement and see it as a positive statement for Coke and a negative statement for Pepsi. We will provide that insight not only to that post but to any number of posts that may be related to that.
The future of wearables market analysis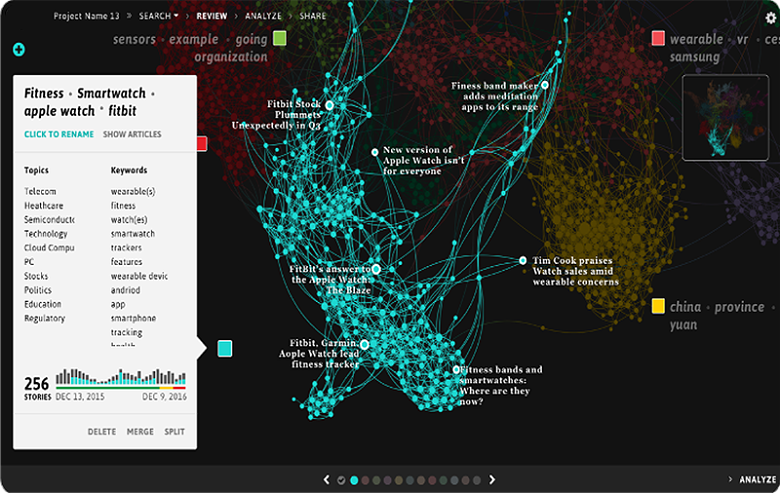 How many employees work for NetBase Quid?
We are a global company of 250 – 500 employees. We have locations in eight places around the world where our teams are located to support our customers. These teams support customers from an onboarding perspective with respect to learning and being educated and trained on our platform, as well as additional services for customer success and customer enablement and or from a professional services project management and consulting perspective. We also have partners that we bring in based on both their regional location as well as their different levels of expertise around the business problem or challenge that our customers are focusing on.
Who is your target market?
The need for the solution that we offer to customers is about 85% business-to-consumer-driven and about 15% business-to-business driven. Within that business and consumer portion of the market it is really distributed across three next level segments:
Businesses that are selling to consumers directly
Agency firms that are working either with business-to-consumer firms or working on behalf of them from an understanding of the market, advertising around their market, digital development, media, etc.
Consulting firms- there are ranges of different types of consulting firms that are also focused on this market.
Within the business to consumer market, the primary areas of focus are around consumer products, media and entertainment, and retail (this includes some aspects of consumer products, food, and beverage, apparel stores). So just as an example, the following companies are customers of ours: Hershey's, Coca Cola, United Airlines, The New York Times.
Has Covid-19 impacted the type of customers/ industries that you are attracting?
One of the things that we have seen is a dramatic increase in interest in the solutions that we provide. This is due to the need for these companies to rapidly understand consumer shifts in behavior and acceleration and emergence of different trends. From a company perspective, we have done tremendously well as a result of Covid-19. We have seen a dramatic change in consumer behavior. As people, what we are interested in doing and what we are interested in consuming has changed. There has been a change in focus towards sustainability, organic food, not traveling as much, or when we do travel, traveling differently. Consumers have also become less connected to the brands that they were most familiar with prior to the pandemic. These are all trends that were already there but they have been accelerated as a result of Covid- 19.
Can you provide examples that you are particularly proud of where companies have adjusted to these trends?

We are proud because our customers are proud of it. I can give you a few examples of this: StarKist : They basically accelerated the way in which they introduced new ways of packaging their tuna. They went from cans to pouches of a similar quantity to now providing single-serve pouches. This is something that they were looking to address but was accelerated. As a result, consumers are seeing the new appearance and potential accessibility of the food by placing it in pouches. Hershey's: They used our intelligence to really re-understand the Halloween experience and how they could align themselves to enable kids and adults to enjoy Halloween. They reimagined what the experience should look like and introduced safer and healthier ways to digest their products. Lufthansa: Looked at ways in which they could improve their customer journey by deriving insights from the data. So they were very proactive at introducing safety measures as part of the travel experience all the way from the lounge area of their terminals to the experience on their planes. They introduced hand sanitizer, masks, and all kinds of other things to create a healthier and safer experience for their travelers. We also have a number of different restaurants that are in the quick-serve space. Companies like Yum! Brands that is a holding company for Taco Bell, Pizza Hut, and KFC to companies like Chick-fil-A, to Chili's that are looking for ways to respond to consumer behavior and preference changes that were already happening, but just accelerated during Covid-19.
Did Covid- 19 have an impact on the way that you as a company worked?
Before Covid-19, we were already a significantly remote-oriented / virtually oriented company. So we already had a little bit of that culture built into us. However, as we hired new people it enabled us to attract even better talent than potentially other companies who are just transitioning to a remote environment. We already have pretty well-established processes for onboarding remote employees in a way that introduces them to the company and its culture.
Is there anything else that you would like to share with us?
Well, we have a bunch of really exciting things happening. We have our big consumer and market intelligence conferences coming up in November in New York and in Los Angeles.