Nektony
develops utility apps for cleaning macOS and iOS devices and speeding up their performance. I spoke to
CTO Yuriy Varbanets
to hear the story behind the company and get some tips for maintaining a healthy, clutter-free device.
Please describe the company's story: What is your mission? What sparked the idea, and how has it evolved so far?
Our applications were designed to help Mac users to make their machines more efficient, clean their disk from junk files, analyze disk usage, find the biggest disk space eaters, delete duplicate files, completely uninstall applications with all their service files, find hidden files, and many more options that make Mac computers even more productive. Besides cleaning applications, Nektony has also developed a VPN Client application and apps that allow you to open and work with your Visio files on iOS, Android, and macOS devices. Nektony was founded by Serge Savenko and myself in 2011. The first application we developed was Disk Inspector, which is an old version of our current application called Disk Space Analyzer. This application scans the disk and provides a graphic representation of the disk space usage, allowing users to find and delete the largest files quickly. The idea came about when we faced a clogged disk on a Mac computer. The point is that when there is no free space on your Mac, the macOS continuously displays a notification that the Startup Disk is almost full and you urgently need to clean up space. When this happens, the work on your computer ceases to provide you with any pleasure. At this moment, the computer's productivity decreases, and the execution of even the most basic tasks becomes many times more difficult and slower. The macOS system did not provide solutions to this problem. Certainly, this prompted us to create an application that will allow Mac users to find the largest files, observe what files have not been opened for a long time, and, perhaps, a lot of them are not needed at all. This is how our Disk Space Analyzer application looks now.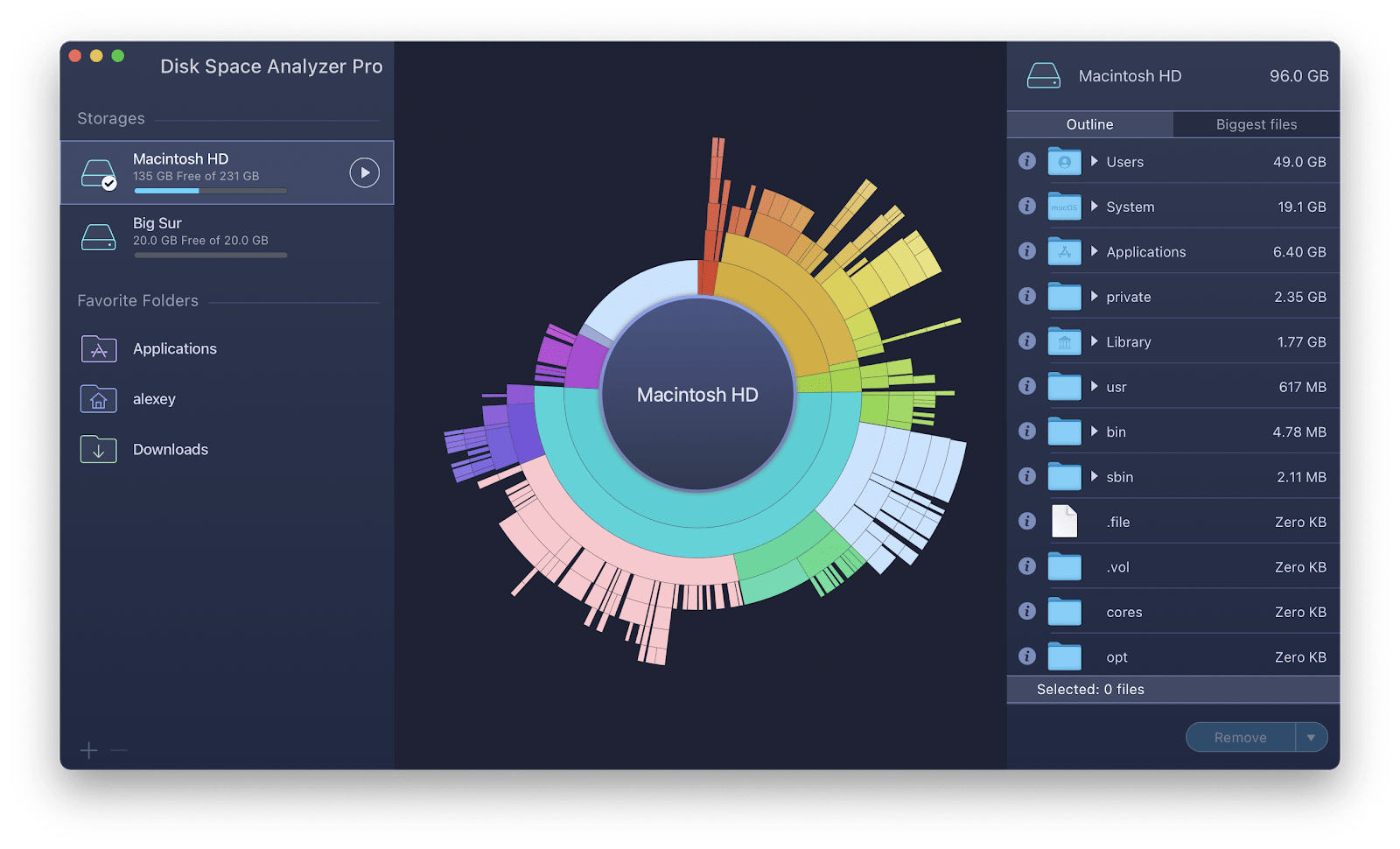 Since the foundation of the company and up to the present day, Nektony has developed 16 unique applications, as you can see in the graph below.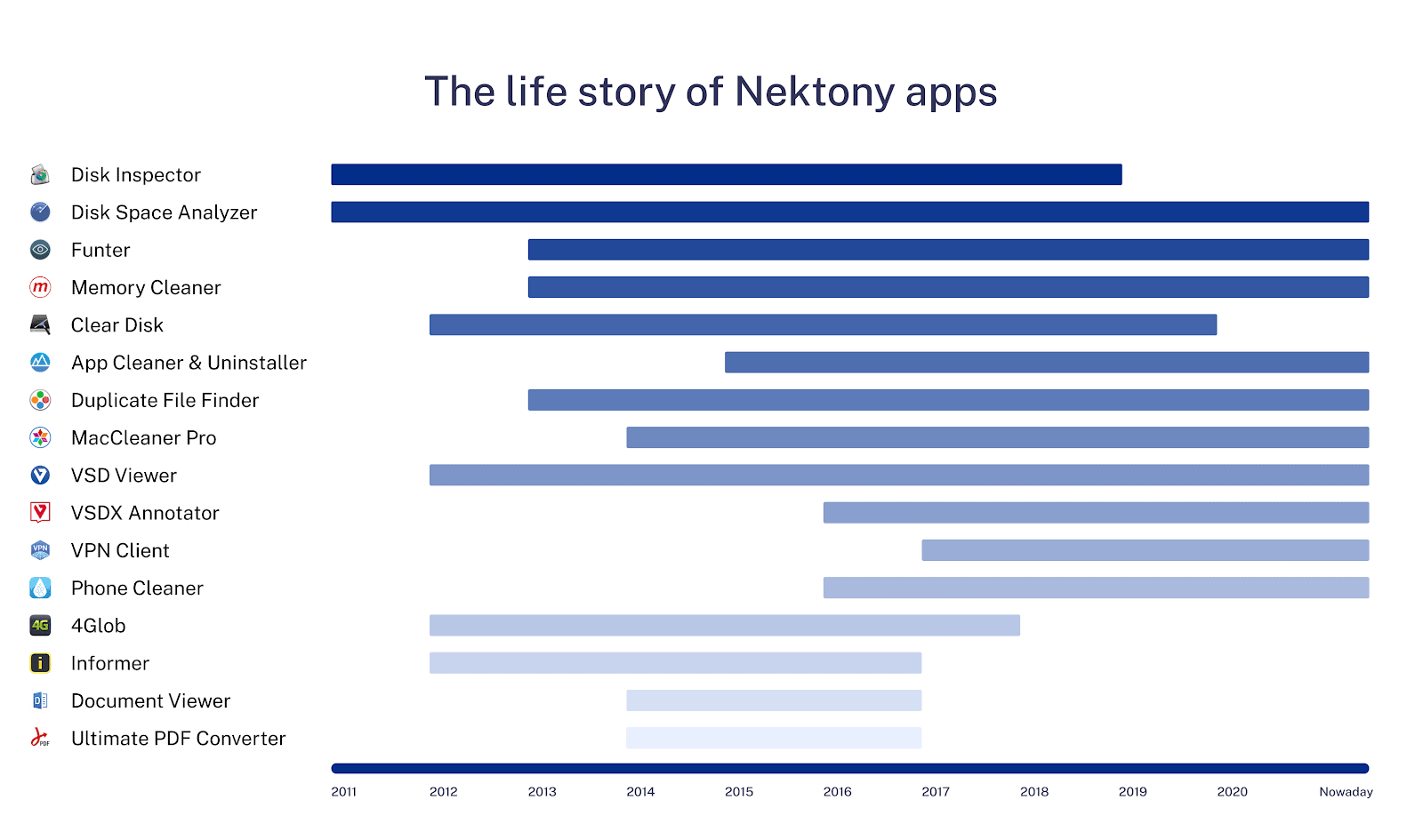 What kind of tools do you offer users?
We started with developing apps like Disk Space Analyzer, App Cleaner & Uninstaller, Duplicate File Finder, Funter, Memory Cleaner, and Clear Disk. These six applications were popular among Mac users and solved all sorts of issues related to Mac's performance. However, after a while, we discovered that many of our users are simultaneous users of several Nektony's applications, so we decided to create a solution to several problems at once and combined 6 of our most popular applications into one large, unique bundle. This is how MacCleaner Pro was born. Currently, MacCleaner Pro is the most popular application developed by Nektony. MacCleaner Pro is the all-in-one software program that keeps your Mac digitally clean and boosts its performance. This application helps you clean up your Mac's hard drive from tons of junk files, and as a result, creates more storage space. It can safely clean up and speed up a Mac with just a few clicks. MacCleaner Pro allows you to:
see what's taking up space on your disk, including files in the "Other" category;
analyze and manage your disk space usage;
discover the bulkiest items;
remove junk files on your disk (caches, logs, mail attachments, and more);
find and remove duplicates of all types of files;
completely uninstall apps, manage their extensions, remove apps' leftover files;
monitor memory usage by apps;
find, show, and operate hidden files, etc.
Here's a quick view of MacCleaner Pro-
What are the current challenges that Mac users struggle with, and how do your solutions help?
The fact is that many novice Mac users do not exactly know how the macOS system works and where the service files of their programs are stored. When such users want to remove unnecessary applications from the computer, they simply drag them into the Trash while the service files of those applications continue to clutter their disk space. To solve this problem, Nektony has developed a special utility, called App Cleaner & Uninstaller. This application can remove any program from your Mac along with all its service files in just a few clicks. App Cleaner & Uninstaller can be useful for novice Mac users and those who do not want to waste a lot of time looking for applications` leftovers in their computers' hidden folders. Moreover, App Cleaner & Uninstaller makes it possible to see absolutely all startup programs and system extensions to make it possible to disable unnecessary ones.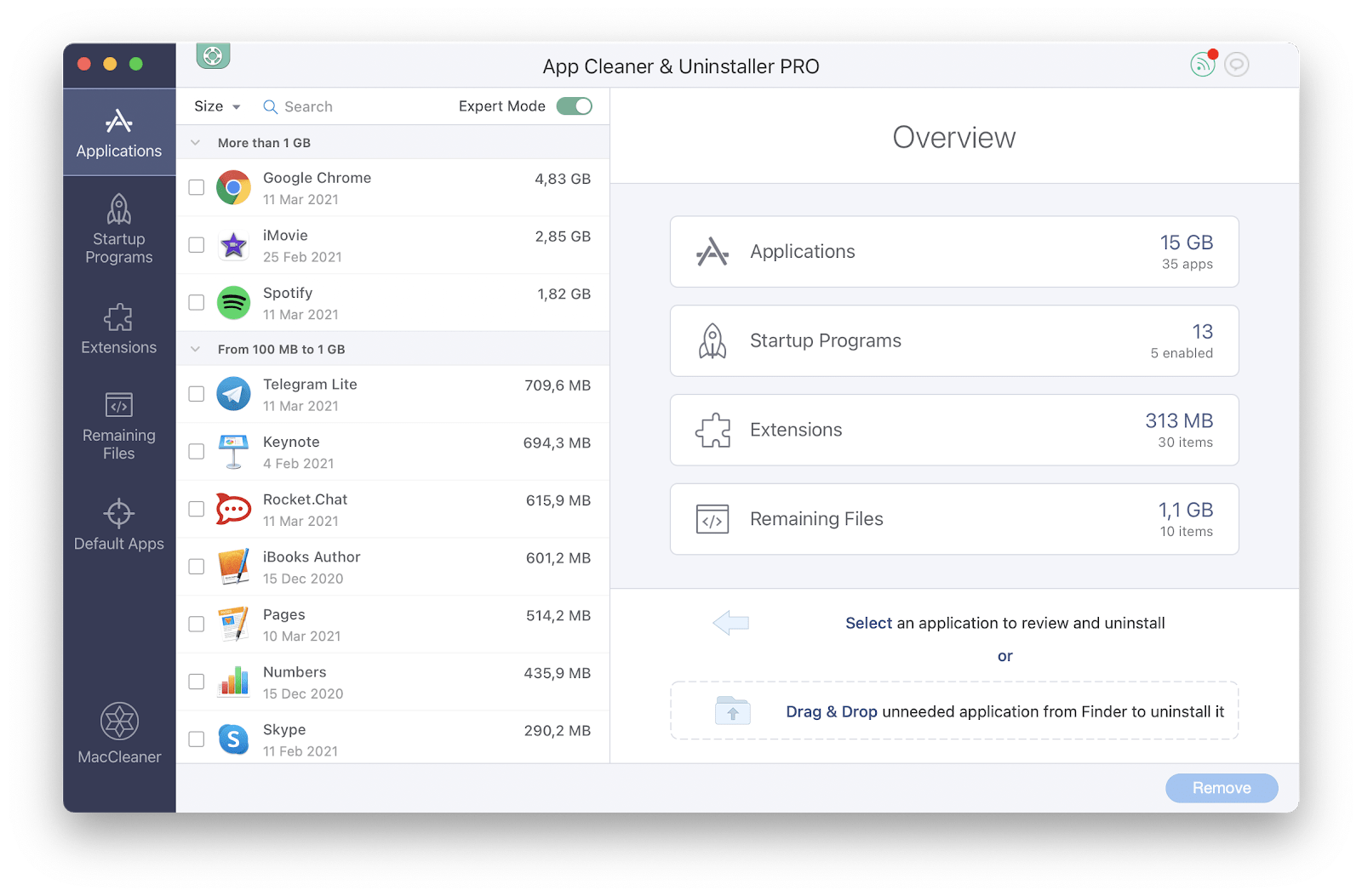 Another common problem of Mac users is the huge number of duplicate files. Over the years, duplicates can clutter up your Mac. Most frequently, users might not even suspect that there are many duplicates on their computer. This happens because your duplicates can be located in various folders. They can be named completely differently, and sometimes they are even stored in a hidden part of your system. As a solution to this problem, we developed an application called Duplicate File Finder. This application scans your Mac or any external drive and finds all duplicate content. So it usually happens that with Duplicate File Finder, users find hundreds and thousands of identical files, photos, and videos on their disks and clear gigabytes of disk space by removing them. Nektony provides users both separate applications for each of their tasks and a bundle of all these applications as part of MacCleaner Pro at a favorable price.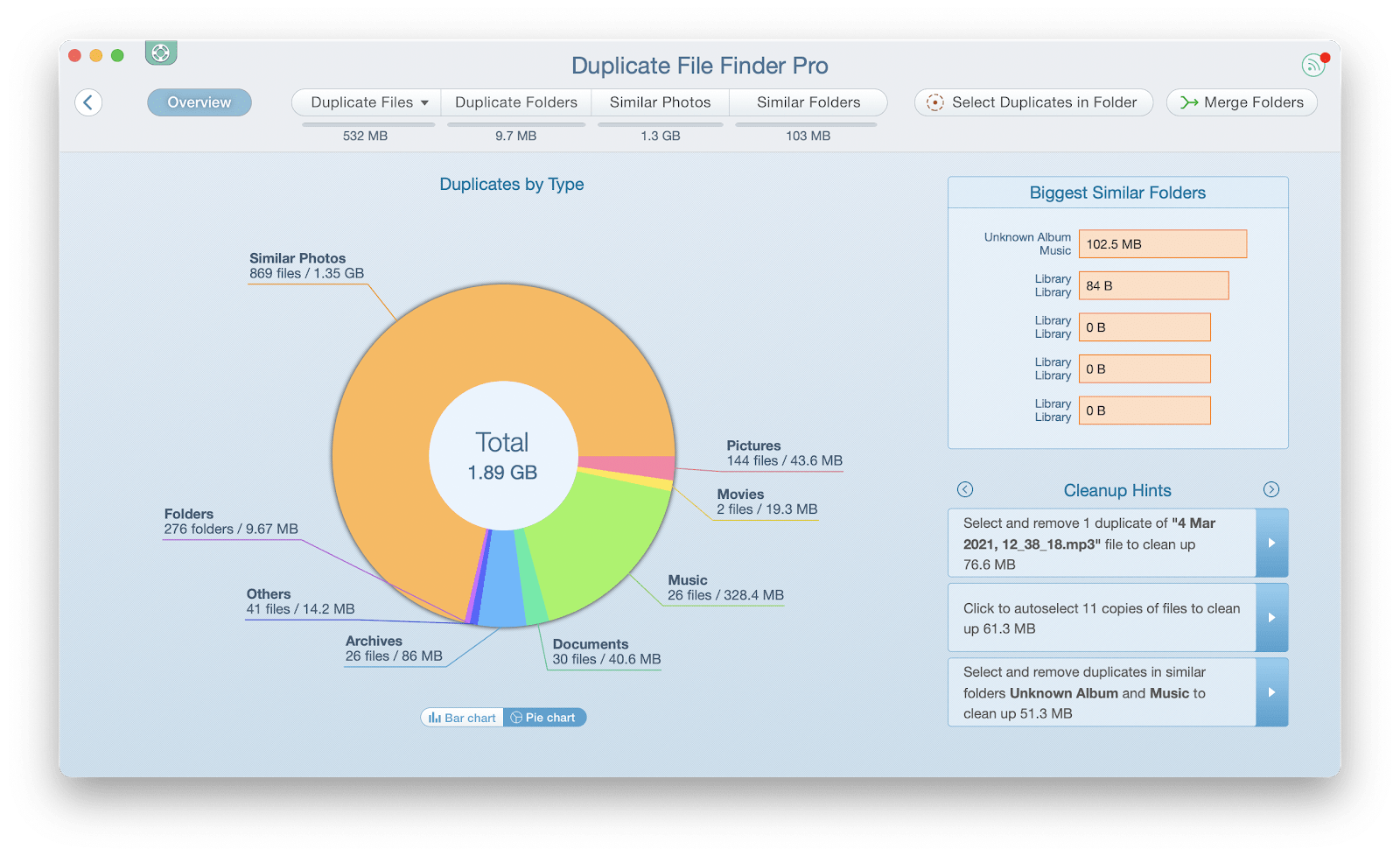 What are your top recommendations for maintaining a healthy Mac device?
To make your Mac serve you for a long time and always work quickly, you should perform just a few simple actions regularly:
Restart your Mac periodically.
It is recommended for MacBook users that you shut down or restart your Mac at least once a week. This is because macOS increases resource consumption and does not clear all memory after shutting down applications.
Keep your storage space usage well optimized.
It is essential to keep only the needed data on your computer. Try not to litter your computer with all sorts of junk files, such as remaining files of previously deleted programs, duplicate files and folders, caches, logs, unnecessary extensions, screenshots, mail attachments, Internet plugins, etc. Just so that users can quickly and easily clean their Mac from junk files, Nektony developed MacCleaner Pro.
Turn off unneeded Startup Programs.
This is very convenient when your favorite programs start automatically when you launch Mac. However, when you have a large amount of these programs, it can slow down your computer tremendously. That is why it is better to disable at least some of them.
Uninstall unused applications.
Having a large number of unused applications also negatively affects the speed of your computer. Therefore, it is important to look through your Applications folder from time to time and uninstall applications that you no longer need. You can find
more steps to improve a slow Mac
in this article.
Monitor the condition of your battery.
MacBook users need to check the battery status in the System Report regularly. If the report indicates that service is recommended, do not delay your visit to the service center.
Clean the Mac from dust.
Once a year, it is recommended to contact the service center to physically clean Mac's insides from the dust.
Do not open files and links from unknown or suspicious senders.
Also, you should not download and run programs from unverified developers. Never run programs downloaded from suspicious sites. macOS is a reliable system that protects your data from intruders, but it can cost you dearly if you launch malware.
How do you expect Apple's new privacy features to impact your business and industry?
In my opinion, it is smart of Apple to enhance the security of user data and restrict third-party applications from using that data. Of course, the changes in privacy features will, to some degree, affect the way we interact with our devices. I expect it would be easier to delete unnecessary files or disable unneeded applications from autorun.
Which trends and technologies do you expect to see more of in the coming years?
I observe an increasing trend in the development of social networks and, at the same time, the anonymization of users. During the lockdown period, when working remotely, social networks and applications like Zoom helped people to maintain at least some sort of social activity. However, the emergence of ClubHouse to replace offline conferences seems like it's here to stay. In the near future, I also expect to notice some progress in developing information security and personal data storage. Currently, the number of social networks and other sites requiring authorization is growing rapidly. At the same time, the threat of data compromises is increasing. You can also see a tendency to automate all processes that were previously only possible for humans to perform. Technologies related to artificial intelligence are developing swiftly. This includes creating a large number of neural networks generating fake news. That significantly undermines the credibility of the media and governments. For this reason, I have a clear conviction that soon, humanity will have to create new tools to separate truth from lie.