We spoke with
Yekta Ozcomert, Cofounder and COO of MobileAction,
about how their platform helps app publishers rank higher in app store searches, gets more organic downloads, and understands vital metrics that will help them make the right business decisions. Their products are powered by proprietary algorithms that give you insights into not only your but the competition's data so you can gain a competitive advantage.
This interview was originally published on March 10, 2020.
Please tell us a little bit about your background before co-founding MobileAction.
Before Mobile Action, I founded my first company based on mobile app development. In a short time, the apps reached 10M+ downloads. Right after selling the company, I joined MobileAction in San Francisco. Within a year, I led MobileAction to grow a company of multi-million dollars of ARR. I'm still conducting the operations of MobileAction.co & Searchads.com and continue to provide reliable App Store Insights & Intelligence for the app publishers around the world.
What is MobileAction's mission?
MobileAction aims to provide an all-in-one solution for app marketers, developers, and app publishers to grow their apps on both organic and paid channels. We offer an integrated self-service app intelligence platform that enables access to various types of different data and provides actionable insights into the app growth.
What type of information is available with your Market Intelligence product?
Users can access and download revenue, daily and monthly active user estimations, as well as the locations of users of any app. Through the Store Analysis feature, you can analyze the download and revenue trends of different categories and break down the data based on various storefronts. You can also analyze and download revenue estimations of any app or publisher in a time window and see the top downloaded apps and publishers in a selected time frame in any country and category.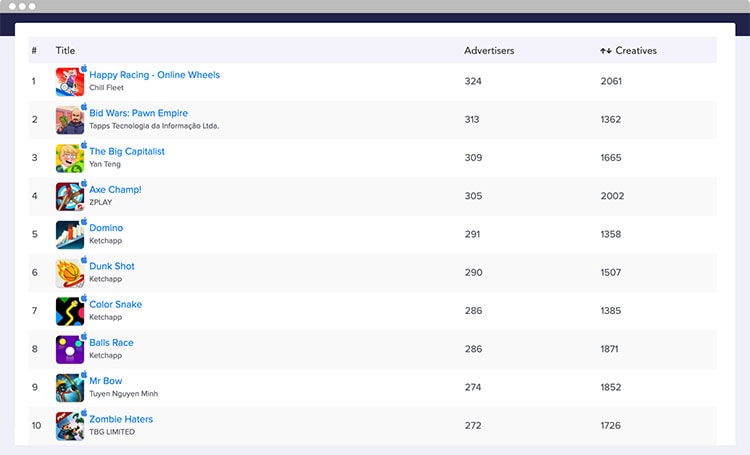 How does your algorithm figure the Download & Revenue Estimates and Daily & Monthly Active Users of a user's competitors?
Thousands of apps are connected to Mobile Action via integrated App Store or Developer Console accounts. We use this data with other public data resourceactions like ratings/reviews to fuel our Market Intelligence data driven by powerful machine learning algorithms. For more information, you can read our blog post about the methodology of our market intelligence estimation models.
What insights are available through your Ad Intelligence product?
When you search for an app that runs in-app ads in our Ad Intelligence solution, you can see:
The ad networks it's using and the percentage distribution
The number of apps running ads for the selected app
Total and active ad creative counts
Creative type distribution (percentages of video, playable, and image ads)
The percentage distribution of the countries where the app is advertising
Language distribution of ads
Ad creatives (can be filtered based on time window,  impression score, ad network, ad creative type, and status)
Titles and subtitles of ad creatives for different countries
Top ad creatives based on impression score
Top Advertisers & Ad Publishers
Which ad networks do you analyze and do you display all the creatives that your competitors are using?
Currently, we have data from 16 different ad networks:
Facebook
AdMob
Unity
Vungle
IronSource
Applovin
ChartBoost
Tapjoy
Mopub
AdColony
FB Native
Instagram
Messenger
Tiktok
YouTube
Snapchat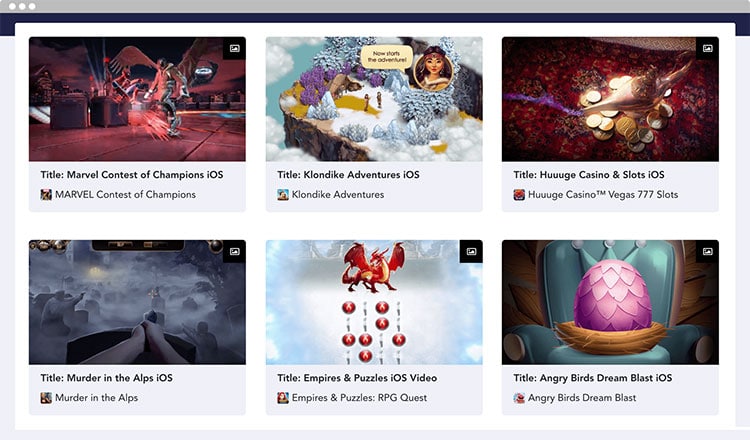 We display all the creatives of an app in the above ad networks.
What does your ASO Intelligence product analyze?
ASO Intelligence provides all the keyword intelligence tools about any app for app developers and ASO Managers to do keyword optimization. Basically, you can spy on your competitor's organic and paid keywords, track those keywords to analyze your ranking as well as your competitors', and find new keywords that are likely to raise your positioning. Apart from these basic tools, we have five advanced ASO tools:
ASO Report – shows the in-depth analysis of the ranking of an app for all its keywords.
Keyword Intelligence – displays all the keywords that bring organic downloads with percentages for any app.
Search Ads Intelligence – shows all the paid keywords of an app with percentage shares of impressions and top Apple Search Ads advertisers in any selected country.
App Update Timeline – shows all the updates of an app in a timeline since its release
Localization – compares two or more apps for different countries and points out the elements that haven't been localized in the app listing page.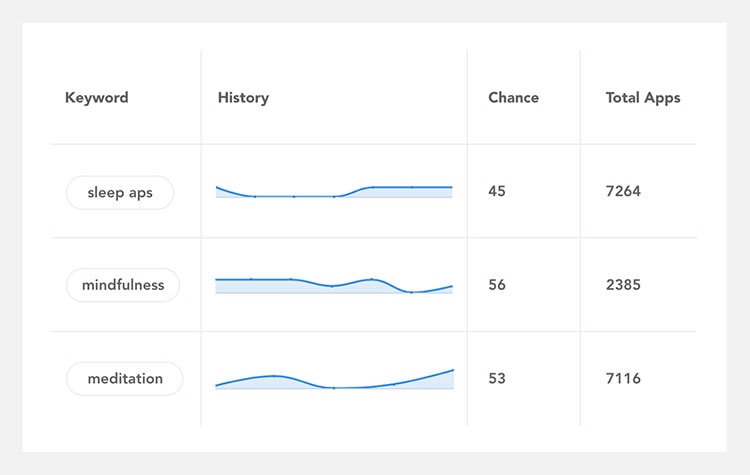 How can the information in Keyword Tracking reports be used to improve one's ranking?
Users can see the search score (how popular a keyword is) and the chance score (ease of ranking for that keyword) for each keyword they track. In addition, they can also view how many apps are currently ranking for their tracked keyword and their real-time rank. Based on this information, they can prioritize and select their target keywords to improve their ranking.
Based on what information does your algorithm generate Keyword Suggestion?
For each app, we ask our users to provide candidate competitors to their apps. Using this competitor information, we simply use our extensive and historical keyword ranking databases to come up with a suggested keywords list that shows missing keywords.
What is SearchAds.com?
SearchAds.com is a complete Apple Search Ads optimization platform, designed to scale your campaigns through flawless attribution partner integration, competitor keyword intelligence, and advanced automation and bulk operation features. We have recently become an official Apple Search Ads Partner and are aggressively improving our product to serve our clients better. If you use Apple Search Ads and looking to maximize your ROI and operational efficiency of your user acquisition team, it's a must-have tool for you.
What makes Mobile Action better than other, similar platforms?
Every platform on the market currently specializes in one specific area. For example, AppAnnie is known for its Market Intel solution, whereas SensorTower might be considered for Ad intelligence. Where MobileAction differentiates itself, is the fact that we encompass every aspect of Mobile Marketing. Whether it's Market Intelligence, Ad Intelligence, or ASO, we cover it all. We aim to be a one-stop-shop for all app marketers. No one should have to use multiple tools to meet their needs when there's already one on the market that covers it all. Additionally, unlike most other platforms, a large portion of our product road map comprises of user feedback and input. Rather than implementing a change and expecting the users to find it useful, we find out what our users want and then design a solution addressing their needs. We also take great pride in our dedicated and personal level of customer support. Through ensuring constant communication, as well as having regularly scheduled check-ups, we consider our level of support to be unparalleled on the market.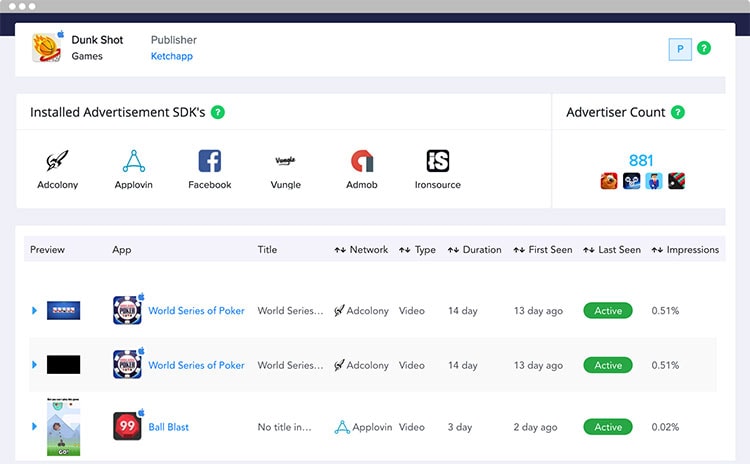 What Customer Service/Support is available?
We offer around the clock, 24/7 customer service. Our aim at MobileAction is to have business partners, not clients, which is apparent by the close relationships we have with our user base. By assigning a dedicated account manager and customer success representative, our users never feel alone. We're with them every step of the way, from the moment they sign-up to our dashboard until they become MobileAction experts. Via intercom, we provide a channel to always reach us regarding any issues or concerns they might have.