Wideo
is an online video creation platform that enables inexperienced users to create, edit, and share online videos. I had the pleasure of speaking to COO Fernando Sabre to discuss some of the changes that video has brought into our lives, and the opportunities it presents to businesses large and small, even when they don't have a professional filmmaker on staff.
Please describe the background behind the company and its evolution so far
Wideo is an online tool to create videos and presentations. Most of our users are small and medium companies that use the platform to create promotional audiovisual content. It is used by small agencies that previously couldn't offer video creation services to their clients and with Wideo they can start offering it, which means more revenue for them. We also have many non-profit organizations that create videos to present their events and actions. Basically, Wideo is used by people and companies that do not have a video and animation background or knowledge, to create different types of video content like promotional videos, videos for internal communication, business presentations, etc. Wideo was launched in January 2013, we have been in the industry for more than 6 years. We have more than 2.5 million registered users in more than 180 countries. The tool is available in English, Spanish, Portuguese and Korean. Initially, our editor was launched in a technology called Flash, which became obsolete. At the beginning of 2019, we launched a new version of our editor, based on HTML5, which is much more powerful and secure. In this way, we are incorporating new features. Among the most important we can name is the incorporation of videos filmed within the editor, which will be available soon. Regarding the team and working culture, in 2017 we decided to be a 100% remote company. Today we have the team distributed in different countries such as the USA, Spain, Argentina, and Sweden. This new modality of work was a decision that really changed the energy and focus of the team. In Wideo we believe that time is the most valuable asset for people and the fact of being tied to work in an office means that you do not have your time and space for what you most like to do. By becoming 100% remote we are all more focused on our work and at the same time happier to be able to choose where to live based on what one enjoys most and have all the time that was previously lost in coming and going from the office for activities that everyone likes to do. We measure the efficiency of our team based on objectives.
What's unique about Wideo? How is it different from its competitors and what is the extra value that it provides?
In the beginning, when we launched Wideo, there were not many competitors in the market. Over time, new companies emerged, offering a similar product. Among the main competitors, we can name Powtoon, Biteable, Animoto, Vyond, Moovly. The main difference that Wideo offers regarding the competition is the quality of our design and animation templates.
We put a lot of effort into the creation of the templates because we believe it is a fundamental factor to allow people without knowledge in animation to obtain professional results. Here's a short video that Fernando has kindly prepared for WebsitePlanet, to demonstrate the capabilities of Wideo:
Many of the competitors offer more "cartoony" solutions that can be useful in some cases, but a lot of companies look for another type of design in their videos. Additionally, we are distinguished by the simplicity of our editor. We put a lot of effort into the editor's UX / UI. We want the editor to be as clean as possible, avoiding clutter and confusion. Many of the tools that you find today offer too many options that make the content creation process more complex than necessary. I think those two things are our main differentiators from the competition.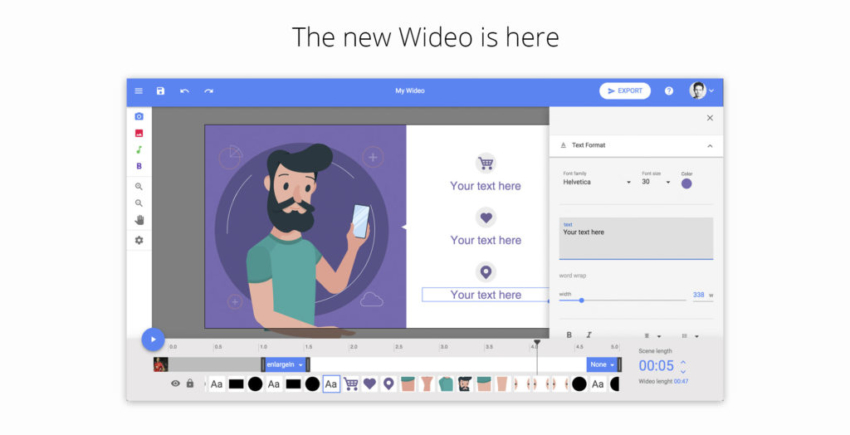 Video has certainly changed a lot over the past decade. How have those changes affected the way people do business, and what are your insights so far?
Clearly, video has changed the way people consume information and that is why it has led companies to have to transform the ways of communicating and promoting. This trend began several years ago but in the last 4 years, it has gained much more strength. The social networks, which are the main channel by which people consume information, have aggressively turned to video content. On the other hand, regarding internal communications, companies have been updating their content to video so that they are simpler to consume by their employees and thus get more engagement. The audiovisual content makes the message reach people more effectively because it is very simple to consume, involves several senses at the same time, and generates a greater satisfaction in our brain. Our brains love stories and videos are the best way to tell and consume a story.
How do you envision the future of video marketing?
Video is here to stay. Although many companies were adapting their marketing strategies to video, there is still a long way to go. To give you an idea, social networks such as Linkedin launched native video content less than 2 years ago, which indicates that video marketing will continue to evolve and grow in the business world.
On the one hand, many companies that have not yet incorporated video into their strategy are going to have to get up to date. Thanks to tools like Wideo, small businesses that previously found it impossible can now do it quickly, easily and economically.
On the other hand, video marketing is already incorporating advances in artificial intelligence to become even more powerful. A new form of video marketing that is already being used (although it is in an initial stage) with the incorporation of AI is custom videos. There are already some companies that are beginning to try to communicate with their customers through personalized videos, which speak directly to each client with the specific data that each client needs. We at Wideo did some tests a while ago and we hope to resume the automation and video customization project soon.