Kontentino is an intuitive social media management tool that helps teams to collaborate quickly and get things done efficiently. In this interview, CEO Pokstefl Bohumil talks about Kontentino and gives some valuable advice on how to get social marketing right.
Please describe the background behind Kontentino- what sparked the idea, and how has it evolved so far?
Kontentino started in 2014 as an internal tool in one of the best advertising agencies in Slovakia and the Czech Republic, called Triad. They were creating a lot of social media content for their clients, but their main challenge, at the time, was in collaborating with their team. They had so many people involved, including copywriters, graphic designers, and art directors, so they needed an easier way for team members to collaborate, assign tasks and each other. 
They were using spreadsheets with access permissions which they were sending over email and of course, it didn't solve their problem. 
On the other hand, their clients needed to approve every single piece of content that went live. So the old fashioned way of sending emails, WhatsApp messages and phone calls was causing a lot of misunderstandings. They needed a solution, but there was no solution like that on the market at the time, so they decided to create one. They created a minimum viable product with their in house software development team. They used that solution for 2 about years before they finally decided to make it into a product and offer it to other agencies. 
I got involved in 2016, and to make a long story short, since then we are still an independent company, we are still bootstrapped and we are cash positive. We have over 4000 agencies and brands using Kontentino. We hit 1 million € Annual Run Rate last year. 
In the past year and a half, we've also been creating analytics addons that help social media managers to better understand their data. We put the data in context, so you don't just say, we have to reach 1 million people, but we try to give them more options to better understand their campaigns. We also created Kontent-Base, which is an addon for multinational brands that need to localize their content for local markets and streamline the whole adaptation process. This way, the brand gains more control over what local agencies are publishing on their behalf. 
This year we plan to add more features like voice and video comments and community management. We want to focus on different formats, not just social media but also platforms like google ads, banners, etc, so we are widening our scope. I'm very excited for 2020 because we have planned so many things. 
How does Kontentino work, and what makes it unique?
It's basically very simple. The niche, the core value, and the biggest reason agencies and marketing teams come to Kontentino is to streamline their workflow and plan their social media. When they go to Kontentino they see a calendar that is very clear. When they create posts in the calendar, the workflow starts and they can assign tasks to each other.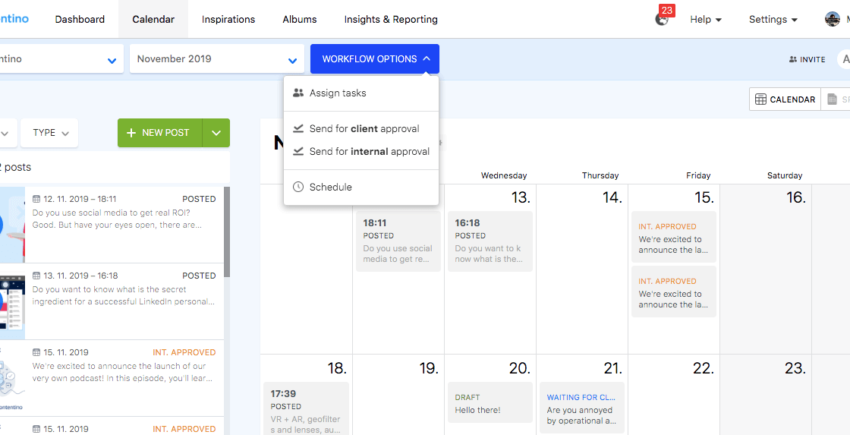 For example, the copywriter creates the copy and assigns the task to a graphic designer to add an image based on the brief. The graphic designer uploads an image to the post. He has restricted access so he will not be able to modify the text, but only the visual content. Once the ad is ready, the copywriter will get a notification and an approval request will be sent to the client. The client also has restricted access, so they'll be able to comment or approve the content, but they won't be able to change the content. Once everything is approved, the post will be scheduled to publish either on a chosen social media platform, creative studio or ads manager, depending on the formats you're working on.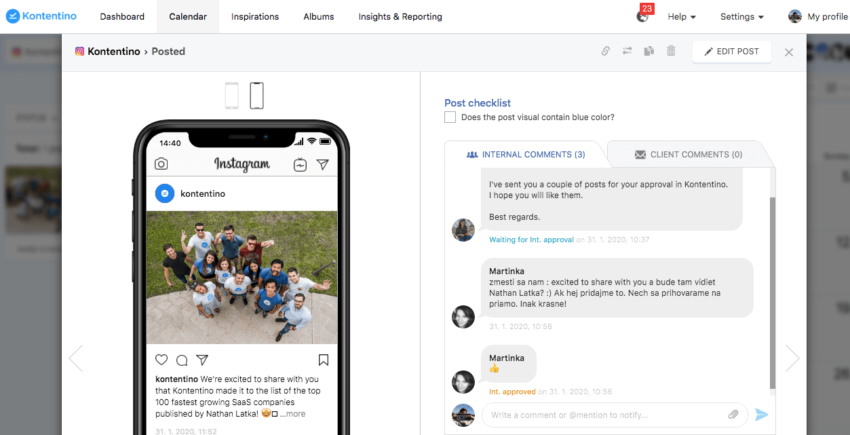 With Kontentino, everything is a live preview, meaning you can see exactly how the post or ad will look on social media, which is quite a big differentiation from other social media tools. That's what the client wants to see. They can't do the guesswork. They need to be 100% sure that this is how they are going to look on social media. Of course, there are many more features, like inspiration boards where team members can write down ideas, and unlimited digital storage for visuals. Altogether, we save about 30-40% of the time spent on operational tasks, so creative people can focus on creativity and not on finding lost emails for feedback and approval. 
What are your top tips for getting social marketing right?
Before you start planning everything, you need to set your goals and objectives very strictly. You need to have a very clear idea of what you want to achieve. Is it brand awareness? Lead generation? Newsletter signups? Whatever it is, you need to clearly set the objective. Once you have it, you can start creating content that is related to the goals. 
Next, set your KPIs- Key Performance Indicators. You need to know what you're going to measure at the end of the campaign and how you will determine if the campaign or the content was successful. Connecting these goals with KPI's or metrics is very important because for example, if you set a campaign where you want to reach as many people as possible, and then you look at engagement, which is a completely unrelated metric, you will not reach an understanding of how well your campaign is performing. This is just a very simple example.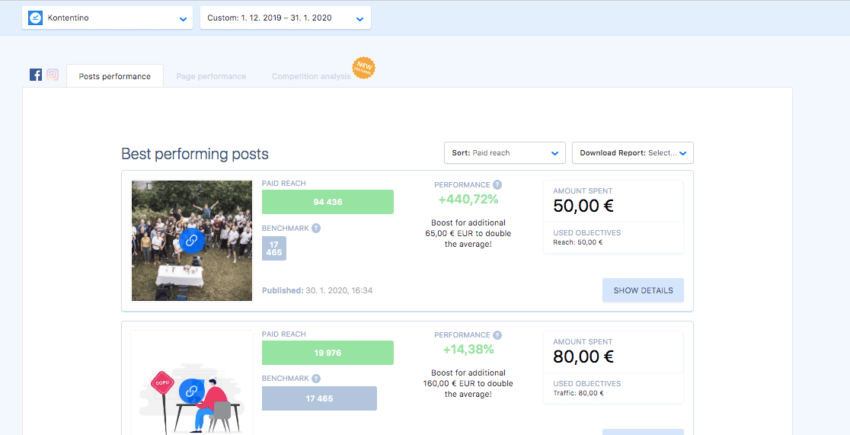 So to sum it up, set a clear objective of what you want to achieve, connect the metrics or KPIs with your objective at the end of the campaign so you can really understand the results. And of course, learn from it, learn from your own numbers and see what was performing better and figure out why it was performing better with a specific piece of content. 
In light of the rapid growth of data-driven marketing, how would advise marketers to handle the huge amounts of data they receive from different analytics tools and channels?
You don't need that much data, literally. We have been overloaded by the number and amount of data. What you should do is pick one golden metric which will determine your campaigns or your business in general. Pick just a few which really make sense, and pick business-driven results. I have been saying for a long time that engagement and likes are overrated.  So many marketers are looking at live metrics because at the beginning of social media marketing, that was the only metric we had. Maybe it's the baggage we take from the past, but we should really change our mindset and look at engagement and likes completely differently and in some cases even forget about it. 
There is so much better data you can take a look at that will tell you exactly how well your campaign is performing and what impact it had on your business. Since engagement is a very wide metric, it will not tell you precisely the business impact of a campaign. So pick one golden metric and just a few metrics that are business-related and stick to them. 
How do you envision the future of social media marketing in 5-10 years from now?
Nobody knows. We are living in such a fast-moving and fast-changing environment that every single year on social media is a bit different. At the moment I think that we are on some kind of edge, and no one really knows what will come next. 
Influencer marketing is decreasing extremely. TikTok is rising, and who knows what TikTok is going to do? Facebook needs to figure out how to keep people active and engaged in their social media platforms. So in 10 years, I think that we will see much more personalized marketing, thanks to the data and the amount of data that we have. There will be some restrictions from governments, but I think we will see much more personalized advertising so we will not be targeted for things we would never buy. Marketers will be able to communicate with their target audience much more precisely.