Jeeng
is a service for digital publishers that provides automated and personalized cross-channel messaging that helps our clients build end-user engagement and monetize their content. To explain further, think of any place you might read content on the internet, i.e. news, sports, culture, or hobby websites. You typically engage with that brand by going to their website or clicking on the content they send out on a messaging channel such as email. Our company helps those publishers personalize the content you receive, which forms a stronger relationship between you and the publisher and keeps you coming back. Our platform learns subscribers' interests, curates the publisher's content, and automatically sends the right content to the right subscriber so they get what they want, instead of random one-size-fits-all content. What's unique about our business model is we also provide a way to monetize that content. That means the publisher doesn't even have to pay us for the service because we enable them to make money from advertising.
How does the monetization of this work?
Publishers typically come to us with an email newsletter that they already use to send out content from their site–for example, a daily crafting newsletter with links to articles on their website. We help them send a personalized version of that newsletter based on the type of crafts each subscriber is interested in. If they want, we can also add advertising within that newsletter by allowing third parties to bid to place ads in those emails that are relevant to the subscriber base. Our company handles the whole auction: we get the advertisers, collect the payments and provide a revenue share to the publisher.
What sets you apart from your competitors?
There are so many companies that provide internet content personalization, but as far as we know, we're the only one focused exclusively on the needs of digital publishers. Other providers do cross-channel marketing, meaning not just email, but maybe email and push-in-text, but they do it for everybody–retailers, brands, etc. That tends to be very expensive and does not take into account how publishers work with content. Our solution has been designed exclusively for digital publishers. It has monetization built-in so there is an opportunity to make money with every message sent so the service basically pays for itself. It's also fully automated so publishers don't need a large staff to configure the system and make it work. All a publisher has to do is embed a single line of code in their website, and Jeeng takes it from there. We meet their needs for simplicity, ease of use, and price point, making our system very easy to implement and very inexpensive compared to alternatives.
What kind of support can your customers expect from you?
Publishers can choose to have everything fully automated. Once they set up their particular parameters (send frequency, type of content, etc.) in theory, they don't have to do anything else – our system does the rest. Our artificial intelligence engine analyzes the content from their website, categorizes it, and matches it to each end-user. Our platform configures the email, chooses the ads, runs the ad auction, places those ads in the email, and sends it out to subscribers. Everything is hands-off for the publisher if they choose. We also have a dedicated account team to provide customer success support. For example, if a publisher wants to do some manual tweaking of the system–for example, maybe choose the content, frequency, or time of day to send–we can enable that as well. We provide a spectrum of fully automated to fully non-automated, depending on what our publishers want or need.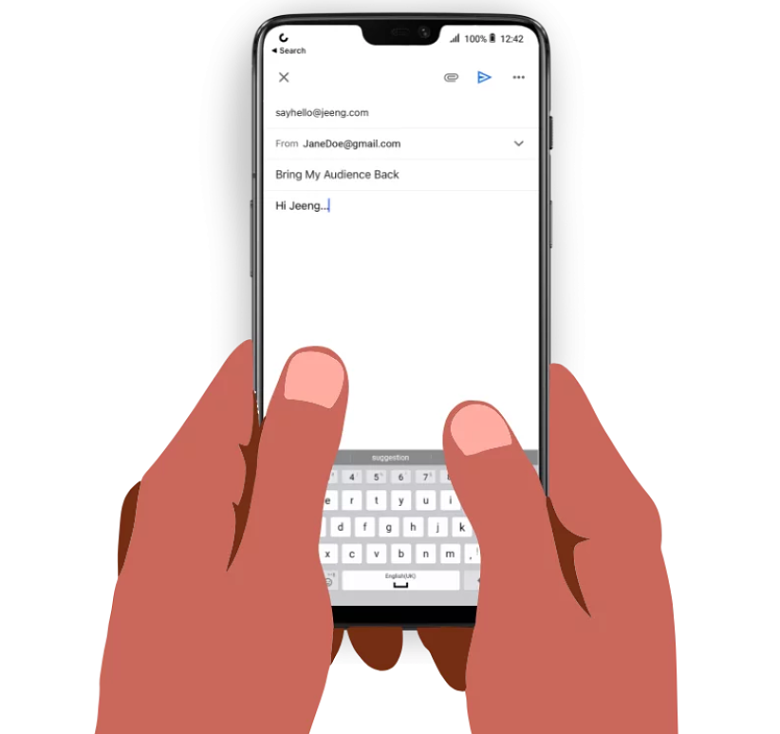 What channels do you use? And why have you chosen these channels?
We are live today with email and browser-based push. You might have seen where you go to a browser and it says "accept notifications from this vendor." That's a browser-based push. We are evaluating SMS and also looking at platforms like WhatsApp and Messenger to expand it further. We started with push and email because it's important that publishers use channels they can control, where they are not dependent on another technology provider, like Google or Facebook, to distribute content. One of the big challenges publishers face today is that a lot of their traffic is controlled by either social media or search. If a publisher gets a lot of traffic from shares they get from social media, they can't rely on that because they can't control how and when the content gets distributed. Not to mention, they have no control over the algorithms that prioritize content, so the majority of their target audience may not even see their content. A messaging channel like email gives publishers control over their relationship with the end-user. They determine the frequency, the content, who they send it to, and there's no middleman. That's ideal for publishers and makes sure their content gets to the audience. We believe that most digital publishers today get less than 10% of their traffic from a channel they can control. That really should be closer to 30 or 40%. So there's a really big opportunity for publishers to adopt our type of solution to gain much more control over their traffic than they have today.
Is your customer base global? How does this impact the channels that you use?
We are a United States-focused business, meaning the publishers we work with and their audiences are primarily in the US, which has governed a lot of our product roadmap. As we look at things like Messenger and WhatsApp in the future, we will think of it from a global point of view. Again, email is global and push is global. There are no geographic limitations on those channels. In that sense, I believe it's going to be a very applicable solution no matter where a publisher is based.
How has covid-19 impacted your industry and how did your company adapt to these changes?
The best way to address it is to talk about the internal and external impacts. Internally, we've always been a quasi-remote company, so the switch to remote wasn't quite as jarring for us. We have a team in the United States that works remotely with no central office there. I have a small central office where I sit in Tel Aviv, but we've always had the view that people can be productive no matter where they are. So years before Covid hit, we had already created systems and processes that focus on the outcomes of people's work, not the input. So we don't measure their time, we don't track vacation days, we don't track if you're in the office or not–because there is no office. I forced us to come up with better ways to measure people's output and success. Having said that, we've also always believed in the benefit of in-person collaboration, and we used to accomplish that with what we called "on-site" events. Once a quarter or once or twice a year, we brought everybody in the company together for deep dives and more collaboration. During Covid-19, we couldn't do that and the whole company was fully remote for about a year. I think that was detrimental initially until we figured out better ways to manage people who needed to collaborate, even with local talent. Now, we have a nice blend with everyone in the office only two days a week. And those two days have become very important for us to be together. There's a lot of collaboration that takes place. The rest of the time, people are working remotely–no matter where they are. We found that this balance works really well for our innovation, engagement, and morale, and it saves us a little bit of money because we found another company with whom we share the office, so they use it the other three days of the week. The external effect was more interesting. Being in the email business allowed us to watch how consumer trends changed from before Covid-19, and obviously since. We've seen a very dramatic growth in user engagement with email as a whole. Our research has shown consumers have started to turn away from social media and search as a source of news because they don't trust the content. They're more comfortable with newsletters, and brands they trust for key information. For example, we have one client called Next Door, which is a very popular newsletter in America. It's distributed based on your neighborhood, and it tells you everything from school closings to new restrictions to weather…anything that might affect your day-to-day. Since the pandemic, we've seen more and more people turn to those types of newsletters to get key information, along with a general increase in people engaging with email overall. Interestingly enough, even when people went back to work, that didn't decline. We still see an elevated level of engagement, more sends, more opens, and more click-thrus than what we saw pre-COVID for all of the same clients. I think this will become a permanent shift in how people interact with email as a channel.
Can you explain how the Jeengage algorithm works?
It's quite sophisticated because we can target a specific individual, rather than a group of people who fit a certain set of parameters. Let me explain: Most algorithms target people based on "buckets." They identify all the potential people who might want to buy a product–let's say a handbag or new coat–by creating a funnel that narrows down the audience. Maybe it's based on age, gender, location, or prior purchases. You're basically looking for people who fit into certain categories. But that only goes so far. Within those buckets, you might have people that would in no way be interested in what you're selling. So you can get close to the right people, but never 100% accurate. What we're doing is different. We can find, for each individual every day, the content they're most likely to engage with. Since every individual is unique and every day is different, you might have the same person with multiple interests that change depending on the time of day and what you send them. So instead of being relevant to a portion of the population, our algorithm is relevant to everybody individually. By collecting more data based on their behavior–what they click on and what they don't–our platform gets smarter over time about what each subscriber likes. For example, if we learn that you like football, we'll send you content about football, but for somebody else that likes rugby, we'll send them rugby content. We can determine and differentiate the content that each person prefers, even if they fall into the same "buckets." It makes for a much more personalized experience, which is what today's digital consumers are demanding.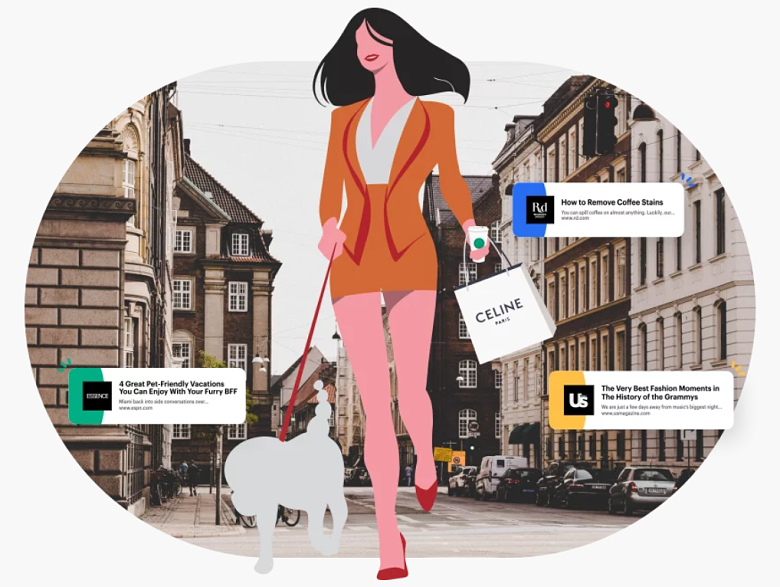 Can you describe the history of the company and what we can expect to see from you moving forward?
What you know as Jeeng originally began as PowerInbox. We formed PowerInbox from a merger of two companies in 2012. Our initial mission was to optimize advertising inside emails–we put the power in the inbox by providing monetization. It was a very specific service, which we have grown into a great business with great clients. Last spring, we acquired a push messaging company and changed our name to Jeeng to better reflect our expanded service offering. Now, we don't just provide advertising; we provide the message and send out the content, and frankly, we aim to do this not only in email but across other channels, too. You might say we outgrew the inbox. So we chose a new name, Jeeng, that reminds our publishers about the sound a cash register makes: "Ka jeeng, ka jeeng." As we think about the future, most of our publishers struggle with a broader problem of how to aggregate and manage their audience. Ultimately, we want to help them not just monetize and message their audience, but also grow their audience. That includes helping them acquire new end-users, new subscribers, and more people that are relevant to their content or brand. Fundamentally, we want to be a complete audience engagement partner for digital publishers creating great content. We'll help them find, grow, engage and monetize their audience by building trust, relevance, and loyalty.
Are you able to provide a sneak-peek into any of the new offerings?
Today, we've just launched our new Jeeng Email service that sends out personalized emails and we're excited about that. It makes it easy for publishers to send out personalized automated emails with or without ads. Soon, we'll be launching a new product we call Jeeng Email Plus, which is a full replacement for your email sending provider. That means if right now, you use an ESP like MailChimp or Constant Contact, we can now provide you a better service at a lower cost that's integrated directly with our messaging and monetization products. We plan to fully launch that product after the first of the year, but I don't mind letting your audience know that we have beta clients already in place, and we're open to others that want to participate in the beta. We are very excited about that new offering as well because it really gets us closer to this idea of full-service audience management. Soon, anything you use your current email service provider for, we can replace that to give you an all-in-one solution that's much easier to manage and more affordable.
Final words…
We are always interested in growing our global business, so if anyone in your readership that is sending content today would like to upgrade their program to a higher level with greater personalization and better results, just visit Jeeng.com to get in touch so we can speak about their needs.