Proonto
is a SaaS-powered customer interaction management solution that connects companies with a curated marketplace of customer interaction experts while utilizing machine learning and real-time behavioral analytics to analyze visitor interests and purchase intent on eCommerce websites. In this interview, COO Yoel Feldman discusses the winning combination between traditional customer support and big data analysis.
Please describe the background behind Proonto. What sparked the idea and how have things evolved so far?
Some years ago, when the digital world was still in its diapers, I was working for an eCommerce company that operated a call center to support their online sales process. While I was working there, I had the notion that if the potential customer on the other side of the phone could get the same information online, the conversation would be much more focused and the sales process would be more efficient.  At the same time, just being able to talk to customers and put them in the spotlight, was powerful in itself. So the first thing we addressed was the conversion of acquisition and retention channels and the fusion between great content and human interaction in purchase decision making. We created a SAAS product for eCommerce websites that enables the user to engage with a company representative through immediate, real-time video chat support. At first, we created a sales chat platform and offered a beta version for 20 merchants. After they used it for a few months, we realized that their main concern was availability. They didn't have the ability to provide 24/7 multi-language support, so we hired a team member to sustain this life communication channel for them, but those were our early days and pretty soon, one person was simply not enough. Back then, the freelance economy was developing rapidly, so we decided to build a community of curated salespeople for different product categories. We developed a SAAS platform for salespeople, shop assistants, and customer service representatives, which enabled clients to build a dedicated team from a vetted talent community that would interact with website users to support shopping experiences. In 2016, as we continued to grow, we realized our offer was appealing to digitally native brands that have scaled tremendously. They had tens of thousands of customers per year and lots of daily interactions, and we jumped on the opportunity. The ability to provide users with the right assistance throughout their customer journey, turned into a full journey interaction solution, able to engage before, during and after the purchase. The generation evolved, and eCommerce companies are looking for on-demand solutions. The unique combination of software and people who operate in real-time is definitely our strongest unique point.
How does Proonto work?
Most of what we do today is quite unique. Customer support was once the role of the salesperson in the digital space, now it can help companies have the ability to provide assistance throughout the online sales process. The role of the live person is to help customers by anticipating what they may need, but at the same time, looking at service requests has brought us to the understanding that we're not just selling to the end customer, we're also learning about them. We realized that the interaction between shop assistants and potential or loyal customers holds very lucrative and effective insights that stakeholders can use to refine their marketing messages, improve internal communication, tweak a product page content and increase their profits. Previously, with the old call centers, nothing was in sync, but in the new world, website visitors are potential customers that eCommerce brands can influence on the spot and use what they tell them to predict the behavior of future customers. Lately, we added revolutionary big-data prediction capabilities that were based entirely on the platform. We are able to predict user behavior and proactively offer assistance in real-time, so we can tell the stakeholders how many issues, hurdles, conversations, and concerns have been raised during a period of time, and provide insights as to how to better address those topics in future interactions or features offered on the website. We are the only tool in the market that adds a dimension of understanding customer needs according to different buyer profiles that take into account the different stages in their process and their unique behavior. Proonto opens the hatch into user behavioral understanding across all stages of the buying journey, on eCommerce, telling you "why" people did not buy on your website, by acquisition channel, product category or journey stage. Proonto provides full insights and conversion metrics along with real people from the new workforce community, and AI to help provide predicted real-time shopping assistance that maximizes performance based on browsing behavior, sentiment, satisfaction score, actionable critical business insights, and optimization of technical issues. We tell you just how good your strategy is and how to optimize it through customer voice.
Below are some screenshots from the Proonto dashboard: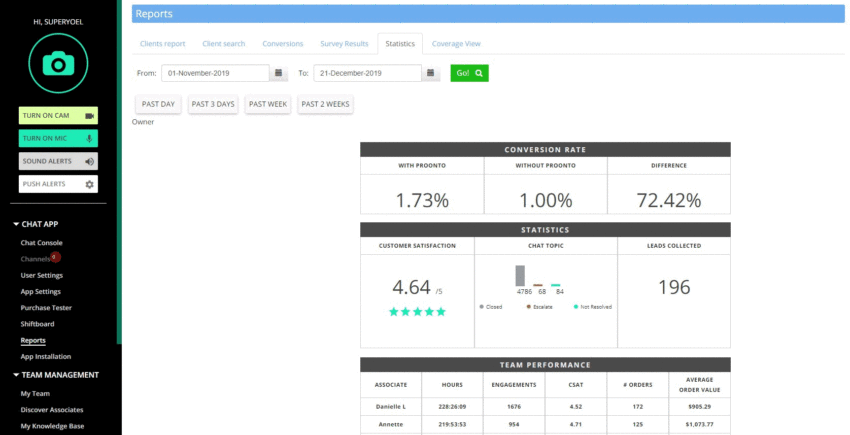 How would you advise eCommerce marketers to handle Big Data?
Anyone who started learning about predictive analytics in the past 25 years has probably heard this story. One of the biggest retail companies in the US wanted to check the correlation between different products by offering bundles. They had a lot of data and after mining it they found that on weekends, many of the diapers purchased by men were bought alongside beers in their cart. They were wondering how come these two products go together and decided to place them side by side in their stores. That story has scaled their sales, but more so, it made them realize the power of data mining, which enables you to understand what is the likelihood that something will happen. In eCommerce, descriptive analytics tell us what happened, but it doesn't tell you why something happens or how to change it. In Proonto, we focus on predicting user behavior based on big-data and testing, and engaging with the customer based on those points. To sum up, my tip is to understand the business data, Key Performance Indicators (KPI's), create assumptions and models, test them and see how they improve your overall performance on the specific KPI.
How does Proonto handle personal information?
We do not rely on personal information to create predictions but on website activity patterns and anonymous customer signals. This means we may analyze anonymous data which is not related to personal information. Nonetheless, we have worked hard to make sure marketers who work with us effortlessly continue to comply with GDPR. Obviously we help all of our clients to be GDPR compliant by making it easier for them and their lawyers to integrate us into their system. All the data that we collect can be cataloged and mapped, and we have an automated workflow for the right to be forgotten, as well as a data protection protocol.
Which technologies do find to be the most intriguing these days and why?
Feedback and voice-of-customer tools have driven significant value to marketers in the digital world. There are many great tools that automate the feedback collection part, and that alone has really powered a revolution in 2.0 commerce as we know it. We see a lot of user-generated content being integrated as part of the marketing funnel. One should consider though that surveys are biased, both for the person who is filling them out and for the person who writes them. So for us, the most intriguing part is where you take anonymous unbiased data to feed a model that can detect patterns and make predictions for action or intervention. Today's average eCommerce website holds big-data that, with the help of machine learning & AI, can potentially empower internal processes and internal decision making. Our mission is to generate insights into user experience and consumer behavior, helping organizations to optimize profitability and ROI. Using these technologies will lead to much stronger decision making, especially if you're able to accurately combine data insights with conversion metrics.