Envira Gallery
is a responsive WordPress gallery plugin that creates incredibly simple and easy workflows around building and managing galleries in WordPress. Having recently acquired NextGen Gallery, the company intends to become the number one choice for photographers and designers in the WordPress Environment. In this interview,
Envira CEO Nathan Singh
discusses why it's so important to have your own gallery space, and how it can be optimized for your needs using Envira's niche-specific addons.
Please describe the story behind the company: What sparked the idea, and how has it evolved so far?
Envira Gallery started as an answer to creating quick, easy, and lightweight galleries within the WordPress ecosystem. Ten years ago, that was an issue that required the installation of clunky plugins that often slowed down websites. Especially in the gallery space, many people had issues and they didn't really have a solution, so Envira Gallery spurred on that. What it's become is really the fastest lightweight gallery. 
What started as an easy way to put up pictures became a solution for selling pictures. Many photographers use Envira Gallery now to get all the advanced features that photographers need and want, with a very lightweight architecture. 
When I say lightweight architecture, it essentially means we have a very lightweight core product, and within it, there's the option to enable addons. You can enable or disable the addons you want, which include everything from proofing the eCommerce aspects, different types of printing options and different features that not everybody needs, but are very useful to those who do. That keeps it very modular and lightweight, from an overall software architecture perspective. 
I acquired Envira Gallery in late 2017 and we've just been growing it out ever since. Our largest competitor, which is about eight times our size, was NextGen Gallery, and I acquired that company about two weeks ago. So, a large part of the gallery market, to serve everyone from designers, developers, photographers, and bloggers, are all under one umbrella now. 
We've come a long way from just Envira Gallery to what we have now. As part of the NextGen acquisition, we now have a wealth of themes, and we're also working on including hosting. 
Essentially, we're going to have just one turnkey solution. If you're looking to have a photography site where you can sell your pictures and have everything ready to go, you'll be able to set up your hosting, themes, and gallery plugins, all at the click of a button.
Below are some screenshots of Envira Gallery in action: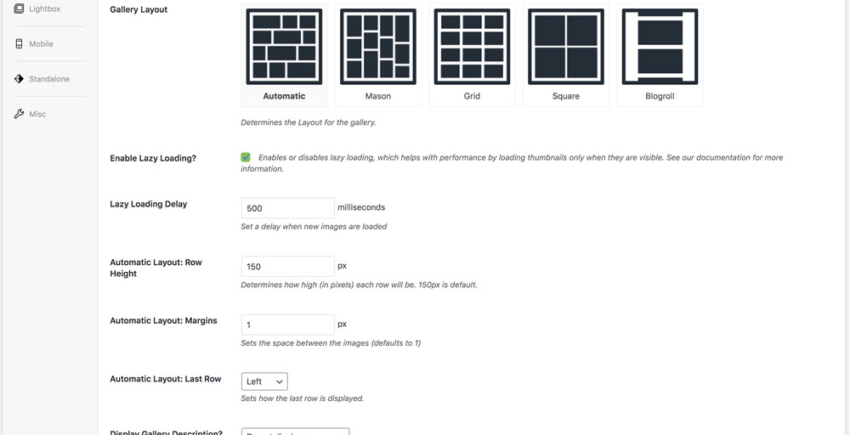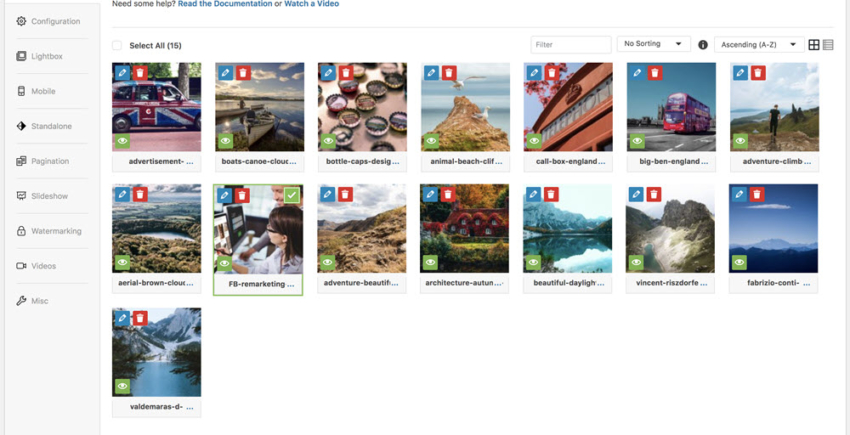 Let's talk about the challenges that photographers and designers are struggling with online, and how your solution can help them.
There's a variety of different issues. One problem is that most photographers who are looking to sell their pictures online find themselves bound to a paid subscription that allows them to upload media quickly, but takes away their ownership rights. 
When you upload your pictures, they go into 3rd party servers, so there's always a worry in the back of the mind about images being stolen or controlled, and there's a whole host of issues around copyrights. 
The great thing with Envira Gallery and Imagely is that you own every piece of content. It's all stored on your own WordPress space. 
One of our biggest advantages for photographers is having their own websites and being able to customize them exactly the way they want, instead of the more templated solutions that are out there. 
When you're using the biggest and most powerful CMS in the world, WordPress, you can get galleries up in minutes. You don't need a developer. Envira Gallery and NextGen are very quick. As soon as they're installed, you drag and drop your pictures and within minutes they are all up and ready to go. We have everything from pagination, lazy loading, all the things to make these huge images display quickly without slowing down the system or affecting the user experience. 
We all know that the slower your site goes, the worse your conversion rate is going to be. When you have Envira Gallery, you have something that moves fast, you're able to show your work, people are able to choose prints and pictures they want and go about their business.
We have a lot of designers and developers who are looking for something that will make their life easier; a simpler way to provide galleries for their clients' websites that doesn't slow it down. 
For photographers, the case is pretty similar. A lot of the photographers that use our product are do-it-yourselfers, so they manage their own websites and they make edits using the WordPress block creator, which is somewhat easy to use. A lot of it just comes down to making the site fast, uploading beautiful pictures, and displaying them in a really professional manner. 
The majority of our users are displaying their work with the intention to sell. They are looking to make money online, so we do whatever we can to make it as easy as possible for them.
How has COVID-19 affected your business and industry?
It's been interesting. I think this is true for many eCommerce and SaaS companies. We haven't seen any major drops, but since a lot of our customers are not able to go out and take pictures and sell their work, that's obviously a huge concern for us as well. 
We are doing whatever we can to provide them with materials, resources, and content that directly address their issue, which is getting more work even though they are stuck at home. 
Amazon is just booming right now. People who never used Amazon are now using it and there's a huge demand for Amazon product photography. So we try to help these photographers by highlighting the opportunities this period brings to them. 
From a business perspective, the great thing is that we all work remotely, so our team is still running as usual. Many of our customers are asking us to help them during this time and we are doing what we can to encourage them to think outside of the box and find more business opportunities. 
As for designers, developers, bloggers, and people who run websites, a lot more people are at home, online, and inadvertently, a lot more people are creating websites. Some designers and developers are taking on more work from other avenues that weren't available to them before. 
Since we do have quite a few target markets to look at, it's balanced out, but I think what's going to be really interesting is when we start seeing a lot more people taking their photos, especially from weddings and all the places where photo shoots happen, and bring them to the online market. I'm looking forward to it and we'll certainly be prepared for it. 
What are your future plans for Evira?
I think people are going to want solutions that are more inclusive. In our case, the WordPress case, they are going to want a single platform to work with. 
Envira Gallery is a plugin, it works with the WordPress ecosystem and with whatever theme and hosting you have. I think that's great and it will always remain flexible like that. But what we are moving towards is building a platform for our customers, so they can come to Envira Gallery individually, and essentially have everything they need. They can host their website with us, pick out a theme from us, they can use one of our plugins for displaying good pictures, which also helps to sell their pictures, proof good pictures, and so on. 
The idea is to create an immersive user experience where everything is in one place, provided by someone you trust. I think this is where a lot of tech companies are going, trying to understand what the users need, create it for them, and then acquire around it, ultimately building an ecosystem that they can thrive and be successful in.