JVZoo
is an affiliate marketing platform that brings together product owners and affiliate marketers to create mutual profits online. In this interview, CEO Laura Casselman shares valuable insights about how to get affiliate marketing right in 2020. Whether you're already running an affiliate program online, or you're just making your first steps as an affiliate, you definitely want to read what she has to say!
Please describe the story behind JVZoo: What sparked the idea, and how has it evolved so far? 
JVZoo was founded at the end of 2011 by Bryan Zimmerman and Chad Casselman. They were using another system, which was one of the few solutions in our industry that were out there at the time. They were finding it didn't have the features they needed to successfully run their business, and there were just too many things that were missing. So they kept requesting those features be added to the platform, but their requests went unanswered. So they finally said, we need to figure this out for ourselves. And they did. 
They created their own solution, and in doing so, really, all they were looking to do was to streamline some processes and make a thousand dollars each per month as an extra income. What they ended up doing was creating a solution for a lot of people. Turns out a lot of people were very frustrated with the platforms that were out there and they all needed the same features.
And so JVZoo, which was just supposed to be an in-house solution that they gave access to a few friends became an overnight success because those friends told other friends and by word of mouth, good news spread fast. And people just came over in droves.
So what exactly is JVZoo?
JV
Zoo is first and foremost an affiliate network. From there, we're also an online marketplace, but our priority and our focus is giving product owners a place to list their products and actively recruit affiliates that have a list of buyers or audiences who can then promote to their audiences to purchase the product. Therefore, someone who has a great product that otherwise doesn't know how to sell it or how to sell it in mass can get an enormous amount of buyers quickly. Our affiliate base is out there promoting the product on various platforms from social media to email to Facebook ads to Google ads, you name it.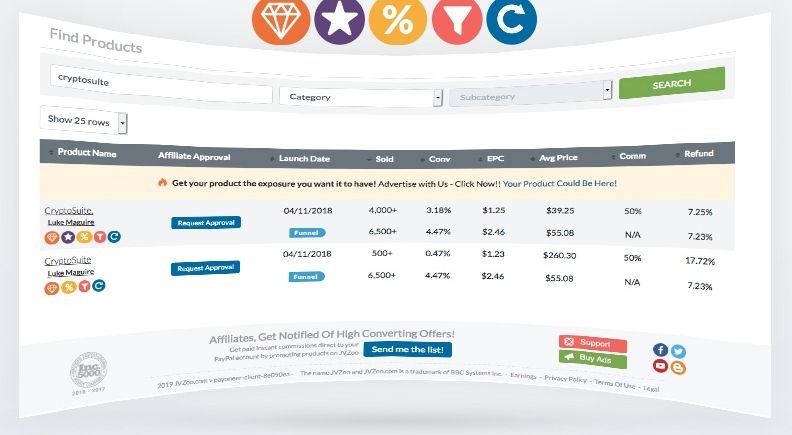 From your experience, what makes a good affiliate program?
First of all, you need a good
tracking
system, and that's what JVZoo does. We track affiliate referrals. We track commissions. We give you a process to do the payouts. Your reporting is there, right inside your JVZoo dashboard. 
Next, you're going to need to provide
incentives
for your affiliates to promote. I would say that a nice commission will bring more affiliates on, but to really keep them motivated, you're going to need more than that. 
Contests make a great
motivation
booster for affiliates. You could have a first day or an early bird competition. You could have an overall competition for who promotes the most during the entire initial launch of your product, or you could have a closing day competition, which keeps affiliates excited to continue pushing and promoting your product throughout your launch week or month or whatever your launch period is. 
You also want to make it super easy for your affiliates to promote your product. You want to give them all the
marketing materials
, depending on which area you're in. Provide them with email signatures, creatives and ready-made emails that they can send out to their audience in no time. 
You want to give them any and all approved images like banners to go in emails, Google ads or Facebook ads. You want them all to be in the right size, already approved by you and are out there so that it's just easy for them to promote the product. 
Finally, you want to
keep your affiliates in the loop
. You want them to know, coming up to your product launch, what's going on with your product. You want them to have access to it so they can review it, ask questions, understand not only how it works, but how it will aid their buyers. This way, they can properly relay the information to their buyers during a launch. You want to know where they're standing if you're doing a competition, are they in it with you? And of course, you want them to know about any updates, changes, new versions, future releases, all of those things. 
Also, I think people in this particular industry of affiliate marketing will brag about the size of their email list, but in this case, size doesn't really matter. It's
trust and loyalty
that matter. So you may have someone that has an eighty thousand member list but can't sell to more than 2% of that list, as opposed to someone who has a ten thousand buyer list, and those people buy from that person over and over again because they know that they can trust him. 
Looking at it from the opposite direction, what makes a good affiliate marketer?
As in any business, there are a few basic steps that you always want to do when you're doing affiliate marketing. 
Firstly, you want to
build relationships
in your niche. This means your audience, your list of buyers, so you create not only your product offering but also the niche itself. 
Communication
is a must. A lot of times people online feel like they don't need to have a personal relationship with the people they are working with. There's just this barrier here and they're not crossing it. 
Right now, we're looking at each other via a video call. So there's a different connection. But if we're not looking at each other and we can't see each other visually, there's a distance, so I think that's very important to remember. 
If you came to a meeting room to meet someone you were about to begin working with or sign a contract with, you would never just walk in and say, OK, here's everything I need you to do. You would introduce yourself. You'd have pleasantries and some communication. I think that oftentimes is left out online. 
Remember this is business, treat the owner of the product as if they are someone you are in contract with. You want to have all the niceties that you normally would have. You also want to be in communication back with them.
L
et them know how you plan to promote your product, what kind of audience you can bring, and why you feel it's a good fit. 
You also want to
know any product you're promoting
. You don't want to go and randomly grab a product because the commission percentage is high. You want to know the product. You want to have tested it. You want to know it works, so that you can represent it properly when selling it to your buyers. They rely on you to bring them products that actually solve the problems that they have. So I think that is that: choose loyalty over numbers. 
Report Issues!
If you find an issue with the product or you're seeing people blasting it on Facebook, you want to reach out to the product owner first and tell them about it. Are they aware? Chances are they aren't, or they just found out. 
Ask them what is their plan to resolve the issue? What's the timeline? Because any software can have issues, but also, as in any business, things can be recalled, and there would always be problems and issues. So it's not necessarily about whether or not there are issues, but how are they handled? How is it resolved? Was it done professionally? 
Before you take the product to social media, communicate with that product owner. Ultimately, know that it's a work in progress. You always have to be learning and improving the way you market and what you know. 
And finally,
consistency
is key. You need to know, do you communicate with your audience once a day, three times a week, twice a month? Whatever it is, your audience will become accustomed to what you do. They appreciate seeing what they expect to see. If something comes randomly, chances are it'll look suspicious and people will be questioning whether this really is you or is this a phishing email? So consistency is definitely key. Even if you're not pushing a product to sell, communicate with them, give them valuable content, just let them know you're still there, you're still thinking of them. Niche audiences appreciate that.
Some people say that affiliate marketing is dead. What are your views?
I think those are people who are using the same marketing techniques they used in 2015, who stayed in the guru mode for too long. They knew everything in 2015 and they said,
let me coach you in 2016 to do what I did last year.
And then they carry that over into 2017 and 2018, but what worked two years ago isn't going to work now.
I think you always need to stay on top of new techniques and technologies as the world of marketing is evolving. Consumers are becoming more educated, more technical, and more online savvy. More and more people are buying online every single day. So what worked in 2015 is not going to work now. You need to always stay on top of new marketing techniques and technologies.
How do you see the evolution of eCommerce in the coming years?
I think we all know e-commerce is going to continue to grow at an expedited rate. There's so much online shopping going on that the industry is just doubling and tripling it's growth every single year now.
I think we're going to see some huge shifts towards prioritizing mobile purchasing over desktop. More and more people are attached to their phones now as opposed to sitting down in front of a computer. Every time they commute, or they're at a stoplight, they're on their phone. So I think mobile is going to become so much more important than desktop. 
I also think personalization and content are going to be key to marketing and selling products. Consumers really want to feel that the product was made for them, or at least by like-minded people. 
As far as laws go, I think we're going to see more and more laws enforced around e-commerce. 
We've seen in 2019 a bunch of privacy consumer protection laws being pushed forward. Prior to that, we saw GDPR, and I think that's going to continue to happen as people become more and more educated and governments get more involved. 
Speaking of governments, I think we're going to see governments imposing more and more taxes on e-commerce. They're going to want their share of the pie, but I hope they will educate themselves before they just randomly write and pass laws. 
We've seen an unfortunate amount of good ideas, the concept being good, but the actual law being very unclear, like GDPR. No one really knew what was going to happen with it. Everybody just had a try to guess it. You could consult with as many attorneys as you want and they would all tell you it's just an unclear law. We need to do our best effort to show we're trying to abide by this unclear law. So I hope we'll see governments actually consulting, bringing in more people to help them explain stuff before they just randomly throw words on paper to say they did something.