As a 100% bootstrapped company since 2005,
123RF
has grown to be one of the world's largest digital stock agencies, helping individuals and businesses to tell their stories using creative images, sounds and motion, contributed by talents from around the world. In this interview, 123RF creative director Simon Dayton reminisces how it all started, and describes his vision for the future of the stock image market.
Please describe the background behind 123RF. Who are the founders, what sparked the idea, and how has it evolved so far?
The idea originally came back in 2000 when Andy and Stephanie Sitt, our co-founders, were inspired to bring the digital stock image market to SE Asia under the Inmagine premium brand. Back in those days, there were only a handful of serious players like Getty and Corbis, plus a few large content creators such as Image Source and Stockbyte.
In the beginning, it was pretty tough because many clients, especially the local ones, couldn't really grasp the concept of buying a bunch of images on a CD and then having to pay a license fee. I think it was beyond a lot of people's comprehension, and they probably thought we were somehow trying to rip them off.
Over time, they began to understand and appreciate that having numerous bespoke images was financially beneficial and easier than hiring a production crew to shoot for you. That's basically how I got to know about Inmagine back in 2003, as I used to work for publishing and an advertising agency that licensed their images.
Obtaining content was also challenging, so Inmagine / 123RF is one of the only stock distributors to have an in-house production team producing images – now audio and video too. That story is an entire chapter in its own right!
Then in 2005, with the advent of digital photography becoming more accessible, plus increasingly better quality, along came the Microstock revolution and 123RF was born. This had a big impact not only on premium image suppliers, but also traditional professional photographers. Unfortunately, a lot of them, who were not quick enough to adapt, fell by the wayside. Those who did manage to evolve caused a huge disruption within the industry but reaped the benefits and rewards that came with it.
Since then, 123RF has grown into a globally recognized brand. With our recent acquisition of Pixlr and the creation of Designs.ai, we are still expanding and offering more products and services to creative communities. We are no longer just a stock agency; now we've developed into a fully enabled creative ecosystem, and that's where we are today. 
The screenshots below demonstrate some of the capabilities of 123RF products: Designs.ai video maker app and Pixlr photo editor: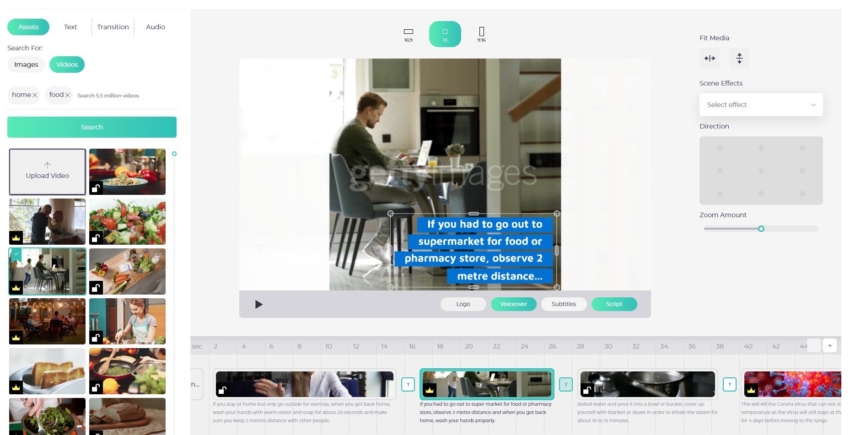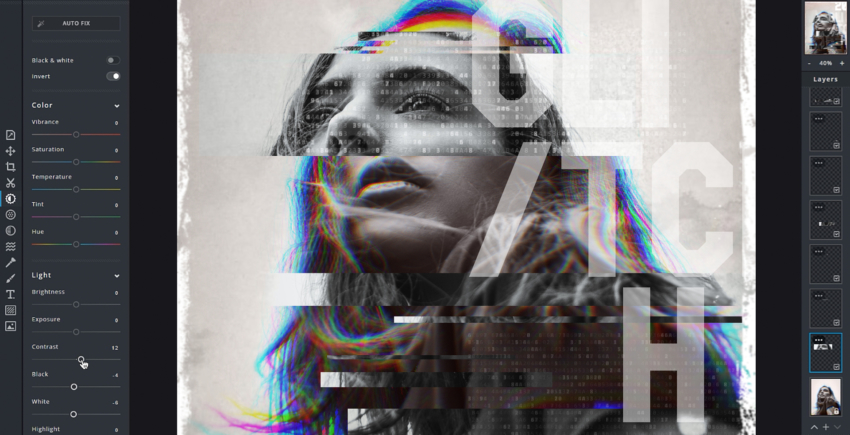 How does 123RF approach copyrights?
We have a stringent review process in place whereby every image, video and audio clip that's submitted is checked for any infringements. This not only protects the intellectual property holders, but also the contributors because a lot of them are understandably unaware of the intricacies of copyright law. We also have a dedicated in-house team of lawyers who, as part of their expansive work, is to keep all of our regulatory documentation and licensing agreements up to date. I believe the last thing any organization wants is a copyright lawsuit on their hands, so we are very proactive in trying to prevent this.
How has the COVID-19 pandemic affected your industry?
Well, it's apparent that this tragic situation has had a massive impact on every industry around the world (unless you're a streaming TV service). It's had a dominos effect throughout – From contributors unable to go out and create content, to clients not being able to advertise for products because hardly anyone is producing goods and retail shops are not opening up.
We're holding on with high spirits though. All of our staff are continuing the work from home and we're learning a lot, once again finding ourselves having to adapt to adverse markets. I guess only time will tell how much damage has affected the industry overall but I personally remain positive.
Which trends or technologies do you find to be the most intriguing these days?
I find all technologies intriguing because I'm a total geek! But I especially find AI fascinating because of the effects it will have on creatives. We are developing many tools and applications that have their foundations in AI and machine learning to help make life easier for them. 
However, there's always the possibility of AI taking jobs away, which I addressed in a talk called 'Embracing the Future of Creativity', whereby I try to explain the case more objectively because for creatives, there are emotional aspects of the mindset that machines cannot emulate… 'Yet'.
So, what would you say is the role of AI in the creative process?
The company has invested a lot into AI technologies and developing them into our own products to help speed up the creative process. This will enable seamless cross-platform integration between 123RF and applications such as Pixlr, Video Maker, and Logo Maker. People need content almost instantaneously nowadays, so we are empowering them to edit photos, create videos and design logos in just a few minutes with the help of AI.
We've also integrated AI into our search tools to give an improved user experience when looking for a particular image, and for our image review system too. Now, when new content is uploaded, we can review it a lot faster. This affects our speed in terms of approving additional content as the AI will identify certain qualifying aspects of an image at a much faster rate. This is certainly beneficial for contributors who want their content up live on the platform so they can begin to monetize it quickly.
How do you see the future of your industry five years from now?
It's difficult to have any kind of insight into what's going to happen in five years. I mean, even at the beginning of 2020, no one saw the massive disruption the coronavirus would cause.
Despite that, the idea is to keep developing for today. The definition between today and tomorrow is very blurred. Now, today is already tomorrow. It's not like we're just building products that will just be relevant in a year's time. You have to develop something that people are going to want and use right now. So, the speed at which we adopt technologies is vitally important and crucial to the continuity of a business like ours. If we remained at just selling premium Images as we did 15 years ago, we would not have survived.
Thankfully though, with our evolving nature and the insights of our co-founders, we have rapidly moved on and are now fully committed to opening up a world of creativity and innovation to everyone by making design faster, smarter and easier.