This week, we had the opportunity to speak with Kas Szatylowicz, Outreach and Partnership Lead at
Tidio
, who kindly agree to provide some deeper insight into their unique product.
Please describe the story behind the company: What sparked the idea, and how has it evolved so far?
The story of Tidio dates back to 2013 when Tytus Golas (now the CEO of Tidio) and his co-founder launched a tool for converting website pages into mobile versions. The initial idea for a product did not take off, but Tytus noticed the growing interest of their users for live chat solutions. In two weeks after this discovery, he wrote a simple application, which later turned into Tidio's flagship product – Tidio Live Chat. Since then, the company grew exponentially on both fronts – product development and people. With time, Tidio launched 2 complimentary products – chatbots and email marketing. Automation is a big thing for our team, and we are constantly working on implementing new solutions that would make our customers' lives easier. Right now, we are investing in the development of our AI features for bots.
What services do you offer?
As I mentioned above, currently, Tidio is offering three products:
live chat
,
chatbots
, and
email marketing software
. Even though they make up 3 seemingly separate products, they are all interconnected. We offer a (forever) freemium plan that includes limited versions of all three products. New users can test and use them for as long as they want, without the need to upgrade. In fact, many of them do and they stay on a free plan while slowly growing their business with Tidio in the meantime. We believe that this model serves both parties – our users get a powerful set of tools they can use for customer service, lead generation, sales, and analytics, and we build a loyal community of entrepreneurs who trust us and will buy our products when they feel ready.
How does the Tidio chatbot work, and how does the setup process look like?
Tidio chatbots are incredibly fast and easy to set up. In fact, this is one of the most common things we hear our customers say and write about in their reviews. After registering for a free account, the new user is guided through the following set up process:
Choosing the design of their widget and the language
Adding the URL of a website and declaring the industry
Picking the first chatbot to customize and activate (lead generation or welcome message chatbot)
Designing a personalized message that a chatbot will display to the visitors.
Then, depending on whether a user is coming from a platform such as Shopify or WordPress and just installing Tidio plugin or not, they might need to install the code.
Voila!
The first bot is ready to engage the visitors. In general, building bots at Tidio is based on creating a map with modules that you can drag-and-drop to make a logical flow of the conversation. No coding is required and
building simple bots from scratch
 takes only a few minutes.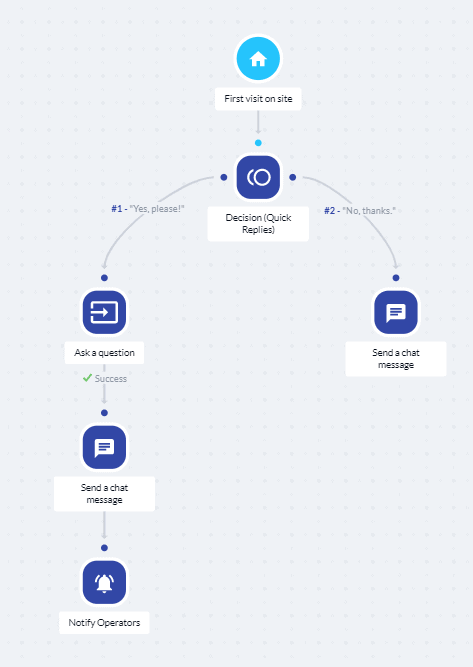 There are a few definitions a user learns:
 trigger, action, condition
, and here's how the mechanism works: you start the flow with a trigger (when should the bot start), connect an action (what should happen), and can filter these with conditions (what else should it take into consideration, e.g. the page the person is on right now). That's pretty much it!
Nowadays, the chatbot service industry is growing very fast – what separates Tidio from other similar websites/companies?
Good question. There are several things that give us a competitive advantage and make small businesses choose our solution over our competitors. First of all, Tidio is an all-in-one tool because it constitutes of three interconnected products that allow companies to take care of their customer support, lead generation, sales, email marketing, and analytics. This reduces their need for using several, separate tools for each aspect of running their marketing and support. When it comes to chatbots themselves, our main advantage lies in the simplicity of building bots and their customization. Many of our customers are not tech-savvy and they really appreciate the easiness with which Tidio allows them to set up bots for their websites (we also have a growing library of free ready-to-use chatbot templates they can launch in seconds). We are also planning to keep investing in machine learning for our bots to secure even a bigger gap between us and our competitors.
How do you envision the future of your industry?
With the eCommerce industry booming, I have no doubt that the future of live chat and bots solutions will continue to look bright. We might expect higher levels of automation in the sales process, but also the development of hyper-personalization. COVID-19 forced many retail brands to move fully online and made customers even more comfortable shopping online, including purchasing items in a few clicks from their mobile devices. I believe that this trend is here to stay and it will keep evolving. Interestingly, we might expect the AR to become even more widely used by stores wishing to showcase their products to customers in a way that resembles the real in-store experience as much as possible
How has COVID impacted your customers and business?
Compared to other businesses, Tidio has been quite lucky when it comes to the COVID-19 situation. As a SaaS solution aimed mainly at eCommerce small businesses, we've experienced a peak in sign-ups in May 2020. More and more retailers were moving online and a lot of entrepreneurs had decided to jump on the opportunity and launch their own online stores. They were all a part of our target market and many of them were looking for live chat, chatbot or email marketing solutions to use in their stores. Thanks to our established position on the market and high rating on independent software comparisons websites, we've managed to acquire and retain many new users thanks to COVID-19. Of course, we also offered support and lowered our prices temporarily to the pre-existing users whose businesses were hit by the pandemic.