InMotion Hosting VPS Plans at a Glance
In our previous reviews, InMotion Hosting has turned out to be okay for general hosting, and pretty good for WordPress-specific hosting. Now, we come to some fun stuff: the VPS plans. Can InMotion Hosting keep up its record of decent service in the VPS space, and perhaps even impress us all? More importantly, is it right for you and your business? Well, I went undercover as a customer to find out as much as I could. The final decision will, as always, come down to you and your needs, but here's what I found out:
It's not cheap, but you really do get what you pay for.
Things that would cost extra from other hosting companies are included by default, and InMotion Hosting has designed its managed VPS plans to make things easier for new VPS users. Read on to see if it's worth cracking open your wallet a little wider than usual.
GTmetrix performance score
A
Free SSL?

✔

Uptime guarantee

99.999%

Money-back guarantee

90 days

Starting price

$

24.99
Features
InMotion Hosting's VPS Features Are Plentiful
FEATURES SCORE: 4.7 out of 5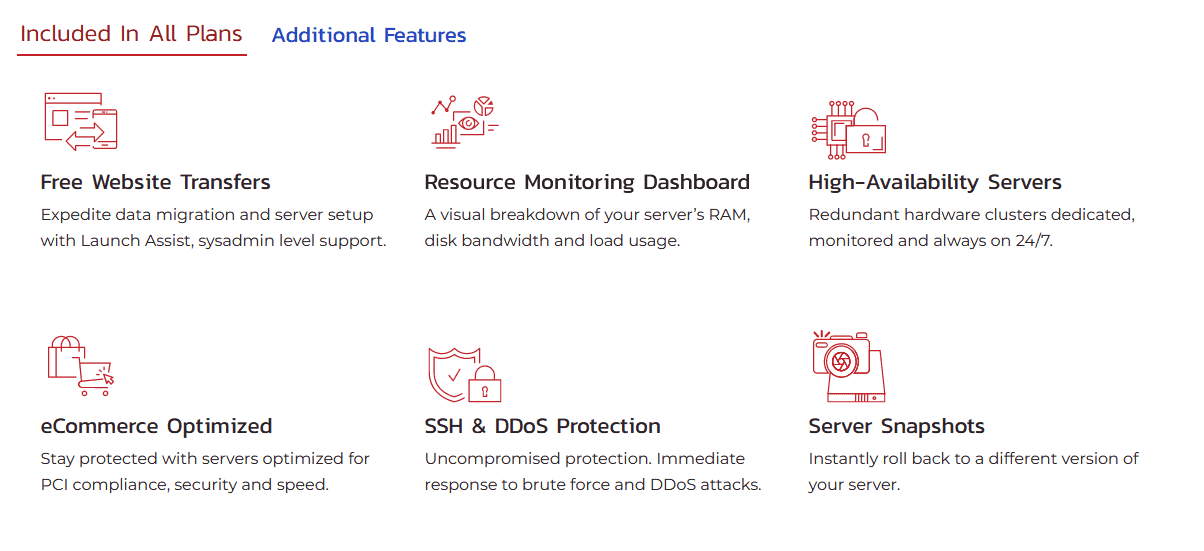 To give you an idea of what you get for your money,
the cheapest plan starts you off with 2 CPU cores
, 2 GB of RAM, 45 GB of SSD storage, and unlimited bandwidth.
This is a more than respectable set of resources for any small-to-mid-sized site or app.
The most expensive plan, on the other hand, will get you the same unlimited bandwidth alongside 8 CPU cores, 8 GB of RAM, and 140 GB of SSD storage.
Frankly, if you need more than that, you should probably move to a hardware server. Things that come with
every
plan include:
A dedicated IP address.
This is
huge!
Having one set IP address for your server can help to establish your site or app as a more trusted online entity. Plus, it makes programming some things easier. Not every VPS host includes this.
E-commerce-optimized servers.
Every server is PCI-compliant. Basically, that means the servers are up to the standards of the PCI Security Standards Council, which is dedicated to promoting secure online payments.
DDoS protection.
A pretty standard feature, but it's nice to know it's there. It's essential for, you know, keeping your site up if bots are trying to take it down.
A custom advanced policy firewall.
Basically, this means you can configure your firewall to automatically shut down some threats. If you know how.
Root access.
This is an optional feature, but a welcome one. If you're familiar with Linux and the command line, you can skip asking support for help, and configure everything yourself via a terminal.
Managed or Unmanaged
If you're paying for InMotion Hosting's managed VPS service, you don't have to worry about maintaining it, at all.
The staff at InMotion Hosting will keep your server software up to date,
fix small bugs and adjust configuration options for you, and generally look after the health of your server.
You also get two free hours of "setup time,"
which means that you can request a specific server setup, with specific apps on it, and the staff will install all of that for free. InMotion Hosting also offers a wide range of unmanaged cloud VPS plans, which are obviously less expensive, but are designed for those with developer-level skill who want to choose a server OS and build from the ground up. If that doesn't sound like you, stick with the managed service.
InMotion Hosting's Technology Stack Is Focused On Speed
For the non-nerds, all you need to know is that the server tech is largely optimized for fast page loading speed.
A quick-running website is essential for anyone who actually wants their users to stick around and/or buy things, so that's good. For the nerds, the speedy tech in question includes Brotli compression, PHP-FPM, and Redis, if you want. NGINX is used as a caching server on top of an Apache web server. The base operating system is CentOS 7 (for now), and you can't change it.
My test site ran very well on this stack.
Sometimes you have to purge the cache to get WordPress to update, so that's a thing. But hey! It makes the site fast.
There Are Free WordPress Tools
Aside from Softaculous, you can install and configure WordPress through the built-in WordPress Manager,
which can also help you install and configure templates, plugins, and even change passwords, all from cPanel.
Also included is BoldGrid,
InMotion Hosting's very own drag-and-drop site builder plugin for WordPress. It makes creating a custom design quite easy, and is comparable to other premium builders in this category, like Divi.
It's not installed automatically, but you can install it with a single click via Softaculous or download and install it manually from your cPanel admin page.
Free Server Snapshots For Everyone!
You can schedule free snapshots of your server
up to daily, so you always revert to an earlier instance of your server if anything goes wrong. This is included in every plan
, but it is
not
a full backup solution.
Snapshots are kept for you, free, for 7 days at a time. For permanent backups, you either need to set something up yourself, or pay extra for permanent snapshot storage slots. Then, you can keep (some) snapshots around for as long as you like.
Ease of Use
Using InMotion Hosting Feels Mostly Familiar
EASE-OF-USE SCORE: 4.5 out of 5
As far as ease-of-use goes, InMotion Hosting should feel very comfortable to anyone who's ever hosted a website before. And the learning curve for beginners isn't bad, either. The account management panel (or AMP) was clearly designed based on the conventions set by good old cPanel, and almost feels like coming home: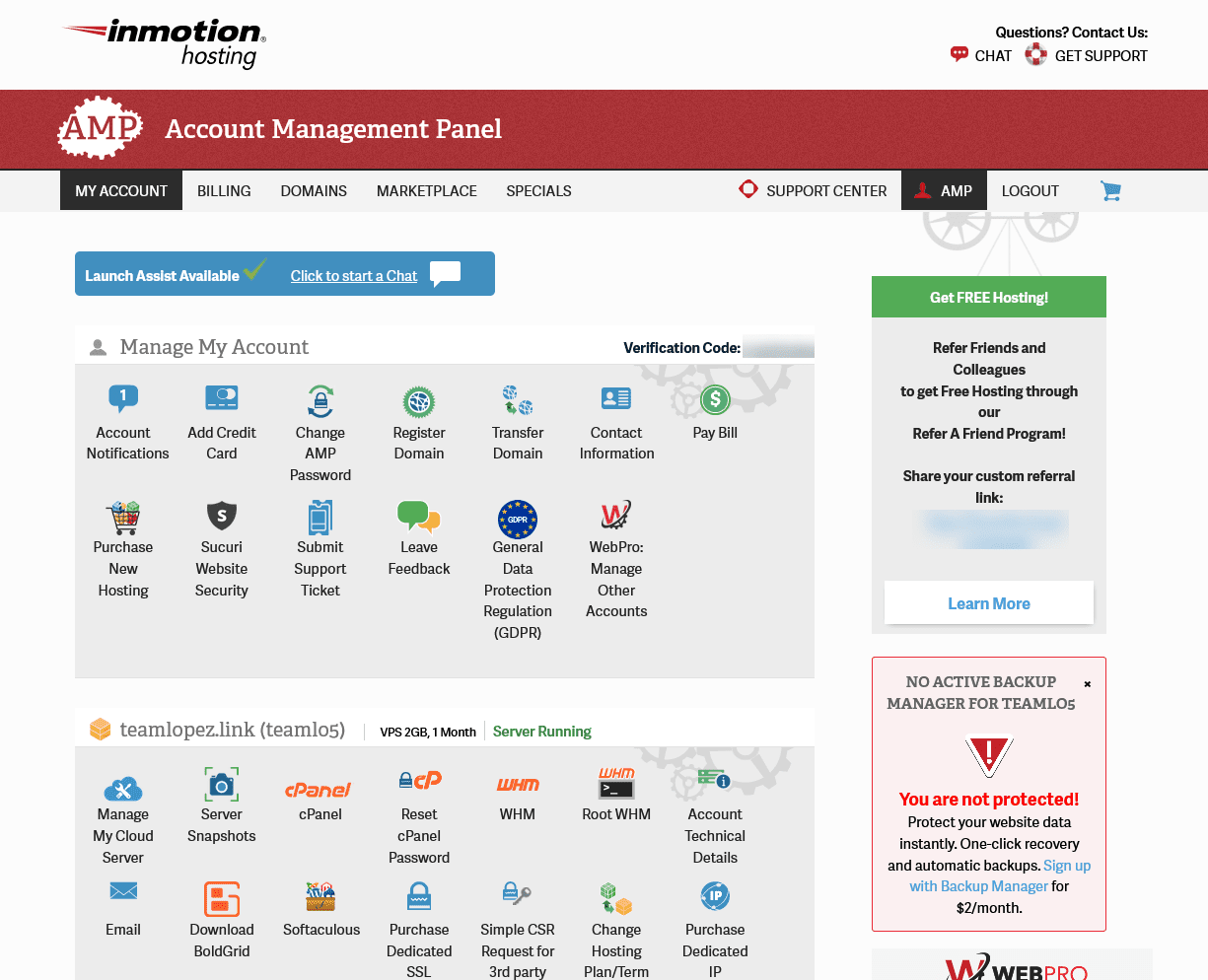 Note: We don't usually talk about the sign-up process for hosting companies, but you should know that signing up isn't as straightforward as it could be. Oh sure, you put in all of your usual information (address, payment info, etc.), and that's normal.
But then you have to wait for InMotion Hosting to call you back (use your real phone number!) to confirm all of your data.
Maybe it's because I'm in Mexico, but I haven't received a callback, ever. Both times I tested this service, I had to get on live chat to get my account activated. Just saying. Here's some of the other stuff that InMotion Hosting does to make your life easier:
Free Website Transfers With All Plans
Besides the two hours of setup time mentioned above, if you have an existing website or app, InMotion Hosting will transfer it to your new server for free. You'll have to give the team access to your old hosting account or server, but I do love this sort of convenience. It takes the trouble out of changing providers, which is unfortunately necessary sometimes.
cPanel and WHM Are Included for Free
Well, maybe they're not "free" given the base price of the plans, but you don't have to pay any extra!
You get full and familiar control over your server through WHM, and cPanel.
And, of course, you can set up several cPanel instances, for different websites or for your clients. It's your server, after all. Ironically though, while the AMP looks like classic cPanel, the cPanel
doesn't
.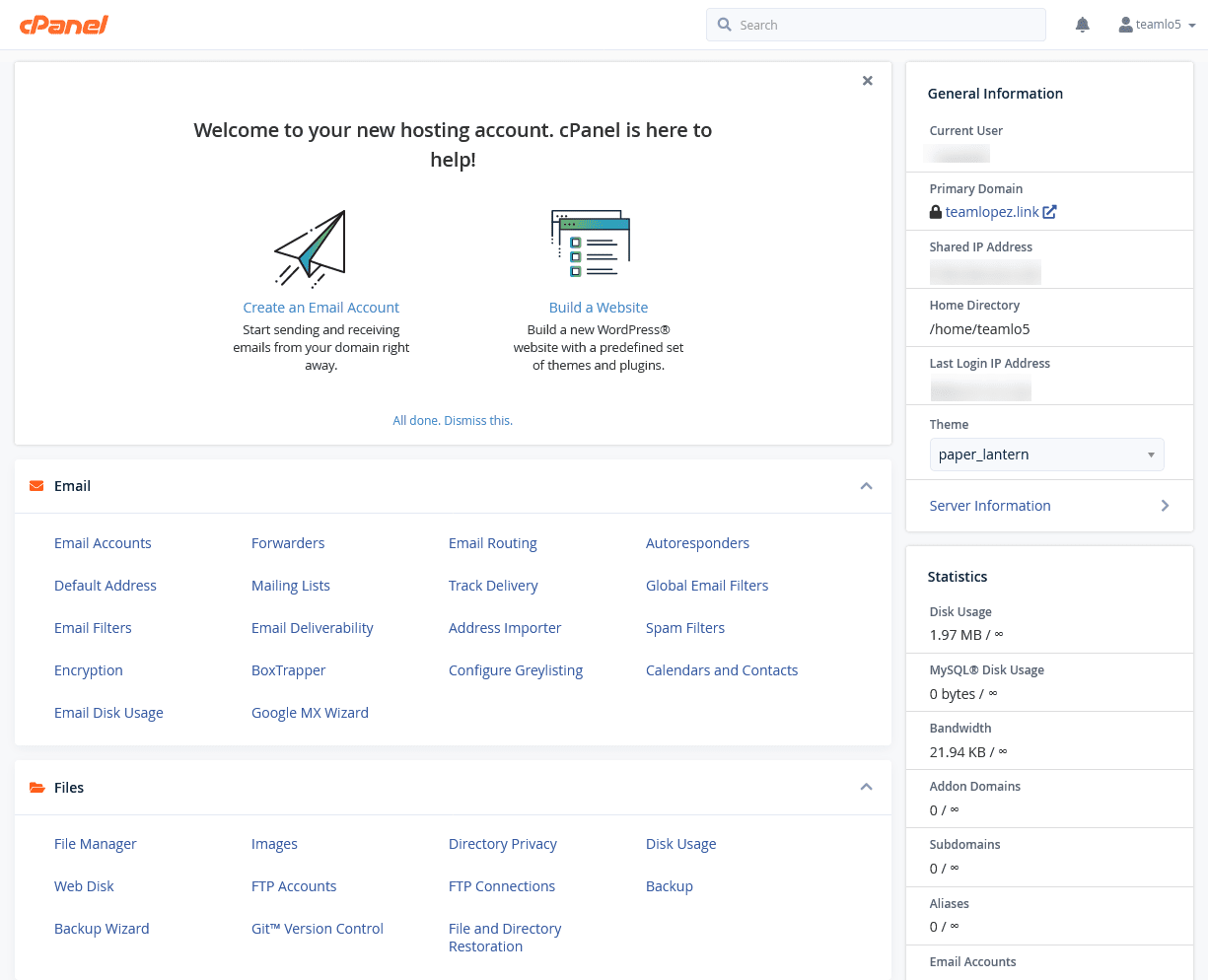 On top of the WordPress manager, which I mentioned before, you get Softaculous for free as well. So, you know, go ahead and install anything you want.
There's a Resource Monitoring Dashboard
It doesn't happen all that often, but a site can get hit by the Reddit effect, the Product Hunt effect, or any other viral "effect" and get loads of traffic that you weren't expecting.
In the resource monitoring dashboard (available through AMP) you can keep an eye on just how your site or app is doing, resource-wise.
This can help you identify problems, tell you when it's time to upgrade your plan, or just give you a warm fuzzy feeling as the visitor numbers go up.
Performance
InMotion Hosting's VPS Servers Are Fast and Stable in the US
PERFORMANCE SCORE: 4.7 out of 5
So, the servers seem decent and well configured, but how do they actually perform?
In my experience, they perform pretty darned well.
Keep in mind, however, that
InMotion Hosting only has data centers in the US.
They are somewhat vaguely labelled as "East Coast" and "West Coast." And there's not much more information than that. So, all my tests were run from US servers. To start with, I created a sample WordPress site that uses a pretty standard business-style theme. It's got huge, un-optimized images, fancy JavaScript effects, and other things that I would never build myself. You know, your classic commercial WordPress theme. Okay, it's not actually that bad, but it's no minimalist's fantasy, either. I wanted to give the servers a proper test, but not actively try to strain them. This went rather well, I thought.
The average complete page load speed was a fantastic 1.15 seconds, and site uptime was a clear 100%. Mind you, the testing time I had was a bit… short, but those are still promising results.
I'm going to jump into some of the details for anyone who's interested. If you'd rather just move on, go on down to
the Support section
.
GTmetrix
We use GTmetrix to test how quickly the homepage loads overall. I ran several tests, with the fastest coming in at 1.1 seconds, and the slowest load time coming in at 1.3s. That's actually a very low and acceptable variance considering the nature of the test site. And, since you want to keep load times under 2 seconds so as not to lose potential visitors, these are very solid numbers.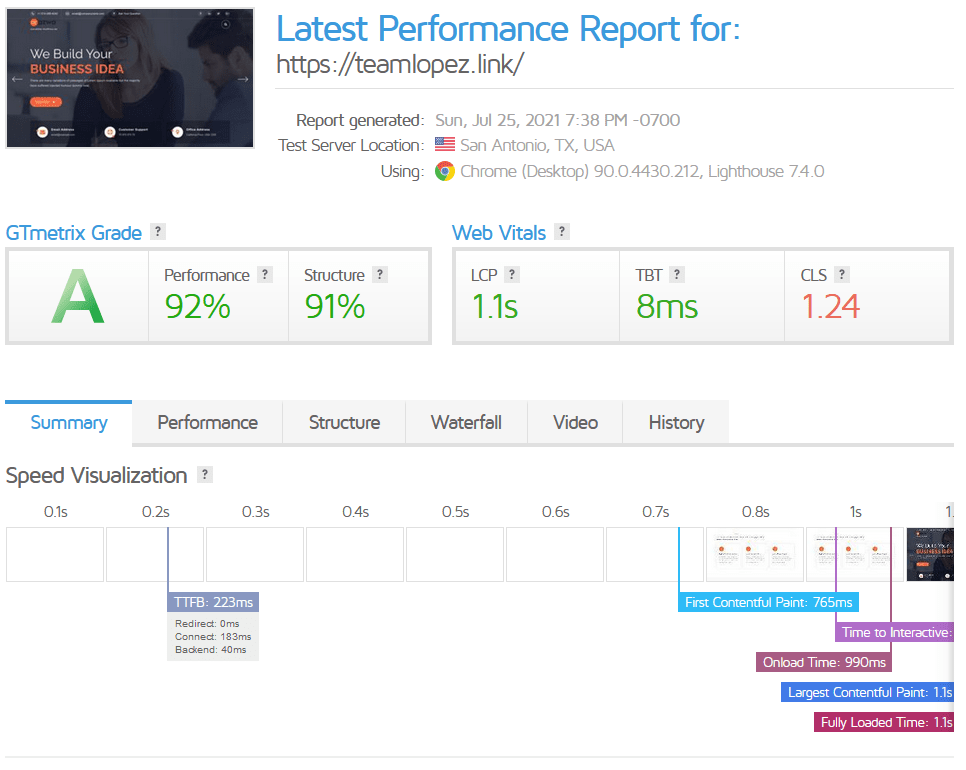 UptimeRobot
UptimeRobot tracks, as you may have guessed, how long the site stays up without interruption. The testing period was rather short, but the connection was steady. There was barely any variance in ping time, which is always an encouraging sign to me.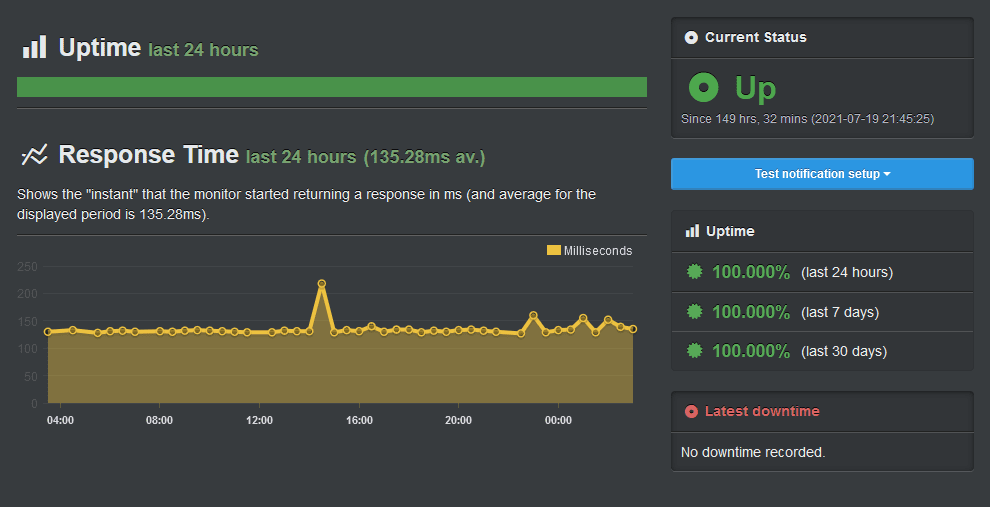 Support
Support Was Fast and Helpful, When the Phones Worked
SUPPORT SCORE: 4.5 out of 5
My experience with support was helpful overall,
and I had no real complaints about waiting time. All support channels are available 24/7, including phone support, live chat, and a ticket/email system. I tested all three, and you can see how that went below. If you'd rather not talk to anyone directly, or just want to get involved in the community, InMotion Hosting has a community forum that might be just the thing for you. Give it a look, and maybe see if your questions are answered there. Anyway, here's how my support request went:
Phone
Now, maybe it was because I was calling via Skype from Mexico, but the phone service itself was a bit spotty.
The agents themselves were generally polite, knowledgeable, and willing to look up information they didn't have at hand. I don't often enjoy being on the phone, but this wasn't bad. First up, I asked which operating system they used for the VPSs. Turns out it's CentOS 7. I asked what they'll be using when CentOS 7 hits end-of-life and well, they don't have an answer yet. They're still discussing it. If I know nerds, and I think I do, this means they're arguing about it in the company chat room
a lot
.
Live Chat
I asked if it was possible to switch a VPS between data centers.
I got my answer in minutes,
and the answer was "no." Again, the agent was quick and helpful – I had no complaints.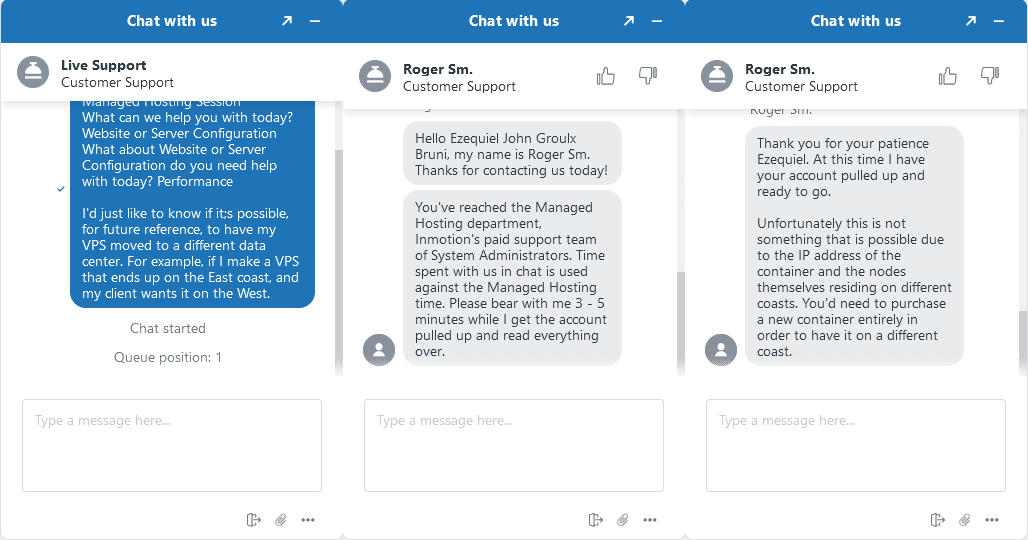 Ticket/Email
This time, I asked if it was possible to install apps based on non-PHP tech, like NodeJS, and Python.
The team took about an hour to respond, which is actually decent for a ticket system, and they gave me a helpful response.
Basically, if I want to install either kind of app myself with root access, there's no problem. If I wanted InMotion's staff to do it for me, they can only handle NodeJS apps, not Python apps. There's a little tip for the nerds out there. 🙂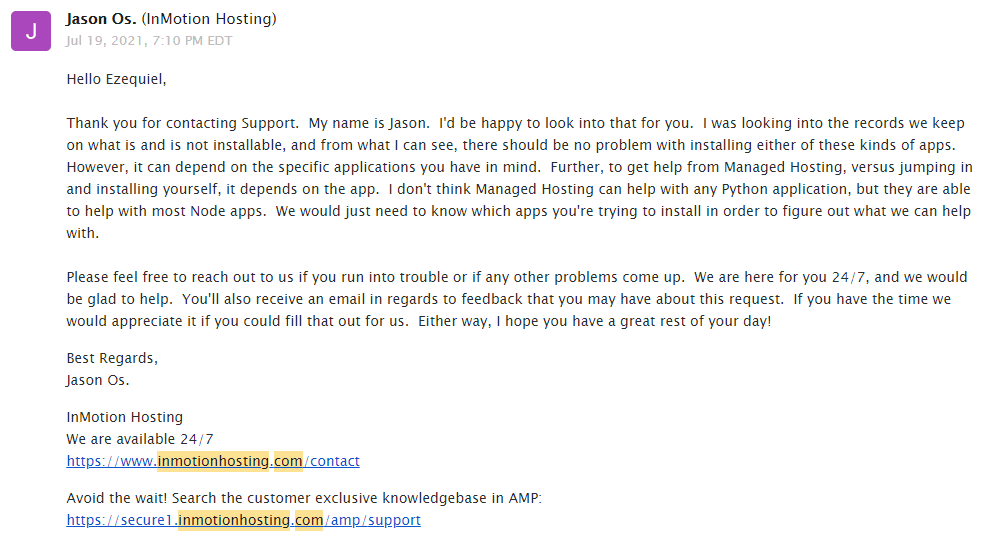 Pricing
You Have To Shell Out Money For All Those Features
PRICING SCORE: 4.1 out of 5
So yeah, the cheapest plan starts at
$
24.99
per month, and that's
only
if you pay for
3 whole years
in advance. That's, uhhh… that's a fair bit of time. And the renewal price goes up from there.
Don't get me wrong, you get some pretty decent service in exchange, and the features are nothing to sneeze at.
But then, for that price, I kind of think they could at least let me pick my own operating system, and maybe a few other small configuration options. I hesitate to say that the prices are too high, exactly. They're competitive when compared to other managed VPS hosting solutions. For example,
Greengeeks has a slightly higher initial rate, but the prices always stay the same
– and that's paying month to month, not 3 years in advance. And
InterServer offers managed hosting that is less expensive
 than both of those other options. InMotion Hosting's prices aren't unreasonable, but you have to understand that:
You're paying extra for convenience.
You'll have to pay for years at a time to get the best rate.
InMotion Hosting doesn't offer quite as much server customization as the competition.
Cancellation & Refunds
Dedicated servers and all monthly billed VPS and Reseller hosting packages are eligible for a full refund within 30 days of signup.
That counts even when you pay month-to-month. However, if you pay for 6 months or more,
then you get a fancy 90-day guarantee.
That's actually a pretty generous policy, all things considered. It definitely helps to offset the risk in signing up long-term.
The Bottom Line
A Very Specific Set of Services, At Somewhat High Prices
OVERALL SCORE: 4.5 out of 5
InMotion Hosting isn't a bad option for your VPS needs if you like the extra features, if you like fully-managed plans, and if you like the somewhat specific way InMotion Hosting does things.
Oh, and if you want your website hosted in the US. But if you don't fit that exact profile, you might have a better time with
InterServer
or
GreenGeeks
.
FAQ
What's the difference between virtual private servers and shared hosting?
Alright, here's the quick summary. Virtualization is a method that allows one computer to act like it's many computers (or virtual machines) at once. A virtual private server is simply a virtual machine set up to share information on the internet, just like a normal server. This can take a lot of processing power, but comes with several benefits, including the big one: anything that happens on one of these virtual servers doesn't affect what happens on the rest of them. That means if someone else's site on the same VPS server gets overloaded, or attacked, then yours will remain largely unaffected. Heavy traffic on one site could slow down every other site on the server when using a shared host. Additionally, VPS server performance typically offers a significantly more stable and consistent experience compared to shared hosting. Lastly, you can usually configure a VPS to your heart's content, within certain limits. With shared hosting, you're stuck with whatever software the company gives you, and that's it. If you want more information, check out our beginner's guide to VPS hosting.
Does InMotion Hosting have managed VPS hosting?
In short, yes. Plans are managed, meaning they're generally kept secure and up-to-date by the InMotion staff themselves. If there's a problem with your server, they can go in and fix things for you. You can also ask them to set up a variety of apps and CMSs for you when you first sign up for a VPS plan, which will greatly simplify things for a lot of people. InMotion Hosting also offers unmanaged cloud VPS plans, which give you the freedom to build and configure your hosting platform yourself.
Is InMotion Hosting's managed VPS hosting worth it?
That sort of depends. If you're the kind of person who likes getting their hands dirty and going full nerd on your VPS, then no. It's not worth it. The prices are rather high compared to the competition, for a set of features that is decent, but not spectacular. However, if you're new to the VPS game, and you want some help getting things set up, then yes. InMotion Hosting might well be for you. The fact that WHM and cPanel come installed by default with all plans makes things a lot easier, and the fact that every plan is managed is a definite bonus. If you still want to get a managed VPS, but those prices look a bit steep, try browsing our coupons page with the latest web hosting deals for 2023.
Do I need VPS hosting?
For most sites with small-to-average audiences, shared hosting is fine. A basic business site or even a decent-sized blog won't suffer much under shared hosting conditions, unless something goes truly wrong. The better shared hosting we've reviewed (such as Hostinger) does a pretty good job of mitigating the shortcomings of shared hosting. When your audience starts to grow, or when your business needs something like a membership area with lots of people in it, then the stability of a VPS starts to look real good. Plus, they're also fun if you like playing with servers. To compare the top hosts (with and without VPS options) see our list of the best hosting providers for 2023.