Both Inc Authority and Incfile can help you form a Limited Liability Company (LLC) for free
,
excluding
your state filing fees
. It seems like an irresistible deal, especially if you're on a tight budget and have zero experience in business formation. If you have more money than time to spend, they also offer a range of additional services like annual reports and tax filings and applying for an Employer Identification Number (EIN) on your behalf. At a glance, they seem quite similar, making it hard to determine which one is better. So
I evaluated their services, went through thousands of reviews, and contacted them
via all available support channels. I can confirm both Inc Authority and Incfile are reputable companies that can assist you in starting and running your business.
Still, Incfile offers almost the same set of services for half the price of Inc Authority, making it the best overall deal.
But I found a couple of instances where Inc Authority might be a better option. Read on to make a more informed decision, or visit Incfile's website to find a plan that suits your needs.
Features
Incfile Is Faster and Offers More Features for Less
While the companies' free plans look almost identical, Incfile promises to process your LLC paperwork within 24–48 hours with all plans and allows you to pay for faster processing with the Platinum plan. Inc Authority, on the other hand, can take up to four weeks to process your order.
Faster filing is available at Inc Authority
, as an add-on or as part of its Fast Track Business Bundle.
Both companies provide a free Registered Agent service for the first year, even on the free plans.
But you'd have to pay for it every year after that
.
Inc Authority's Registered Agent service renewal fee is more expensive than Incfile's. If you need the Registered Agent service after the first year of free service,
Incfile will cost you less
.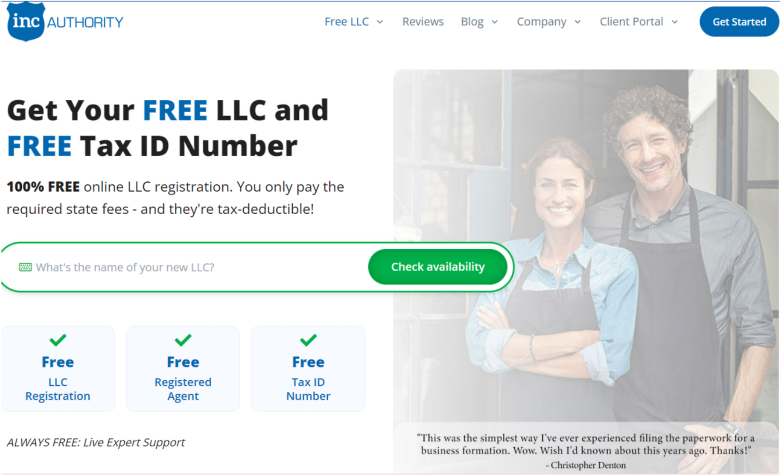 Although it's fairly easy to obtain your EIN directly through the IRS, Inc Authority and Incfile offer to apply on your behalf as part of their paid plans. EIN application is also available as a standalone service at Incfile. Although I find the service overpriced, I appreciate that Incfile allows you to purchase it separately.
In general, you're better off paying for a whole bundle rather than purchasing a few services separately.
Both companies provide Operating Agreements, business templates, compliance notifications, virtual addresses, and tax consultations. Inc Authority offers some fancy business features on its highest-priced plan, like a consultation with a private banking specialist and personalized business advice, but I find these nonessentials insufficient to justify the hefty price tag. Inc Authority and Incfile have a lot of features that overlap, but
Incfile is a clear winner as it's faster and packs more features for half the price of Inc Authority's premium plans.
Ease of Use
Both Are Easy to Use, but Incfile Has a Better Dashboard
When it comes to user-friendliness and navigation, both Incfile and Inc Authority have well-designed websites
. They prioritize clear navigation and employ well-organized menus, making it easy to find the information you need. But you can't find pricing information anywhere on Inc Authority's website. Inc Authority's sign-up process is relatively straightforward. It provides a step-by-step guide on its site, tailored to the requirements of each state. I was deep into the sign-up process and still couldn't see any pricing info for the premium Business Bundles, and the live chat agent wouldn't share any either.
I found it frustrating that I had to make a call to obtain Inc Authority's pricing details.
Both companies have customer support agents fluent in English and Spanish should you need further assistance.
Incfile's sign-up process, on the other hand, is remarkably transparent
. After selecting your business type and state of formation, the page automatically scrolls down, presenting you with the three available plans with their prices and associated state fees listed separately, along with the total you need to pay, inclusive of state fees. Certain upsells may be preselected, so be sure to deselect any you don't want.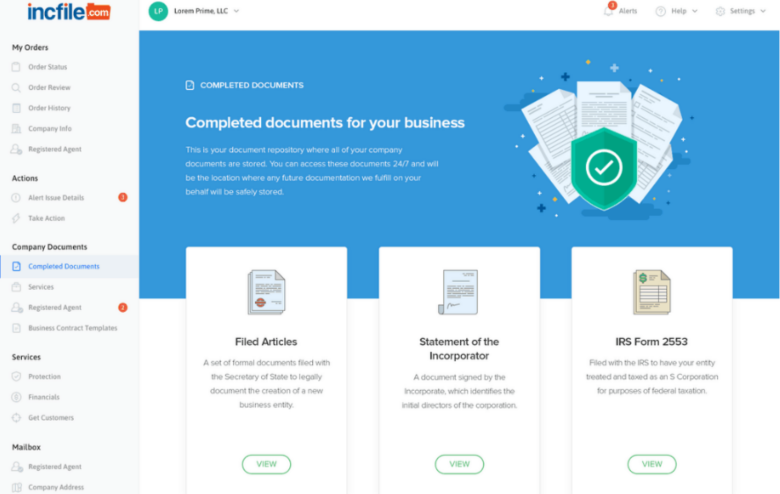 Both Inc Authority and Incfile offer user-friendly online dashboards that provide convenient access to features and services, but you can access them via a web browser only – there are no apps.
I found Incfile's client dashboard to provide a better user experience.
It features a tab-based layout that allows for quick and effortless access to the desired information. There are orange alerts that notify you of new activities. All additional services and their pricing are clearly laid out for easy ordering.
I had a more enjoyable experience signing up for Incfile's formation services due to its transparent pricing.
It was easy to reach out to Inc Authority's customer support, but the fact that I had to call to learn about its prices was a drawback for me. Even if you're about to use its free plan, ask for prices on add-ons so you know what to expect should you need any down the line.
Pricing
Incfile is Cheaper and Offers Better Value – Inc Authority Lacks Transparency
Inc Authority and Incfile's free plans set the companies apart among the sea of options that charge hefty prices for a simple LLC formation service.
Both companies will perform a business name search, provide a year of Registered Agent service, and offer unlimited support for zero dollars.
Incfile provides free compliance alerts and tax consultation, but Inc Authority also includes business credit and funding analysis in its free plan. Both companies have two premium bundles with one-off fees, with an exclusion of some services like the Registered Agent and web domain that have subscription-based pricing after the first year of use.
You can also purchase most services separately, but the bundles typically provide a better overall value.
Inc Authority's Starter plan is priced at
$
529.98
, while Incfile's Gold plan costs
$
199.00
. For the huge price difference, Inc Authority provides corporate templates, web domain, and business emails. These services are available on Incfile's highest-priced plan, which costs
$
299.00
, still less thаn what you'd pay at Inc Authority.
Inc Authority's Starter plan has fancy additions
like a deluxe record book, ownership or stock certificates, and initial meeting minutes and resolutions. You can get these and a complete LLC kit and seal as an add-on at Incfile. It will still cost you less even if you combine the LLC kit add-on with Incfile's highest-priced Platinum bundle. If you can spend
$
729.98
on Inc Authority's Fast Track Business Bundle, you'll get access to a private banking specialist, success advisor, and personalized business advice. Your business may benefit from these services, but not everyone's will, so this plan may turn out to be unnecessarily expensive for you. Fast Track is also the only plan that provides expedited filing, which is available by default at Incfile. Inc Authority could be a better option if you're exclusively interested in its free plan, as it packs more features. But keep in mind that it will cost you more if you decide to add some extras down the road.
Incfile's transparent and competitive pricing
, on the other hand, brings greater overall value and makes it a favorable choice.
Here's how Inc Authority's and Incfile's lowest-priced paid plans compare.
Inc Authority
Incfile
Price of the cheapest plan (minus state fees)

$

529.98

$

199.00

Stated filing time/range (minus state processing time)
Up to 4 weeks
24–48 hrs
Registered Agent

✔

(free for one year)

✔

(free for one year)
EIN application

✔

✔

Operating Agreement

✔

✔

Compliance Alerts

✔

✔

Tax consultation

✔

✔

Banking resolution & business banking account

✘

✔
Support
Inc Authority Has More Reliable Support
Both Inc Authority and Incfile offer email, live chat, and phone support during their advertised Monday to Friday hours of 6 a.m. to 5 p.m., Pacific Time, and 9 a.m. to 6 p.m., Central Time, respectively.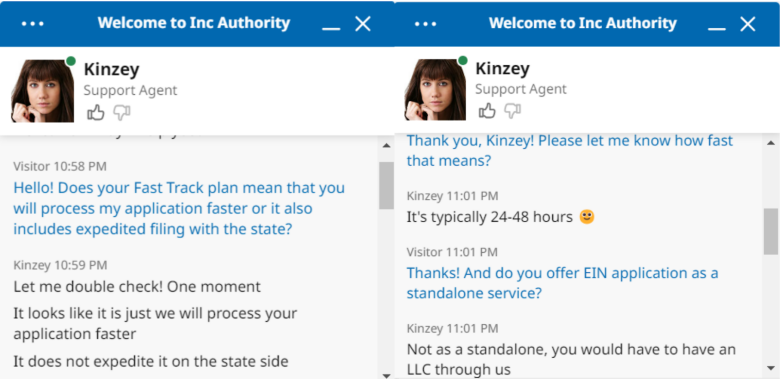 It took Inc Authority's phone representatives a few minutes on average to connect me with an expert.
All the ones I interacted with were attentive and answered my questions in detail. The live chat support responded within a minute and answered my questions just as fast. But I never got a response from the email support. Inc Authority also has an impressive blog, where you can find lots of useful information related to its services and beyond.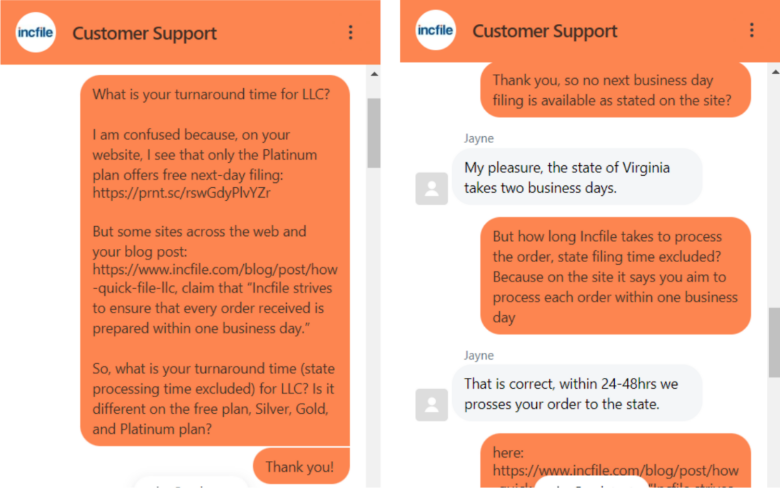 My experience with Incfile's support was mixed.
The live chat support responded within a few minutes and thoroughly answered my questions. The phone support, on the other hand, was inconsistent, I called during business hours and was transferred to the automatic message system. After a few tries, I finally got connected to a real human being. The first agent wasn't really helpful, but I called again and got connected to a more knowledgeable agent. Maybe the first one was new or had a bad day, but she could've at least pointed me to some resources, especially when there's an abundance of those on Incfile's website.
I was able to answer some of the questions on my own through Incfile's impressive knowledge base.
Its blog is also packed with valuable information on various business-related topics, plus there's a library of free downloadable PDF guides and how-tos covering all things business.
Overall, Inc Authority got the win on this one, as its support was consistently good and had mostly glowing reviews from other customers, which wasn't the case with Incfile.
If you're not into figuring things out on your own, you'd be better off with Inc Authority. But if you prefer the self-help route, you'll do fine with Incfile.
Select the LLC Service That's Best for Your Business
After a comprehensive comparison of Inc Authority and Incfile, Incfile emerges as the winner due to its speed and affordability.
Inc Authority can take up to 4 weeks to process LLC formation orders, while Incfile boasts a remarkably quick turnaround of just 1–2 business days. With almost the same set of essential services you can find at Inc Authority,
Incfile offers these at a significantly lower cost.
However, it's important to mention that Inc Authority does have an edge in terms of free LLC formation.
If your primary consideration is free LLC formation,
Inc Authority's free plan
includes more features, making it a more appealing choice. Still, even if you're starting out with its free plan, make sure you check add-on prices, as just a few of them can cost you a fully featured bundle at Incfile. My table below will help you better understand how Inc Authority compares to Incfile.
Features
A wide range of features, including advanced business features
All the essential features to form and manage your LLC, plus a few more services
Ease of Use
Easy to use, but lack of pricing info forces you to contact phone support
Remarkably easy to use
Compliance
Not BBB accredited
Not BBB accredited
Pricing
On the expensive side, lacks transparency
Affordable, competitive pricing
Support
Great customer support
Less reliable customer support
FAQ
Is Incfile really free?
Incfile offers free business formation services for LLCs, S-corporations, C-corporations, and nonprofits. The free package includes preparation and filing of the necessary documents to form a new business entity, a year of free Registered Agent service, compliance alerts, business tax consultation, and unlimited support. But you'll still need to cover your state filing fees. If you need more than the basics, Incfile offers two premium plans and multiple services available to purchase as add-ons.
Which LLC service is better: Inc Authority or Incfile?
Both options offer free LLC formation services, which sets them apart from most competitors. Still, Incfile comes out as the better alternative as it offers a next-day filing service on all plans, as opposed to Inc Authority which takes up to 4 weeks to submit your Articles of Organization unless you pay extra for faster service. While they offer similar features, Incfile's premium packages cost half the price of Inc Authority's bundles.
Can Incfile be trusted?
Incfile can be trusted as a reputable LLC formation service due to its impressive track record and mostly positive customer reviews. For example, I found that the company boasts a customer satisfaction rating of 4.8 stars from over 59,000 customer reviews on Shopper Approved.
Why should I use Incfile?
Incfile offers a free LLC formation plan, allowing you to get your business started only for the price of your state filing fees. Incfile's user-friendly platform and streamlined process make forming an LLC quick and hassle-free. Additionally, Incfile's competitive pricing ensures affordability, especially when compared to other services. Furthermore, Incfile has an excellent track record with tens of thousands of positive customer reviews.