IDA Ireland is a government agency with a mandate to attract foreign investment to Ireland. We work with companies to ensure that they are successful, not only in landing in Ireland but continuing to partner with them as they expand their business. We have been working towards this goal for over 70 years and our performance as a hub for foreign direct investment is unrivaled. 
From a marketing technology point of view, Ireland is home to world-leading, high-performance companies such as Google, LinkedIn, Facebook and HubSpot. I specifically work for our emerging business team, so I work with high-growth startups. 

Images of HubSpot Dublin Office 
We have found that nurturing a company when it is in a hypergrowth stage forges its future success in Ireland. One example of this is marketing automation and CRM company Active Campaign. Over the last few years, I have worked locally with the Chicago-based company to spur their success in Ireland. Active Campaign announced a sales and support office in Ireland in 2019 and it has already grown to over 100 people. 
Another successful company that we have worked with is a social media and management platform company, Sprout Social. Since it announced it was establishing a sales and support office in Ireland to service the EMEA
(Europe, Middle East, and Africa)
marketplace, Sprout Social has been thriving. 
Could a company set their main office up in Ireland but work remotely with a global team? Does IDA encourage this? 
It is completely up to a company how it strategizes, and we will support them in any way they prefer. With companies like Shopify, for example, we worked fully remote (in terms of their Irish office) before the Covid-19 pandemic. That was helpful because when Covid-19 came along we were able to look to companies like Shopify as an example to help mentor other companies going through the transition to remote work. To answer your original question, we move at the companies' pace on how they want to strategize, and we are here to support them in how they want to move forward. 
Do you encourage collaboration between the various companies? 
Yes, in terms of networking we certainly do. We encourage and foster relationships between companies, but how they want to collaborate after that is up to them. 
We absolutely believe in unofficial mentorship, one of the things that we do right off the bat is engage with companies. Pre-Covid, we would invite a company's team to Ireland for a few days. These trips would allow the team to experience the vibrancy of the different Irish cities, get them connected within the ecosystem on the ground, and help them network with like-minded companies. The companies that have been through the process already are able to assist with questions like where to find talent, the cost of recruitment, timeframes, creating a legal entity, setting up a business bank account, and all other aspects involved in internationalization. 
Since the pandemic began, these in-person meetings have shifted to remote meetings. Going forward, we expect to see a hybrid version of these visits for a time, but we're very excited to welcome people back in person to experience firsthand the offerings of our various regions. To physically meet with company leaders in established companies here, heads of third-level institutions, our IDA teams in the different regions, our property division who can show the various property solutions on offer, and other relevant stakeholders.
What other impacts has Covid-19 had on the business and how has your strategy evolved to minimize this impact? 
We were obviously concerned about the long-term impact the global pandemic would have on business, on supply chains, etc. but what we found was that multinational companies quickly adjusted to meet pandemic challenges like remote working and continued with their business plans and while not totally immune, provided to be remarkably resilient, particularly in sectors like Technology and Lifesciences
One third of multinationals in Ireland have had operations in the country for over 20 years, illustrating the longevity, resilience, success, and commitment of these companies to Ireland. 
The Irish Government introduced a comprehensive range of supports for businesses affected by COVID, including business continuity, consultancy, and training supports, among others.
As regards new investment, in the context of the COVID-19 pandemic, in 2020, a year of unprecedented disruption to global business and adverse impact on global economies, Ireland recorded substantial success, securing 246 investments, 95 of which were new name companies and the remainder expansions by existing companies. The investment flow continued to be strong in the first half of 2021 too, with investments significantly up in 2020 and close to pre-pandemic levels, with 142 investments won for Ireland up to the end of Q2. 62 of those were new name investments. This demonstrates the continued resilience and confidence among our existing companies while o
ur success in attracting a large share of substantive, new job-creating FDI reflects the country's strength as a location with a value proposition of talent, track record, and technology infrastructure that continues to resonate strongly with investors.
Ireland is at the heart of Europe. It is a committed member of the European Union and provides companies with guaranteed access to the European market – a marketplace of 500 million people. Ireland is the only English-speaking country in the Eurozone and provides an ideal hub for organisations seeking a European base. The brightest talent from across Europe is attracted to Ireland, mixing with our own to offer a multinational and multilingual melting pot of skills with a positive attitude to match.
IDA Ireland's new strategy –
Driving Recovery & Sustainable Growth 2021-2024
has been developed in the context of the Irish Government's National Economic Plan, positioning IDA to respond to the emerging trends that are accelerating because of the Covid-19 global pandemic that will reshape business models such as remote working and technology adoption.  
What makes Ireland an attractive investment opportunity? 
There is a very strong pool of young, flexible workers in Ireland. For marketing tech companies, multilingual talent is very important, and we have a large group of multilingual and multi-diverse talent. One of the companies I spoke about earlier, Active Campaign, is now up to 100 people in Ireland and 50% of those have come from outside of Ireland. That brings so much diversity, so many different languages and overall makes it such a cool place to work. So, talent is a key asset. 
As I mentioned, I work mostly with emerging business companies. Some of these companies have never sought to internationalize and the first thing they look at is where their peers, and their competitors, have and are locating to. They can quickly see that there is an oft-traveled path to Ireland and that it's seen as a gateway to the European market and that provides comfort and assurance to expanding businesses.
We are known for our strong work ethic, which makes us very similar to people in America. The ease of doing business is something that is often commented on, ours is a very good pro-business environment.
Accessibility to the EU market 
As stated, we are a committed member of the European Union, with easy access to Europe, making Ireland an ideal location from which to internationalize your business. 
We are the only country in the EU that is English speaking. Going international for the first time can be a daunting process, so establishing your first office in an English-speaking country can make the process easier.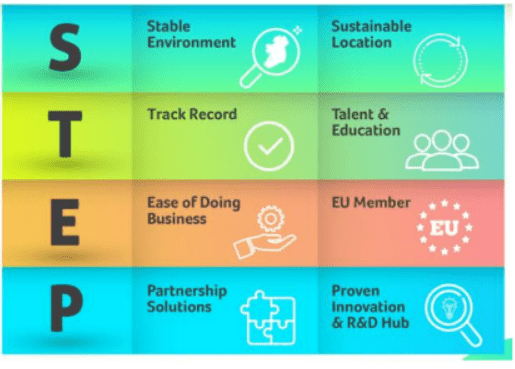 Ireland's 2021 value proposition 
Other than helping the company land in Ireland, what support does IDA Ireland offer?
Client management is so important to us. We don't just help the company land in Ireland, we really want them to expand and thrive there too. Each company has a dedicated IDA contact in both their North American city of origin and then locally in Ireland where they have their office. So, no matter what time of the day it is or whatever time zone a company is in, it will have someone to call that can answer any questions or assist with solutions to any issues that may arise. As a company starts to scale, we can help to source suitable commercial real estate. We can also help expedite work permits and visas if a company wants to bring staff from North America or if they are hiring from anywhere else in the world.

IDA Ireland provides continuity of service to clients remotely 
Funding and grant aid is available to those considering foreign direct investment in Ireland. These include capital and employment grants; training grants and RD&I supports amongst others. They are offered to both new and existing clients. All funding is negotiated on a case-by-case basis in compliance with EU and Irish legislation.
There are supports for companies that locate in one of our regional locations outside of Dublin. When people think of Ireland, much of the time they think of our capital city, but we have other great cities like Cork, Galway and Limerick where strong clusters and vibrant hubs have developed in sectors like Med Tech, Pharma, Technology and International Financial Services among others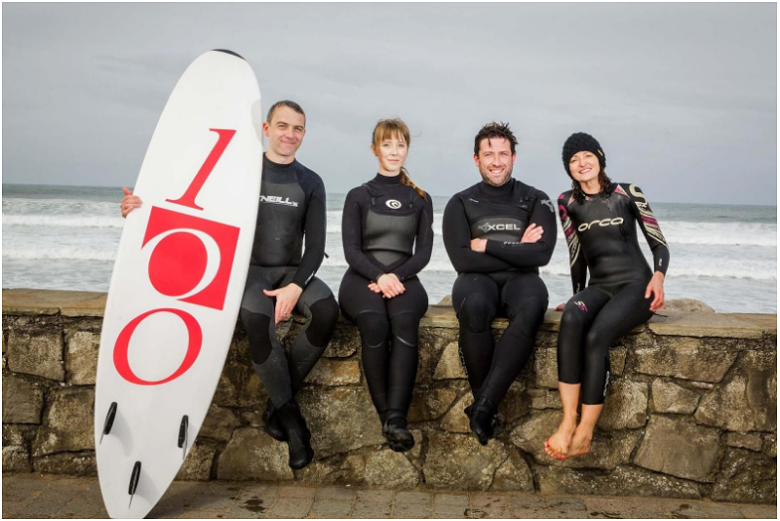 In 2018 Overstock added 100 research and development jobs in Sligo, Ireland  
Is there anything else that you would like to tell us about IDA Ireland? 
It is never too early or too late to have a conversation with IDA Ireland. As I said, I work with our emerging business team. A lot of companies question when they should be having this conversation. There is no perfect time, but I would say that you should contact us if you are experiencing revenue growth and employee growth, or you are starting to see some business come outside of the US. I have had companies that have internationalized within months and some that have taken years, working at a pace they are comfortable with, to complete the process. Feel free to reach out for a confidential chat – we're here to help