Most stock photography sites also take a large cut from your sales, and some even restrict what you can charge for your photos.
Having your own website gives you full control over your creative work.
Building your own site does have its start-up costs, but it's a worthwhile investment because you'll get to keep the majority of the profits from your sales. Even if you have no previous experience building websites, there are many beginner-friendly platforms that let you set up an online store easily. For instance,
a photography-specific portfolio builder like SmugMug provides a variety of prebuilt templates for all types of photography
. Additionally, you get built-in e-commerce and marketing tools to help you sell your photos and promote your online store. Aside from choosing the right platform, there are other steps to take, from researching competitors to creating an authentic name. I'm here to share all the information you need on how to sell photos online.
How to Sell Your Photos Online
To make money selling photos online, you'll need to do a bit of research and preparation first. It's essential to find your niche and research your target market to help you attract potential customers. Also, you'll need to handle legal matters related to licenses and copyright and map out the costs (both one-time and recurring) so you can budget accordingly.
Define Your Niche and Target Audience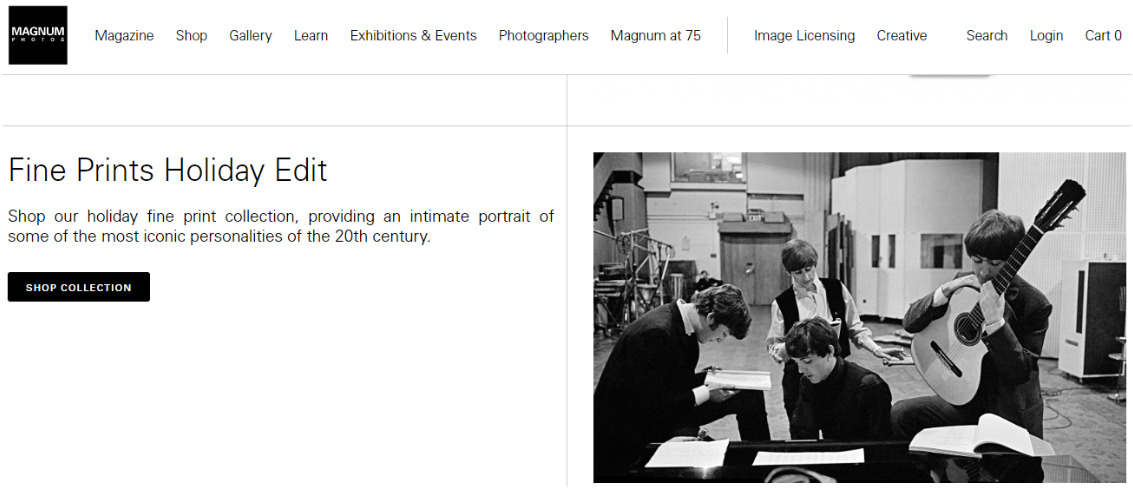 You'll have a much better chance of making your photography stand out if you focus on a certain niche.
The key is to develop a distinctive style in this niche and put your own spin on it. This can help you stand out and build a memorable brand.
Whether you focus on fashion, travel, nature, or food, keeping your focus consistent will help establish you as a professional in your chosen niche. You can either choose a niche and then research your target audience, or you can find a target audience and then zero-in on a profitable niche that ignites your passion. If you'd prefer to take a market-led approach,
you can explore the latest trends by using keyword research tools
. For example, Keywords Everywhere (a freemium browser extension) lets you analyze the search volume for terms related to your photos and identify the most in-demand niches.
Handle Legal Matters
To securely sell your pictures online, you need to be aware of laws around copyright and licensing.
You continue to own the copyright to your photos even when you sell them online
. However, by selling your pictures, you give the buyer license to use them in certain ways. You can decide what types of licenses you want to attach to your photos. Here are the most common options:
Personal use – buyers can use your photo for non-commercial purposes
Commercial use – buyers can use your photo in advertising
Editorial use – permission to use your photo in newspapers, magazines, and other publications
Retail use – the right to use your photo on physical products
Exclusive rights – the buyer is the only one who can use your photo
Royalty-free rights – buyers can use your photo an unlimited number of times
Calculate the Costs
It's important to devise a plan that takes into account all your expenses, from camera equipment to subscription fees for your online store. Also, bear in mind that you will also have to pay to register a custom domain name for your online store, which I'll discuss in more detail below.
Choose The Right Platform to Sell Your Photos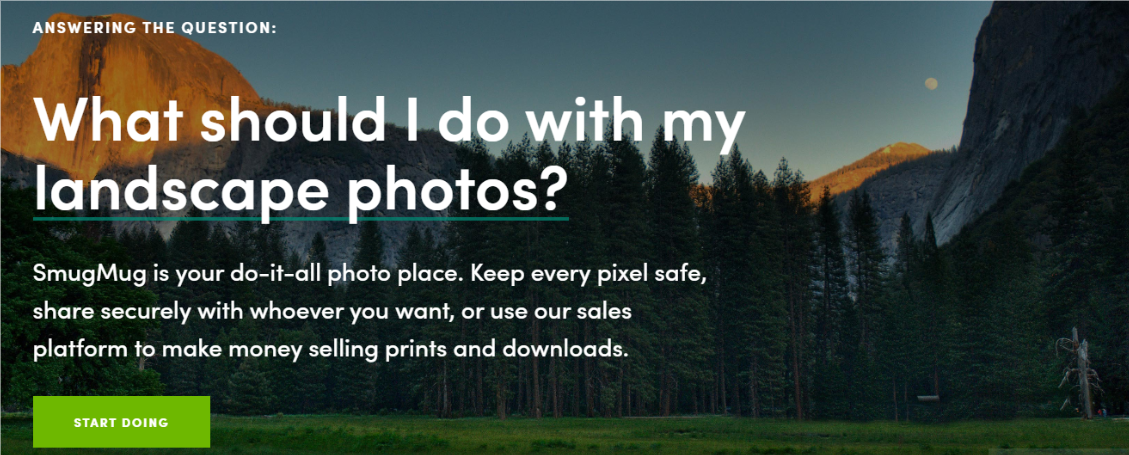 Whether you're an amateur or a professional photographer, there are several ways you can showcase and sell your photos online. One option is to use a specialized platform, such as a prebuilt online marketplace. You can also sell on social media or create your own online store. Specialized platforms include stock photography sites such as Shutterstock, or online marketplaces like Etsy.
Selling your photos on ready-made platforms can be convenient because they handle the web hosting and marketing efforts for you
. Stock photography sites give your work exposure, and their wide reach can make it easier for you to find clients. On the other hand,
online marketplaces also have some major limitations
. Many stock photography sites require your pictures to adhere to certain rules regarding image resolution, themes, and even what type of equipment you use. Also,
stock sites don't allow you to set your own prices, and they often take a large cut of your profit
. Some may even require exclusivity, meaning you can't sell your photos elsewhere. On top of that, stock photography platforms can have a strict approval process. For example, Shutterstock requires you to submit 10 photos (with at least 7 approved) before you can sell on its site.
If you want greater control over how you market and sell your photos online, you can try selling on social media platforms
. For instance, if you want to sell your photos on Instagram, you can set up an Instagram Shopping account, which includes a product catalog. You can set up prices and add descriptions of your products, as well as promote them on Instagram Stories.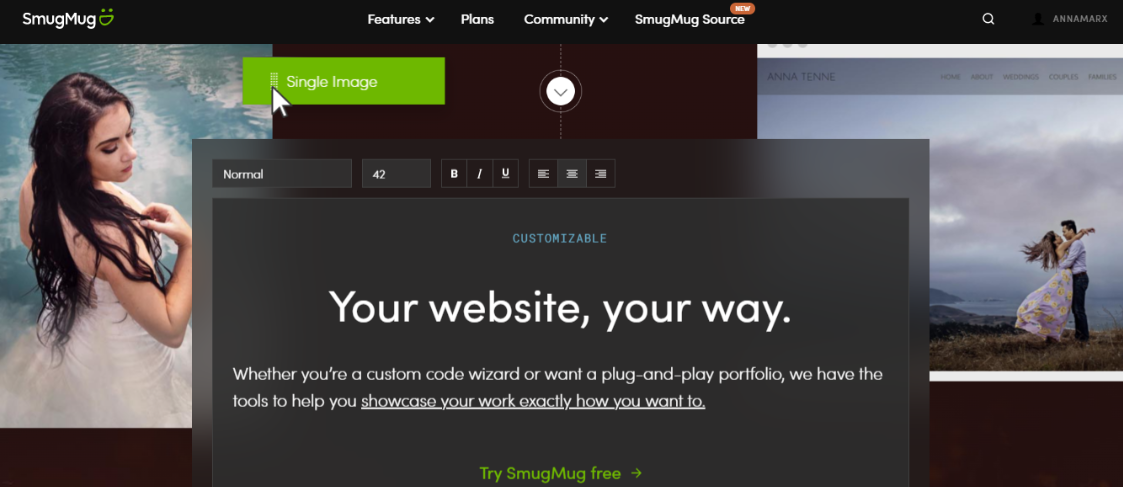 But while selling on social media is a great way to get started, you don't get a lot of options to customize your online storefront and make it stand out.
Only by building your own online store will you get the whole package
. Not only will you be able to create a storefront that matches your style and brand, but you'll also get the option to add social media links to your site for cross-promotion. SmugMug allows you to
publish your photos to all your social media channels
directly. It's also worth noting that
SmugMug provides an optional RAW file management tool for an additional cost, which streamlines the process of publishing RAW photos on your site
. It's a more reliable storage solution than a hard drive (which could fail), and it includes AI-powered image recognition tools, so you can easily find any photo. I'll show you how to sell your photos online by easily creating a photography store on SmugMug, with step-by-step instructions. The great thing about SmugMug is that it offers a 14-day free trial, so you can test its features risk-free.
Choose a Good Name for Your Photography Online Store
Another crucial part of learning how to sell pictures online is brainstorming a great name for your store.
Your store's name will also serve as the foundation of your domain name – a unique name that functions as your site's home address on the Internet
. A domain name consists of a website name and a domain name extension, such as ".com." It's the first step in establishing an online presence and helps search engines find you. It's also one of the first things potential customers and clients notice about your business and can help you gain credibility and establish your brand.
A good domain name for an online photography store should be specific and appeal to your target audience
. If you're a fashion photographer, for example, you may want to speak to beauty brands and designers. Or if you're a fine art photographer, you may try to appeal to art collectors or art book curators.
Try to make your domain name short, easy to spell, and distinct.
If you need some guidance in choosing a domain name,
SmugMug has partnered with a domain provider to help you choose and set up your custom domain in a few easy steps
. If the particular domain you're looking for is taken, the domain provider will provide alternative options that are a close match. You pay for the domain separately from your subscription, but it's a low yearly fee.
Customize Your Photography Store
You can set up an account with SmugMug in just a few clicks – all you need is your email address to get started
. SmugMug will also ask you about your business plans to provide you with the right tools to build your photography website. After selecting your desired features, SmugMug will ask you to choose a template (AKA a "design") for your website.
SmugMug has 26 good-looking, mobile-responsive templates suitable for all types of photography
, from portrait and product to landscape and travel.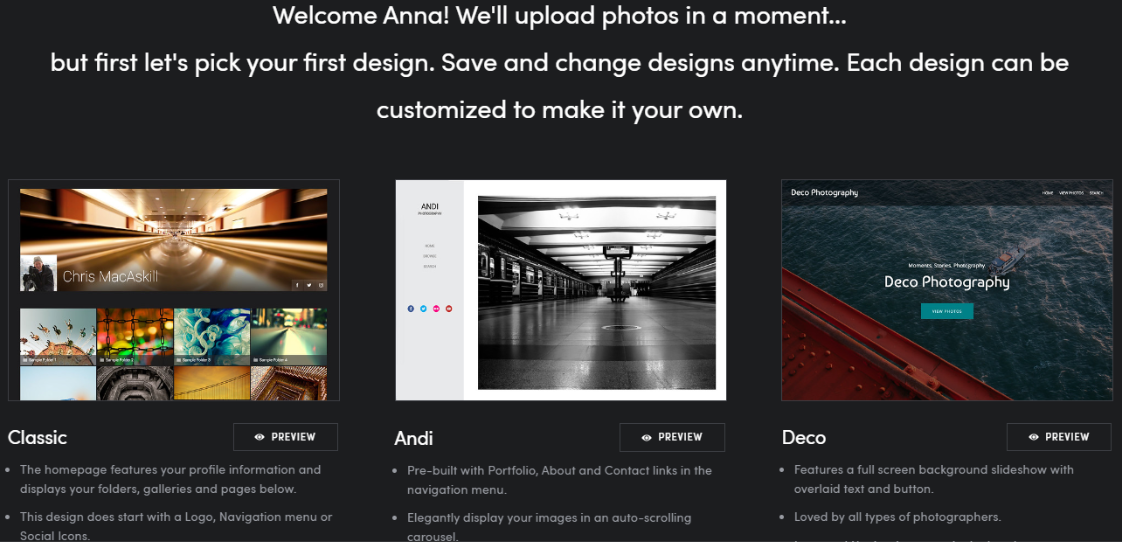 All SmugMug templates tend to fall on the minimalist side, allowing your photos to take center stage. You'll find various navigation styles (sticky or transparent, for example), as well as numerous gallery layouts, such as slideshows and carousels.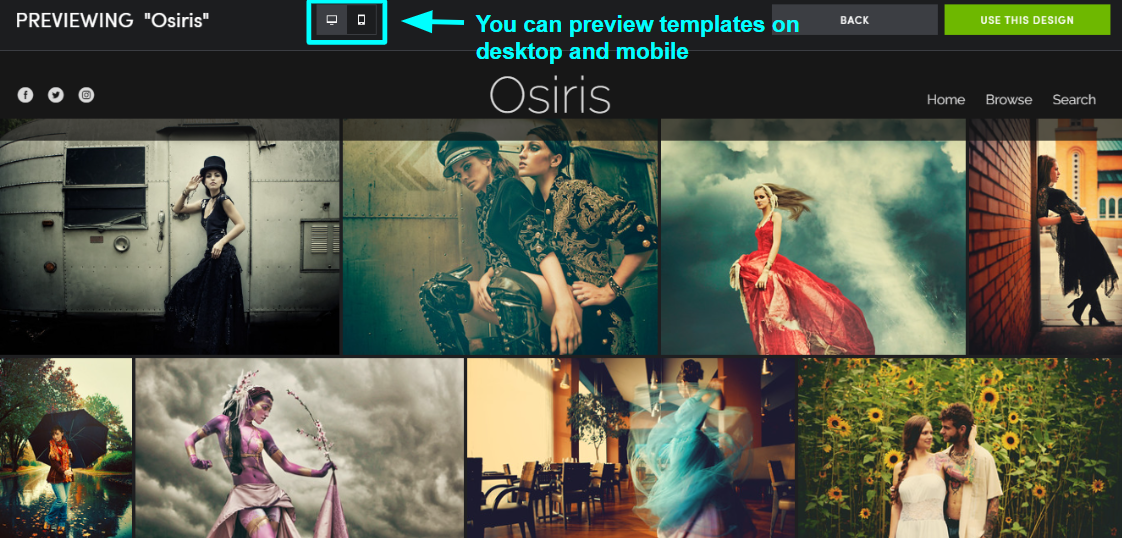 You can preview any template before you start using it. And if you change your mind later, don't worry –
SmugMug lets you switch between designs any time without losing your edits
. Once you've picked a design, it's time to create your first gallery.
SmugMug lets you upload unlimited photos and videos, and any additional site content, such as your logo and social media links
. You can always add these later in the site customization area.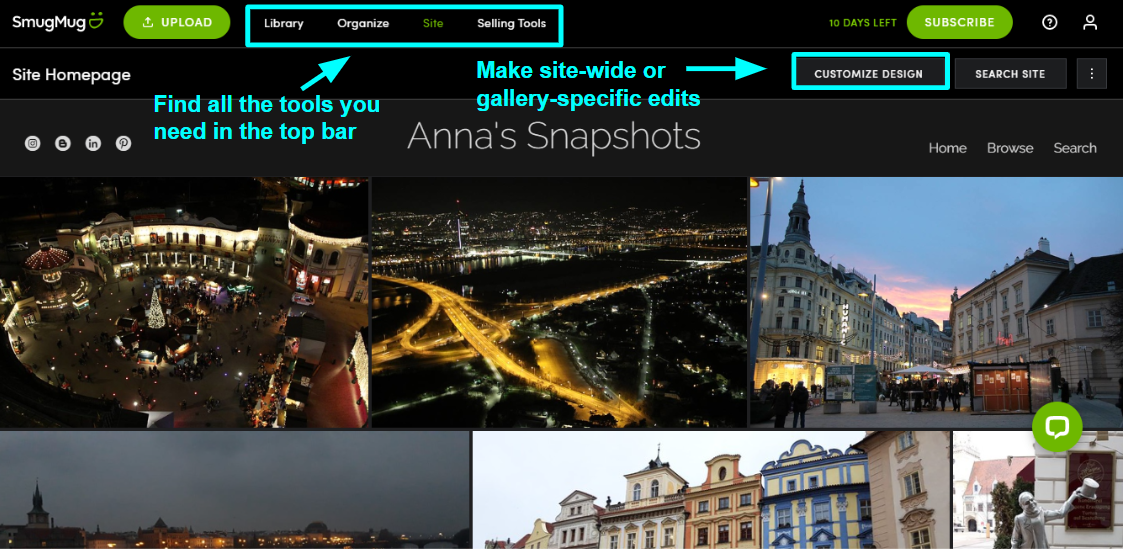 When you finish uploading your photos, SmugMug will take you to your site's homepage.
SmugMug has an intuitive interface, and all its features are easy to locate and use
. The top bar contains the tools you need to organize your galleries and sell your work, including the Library section, where you can view and filter your media by date. The Customize Design tab in the upper right corner allows you to change your site's colors, fonts, and layout.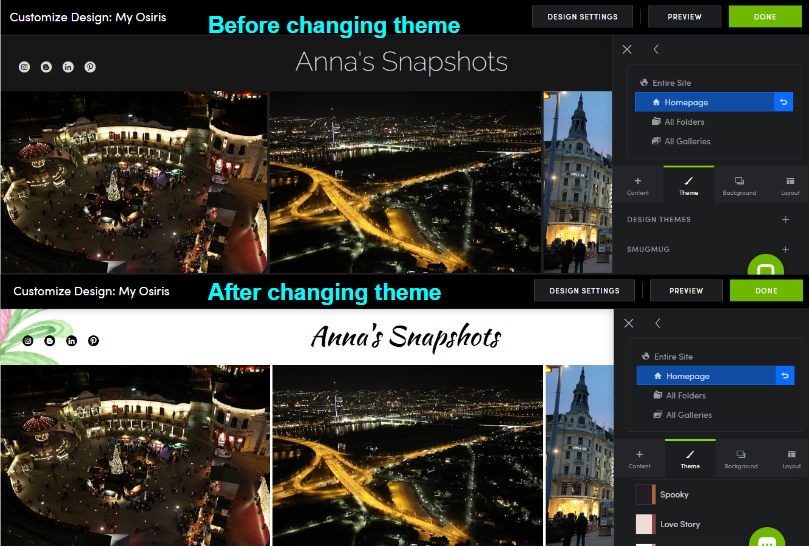 When it comes to personalization, SmugMug offers plenty of design options to make your photography site stand out.
You can choose from various themes that include different color palettes, fonts, textures, and patterns
. Also, you can add personality to your homepage background by adding videos or slideshows.

In addition to colors and fonts, SmugMug lets you modify your site's content by dragging and dropping content blocks onto the page. You can add blocks for text, maps, calendars, featured events, and more.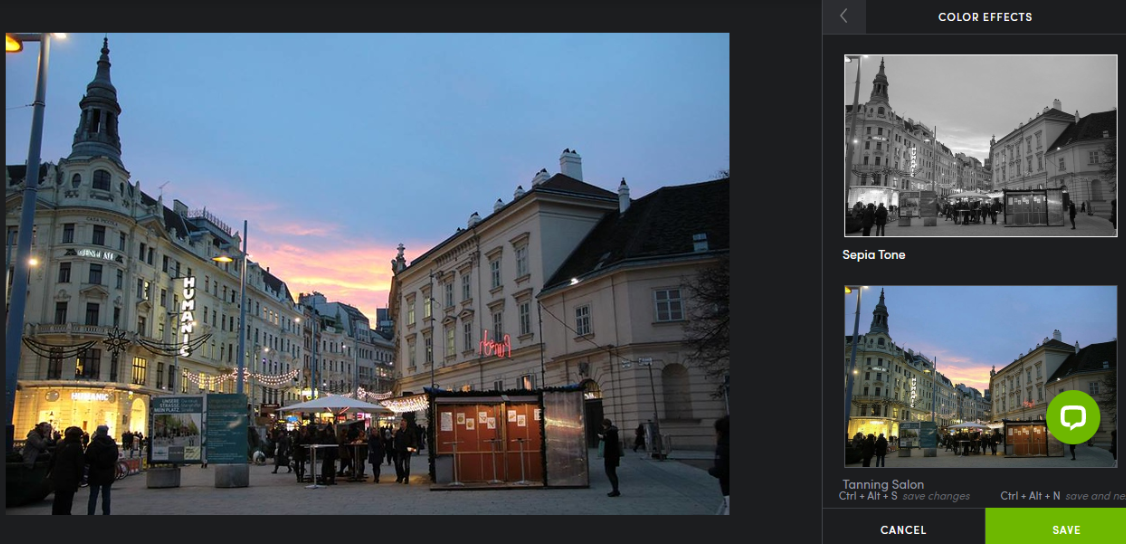 SmugMug also has built-in editing software that lets you customize individual photos. You can add titles, captions, watermarks, and color effects, among other things.
Add Your Photos as Products
SmugMug has built-in e-commerce functionality
, which means you don't have to add a store section to your site. Instead, all you need to do is enable online selling, and visitors will be able to click any picture on your site to see purchase options. To enable e-commerce, you need to navigate to Selling tools on your dashboard and create a price list for your photos. If you're new to this,
SmugMug will helpfully suggest a pricing structure
that balances competitive margins against higher profits.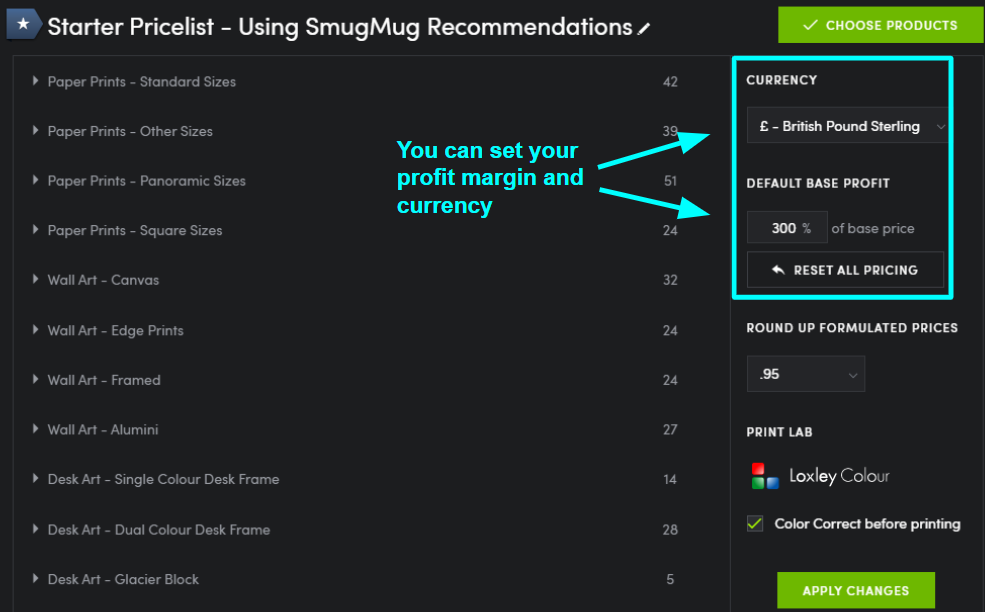 Whether you choose to go with SmugMug's recommendations or create your own price lists, the options are easy to set up. You'll need to choose what kind of products you want to sell (prints, downloads, gift cards, etc.), set your profit margin and currency, and you're good to go. Also,
you can apply a particular pricing structure to the whole site or just a specific gallery
. Once you've set up your price list,
visitors can click on any photo covered by your pricing structure to buy it
. They can pick from different print sizes and types of frames, as well as have their selected photo printed on mugs, mouse pads, keyrings, and more. It goes without saying that your photos need to look their best to be able to attract prospective customers.
Make sure to upload your photos in full resolution, especially if you plan to sell prints
. Additionally, try to accompany high-quality images with equally effective copy. You can use photo titles and captions to describe your photos to make them more appealing.
Update Your Store Settings and Payment Information
You can access and update all the information about your business by clicking the profile icon in the upper right corner of your dashboard and choosing
Account Settings
from the dropdown menu. There you can
see your sales stats, update privacy settings and payment information, add contacts, and more
. When it comes to paying for your subscription, SmugMug accepts all major credit cards, including Visa, MasterCard, American Express, and Discover.
Your customers can pay for your photos using PayPal.
Having the ability to accept payments via a digital wallet such as PayPal, which is available globally, allows you to build an international customer base.
Preview and Launch Your Photography Online Store
Before you publish your online store,
it's important to test all the features on your site to ensure everything is working properly.
You should preview your site on both desktop and mobile screens to check if the content is displayed properly. Also make sure to test navigation links, buttons, search tools, e-commerce features such as online checkout, and anything else that contributes to a seamless shopping experience for your clients.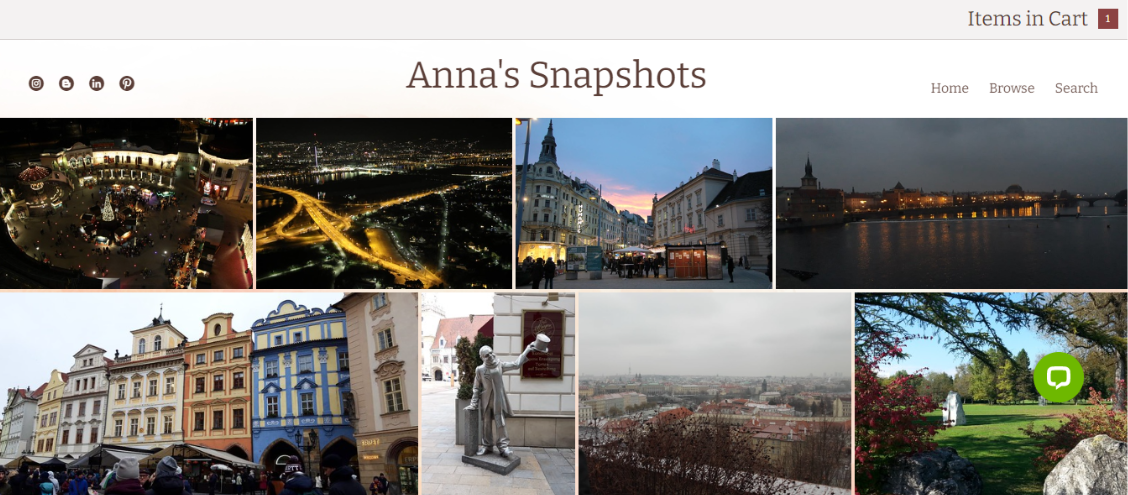 Additionally, as your online store is likely to contain a large number of images,
you'll want to run a speed test to make sure it's loading quickly
. You can try out a tool such as PageSpeed Insights to get an accurate analysis of your website's loading speed. PageSpeed Insights will also recommend opportunities to improve loading time.
Promote Your Photography Online Store
The best and easiest way to find potential clients for a photographer is to
promote your website on social media
.
SmugMug offers a variety of sharing options to help you build and engage your audience.
In addition to displaying social media icons on your site's homepage, SmugMug also allows you and your site's visitors to easily share links to individual photos or galleries across Facebook, Twitter, and other platforms. Visitors can also leave comments on your website.
SmugMug also lets you optimize your website for SEO.
In addition to naming images and galleries, you can modify meta descriptions and include keywords to help your online store rank higher in search results. Overall, promoting your photography online store is a long-term investment that requires time, effort, and careful planning. If you're just starting out or simply don't have the time,
you can hire an expert to help you promote your store
. Some freelancers build and promote online stores for a living, and they offer a valuable service at a very affordable price.
Selling Pictures Online Is Easier Than You Might Think
Creating an online store for selling photos entails making several crucial decisions. You need to devise an engaging store name, select a sales platform, customize your store to align with your brand, and, ultimately, promote it – all of which demand thoughtful deliberation.
A successful long-term plan should take into account that your business will grow.
That's why you'll want
a website builder
that makes it easy to upgrade when you need to. You'll also need to keep your website updated with new content, as well as track your website metrics to identify which areas need improvement. However,
the first and most important step is to create a simple photography website
where you can showcase your pictures and sell them online. Specialized photography website builders like SmugMug will let you launch a basic photography site in less than an hour, even if you've never built a website before. Then, as your business grows, you'll be able to continually refine your store.
FAQ
What is the best website to sell photos on?
Stock photography websites are very popular choices for selling photos online, but they have some limitations, especially when it comes to creative freedom and pricing. Building your own website gives you a chance to develop and strengthen your brand. For instance, a photography-oriented platform like SmugMug makes it easy to create a professional online store that integrates with all your social media channels.
What type of photos sell best?
Some of the photos that are typically in high demand include portraits of families and individuals, headshots, wedding pictures, and relaxing scenes from nature. It's important to research the market and see which subjects are popular, as it can help you find your niche and target audience.
How do you create an online store on SmugMug?
All you have to do is sign up for SmugMug's free trial. Then, upload your photos, choose your preferred template design, and enable e-commerce functionality. You'll have a chance to refine your store by customizing your site's design and adding galleries, a logo, and captions for your photos.
What is a good domain name for a photography online store?
A good domain name for photo sites should be short, memorable, and aimed at your target audience. If you run out of ideas, SmugMug can help you find a domain name and connect it to your store for a low price.