1&1 IONOS may not be perfect, but it was true to its word and gave me a full refund when I cancelled my account. The process was completely hassle-free, even though I had
signed up for the cheapest plan
.
On paper, 1&1 IONOS sounds like the perfect web host – low prices, excellent features, and beginner-friendly tools. However, you may have signed up and realized it doesn't do exactly what you need it to.
Maybe you found customer support too slow, or perhaps you'd prefer a host with a more intuitive interface (like cPanel). Whatever your reason for canceling, this article takes you step-by-step through the process of cancelling your 1&1 IONOS account and getting your refund. It's surprisingly easy.
If you're looking to move your current website from 1&1 IONOS to another provider with low prices and strong performance, Hostinger will migrate your site for free. This service is included with any new Hostinger plan.
Quick Guide: How to Cancel 1&1 IONOS and Get a Full Refund
Log in to your account on the 1&1 IONOS website.
Go to your account dashboard. Scroll all the way down to the bottom of the page where you will find your name. Under that, you'll see My Account.
Click on Display. In the top left corner, you'll see Contracts & Subscriptions. Click on the Display button underneath.
Find the cogwheel icon. Next to your hosting product, click the little down arrow next to the cogwheel icon and click on Manage Contract.
Click Show cancellation options. Once here, choose the 30-day money-back guarantee option.
Select a reason for your cancellation. Once you choose your reason, click Next, and Next again.
Click the checkbox. You must acknowledge the risks of cancellation before you proceed.
Click on Cancel contract now. And you're done!
My Experience: Here's How I Cancelled My 1&1 IONOS Account
The first step in cancelling your 1&1 IONOS account or plan is to log in to your account, then head over to your account dashboard. When I cancelled my account, it took just a couple of minutes. The entire process was easy – but there are some things you might want to pay close attention to down below.

Click the My Account button at the bottom of the page (right under your name) to get to your account dashboard.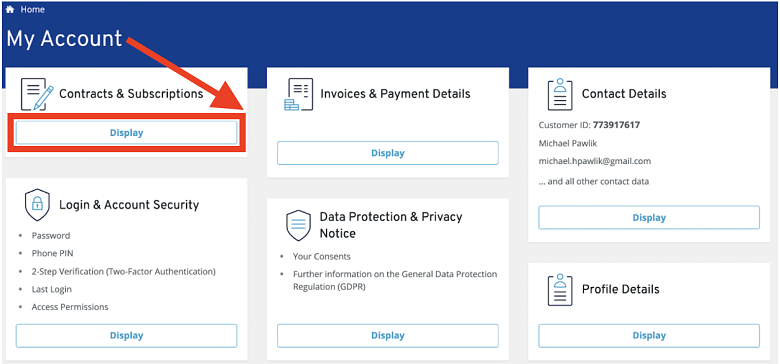 Then, click on the Display button near the top left, in the Contracts & Subscriptions panel (underneath My Account).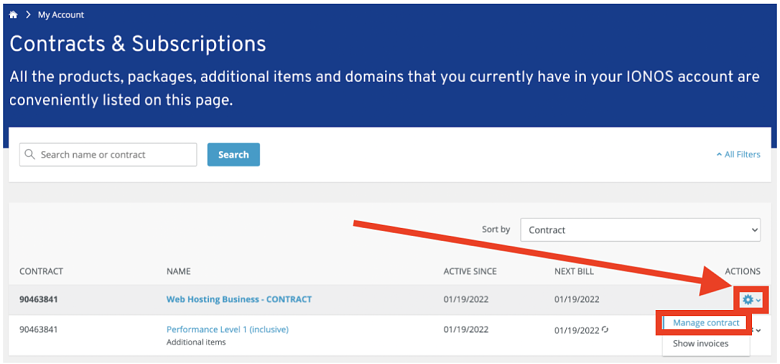 Next, click on the down arrow right beside the cogwheel icon on the bottom right of the page. Then, click on Manage contract.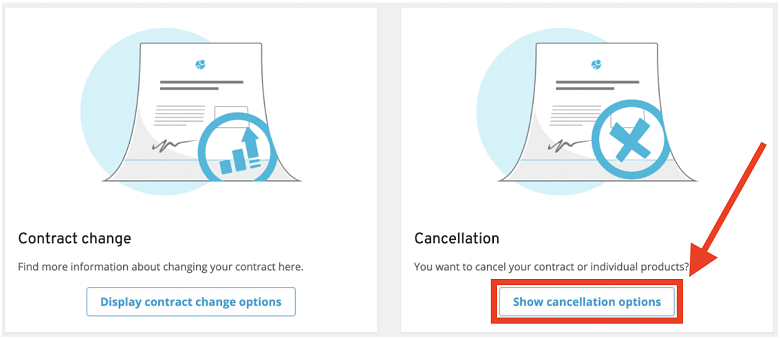 Once you're on the Manage Contract page, you'll see the option to change or cancel your contract. Click on Show cancellation options.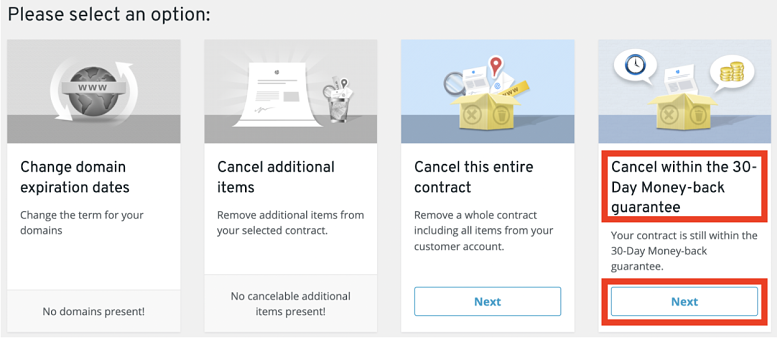 Assuming you're still within the 30-day money-back guarantee timeframe, click on the Next button in that panel.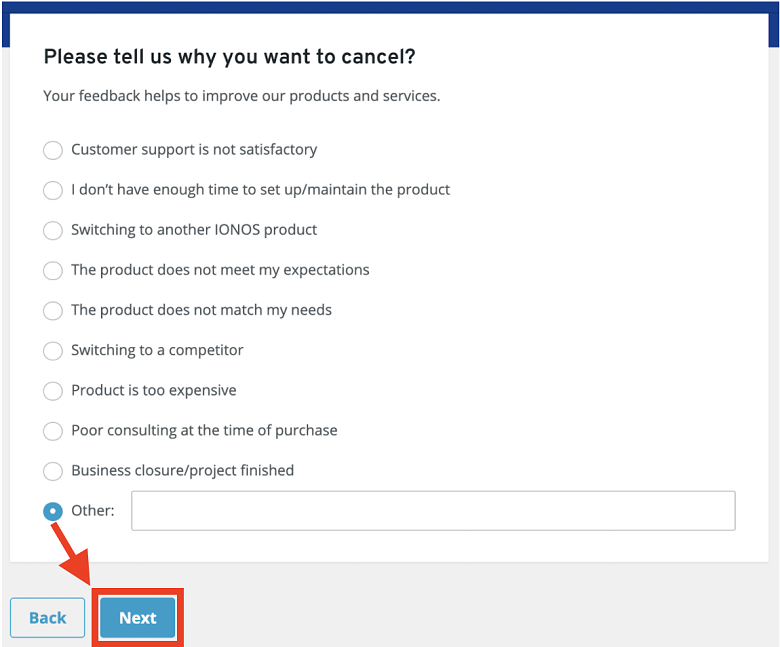 You will need to provide a reason for the cancellation before you can click the Next button. Select a reason and move on to the next step.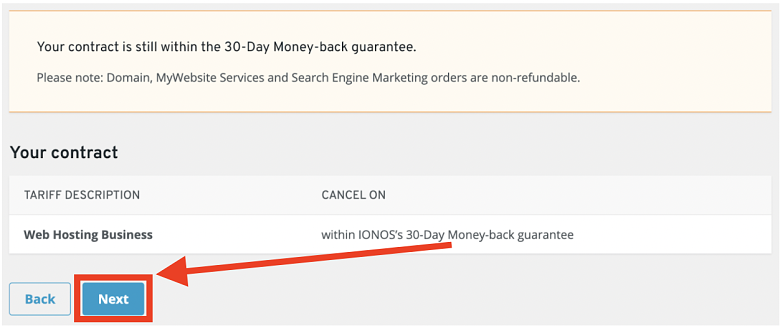 Click Next again.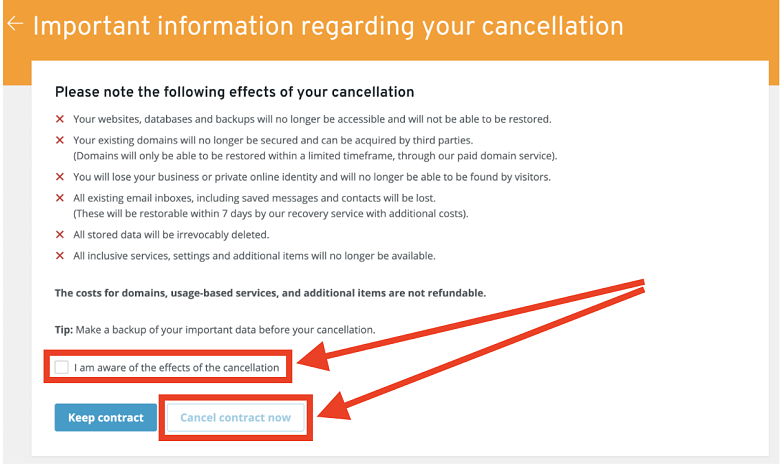 Check the box to indicate that you are are aware of all the repercussions of your contract cancellation, and then click Cancel contract now. You're done!
3 Best 1&1 IONOS Alternatives for Shared Hosting
Is it time for a new web host? Be sure to check out our favorite 1&1 IONOS alternatives. We've tested all of the hosts below that have excelled in areas in which 1&1 IONOS fell short.
In our testing, Hostinger scored highly on performance and reliability. It's one of the best shared hosting options on the market today, and the best thing is, it's much less expensive overall than 1&1 IONOS.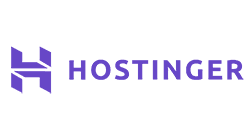 Save up to 75 % on your Hostinger plan!
Limited-time offer - Don't miss it!
7002 users used this coupon!
Nexcess is a good high-tier host for WordPress as it offers a managed service. If you need help optimizing your website or your WordPress installation, or need a hand with any issues that aren't necessarily account-related, Nexcess will still help you out.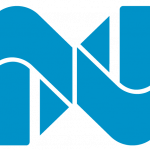 Save up to 33 % on your Nexcess plan!
Limited-time offer - Don't miss it!
55 users used this coupon!
InterServer only offers one shared hosting plan, but it's competitively priced, and includes unlimited storage, data transfer, and email accounts. Equivalent plans from 1&1 IONOS are more expensive.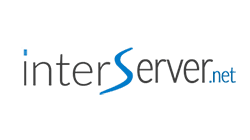 Get your first month of hosting for just $0.01!
Take advantage of this exclusive deal to try out InterServer.
424 users used this coupon!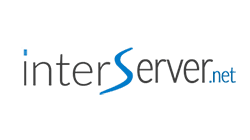 Pay $0.01 for your first month of Web Hosting
Copy and paste this code at InterServer
It's Very Easy to Cancel Your 1&1 IONOS Plan and Get Your Money Back
During my testing, I found it very straightforward to cancel my 1&1 IONOS plan for a refund. I didn't have to speak with a support representative either, as I was able to do everything I needed to right from my account dashboard. The whole process only took about two to three minutes.
As long as you're within the 30-day money-back guarantee timeframe, you will be eligible to receive a refund. After cancelling my plan, it only took one business day to see the refund appear on my credit card statement.
FAQ
Can I cancel my 1&1 IONOS subscription?Yes, you may cancel any of your 1&1 IONOS plans at any time. However, in order to receive a refund, you will have to be within the 30-day money-back guarantee window. If you're cancelling your subscription to 1&1 IONOS because you want to try out a different host, we've compiled a list of the 10 best web hosts for 2022.How do you delete a website hosted with 1&1 IONOS?If you want to delete a website hosted with 1&1 IONOS, it will automatically be deleted when you cancel your hosting plan using the steps outlined above.How do I cancel my 1&1 IONOS account?In order to completely delete your hosting account and all of your data, you'll need to send an email to 1&1 IONOS customer support using the link at the top of the website. If you're looking to build a brand-new website, have a look at our handy guide to launching and hosting a site.How long is 1&1 IONOS's money-back guarantee time frame?All of 1&1 IONOS's plans come with a 30-day money-back guarantee. As long as you're within this time frame, you'll be able to get your money back.