Hostinger and DreamHost are among the most well-known names in web hosting. This popularity comes from more than just being extremely marketing-conscious companies (though, to be fair, also that), but mainly because
they're often considered two of the best budget options on the market
. However, when you consider everything you need from a hosting provider, such as consistently good page loading speeds, state-of-the-art security, and good value for money, you'll probably find that one of these hosts delivers more than the other. That's why I took it upon myself to test and research both of them. I won't keep you waiting:
I would recommend Hostinger to nearly everyone weighing these two hosts against one another
.
It's not that DreamHost is a bad-quality service
. In fact, it's one of the best budget-friendly hosts I've come across, which makes Hostinger's win all the more impressive. So, keep reading to find out what exactly makes Hostinger so special, and why DreamHost doesn't quite measure up.
Plans and Pricing
DreamHost Offers Good Value – Hostinger Raises the Bar
The variety of hosting plans offered by both Hostinger and DreamHost is enough to give anyone decision fatigue.
Both providers offer a full suite of plans for shared hosting, cloud hosting, virtual private servers (VPSs), and managed WordPress hosting
. In fact, the only significant difference is that DreamHost offers dedicated server hosting, and Hostinger offers reseller hosting for agencies, though if you're interested in either of these services, I would recommend investing in a specialized provider. I'm also happy to report that neither provider engages in scummy business tactics, such as hidden upsells or difficult cancellation processes. DreamHost is lauded for its low prices and good value, and there's a reason for that.
The aptly-named Shared Unlimited plan allows you to launch as many websites as you wish
, and you get unlimited bandwidth and SSD storage as well.
A free domain name is included with some hosting plans from DreamHost
Honestly, DreamHost would seem like the obvious choice in this case if it wasn't for
Hostinger's Premium Web Hosting, which offers 100 websites and 100 GB SSD storage for a lower price
.
But Andrés
– I hear you say from the other side of the screen (somehow) –
isn't "unlimited" more than 100
? Yeah, in theory.
In practical terms, however, 100 GB of storage and 100 websites are way more than the average user will need
.
A free domain name is included with some hosting plans from Hostinger
In general,
Hostinger offers more variety and cheaper plans with features comparable to those offered by DreamHost
. This holds true even once the initial period is over and the higher renewal fees set in. If you've made up your mind and are ready to commit to either host, I recommend that you sign up for the longest possible term for your chosen plan, which will reduce your month-to-month expense dramatically.
Features
Hostinger Has Two Major Advantages Over DreamHost
Both Hostinger and DreamHost offer easy site migration, free SSL certificates, and generous money-back guarantees
. But that's not to say there are no notable differences between the two – Hostinger takes the lead with a couple of special features. The first one is a little technical, and it involves the server software used by both hosts. DreamHost uses the traditional Apache web server as the main software for its servers. I won't get too much into the specifics here, but rest assured that this is not a bad thing. Apache has been one of the most popular web server platforms for over twenty years. However,
Hostinger uses LiteSpeed as its main web server software
.
LiteSpeed offers better static and dynamic content caching performance for sites built with WordPress
, and the key to this is the integrated LiteSpeed Cache for WordPress (LSCWP) plugin
,
which allows you to fine-tune the settings to suit your particular site. That is all to say that
if you were to host the exact same WordPress site on both hosts, you would likely get better loading speeds from Hostinger
– which we did, as you'll see in the Performance section below. Here, you can see a more in-depth comparison of the features offered by both hosts:
| | | |
| --- | --- | --- |
| | Hostinger | DreamHost |
| Hosting types | Shared, WordPress, cloud, VPS, Minecraft, and email hosting | Shared, WordPress (managed & unmanaged), WooCommerce, cloud, VPS, email, and dedicated hosting |
| Free domain name? | ✔ (except on entry-level shared and WordPress plans) | ✔ |
| Free SSL? | ✔ | ✔ |
| Number of websites | 1 – 300 | 1 – unlimited |
| Storage | 50 – 200 GB SSD | 30 GB – unlimited SSD |
| Bandwidth | 100 GB – unlimited (depending on the plan) | unlimited |
| Control panel | hPanel | DreamHost panel |
| Free CDN? | ✘ | ✘ |
| Email accounts | 1 – 100 | For an extra fee |
| Money-back guarantee | 30 days | 97 days |
Even without the LSCWP plugin, Hostinger would beat DreamHost in this category thanks to its user-friendly hPanel, a proprietary option that our reviewer found to be superior to the classic hosting management panel known as cPanel.
hPanel is complete, easy to use, and visually intuitive
, which goes a long way towards helping newcomers learn and allowing seasoned professionals to do their work more efficiently. That doesn't mean that DreamHost's control panel is hard to use.
If it was competing against other services, its ease-of-use features might give it an edge, but it's hard to beat Hostinger in this category
.
Performance
Hostinger Outperforms DreamHost at Every Turn
Comparing the number of data center locations in this case almost feels unfair, as Hostinger is one of the biggest hosting providers out there, with servers in Europe, Asia, and North and South America, while DreamHost is much more of a grassroots operation by comparison, with a handful of servers located across the US. As described in the previous section, Hostinger includes LiteSpeed web servers with the LiteSpeed cache enabled by default on its WordPress plans. In
our review of Hostinger
, we recorded excellent results with Sucuri's Load Time Tester, which compares the performance and speed of a site through different servers around the world – these results were from a datacenter based in the US with no CDN enabled, and the results were excellent in the USA and decent almost everywhere else.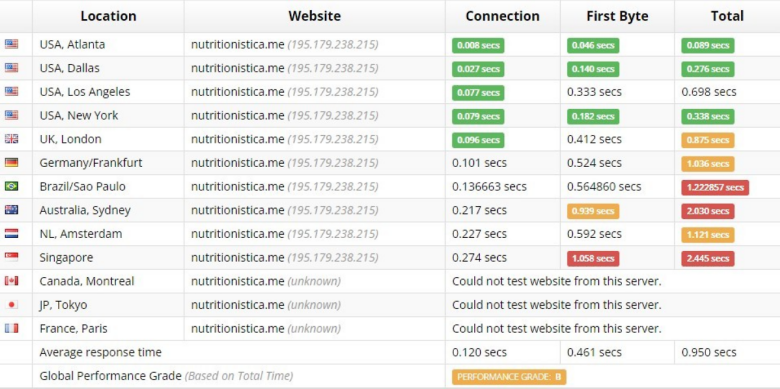 DreamHost, on the other hand, didn't perform as well.
Our in-depth review showed some widely variable results
, with performances ranging from pretty okay to atrocious.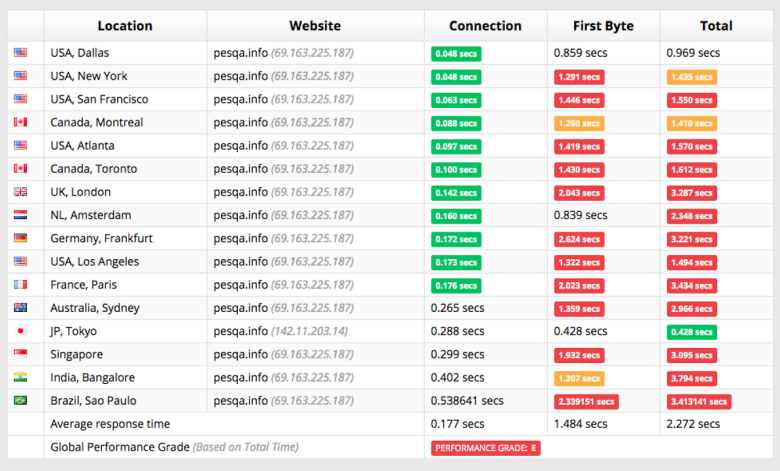 Both hosts offer what sound like too-good-to-be-true uptime guarantees, with 99% and 100% respectively. The surprising thing is,
as far as we have been able to tell, both hosts deliver on these promises
. Still, reliability and high performance are two of the most important aspects of any hosting provider, and Hostinger offers more of both.
Security
Hostinger's Cloudflare DNS Gives You More Secure Hosting
Both Hostinger and DreamHost offer free SSL certificates with all plans. An SSL certificate ensures that your visitors will be able to access your website securely, with the added bonus that your site will rank slightly higher in Google's search results than it would without SSL.
DreamHost also offers automatic daily backups on its starter plan, so you can restore a previous version of your site in the event of a malware infection
. Hostinger also offers automatic daily backups, but only on its Business Shared Hosting plan. The Single and Premium shared hosting plans offer weekly backups, which is still pretty respectable.
Security-wise, these two hosts would be pretty much tied if it wasn't for the fact that only Hostinger offers Cloudflare DNS Firewall
. This is an extra layer of security for Hostinger's nameservers, which gives Hostinger an edge. DreamHost also offers an industry-standard firewall, but it doesn't showcase the details of its security suite in as much detail. . All-in-all, both hosts provide respectable security overall, with Hostinger taking a slight lead with its Cloudflare-protected nameservers.
Support
Hostinger's Support Is More Consistent
This is the one category where neither host has that much to brag about.
Whereas both Hostinger and DreamHost offer excellent features, performance, security, and pricing, neither host offers remarkable customer service
. This has been verified not only by our own extensive internal reviews, but also by a ton of external user reviews. We'll start with DreamHost. According to their claims, DreamHost provides round-the-clock live chat support. However, the responsiveness of their support varies, and some customers have openly expressed extremely negative encounters with it. Furthermore, our assessment of the chatbot feature yielded unsatisfactory results.
As headache-inducing as contacting DreamHost's customer support was, the actual support is incredibly helpful
– it can be very high-quality, on a good day.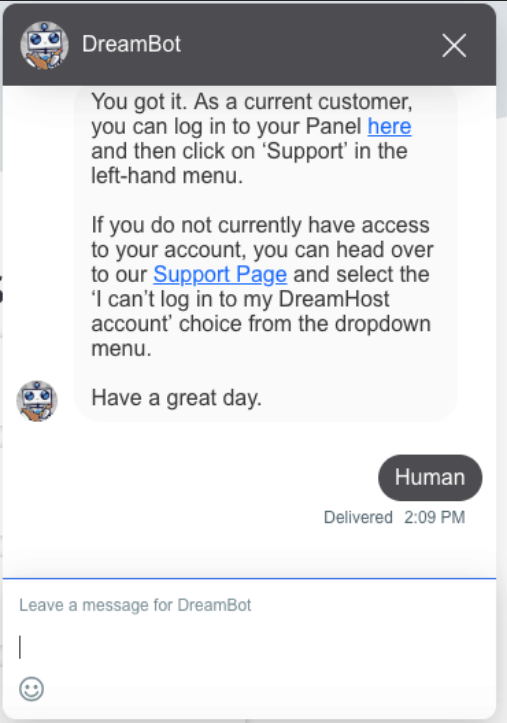 Hostinger supposedly provides 24/7 live chat support, but the situation is quite similar. You may receive a response within minutes or have to wait several hours. What's even more concerning is that there have been reports of customers not receiving any reply at all. Email support is another story.
When we contacted Hostinger for our internal review, the answers we got were professional, courteous, and – crucially – honest
. If there was anything that was beyond the scope of Hostinger's own support agents, they would say so outright. Though the live chat was by no means reliable, contacting email support was a different story.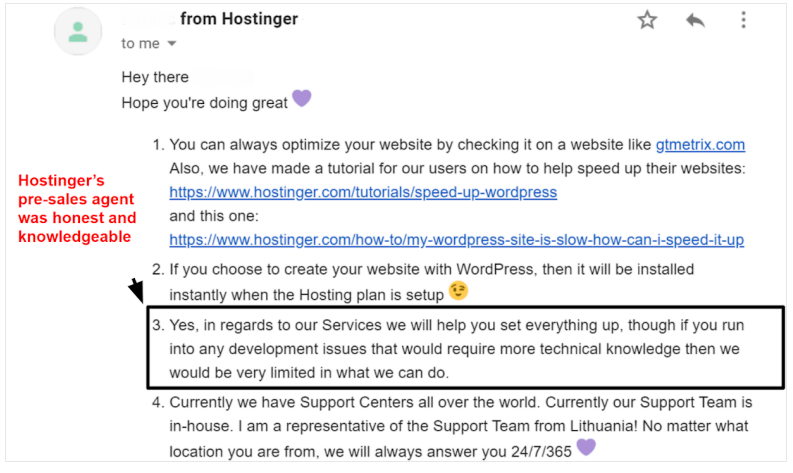 Regardless of your choice, I suggest you first explore the forums and knowledge bases. Both Hostinger and DreamHost provide a wide range of information about how to use their service, with solutions to usual queries, and beyond. If you're in a tight spot, it's likely you'll find helpful details faster in this manner.
Hostinger Outshines DreamHost in Every Category
DreamHost is a very good hosting provider, with plenty of features and decent performance.
If this was a comparison of DreamHost versus most other hosting providers on the market, I'm sure it would have fared better
. Nevertheless,
Hostinger offers more
. This includes an intuitively-designed control panel, better-quality features, outstanding performance, and excellent value overall. I not only recommend Hostinger here – it also sits atop our list of
the best web hosting services in 2023
. Take a look at the comparison table below to see how these two hosts fared against each other:
Plans and pricing
Cheap if you opt for long-term plans, with incredible value and tons of plan variety
Also quite cheap, with very good value
Key features
LiteSpeed web server with cache plugin; free SSL and email; an intuitive custom control panel.
Free SSL, unlimited bandwidth, and a more generous money-back guarantee
Performance
Outstanding performance and a lot more server locations
Decent performance for shared hosting in the US
Security
Free SSL, weekly backups, Cloudflare DNS Firewall with DDoS protection
Free SSL, daily backups, standard firewall and DDoS protection
Support
Variable response times; good quality responses
Variable response times; chatbot not very helpful; good quality responses
FAQ
Is Hostinger better than DreamHost?
Both Hostinger and DreamHost are very good hosting providers, especially for small-to-medium websites. However, Hostinger offers customers much more, including better page loading speeds, superior features, and better value overall. However, there are many more options on the market, and the best one for you will depend entirely on your personal needs.
Is Hostinger better than DreamHost for WordPress hosting?
Both hosting providers offer options for managed WordPress hosting, but we've found that Hostinger's control panel is more intuitive, it offers better WordPress optimization, and it generally tends to give you a better experience. For most users, I would recommend Hostinger over DreamHost.
Is Hostinger fast?
The short answer is yes, Hostinger offers some of the best performance out of the hundreds of hosting providers that we've tested. That said, the speed of your site depends on a lot more factors than just the server or the software, and a well-optimized site with poor hosting will be better than that of a poorly-optimized one with great hosting any day.
How reliable is DreamHost?
DreamHost offers a very enticing 100% uptime guarantee, and in our tests we've seen that DreamHost is able to deliver on this promise. That being said, there have been stories of customers with less than stellar experiences, but how often do satisfied customers post online? You can see a quick overview of DreamHost's global performance here.