You've asked your colleagues what social media posting tools they like. You've spent time on Google searching endlessly for social media scheduling tools. But you still can't decide if Hootsuite or Buffer is the better choice.
Both are awesome. Different, but awesome. While both ultimately manage social media – and do a great job – each has different features, strengths, and weaknesses.
So we decided to compare Hootsuite vs Buffer. But since social media management isn't a one-size-fits-all undertaking, we'll be pitting the tools against one another in five different categories:
Social media channels: Does the tool connect to the platforms you use?
Engagement: How easy is it to have conversations on social media?
Scheduling: How many posts can you schedule? Is it easy?
Managing multiple accounts: Does the tool offer the functionality you need?
Analytics: What metrics are offered? How much will they cost you?
Hootsuite Covers Most Channels, Buffer – Not So Much
Hootsuite has a long list of social media channels it manages – more than 20. It can also manage WordPress blog posts. Over the years, Hootsuite has had a pattern of adding new channels often and quickly, and that's one of the reasons it gets such good reviews.
Companies that tend to use new channels often should strongly consider Hootsuite, since Buffer could limit their ability to add new channels in the future.
While Buffer has a much shorter list – Facebook, Twitter, LinkedIn, and Instagram are available on all Buffer plans – these are also pretty much the main channels most people need. It's easy to pick Hootsuite on this point alone, but there are other aspects you'll also want to consider.
There are cases where Buffer's limitations may matter. For example, Buffer only supports Pinterest on its Business and Pro plans. And if this is the only reason you need to upgrade, it can get pretty costly.
Even more importantly, Buffer does not support YouTube. We keep expecting Buffer to add YouTube, but it hasn't happened yet. However, if YouTube is an important channel for you, you can use a third-party tool like Zapier to connect YouTube to Buffer.
And the Winner Is…
Hootsuite wins by sheer numbers, but we caution against choosing the platform for this reason alone. Instead, compare Hootsuite's channels to your strategy. It doesn't matter if Hootsuite supports channels you aren't using and don't plan to use.
Engagement: A Single Click or a Bunch More Cash
Most tasks are simpler in Buffer, but having conversations with followers is one big exception. While you need to post great content, engaging with followers is even more important for conversion. Without the ability to engage, you are just talking at people. And no one likes that.
With Hootsuite, you can reply to comments, mentions, and shares directly from the dashboard. You can see exactly who interacted with your posts, as well as relevant metrics. Then you can just click and reply right there. You can have the entire conversation without ever leaving Hootsuite, which saves time. And, more importantly, makes it more likely you will start up an actual conversation.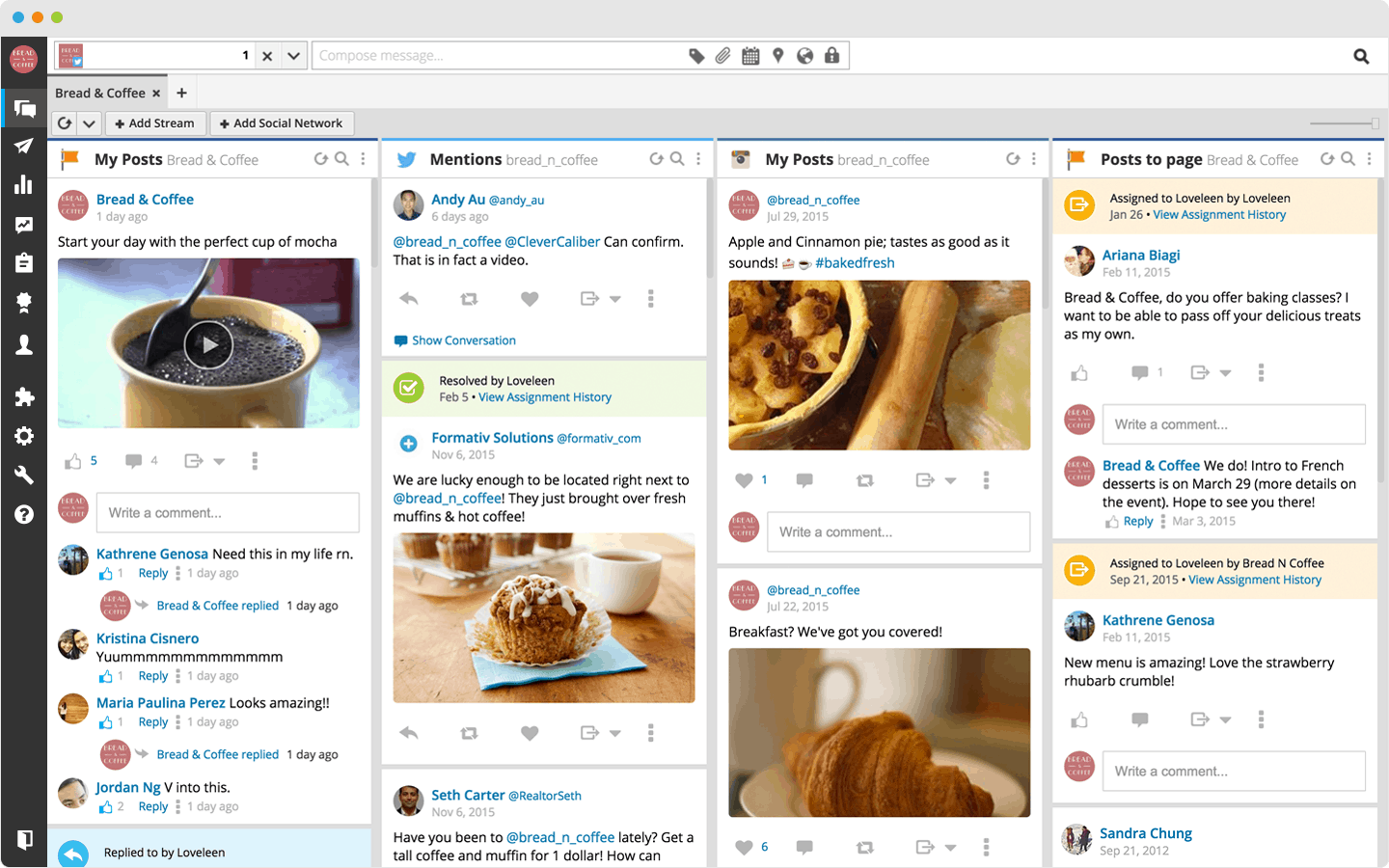 Image from Hootsuite
It's easy. It's simple. And best of all, it's not an add-on feature. Regardless of what plan you choose – even the free plan – you can reply in the dashboard. You just hit reply, write the message, and send it. And if you want to move the convo to DM or email, you can do that with the click of a button.
Buffer recently started offering a new add-on called Buffer Reply, to fix the big hole in their product. Previously, you had to leave Buffer in order to reply, which was a complete pain in the you-know-what. But this add-on is expensive and adds up quickly. It does offer features that are similar to Hootsuite's – monitoring by keyword and hashtags, as well as the ability to assign specific actions to team members.
But we found Buffer Reply hard to use and cumbersome, which was surprising since the rest of the tool is simple. You have to go to a separate tab to reply and manage conversations. It's not hard, but the extra step makes it less likely to happen.
And the Winner Is…
Hootsuite, hands down. But we do recommend adding up the costs based on the plans you would choose for either. It's possible that even with the extra product, Buffer might be less expensive because of Hootsuite's high prices for teams.
Hootsuite is an even clearer winner if you only need a single user account, because your total price per month will be low in Hootsuite. But even if the price is the same, this feature in Buffer feels like an add-on. Because, well, it is. Since the function isn't fully integrated into the tool, it's easy to put off replying or just not do it all.
Scheduling – Do You Prefer Bulk or Audience-Based Recommendations?
Both tools are great at scheduling. This isn't surprising, since it's the main reason people use a social media management tool in the first place. We found slight differences in the processes and automation, but not too much.
With both Buffer and Hootsuite, you can find content online and schedule right from the browser by using an extension. And both let you post right away, manually schedule, or have the tool automatically schedule your posts.
One significant difference with Buffer, is that the tool automatically schedules at the best time for your audience, as the example below shows.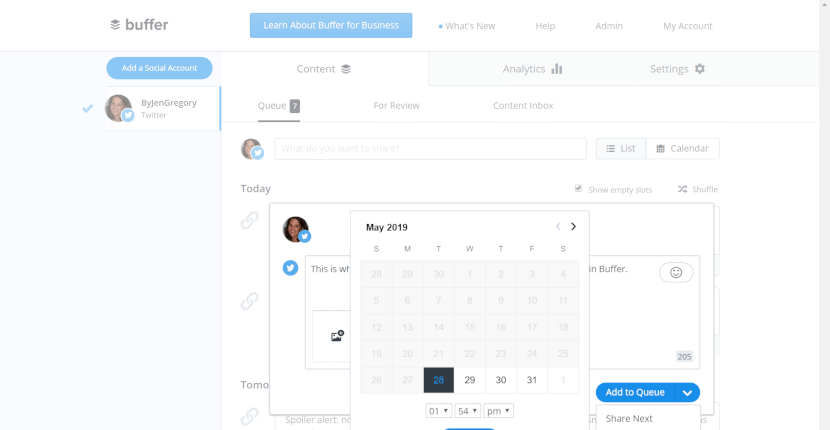 With Hootsuite, however, you have to manually set the auto schedule each time (seen in the example below). You can change Hootsuite's default settings, but we found Buffer to be easier to use auto schedule – which is the most common route. That being said, we did like the ability to set up the auto scheduler based on our own preferences.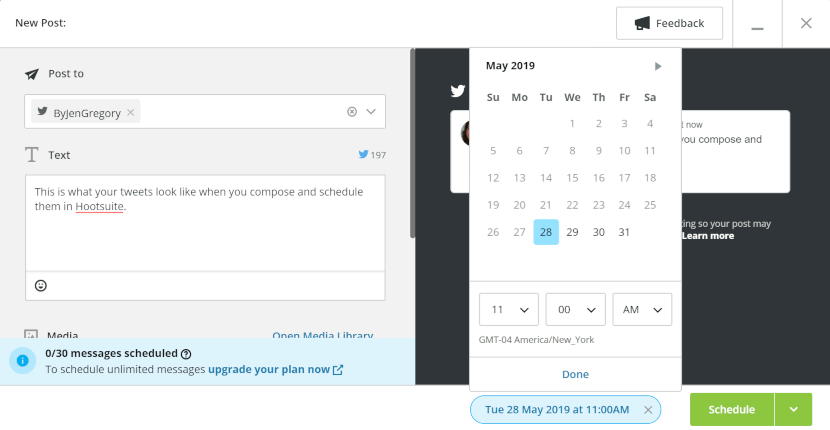 When it comes to scheduling, the biggest difference we found was Hootsuite's Bulk Composer. This feature is amazing. You can schedule up to 350 posts at one time. All with just a few clicks. And then you can go take a long lunch.
The other big difference – which only matters if you're using a free plan – is the limits. In our opinion, the free plans may not work for certain businesses because of the limits. Buffer gives you ten scheduled posts at any one time for each social media channel. Hootsuite gives you 30 posts for all channels.
However, all of Hootsuite's paid plans include unlimited scheduling. But Buffer's Pro plan limits you to 100 posts per social account, and its higher plans are capped at 2,000 posts.
And the Winner Is…
It depends.
Because most aspects were equal, Hootsuite could win for you because of its bulk scheduling feature. However, this number may be way more than you would actually need or use. In that case, Buffer's auto scheduling for your audience may be a more enticing feature.
Juggling Clients, Accounts, and Everything Else
After scheduling, managing multiple accounts and channels from a single place is the main reason businesses turn to a social media management tool. The last thing you want is for your plan to limit how many accounts and channels you manage – unless, of course, that's all you need. Either way, you want your strategy to drive these decisions, not your tools.
After the number of users (important for agencies managing a company's social marketing), the number of accounts is really the biggest determining factor when it comes to what plan you need. Both tools let you manage three channels on the free account. Buffer's Pro and Premium accounts allow only eight accounts, while Hootsuite's comparable Professional and Team plans allow ten to 20, respectively.
Once you get in the upper plans, however, the price difference between Hootsuite and Buffer's plans makes it an unfair comparison. You can manage up to 50 accounts with Buffer's Medium Business plan, for hundreds less per month than Hootsuite's Business plan, which allows only 35 accounts.
So now that we've got the money out of the way, let's get to the heart of the matter – ease of use. While this is subjective, we found Buffer's dashboard makes it much, much easier to manage all accounts from a single place, without giving us a headache. While Hootsuite is super powerful, it's also a bit clunky and confusing.
And the Winner Is…
Buffer, for both affordability and simplicity.
That said, if you need more of the advanced features that help make managing multiple accounts easier, then you may want to consider Hootsuite. But for most of us, Buffer is the clear winner.
When It Comes to Analytics, It's Your Choice: Simplicity or Detail
This one was confusing. And we had to drink an extra cup (or seven) of coffee to figure it out. It seems that the two tools tried to make it as hard as possible to compare analytics.
The first hurdle was to determine which analytics are included in each plan. Not surprisingly, the more you pay, the better analytics you get.
Hootsuite has no analytics included with its free plan, and the Pro plan only includes report templates. Buffer has basic social analytics on its free and Pro plans, but the templates on the Hootsuite Pro Plan give it an edge. Hootsuite offers templates and custom reports for its Team plan, while Enterprise plans get even more analytics, like team productivity reports, as well as add-ons like social listening and competitive benchmarking.
Regardless of competition, we like (ok, we love) Hootsuite's reports and analytics. They give us detailed information about what is happening as well as what is likely to happen in the future. Plus, the reports are pretty, which is super important, especially if you are regularly sharing with clients.
Buffer recently launched Buffer Analyze, but it's only in early access form. So we can't totally recommend it at this point. What we saw, however, looks interesting in terms of simplicity and customization. Click here to read more about Buffer's Analytics.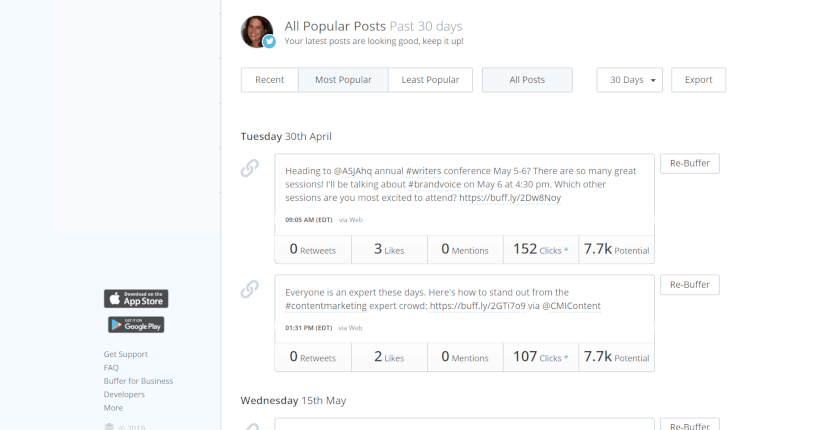 And the Winner Is…
Hootsuite, for now.
For years, Hootsuite has been the clear winner in analytics – the amount, the format, and the customization. But we were intrigued by the sneak peek at Buffer Analyze. We think it could give Hootsuite some serious competition in the pretty near future.
Buffer vs Hootsuite: Buffer Is the Best Choice for Most Businesses
Our recommendation last year might have been different. But the addition of Buffer's Reply and Analyze features are changing our opinion. It's also the tool that we use, so we have a soft spot. Not to mention the excellent user reviews.
Unless you are a large enterprise with a huge budget, many team members, and a lot of bosses who need custom analytics, Buffer will satisfy all of your needs and most of your wants.
For most companies, the really big price tag of Hootsuite once you start adding more people and accounts just make the features not worth the cost. Even if you add Buffer Reply, Buffer plans are just a better deal, value wise.
Of course, it all depends on your specific wants and needs. So here's a summary table of everything we've looked at, which may help you make your final decision:
| | | |
| --- | --- | --- |
| | Buffer | Hootsuite |
| Engagement | Buffer Publish is for scheduling posts only; Buffer Reply is an available add-on for responding to posts, comments, and direct messages. | Ability to reply to posts, comments, and direct messages is included on all plans (free and paid). |
| Social media channels | Facebook, Twitter, LinkedIn, and Instagram. | Facebook, Twitter, Google, LinkedIn, Instagram, YouTube, Pinterest, and more (20+ total). |
| Scheduling | Free plan limited to ten scheduled posts (per social account); Pro plan limited to 100 scheduled posts; other paid plans allow 2,000 scheduled posts. | Free plan limited to 30 schedules posts (for each social network); all paid plans include unlimited scheduled posts. |
| Managing multiple accounts | Free plan supports three social accounts; Pro and Premium plans support eight. | Free plan supports three social accounts; Professional plan supports ten; Team plan supports 20. |
| Analytics | Basic post-performance included with all plans, free and paid. Buffer Analyze is an available add-on for Pro or Business plans, and offers more detailed analytics, but is still in its trial stage. | All paid plans include detailed reports and analytics. Free plan does not include analytics. |
Of course, Hootsuite and Buffer aren't the only social media automation tools out there. If you are not sold on either of these, you might want to expand your search. Here are our recommendations for the six best out there today.