Should you be panicking as December approaches? Not at all
. When Google Translator Toolkit first launched, there weren't many web-based tools like it available, but now you've got a much wider range of options to choose from. The best Google Translator Toolkit alternatives may come at a cost —
but they throw in more advanced tools for translation management, such as workflow automation, collaboration with professional translators, and project management options
. You may have been considering using a different translator toolkit for a while now, but now you have to pick one!
Keep reading to discover what's on offer and avoid the last-minute panic in December
!
Google Translator Toolkit Alternatives: Our Top Picks
What We Look For in the Best Google Translator Toolkit Alternatives
The translation tools that have made it onto our list will give you everything you're used to with Google Translator Toolkit:
Web-based platforms – We've focused on translation tools that don't need to be downloaded or installed on your computer.
Translation editing – Especially when using machine translation, it's essential that you can edit the automated translations.
Collaboration tools – Inviting others to collaborate with you on editing translations increases productivity and saves time.
Translation management tools – The tools on this list have a wider range of translation and workflow management features than Google Translator Toolkit offered, making your translation management simpler.
Easy to use – One of the great things about Google Translator Toolkit is its simplicity. All of the tools on this list are easy to use, with simple, intuitive interfaces.
1. Crowdin – Use a Streamlined Process to Make Your Products Multilingual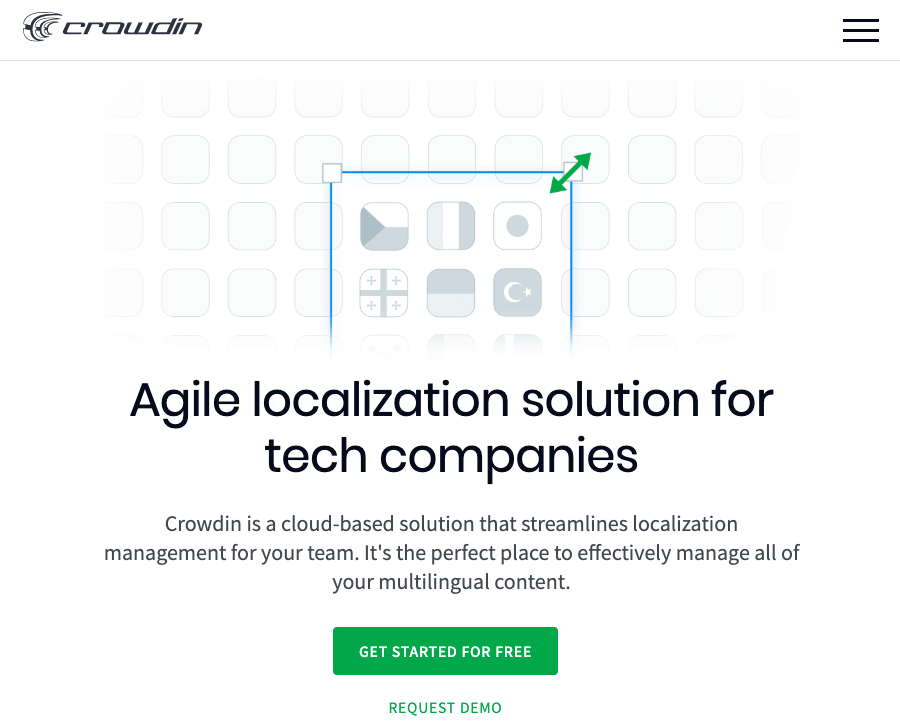 Crowdin is a localization management platform that's ideal for you if you're in the tech industr
y. It's great for creating multilingual apps, games, knowledge bases, and websites. One of the great things about
Crowdin
is that there are no long-term contracts. You can pay monthly and cancel at any time. There's even a 14-day free trial; no credit card details required.
Features
Online Translation Editor – The translation editor offers a workspace where translators, editors, and proofreaders can collaborate with ease. In the editor, you can choose the best translations, use Translation Memory, and utilize machine translations.
Vendors Marketplace – If you want a professional translation, rather than using your own translation team or machine translations, the vendor marketplace can connect you to a number of professional translation agencies.
Translation Memory – When working on a project, you can utilize the Translation Memory, which is a vault containing previously translated content from the project. It's easy to reuse Translation Memory translations within the Editor.
Glossaries – If your product or service has special terminology, you can create a Project Glossary where you can store all the terminology related to your project. The glossaries are used to clarify terms during the translation.
| | |
| --- | --- |
| Free trial? | 14 days, no credit card required |
| Money-back guarantee? | Yes, 30 days |
| Help and support | Live chat and email/messaging support available 24/7 |
| Number of languages supported | 334 |
2. Transifex – Fast, Reliable, Cloud-Based Translation Management for Digital Content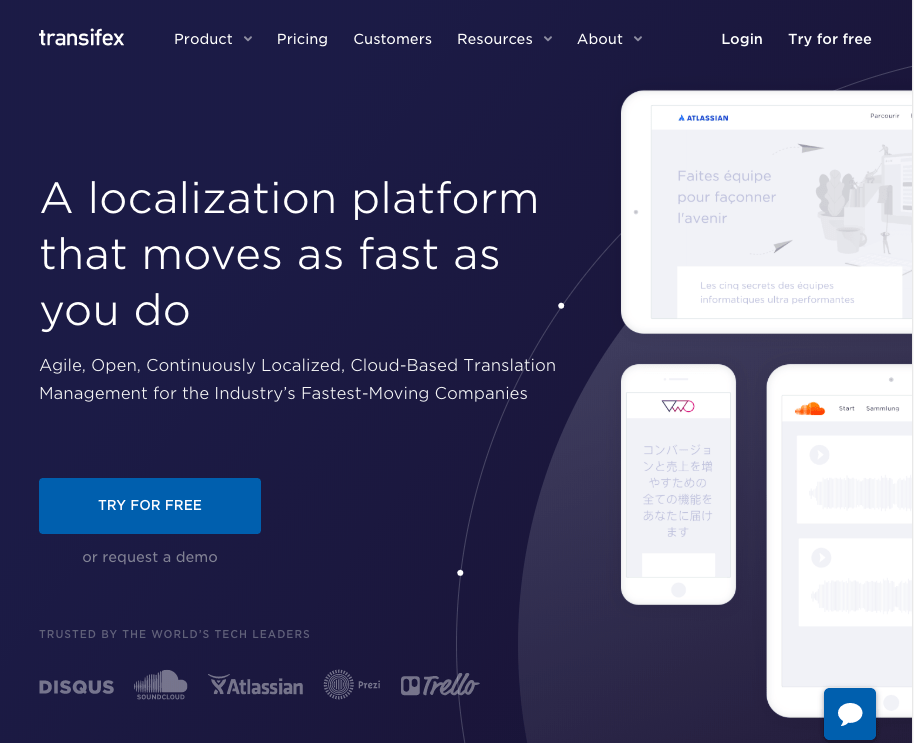 Transifex
is a comprehensive translation management platform that offers two different options — File and Live. File is a file-based solution that is geared towards translating apps and digital content, while Live works well for websites — for example, translating knowledge base articles.
The downside with Transifex is that its comprehensive features come with a large monthly fee, but you can save by paying annually
. If you've got a large company and work with a lot of translations on a daily basis, then Transifex may be worth the investment.
Features
Integrations – You can use Transifex seamlessly with a range of different services and tools, making managing your translation projects even easier. For example, integrate Transifex with Slack for better communication, or upload Help Center content from Zendesk and then download translations directly into Zendesk.
Agile Localization – Because Transifex enables your translators to work on live content, it's easy to keep translations up to date when you've made changes to English content, rather than periodically updating translations in big batches.
Team Management – Transifex makes managing multiple team members simple, whether you're using in-house translators, professional translators or community translators. Easily assign roles and use permissions to control access to content.
Powerful Translation Tools – Use Transifex's Translation Editor online and take advantage of the in-editor tools, such as translation checks (to ensure your translations won't affect layouts or affect the functioning of apps), and searchable translation memory.
| | |
| --- | --- |
| Free trial? | 15 days, no credit card required |
| Money-back guarantee? | No |
| Help and support | Support is available via email only for all plans except Pro and Enterprise, which also offer phone support |
| Number of languages supported | 511 |
3. Memsource – Save Time and Money with Budget-Friendly Translation Management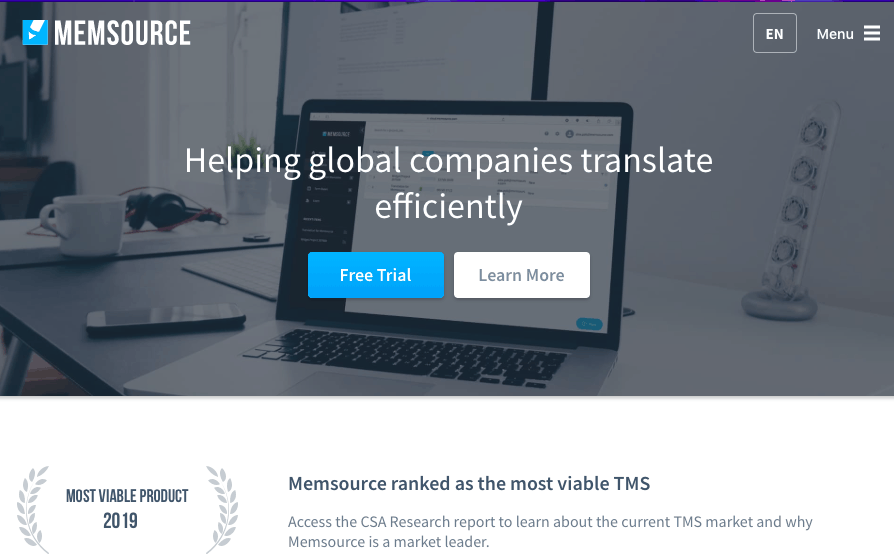 Memsource
has an innovative approach to translation management that uses Artificial Intelligence to streamline and speed up the translation process. It allows you to automate aspects of the translation process, reducing manual tasks and integrating with other tools (e.g. Zendesk, Marketo, WordPress) for effective workflow management. With Memsource, you can take advantage of several time-saving translation tools.
You can choose to use the Memsource Editor for Web (which takes advantage of the power of the cloud) or the Memsource Editor for Desktop (which enables you to work offline if you need that option)
. Both versions allow effortless collaboration.
Features
Free Personal Edition – As well as its 30-day free trial and affordable pricing, Memsource has a personal edition that is free forever and ideal if you only do occasional translation work. The free version is limited to two concurrent translation files, however.
Artificial Intelligence – Memsource can reduce the costs involved in your translation projects with its unique artificial intelligence feature. The AI engine will identify content that can be translated automatically, saving you time (if you're a translator) and money (if you're a project manager).
25+ Machine Translation Engines – Most translation management platforms have machine translation engines, but Memsource has more than 25 to choose from
Mobile App for Project Managers – You can manage your translations while you're away from the office with Memsource's mobile app. This is a great tool if you're a project manager, giving you the flexibility to work on translation projects anywhere in the world.
| | |
| --- | --- |
| Free trial? | 30 days, no credit card required |
| Money-back guarantee? | No |
| Help and support | Only available via the 'submit a request' function (there's no live chat for support) |
| Number of languages supported | 400+ |
4. MemoQ – Flexible Translation Management Platform for Enterprises and Individuals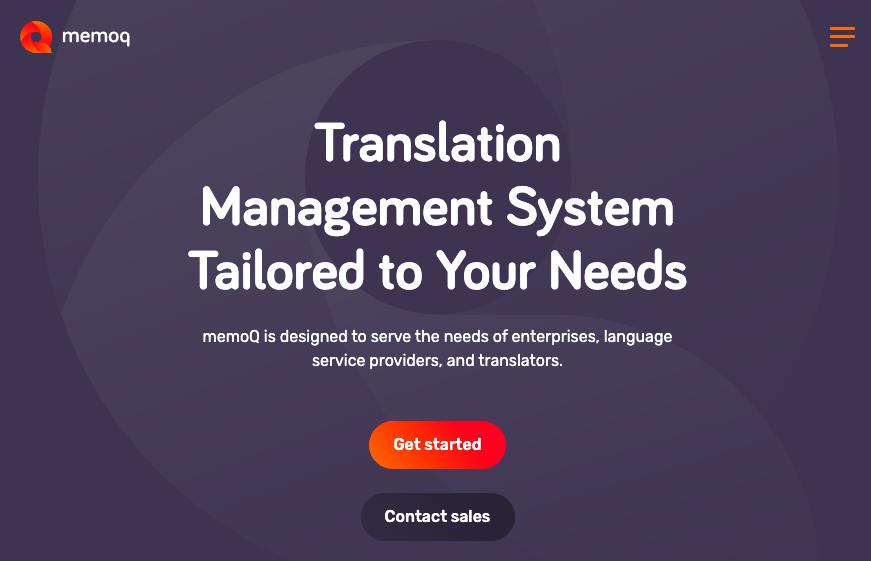 MemoQ is a translation management system that offers specific tools for different categories of people. MemoQ can be hosted on a physical server or a cloud server, and offers the choice of installation on a local computer or using it in a web browser via MemoQWeb.
If you're a part of a big enterprise with a dedicated IT team, you can even have MemoQ hosted on physical servers on your own premises.
MemoQ can be a bit pricey, however, making it more suitable if you're running a large business that has a lot of translation needs. Extensions have to be bought in addition to your software license, too.
Features
Automatic Quality Assurance – The automatic quality assurance tool acts as a virtual proofreader. It checks your translations for possible mistakes and checks for consistency in number formats, punctuation, spelling, etc.
Align Multiple Translations – MemoQ uses LiveDocs as an alternative to Translation Memory. It offers automated document alignment, meaning you can add bilingual files that will be searched for translations that you can reuse in other projects.
Extensions – MemoQ has all the essential features you need for translation management, but you can also expand its features through its range of extensions. For example, you can add QTerm, a unique terminology management system. Extensions do, however, have additional costs.
Flexible Licensing Options – You can customize your MemoQ setup to meet the needs of your business, with a choice between subscription pricing or a perpetual license. If you're a small business, you can set up MemoQ with a single project manager option, and add web licenses for translators as you grow.
| | |
| --- | --- |
| Free trial? | 1 month, no credit card required |
| Money-back guarantee? | No |
| Help and support | Support is available via an email ticketing system |
| Number of languages supported | 200+ |
5. OneSky – Simple Translation Management and Pay-Per-Word Professional Translation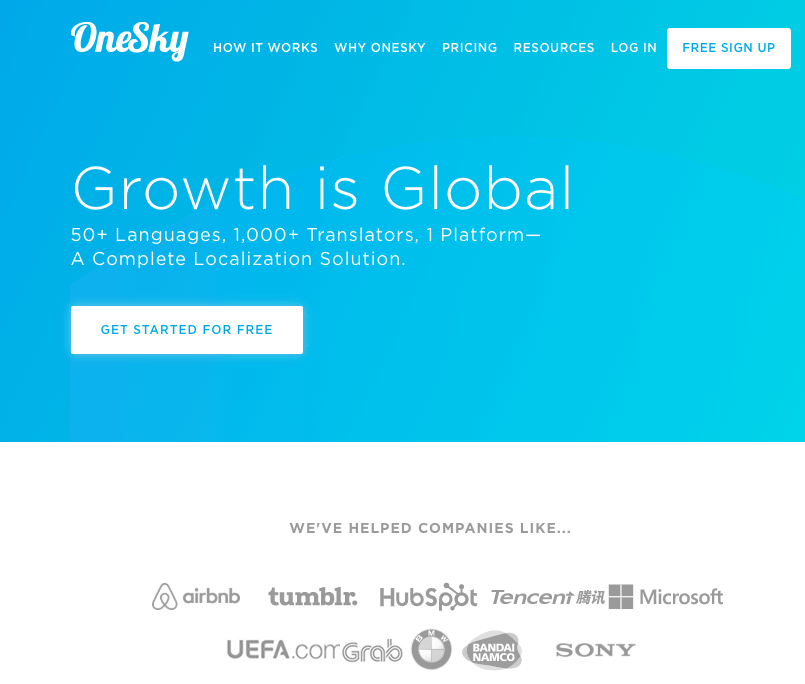 If you don't have an in-house translation team but you want to localize your app or game or knowledge base articles to reach a multilingual audience, OneSky is ideal for you. It's an easy-to-use translation management system that also gives you
access to over 1,000 professional translators.
OneSky works as a standalone translation management system, too — you don't
have
to buy professional translation services. However, it works best when you're using it to access professional translation services for app and game translation.
If you want to add your own collaborators, they will have to sign up for a translator account on the platform.
Features
OneSky Localization Academy – If you're new to localization through translating apps and websites, the OneSky Localization Academy has easy-to-follow tutorials covering iOS Localization, Android Localization, and Web Localization.
1000+ Professional Translators – If you have a small business or you're an app developer working solo, it's likely that you don't have an in-house translation team. With OneSky, you can order professional translations by simply clicking on a button in the translation overview screen. All translators are tested to ensure high-quality translations
Direct Communication – The integrated messaging system within the OneSky platform enables you to communicate directly with the translators assigned to your projects. This consolidated communication hub simplifies the process of tracking questions and offering contextual information to the translators, as everything takes place in a unified location.
Technical Validation – To avoid difficulties with complex tags in apps and websites (e.g. placeholder tags that shouldn't be translated), OneSky automatically highlights placeholders, making it easy for translators to include them in the translation.
| | |
| --- | --- |
| Free trial? | Sign up for free, but it's not a free trial exactly |
| Money-back guarantee? | No |
| Help and support | Support available via a ticketing system |
| Number of languages supported | 50+ |
Which Translation Management System Is Right for You?
When you compare Google Translator Toolkit to some of the translation management systems on this list, you'll probably find yourself wondering why you haven't moved away from Google's basic tool before now!
There are translation management systems for every need — and every budget, too — and they're all much more functional than Google's Translator Toolkit.
Our Recommendations
If you have a small business or are an independent developer and don't have translators on hand (or you want to translate into languages you don't yourself speak), then OneSky makes it incredibly easy to work with professional translators on a per-word basis.
If you're on a tight budget but still want a fully functional translation management system, then Memsource or Crowdin both have affordable monthly fees and free trial periods.
If your business is growing rapidly or you're looking for a really flexible translation management system, choose MemoQ. Transifex is another good option if you have an enterprise-level business — but its plans are expensive.