This week,
Website Planet
's Marko Velimirovic had the opportunity to interview Reilly Sweetland, Founder on FollowUpThen. We discussed their beginnings, how the company evolved, and what is in the pipeline for the future.
Please present FollowUpThen to our audience
FollowUpThen is an email-based personal assistant and the easiest way to schedule an email reminder. Send an email to
[email protected]
,
[email protected]
or
[email protected]
to receive an email back at that time. Emailing a forgetful recipient? Just add
[email protected]
in the bcc field. You will receive a reminder on that thread in three days. Because it's in bcc, it's invisible to your recipient. Putting FollowUpThen in the 'cc' field reminds both the sender and recipient. We know following up is one of the most important elements of productivity, sales, and management. So why do we still forget? It hasn't been easy enough until now. When combined with your email program's standard keyboard shortcuts, scheduling a follow up can be a split-second operation.

Please describe the story behind the company: What sparked the idea, and how has it evolved so far?
FollowUpThen was co-founded by Reilly Sweetland (https://twitter.com/rsweetland) as a side project in 2010. It grew organically for years, building momentum and accumulating passionate users. When stories started pouring in, thanking them for saving marriages and careers and that this simple tool was "changing people's lives," they decided to take a closer look. It turns out that a personal digital assistant can be a life-changing addition to someone's workflow. Reilly sold his other business (a software consulting company that was working with Netflix, Mozilla, the Disney family and others) in 2016 to focus on FollowUpThen full-time. He went through Y Combinator program in 2017 but has focused on organic and product-led growth over venture funding.
What services do you offer?
The simplest way to schedule an email reminder.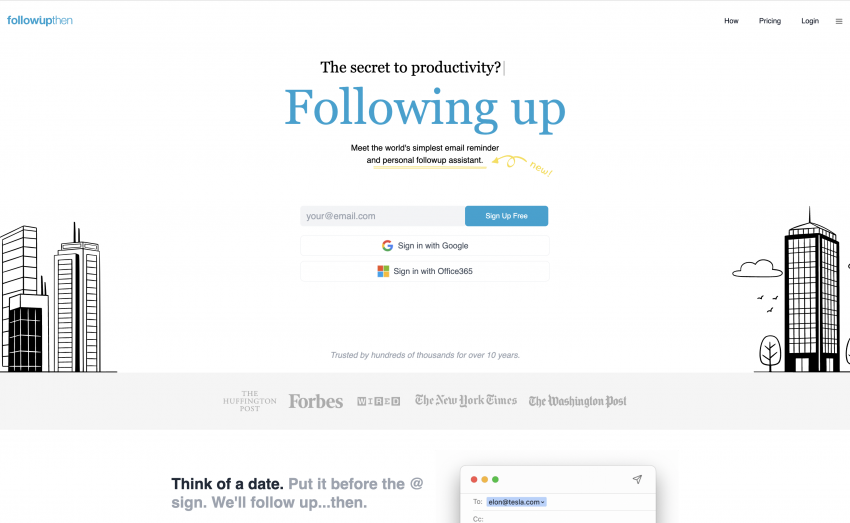 What is the mission of FollowUpThen?
We created FollowUpThen to create what we call a "productive moment" – a moment someone has everything needed at exactly the right to get something done. Underlying this mission is an effort to give our users control over their own time and attention. In an era where we are being interrupted, convinced and sold things at every turn, we hope to be the opposite – letting someone clear something out of the present moment into a future productivity moment, and in the meantime, enjoy the clarity and freedom that comes with having a moment of freedom.
Who are your typical customers, and what do you think is the main challenge that your product solves for them?
Anyone who uses email and finds themself using the word "follow up" would likely find FollowUpThen useful. The product works best when the email inbox is a central part of someone's day. This includes: – Salespeople – Project managers – Executives – Real Estate Agents – Mortgage Brokers – Freelancers
What are the plans for the company for the near future?
The new FollowUpThen takes its role as a personal assistant to the next level. We added an extension system called "Skills," which integrates with other tools, automates workflows and streamlines follow-ups. Skills are entirely optional and range in pricing from free to (currently) $8/mo. The future of FollowUpThen will focus on creating the most productive moments possible by providing someone with everything they need at exactly the right moment to get something done.