Webflow and Editor X each claim to empower designers and agencies to build fully responsive, complex sites without having to code.
While Editor X is relatively new to the market, it has consistently added solid features, proving it's here to stay. I wanted to see if it could truly rival Webflow, its more established competitor. I put them both to the test, building similar sites with each builder and comparing their features as I went.
I can honestly say that Editor X impressed me.
It not only delivered advanced capabilities of the sort I knew to expect from Webflow; it somehow managed to preserve much of the classic Wix editor's simplicity in the process. By comparison, Webflow has a steeper learning curve and lacks some features that help Editor X stand out. In a hurry?
I recommend going with
Editor X
, which I found to be the better and easier no-code website builder
for designers. Otherwise, read on to find out why it came out on top in my comparison.
Templates
Webflow Has More Templates, But They Aren't All Free
When it comes to templates, more is usually better. But quantity matters less for advanced website builders like Webflow and Editor X, which are meant for designing highly custom sites, often from scratch. Still, if you prefer to work on an existing design,
Webflow offers over a thousand templates across 16 categories
.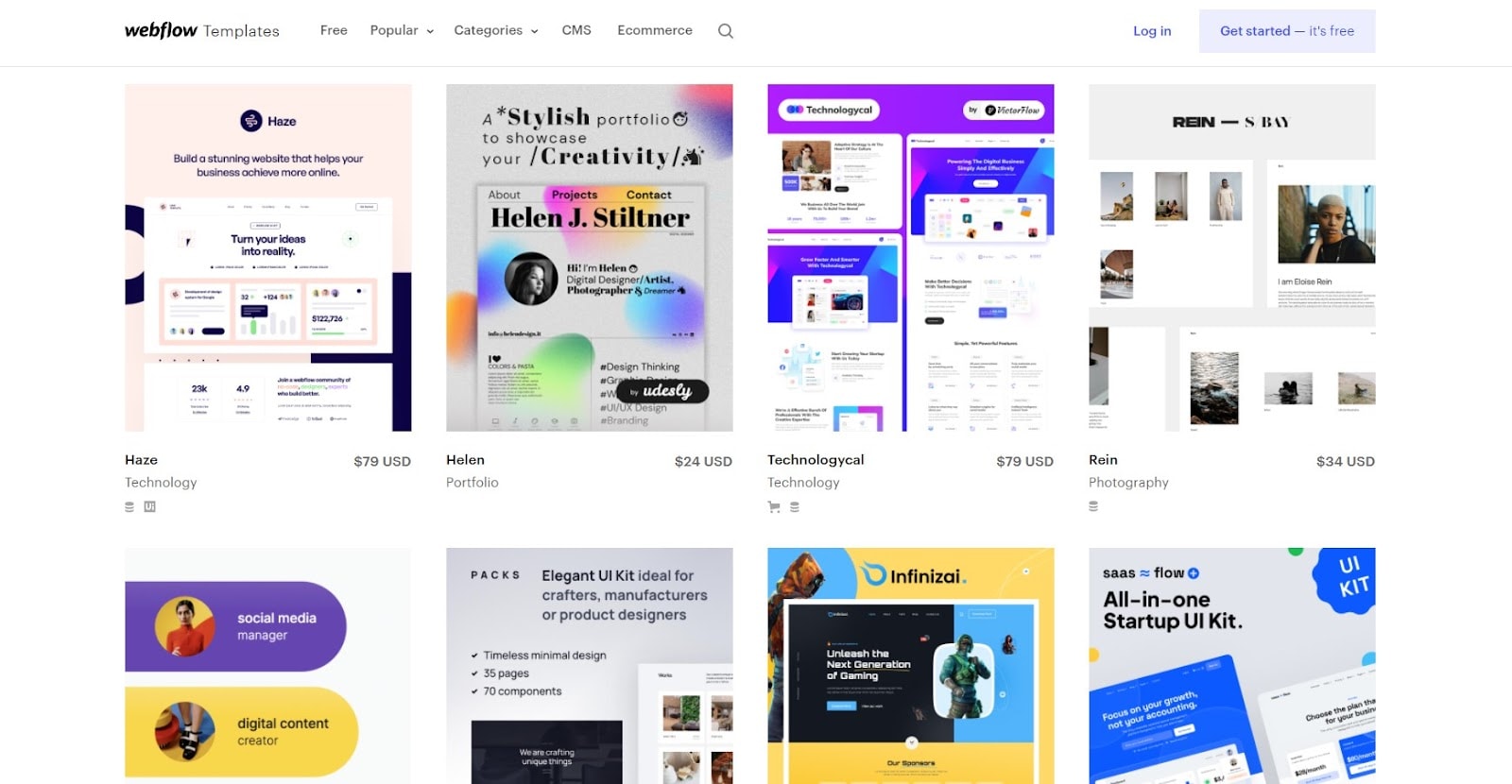 Just keep in mind that only about 40 of these are free.
I also find it frustrating that you can only use a Webflow template you've purchased on one site
. Many third-party Webflow templates cost over $100, so your expenses can mount quickly if you build multiple websites. Editor X, on the other hand, has just 35 designer-made templates grouped into broad categories like 'tech company' and 'beauty store'. While there are fewer to choose from,
I like Editor X templates' flat, modern designs
. Some business templates even come pre-installed with useful apps like Wix Bookings. Best of all,
every Editor X template is free to use.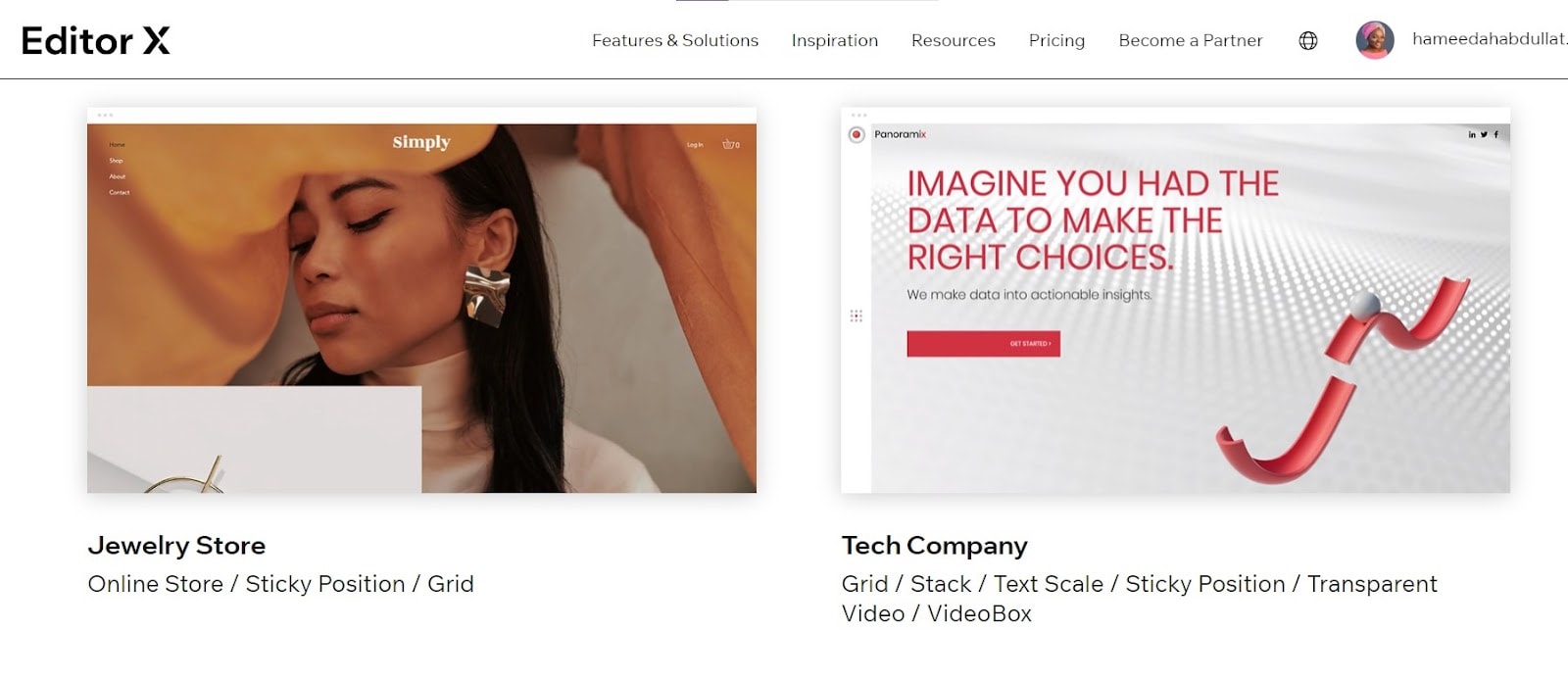 Unfortunately,
Editor X templates aren't mobile responsive by default
. Still, by using custom breakpoints and other advanced tools, you can easily make your site fully responsive. If templates aren't really your thing, both builders will let you create a website from scratch using a blank canvas. But
when it comes to templates, Webflow wins
 for its larger selection and mobile-responsive designs
(even if you have to pay extra).
Features and Ease of Use
Editor X Combines Powerful Features with Smooth Drag-and-Drop Editing
Webflow and Editor X are fairly complex builders, but
Editor X is much easier to use
. It has flexbox-based layout tools like grids, layouters, and repeaters
to help you build complex yet responsive site sections quickly. In the Compositions tab, you'll even find entire pre-designed sections you can adapt and incorporate into your own design. Both Editor X and Webflow let you drag elements from an
Add
panel to your canvas. However,
only Editor X will let you position elements anywhere you like
. Webflow is more rigid, forcing you to enter the exact dimensions of your elements manually.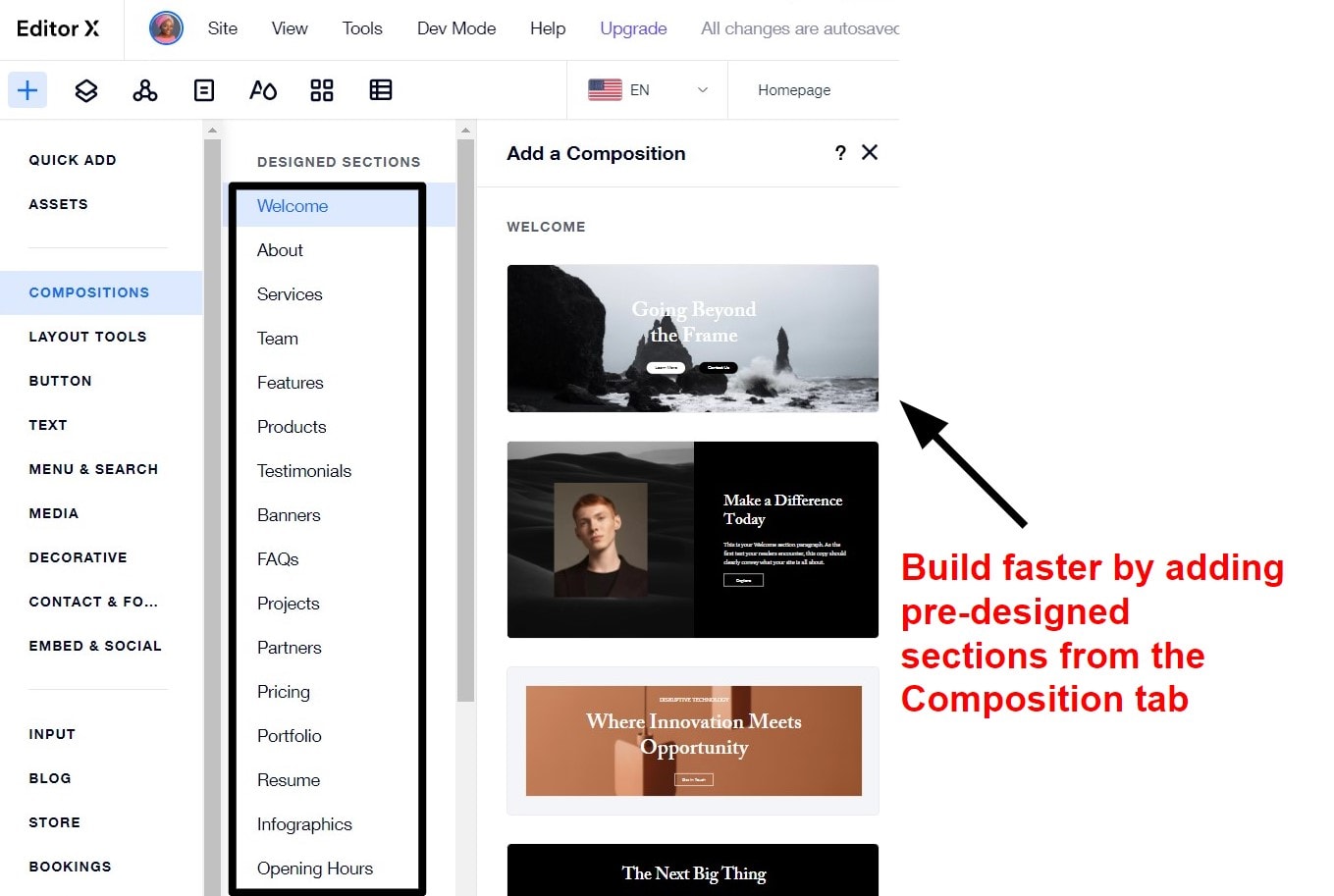 Webflow outshines Editor X when it comes to animations, though. While you can add simple animations with Editor X,
Webflow lets you create complex interactions and set page or element triggers for more sophisticated effects.
In the realm of collaboration, these builders are not created equal. Webflow has two editors: a
Designer
that manipulates CSS, HTML, and JavaScript, and an
Editor
for managing site content. This lets you invite others to modify content without fear of them breaking your design. To add design collaborators, you'll need to buy a Workspace plan. Even then,
Webflow only allows one user in the Designer at a time.
Editor X keeps things simple by letting you assign roles and permissions to other users within a single editor. And unlike with Webflow,
unlimited collaborators can work on the same Editor X site simultaneously
. You can even drop real-time comments on elements across breakpoints, helping you to coordinate with teammates.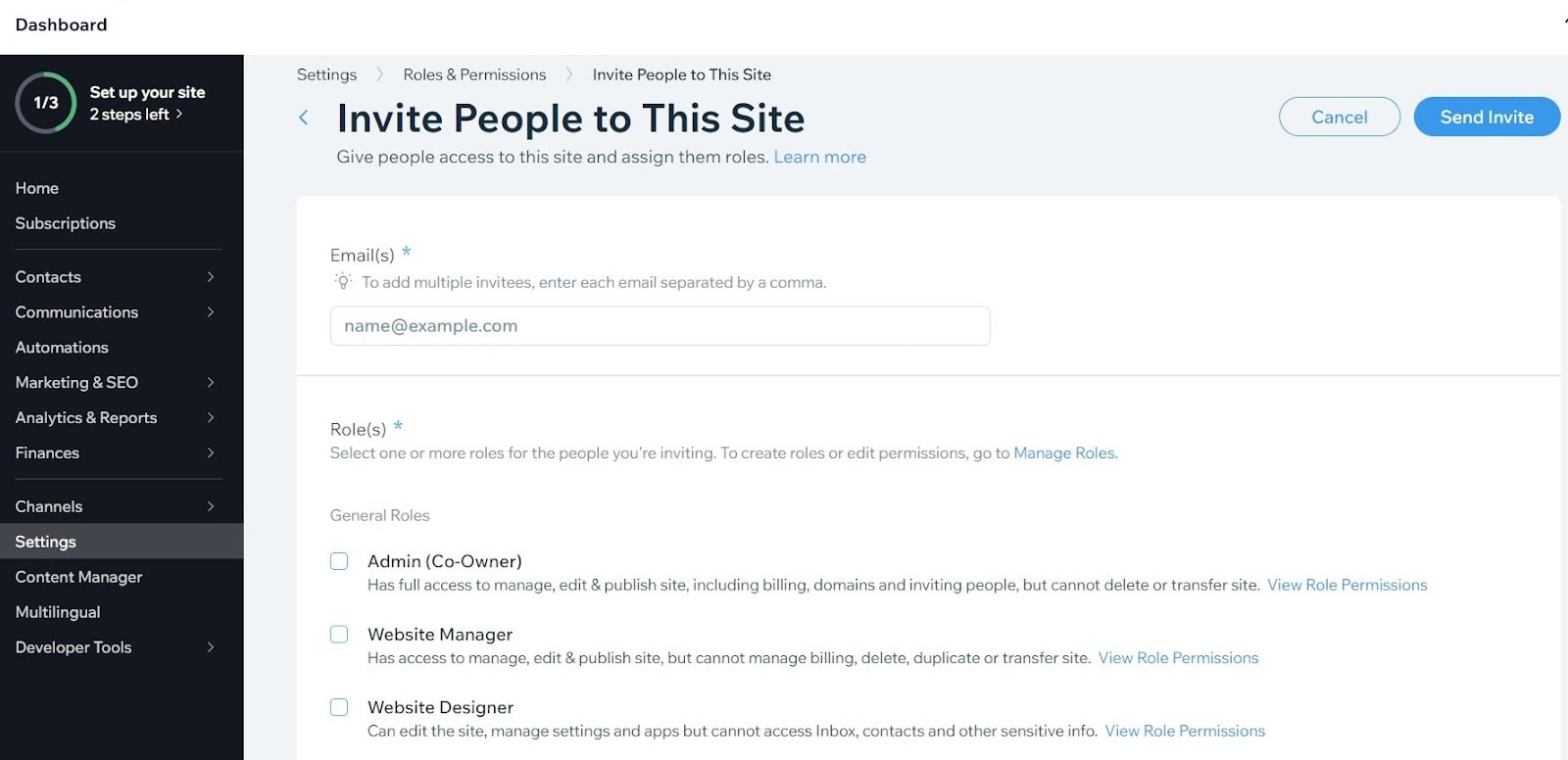 To summarize, Webflow has plenty of features and gives you more control over animations, but
Editor X offers just as impressive features while being far easier to use.
It also has superior collaboration tools, helping to give it the edge over Webflow for both features and ease of use.
Apps
Editor X Has Tons of Apps; Webflow Doesn't
Editor X inherits many Wix features, including the Wix App Market
. From here, you can add 300+ apps to your Editor X site, many of which are free. From analytics to shipping tools, the options for extending your site's functionality are virtually endless. And if you want to build custom features with JavaScript, you can always turn on Dev Mode.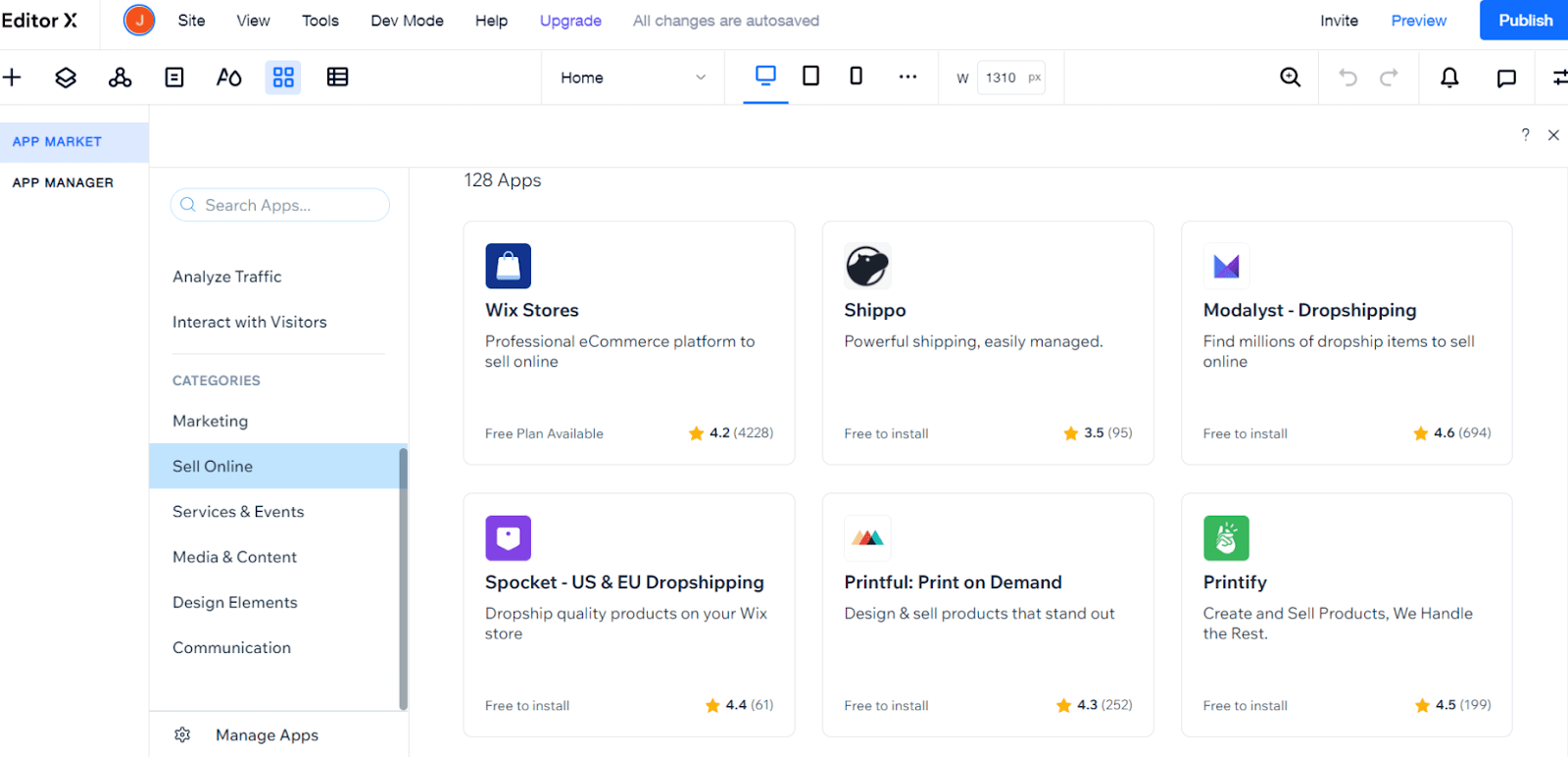 Webflow has no app marketplace
and tries to get out of your way as much as possible, so you'll have to do most of your own custom building. This won't be a problem if you're happy to spend time coding, but isn't the whole point of a site builder to get most of this groundwork out of the way? That said,
you can integrate third-party plugins in Webflow, but you'll need to manually embed blocks of code.
Zapier will probably be your go-to tool for adding widgets. While the option to embed code is welcome, it can clutter up your site's code and waste valuable time if you're on a tight schedule. That's why
Editor X wins by a landslide when it comes to apps.
Blogging
Webflow Lacks Some Essential Blogging Features
On Webflow, you can create blog posts as collection items
. But while Webflow's CMS helps you manage your content, it's hard to customize the look of individual posts. There are workarounds to this, but they involve writing custom code and constant tinkering. This can be a nightmare for designers trying to stay away from code. It doesn't help that
Webflow's content editor offers no way to resize and optimize blog images.
And did I mention you have to upgrade to a CMS hosting plan if you want to schedule blog posts?
Editor X offers all this for free, plus a ton of other useful blog features
– archives, RSS feed, tags, category post count, you name it. Again, all you have to do is drag and drop.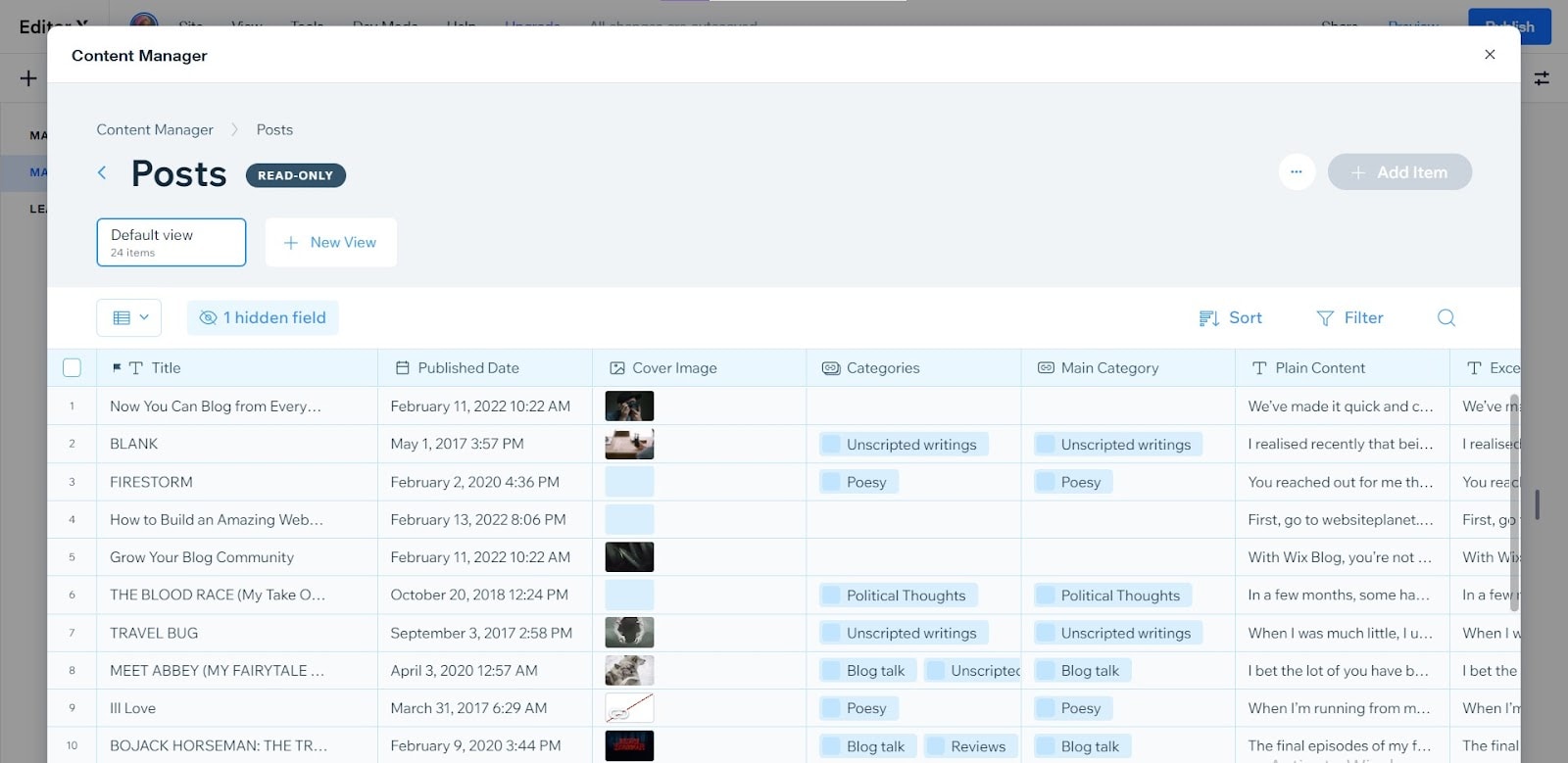 With Editor X, you can run your blog with these native tools or use the dedicated Content Manager to manage a large number of posts. Both ways let you customize how each post looks. I was particularly impressed that
Editor X lets you import content from a WordPress blog
, complete with categories, author(s), images, and more.
When it comes to blogging, it's another clear win for Editor X.
Compared to Webflow, it's much easier to create unique designs for your posts, and you get
dedicated blogging tools and features built in
.
E-Commerce
Editor X Has the More Impressive Suite of E-Commerce Tools
You can create an online store for free with Webflow or Editor X
, but you'll have to upgrade to an e-commerce plan to start accepting online payments on either platform. Managing your inventory and customizing your cart is easy with both builders. The real differences show up in what you get with their various plans. For example,
Editor X lets you add unlimited products
 on all its e-commerce plans, whereas even Webflow's highest-tier plan limits you to three thousand items. And unlike Editor X,
Webflow charges a 2% transaction fee on its Standard plan
. Another disadvantage of Webflow is that it only supports a few payment providers (Stripe, Apple Pay, and PayPal), limiting your options when selling internationally. In contrast,
Editor X lets you accept payments through 60+ international providers
, enabling you to sell and receive payments from practically anywhere.

Editor X also gives you a wider variety of more advanced e-commerce features.
For example, you can automate sales tax calculation, set up abandoned cart email reminders, and more. You can even use the Wix POS (point-of-sale) system to link up a physical and online store, allowing you to manage your entire inventory with ease.
These are all features Webflow just doesn't have.
SEO
Both Editor X and Webflow Have Strong SEO Capabilities
Editor X and Webflow both offer advanced SEO features.
For example, each let you assign heading tags (from H1-H6), set metadata, and even create schema markups to improve your site's visibility on search engine results pages. Though their features are broadly comparable,
Editor X offers better guidance on how to improve your site's SEO.
This includes a checklist that recommends sitewide SEO improvements, optimized XML sitemaps, and more.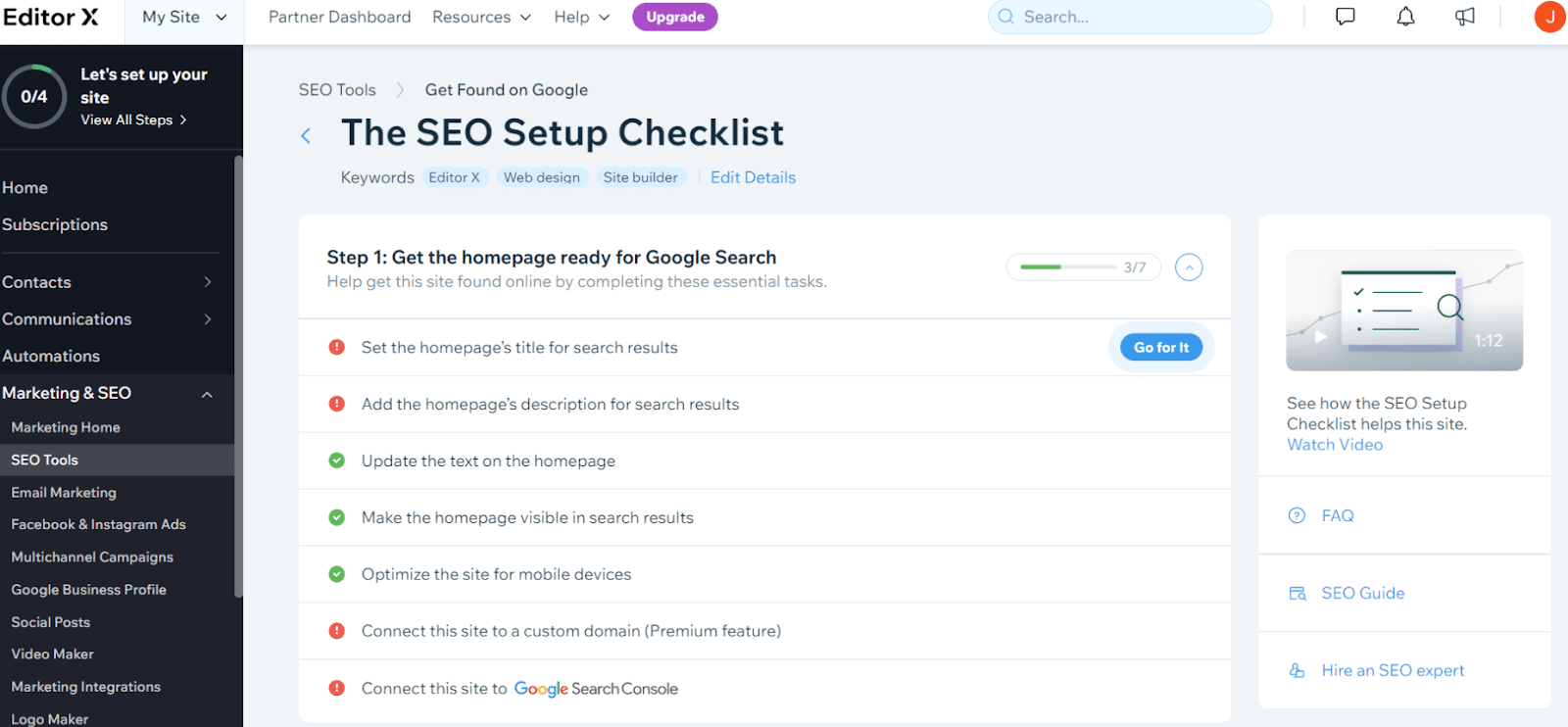 The only issue is that Editor X sites typically have slower-than-average page loading speeds, which can harm your site's search engine ranking and user experience. This is an area where
Webflow has the upper hand
. It's CDN hosting and clean, compliant code help give faster load speeds.
Overall, I'm calling this one a tie.
Pricing
Webflow and Editor X Have Similarly Priced Plans, But Webflow's are More Confusing
Editor X and Webflow offer similar plans, but Editor X offers more features at slightly cheaper rates
(more on that below). I also found Webflow's pricing model to be excessively complicated. You'll soon see why. Both platforms start users off with a free account. But things get interesting with the paid plans. Editor X offers 3 "Website" and 3 "Business/E-commerce" plans. What mostly differentiates these is – you guessed it – their e-commerce functionality. Webflow has 3 plan categories: Site Plans, E-commerce plans, and Workspace plans. Phew. Here's how they break down:
Site plans – These are subscriptions taken out on a per-site basis. They let you publish your site to a custom domain, access Webflow CMS, and invite clients and teammates to update content in the Editor.
E-commerce plans – These are the same as site plans, but with added e-commerce functionality.
Workspace plans (formerly Account plans) – These are aimed at agencies and teams. They let you add up to nine teammates, assign roles and permissions, and create more than 2 projects (the default limit).
To complicate matters further, you have to take out a site plan to publish a website you created on a workspace plan.
I think I need to lie down.
Here's What You Get for Free
While both Editor X and Webflow will let you create a site for free,
Editor X's free plan
gives you a lot more features
. It lets you build an unlimited number of sites, and you'll have access to all its design functions: CSS grid layouts, custom breakpoints, collaborator seats, the works. You can also
set up e-commerce, a blog, a members area, SEO, and marketing tools, all for free
(though you'll need to upgrade to unlock certain functions, like accepting online payments).
Webflow makes you want to upgrade to a paid plan faster
, especially if you work in a team. With the free plan, you only get support for a single user, 1GB bandwidth, a max of 50 CMS items, and two (unhosted) sites. Another downside is that
Webflow only lets you embed code if you're on a hosting plan
. This means you can't add third-party plugins or custom features.
Even on its free plan, Editor X lets you embed third-party integrations
and use Dev Mode to add custom features to your site.
Here's What You Get If You Pay
On both platforms,
paid plans let you remove Editor X or Webflow branding, link custom domains, and get free SSL certificates
. In addition, Editor X gives you a free domain voucher on annual plans. Admittedly, Editor X and Webflow plans are more expensive than those offered by many less advanced builders. This can be forgiven, though, given the larger number of advanced customization options they pack and the higher standard of performance they deliver. Still,
Editor X plans offer the better value of the two.
Its Launch plan is particularly impressive, costing just
$
22.00
/month for access to all Editor X advanced tools, plus most e-commerce functions.
All Editor X plans also come with a 14-day money-back guarantee.
As for Webflow, if you're looking to host a single site, you'll get the best value by combining the Starter workspace plan with the CMS site plan. This will unlock Webflow's more advanced design features and let you add up to 2,000 collection items. (You'll need to upgrade to the Core workspace plan to add custom code).
The table below compares the cheapest paid plans offered by each builder
, so you can decide for yourself which offers better value.
Editor X
Webflow
Starting Price (annual plan)

$

17.00

$

15.00

Custom domain and free domain for one year

Yes

Yes, but no free domain

Free SSL

Yes

Yes

Custom code

Yes

Yes

Collaborators

Unlimited

3 (access to Editor only)

CMS items

Unlimited

2000
Customer support

24/7 customer care

Email during business hours
Support
Webflow Has A Great Forum But Slower Customer Support
If you like to find solutions through forums and video tutorials, Webflow will deliver
. But if you'd rather speak to contact agents directly via the usual support channels, you'll find Webflow lacking. It only provides email support (06:00 to 18:00, mon-fri). And even then, replies can take 1-2 business days. Meanwhile,
Editor X offers 24/7 customer support via live chat, tickets, and callbacks
. Even though you probably won't need to, it's nice to know you have plenty of ways to contact an Editor X support professional. To test the live chat service myself, I asked whether Editor X charges transaction fees on e-commerce sales.
It took less than 20 minutes for me to be put through to an Editor X support agent
. I then asked a bunch of other questions and received clear and helpful answers to all of them.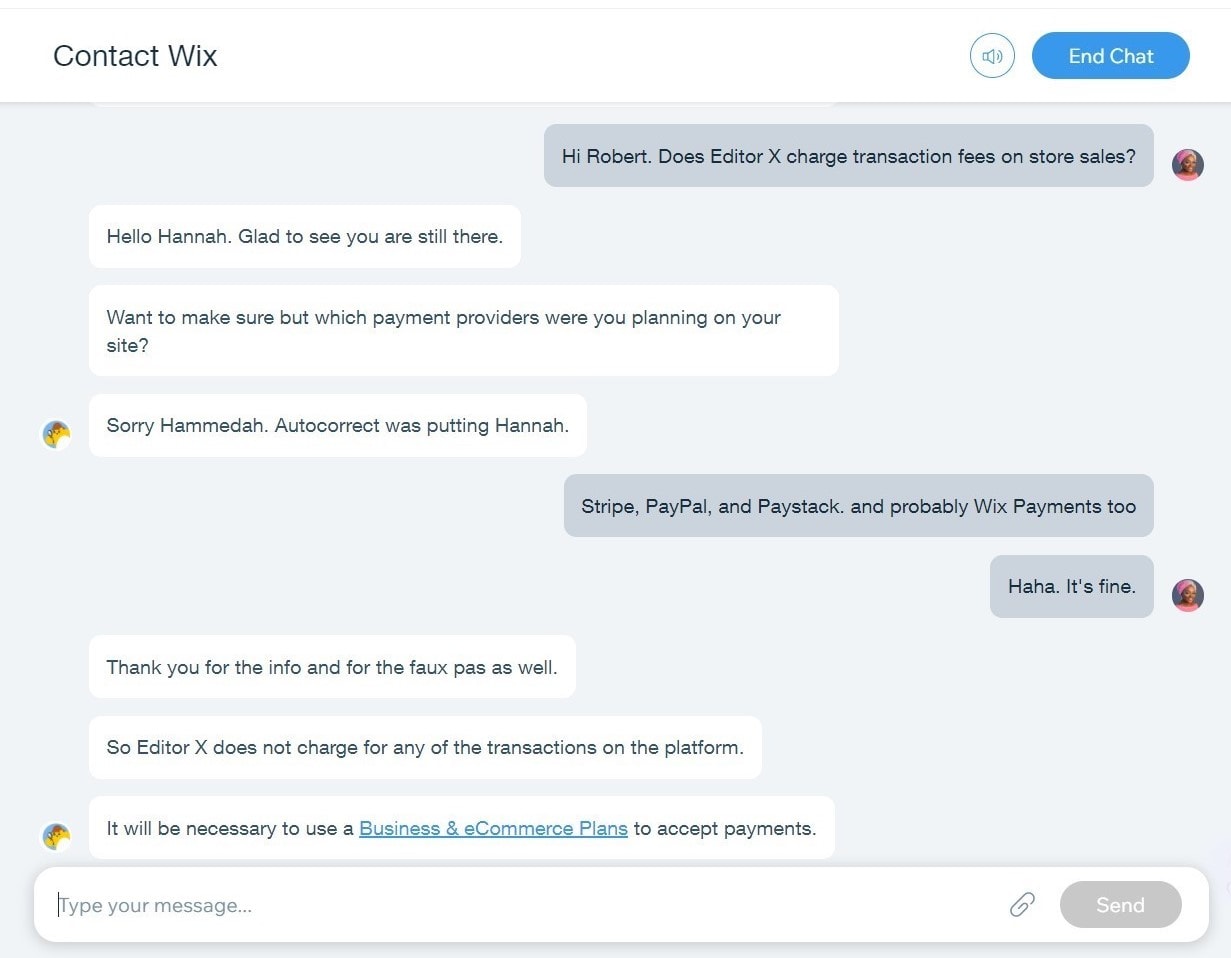 To test Webflow's support, I submitted a support request using the form on its website. I asked if I could export content from a live Webflow site to WordPress.
I got a response from Webflow after about 3 hours.
This was a pleasant surprise after some of the horror stories I'd read online about its "non-existent" customer service, but it still lagged behind Editor X.

Both platforms have user support forums (Community X and Webflow Forum) and extensive learning centers (Academy X and Webflow University). As the newer platform,
Editor X has fewer tutorials and help docs available.
That said, they are always adding new content, and the in-editor help center is great for learning Editor X as you go. Overall,
Editor X offers more comprehensive support than Webflow.
Editor X Fuses Figma-like Collaboration with Fluid Web Design
Editor X is built for designers, with features like concurrent editing, real-time commenting, and easy site transfer.
It also comes with cutting-edge design tech like CSS grids and Flexbox-based layouts, and it lets you design across breakpoints with drag-and-drop editing. Building complex and responsive websites becomes effortless without the need to write a single line of code. However, if you desire, you can always utilize Dev Mode to craft custom interactions and designs.
Webflow is harder to master than Editor X
. You'll also need to pay to access features Editor X gives you for free, and even then you'll have to make do with fewer apps, blogging tools, and e-commerce features. Still, if you have coding experience or are happy to learn,
Webflow gives you lots of freedom
 to create a custom site
. If instead you want to build a responsive, professional website as quickly and easily as possible,
Editor X is the builder to go with
.
Templates
35 free, fully-customizable templates.
Over one thousand fully responsive templates. (Most cost extra).
Features & Ease of Use
Fluid drag-and-drop editing, advanced customization, impressive collaboration tools.
Design multiple sections and elements at once, advanced customization on paid plans, limited collaboration tools.
Apps
Integrate 300+ apps directly from the Wix App Market (some aren't yet Editor X compatible).
No app market but third-party integrations available.
Blogging
In-editor tools for basic blogging, fully-featured Content Manager for more complex projects.
Blog entries added as dynamic content using Webflow CMS. Customizing posts requires coding.
E-Commerce
Impressive e-commerce features, no transaction fees, access to 60+ payments providers.
Decent e-commerce features, access to 3 payment providers, 2% transaction fee on Standard plan.
SEO
Set heading tags, meta title, and descriptions. Create sitewide SEO patterns or edit SEO page by page.
Audit panel checks for performance and accessibility issues. SEO info is easy to add from page settings.
Pricing
6 plans across 2 categories. Annual plans have a 14-day money-back guarantee and free domain for one year.
9 plans across 3 categories (plus a custom price Enterprise plan). Need for both a workplace plan and a site plan to co-design and publish a site.
Support
24/7 Live chat 

Callback

Ticket

Community forum

Help center
Email (business hours only)

Community forum

Help center
FAQ
Does Editor X have a free plan?
Editor X has a free plan that lets you build and publish multiple websites. You even get full access to its advanced design features. That said, you'll need a premium plan to connect a custom domain, receive online payments, and remove Editor X branding from your site. For tips on how to create a great website, check out our complete guide to building a website in 2023.
Which is better, Webflow or Editor X?
It depends on your preferences, but Editor X is the better choice for most designers. It combines drag-and-drop editing with flexbox technology for fluid site building, it offers advanced e-commerce features, and it comes with a huge App Market. Webflow adopts a more structured approach to website development. While it gives you room to build sophisticated designs and interactions, it also takes longer to master than Editor X.
Is Figma a good Editor X alternative?
Not exactly. Editor X shares some features with Figma, including wireframing, multi-user collaboration, and real-time commenting. Still, editor X does a lot more than straight up design. It also provides advanced e-commerce, blogging, and SEO features that let you build a fully-featured, responsive website. If you want to explore some good Editor X alternatives, see our review of the top no-code site builders in 2023.
Does Editor X have a CMS?
Yes, it does. Editor X's Content Manager helps you create and update as many content-driven pages as you need. You can use it to manage blog posts, product pages, projects, portfolios, and more.