Ecwid
is an eCommerce platform built to help small business merchants to easily set up a store and start selling online. No need to abandon your existing site — Ecwid can be added virtually anywhere, and operate across multiple channels such as your website, social media platforms, and mobile devices. In this interview,
VP Operations and product partnerships Erik Suhonen
discusses current challenges in SMB eCommerce, and offers an inclusive solution that will make merchants' lives a whole lot easier.
Please describe the story behind the company: What sparked the idea, and how has it evolved so far?
I've been at Ecwid for four years. I am VP of product partnerships and operations, which means I'm in charge of bringing integrated solutions into our control panel for merchants, like Facebook, Google, Apple, Pinterest, etc. I'm responsible for building and nurturing those relationships. 
Ecwid is an e-commerce platform for small businesses, established in 2009. The name Ecwid is an abbreviation of eCommerce widget, which is where we originated: the ability to put an eCommerce store into any website. 
We've grown a lot since then. We've expanded both in terms of the robustness of the platform as well as the customer base. We serve hundreds of thousands of merchants in over 180 countries. We continue to grow in terms of the number of sales channels. You can think of Ecwid as categorically similar to Shopify, but very different because we partner with companies such as site builders, POS providers, payment providers, and more. Additionally, partners can white label Ecwid, which is another differentiator.
We have embeddable widgets that are friendly to any website, whereas Shopify takes the approach where if you have an existing website and you want to use Shopify, you'd have to switch your website over to Shopify. We believe that merchants want choice and flexibility, so you can use Ecwid with any website, any Point of Sale, and any payment gateway. 
Below are some screenshots of the Ecwid dashboard: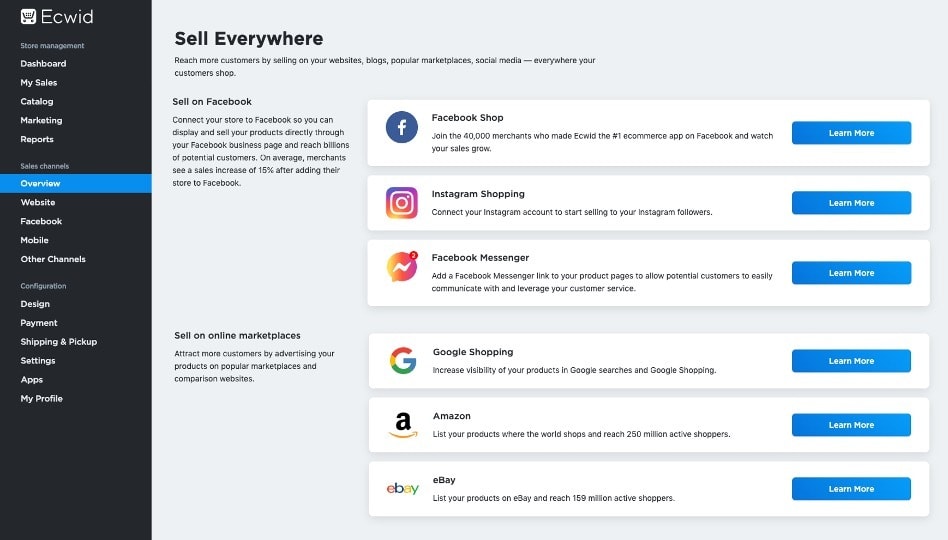 Who is your target audience?
Our target audience is small businesses around the world. One of the differences with Ecwid versus Shopify, BigCommerce, and some of the other players is that Ecwid is the only eCommerce platform that offers a free-forever plan. You can start on Ecwid and stay on it forever without paying a cent in subscription fees, while other eCommerce platforms will typically have a free trial limited to either seven, thirty, or ninety days. 
We believe there are a lot of small businesses that might not even call themselves a small business, because the owners have full-time jobs, and they have an idea or a craft on the side. They might be making custom jewelry, candles, or T-shirts on weekends, and they're thinking about how to start selling it and making money online. This is our audience. This is where we want to just take out all the friction for those entrepreneurs who want to start selling online. So that free forever plan takes out some of the pricing fiction for them. 
But one of the things that you'll notice with Ecwid, and
this is recognized by G2
, is we want it to be as easy as possible. There's a lot of big sophisticated, complicated Magentos of the world that, if you're a bigger business, and you want to go in that direction, and you want a downloadable eCommerce platform, then there are those options. 
We are 100% SaaS. We believe that small businesses don't want to hire a developer and they don't want to download and install software. We think that SaaS is the right way to go. That is how we're approaching the market, by focusing on those small businesses that want an easy way to start selling, and then be able to grow from there. 
What are the current challenges that online stores are struggling with these days, and how can Ecwid help?
We can look at it in two ways: one is pre-COVID and the second is COVID. COVID has very unique challenges associated with it. 
Pre-COVID, a lot of the challenges we saw for SMBs were around the pricing friction they had and the need to have a lot of experience in eCommerce. So, they needed to figure out how to get their product manufactured, packed, and shipped. They also needed to figure out how to handle international and local taxes. 
We don't want those small businesses to have to figure all of that out, so we've taken care of it for them. You can click a button and have sales taxes automatically calculated for you, so you don't have to be an expert in that. 
Same thing with shipping providers. We have over 55 shipping integrations and automatic shipping calculators. Those are examples of areas where we want to take those challenges that we think businesses have had for a long time. 
Moving over to COVID, a big trend that we see is consumers and buyers are now expanding the way that they find, discover, and purchase products. Of course, Amazon and eBay are still the big players, but we also see increasingly more trade happening across social channels. It used to be that social networks were very much about connecting with friends, but we're now seeing how using different social networks is a great way for small businesses to be able to put products out there. 
Ecwid's platform has direct integrations with Facebook, Instagram, Pinterest, and other social networks, so your products get discovered across all those different places where they weren't discovered before. 
The eCommerce part of social media is advancing quickly. I've been managing a relationship with Facebook for over four years, and what I've seen is that they have been investing heavily in eCommerce. So now, as a merchant using the Ecwid platform, you can easily add your product onto the Ecwid platform and instantly start selling on Instagram, Facebook, Google, Amazon, and all the different places where the consumers are – where they can find your products, and purchase them. 
With COVID, we're all seeing some fast accelerating trends. From the Ecwid side, this has been an incredible time. We've seen a 300% growth year over year, which is just phenomenal for a company. Part of the reason is that we've tried to adjust to meet the trends we've been seeing. The types of companies that are selling, what they're selling, who they're selling to, and where they're selling—this has all dramatically changed. We have merchants that have shifted from selling alcohol, for example, to selling hand sanitizer and have really taken off since. 
There's a merchant using the Ecwid platform called
The Social Emotional Teacher
. She is selling digital goods to teachers and parents, teaching them about mindfulness and problem-solving. They've seen a 1,900% increase in sales during the pandemic, specifically because education has really come online. Digital goods, on the whole, have seen an uptick in demand.
What we've been trying to focus on is helping out merchants during COVID. For instance, we've made gift cards free. That's a great way for businesses to be able to sell online right now. So for instance, if your offline store was closed because of the lockdown, you could still sell gift cards to customers who want to support your business through this tough time and use it later when you're back to normal. 
So gift cards and digital goods are both channels where we're seeing a really big change with COVID, because they are easy ways to sell. Of course, with digital goods, you don't have to deal with packaging and shipping, so there's a huge shift there for COVID. 
What's your advice for multi-channel retargeting? How do you keep yourself in the customer's mind without being overly intrusive or annoying?
Before I dive into some of the technology best practices, I'd like to talk about some of the marketing fundamentals for those that are a little bit newer to this. 
As you're selling your products or services, it's important to think about your audience. Deeply understanding your audience is really valuable for small businesses selling online. 
I'll go back to the custom jewelry example. Maybe my audience is typically from a certain region, a certain demographic, a certain gender. It's not a bad thing to have a wide top of the funnel, but the way to grow that business is to be much more targeted and focused on the most valuable type of customer. In this case, it might be a female aged 18 to 34, living in the US in specific cities or postcodes, and the way that they like to buy is primarily through Instagram and Pinterest and less through some of these other sales channels. This is getting very particular, so the question that comes to mind is, how do you know all those things? 
Part of the way that businesses can understand who their core audience is is analytics and pixels. When a small business logs into Ecwid's marketing section, they'll see Google, Facebook, Pinterest, Snapchat, and other pixels and tags. What that does is it's a piece of code that is put on to a potential buyer's browser. We'll collect a little bit of information as they go through the process so that later, you can go back and look at those analytics and see who's interested in your products and start to focus on each segment. 
Pretty soon, you'll start to see a return on your ad spend. The higher your ad spend, the quicker your ROI. Using the pixels and tags that are built right into the Ecwid platform can help gain an understanding and focus your efforts on what works best. 
Then, you can start to use that technology for retargeting. Google Shopping is great, because it's the very top of the funnel, and it's great if you're launching a new product or service that not a lot of people know about. But then you want to continue to grow. So retargeting through Google, Facebook, Pinterest, Snapchat, and other channels can be powerful and bring a high return on investment. 
I'll give you an example. One of the highest returns on investments that we've seen is where they have pixels on the store, but in particular, on their abandoned cart. We all know that as a business, some of the buyers may come in and add products to cart, and they're not going to purchase. That's always going to happen, it's just part of the funnel getting down to the purchase consideration phase. But those that have added to cart are a high-intent audience. If you can invest in that audience in particular, generally you're going to get a lot more return on investment. 
In particular, you can retarget that audience by showing your ad to those that have added products to the cart but have not purchased them. Merchants that do that can see a huge growth, because those are the customers that they want. 
You have another cohort of those who have already purchased, who you also want to engage. You might want to engage them through interception displays and different types of online advertising through Google, Facebook, and others, or you can send them an email, inviting them to see some products that you think would be relevant and interesting to them or that complement what they already purchased. So those are a couple of strategies and best practices that businesses can use.
Which trends and technologies do you find to be particularly intriguing these days?
What we're seeing in the industry, generally, is that as APIs become more and more pervasive, that more and more companies are looking to figure out how to make their companies more integrated. Take Facebook for instance. They just open APIs all over the place, because they want companies to build on top of them. That's been an important technology trend for us because we have our own open APIs. 
We want to make life as easy for merchants as possible. We believe that merchants want to get onto an eCommerce platform for free and have everything in one place. They don't want to have to go to different platforms for eCommerce, shipping, dropshipping, marketing, etc. They just want all those things in one place, so they can focus on their craft, product, or service. 
If you're making custom jewelry, you want to focus on your craft because that's what you're passionate about, that's what you love. You don't want to spend 90% of your time thinking about technology and how it works. You just want to log into a website or mobile app and have all that working at the click of a button. So we're focused on that. 
As an example, when you go into Ecwid's Control Panel, you can choose whether to sell on the web, on a mobile app, or sales channels like Instagram and Facebook. 
Integrated marketing is another example where we're seeing a lot of the advertising and marketing companies opening up their APIs. They are much more integrated, they're reaching out to us and we have partnerships with a lot of them, which is great for the merchants. 
These days, it's really easy to build an online store and get it up and running on the web. That's the easy part, but what often happens is that small businesses don't know a lot about marketing, because they are more focused on their products or services, which they should be. They may have heard about Google and Facebook advertising but are not sure what that should look like and how it works. Sure, they can do some research and learn all about it, but we want to take that complexity out of it by giving them integrated marketing.
Many SMBs don't understand the difference between Google Shopping and Facebook retargeting; they don't know which one to choose, how much money to put into it, or how to customize it for their needs. That's where we come in. We make it so easy to set up campaigns that actually pay off. 
Working with Google and Facebook, we create integrated solutions so that merchants can quickly and easily see a lot of intelligence and analytics. For example, you can see how much you spent on a campaign, and how much you got back in sales. We build it in a way that makes sense so you can also plan your growth. 
If I want to do Google Shopping versus Facebook retargeting, the more integrated these companies become, the easier it is for small businesses to not only sell but to grow their business because marketing is an important part of that. 
Another example is our new
integration with MailChimp
, which we announced a couple of months ago. Again, I want to be able to do email marketing well. How do I do that? I have to go find all these email companies to find out which one is best, or can I just go to one platform, and be able to do all in one place? We believe choice and flexibility are important concepts for businesses and that's where the integrated piece comes in. 
Mobile is also one trend that I absolutely want to call out. We all know the mobile trend has been going on for a while and continues to make really strong progress around the world. 
As a merchant, you can set up a store and manage it from a mobile app without having to go over to the desktop. From a buyer's perspective, you just want an easy, frictionless experience. So that's an experience that we think is going to continue to grow. 
I should probably point out that not only are these COVID-born trends very relevant in today's environment, but we believe that a lot of these buying behaviors are beginning to become permanent among buyers around the world, potentially for years down the road. 
If you're a buyer who has been trending towards eCommerce, accelerated by COVID, you may find it much easier to get by without having to go out to stores and just use local delivery instead. We believe that a lot of those trends that are driven by COVID will stick around for a long time.