Ask any brick-and-mortar business whether it's best to open their own location or sell their product in a major supermarket, and you'll get very different answers.
The e-commerce sphere isn't all that different.
As with supermarkets, online marketplaces offer a convenient solution for reaching customers ready to shop. And, like opening your own location, setting up an e-commerce platform means you can fully control the customer experience. That's the crux of today's comparison between eBay and Shopify. Don't get me wrong – there are
really
good reasons for using both platforms. Fortunately, you don't have to use one to the exclusion of the other –
you can combine Shopify and eBay to build an e-commerce powerhouse.
With that being said, Shopify is the winner here.
eBay's good, but just as if you were selling products in a supermarket, your lack of control over your business's "persona" can hold your store back. On top of Shopify's stellar customization options, you'll get much more freedom to run your business thanks to more relaxed regulations and fee structures. Keep reading to discover why I recommend Shopify for your business (and as part of your e-commerce strategy)
Templates
Go With Shopify for Complete Branding Control
Seriously, eBay can't hold a candle to Shopify's level of customization. Shopify offers
135+ mobile-responsive and engaging themes
, and you can change your fonts, colors, and content to your heart's content (we've gone into more detail in
our Shopify review
). Admittedly, you won't get as much customization as with some other e-commerce platforms – you can only change the layout of your homepage, and your product pages are fixed by the theme you choose.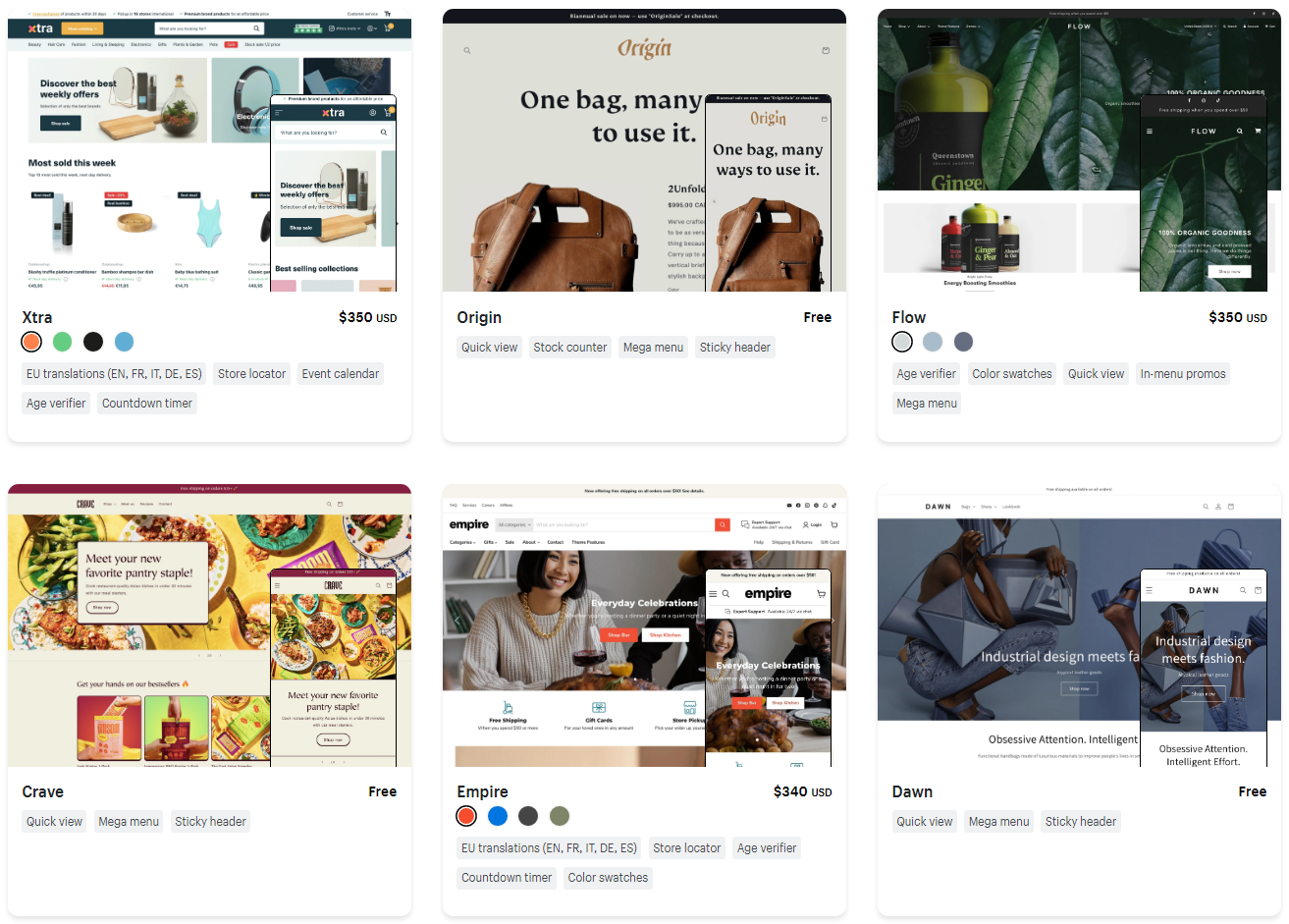 You can also make changes to your Shopify theme's code if you're technically minded
(or can hire someone who is). If that's not an option, thousands of ready-made third-party Shopify themes are available online. In comparison,
eBay's design is almost completely static.
Both your product pages and your storefront are fixed, and the most customization you'll get is being able to upload product photos and edit text boxes. Paying for an eBay Store plan will allow you to change your profile and header image, add a video, and create custom product categories, but that's it.
It's difficult to compare eBay to Shopify because eBay is designed to offer a consistent experience to users. A large part of why so many customers trust eBay is because it's a regulated marketplace where all sellers compete on the same playing field. However, that ethos isn't necessarily beneficial for your business as it makes it harder to stand out from the competition.
So, the win goes to Shopify for giving you nearly complete control over your storefront.
Features and Ease of Use
Take Your Shopify Business Wherever You Go
On the surface, both Shopify and eBay are easy to set up.
You can set up an online store on Shopify within an hour (or even less if you've only got a handful of products to sell), and you can start selling on eBay in only a few minutes if you're using a personal account. However, you must hand over some extra information if you want an eBay Store subscription to sell more than the odd product. To maintain seller integrity and the trust buyers have in eBay, you must provide your business name, address, Employee Identification Number (EIN), and information about any other directors or business owners. You'll also have to verify your bank account information and, in some cases, provide a photo ID.
It's an understandable step that eBay has to take, but
it's worth considering if you need to start selling quickly.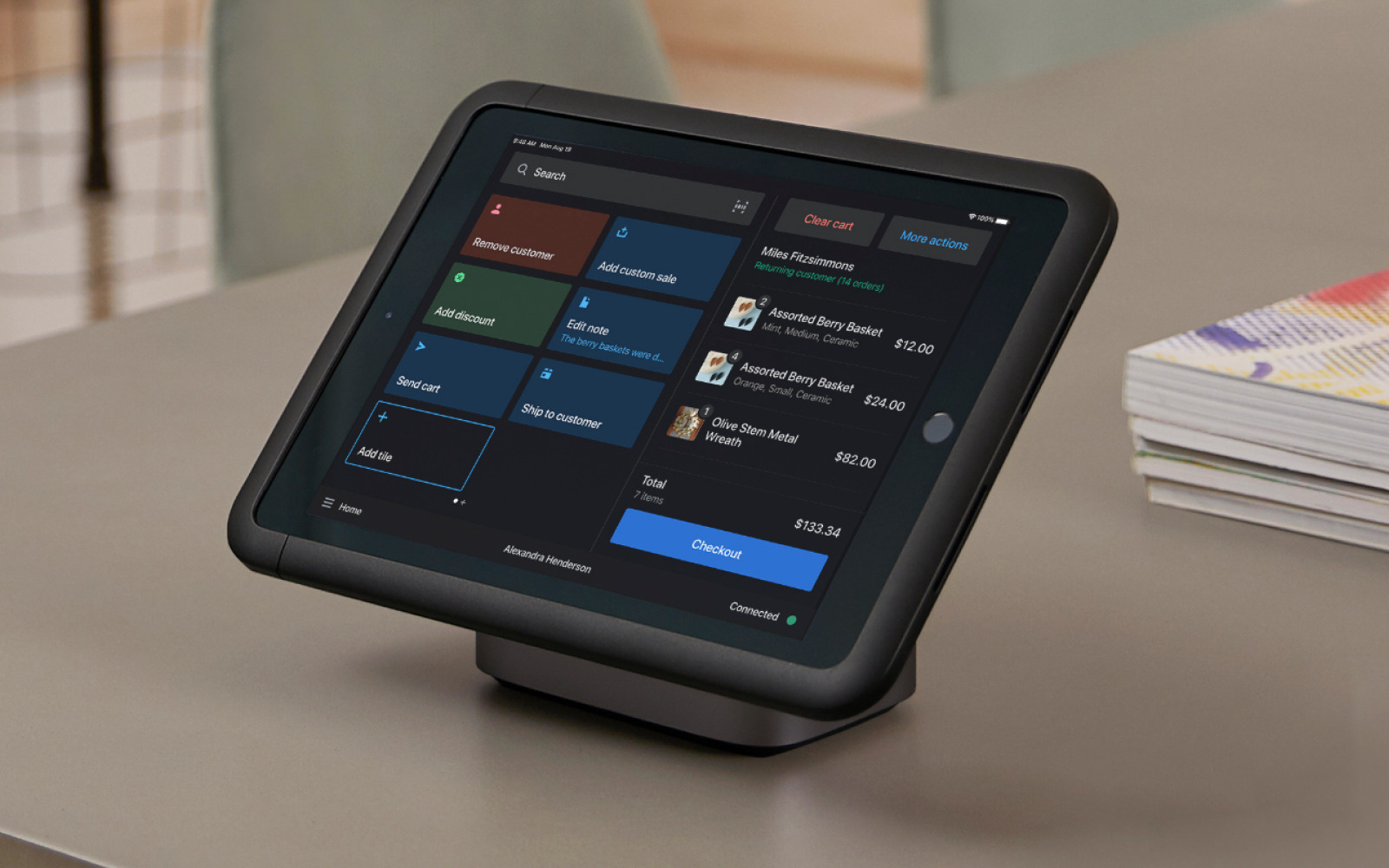 Not only can you start selling on Shopify within the hour, but you can also take your business on the road, too.
One of my favorite Shopify features is Shopify POS, its proprietary point-of-sale tool.
With this feature, you can sell products in person via your smartphone or tablet, or you can purchase a proprietary POS countertop device. Whether you want to set up a pop-up shop, a stall at a craft fair, or even a brick-and-mortar store, every purchase will be linked to your Shopify inventory and customer profiles. eBay doesn't offer the same flexibility. You can allow customers to choose local pickup and payment on collection when they purchase a product, but you won't be able to sell products in person. That's not a problem if you're happy to run your business as e-commerce only, but
Shopify takes the win for giving you the flexibility to sell your products wherever you want.
Apps
Build the E-Commerce Store of Your Dreams With Shopify's App Store
It feels unfair to compare eBay and Shopify based on apps because there's no competition.
eBay only offers one, while Shopify has a great app store with 7,000+ free and paid apps.
These include all the integrations you'd expect to connect your Shopify store to your accounting software, marketing tools, social media, and many niche features and management tools.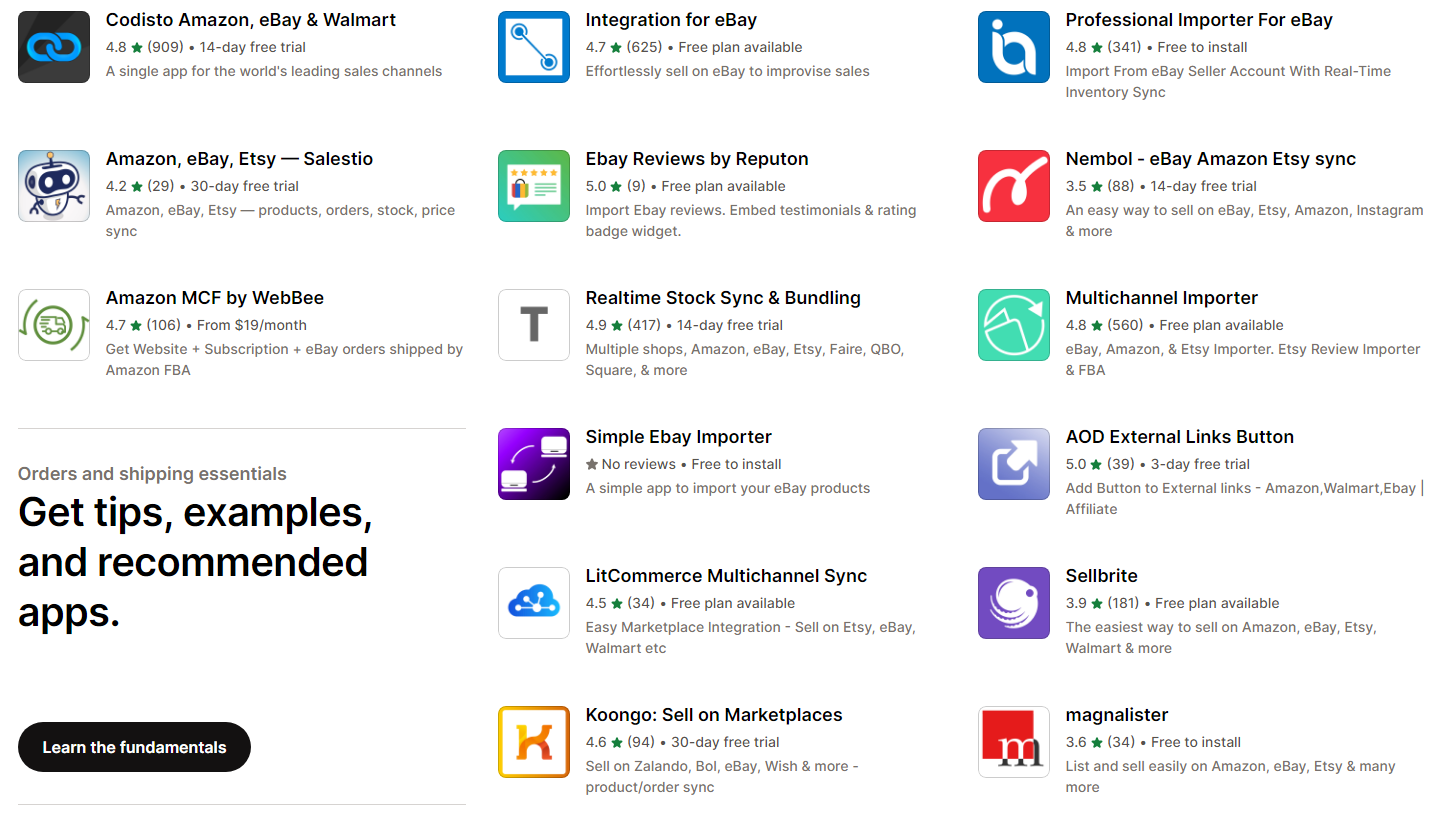 There are even 150+ apps to connect your eBay storefront to Shopify. Some simply allow you to import your product listings from eBay, while others let you display your eBay reviews and ratings on your Shopify store. By using apps, you can
synchronize your inventory, check your listings, and see your analytics on both platforms without leaving your Shopify account.
If you're planning to sell through both Shopify and eBay, or even just looking to move over to Shopify, there's an app for that. eBay's only app is Terapeak. It allows you to compare listings, check which product categories are selling well and to what type of seller, and get advanced information about product trends. It's free – you'll get Terapeak as part of the eBay SellerHub (i.e., your dashboard and analytics page in one).
It's certainly helpful, but it's not a patch on Shopify's app store.
E-Commerce
Let Shopify Do the Heavy Lifting
Your packing and shipping process can make or break your store, so you'll be pleased to know that both eBay and Shopify offer plenty of support. No matter which option you choose, you can take advantage of discounted shipping thanks to exclusive deals with various couriers.
eBay can even automatically calculate shipping charges for your product
– just provide the packaged dimensions of your product and select a courier. As great as this is, you must still manually organize your shipping.
If you want to take the stress out of packaging and shipping, you'll love Shopify's Fulfillment Network (SFN).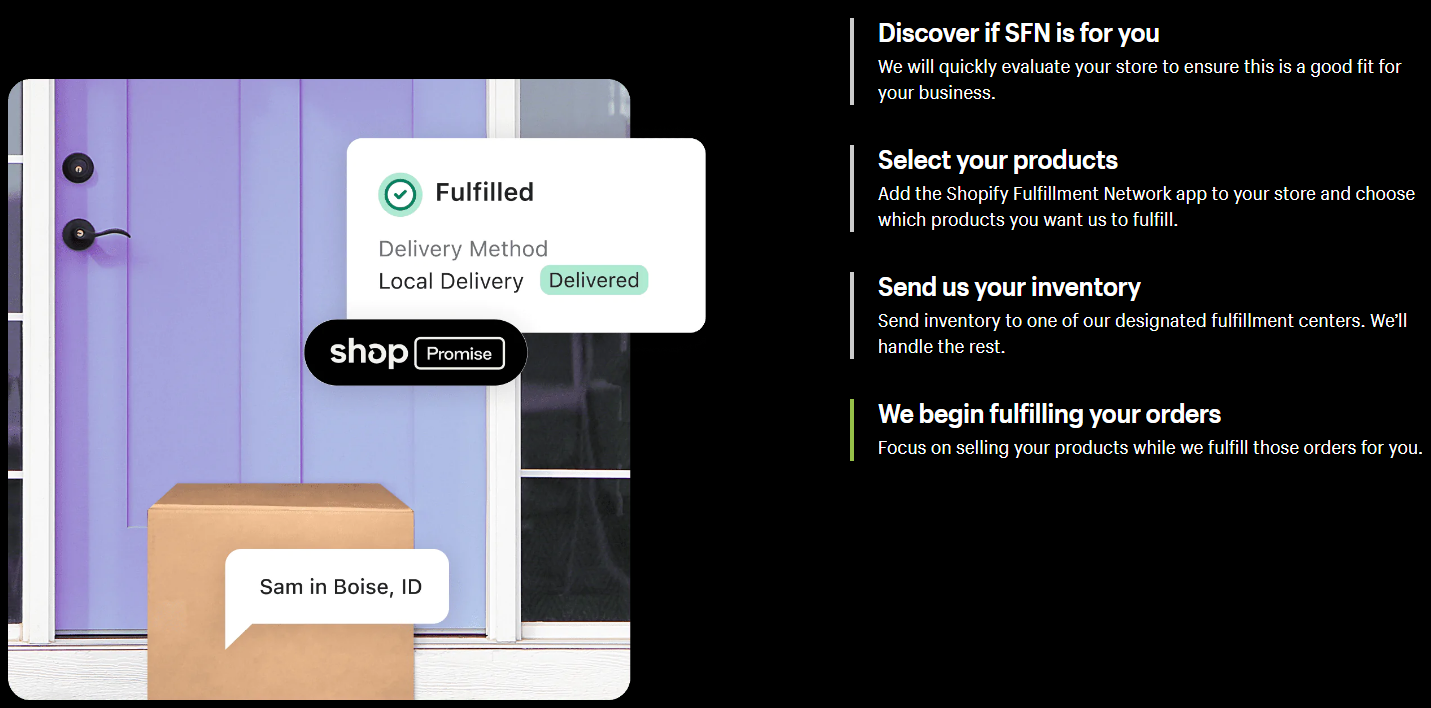 SFN offers all of the flexibility of a product warehouse without having to set one up yourself.
You'll have to send your items to a designated storage warehouse, but when an order's placed, Shopify's staff will pick, pack, and ship your products for you automatically. You'll also only have to pay for storage if your products have been in the warehouse for over six months, and your customers will receive their orders within two days – it's a win-win!
Marketing
Internal SEO Is Good, but External Marketing Is Better
Finding your brand voice isn't easy, but ensuring that your business stands out is vital. Remember earlier when I said that eBay storefronts are largely the same?
You'll need to rely on marketing to show your customers that you're not just a faceless eBay seller
. Unfortunately, eBay doesn't offer much help. All eBay sellers can send emails to subscribers, but you'll only get a limited degree of customization.
Shopify offers tons of marketing support.
Shopify Email offers many more email customization options, and if you'd instead use your own email marketing platform, you can easily integrate it with your store. Not only that, but you'll get complete control over your website's SEO, which you won't get with eBay. You'll have to spend more time marketing your Shopify store than if you sold on eBay, but it's worth building an e-commerce store with a customer base loyal to your brand, not your platform.
Pricing
Avoid eBay if You Want Simple and Transparent Pricing
Comparing e-commerce platforms to marketplaces in terms of pricing is always tricky – they have very different pricing structures. That said, while both eBay and Shopify charge a fixed monthly fee (while offering discounts for annual plans), eBay charges a
lot
more in the way of additional fees.
For that alone, you'll want to use Shopify if you need to set a fixed budget for your e-commerce overheads.
While all eBay Store plans give you a fixed number of free insertions (aka, listings) per month, you'll have to pay an extra fee per item above this number. If you want to upgrade your listing by setting a reserve price, listing it in two categories, or offering a Buy It Now price, you'll have to pay extra fees.
Then, when your product sells, you'll have to pay a final value fee based on the category your product was listed in.
All these fees mean you lose a significant percentage of your sale to eBay. On the other hand,
Shopify charges a monthly fee and a small percentage on each transaction paid through a third-party payment gateway.
That's it. You don't even have to use third-party payment gateways, either – you can use Shopify Payments on all plans to avoid additional costs. Shopify helps you eliminate a massive list of overhead expenses by offering simple pricing that's much easier to budget. Here's a quick overview of eBay vs Shopify's Basic pricing plans:
eBay
Shopify
Starting Price
$27.95/month (Basic plan)

$

29.00

Free trial?

✘

✔

Additional fees

Insertion fees
Listing upgrade fees
Final value fees
International sales fees
Currency conversion fees
Dispute fees
Transaction fees

Domain name
Third-party transaction fees

Shipping options

Collection
Discounted courier shipping
Limited dropshipping support

Collection
Local delivery
Discounted courier shipping
Dropshipping support
Shopify Fulfilment Network

Payment options

Payment on collection
Credit/debit cards
PayPal
Apple/Google Pay
Gift cards
Certain listings may also use:

Bank transfers
Checks
Money orders
Other online payment services

In-person
Shopify Payments
100+ third-party payment gateway options
Cryptocurrency
Gift cards

Customization and design
Fixed product and storefront page layouts; customization limited to text and image choices
135+ themes (and thousands more third-party options) with full homepage and limited product page customization
Customer support
Phone (via callback request), email, knowledge base, community forum
24/7 live chat and ticket system, knowledge base, video tutorials, webinars, community forum
Support
If You Need Anything, Shopify Has Your Back
It's perhaps not surprising that a huge e-commerce marketplace like eBay loses out in the support arena.
Offering only email and phone support (via a callback request), plus a knowledge base and community form, you
can
contact eBay – but it's a frustrating experience. Even if you're on the expensive Anchor plan or above, there's a good chance you'll end up relying on these self-service support channels as eBay doesn't offer any 24/7 support.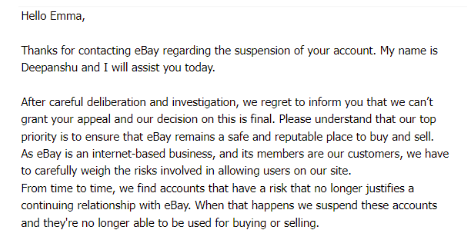 After setting up an eBay account for testing purposes, I discovered 30 minutes later that my account had been suspended. I'm still unsure why, as I'd clicked through to three product listings and one seller. My best guess is it was because I was using a VPN. I didn't think much else of it until it came to testing out eBay's support.
When I tried using the email contact form, I found that it wouldn't load – and the only way I could use it was if I chose the Account holds subject line.
So, naturally, I used that form with an apology that I couldn't use the email form in the intended way.
I heard back from them 18 hours later.
The reply I received was definitely a template response, given that I asked about how to verify my business information. It's understandable, given that I used the "wrong" (and the only available) subject line, but it's frustrating nonetheless. Compare this with Shopify's email support: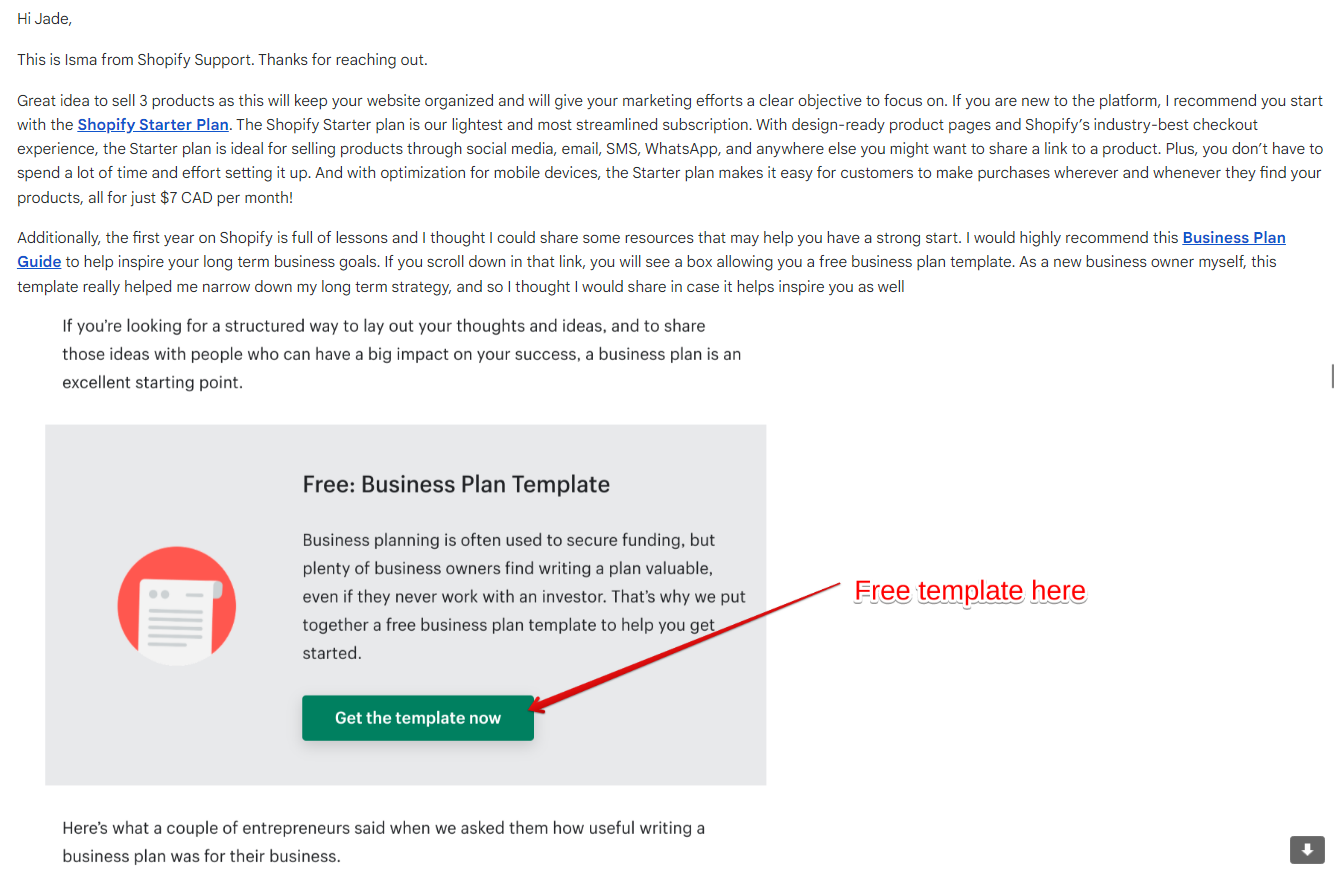 Shopify answered in under 4 hours, and the agent also offered additional support based on the needs they identified.
You'll get 24/7 help through this ticket system and live chat, with the latter being better suited for urgent issues. Like eBay, you'll also get a knowledge base and community forum to help you while waiting for a response. You can even teach yourself everything you need to know with free courses and webinars.
eBay vs Shopify: Build a Brand, Not Just a Store
Shopify is the clear winner.
With plenty of customization and branding support, Shopify doesn't just let you build an e-commerce store – it gives you everything you need to build your business from the ground up. It'll take extra work, but you'll be rewarded with straightforward pricing and complete control over your online presence. Don't get me wrong – I can see the benefits of selling on eBay. You'll get all the benefits of a global marketplace with an established customer base.
And, thanks to Shopify's massive app store, you don't have to choose one or the other.
You can sell on both Shopify
and
eBay through your Shopify account. If you're going to sell on eBay, I'd recommend doing it this way, as you'll get the best of both worlds. Short on time? Here's my quick comparison of eBay and Shopify:
Templates
Fixed product page layout and store design; limited store customization
135+ mobile-friendly templates
Features & Ease of Use
Start selling on a personal account in just a few minutes (verification needed to sell as a business)
Start selling in less than an hour and take your business on the road
Apps
One built-in app for tracking product trends
7,000+ free and paid apps
E-Commerce
Discounted shipping and a great automatic shipping price calculator
Discounted shipping plus SFN to handle your packing and handling for a low fee
Marketing
Email marketing with limited customization, plus social sharing
Built-in email marketing with a free plan, social sharing, plus tons of integrations
Pricing
Per-month pricing with a large list of extra fees that apply to individual listings, items, or sales
Per-month pricing with minimal additional fees
Support
Phone (via callback request), email, knowledge base, community forum
24/7 live chat and ticket system, knowledge base, video tutorials, webinars, community forum
FAQ
Is eBay or Shopify better for dropshipping?
Shopify is the best option for dropshipping. On top of having restrictions on dropshipping that limit you to only using wholesalers, eBay charges a long list of fees that can eat into your already narrow profit margin. Meanwhile, Shopify has a simpler (and more affordable!) pricing structure, and its app store contains hundreds of dropshipping apps that make it easy to start sourcing and selling products.
Is selling on Shopify worth it?
Yes! Shopify is affordable for businesses of all sizes, giving you everything you need to kick off your e-commerce business. You'll get tons of marketing support to keep customers returning and thousands of apps to add all the necessary features. Website builders like Shopify are great for setting up an online store. Find out why in our guide to building websites in 2023.
Which is more profitable, eBay or Shopify?
It's hard to say. It all depends on your business strategy and what you're selling. Due to eBay's extensive fee structure, you'll probably find it more challenging to make a profit. Shopify charges a flat monthly fee and minimal per-sale fees, so you won't have as many overhead costs to worry about.
What are the disadvantages of Shopify?
While Shopify has a good level of customization, you don't get complete freedom. You can't edit your product page layout as these are locked to themes, and there aren't many free themes either. If this is a dealbreaker for you, check out our top website builders in 2023 for alternatives.