Round 1: Can Duda Beat Wix With Its Editor?
Both Wix and Duda offer drag-and-drop editors — but there are a couple of differences. With Wix, there are actually two editors.
You can either choose the traditional Wix Editor or opt for Wix ADI (Artificial Design Intelligence) which builds your website for you.
Wix ADI is a great option if you're short on time. Your ADI website can be edited and customized later — and you can also switch to the traditional Wix editor later. The Wix editor is one of the most flexible editors, which is one of the reasons Wix gets such
great reviews
. You can place content anywhere on your pages, with no structural limitations at all. You may appreciate this feature — but many people prefer templates that have at least some structural restrictions, as these tend to look more professional. Wix gives you plenty of options for adding content to your pages easily. Content types you can add include:
Text
Image
Lightbox
Button
Strip
Lists
Video
Music
Contact
Menu
Blog
Store
Bookings
Members
Embeds (including anchors, Wix Chat, and Google Maps)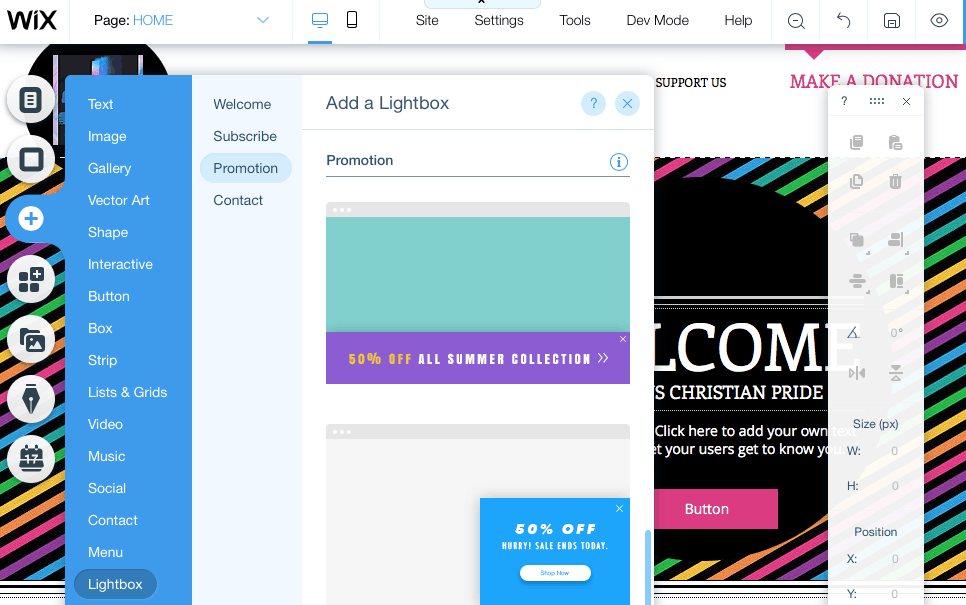 If you know how to code,
Wix Velo
(formerly known as Corvid) allows you to add scripts, APIs, and much more. You can find tutorials on how to use Wix Velo on Wix's YouTube channel, too.
Duda only has one editor, and it's really intuitive and easy to use.
There are layout restrictions with Duda's editor, but you're free to add sections, columns, rows, and inner sections to customize your layout. Duda comes complete with a wide range of content blocks (called widgets) that you simply drag into place. These include:
Click-to-call buttons (for visitors viewing on mobile devices)
Maps and multi-location sections
Contact Forms
Business Hours
Image Sliders
Social Icons
PayPal Button
Social Media Feeds
WhatsApp Button
Navigation Links
Recent Blog Posts
Yelp Reviews
Online Scheduling
Google Calendar
When you click the 'add new section' button on your pages, you can choose from a huge range of pre-designed sections. These include footers, intros, teams, pricing tables, testimonials, FAQ — and many more. You can also create your own sections and save them to be used on other pages.
Adding new sections to your website speeds up the building process and creates a really professional-looking website.
For HTML and CSS editing, you simply have to click a button to activate developer mode. This is a great option if you want to have more control over the raw HTML of your website. With Wix, you can only really add HTML Iframes to your website.
And the Winner Is…
It's a tie.
Both Duda and Wix offer great sets of tools, with a huge range of content types that you can simply drag into place. While Duda does have a greater range of widgets compared to Wix, with Wix you can add these easily via apps — many of which have free plans. If having full access to the HTML of your website is important to you, however, then Duda does have a slight edge over Wix in this area.
Round 2: Which Website Builder Has the Best Templates?
Wix gives you a library of over 900 templates to choose from — which means there's a template for pretty much anyone. To browse the template library without having to sign up first, just
go to the Wix homepage
 and click the
Templates
link in the top menu bar. Just keep in mind that
Wix templates are not mobile-responsive.
Wix describes its templates as 'mobile-friendly'. This means that your website can still look good on a mobile device, but it won't function like a fully responsive website that adapts automatically to the size of your visitors' screens. Wix does give you tools to edit the mobile version of your website, but this can be a pain. Another big issue with Wix is that once you choose a template, you're stuck with it — unless you want to rebuild your website from scratch. Effectively, this is the price you pay for the freedom Wix's advanced customization features give you. If you'd rather have the freedom to easily switch templates whenever you want, it can seem like a high price to pay.
Duda offers a smaller range of templates (around 90+), but they are all exceptionally well designed and mobile-responsive.
There are templates for business, personal, portfolio, and online store websites — and many more. Plus, you can change your template at any time — while retaining all your website content. The downside, of course, is that you don't have the same amount of control over the structure of your templates that Wix offers.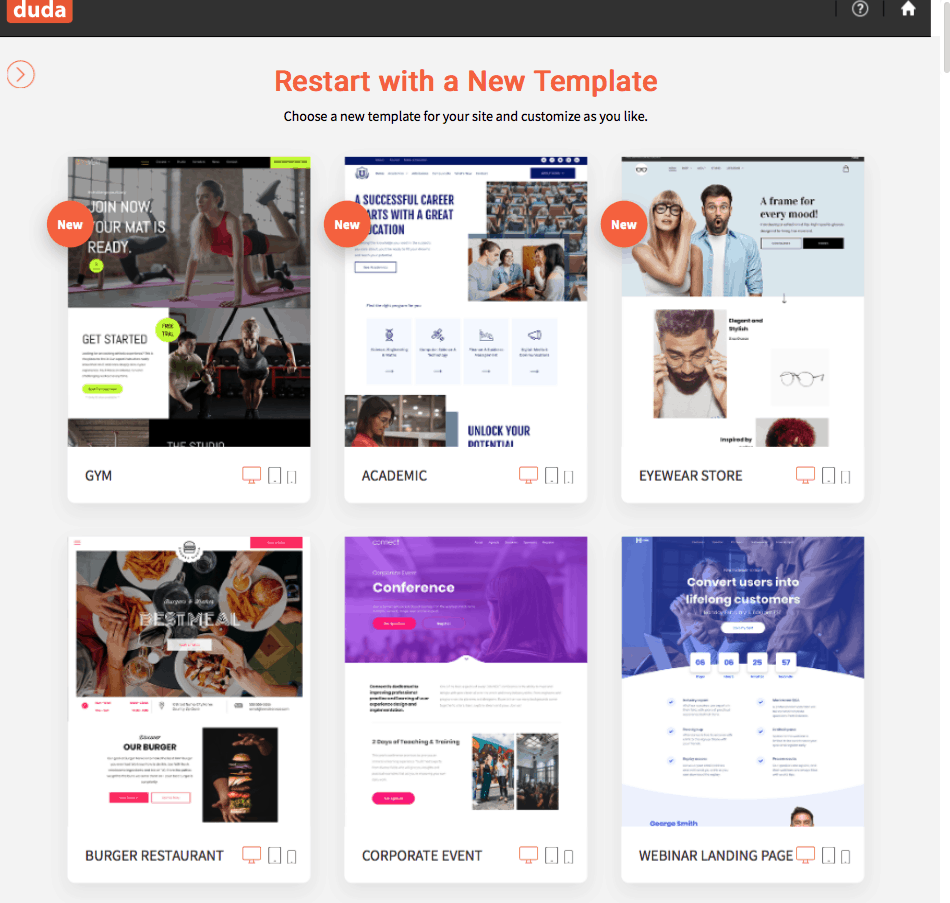 If premade templates aren't your thing, you'll be glad to know that both Wix and Duda offer a range of blank templates to design as you please.
And the Winner Is…
Wix.
It's very hard to compete with Wix in terms of the number of templates available. You get a great selection of templates that really stand out, with modern designs that you have complete freedom to customize.
Duda
may still be the better option for you if you want the flexibility of being able to change your template, and you're not worried about losing a small amount of customization freedom compared to Wix. Duda's templates are mobile responsive, too.
Round 3: Does Duda Offer Better Value for Money?
Value for money is about more than just the price you pay for your website builder. While your budget may guide you towards a cheaper plan, this is not always the best option.
Cheaper plans are usually more limited
— for example, in the amount of storage space you get (Wix is not particularly generous with storage), or access to e-commerce features. A slightly higher plan can work out to be better value if it offers significantly more features. Duda has one plan for individuals (the other plans are aimed at developers and agencies), while Wix offers four personal/small business plans and three e-commerce plans. Duda's pricing falls in between Wix's two
lowest-priced plans
— but offers much more value for money. One huge difference between Duda and Wix is that Wix has a
forever-free plan
. There are some sacrifices you have to make, such as having to use a Wix subdomain and not being able to use e-commerce features. However, the free plan does mean that you have an unlimited amount of time to assess whether Wix is the right website builder for you. Duda doesn't offer a free plan, but there is a
30-day free trial
.
And the Winner Is…
Duda.
Although with Wix you can easily add more features via apps, the apps that you need aren't necessarily free — and this makes Wix more expensive to use than Duda. Duda includes the unlimited storage you need for exceptional scalability and also offers you tools for targeting specific visitors. Duda also has the advantage of better performance than Wix, being based on the AWS platform.
Round 4: Will You Be Able to Run an Online Store?
Neither Wix nor Duda is a dedicated e-commerce platform, but both make it possible for you to sell products on your website.
If you only plan on selling a small number of items, using a website builder is definitely more cost-effective than a separate e-commerce solution. With Duda, you can sell up to 10 products without incurring any extra costs. Adding an online store to your Duda website can be done in a couple of clicks — and there's a setup wizard to walk you through the steps you need to take to get your online store up and running. Plus, each step tells you how long it will take to complete.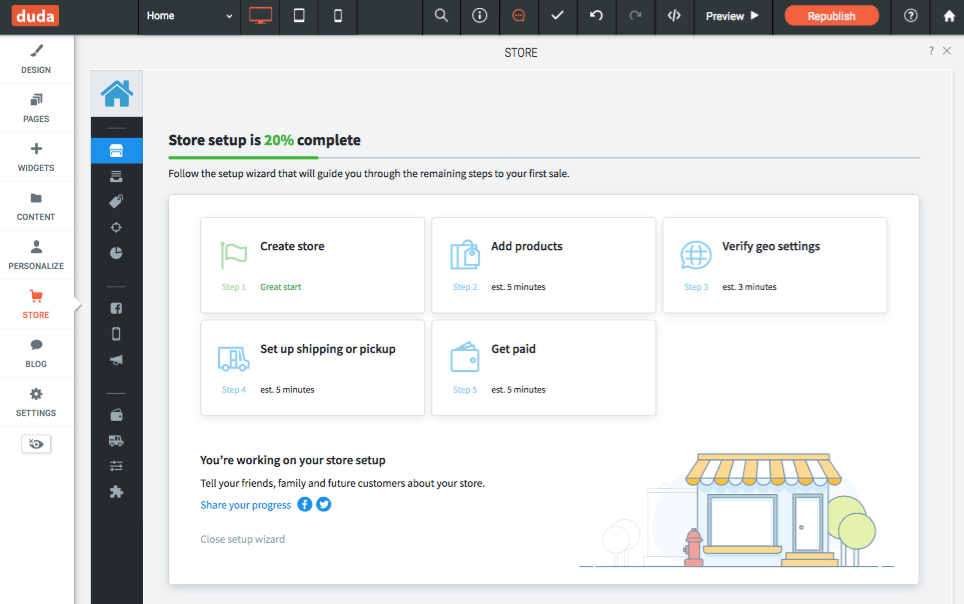 If you want to sell more than 10 products, however, you'll have to pay an additional monthly fee. There are two options — up to 100 products or up to 2,500 products.
The 100-product plan is less than $8, which means that even with the additional fee, it's still cheaper than Wix's Business Basic plan (required for e-commerce features on Wix).
There's a decent set of e-commerce tools with Duda, too. You can choose from 30 different payment gateways, set purchase limits, create coupons, automatically calculate shipping rates and generate customer tracking codes. If you're on the 100-product plan you can also sell on Facebook and Instagram.
To start using e-commerce features on Wix, you must be on one of the three e-commerce plans — Business Basic, Business Unlimited or Business VIP.
These plans aren't cheap, unfortunately, and your total storage is still limited. However, Wix's e-commerce tools are more than enough to start a successful online business. E-commerce apps can enhance your online store with additional features. These include abandoned cart technology and inventory tracking tools. Wix enables the sale of both physical and digital products. However, certain restrictions apply to the sale of digital products. For instance, zip files must not surpass 1GB, music files should be under 100MB, and documents are limited to 40MB. Nevertheless, these file size limits are likely to meet the needs of the majority of users.
And the Winner Is…
Duda.
Although you have to purchase an e-commerce add-on to sell more than 10 products, Duda still offers a lot of benefits for your e-commerce store. The 100-product plan is cheaper than Wix's Business Basic plan, and being able to sell on Facebook and Instagram is a big bonus. However, if you have more than 100 products to sell, then Wix's Business Basic plan will work out to be better value. The storage space is limited, but again, it will be way more than enough for most users.
Round 5: Getting Support If Something Goes Wrong
Customer support is an area where neither Duda nor Wix particularly shines, unfortunately.
Wix's customer support is notorious for being slow — unless you opt for a VIP plan which gives you 'priority support', of course. There's also no live chat support for Wix, which means you have to submit a support ticket or request a callback. This support is available 24/7, but you shouldn't expect a quick response. Wix users report a lot of issues with getting support from the platform, with problems going unresolved for days and weeks in some cases. Duda does offer live chat support, in addition to phone support and email support. However, if something goes wrong with your Duda website during the weekend, then you're out of luck. Duda's support team is only available Monday-Friday 12 am – 6 pm (PST). During these times, email response time is listed as between two and six hours — which, although isn't particularly fast, is still better than email response times for other website builder support teams.
And the Winner Is…
Duda.
Even though Duda only offers support on weekdays, Wix's terrible reputation for customer service gives Duda a slight edge over Wix. Duda does at least have a live chat feature and publishes the expected response times for its email support on its website, too. Want to learn more about Duda? Don't miss our
expert review
.
Wix vs. Duda: Which Website Builder Is Right for You?
Wix may be regarded as the king of all website builders, but it has some tough competition in the form of Duda. Personally, I found using
Duda
a more enjoyable experience, and I was impressed by the number of pre-built sections that I could add to my website. The Duda editor almost guarantees that you'll have a striking website that your visitors will be happy to return to. Duda stands out for its rich selection of adjustable guidelines, letting you design tailored experiences for different visitor groups on your website. This built-in targeting feature can greatly enhance the impact of your marketing campaigns. However,
Wix
 is still a great choice. After all, it gives you
complete customization flexibility in your website design.
You also have a much larger number of templates to choose from. And while templates aren't mobile responsive, you may find that the ability to edit the mobile version of your website more beneficial than having no control over how mobile responsiveness adapts your website with Duda.
Our Recommendations
If you want to run a larger e-commerce store, (i.e. more than 100 products) then you may find Wix a cheaper option than Duda. Duda's 2,500 product plan adds almost $20 a month to your price.
If you want to build a website with many videos or hi-res images, then go with Duda, as it offers more storage space than Wix for a better price.
If you don't want to be held back by structure restrictions, then Wix is probably going to be the best option for you. Wix's huge range of templates also means that your website will really stand out.