In a world where Social Media is fast becoming a prominent part of business success, every word, and every action needs to be considered before being published.  In this article, we will be highlighting some of the biggest mistakes brands have made, so you know what to avoid in your own social strategies.
It can take just one simple blunder to ruin a company's reputation when it comes to Social Media. More often than not, it can be something simple that you have done, or something that you have forgot to do. Therefore, we look at what you should be avoiding in our top 7 run down of Social Media fails.
#1 Social Media is Freedom of Speech
…so let your customers do the talking.
The worst thing you can do in Social Media is
a)      Ignore your customers
b)      Delete comments that you don't agree with
c)       Argue back
I have seen a lot of brands who have tried to block out negative comments on Facebook, but this just infuriates the person who has been blocked and causes much more trouble than you bargained for.
The chances are, you will always see negative comments on brand profile pages but the key is how you respond to them. If I visited a page with no negative comments the suspicious side of me arises, I can't help but think they are vetting their reviews rather than letting the people speak.
One big case of customer censorship came from VW not too long ago, in a scandal that would eventually go viral and the World would know about it.
It all started when Greenpeace encouraged its following to leave a comment back to a New Year's resolution post that VW had made. This barrage of comments soon flooded in, many opposing the VW lobbying efforts against the environment.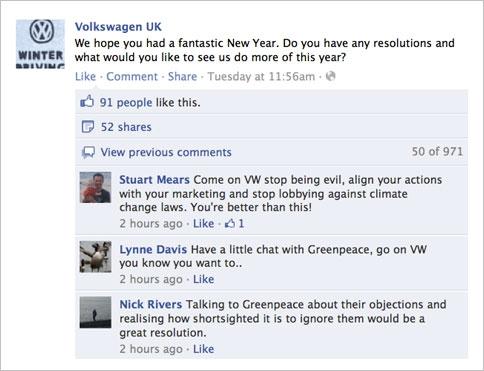 VW's strategy here was to ignore and remove negative comments, which was the wrong thing to do as it turned into an international story that still hasn't showed signs of stopping.
Remember Gordon Ramsay's kitchen nightmares?
If you don't, you missed a spectacular aftermath when Amy's Baking Company went into melt down following Gordon Ramsay's departure due to the owners being unreasonable.
They responded to negative reviews on Yelp with the words "Moron" and "Loser" and soon the backlash on Facebook started and didn't really stop…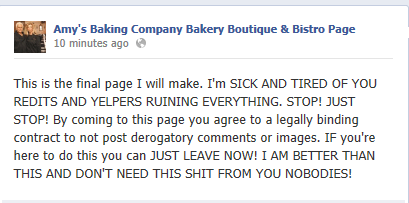 This is just the way you SHOULDN'T be dealing with customers! You need to keep professional at all times, and remember that your business is in the firing line, not you personally.
#2 The Customer is Always Right!
However much you want to say what you are thinking, DON'T!
Just one out of turn comment can lead to a massive PR disaster for your company. Instead, take some time to gather your thoughts and reply with constructive and polite comments.
Nestle certainly had some trouble a few years ago when a staff member decided to snap back at environmentally motivated critics. This isn't the way to talk to customers as you will only provoke them: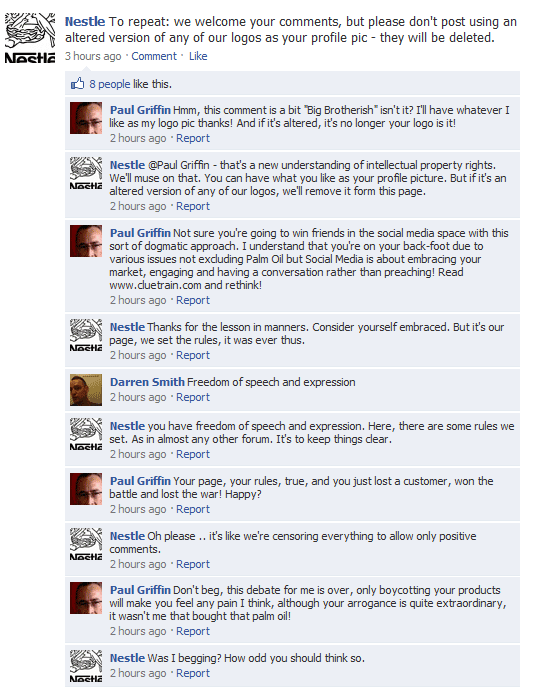 #3 Don't Use National Tragedy To Promote
You know the saying: There is a time and a place, and that time and place is not when your country is going through a tragedy.
Don't use this event to start selling your related or unrelated products as you may as well just close your business there and then if you do.
Take a lesson from Epicurious, who used the Boston Bombings to try and sell their products…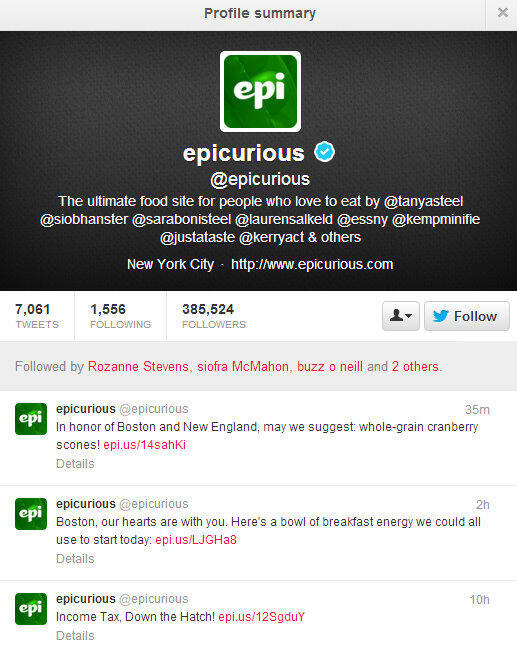 You certainly don't want to do what Kenneth Cole did either, and make light of a tragedy in Egypt to sell your stock: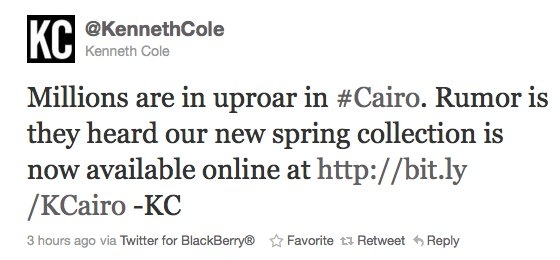 #4 Watch Out For Hashtags
Sometimes Hashtags either don't read well and aren't thought out well enough, or companies just haven't grabbed the concept of why a hashtag is used and what it can do.
Over here in the UK last year, Susan Boyle (a singer), decided to hold an album party. Her PR company decided to create their very own hashtag marking the event, but didn't check it before publishing.
Susan's Album Party, ended up reading #susanalbumparty (Su's Anal Bum Party)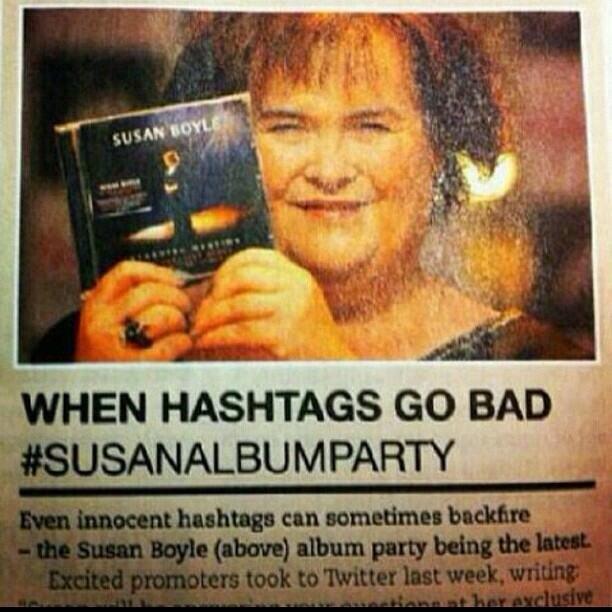 It's not just about how your Tweet reads either, its about knowing the concept behind a Hashtag and how they work.This is something that Budweiser failed to do when they spent money on a billboard advertisement, with one massive mistake: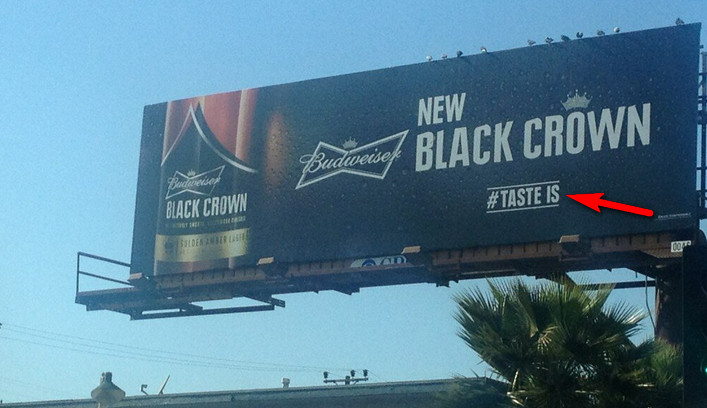 Can you spot the hashtag error?
#5 Take Another Look At How You're Advertising Yourself
Photo's always end up making their way around the Internet, so its good to pay particular attention to anything from signs to how a photo is construed.
I don't think the team designing the sign for this van, had planned for this view when the door was fully opened: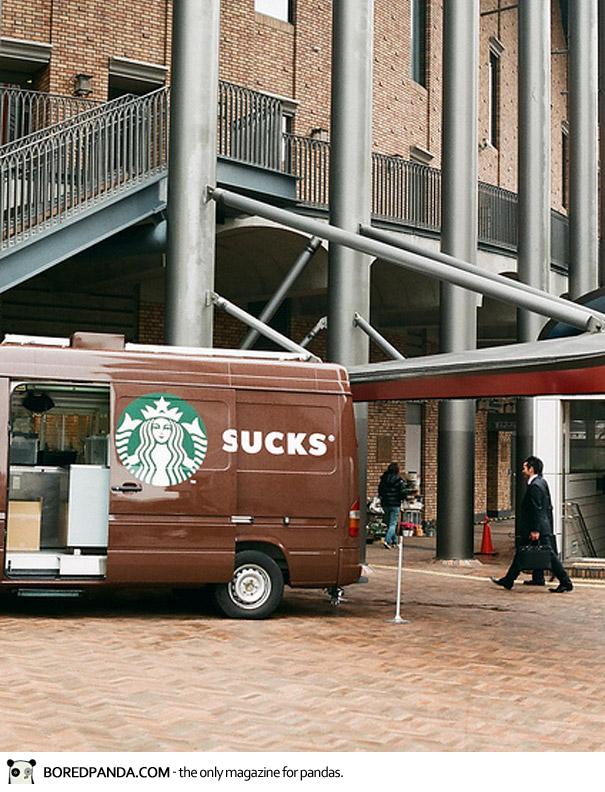 I certainly think that this Burger King promotional image wouldn't have had the impact it expected when pictured alongside a CBS image for heart disease.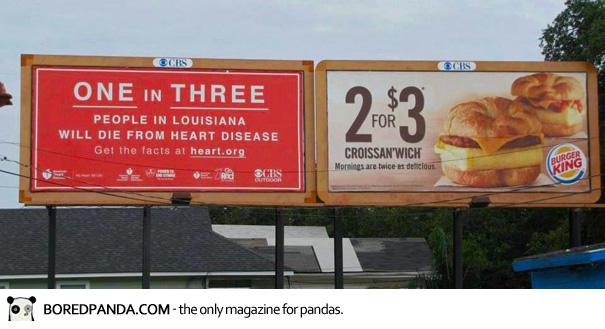 #6 Don't Force Engagements By Touching On Charitable Causes
I have seen a few companies do this, and it's just not the right way to go about driving engagement.
Frames Etc decided to show a photo of a child with Cancer, and asked for likes and shares to drive its engagement levels. This is a big NO. The Inquisitr also pulled off a similar stint asking for 500 likes in one hour if you wished Cancer didn't exist…go figure.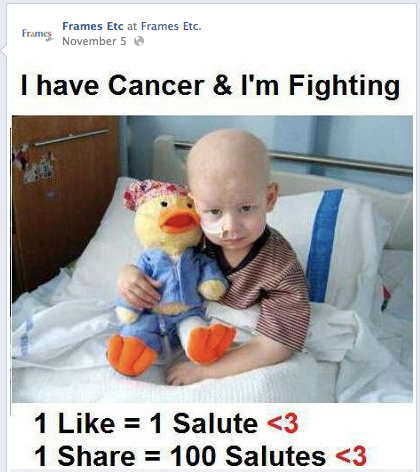 #7 Be Careful What You're Asking To Be "Liked"
This section casts my mind back to when Bee Gee, Robin Gibb, passed away, and MSN asked users to "Like" their Facebook status to pay respects. Should we really be "Liking" such a status? Surely not…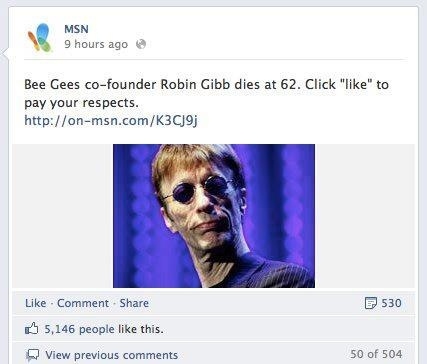 Summary
It's always good to pay special attention to anything that you publish these days, taking time to read through and check is paramount in a society where social media is growing by the day, and content can be shared and liked by anyone in the world.
You could be one sentence, one image, or one comment away from destroying your brand profile and bringing that company to its knees.
Next time you publish a status, read it again to make sure.