Websites are valuable for providing information about your company, products, and services. But when running a specific promotional marketing campaign, directing viewers to your general website can leave them lost and quick to lose interest. With Landingi, it's easy to create customized landing pages for emails and banner ads that get customers directly to the information they want, keeping them engaged and providing a higher conversion rate. CEO and founder of Landingi, Blazej Abel, went into detail.
Please tell me a little bit about Landingi
We originally started as an interactive agency about ten years ago. We were a Google AdWords partner, and our services included marketing as well as web development. When we started building more advanced products for our customers, we realized we would like to build something of our own. We were bootstrapping a lot of small projects around marketing, and one of them was a landing page creator. We looked at ways to help other marketers build and take control of marketing campaigns and landing pages. We brought this idea to a Startup Weekend event in Poland and not only did we receive really good feedback there, but we also won the prize! With this optimism, we started developing the product which eventually became a separate company, Landingi.
What are some purposes for a landing page?
A landing page is a logical extension of internet advertising since it can be individualized for each marketing campaign. Redirecting traffic from online advertising to a specific landing page is much more efficient than redirecting to a company's general website where a customer has no direction. Landing pages keep customers focused on what they are looking for since they immediately receive specific information on that product, event, etc.
How are landing pages created in the Landingi platform?
Most customers start creating a landing page with our ready-to-use templates. We have over 200 templates, so there are a lot of choices suitable for their industry and marketing goals. It's then very easy to customize a template with their company identity and marketing message using drag-and-drop technology. It's especially simple since there is no coding involved. You can add JavaScript or HTML if you'd like, but there is no coding on the platform. Everything is created visually, so you don't need any technical skills. Even if you are a designer, the process is much easier because you don't have to work with developers to publish the landing page. This is especially important when users are running active campaigns, as they can immediately tweak or make a change to the landing page.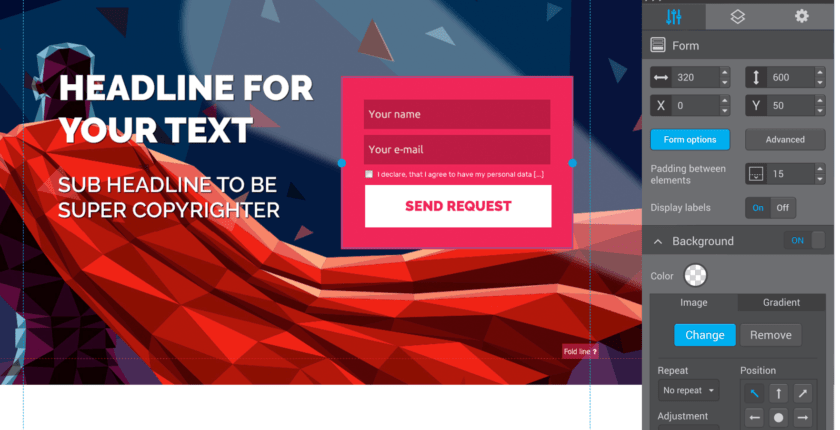 I do want to focus on how easy is to personalize a landing page. Let's say, for example; you know where specific segments of your mailing list live. You can create a landing page in Landingi featuring a specific city and then easily duplicate it to create additional landing pages for other cities. Say, for example; you have a special offer for customers who live in London,  Berlin, or San Francisco. Once you've created the landing page with the name and background image of London, it is very easy to duplicate that page and replace the name and background image with Berlin and San Francisco.  When you send out your marketing email, simply have the segments for each city redirected to the appropriate landing page. This way customers feel more personalized and feel that this offer is more tailored for them, and they are in this case are more willing to convert on this kind of landing page.
Can forms be integrated into a landing page?
Of course. About 80% of customers on our platform use landing pages for lead generation, so they have to have to include a form. In Landingi, you can create the form to collect exactly the information you need because, in the end, you measure the success of your campaign by the conversion rate. Keep in mind that the less information you request from your customers, the higher the conversion rate since customers don't always like to share a lot of data or fill out lengthy forms. We do have some users with a lot of fields in their forms because they are more focused on the quality, rather than the quantity, of leads. So, it really depends on your marketing goals.
After they complete the form, where are customers directed?
Our users decide where they want their customers to be directed upon submission of the form. There are some who will send their customers directly to their main website. In the most cases, however, users are directed to a 'Thank You' page letting them know the form has been successfully submitted and they can expect a quick response. This 'Thank You' page is also really important from the analytical point of view because in most cases, the conversion pixel from different ad systems will show that the conversion was successful.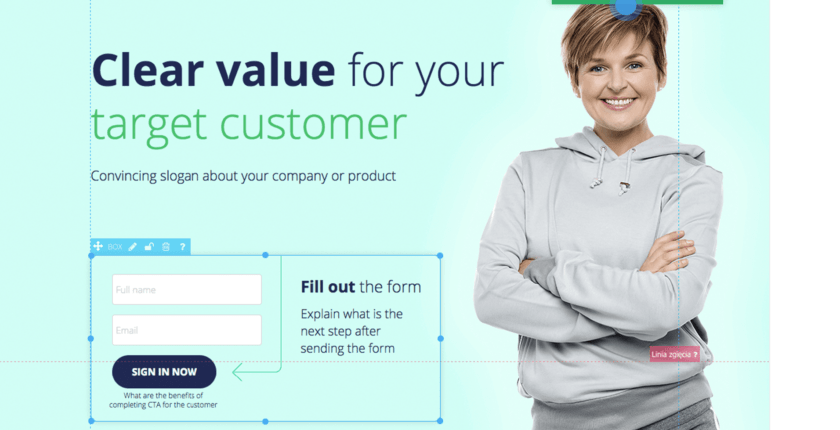 Can the 'Thank You' page also be created in Landingi?
Yes of course. In fact, 99% of customers are using our 'Thank You' pages. In fact, each template includes a 'Thank You' page, so they don't have to worry about where their customer is directed after completing the form.
Where are the landing pages hosted?
We have the option of hosting everything on our Landingi servers. However, more and more customers are using WordPress, so they choose to use our WordPress plugin and keep these pages as part of their site. More advanced users that have really dedicated solutions will create the pages in Landingi, download the files and install them on their own servers.
So theoretically, someone who does not have a website can use Landingi to run special internet marketing campaigns.
Correct, they don't need to have to have their own website, server, or even their own domain. We support all these things as well as supplying an SSL certificate, so everything is secured on our platform.
Where does information gathered from forms go and where is it stored?
Each landing page has a list of the generated leads which is recorded on our platform, but a lot of customers are using integrations with popular marketing tools like email marketing and CRM, so the data is going directly to the system.
Does Landingi integrate with MailChimp, Constant Contact, or other email services?
Yes. A form on a landing page created in Landingi can be set up so that the information goes directly to MailChimp or Contact Contact. This integration allows users to build their subscriber or mailing list.
Can multiple landing pages connect to each other? For instance, using your previous example, let's say I know my customers live in New York City, but I don't know which borough. Could I create a landing page where users select their borough and then be directed to a personalized landing page depending on whether they selected Manhattan, Brooklyn, Queens, etc.?
Yes, it is possible to build several landing pages that can then be connected to each other. At this time, however, it is a multiple-step process where the landing pages are created separately and then connected on the platform. We are working on a new feature to simplify the process by building a funnel where these landing pages are created and connected in fewer steps.
Is there a way to code a landing page with multiple campaigns so you can you can track which campaign generated the click?
Of course. In most cases, customers paste the Google tag manager or the JavaScript with Google Analytics or conversion pixels to the landing page to properly track all data. This is the easiest way to get the correct results connected to the source or to the ads from which you are redirecting the traffic.