Please present CoreUI to us? 
A question about CoreUI is a question about core UI needs… As the name suggests, UI is the key. I devoted more than two decades of my life (and I'm still under 40 ☺) to UI solutions. Some of you may remember Bootstrapmaster.com and Brix.io which were game-changers in those days. Based on that experience, great and talented people, I decided to move forward and launch CoreUI. It's an all-in-one UI tool for every developer – from beginner to experienced guru. As a developer, I know that there's only one thing we all cannot buy or share – time. That's why CoreUI is a tool that efficiently saves developers time. No matter if you use CoreUI's React, Laravel, Angular, Vue, Vue+Laravel, Bootstrap Admin Templates or React, Vue, Bootstrap UI components – you can save up to 70% of the time you used to spend doing the same with other apps.
Free SVG, JavaScript & Webfont Icons . Premium designed free icon set with marks in SVG, JavaScript, and Webfont formats. CoreUI Icons are beautifully crafted symbols for common actions and items. You can use them in your digital products for web or mobile app.


What makes CoreUI stand out from your competitors?

I believe there are 3 main factors or pillars of CoreUI:
Time
Complexity aka holistic tools
Support
Time is our most valuable asset, that's why we want to help people to save it by creating simple, customizable, easy-to-learn UI components and Admin Templates. Believe me, this significantly cuts the development time. No matter if you are working on your school project or big corporate task, the CoreUI saves thousands of priceless hours because it offers everything you need to create modern, beautiful, and responsive applications. Complexity and holistic is CoreUI's 2nd name ☺ As I mentioned at the beginning, we're all developers and our experience remains the same: why spend time on developing things you can fast and easy implement with CoreUI? You can easily save thousands of development hours by using ready-made, reusable, and commonly used widgets and UI components. Moreover, CoreUI Admin Template is delivered with a ready-to-use environment, so you don't have to waste time configuring the project. All build scripts and tools are ready to use out of the box. It's not a hoax, because with CoreUI Template you can start a new project even in a minute. Last but not least is support. CoreUI originates from open-source, but we are a professional team, working full time to make our products perfect in every detail. Usage of open-source products distributed by a professional company gives you advantages of both open-source and commercial products, like e.g. maintenance, paid professional support, and additional features.
 What level of experience/ knowledge would a potential client require in order to successfully use CoreUI?
To be honest… CoreUI is 100% scalable, so it means it's an easy-to-use solution for beginners and a powerful tool for experienced developers. UI components and widgets are written to make your life easier – they are short and easy to understand, so reading them is not a pain in your ass. This is useful especially if you really want to understand the component by reading it or making changes. This makes the library a good foundation on which you can easily make your own components library. We cannot forget that CoreUI Bootstrap Admin Template is based on CoreUI Components Library with beautifully handcrafted UI Components designed by a team of experienced designers. You don't have to be a designer to create beautiful responsive apps – CoreUI makes it for you.
Bootstrap Admin template achieves 10000 stars on Github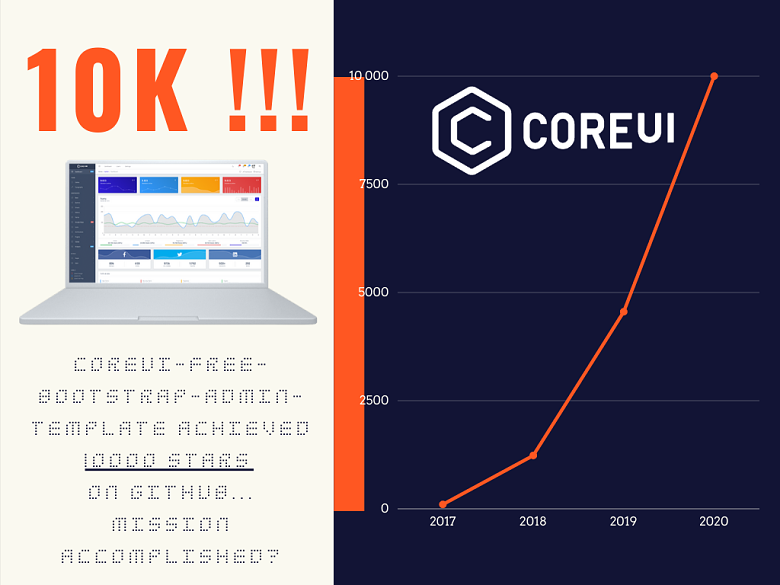 Please explain the benefits of using open-source products. 
I already did ☺ But honestly speaking, it will take me just dozens of hours to explain… Making it short, let's start with Bootstrap, which is a holy grail in UI's world. CoreUI Admin Template is 100% compatible with Bootstrap, so if you are familiar with Bootstrap but you demand something more than it provides, then CoreUI Admin Panel is an answer. On the other hand, if you're happy to stay with Bootstrap, our admin template goes in hand. And when it comes to open-source per se, it's like I marked above. CoreUI Admin Template originates from open-source, but CoreUI is for our nomen omen core team a full-time job. Thanks to open-source origins we give more than 100% of what we can and when we add to that full-time work to make CoreUI products perfect in every detail, you can easily understand the benefits both of coreUI and open-source "soul" it has. Usage of open-source products distributed by a professional company gives you advantages of both open-source and commercial products (maintenance, paid professional support, and additional features).
How has the Covid pandemic impacted your business? Has the volume and nature of your clientele changed over this time? 
To be honest, if not for the lock-downs we had both in here and in other countries, I wouldn't know what pandemic impact means, really. Pandemics changed for good so many lives and businesses, but CoreUI operates in a world that cannot stop… We can't stop technology development, so even if we face some difficulties in the real world, we have to move forward in the virtual world. On the other hand, we can see, generally on every market that the online approach won with onsite. CoreUI's clientele remains the same, but… when we talk about the pandemic influence on our business, I must admit that we see more "newbies" ready for action in UI's world. I don't know if it's because of the problems of some traditional businesses or just the sexiness of the developers' world, but we can see that many people start their journey in UI world along with CoreUI. It proves that the advantages I mentioned above are true… No matter if you're a rookie or pro – CoreUI is a good choice to master your next project.
What can we expect to see from CoreUI in the future? 
I would love to tell you all, but I know these words will be read by our competition, so I cannot tell everything in detail ☺ What I can say, is that CoreUI transforms an easier, more user-friendly, and more powerful tool for every design need.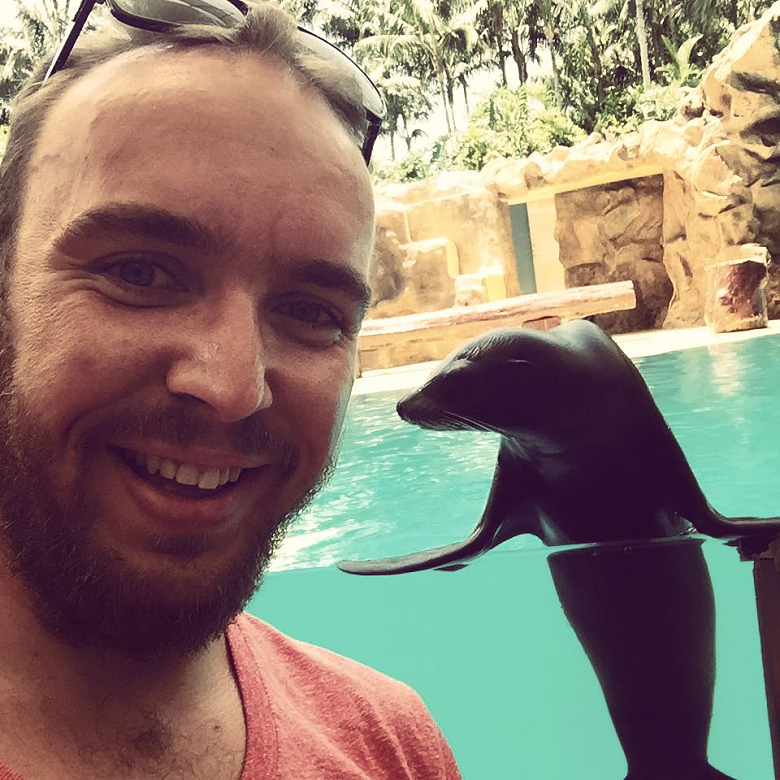 Lukasz Holeczek is UI Designer, UX Specialist, and Frontend Developer with more than 20+ years market experience. He's a fan of web development, innovation, and design. Also interested in Startups and technology. He founded several successful projects like e.g. bootstrapmaster.com and brix.io but his apple in daddy's eye is CoreUI, where he is both proud CEO and leading developer.