Codeanywhere is a cloud-based code editor. It enables developers to code and create websites
and web
applications from anywhere inside their web browsers.  Essentially we are trying to do for software development what Google Docs did for Office products – to be more specific helping users migrate from local software based to web-based. As for web-based products all you need is an internet enabled device and you can log in to the web browser and start working.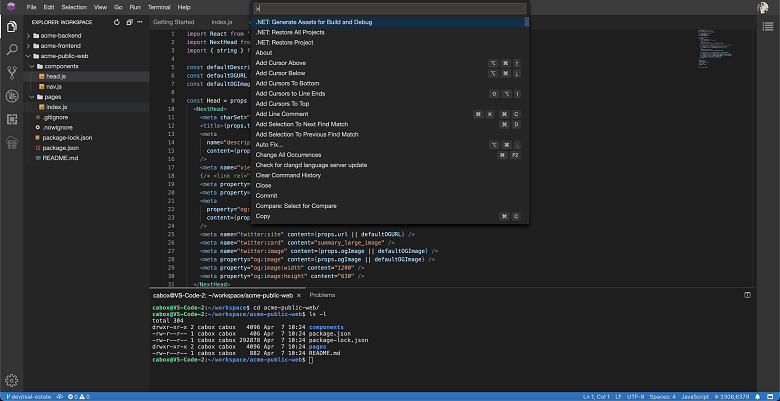 How did Codeanywhere begin? and how has it developed over time? 
The original premise when we started in 2009 was to help people do their work from anywhere – so that they are not tied down to one device. As the years progressed we realized that our proposition had evolved and became to help people and empower them to; educate themselves,  get a job, and give back to the community – this is something that really resonated with as, and thus have really pushed in these directions over the last couple of years. 
What level of experience and knowledge do your customers require in order to successfully use Codeanywhere ? 
You do need to know and understand the basics of software development, in order to use Codeanywhere. That being said, novices can definitely use it, and we encourage them to do so, but they will not find it as easy as experienced software developers. For this reason one of our target audiences are educational institutions and people who are starting to learn to code. The reason for this is that usually when you start to code something you would need to install some dependencies like frameworks or databases – this can be very difficult and confusing for someone who is just starting out  in the software development world. With Codeanywhere we take care of everything for the user, so you can just focus on making your code work – not on troubleshooting dependencies, which makes a world of a difference if you are just getting started.
Who is your target audience?
Educational institutions and people starting out with programming 

Companies who use our pair programing feature for interviewing their potential developers hires
Individuals who want to commit to open source projects and help the community, as with Codeanywhere there is not need to install dependencies, – this is done with the click of a button.
Basically all of our user verticals are about helping people: either get a job, learn or help the community.
Do you have many direct competitors? What makes you stand out from these other businesses? 
Sure, we have always had competitors. There were competitors when we started out, back in the late 2000's, very few that survived, and we are now in the second generation of competitors. Some of which have very ambitious goals, but the thing that we have seen is that each one is targeted to a specific niche. As a company we are vendor and technology agnostic so we serve a wide array of user types and customers which is unique in the competitive landscape right now. 
What impact has Covid- 19 had on your business/ industry? 
The increase in remote work and virtual schooling during the Covid-19 pandemic has empowered us to assist a greater number of individuals. Usage has surged during this period, and we anticipate this trend to persist in a post-Covid world, where an even larger segment of the population will continue to work virtually.
What can we expect to see from Codeanywhere in the future?
Our vision going forward is to become the de facto editor for anyone trying to get into software development. We want to lower the barrier of entry by using a cloud editor vs using a desktop editor -which most developers use right now. Basically we want to be the driving force in the transition from  desktop to a cloud editor. 
Anything else that you would like to tell our audience? 
We are trying something very new. We are targeting companies that offer API (
Application Programming Interface) as a product (ie: messaging providers, payment providers,…). As we have the ability to integrate Codeanywhere in their API Documentation, transforming it from static to fully interactive. This new offering will be a huge step in upgrading companies' Developer Experience and I believe it will be one of the pillars of our offering going forward.