Checkvist
is a keyboard-centric task manager that allows users to create, edit and share any kind of list using memorable keyboard shortcuts. Awarded "Best Value" and "Best Ease of Use" by Capterra, this fully bootstrapped Freemium service targets anyone who prefers working with their keyboard rather than their mouse. In this interview, founders
Kirill and Sasha Maximov
discuss the advantages of keyboard-driven design and foresee a bright future for the online task management market.
Please describe the company's story: What sparked the idea, and how has it evolved so far?
We started working on Checkvist over 10 years ago. It started at a conversation around the dinner table about the code editors we work with as developers, why we like them so much, and how they bring this intuitiveness into the development environment. 
One feature that we found to be the most powerful in those editors was keyboard support with smart suggestions and intention actions. It's like an invisible interface that helps the user to work efficiently and stay focused. 
We were wondering whether we could bring a similar experience to a web-based productivity tool for remote teams to work collaboratively. This is how Checkvist was born.
We've been working on it since then, keeping the same focus on productivity and keyboard support. We're constantly developing and improving the tool, adding features that cannot be found on any other platform.
In such a competitive market, what makes Checkvist unique?
10 years ago, task management softwares were merely about fields and buttons. It was a very slow and tiresome process of clicking and looking for UI controls. 
As a contrary, when you work in an editor, you keep your hands on the keyboard whatever you do, even complex operations. With Checkvist, you just type, and the rest is done for you automatically. That was and still is our focus. 
The field is so much more developed these days than it was. When we first started Checkvist, there were about 100 task management tools on the market. Now, new ones appear every month. Every year there's a couple of very good competitors with good positioning and great ideas underlying their interaction model. 
The competition is tough, but what is unique about Checkvist is the keyboard-driven design. For most tools, keyboard support is only an afterthought, and it's always ctrl shift alt or something you will never remember. With Checkvist, it's the other way around. 
Also, our goal is not to grow tremendously, cover every industry sector, or kill the competition. We want to remain the pioneers in keyboard-driven task management. It's a small niche, but we have our audience who love working with their keyboard and don't like to mouse around. It might not be the biggest part of the internet, but we are absolutely content with our community. We have customers who've been with us for years and have been contributing and exchanging ideas, sometimes sharing their pains and asking for help. That gives us the best motivation to continue developing this tool. 
How does Checkvist Actually Work?
Checkvist is a universal list-making tool for the keyboard. We use mnemonic shortcuts that are mostly a combination of two letters and are easy to remember or guess. For example, if you want to set a due date to a task, you simply press DD and then select the due date. TT for tags, and so on. 
You can create a hierarchical list with nested tasks, headings, tags, due dates, and lots of other details very quickly because you work from the keyboard, but you have to remember all the keyboard shortcuts. 
As Checkvist's feature set grew, so did its shortcuts collection. And even our experienced users couldn't remember all of them. Of course, we had a cheat sheet and UI hints, but we needed a better solution. 
Our latest addition is a feature we're very proud of. It's a universal command finder that you use to quickly find shortcuts without remembering anything. All you have to do is press the Shift key twice to see the menu of all shortcuts and actions that are relevant and applicable to the particular situation you're in. You can search through the list of over 100 actions, start typing, see what comes up, and apply the actions you need with one press of the Enter key. This feature makes every novice user start like a pro.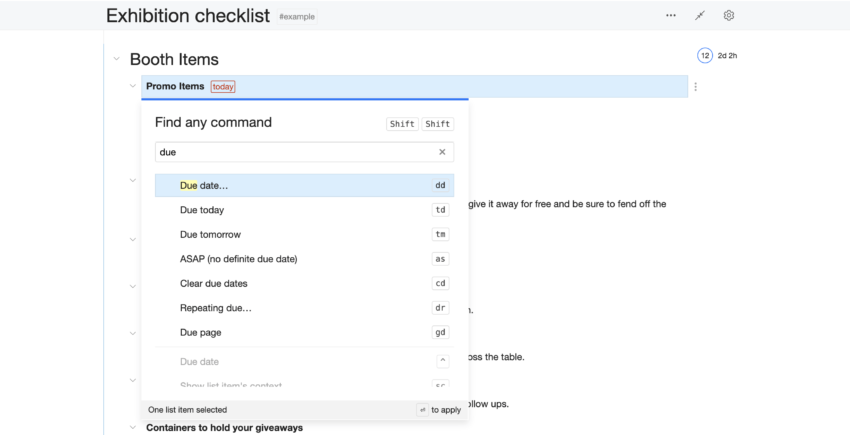 What are some typical use cases for Checkvist?
Checkvist is a universal list making tool that can be used by anyone in a variety of circumstances and industries. That being said, we found that it's particularly useful for knowledge workers –  people who 'think for a living' and therefore need to organize, plan, and communicate all kinds of data, notes, and ideas.
Basically, Checkvist allows you to do anything for which you need a list. You can manage a project, track the time spent on tasks, create bibliographies and taxonomies, organize research notes, collect links, do brainstorming and coordinating, or you can even plan a vacation. 
In one case, a customer used Checkvist to build data for their iPhone application. They had a team of 12 people who were collecting cuisine recipes on Checkvist throughout the course of more than a year. They structured this information and later extracted it into their app using our open API. 
They were quite famous in the US for their culinary shows and they ended up creating a unique iOS app using only text, because keyboard and text is everything. That was quite unique, and it was covered by the media for it. Of course, Checkvist allows you to use images, but they preferred to do it this way.
Checkvist is also really useful for organizing structured information. Our users can create stylish, publicly available documents. We have a lot of educators and professors sharing grade lists or study materials with their students on our platform. They can create to-do lists or syllabuses, collect research notes, etc. 
We also have some customers who use Checkvist to organize and coordinate with field workers in the construction industry and make their design plans available for contractors at the click of a button. 
When you look at the entire range of use cases, the division between our user types is more or less equal. We have customers in different markets who do all kinds of projects with Checkvist. It all comes down to usability preferences. If a person loves list-making and prefers to work with their keyboard, they are our target audience, no matter the industry.
How do you manage to maintain your service free?
It's actually not an enormous problem for us because we don't have millions of customers, so somehow we handle the load. 
As a system administrator, programmer and project manager, I'm experienced with many enterprise level tools I've been working with for years. After dealing with really tough problems, maintaining Checkvist is not the biggest challenge I meet at work. It obviously takes some time and effort, but altogether it's pretty straightforward. 
How has COVID-19 affected your business and customers?
Our small team has been working remotely for years, so for us, nothing changed dramatically. We used to work on the beach, in a cafe or a hotel, and now we work from home. 
For our customers, quite a lot of things changed. In March and April, we received some letters from old customers saying that they are cutting down their expenses in all areas. I know that some of them stayed without employment for several months. That was painful, but in the summer it went back to normal again as people became more used to remote work. What was lost during the spring was regained in the summer and autumn. It definitely wasn't our best year, but it wasn't the worst either.  
The market is developing quickly and competition is tough, but the number of newcomers who are seeking these tools is rising all the time, and that's very good for us. After all, our tool facilitates remote work team collaboration, and that seems to be the trend these days.
What other trends or technologies do you find intriguing these days?
Everyone is talking about technologies like machine learning and artificial intelligence for processing all kinds of data. We definitely expect this type of technology to affect the task management market.
At the same time, when you analyze user data, there's always the question of privacy and security, and that's becoming increasingly more important. These two trends may well contradict each other, so it will be interesting to see how things will evolve.
Since we operate in the European Union, any manipulation of customer data has to be done with consent. If we want to do any machine learning or analysis of customer data, we need their consent. We would never hide or conceal these actions in the terms and conditions because we believe it should be stated clearly. 
The user should know that if they want the tool to react more intelligently to their use case and their data, or suggest things that are useful and relevant only for them, they need to give their consent. If they don't, they won't be able to use these features, it's that simple. So that's how we plan to implement it. 
Currently, we're collecting some figures to find good applications of such technologies that we can integrate into our platform, so we're prototyping with our own data. 
Another trend is remote education and learning. It's already shown major growth over the past year due to the Covid crisis. Even though algorithms and machine learning are about educating machines, human education is equally important and takes significant benefits out of such technologies. I expect some developments in this area besides Coursera and Udemy, which are the current key players in this market. Just like any other industry, education will need some workflow and management tools for the learning process. From workflows and study plans to reading lists and assignments, lists are everything.