Zenfolio is a solid website builder for photographers, but it's not perfect for everyone.
Luckily, it's super easy to cancel your account, even if you sign up for the cheapest plan. My own experience was straightforward and hassle-free.
Zenfolio is a pretty great website builder for photographers, with a ton of features that have clearly been designed by professional photographers. However,
there are better e-commerce website builders out there if you're working in the visual arts.
Maybe you need a higher level of customer support, or maybe you need more in-depth e-commerce options to help optimize your business. If Zenfolio is getting you down, you might want to consider moving to an alternative website builder.
Wix offers more photography-related templates
plus more features in general on its paid plans, while
Squarespace has unlimited storage
 and a wider range of e-commerce options. Whatever your reason for canceling Zenfolio, I've gone through the entire process myself, and I'm here to guide you through closing your account without worrying about recurring charges.
Quick Guide: How To Cancel Zenfolio
The first thing to note is that
Zenfolio only offers refunds in "extraordinary circumstances,"
which are assessed on a case-by-case basis. So I wouldn't bank on getting a refund, even if you're only part way through your current subscription period. You also need to remember to
start the cancellation process at least 2 business days before your renewal date.
Bear in mind that Zenfolio's customer service works on Pacific Time, and LiveChat is only available Monday-Thursday, so you'll need to factor this in as well if you live outside the US.
Top tip: Zenfolio doesn't hold on to your data after you close your account, so there are no guarantees you'll be able to access anything once your account is closed. Make sure you download everything from your Zenfolio account before you start the cancellation process.
1. Log in.
Sign in as the account owner on
Zenfolio's website
.
2. Uninstall applications.
If you're using any third-party apps or payment gateways with recurring charges, make sure you cancel them before you shut down your account or you might still be charged. You'll have to do this via the app or via the payment gateway's website.
3. Transfer custom domains.
Zenfolio doesn't host your custom domain, so you'll need to go through your domain host to start the transfer process.
4. Contact Zenfolio customer services.
Click the LiveChat icon and, in the message box, type the primary email address associated with your Zenfolio account and your reason for canceling. Hit send and wait for a confirmation email.
My Experience: Here's How I Canceled My Zenfolio Account
Closing your Zenfolio account is easy, but unfortunately it's not a quick process.
There's no button in your account settings to cancel your account, so you'll have to contact the Zenfolio customer service team via LiveChat.
It took me 6 hours to close my account
because Zenfolio's customer service team works on Pacific Time, which is 8 hours behind me. Still, 6 hours is pretty impressive when you take the time difference into account!
Before you start this process, make sure you grab all of your website data.
While Zenfolio won't delete your account as soon as your cancellation is confirmed, it doesn't guarantee that it can reactivate any accounts.
Step 1: Log In to Your Zenfolio Account
Go to the Zenfolio website
and log in as the account owner. From your dashboard, click the speech bubble button in the bottom right of the window.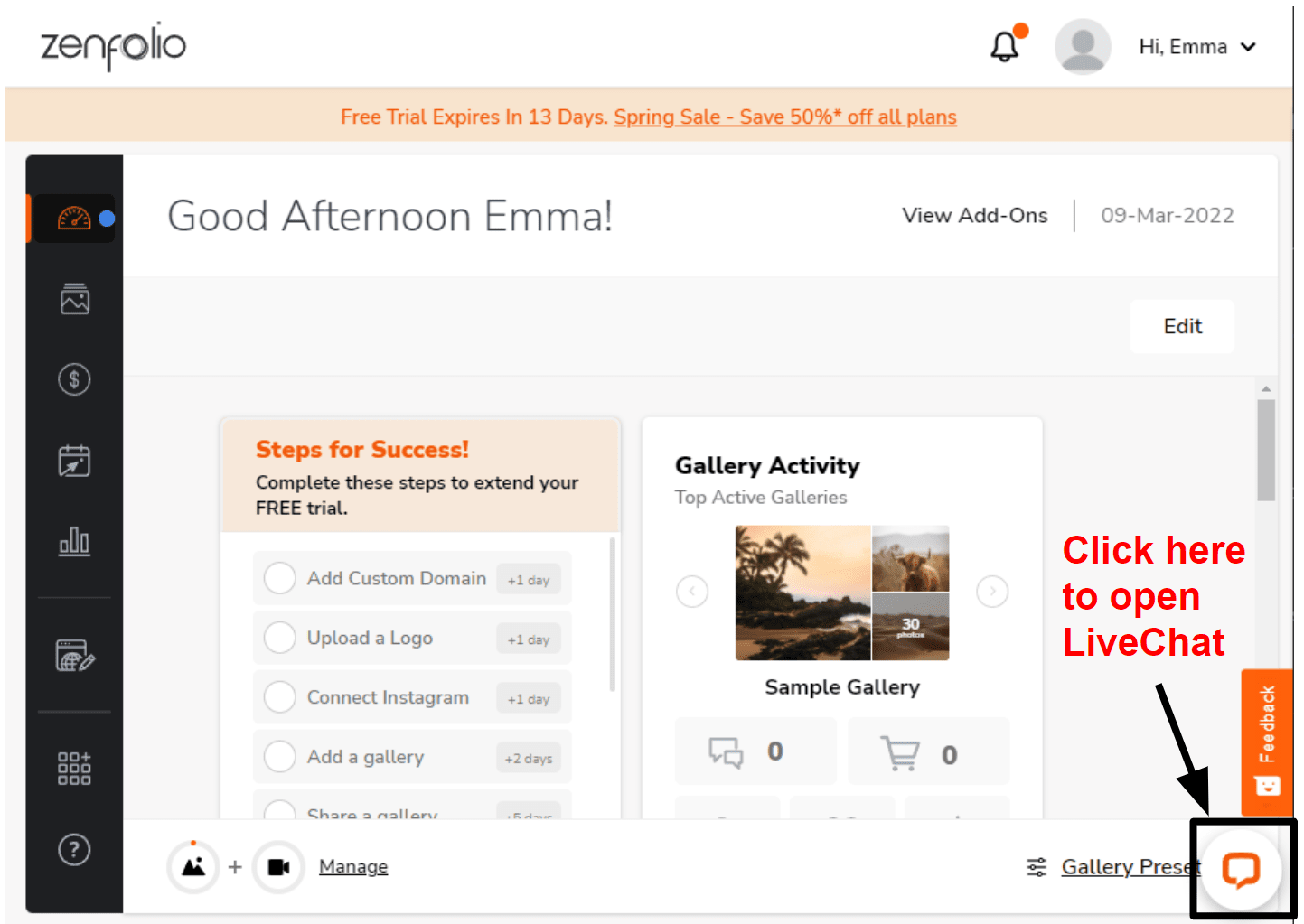 Step 2: Contact Zenfolio Customer Services
In your LiveChat message,
you'll need to provide the primary email address used for your Zenfolio account and the reason why you're canceling.
This will help ensure your account cancellation is processed as quickly as possible.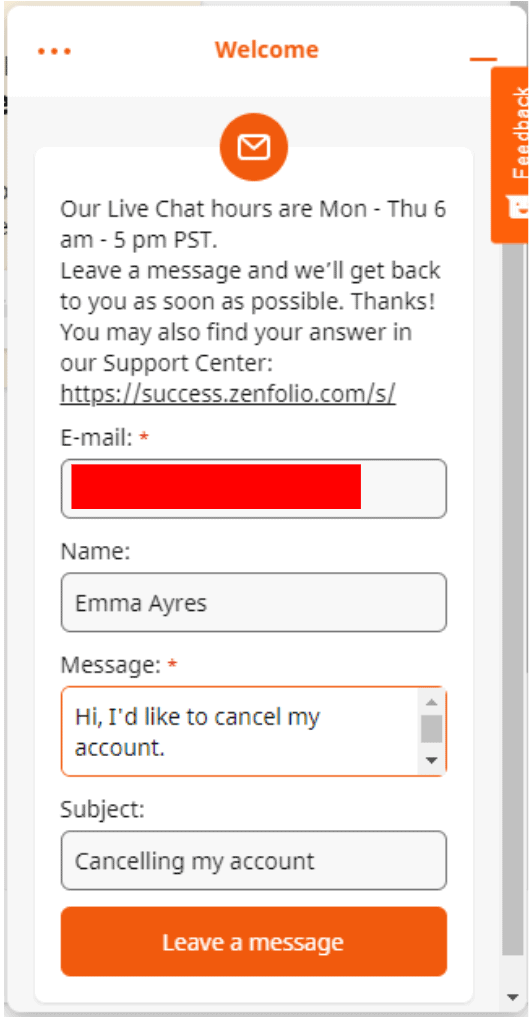 I got a response roughly 5 hours later asking for more information
and if I'd be willing to stay if they threw in some free months. After clarifying why I wanted to cancel my account and turning down the offer, I received another email half an hour later confirming that my account would be closed at the end of the current subscription period.

And that's it! Once you've received an email confirming your account is closed (or, in my case, would be closed at the end of my subscription period), you're good to go.
3 Best Zenfolio Alternatives for Photographers
Even though it has some useful tools and features to help you manage your photography business,
Zenfolio isn't necessarily the best e-commerce website builder for photographers.
I've tested a bunch of e-commerce website builders and
these are the best alternatives to Zenfolio in 2023.
Wix
Wix is fantastic for photographers on a budget as it offers a generous free-forever plan. Its paid plans are packed with even more features, like
40+ fully customizable templates designed specifically for photographers
.
Zenfolio's 9 semi-customizable templates can't hold a candle to that. With tools like SMS reminders, mobile tickets, and booking analytics,
Wix's online bookings and event management platform also offers far more scheduling options than Zenfolio's BookMe
. It's also available on all Wix business plans, whereas BookMe is a paid extra unless you're on Zenfolio's most expensive plan.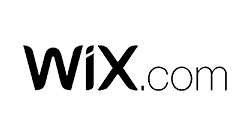 Wix now has a 14 - day money-back guarantee!
Get a discounted annual plan without taking any risks.
1427 users used this coupon!
Squarespace
For the most modern, professional, and customizable templates around, Squarespace should be your go-to choice. Any of
Squarespace's templates can be customized into galleries
or online photography stores
that help you stand out from the crowd.
Squarespace also offers unlimited storage – even on its cheapest plan.
Given that Zenfolio only offers unlimited storage on its enterprise-level Advanced plan, Squarespace is a no-brainer if you've got a ton of high-definition photos and videos you want to include in your portfolio or online store.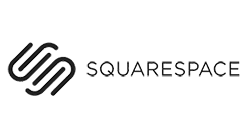 Save up to 30 % on your Squarespace plan today!
Plus get a free domain for one year!
1031 users used this coupon!
SITE123
SITE123 is fantastic if you're just starting out with your online photography store.
At first, I encountered some confusion while navigating Zenfolio, but SITE123 provides guided tours through all of its features. While you may not have the same level of creative freedom as offered by builders like Wix, the trade-off for simplicity is certainly worthwhile if you're a beginner.
SITE123 also offers 24/7 live chat support
, whereas Zenfolio's live chat is limited to a 12-hour window.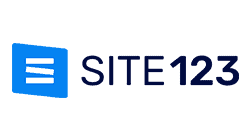 SITE123 now has a 14 - day money-back guarantee!
Get a discounted annual plan without taking any risks.
61 users used this coupon!
Breaking Up With Zenfolio is Easy
While there's no button in your account settings to close your account,
canceling Zenfolio is super easy.
All you have to do is send a message via LiveChat requesting cancellation. You might find, as in my case, that you have to navigate customer services trying to get you to stay, but they shouldn't press you too hard if you just restate that you want to cancel. Otherwise, all you have to do once you've sent your cancellation request is sit back and wait for a confirmation message to land in your inbox.
FAQ
How do I cancel my Zenfolio account?
To cancel your Zenfolio account, log into your account and open the LiveChat window. In the message, state that you would like to cancel your account, give the primary email address it's linked to, and explain why you're canceling. For more details, see my full guide to canceling your Zenfolio account.
What is the best website builder for photographers?
Wix offers a ton of customization and e-commerce options, so that's what I usually recommend. However, the best choice for you will depend on what you want to get out of a website builder for photographers. To review your options, read my top recommendations for Zenfolio alternatives above, or check out our list of the 10 best website builders for 2023.
Is Zenfolio worth it?
Zenfolio has some good features for photographers, but if you want to set up an online store, it's not the best e-commerce website builder out there. While Zenfolio's BookMe is a great scheduling tool, it's a paid add-on with all but the most expensive plan. By comparison, Wix's event management and scheduling tools are more comprehensive and are included in all e-commerce plans.
Which is better, SmugMug or Zenfolio?
SmugMug and Zenfolio are both pretty decent website builders. SmugMug's unlimited storage is great if you want to share a lot of high-definition photos, while Zenfolio's BookMe integration is fantastic for automating your photoshoot bookings. However, if you need more freedom to add the tools you need, you might consider using a more flexible website builder. For tips on how to create a great website, you can read our step-by-step guide to creating a website in 2023.