Zenfolio is a solid photography-oriented website builder, but it's not an ideal solution for everyone working in the visual arts.
Maybe you're looking for even more in-depth e-commerce options, or you need a higher level of customer support.
You may be looking for another website builder. Wix offers a lot more photography-related templates and more features on paid plans in general, while Squarespace has unlimited storage and a wider range of e-commerce options.
Whatever your reason for deciding to delete your Zenfolio account, we're going to guide you through every step of the cancellation process and explain how to get a refund.
Also, if you have multiple accounts (Advanced plan subscribers only) and you just want to deactivate or delete one of them, I'm going to show you how to do that too.
Cancelling Your Free Trial
Zenfolio doesn't have a free plan, but it does offer a 14-day free trial that gives you access to all the features available in the Pro plan. If you don't want to upgrade to a paid plan, the good news is that you don't have to actively cancel your trial to avoid getting charged: the trial will expire automatically after two weeks.
After the trial period ends, Zenfolio will store your website content and account information for an additional 14 days, which they call the "grace period." During this time, your site will stay online and you'll be able to re-access it and edit your existing content. However, you won't be able to upload new photos.
You can use those extra 14 days to subscribe to a paid plan by clicking the Upgrade Now button at the top of your Homepage.

If you don't choose a paid subscription during the grace period, Zenfolio will close your account and permanently delete your account data.
Zenfolio does say that it can extend your trial period as a one-time courtesy – but only if you actually didn't have time to log on your account and become a member. If you had a specific reason why you couldn't try out Zenfolio during your trial, you should contact their customer support.
Cancelling a Paid Account – Before You Start
If you have a paid Zenfolio subscription, there are a few things to consider before you actually begin the shutdown process.
Zenfolio Only Issues Refunds on Annual Plans

Zenfolio will only give you a refund if you signed up for an annual plan, so if you cancel a monthly subscription, you won't get your money back. Also, you need to cancel within 30 days of signing up or renewing your subscription, or you won't receive a refund.
You Need to Cancel Third-Party AppsIf you use any apps with recurring charges, it's important to uninstall them before you close your account or you still may get charged for them.If you use a third-party payment gateway on your site, you'll need to contact that company separately about cancelling your service, since it won't happen automatically when you cancel your Zenfolio subscription.
Back Up Your ContentIt's a good idea to download all your content before you close your account. While Zenfolio does say it keeps cancelled accounts for a couple of months in case they need to be recovered, it makes it very clear that it provides no guarantee it will restore a deleted site.
Zenfolio Can't Transfer Your Custom Domain to a Domain HostBear in mind that Zenfolio doesn't host your custom domain. So if you want to transfer it to another website builder, you'll need to contact the actual domain host to start the transfer process.
How to Cancel a Paid Zenfolio Account
There's no button to click in your account settings: the Zenfolio team does the actual cancellation for you. All you need to do is send an email to [email protected] to tell them you want to cancel your subscription.
Alternatively, you can find the Cancelling or Deleting your Zenfolio Account article in the Support center and click on the Request Cancellation button in the article.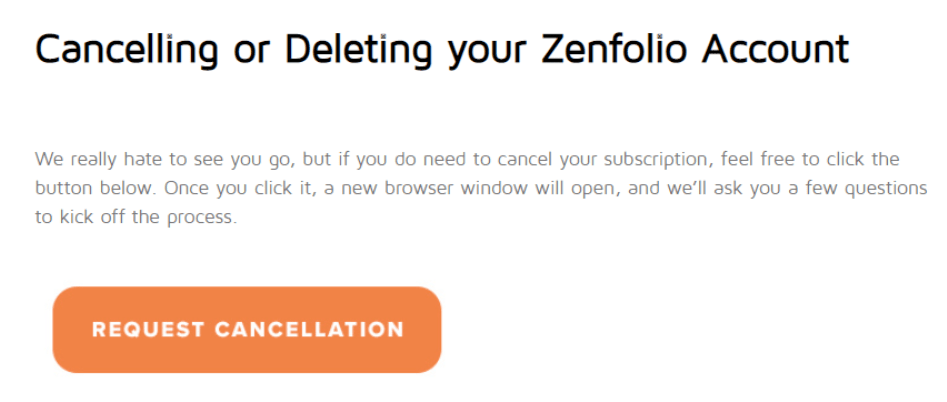 Once you click that button, a new window will open to start a chat with Zenfolio's customer support about cancelling your subscription.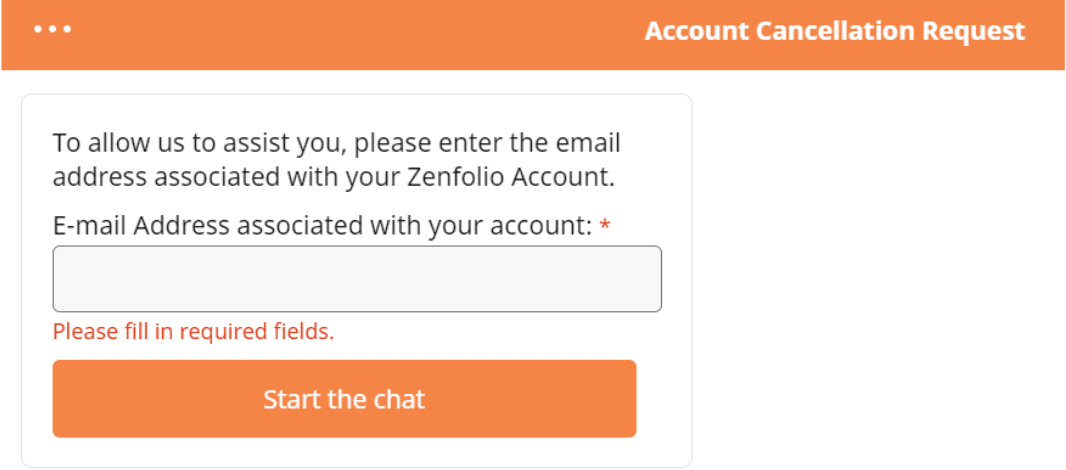 After you cancel, your account hangs around on Zenfolio's servers for a couple months and then gets permanently deleted.
If you want to re-access your site, you'll need to send Zenfolio an email asking to recover it. As I said, though, there's no guarantee that Zenfolio will actually recover your account, so you should definitely download your content before you cancel your subscription.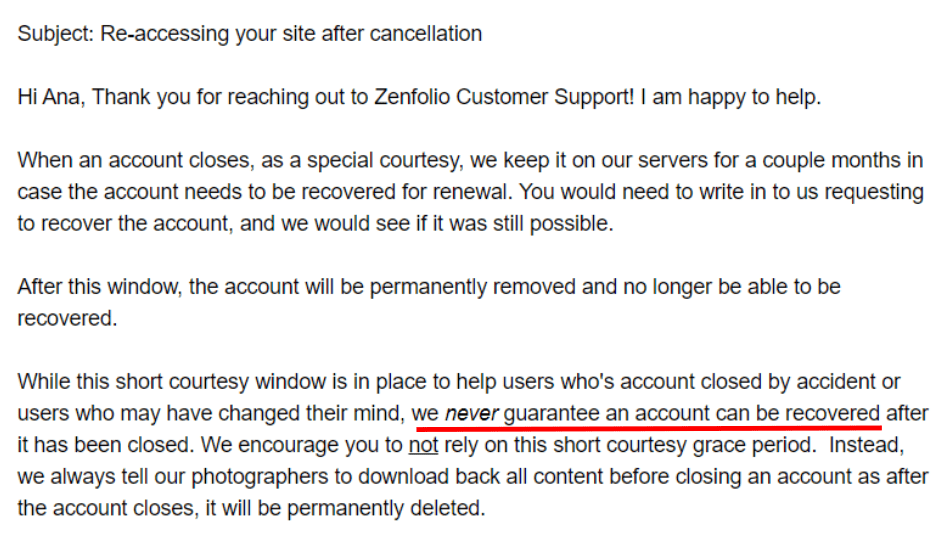 Deactivating and Deleting a User Account (Advanced Plan Subscribers Only)
Zenfolio's Advanced plan lets you add up to 30 users on your account. As the plan subscriber, you can assign roles to these users – partner, assistant, photographer, contributing photographer, accountant, etc.
If you want, you can deactivate any user account, which disables that user's access until you either restore it or delete the account. Here's how:
In your account, hover over your username and click on Account
Click Manage Users on the left-side panel
Click the user account you want to deactivate and the Edit Account window will open
Click Deactivate and a confirmation window will open
Click Yes to confirm, then click Save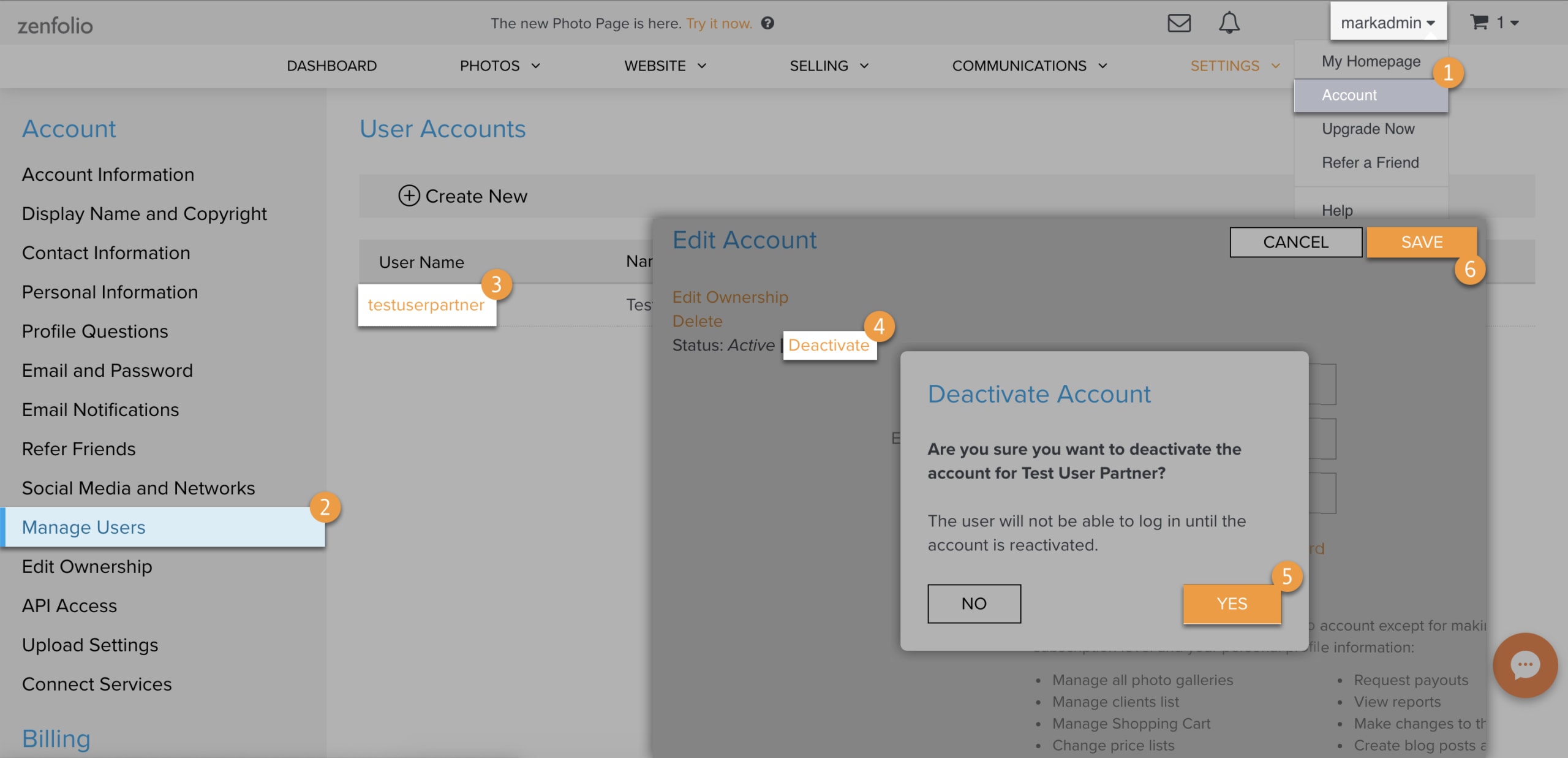 You can also delete a user account – just remember that you won't be able to restore it later. When you delete the account, you'll have to assign all items owned by that account to a new owner. Here's how:
In your account, hover over your username and click on Account
Click Manage Users on the left-side panel
Click the user account you want to delete and the Edit Account window will open
Click Delete and a confirmation window will open
Select a new owner from the dropdown menu
Click Delete Account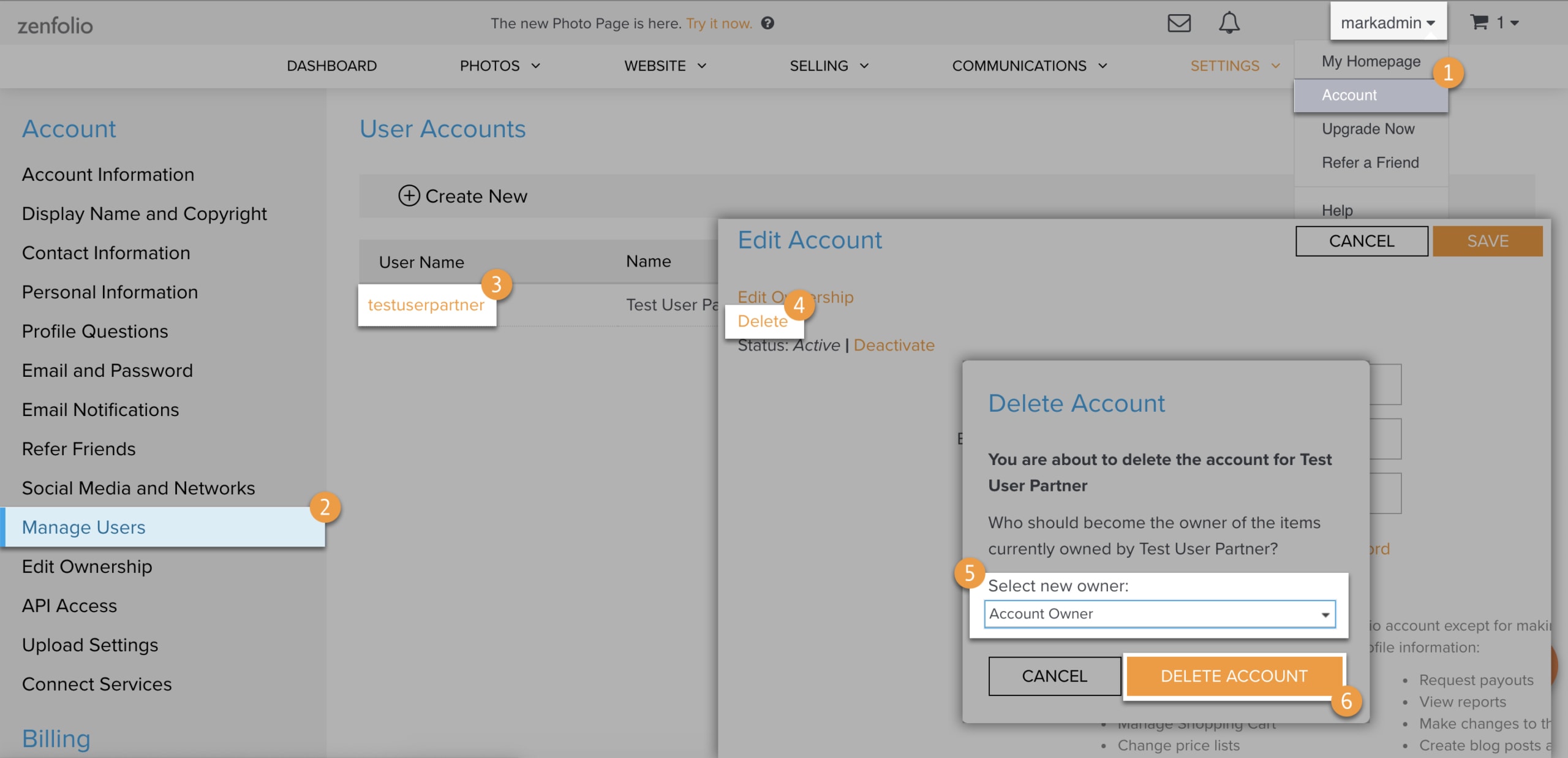 Best Zenfolio Alternatives
Zenfolio offers many perks, but it's not the best option for all photographers. Here are some Zenfolio alternatives you can try out instead:
Wix is a great option for photographers on a budget, with a generous free plan that you can stay on literally forever if you want. Its paid plans are packed with features, too, giving you access to loads of functionality for a reasonable price. You can choose from 40+ photography templates that are grouped into several subcategories, including Events & Portraits, Commercial & Editorial, and Travel & Documentary.
Wix comes with a built-in e-commerce feature, available on the Business plan, which has all the tools you need to manage an online store.
Importantly, Wix doesn't charge additional transaction fees on your sales like some e-commerce builders do.
And if you change your mind and decide to cancel any of Wix's Premium plans within the first 14 days, you'll get a full refund.
If you want the most modern and professional-looking templates around, Squarespace is your go-to choice. With Squarespace, you don't have to limit yourself to photography templates alone: any of its sleek designs can be customized to create an amazing gallery for your work.
Squarespace offers unlimited storage even on its least expensive plan, which means that you can upload and store plenty of high-res photos worry-free.
Squarespace's robust e-commerce features are available on its Business plans, which let you accept online payments (through processors including Paypal, Stripe and Square) offer discounts and sales, sell via social media, and much more.
You can sign up for a 14-day free trial to test Squarespace out. If you cancel an annual plan within the first 14 days, you can ask for a refund.
Compared to Squarespace, Weebly's template designs aren't quite as sleek, but their layouts are still very attractive. Its Personal and Portfolio sections are best suited for photography-oriented websites.
Weebly has an extensive (350+) App Center with plenty of photography-specific apps like Digital Downloads and Printful, which are great for selling your work.
One thing you should note, though, is that Weebly auto-optimizes images when you upload them. To keep your colors vibrant, it's best to export images in sRGB after editing or add a color profile to protect them.
Weebly has a free plan that lets you create a basic and functional site, but its Professional plan or higher-tiered options are worth considering: you'll get unlimited storage and e-commerce tools, among other things. And if you want to cancel your account, Weebly offers a 30-day money-back guarantee.
The Bottom Line
If you signed up for a Zenfolio free trial, you don't have to do anything to cancel it – it will expire automatically after 14 days. If you have a paid account, you can close it by sending a cancellation email to Zenfolio, simple as that.
Zenfolio has some great perks, but it's not suited for everyone, so if you're looking for another platform to showcase your art, take a look at our list of the best website builders of 2021.
FAQ
How do I delete my Zenfolio account?
Either request a cancellation via live chat or send an email to
[email protected]
saying you want to cancel your account. From there, Zenfolio will delete your account for you.
How do I get a refund from Zenfolio?
You can get a refund from Zenfolio if you cancel your account within 30 days of opening your account or renewing your subscription. After that, you won't be able to get one. It's also important to remember that Zenfolio only gives refunds on annual plans – if you cancel a monthly subscription you won't get your money back.
Signing up for annual plans is also just a good money saver in general. If you're looking for a new website builder, check out our annual plan coupons so you can get the best deal around.
Is Zenfolio the best option for me?
Zenfolio is a good choice for photographers, but you may discover that website builders that aren't niche-specific, such as
Wix
or
Squarespace
, can be great options for visual artists: they typically offer a wider selection of features at affordable prices. If you want to review more options for your photography website, our list of the
best website builders
is a good place to start.
Can I get my Zenfolio account back again?
Zenfolio will store your account on its servers for a couple of months after you close it. If you want to re-access it, you need to send an email to Zenfolio and ask to recover your account. However, this doesn't guarantee that you'll actually be able get your site back – this is mainly a courtesy service that Zenfolio offers when and if it can. It's always best to download your content before cancellation to avoid losing it.