We noticed that ever since Hostinger reduced their prices, many users are closing their accounts with Web.com.
Founded in 1999, veteran hosting provider Web.com now has more than three million customers.
Web.com has lots of great features, but it isn't a perfect fit for everyone. Did you sign up and realize that after-sales support wasn't all that great? Or perhaps your website has now become unbearably sluggish, and you're looking for a higher-performance server.
Whatever your reason for canceling, this article will take you through the process of canceling your account and getting a refund. After that, if you're still on the hunt for a reliable and beginner-friendly host, you should check out SiteGround or one of our other recommended alternatives.
Quick Guide: How to Cancel Your Account with Web.com and Get a Refund
If you're in the U.S. or Canada, call customer support at 1-800-338-1771 between 8 AM and 8 PM EST.
If you're located elsewhere, call customer support at [+1] 904-251-6186
My Experience Canceling My Account with Web.com
Based on my previous experience with customer service, I was expecting cancellation to be a breeze.
Unfortunately, it wasn't.
After spending quite a while searching for (and failing to find) a cancellation link in the dashboard, I hopped on live chat thinking that the agent would quickly sort it out for me.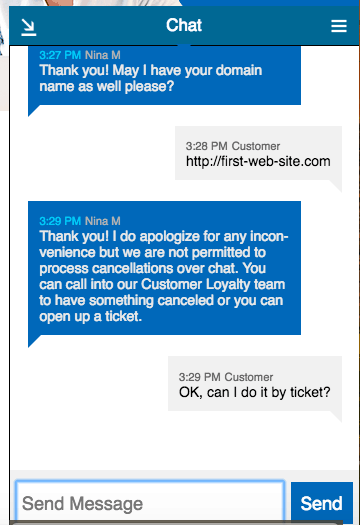 I was wrong. I was told that it wasn't possible to cancel via live chat; I'd need to either make a phone call or submit a ticket. Not a huge deal, but it seemed rather odd as I'd been able to pay via credit card in the PCI-compliant live chat window just a few days earlier.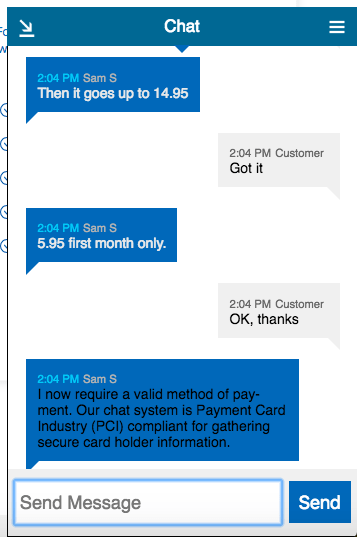 Nevertheless, I submitted a ticket requesting a cancellation and refund in full. I was expecting this to be the end of the matter, and I figured my refund would be handled as swiftly as my payment.
However, after a few hours, I received a reply to my ticket telling me that it wasn't possible to cancel an account via ticket – I needed to call during EST business hours.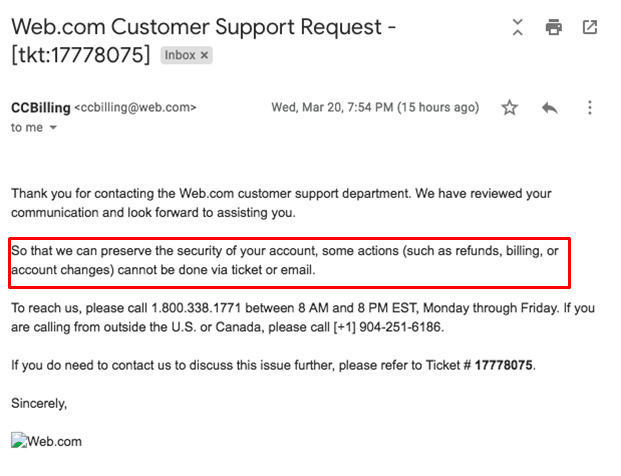 It wasn't the fact that I needed to call that was the issue (although it was inconvenient to do it on an EST timezone). Rather, it really bugged me that the agent had happily accepted my credit card details via live chat when I was signing up. Also, the live chat operator had given me the wrong information, since I'd been told I could cancel via ticket (clearly not!).
Nevertheless, at 8 AM EST, I tried to call the numbers provided by customer support. There was one North American number and one international number. I tried both, but neither worked — likely because I was calling from the U.K.
I immediately hopped on live chat to explain my situation. Once again, I was told that I couldn't cancel via live chat even though I was having issues calling. I was on live chat for over 20 minutes trying to work out an alternative. Finally, the agent instructed me to respond to the ticket explaining my situation and leaving them a phone number they could reach me at.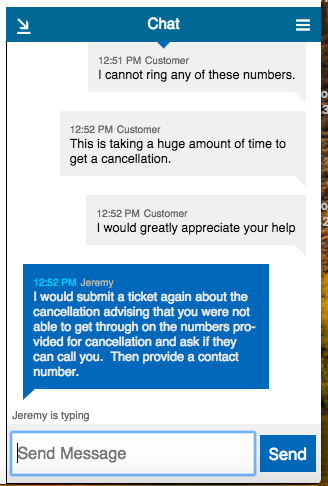 I waited a couple of hours for a reply, but none came. Once again, I attempted to call the numbers — using Skype this time. To my great relief, I managed to get through to someone this time.
I explained that I wanted to cancel and after a brief attempt to convince me to stay, the helpful agent canceled my plan. She also refunded me in full.
While the whole process was painful, in Web.com's defense, it was quickly sorted out as soon as I reached the team over the phone.
I received a couple of emails confirming my cancelation, and within a few days, the refund was credited to my account.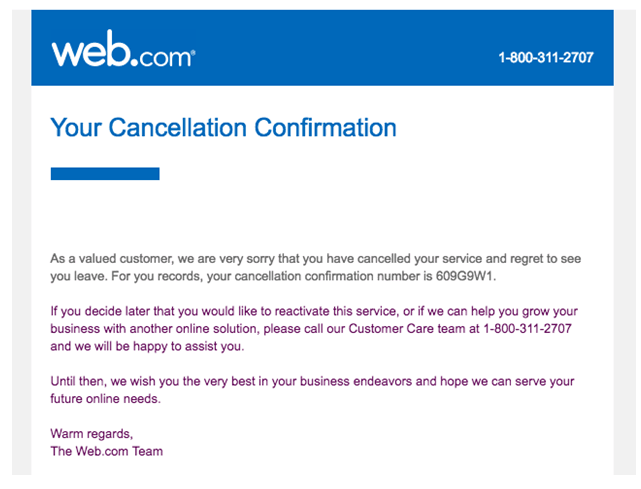 The Best Web.com Alternatives
Looking for a reliable, beginner-friendly host? Read all about SiteGround.
If you're trying to find a budget host With a free, easy-to-use website builder and personalized customer support, you should check out 1&1 IONOS.
Need an advanced hosting solution that can scale with your business? Liquid Web is a fantastic option.
A Bumpy and Disappointing Process
If you've read any of my articles about Web.com, you'd have heard about the multiple positive experiences I've had with the customer service team. It's for that reason that I was slightly let down by the cancellation process.
If you haven't yet, read my full Web.com review here.