Business Blogging Industry Overview 
We'll kick things off with a general overview of blogging, and more specifically "business blogging." Where do readers go to read blogs? How popular are blogs? And where are the majority of bloggers located?
1. How Many Blogs Are There Online?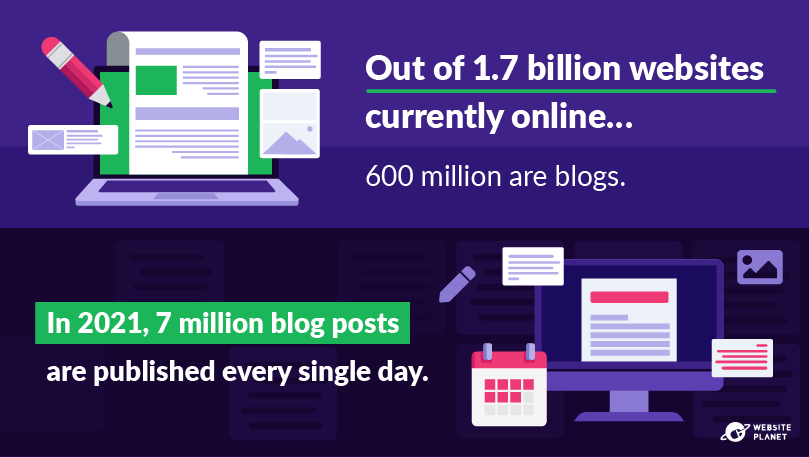 Blogging is more popular than ever in 2021. People just love to consume loads of content, that's why 35% of websites on the internet are blogs. Blogging is one of the best ways to grow your business and drive results. Everyone is doing it, with millions of new articles posted on a daily basis. If you were under any illusions about how competitive the business blogging world really is, hopefully this statistic will show you that it's important for your blog to stand out.
2. How Many Businesses Have a Blog?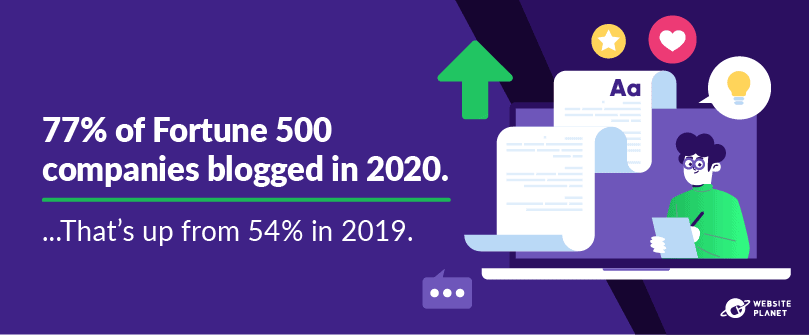 We've seen a sharp rise in the number of successful businesses that blog in recent years, which is surprising given blogging's been around for quite a while now. Nonetheless, over three-quarters of top businesses had a blog in 2020 — more than any other year to date. That owes to the popularity of content marketing right now, amid a recent surge in the number of users online.
3. Which CMPs Do Bloggers Use?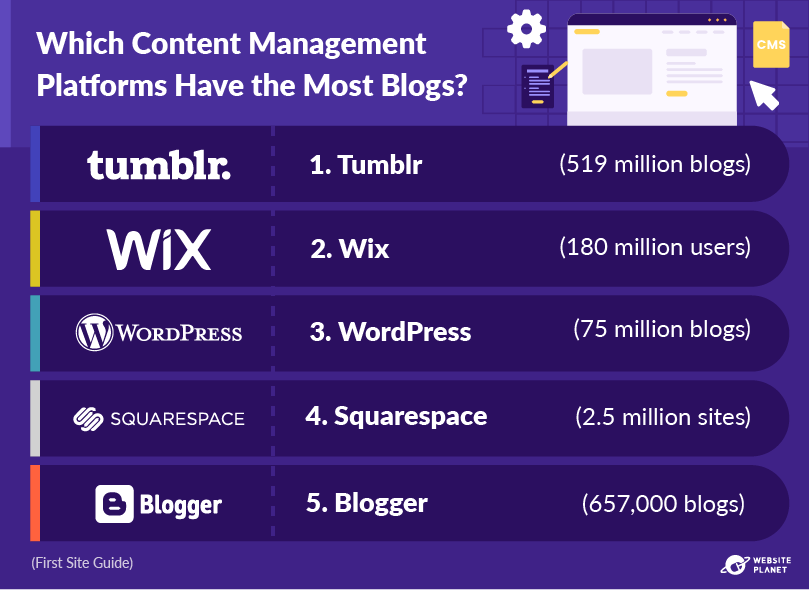 So, where are people posting their blogs? The results show that the biggest content management platforms aren't always the best places to host your blog. WordPress dominates the content management market with a 65% share, yet Tumblr is by far-and-away the number one place for bloggers. WordPress still hosts a significant number of blogs, but is even beaten to the punch by Wix, which hosts 180 million blogs in 2021.
4. Where Are Bloggers Located?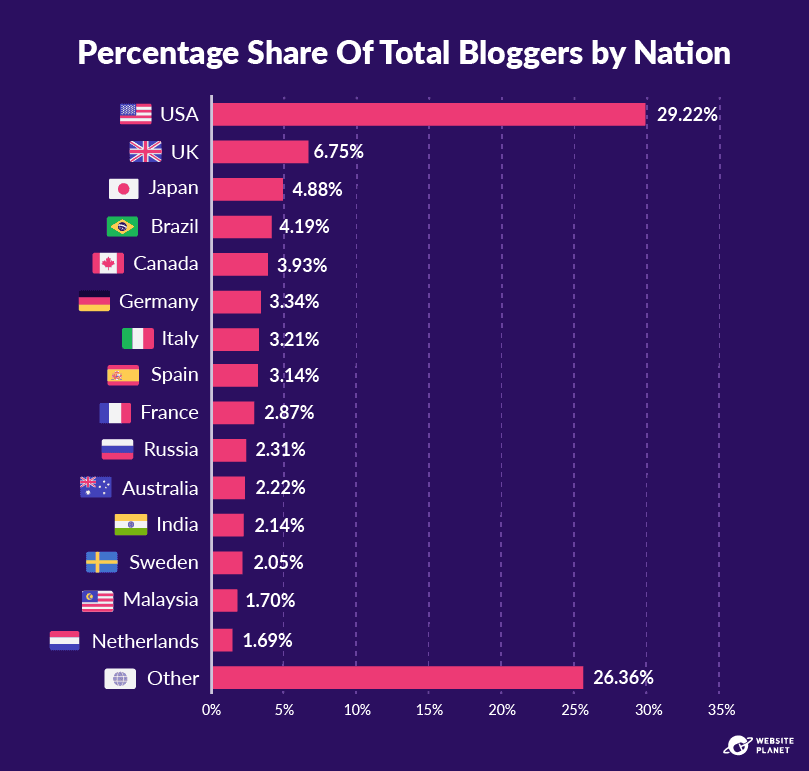 The USA is the number one blogging country, and by some distance. The US blogging industry has seen a sharp rise over the last decade. There are now roughly 32 million bloggers located in the United States, an increase of 10 million since 2014. That means nearly 10% of US citizens are blogging! The United Kingdom (a much smaller nation) is second on the list, accounting for nearly 7% of all bloggers around the world. The popularity of blogging in these 2 countries explains why English is the most popular blogging language. Over 70% of WordPress blogs are written in English.
5. How Old Are Bloggers?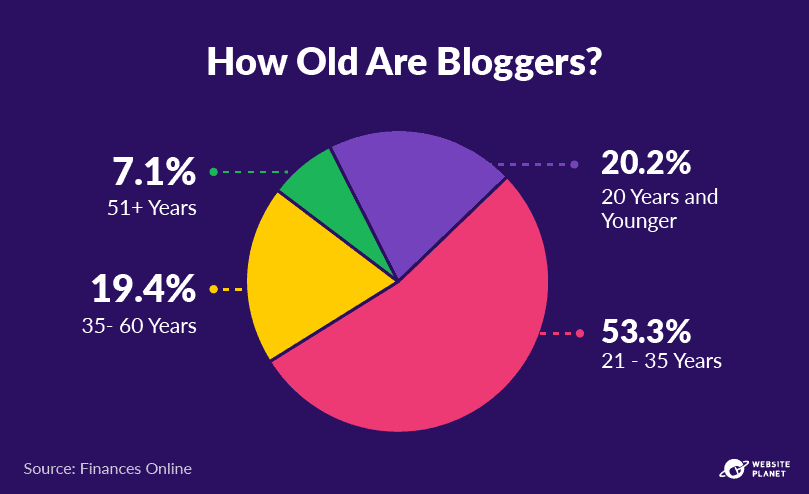 The majority of bloggers are aged between 21 and 35 years old. 20% of bloggers are 20 years old and younger, while around 19% of bloggers are slightly older, at 35-60 years old. Just 7% of bloggers are 51 and older. Men also blog slightly more often than women. 50.9% of bloggers are male, whereas 49.1% are female.
6. How Much Do Bloggers Earn?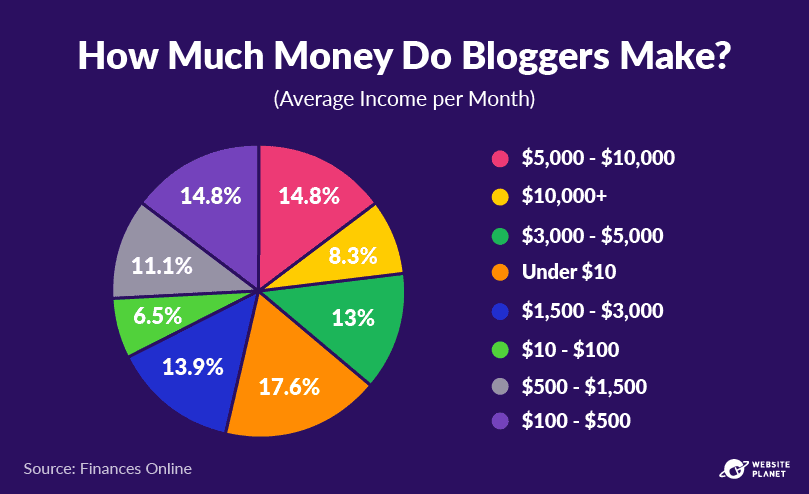 It's important to know how much bloggers earn for their troubles. For a portion of bloggers, the returns aren't great. With around a quarter of bloggers earning $100 or less, the above chart does tell you that it's not always easy to make money from your blog. It has to be said that not all bloggers are creating content for monetary gains or business purposes in mind. However, the monetary gains are significant for a sizeable portion of bloggers, and this group will likely make a return on their investment and some, given the extra business that blogging can generate.
7. How Popular Are Blogs?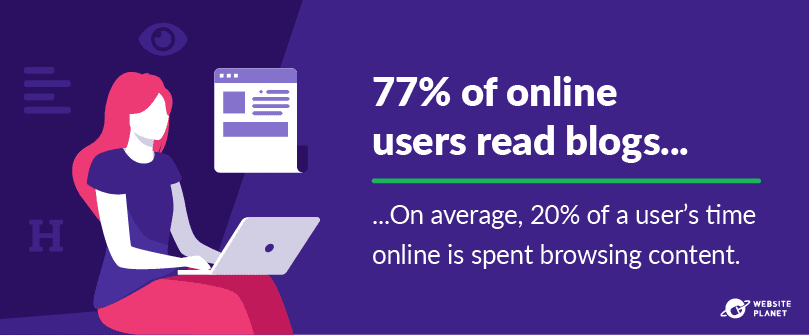 People love reading blog content. Whether it's an informative "how to" or a more entertaining piece, you need to give people what they want to see if you don't want your business to lose out. According to Business 2 Community, 60% of people enjoy reading content from brands. The vast majority of consumers would also much rather read a business' blog content than something that feels like marketing materials.. According to a report from SEOtribunal, 70-80% of search engine users will flat-out ignore paid-for search listings in favor of organic content.
8. How Old Are Blog Readers?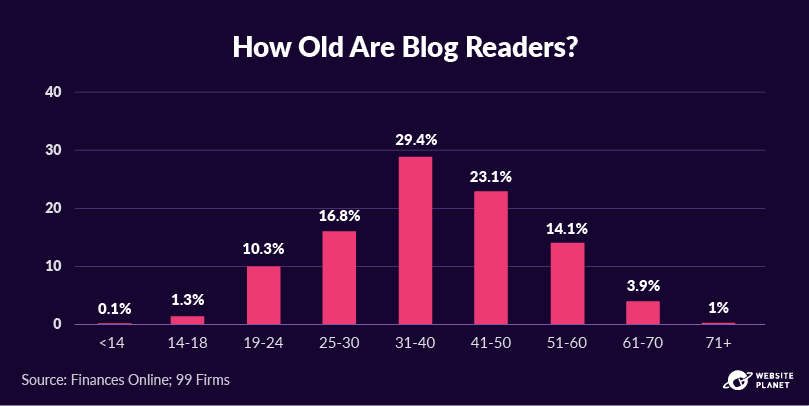 Identifying the target audience of your blog is important if you want to make an impact with your business' content. In fact, the majority of blog readers are aged 31-40 (29.4%), and another 23.1% are aged 41-50. So, people who read blogs are commonly aged between 30 and 50. If it suits your product or service, you could think about targeting this age range with your business' blog content.
9. Most People Read Blogs on Mobile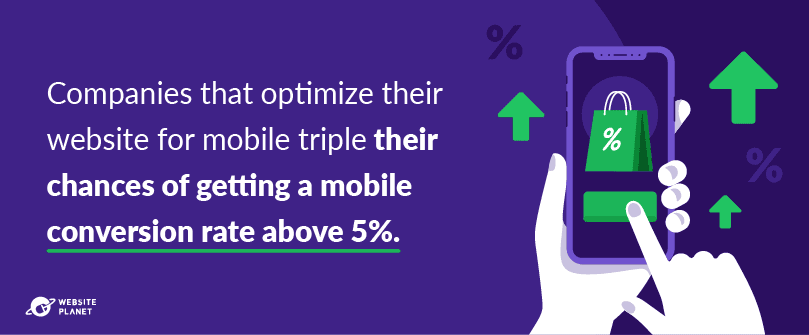 Online consumption is trending towards mobile domination, and the way people read your blog posts will be no different. As of early 2021, 54.8% of internet traffic comes from people using mobile devices. That's increased dramatically over the last few years; in 2015, that number was as low as 31.16%. Bloggers should therefore optimize websites to meet the demands of the reader. Loads of people will be visiting your blog on a mobile device. If the layout is overcomplicated and the content is hard to read, you can expect to lose a large segment of potential readers.
The Benefits of a Blog for Your Business
Here, we'll take a look at some of the benefits businesses can expect to see when they implement a functioning blog content strategy.
10. Blogs Convert Website Visitors to Customers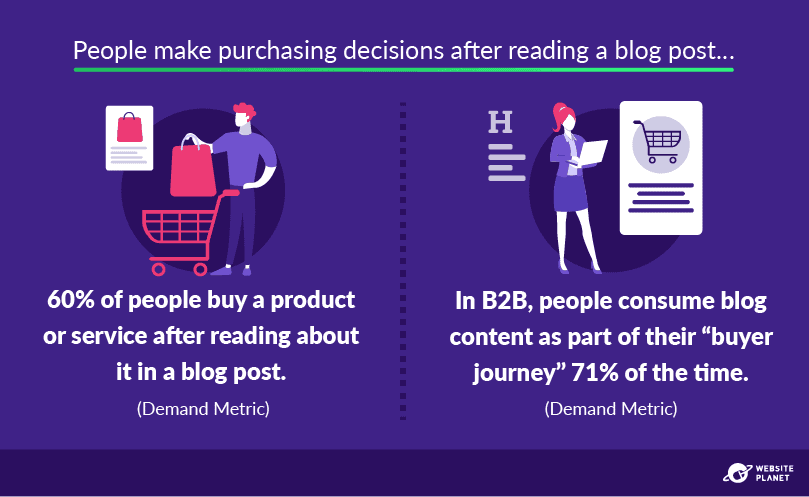 Blogs lead to buys. And why might that be? Blogs offer businesses the opportunity to create a ton of value for the viewer. Informative content, in particular, can provide more happiness to the viewer than, say, a poster or advertisement. When you show someone the value of your service, they are much more likely to buy a product from you. That's why, whether B2B or B2C, viewers read blogs as part of their buying journey.
11. Blogs Boost Brand Awareness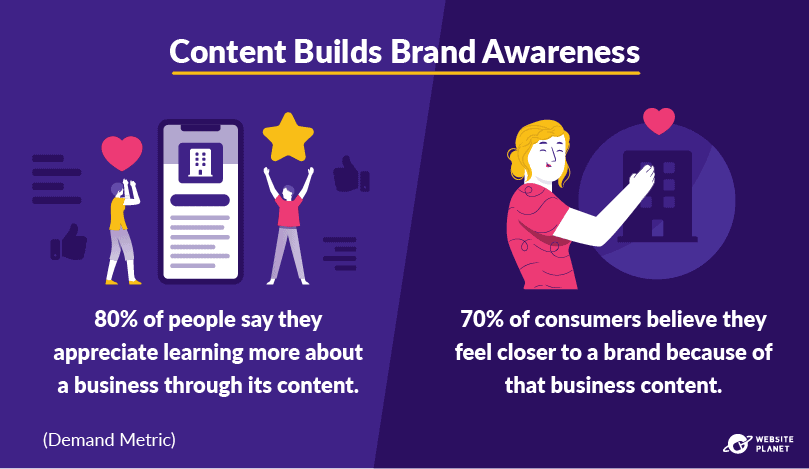 Great content spreads the word about your brand ethos, great service, and fantastic products. That may not actually be the topic of each article you write. But if you do a good enough job, informative content will boost customer satisfaction while teaching customers about your brand in more ways than you can imagine. Providing this kind of value is also a great way to forge long-term relationships with your customers. And what do those long-term relationships lead to in the end? More readers and more sales.
12. Blogs Boost Traffic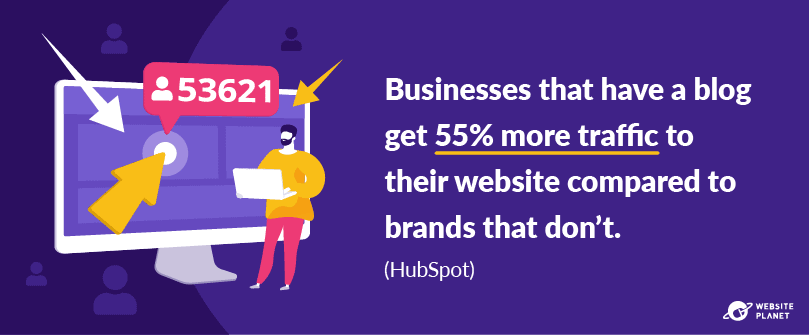 Having a decent blog is going to drive traffic to your website, and this is one of the key ways in which a blog will promote successful results. People can find blog content in a number of ways, whether that's through a social media page or an organic search. The point is, a blog is going to give people a reason to visit your site. They may not be interested in your products at first, but when they see a blog that helps them with something, they're going to click through to see what it's about. By having more visitors to your site, you directly increase your chances of making a sale. That's why blogging creates more "leads."
13. Blogs Generate Significant Leads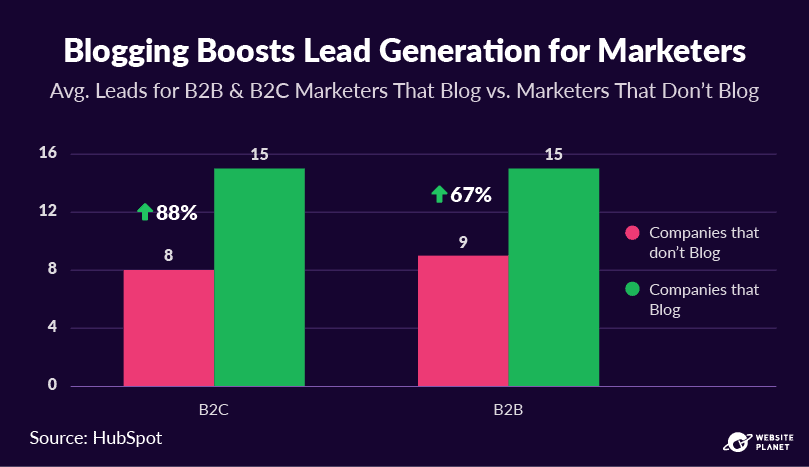 Blogging has a huge effect on lead generation in both B2B and B2C marketing. When a business generates a "lead," it means the company has come into contact with a potential customer. The increase in traffic that blogging creates becomes an increase in leads. In B2C, bloggers see 88% more leads and in B2B, bloggers see 67% more leads. What's more, having a blog positively influences a business' ability to grow its number of leads month-by-month. According to another piece of research by HubSpot, companies that blog grow leads a whopping 126% faster than companies that don't blog.
14. Blogs Get Backlinks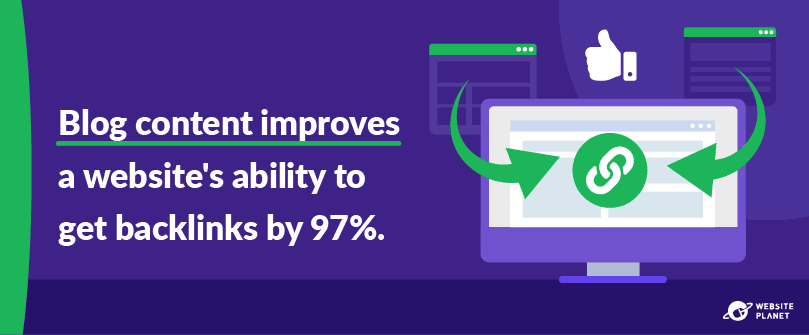 According to OptinMonster, blogs are ranked as the fifth most trusted source of information for online users. People trust great blog content, that's why it can generate so many backlinks to your website. What's the advantage of having backlinks? Having more backlinks not only brings more traffic onto your page from other sites, but it's also invaluable for your website's search engine optimization (SEO). When other sites use your content and credit you as the source, it's like a "vote of confidence" from one website to another. The trust others place in your content posits your brand's page as "trustworthy" and "valuable." In any search engine's eyes, this is enough to place your page nearer the top of a user's search results. In this way, backlinks boost traffic, leads, and conversions on your site, so you definitely want to target backlinks with your content.
15. Blogs Help You Rank on Google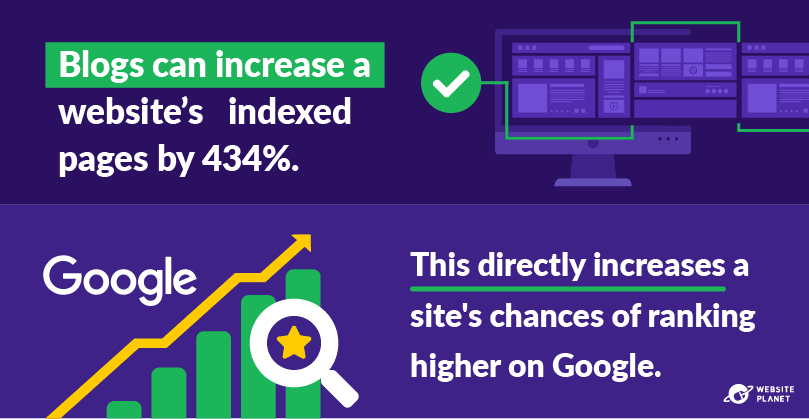 In more ways than one, blog content helps you rank higher on Google. And why wouldn't you want to rank on Google? It's favored by 90% of internet users after all! Indexed pages are the web pages on a website that a search engine has added to its database, either through discovering the page with bots or visiting the page at the user's request. Well, blogs promote over 400% more indexed pages from your business' site, and they increase the number of indexed links by close to 100%. Having more of your pages featured on Google is crucial because it's going to help you rank higher up at the end of the day. It's certainly important to rank higher on Google. According to research from Chikita, 95% of Google searchers never leave the engine's first page of results, while nearly 50% of all clicks go to the top 3 search results (Ignite Visibility). Getting up there is important, then, if you want to boost traffic and improve performance for your business.
16. Blogs Provide Great ROI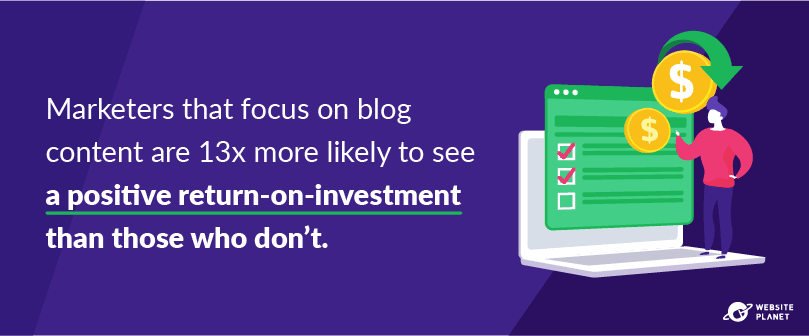 Blogging returns your investment. Blogging is one of the cheapest forms of content marketing, yet it wields some of the best results. That's why 82% of marketers say they see a positive ROI when they blog consistently (HubSpot). Not only can you make good money through monetizing your content, but blogging also increases performance across a range of other factors. This is why business blogging is such a  no-brainer.
17. Blogs Support Other Marketing Channels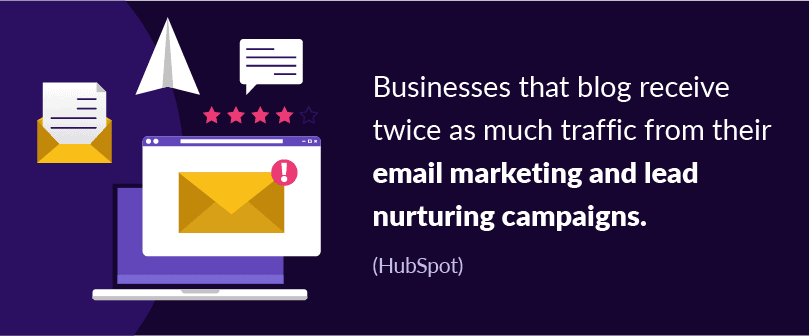 Ultimately, blog content supports your business across a range of other channels and distribution strategies. We've already established that blogs increase the trustworthiness of your brand and page while providing a high level of value to the average viewer. That's why, according to Demand Metric, 82% of users feel better about a brand after reading its blog content. When consumers can touch base with your blog content to see what you're about, they're much more likely to be receptive to other marketing materials. Which explains why companies who blog see improvements in email marketing and lead nurturing campaigns.
What Do Marketers & Bloggers Say?
In section 3, we're going to listen to what bloggers and marketers have to say about it all. Specifically, what are the current trends in business blogging? And what might these trends tell us about the business blogging landscape now and in the future?
18. Blogs Provide Measurable Results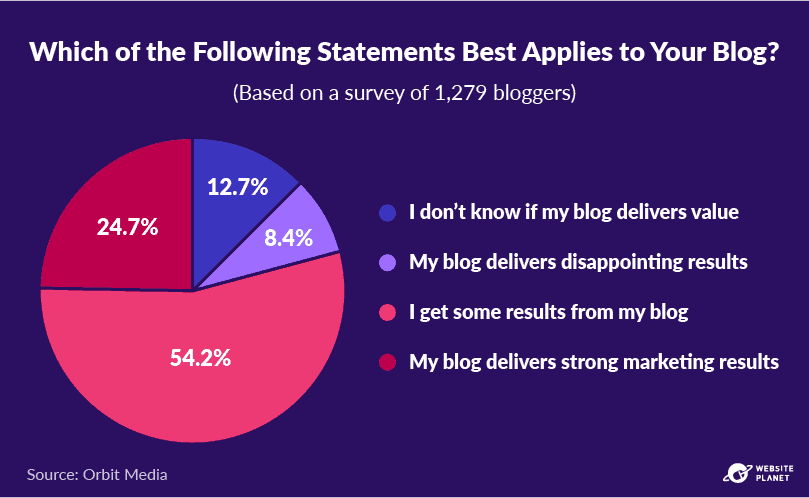 Roughly 25% of bloggers in Orbit Media's comprehensive survey believe blogging provides them with "strong marketing results." Another 54.2% get "some results" from blogging, and around 21% are not completely satisfied with their blog. The overwhelming opinion from bloggers is that the practice works, then, which explains why it's used by the vast majority of marketers.
19. Marketers Love Blogs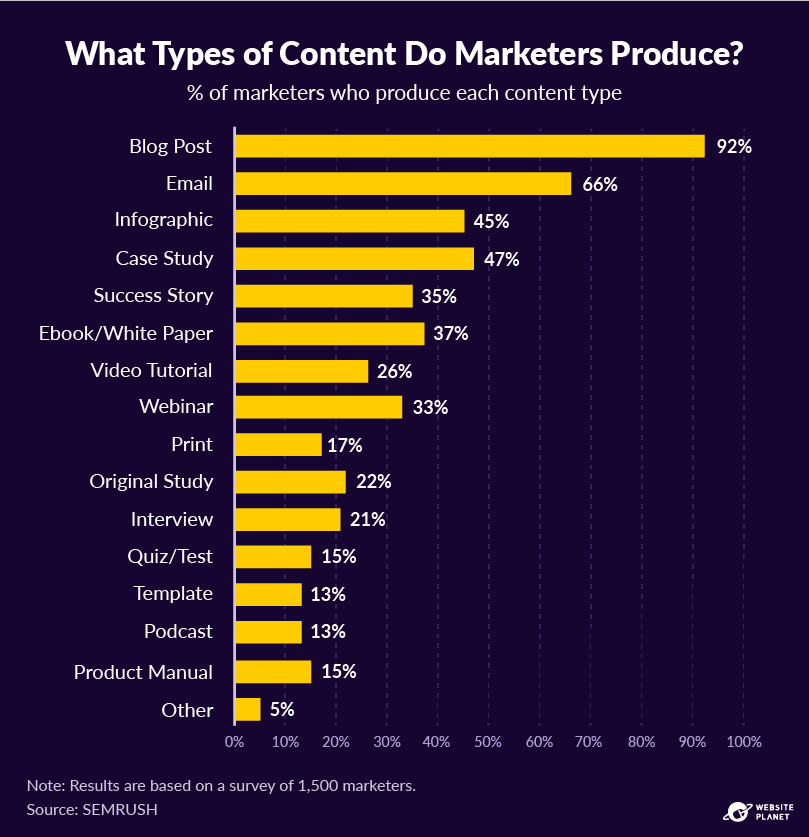 Blogging is such a crucial tool for businesses that 92% of marketers say they produce blog content. Marketers rely on blog content as part of the sales funnel created by their marketing materials. It's the sales funnel that drives any potential lead through a buyer journey, so this explains why 90% of marketers feel blogging is an important part of their SEO strategy (TopRank). Semrush's yearly survey also showed that 6% more marketers use blog content in 2020 than they did in 2019, which suggests that blog content is not only here to stay, it's actually becoming more prominent.
20. In-House Writers Are Common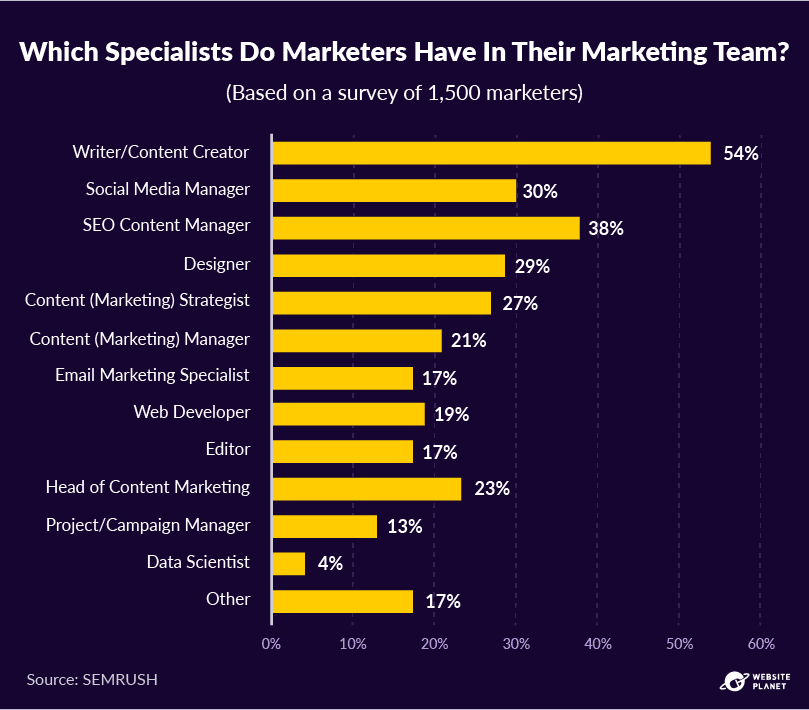 Amongst all specialist positions in a marketing agency, "writer/content writer" is the most commonly employed part of a marketing team. Given the importance of blog content to marketers, this should come as no surprise. It points to the fact that there is always more content for a blogger to write — so why not employ one full time?
21. Writing Can Also Be Outsourced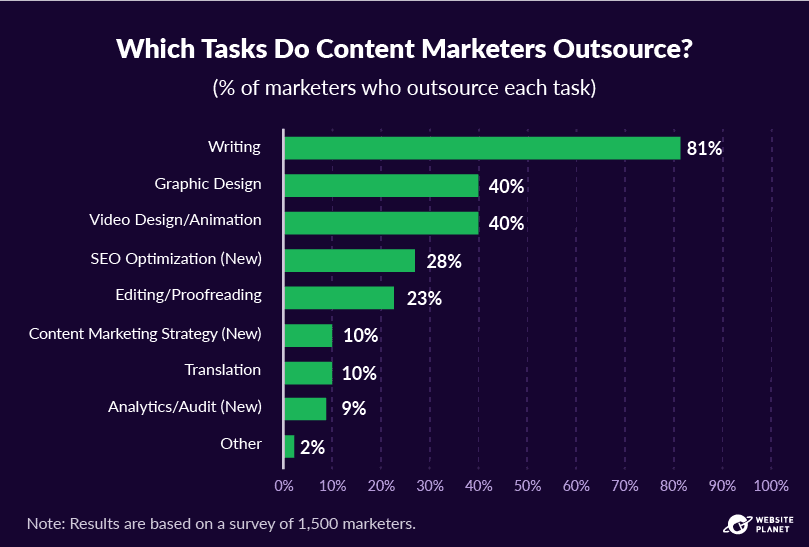 Around a third of marketers in Semrush's survey outsource content writing duties to freelancers. But why might a company do this? There's a huge demand for content writing services right now, from blog posts to eBooks and case studies. The success of blog writing and its importance to marketing agencies means marketers often need to outsource content writing to meet their targets. Some organizations actually prefer to outsource content writing for a couple of reasons. An increase in the size of the freelance workforce means there's a greater depth of talent to choose from for any given project, while specialist roles are often cheaper to fill with a freelancer rather than a full-time employee.
22. How Much Does Blog Content Cost?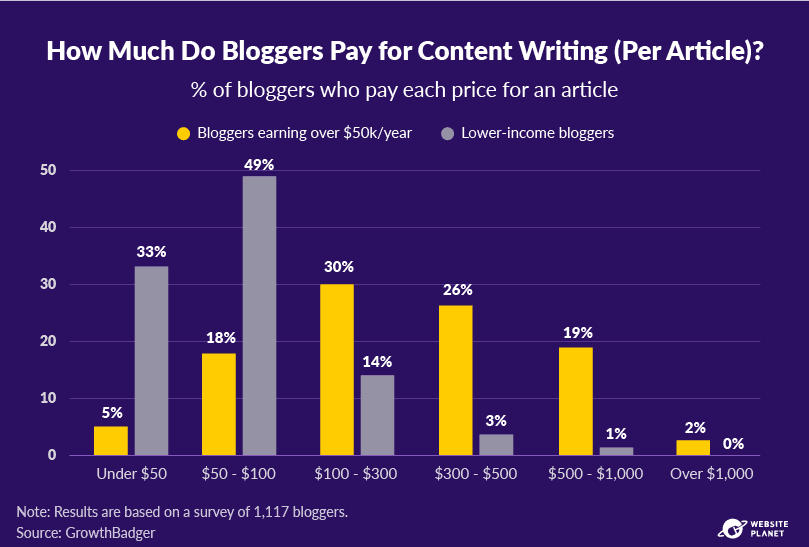 So, on average, how much does it cost to outsource content writing for a blog? Research from GrowthBadger shows that the vast majority (82%) of low-income bloggers pay freelancers less than $100 to complete an article. Bloggers with a higher income, including marketers and businesses, are far more likely to pay well for their blog content. 30% of high-income bloggers pay $100-$300 per article, while another 26% pay $300-$500. Around 20% of high-income bloggers pay between $500 and $1000 per article for blog content. In the same survey, GrowthBadger found that the average high-income blogger pays 3.6X more money for an outsourced blog than low-income bloggers ($347 vs $96). The results show that most bloggers are willing to pay for great content, which owes to the return-on-investment it can ultimately provide to a business.
23. Which Type Of Blog Content Is Most Effective?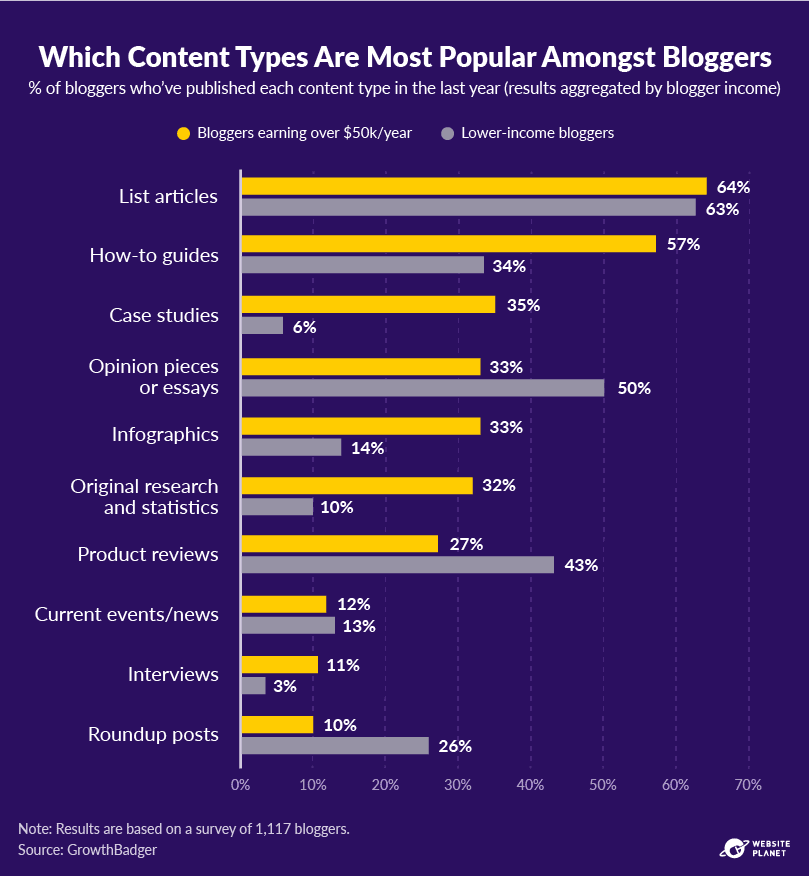 GrowthBadger's survey asked bloggers to tell them which types of content they have produced in the last year. "Opinion pieces" ranked as the fourth most popular content type, while "How-to" articles were the second most popular type of content. Listicles ranked as the number 1 blog article amongst bloggers. The results of the study can be explained through another study from BuzzSumo, which ranked content types by the average number of shares they receive. In Buzzsumo's study, listicles checked out as the second most shared content type overall, while "How-to" articles were the 3rd most shared type of content. This seems to explain why marketers love these 2 types of blog content so much: they drive reach and engagement.
24. Which Channels Are Most Effective for Business Blogs?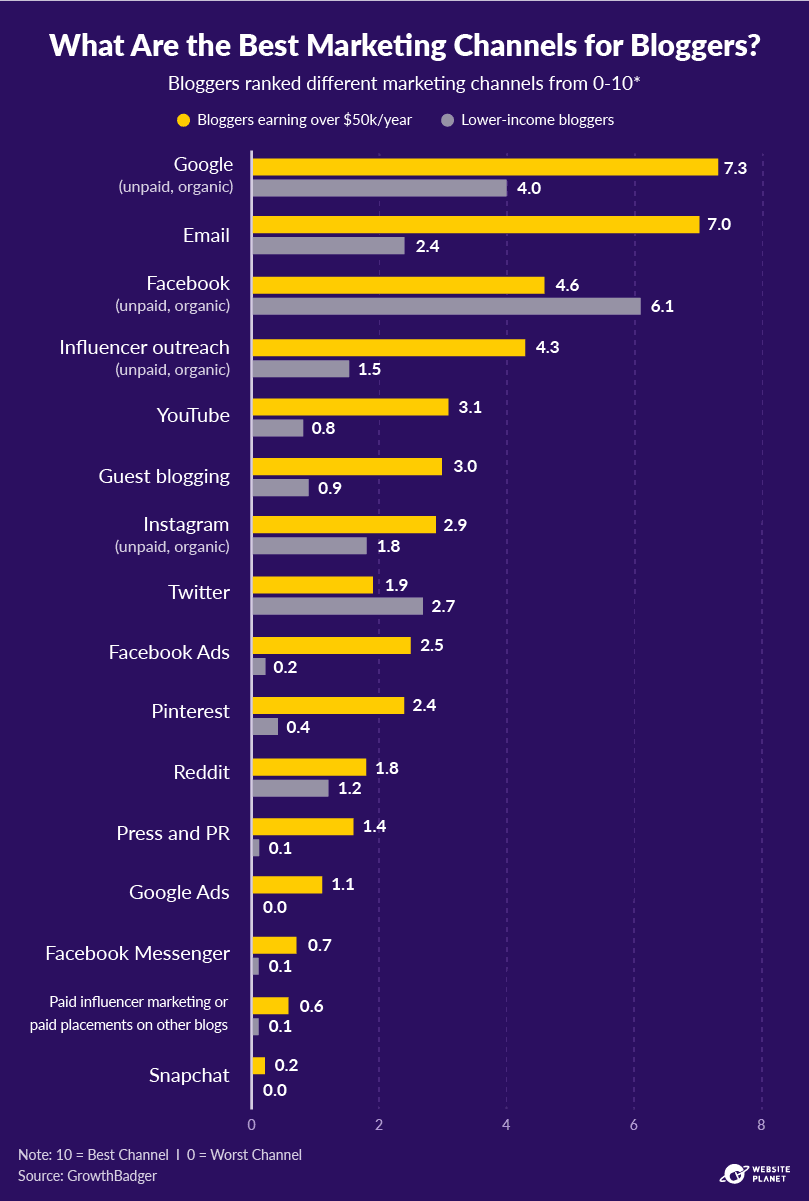 GrowthBadger asked bloggers to highlight their favorite channels for distributing blog content. Overwhelmingly, bloggers chose organic Google traffic as the best place to push their blog. The second most popular marketing channel was email, and the third most popular channel was Facebook. SEO is the best way to market your blog content. Why? Because Google is the number 1 place people go to make queries, learn information, and ultimately buy products or services. By promoting your blog on search engines, you can drive backlinks, clicks, and traffic to your site, which will improve the trustworthiness of your blog. All important elements if you want to create a domain that's a stable and productive port of call for customers.
25. Which Other Forms of Content Do Bloggers Produce?
Video is hot property right now, as it offers ultra-high engagement and plenty of value to the viewer. That's why so many bloggers are including video content either within or alongside their blogs. Video and live video rank as the first and third most important types of accompanying content for bloggers. Paid promotions are another popular form of content. They allow many bloggers or businesses to make some extra money while forging connections with other similar brands.
26. How Frequently Do Bloggers Publish?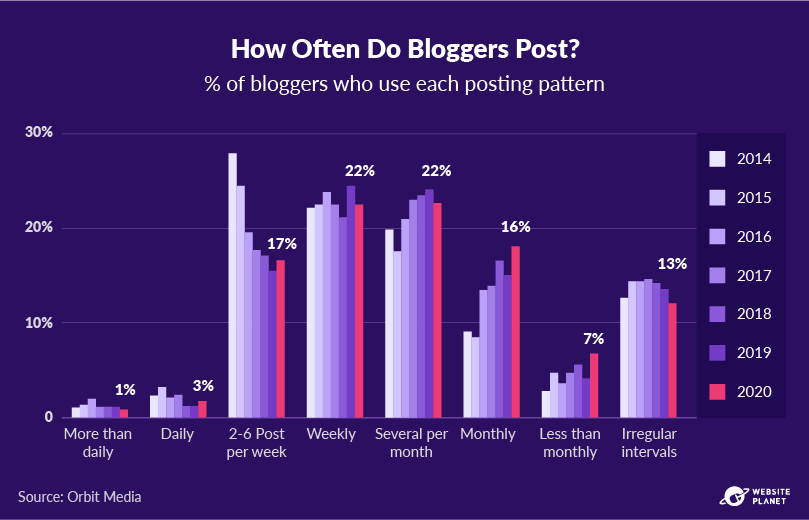 Research from Orbit Media shows that bloggers in 2020 were posting less often than they were in 2014. 3% of blogs post daily content, which is around 2% less than the figure in 2015. In 2014, nearly 30% of bloggers posted 2-6 times a week, but now that figure sits at just 17%. Meanwhile, monthly content is common amongst 16% of bloggers, which is greater than in previous years. That's kind of odd given what we know about the value of posting regular content. Businesses who publish 16 or more blog posts every month receive 3.5 X the traffic of those who only post four times or less. Daily blogs can benefit from as much as 5X more traffic than less-frequent blogs. In part, that's why bloggers that create a large index of posts see such fantastic results…
27. Businesses Should Publish on Their Blog Regularly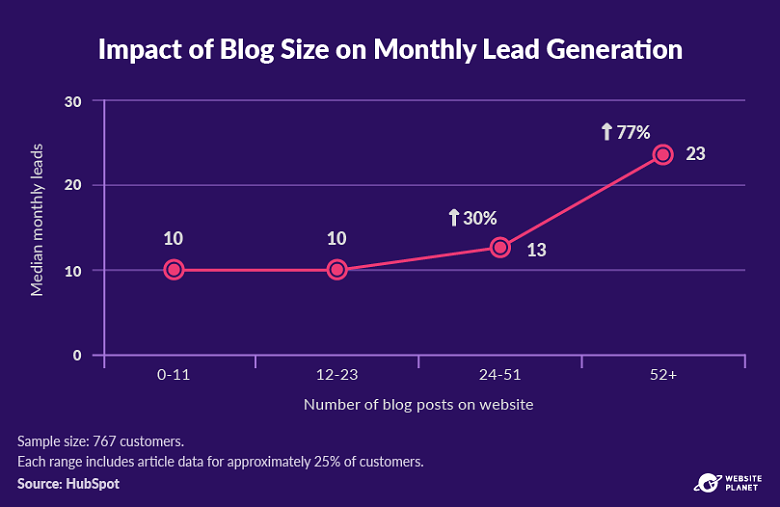 The overall size of your blog has a big impact on the popularity of your site. Having an array of different articles helps you retain viewers on your site for a start. If there are numerous different niches, the reader is sure to find more content on your site that they enjoy reading. In which case, having an extensive blog works in a similar way to long-form content: your entire blog can become a valuable resource that people regularly use, revisit, and share amongst their friends. That's why, according to HubSpot, increasing your page count by 50-100 can produce double-digit traffic growth for your blog. The same study found that websites with more than 311 Google-indexed pages can produce roughly 1400% more leads than sites with 60 pages or less. In other words, if you add more pages/posts, you stand to profit massively in the future.
28. How Much Time Do Bloggers Spend Creating Content?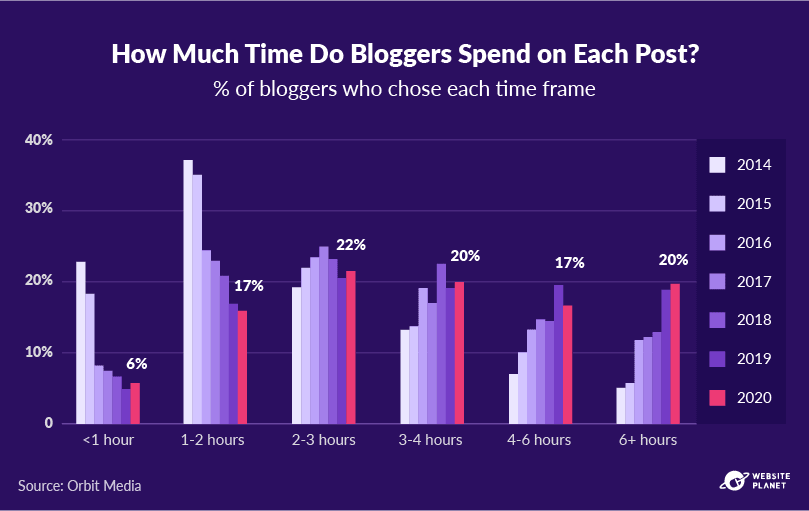 So, why are bloggers posting less frequently? The answer could lie within the graphic above. As the posting frequency goes down, the time it's taking to write a post goes up. Bloggers are actually spending more time writing their content than they were a few years ago. This owes to the importance of having great research right now. 20% of bloggers are spending more than 6 hours per post. That's more time than in any other year since Orbit Media started its study. In fact, Orbit Media found that the average blogger spends 3 hours and 55 minutes on a post. That's significantly higher than the average time-per-post of 2 hours and 24 minutes in 2014. Bloggers are spending more time on posts because quality research improves content quality, which, in turn, provides more value to the reader and gives Google more reasons to rank your page higher up. It's for this reason that marketing agencies, businesses, and bloggers are now choosing quality over quantity when it comes to blog content.
29. Long-Form Content is Becoming More Popular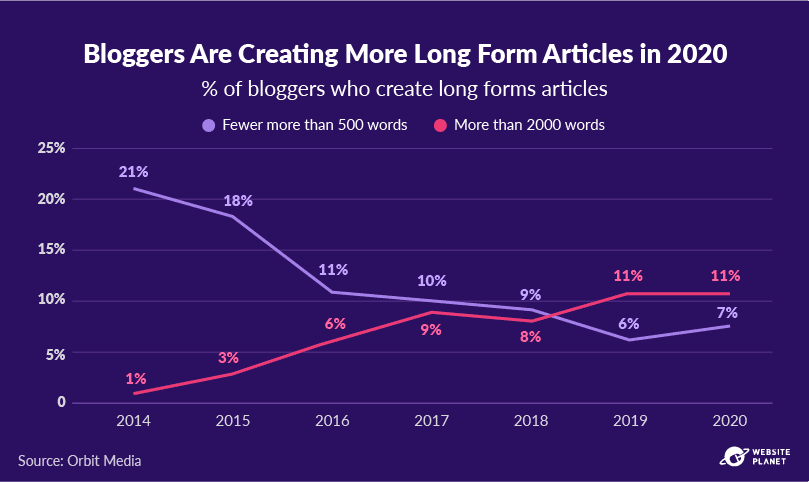 For the same reasons outlined earlier, long-form content (content generally above 2,000 words) performs better than shorter blog posts right now: it provides greater value and content quality. That's despite the fact that the average blog post is still just 1,269 words long. Top ranking content on Google is, on average, 1140-1285 words long. In 2014, the average blog was just 808 words long, so we're certainly shifting towards longer content. And that could be a valuable move for many businesses: according to Curata, long-form content creates 9X more leads than shorter-length articles.
30. B2B Marketers Love to Share Blogs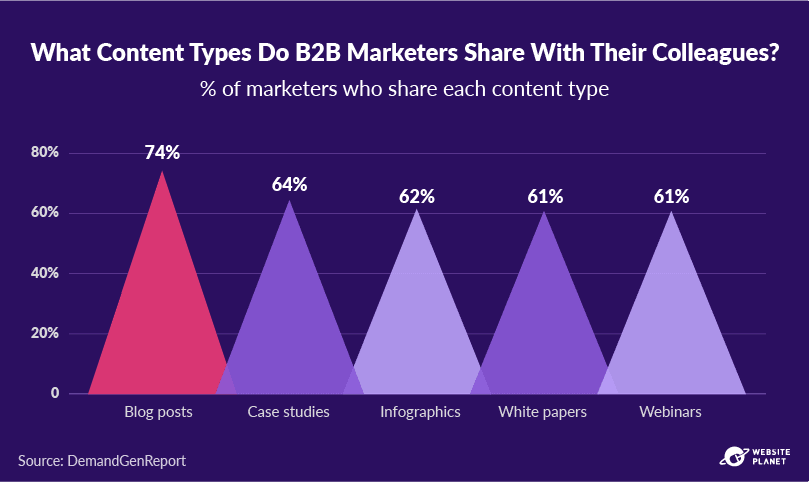 In the business-to-business world, creating leads amongst your peers is the name of the game. What better way to create leads than through the use of a blog? The graphic above demonstrates how valuable educational blog content is in the B2B sector. If you can provide value to another marketer, they are likely to share your content with their peers. This improves your chance of creating backlinks and traffic to your site. If your stuff is circulating in the right environment, so too is it likely that another business will take note of what you're saying and trust you with a purchase.
31. Analytics Are the Way Forward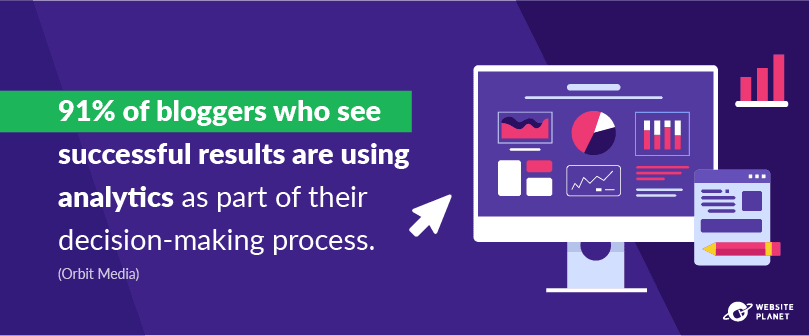 Analytics are normal in 2021. Whether you like it or not, ignoring analytics will only hinder the success of your blogging campaigns. Using data analysis really does harbor results. By analyzing your blog's data, you can know exactly how many clicks, click-throughs, and impressions each post received. Not to mention the overall traffic coming to your blog. This helps you strategize in a couple of different ways. Analyzing your content like this means you can identify which topics are successful amongst your readers and which ones aren't. Analytics also means you can get a handle on your page's presence, and the success of your SEO strategy. Adjustments here could account for huge gains in the future.
32. Marketers Must Place Visual Content on Blogs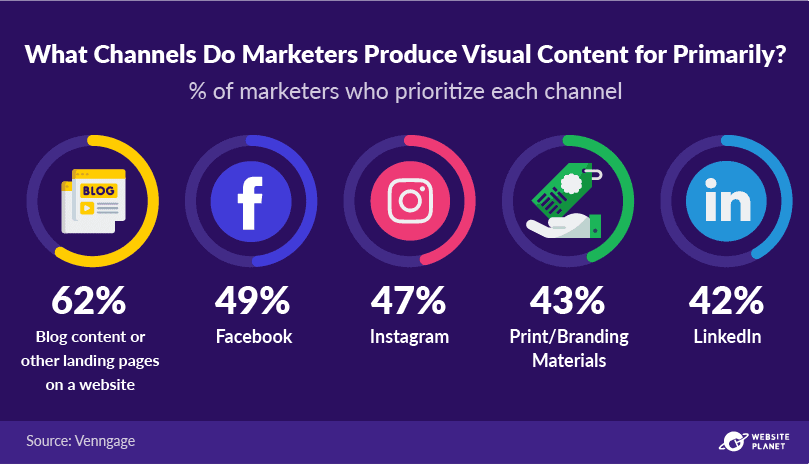 Visual content is a huge part of any business' content marketing strategy. According to Venngage, the majority of marketers are prioritizing visual content for their blog posts. That's because visual content is engaging, and it increases the chances of a viewer soaking up the information you present to them. In the same survey, Venngage found that infographics were the second most common form of visual content for marketers, while stock photos were most popular. This makes sense given the emphasis on blog content, as infographics are often the perfect accompaniment to any informative blog post.
33. SEO Is Still The Most Effective Promotional Tactic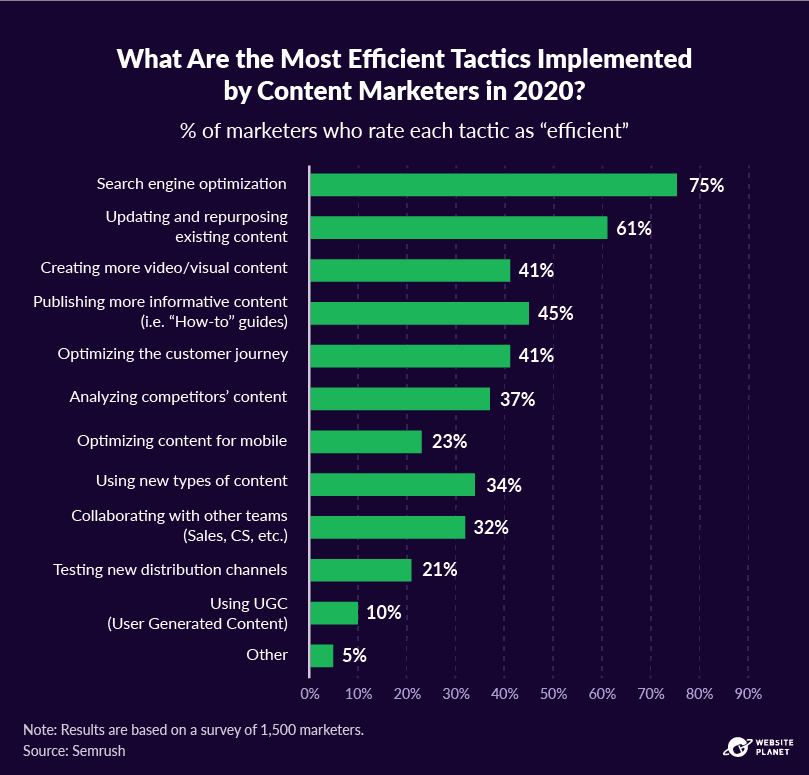 Search engine optimization (SEO) is common practice amongst bloggers in 2021. According to research from Semrush, 75% of content marketers are using search engine optimization. That's an 8% increase since 2019, and for many, it has been something of a revelation. As mentioned, there's no better way to market your blog than through SEO. In fact, GrowthBadger found that bloggers who earn a high income ($50k+) are 4.3X more likely to conduct SEO keyword research than lower-income bloggers. SEO has a direct impact on blog success, which is why keyword research improves the chances of getting "strong results" by 80%. Bloggers can optimize their content in some other ways. Namely, on-page optimization can help improve SEO performance. This includes making sure your content is clear, understandable, and easy to read. Businesses should optimize their titles, too. Optimizing your headline can increase clicks by nearly 10%.
34. Updating Older Articles is Essential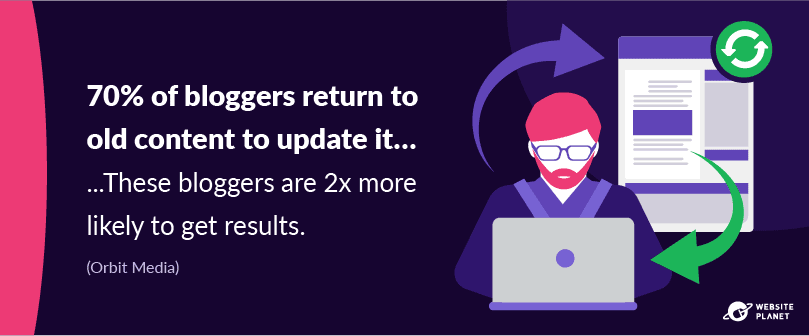 Updating older content really works, and it doesn't take much effort. Businesses and marketers certainly need to monitor content if they're posting a lot of blogs that are specific to a year (like this one, for example). It's not ideal if your content looks out-of-date at some point down the line. That could really damage the credibility/relevance of your blog. What's more, updating content with new information can actively help you rise through search engine rankings. Google will crawl your site again if you start republishing material, and you don't even have to write anything fresh! That's why 61% of marketers say updating content was the "most efficient" implementation they made in 2020. It's a small amount of work for a big reward.
35. Marketers Should Recycle Content Regularly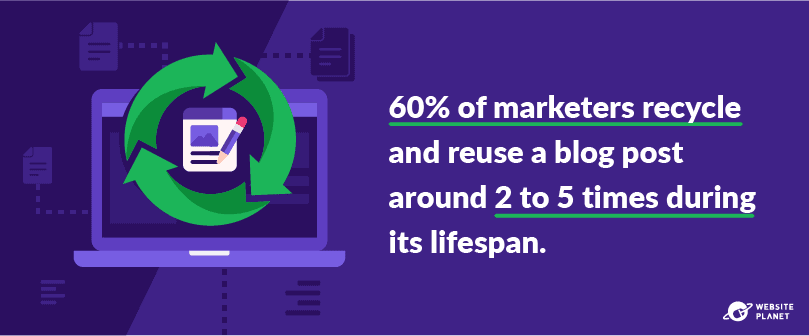 In a similar fashion, many marketers reuse their blog content multiple times throughout its lifecycle. Search Engine Journal even suggests you can repurpose 1 blog post into more than 80 different types of content. You could chop your blog up into smaller sections, reuse some of its research for a similar topic, lengthen its content into an eBook, or turn it into a script for a YouTube video and podcast. So, there's a ton of ways to get the most out of your blog content. Repurposing content not only means you require less research to create the next piece. It means you can create links between multiple resources on the same topic, and users can choose whichever way they want to read, watch or listen. This will only improve the level of engagement and traffic on your site in the long run.
36. Influencers Are Also Effective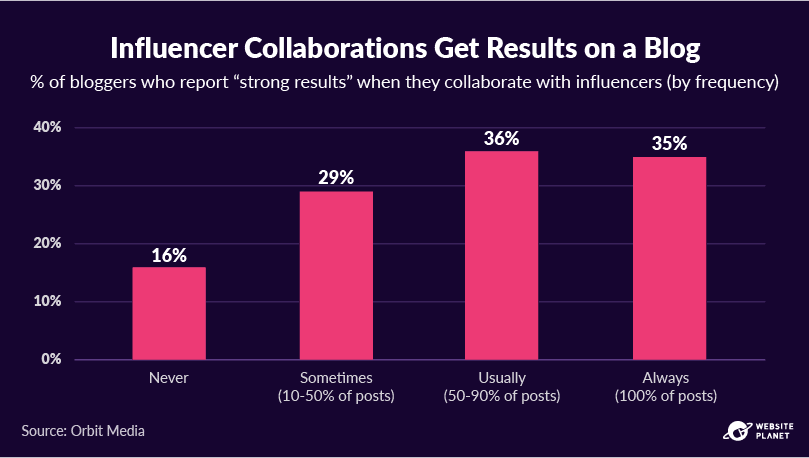 Collaborating with influencers can be a valuable part of any marketer's strategy, yet influencer collaborations are on a downward trend. Just 12% of bloggers reached out to influencers in 2020. That's fallen from 25% of bloggers back in 2017. Meanwhile, only 37% of bloggers are including quotes from experts within their content. The results bloggers get from influencer collaboration posit this as a criminally underrated strategy, particularly within the B2B world. Over 70% of respondents in Orbit Media's study claim that they "usually" or "always" get results from collaborating with influencers. Just 16% say they "never" get results.
37. Guest Posts Are Underused For Promotion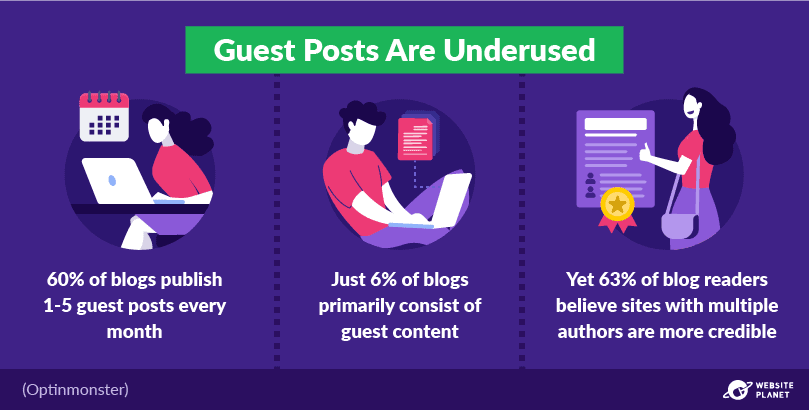 Similar to influencer collaborations, guest posts involve bringing in other named writers to create content for your site. The majority of blogs occasionally publish guest posts, at least once a month. Perhaps bloggers should be using fresh perspectives on their blog a little bit more often, however. Almost two-thirds of readers trust a blog site more when there are multiple writers featured. If you want to improve the credibility of your blog, guest writers are important.
38. Blogging Presents Certain Challenges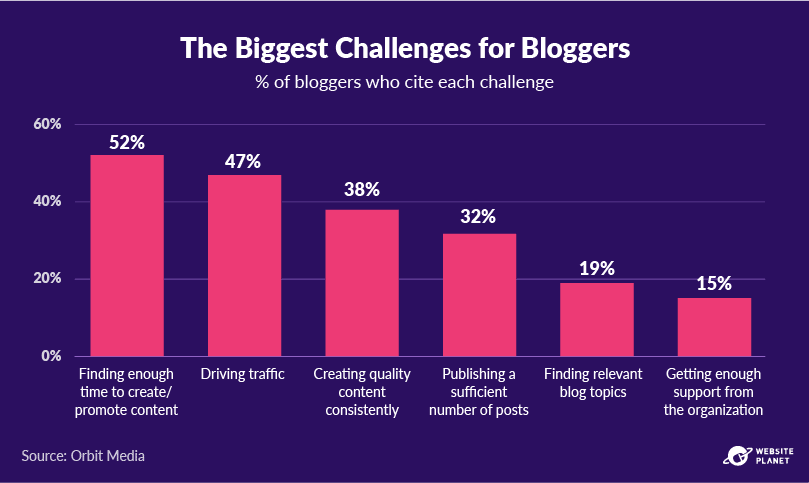 What challenges do bloggers face? According to the above survey, finding enough time to research and write content is a struggle for 52% of bloggers. Driving traffic to their website/blog is difficult for 47% of bloggers. According to a similar survey from GrowthBadger, a massive 79% of low-income bloggers say they struggle to grow traffic to their blog. This points to the dedication and persistence it takes to properly optimize content. According to Orbit Media's survey, creating quality content and consistently posting content are 2 more common difficulties.
Content Elements
In this section, we're going to forget about marketers for a second and focus solely on the content itself. That means there'll be nothing to do with marketing channels or strategy included within this section. This is all about the written word, and the best practices to really make your blog post perform.
39. Prioritize Content Quality Over Quantity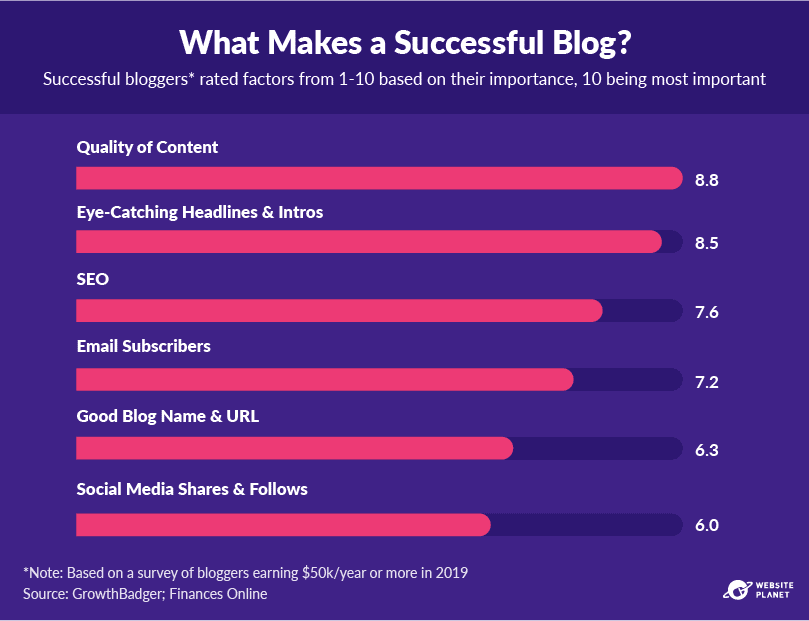 First things first, you want your content to be "high quality." According to bloggers, the quality of your content is more important than any other element, so make sure you get that right. The theme is much the same in B2B marketing. The Content Marketing Institute found that 76% of B2B marketers prioritize content quality over content quantity. In other words, make sure you're solving the reader's problems with your blog. Make sure your research is accurate, and make sure there is plenty of it.
40. Do Lots of Research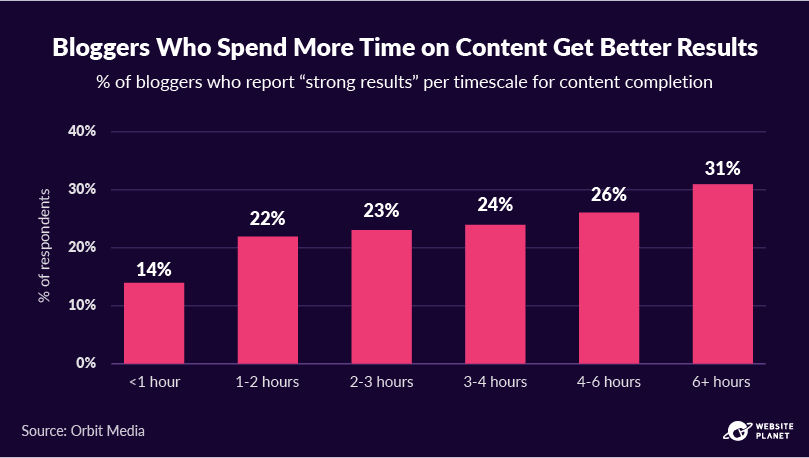 We talked earlier about the growing trend amongst marketers to spend more time on each project. That's because, as this graphic shows, more work equates to better results and blog performance. If your research is better and your content is well-written, people will enjoy reading it. You should think about adding some original research to your blogs as well.
41. Make Your Blog Content Original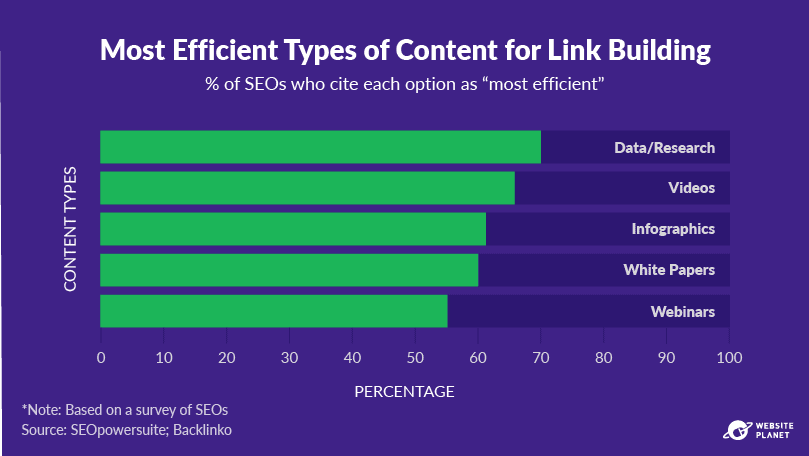 An Orbit Media survey found that 42% of bloggers used original research in 2020. That's up from 35% in 2019, and a meager 25% in 2018. Why? Producing original research is becoming really valuable for promoting backlinks and growing a blog. 85% of bloggers in Orbit Media's study said original research produced "strong results." It's also why SEOs rank original data/research as their number 1 content type for link building. With original research, you have the opportunity to create something completely authentic and up-to-date. If your blog is unique, people will reference your content because no one else is providing the same kind of information. It stands to reason that the most recent data is considered the most relevant/trustworthy, too. Ultimately, original research will drive traffic to your blog. So think about including some within the content of your articles.
42. Create Long Content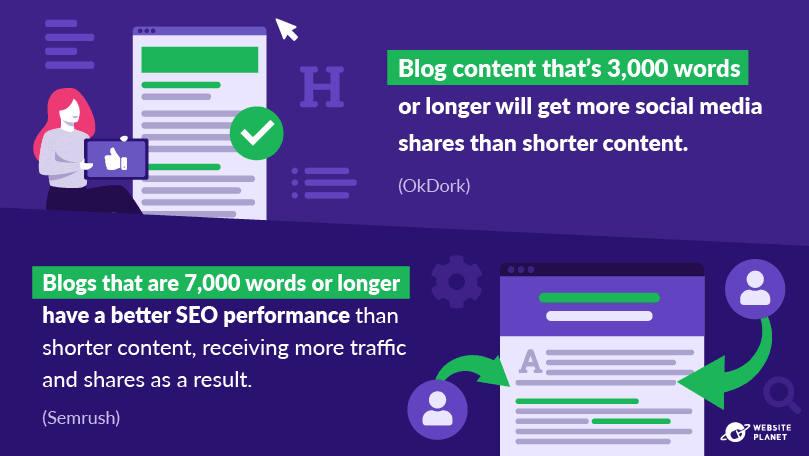 Long content provides added value to the reader. With a longer article, you can cover more topics, or go into greater detail within a particular area of discussion. The more stuff you talk about in an article and the more comprehensive its content, the better chance you have of solving a potential customer's problem. That's why 54% of bloggers who write over 3000 words per post report "strong results." In fact, Orbit Media found that content over 3000 words is 5X more likely to achieve results than content below 500 words long. These results come in the form of shares for most long-form bloggers. By covering a topic comprehensively, you position your blog post as a resource that can be shared amongst users.
43. Understand Blogging and the Buyer's Journey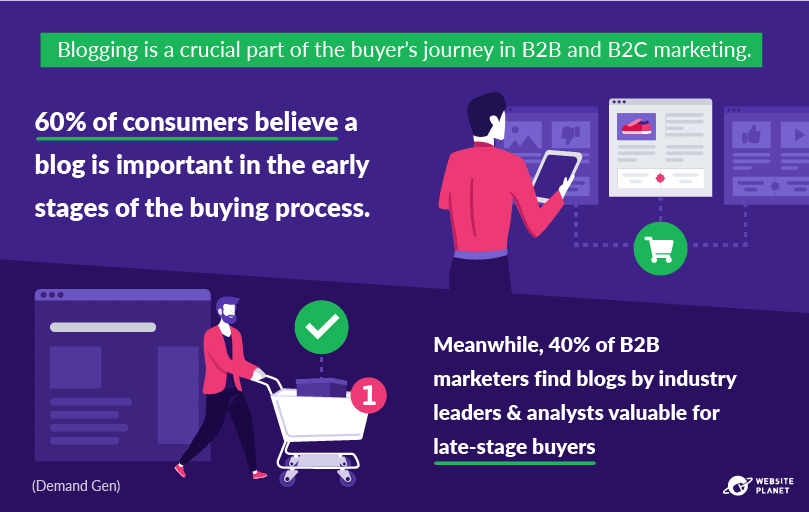 Blogging is an adaptable practice, and you can lead the reader wherever you want them to go if you're good enough at it. It's interesting that blogging seems to be used for different parts of the buyer's journey by different marketing teams. Based on these statistics, blogging can be a valuable resource for B2C customers when they're collecting information about a certain topic, product, or service. In B2B, a blog packed with important information can be utilized late on to get a purchase over the line.
44. Capture the Reader's Attention…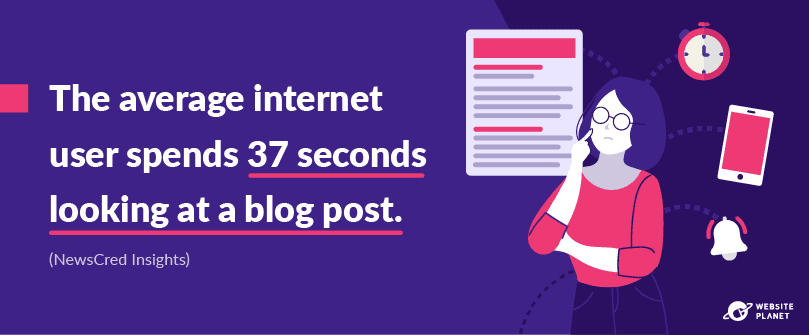 When it comes to writing content, what's the best way to kick things off? According to NewsCred Insights, readers spend an average of 37 seconds looking at a blog post. That's pretty measly, and the figure is so low because most viewers are leaving just as fast as they arrived. When writing a blog post you must always remember: your readers have a short attention span, so make an impact right away! That doesn't mean you have to blast title caps and excessive punctuation at the reader for the first few lines. Write in a way that's conversational and engaging, and tell the reader exactly what the article is about within the first few sentences. That should be enough to spike their interest.
45. …and Make Content Skimmable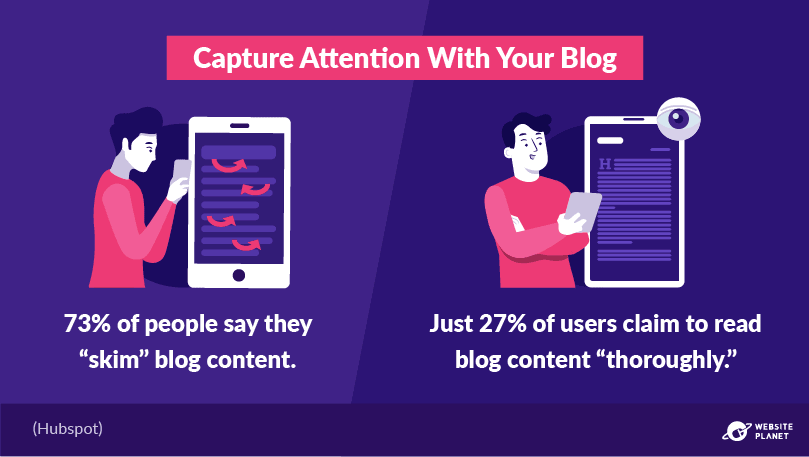 It's very important that bloggers make content skimmable as well. People are just as likely to lose patience with an article if it's difficult to read and overly complicated. Big blocks of text are generally considered a bad idea. As soon as a viewer encounters a 500-word paragraph, they normally react by switching to an article where the information they want is more accessible. Instead, write paragraphs that are just a few lines long. Keep titles concise, include bullet points and lists, and use plenty of headings. An Upland study even found that a bigger font size will make your content more accessible to readers.
46. More Images = Better Results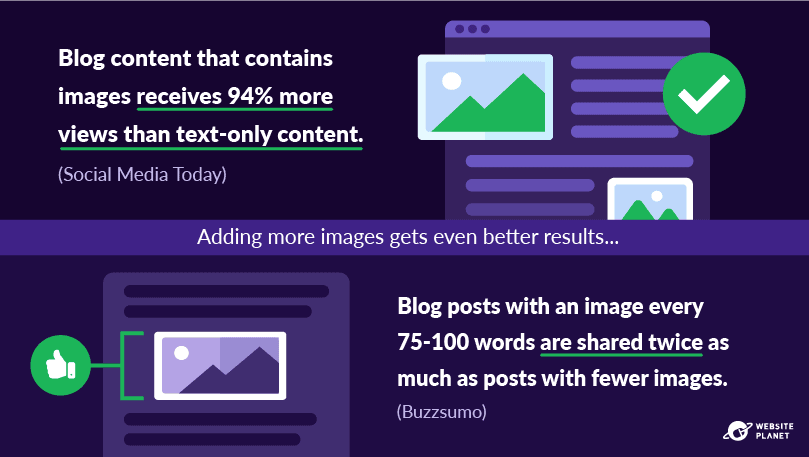 Images go hand-in-hand with blog posts, and they drive results. Bloggers are really missing a trick if they're not placing a plethora of images in every blog post, even if those images are stock images or photography. Adding a single image to your post will increase the number of shares it receives by 30%. Images work so well because they create another layer of engagement for viewers. Images provide a way for visual learners to connect with the content, while they can break up heavy sections of words to make your blog content more digestible. The more images you add the better. Orbit Media discovered that blog posts with more than 10 images have a 56% chance of achieving "strong results." That's twice the return compared to posts with 2-3 images.
47. Which Visual Content Performs Best?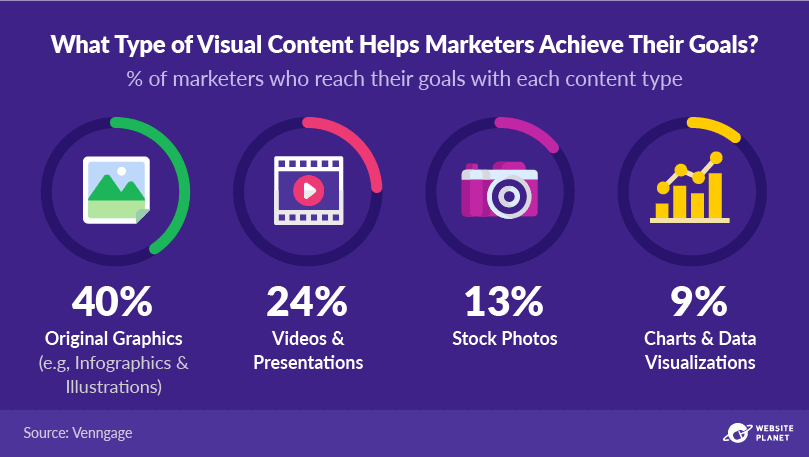 Venngage's popular visual content study asked marketers which type of visual content performs the best. Remember, these are the same marketers that are producing 62% of their visual content for blog posts… The top-performing type of visual content was original graphics, such as infographics and illustrations. Marketers love infographics because they can help present the information on-page in a more engaging form. It's this increased engagement, along with an element of "visual learning," that makes infographics so popular amongst marketers who blog. These 2 factors are the reason that blogs with illustrations and text inform viewers 323% better than text-only pieces. Elsewhere, only 13% of marketers rate stock photos as effective. Although some images are better than none, using original photos is a much more effective strategy for your blog post. Photos of real people can lead to an increase in conversions of 35% when used in place of stock photos.
48. Videos Bring Significant Traffic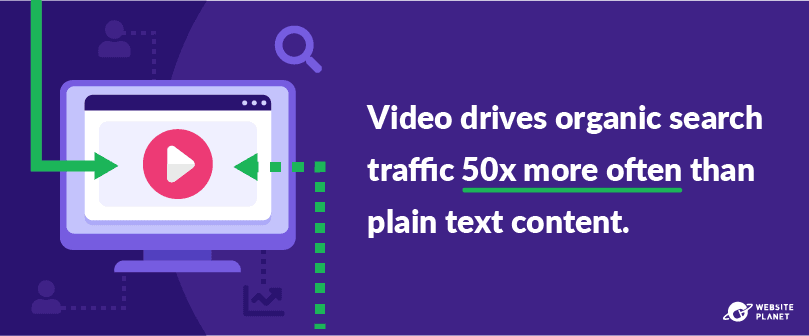 For many marketers, video is the number 1 form of content that they use in 2021. So, why not add videos to your blog posts? As mentioned earlier, you could use the research from your blog to create a script for an accompanying video. Doing so would increase the organic traffic to your post 50-fold. 87% of marketers in a Wyzowl survey agree, stating that implementing video has increased traffic to their website. 80% also claim adding video directly increases revenue.
49. Draft Lots of Headlines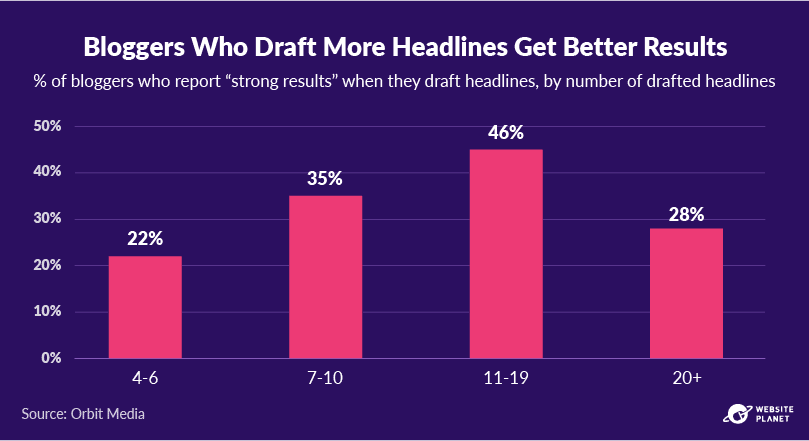 In an Orbit Media study, the vast majority (61%) of bloggers state that they draft just 2 to 3 headlines per post. Meanwhile, only 7% of bloggers draft more than 7 headlines, and 2% of bloggers jot down 11-19 headlines. The results suggest most marketers are cutting corners with their headlines. While a headline might not seem so important, getting your headline right is crucial for the success of your post. That's why it pays off to run through a bunch of different headline options before you publish. The sweet spot seems to be somewhere between 11 and 19 headline ideas. 46% of bloggers who drafted this many headlines saw "strong results." A little bit of extra time spent optimizing your headline wouldn't go amiss, either. According to MarketingExperiments, optimizing a headline can increase post clicks by 10%.
50. What's the Best Headline Length?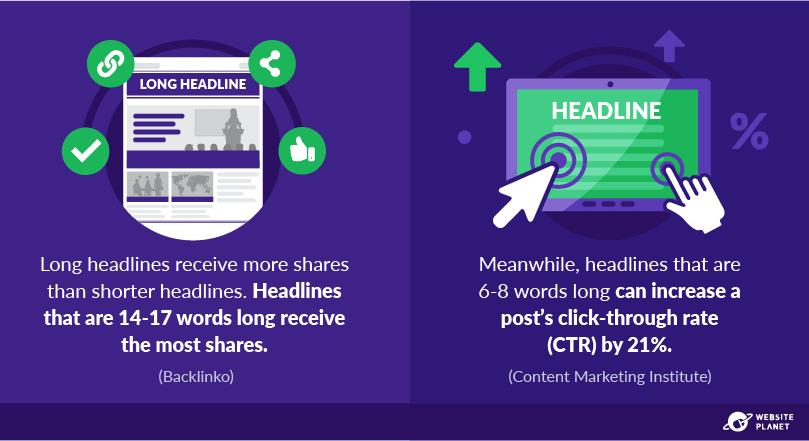 There are conflicting opinions on how long bloggers should make each post's headline. By all accounts, it seems to depend entirely on the aim of your content. Shorter headlines increase clicks while longer headlines promote more shares. The answer to that difference potentially lies behind each content type. Longer headlines outline long-form, in-depth content. Whereas shorter headlines offer quick reading and instant gratification. HubSpot says the ideal title is 60 characters long, but whether you opt for instant impact or greater detail is ultimately up to you. Whatever you do, sneak a hyphen or colon in there somewhere. One of these two elements in a headline can increase the click-through rate by another 9%.
51. Top Performing Headline Styles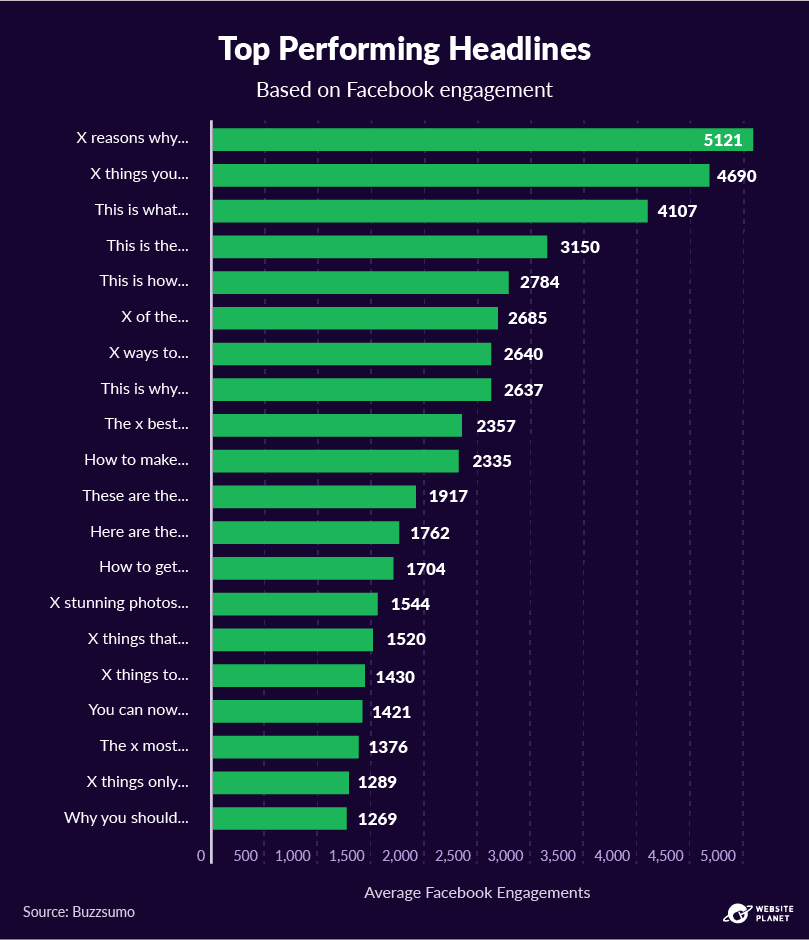 A comprehensive study from Buzzsumo tested the engagement of over 100 million different types of headlines. Specifically, there were a few phrases at the start of a headline that really stand out. "X reasons why…" was the top-performing phrase at the beginning of a headline, with more than 5,000 shares on average. This headline was followed by "X things you…," which receives 4,700 shares on average, while "This is what…" gets just over 4000 shares. If you're struggling to think of ideas for a headline, choosing one of these phrases to go at the beginning might be a really good idea. These are proven headlines with high levels of engagement among readers. An OkDork study also concluded that emotional headlines get more shares than non-emotional headlines, so a splash of joy or sadness could drive some extra traffic as well.
52. The Best Numbers in Headlines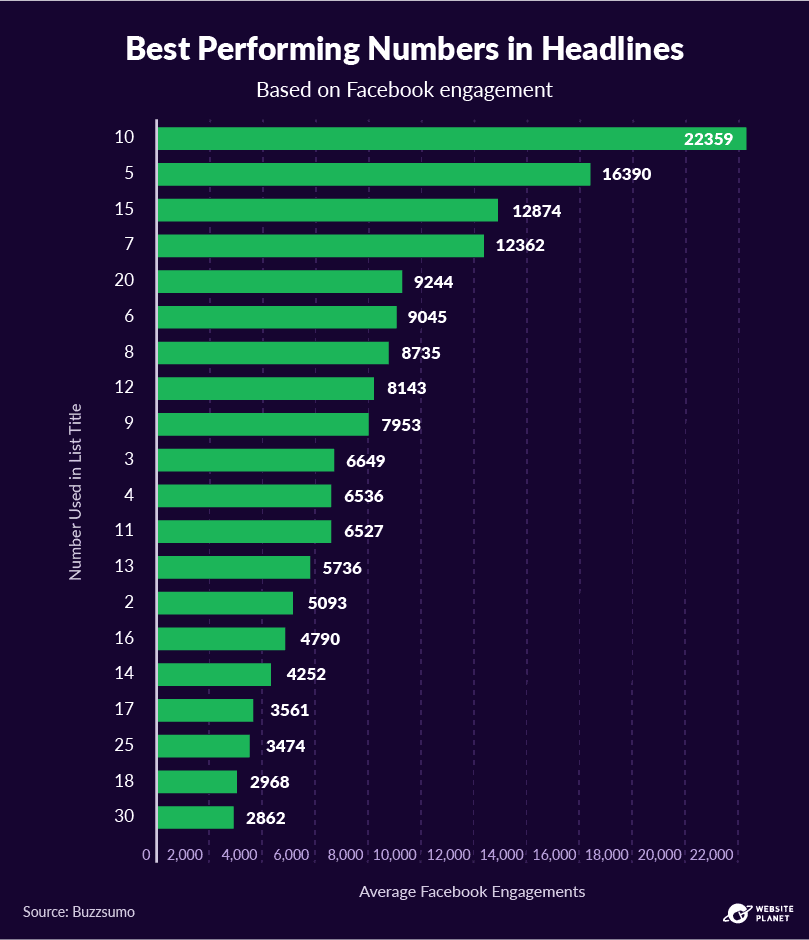 The popularity of listicles means you might want to take notice of this headline stat: it may say as much about the content people want to consume as it does about headlines. "10" is the best performing number in an article title, garnering a dominant 22,359 shares every time it's included. "5" performs pretty well, too, with over 16,000 shares per title, whereas "15" garners nearly 13,000 shares per headline. The graphic shows that (on Facebook, at the very least) shorter numbers seem to perform the best. Based on the sheer magnitude of shares these headlines get, it should come as no surprise that 31% of posts that accumulate the most click-throughs are listicles with numbers in the title.
53. B2B Headlines Require A Different Approach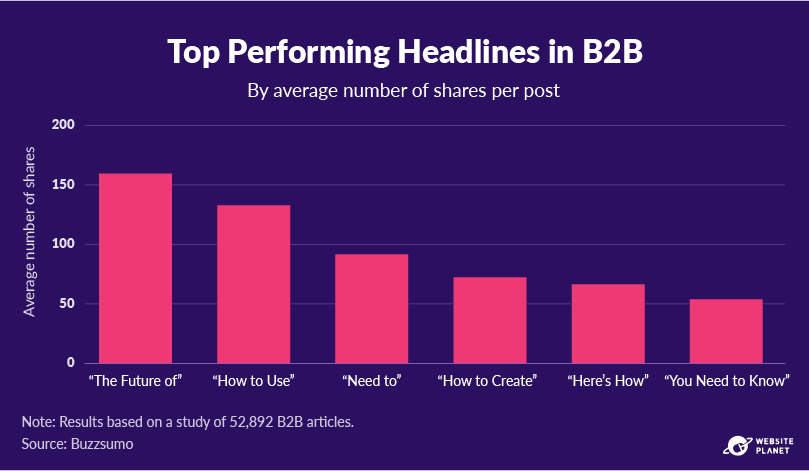 When it comes to B2B headlines, listicles are not nearly as popular as they are on your average blog. In fact, no numbered headline phrases feature in the top 5 most popular headlines. Headlines that set the scene for an informative article still dominate, but – interestingly – predictive headlines feature far more prominently in B2B content than they do in B2C. "The future of" headlines receive more shares than any other B2B title, with just over 150 shares per article. This suggests that B2B clients are looking to get one step ahead of the rest when they consume a blog post. This should be reflected in the type of headline (and content) that B2B bloggers ultimately choose to write.
Key Takeaways
We've taken a look at all of the elements that make a great blog post. Let's recap the key trends we've highlighted throughout this article, and what they suggest for the future of business blogging.
1. Informative Content Still Performs Best
People primarily read blog content to be informed. That doesn't mean your blog has to be
boring.
It just means you have to give the reader value with the blog content you produce. We live in a time where new, more engaging forms of entertainment are being created constantly. People don't necessarily consume written content when they want to be entertained in 2021. However, they do consume written content to learn about a given topic. That's why listicles and "How-to" articles feature as the 2 most popular forms of blog post. Tell the reader what they want to know, and they're far more likely to engage with your business again in the future.
2. Write Longer, Better Content
The length and style of content have shifted gradually over the last few years. All signs suggest consumers will continue to demand detailed blog posts moving forward. The emphasis on valuable content means people are now happy to consume longer articles that cover topics in-depth. According to GrowthBadger, 35% of high-income bloggers have noticed that readers are expecting higher-quality content in the last couple of years. If readers are asking for better, longer content, then give the people what they want! A comprehensive resource can help improve traffic and shares, eventually building a bigger customer base for your business.
3. Add Visual Content
The rise of visual content is global and widespread, as people quickly turn to engaging visual forms like videos and images. In this context, blogging has slipped from first to third most popular strategy amongst marketers (HubSpot). Video has established itself as the number 1 form. That isn't to say that blogging is not still hugely popular and extremely important for businesses. Bloggers should jump on this trend and include videos, along with other forms of visual content, in their blog posts. Visual content is only headed in one direction: up. So utilize that trend to your advantage.
4. Make Content Digestible
The need for digestible, easy-to-read content is more important now than ever. People are not waiting around to see what you will say next. If your content is not clear, concise, and engaging from the get-go, you can expect to lose readers quickly. This is a prevalent trend in the way people consume their content over the last few years. We've seen short-video platforms like TikTok and Instagram Stories flourish for the same reasons: People have shorter attention spans. Wyzowl's research even found that the average attention span decreased from 12 seconds to 8.25 seconds between 2000 and 2015. The "information age" is the primary factor behind this change. With so many options available, consumers don't mind flicking through content until the best resource is instantly recognizable. Optimizing your content for mobile should pay dividends too. Another reason digestible content is so important for blogs heading forward.
5. SEO & Analytics Remain Important
SEO and analytics are no secret within the blogging community. Pretty much everyone does it, and those who do see positive results. The importance of both of these factors will continue long into the future. It makes complete sense: place your content in the best possible position to succeed, and if it doesn't, find out what you could have done better with analytics. It's a foolproof strategy. The importance of analysis and optimization means they have to feature as a key element of blog content now and in the future.
The Bottom Line
As new technologies and different forms of video emerge within content marketing, blog content remains extremely important in 2021. More businesses are using a blog now than ever before. Why? Because having a great blog offers an endless list of advantages for your business. Boost traffic, retain customers, grow awareness of your brand, generate leads, and sell more products. You can achieve these results and more by starting a business blog. If you already run a blog for your company: make sure you implement some of the tips in this article. It could help you take your business blog to the next level!