WiseStamp
is a web browser extension that enables users to include social profiles and dynamic feeds in their email signatures. We spoke to WiseStamp head of revenue Asaf Rothem to understand why he thinks email is underutilized, and get a glimpse of what WiseStamp is all about.
What is the Story Behind WiseStamp?
WiseStamp was founded 10 years ago by Orly Izhaki, our CEO, and Tom Piamenta, our COO. Their vision was to create easy marketing tools. Back then, which wasn't that long ago, the world of marketing tech was still in its diapers, and they saw the potential in email as a niche that almost any business works with, but most don't take advantage of. On average, American employees send about 30 emails a day. By adding a visually engaging email signature, WiseStamp enables users to turn every email into a marketing opportunity. We're also seeing growing popularity among freelancers and players in the new age economy, where people are working from home outside the usual working hours.
The company  started with a seed investment and has been self funded ever since. We now have almost 1 million users using our individual solution, and 2,000 companies subscribed to our email signature management solution.
Although WiseStamp is our flagship product, our company, WiseBrand, offers a variety of tools that move small businesses forward, such as business listings, business cards and much much more.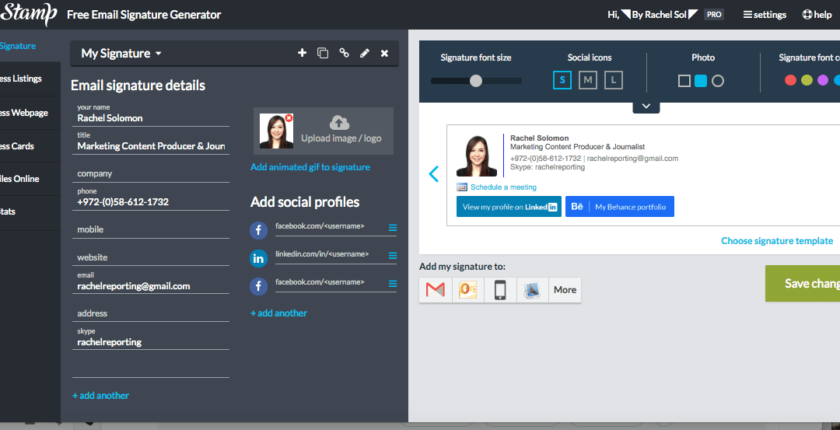 Why are email signatures so important for business branding?
Email signature is  actually a very under-utilized marketing channel. Most companies and marketers promote themselves through various channels and will invest lots of resources into it. Although putting a face or a logo at the bottom of every email doesn't take much effort at all, it is a very effective means of promoting stuff and making people remember you. We have dynamic apps and banners that you can use to promote your next webinar, recent blog posts or whatever else you want people to know about.  
Of course, there is the obvious advantage that everyone you contact will know who you are, who you work for, what is your position in the organization, and how to communicate with you. Research by Eyequant shows that of all email signatures, visual signatures get the most attention.
Which Email platforms does Wisestamp integrate with?
Since WiseStamp focuses on the visual aspect of the signature, the email platform we are most comfortable with is Gmail. They offer a great visual processor, which allows us to enter GIFs, logos, and images. These visual elements generate a lot of clicks, virtually skyrocketing the engagement. Our solution is also used by Outlook and Mac Mail. Though Outlook's image processing is a bit outdated we still have the visual aspect to play with. Mac users are very distinctive, every company that offers solutions to frontline tools is after mac users, but there aren't as many solutions for them. So to answer your question, WiseStamp was built to be agnostic, but Gmail is where we place most of our focus.
Additionally, by connecting your social accounts, you can enhance the growth of your Instagram, Facebook, and YouTube followers through every email you send. Individuals such as real estate agents, photographers, and graphic designers aiming to exhibit their work, discover WiseStamp to be especially captivating.
What have you done to secure user information from cyber threats?
Within the email signature realm there are 2 ways to do it. One is to reroute the email after it has been sent. It allows the email signature provider with more flexibility, without needing to adapt to each mail platform's ever-changing guidelines. That way, however, isn't secure enough because you're rerouting emails through a third party, which is the signature provider.  Instead, we have adapted to guidelines where we inject the signature before the email is sent, so there's no routing through third parties. Security remains within the limits of tech giants like Apple, Google and Microsoft, so we don't need to deal with it. We use data encryption throughout the process like every other vendor.
How do you see the future of social branding?
Social media is evolving quickly, but as I learned from my years in the academy, people are very bad at forecasting the future of technology. I will humbly say that we're moving into the age of direct marketing. Since the main providers of social media have become so good at monetizing, we see a lot of focus on shifting users into more direct marketing. You build your own database and engage with them a lot more through emails, chats, text, and less in the social media way that we've been doing for the past 5 years. Things are always in motion so branding needs to be very visual. By promoting your content, you get people into your database and from there onwards, you can interact with them personally. In my opinion, this is where the marketing world is going.