Specialized builders also lack the features and tools wedding businesses need
to design the beautiful, fully-functional websites that will impress potential clients. Whether you're the bride and groom, or a photographer, florist, or wedding planner,
designing your wedding website can be quick and easy with the right builder
. These inspiring website examples will give you an idea of what's possible.
Did you know that you can build a gorgeous wedding website in a matter of minutes?
Wix has dozens of unique wedding templates
.
Not only do they look good, but they also have most of the features you'll need already built in. Pick your favorite template, tweak the design, upload your own images and text, and you're good to go!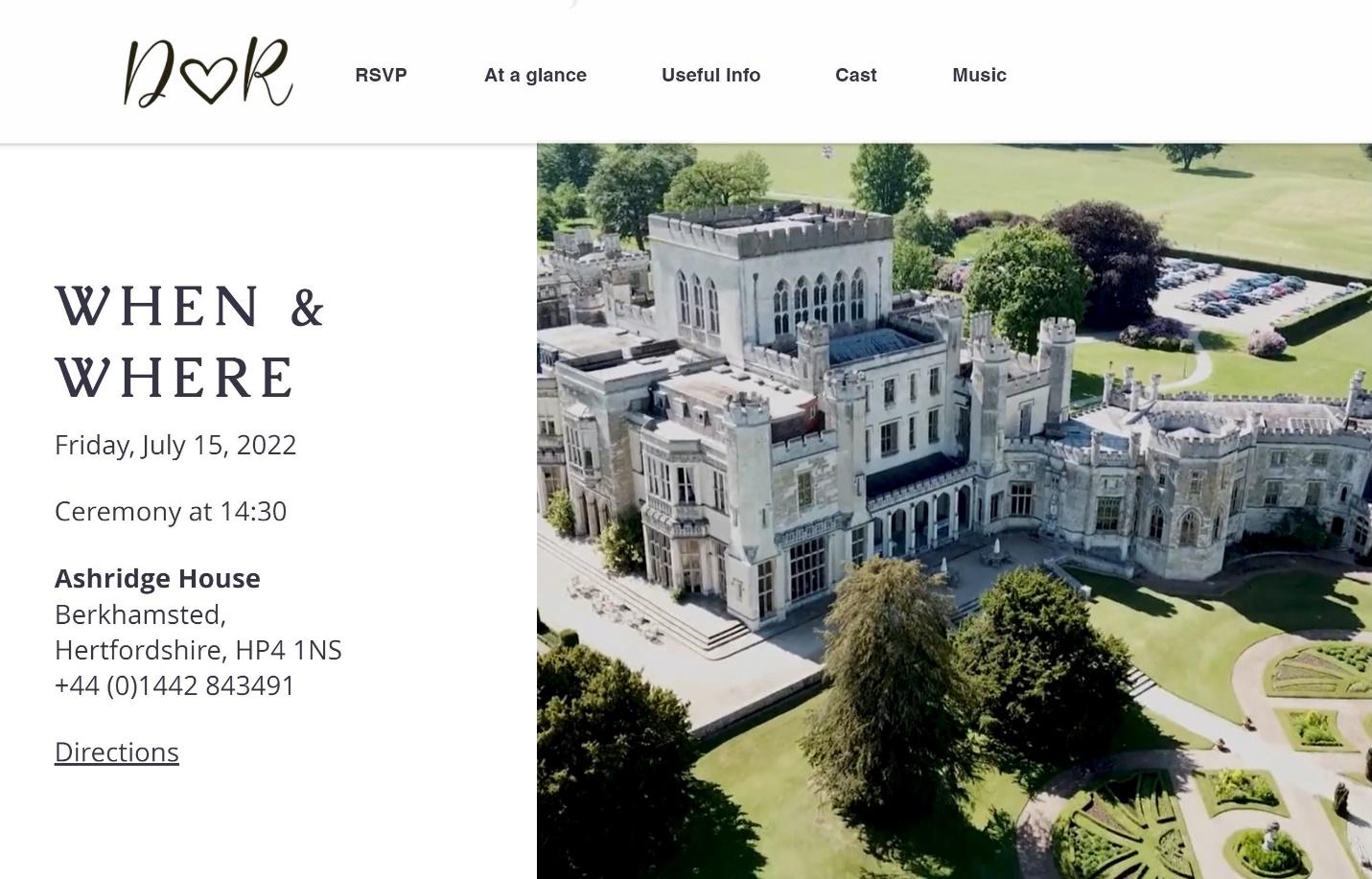 Visit website at: https://www.daniandrich.com/ If you're wondering how to design a website for a destination wedding, Daniella and Richard's stylish, modern website can help.
All the information their wedding guests could ask for is organized in a user-friendly format
: event details, hotel and map, rooms and prices, and directions and transportation to the venue are all easy to find. I was particularly impressed by the
"
At a Glance" page, which covers everything their guests need to prepare for the wedding. Another notable feature is the customized RSVP form with space for respondents to add additional guests and share special dietary needs.
The
couple even created a logo with Wix's free logo design tools.
2. Dandelions & Grace (Made with Wix)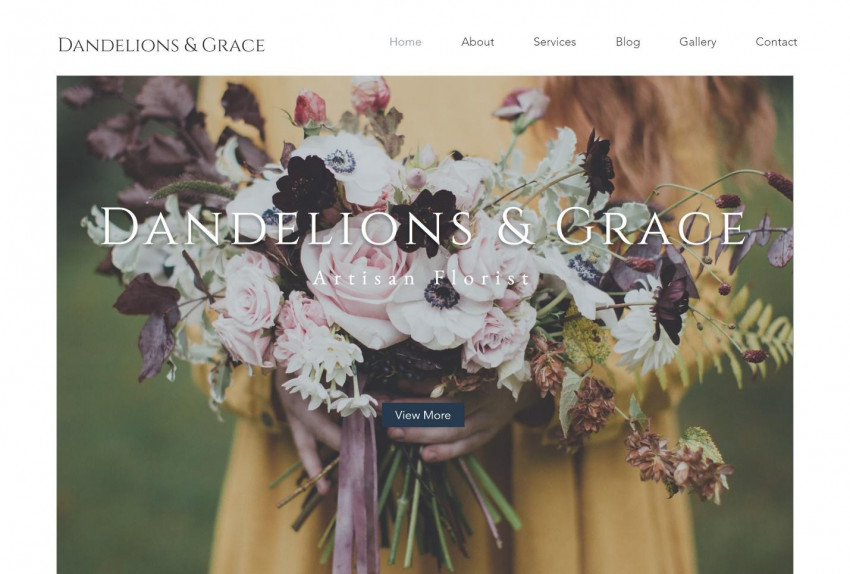 Visit website at: https://www.dandelionsandgrace.fr/ Dandelions & Grace's elegant homepage keeps things simple with a full-screen image of a stunning floral arrangement and an invitation to "View More." Its
visual impact immediately engages visitors and encourages them to explore.
Couples can use the menu to view services, browse a gallery of featured wedding displays, and set up a consultation.
The owner uses her About page to share her own story and establish a personal connection with potential clients
. Regularly posting image-filled blogs that highlight her lush floral designs is another smart idea.
Pro Tip.
If you're worried that your wedding website won't look good (or you simply don't have the time to build it), you can hire a professional designer to create it for you. It doesn't have to cost a fortune, either. With platforms like Fiverr, you can
hire a designer for as little as $5
, and still get a good-looking website on the platform of your choosing.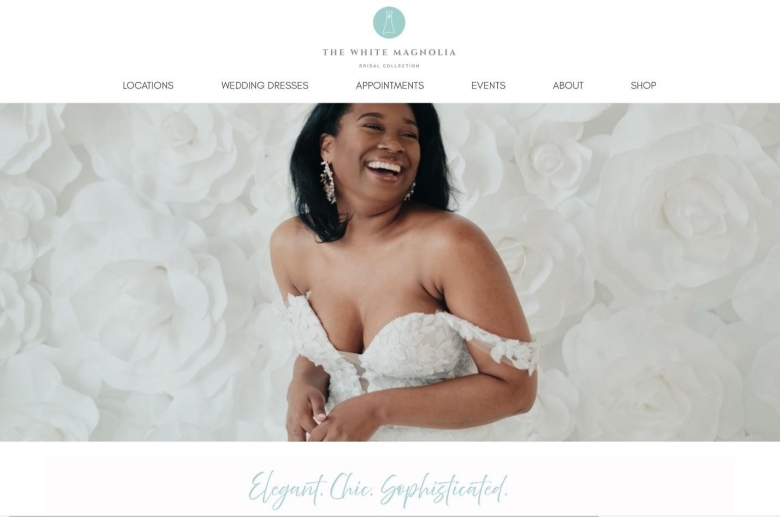 Visit website at: https://www.whitemagnoliabridal.com/ The White Magnolia's homepage video draws visitors in with a celebration of real-life brides modeling this brand's collection of wedding dresses. The message is clear: we have a gown for every bride's style, shape, and personality. The owners also use video to quickly reassure brides worried about finding the perfect dress. They offer multiple appointment options, including a "get to know each other" consultation, which demonstrates their commitment to ensuring their clients feel cared for. Here's another
nifty idea to build social proof: invite clients to share their wedding day photos and post them
on your website and social media platforms.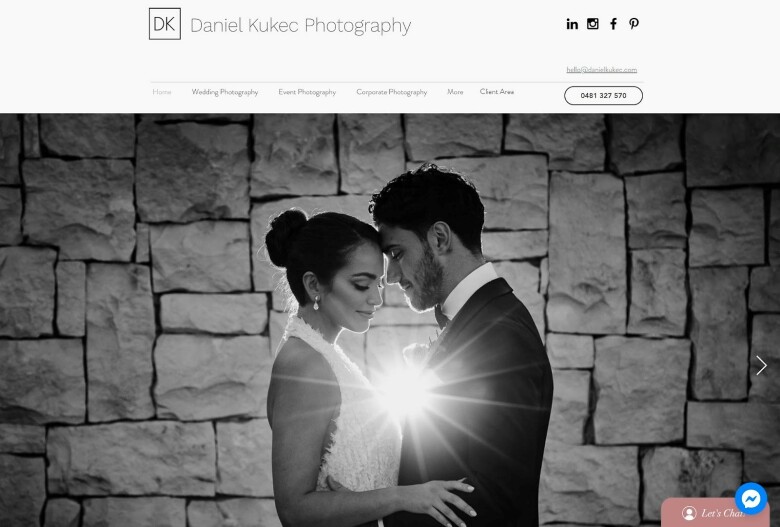 Visit website at: https://www.danielkukec.com/ If you're wondering how to set your wedding photography website apart, take a tip from Daniel Kukec's website and use a dramatic homepage slider to create a great first impression. He also takes full advantage of
Wix Pro Gallery's features like layout variations, hover effects, and slideshows
to better showcase his work
.
Another clever touch is the testimonial slider that sits above the homepage gallery, where it's impossible to miss. And to encourage interested couples to reach out, Daniel's phone number and email address are displayed at the top of the page. Couples can also
use the integrated Facebook Messenger app to chat in real time.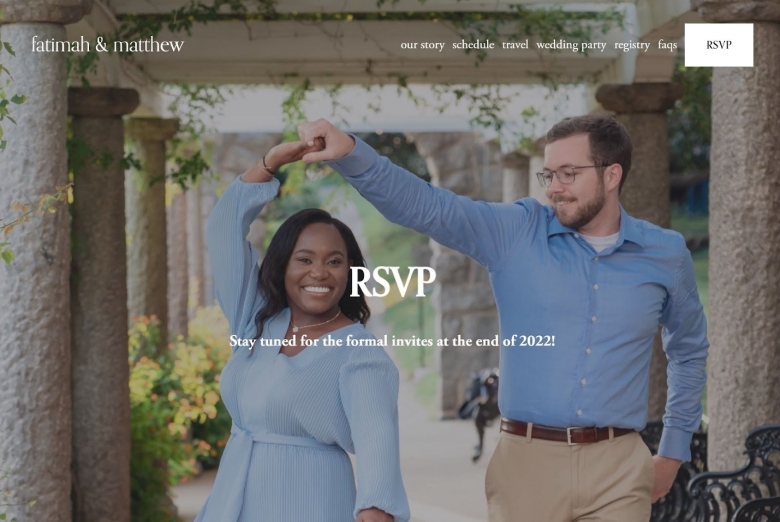 Visit website at: https://www.fatimahandmatthew.com/ Fatimah and Mathew's charming website is my top pick for couples looking for
ideas on how to design a wedding website for more than one ceremony.
Their website has an uncluttered look and feel, even though they've included details for a two-day wedding event. To help guests prepare for their Yoruba and Western ceremonies, they've added a detailed FAQ section that covers cultural traditions, dress, food, and more. They've also offered
travel tips and suggested activities for their out-of-town guests
– a key takeaway if you're looking to design a destination wedding website.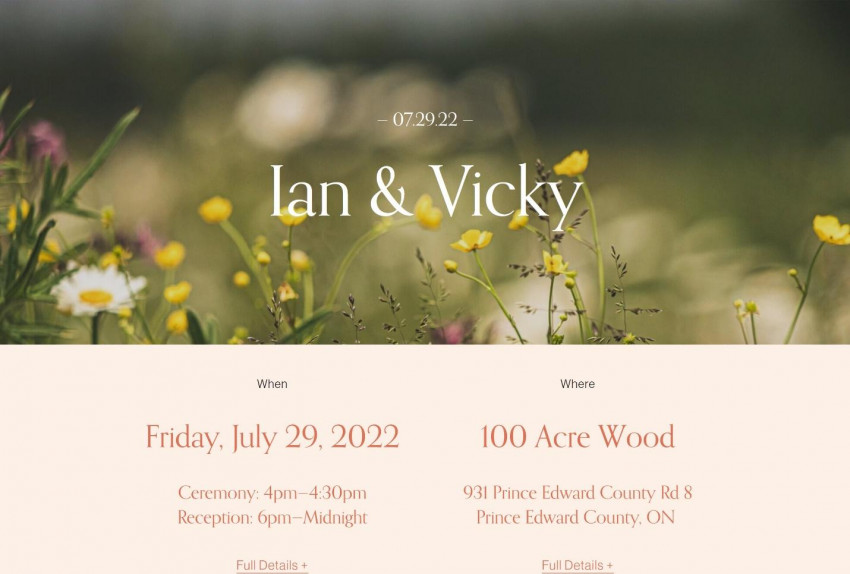 Visit website at: https://www.ianandvicky.com/ This clean, classy wedding website is the ultimate in simplicity, proving that
a good design can be as much about what you leave out as what you put in
. Easy-to-read text sections cover all the essential information – the when and where, but also "how to get to" the ceremony, reception, and other celebrations. Another nice touch is having the RSVP form and link to the couple's Registry on the homepage
.
The couple includes
a list of
available accommodations (guests can click on the links to book online)
and prearranged transportation to the wedding destination. Their hotel list even includes local Airbnb's for guests interested in budget-friendly options.
7. Aby Joanne Photography (Made with Squarespace)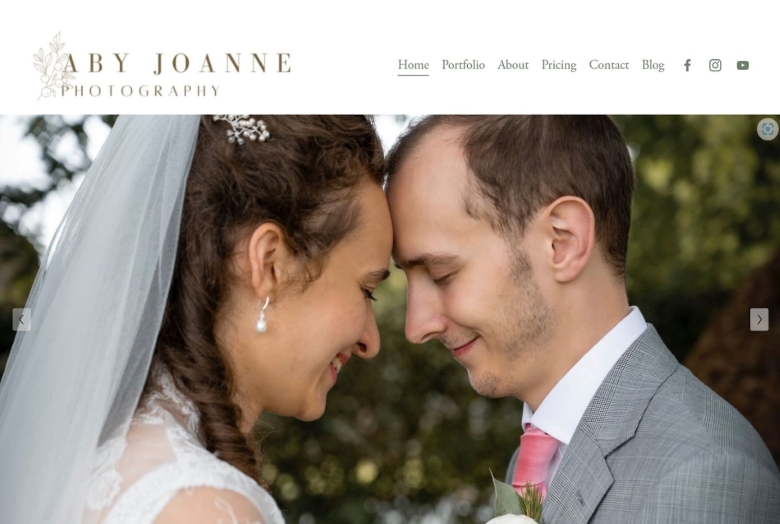 Visit website at: https://www.abyjoannephotography.co.uk/ A good wedding photography website has to make nervous couples confident that you can capture the joy and intimacy of their special day. If you're wondering how to accomplish that, I'd suggest taking a look at Aby Joanne's inspiring website. She's made the most of
Squarespace's features for photographers
by presenting her best work across a full-screen homepage slideshow, client wedding galleries, and multiple portfolios. Links to bridal outlets where her work has been featured, testimonials from satisfied clients, and smart use of social media are other ways she converts visitors
.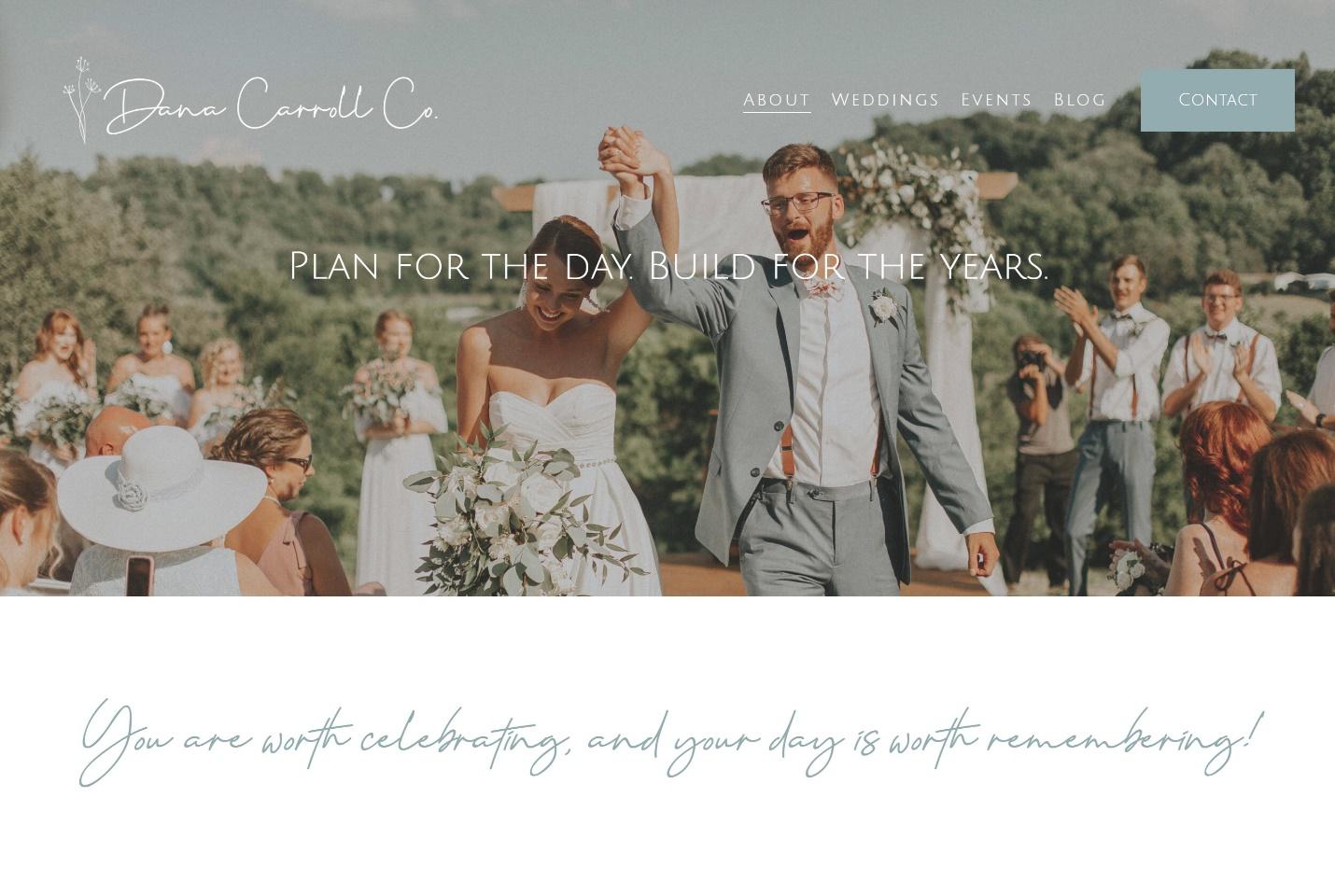 Visit website at: https://www.danacarrollco.com/ By sharing
photos, videos, and testimonials from enthusiastic clients
, this wedding planner quickly establishes her expertise and makes the case for why couples should use her services. She uses every page and design element to build rapport with her target audience. Low-key
call-to-action buttons invite visitors to "get to know each other" or simply "chat,"
which boosts engagement. Other tips from this website are to offer a free consultation and various planning packages for different needs and budgets.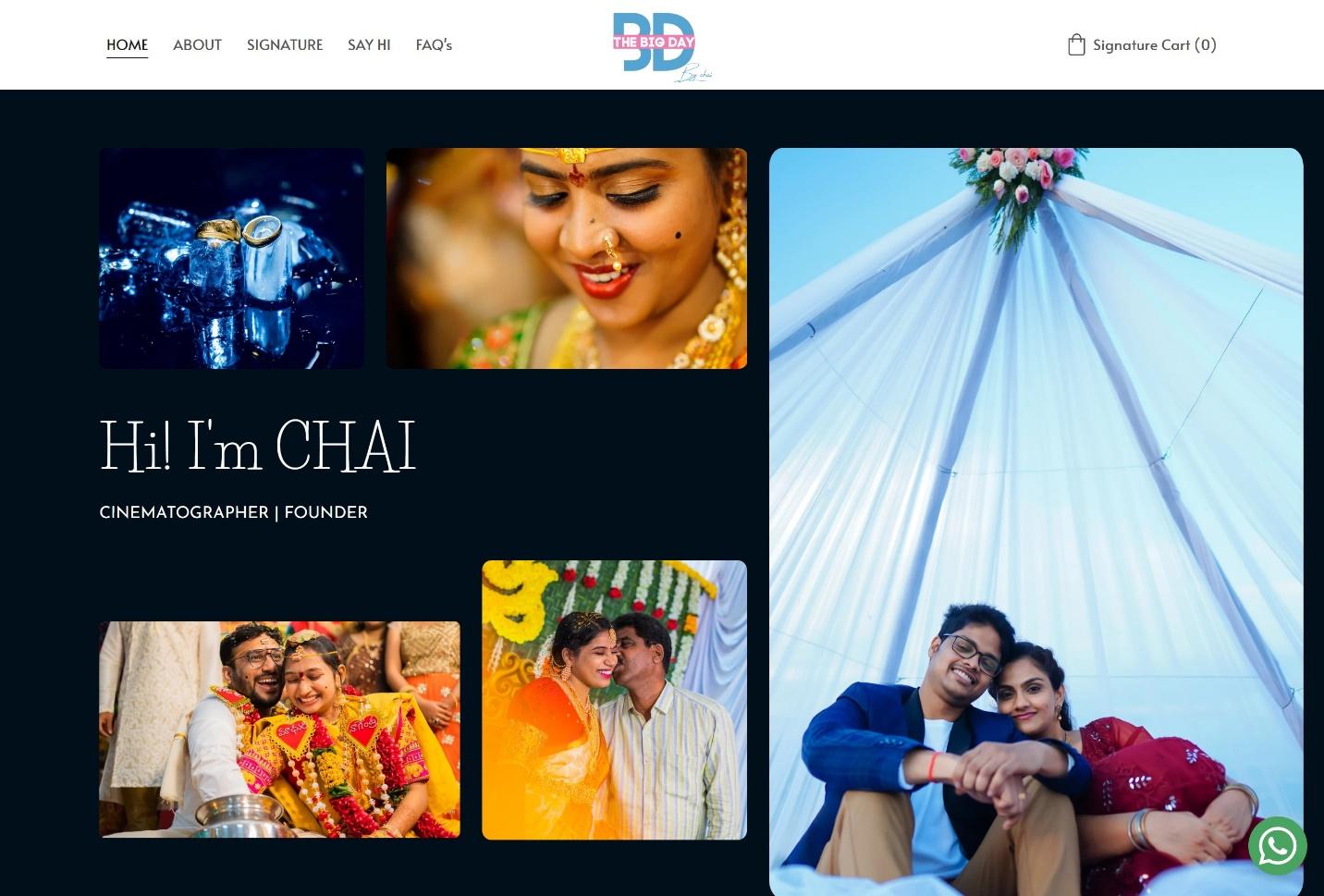 Visit website at: https://thebigdaybychai.com/ If the classic, atmospheric wedding style doesn't match your business' vision and vibe, you may want to take a look at The Big Day By chai. It's a prime example of how to create a bold, vibrant, and utterly engaging wedding website. Visitors are immediately drawn in by the photos and wedding videos embedded on the homepage. They can
click on the WhatsApp icon to get answers to questions in real time.
If you serve international clients like this creative team does, Hostinger Website Builder's multilingual tools will let you make your site available in whatever languages you like.
Other Notable Wedding Website Examples
So far, I've shared the most outstanding examples of wedding websites for couples and businesses I could find. If you're still looking for ideas and inspiration, though, I've gathered some other impressive examples to help you design an engaging site.
10. Madi and Chris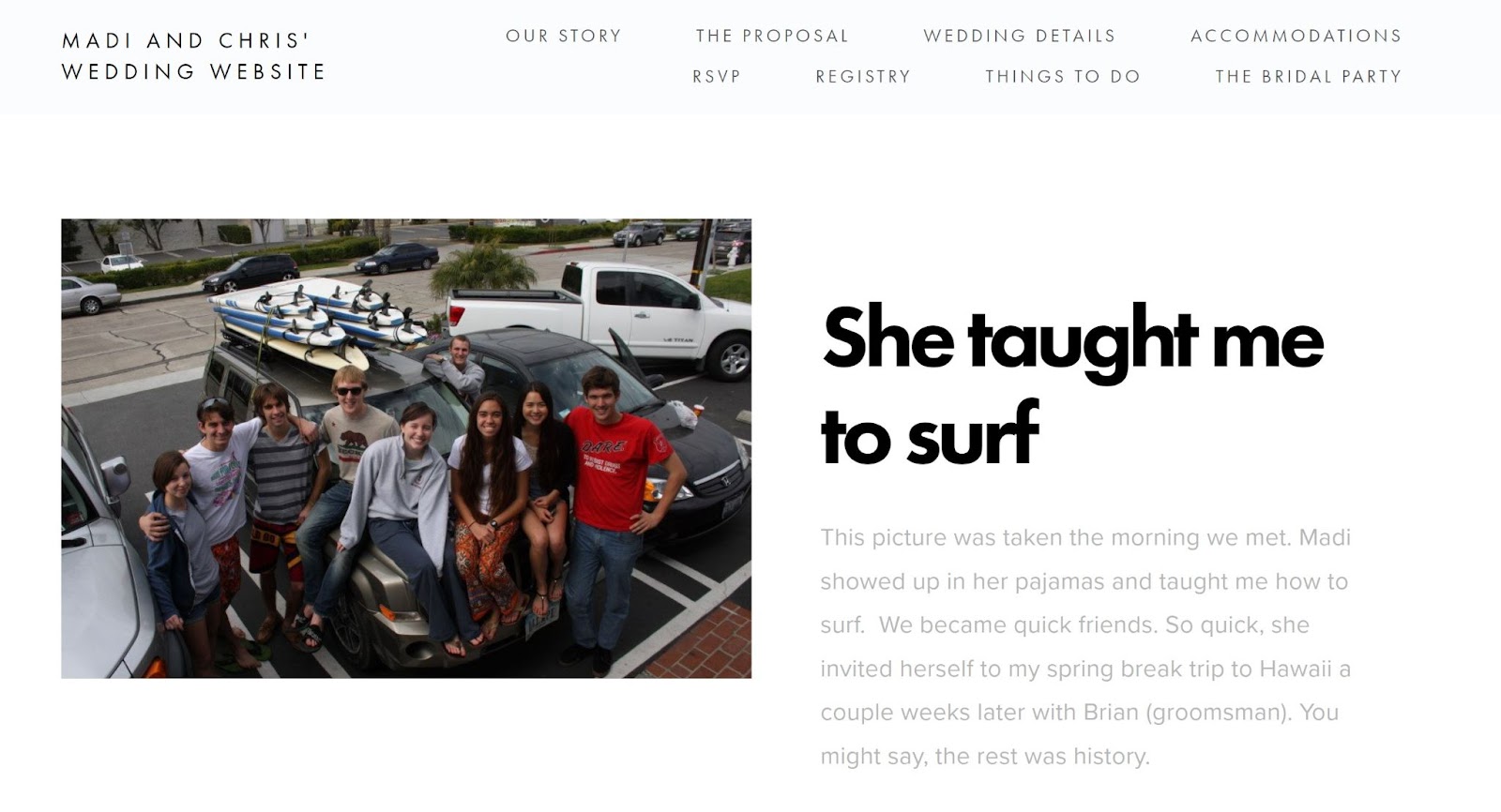 Visit website at: https://www.chrisandmadi.com If you're craving inspiration on how to create a wedding site with a modern vibe, look no further than Madi and Chris's website. An abundance of photos, videos, and storytelling encourage invited guests to RSVP and join the celebration.
11. Ariella Chezar Design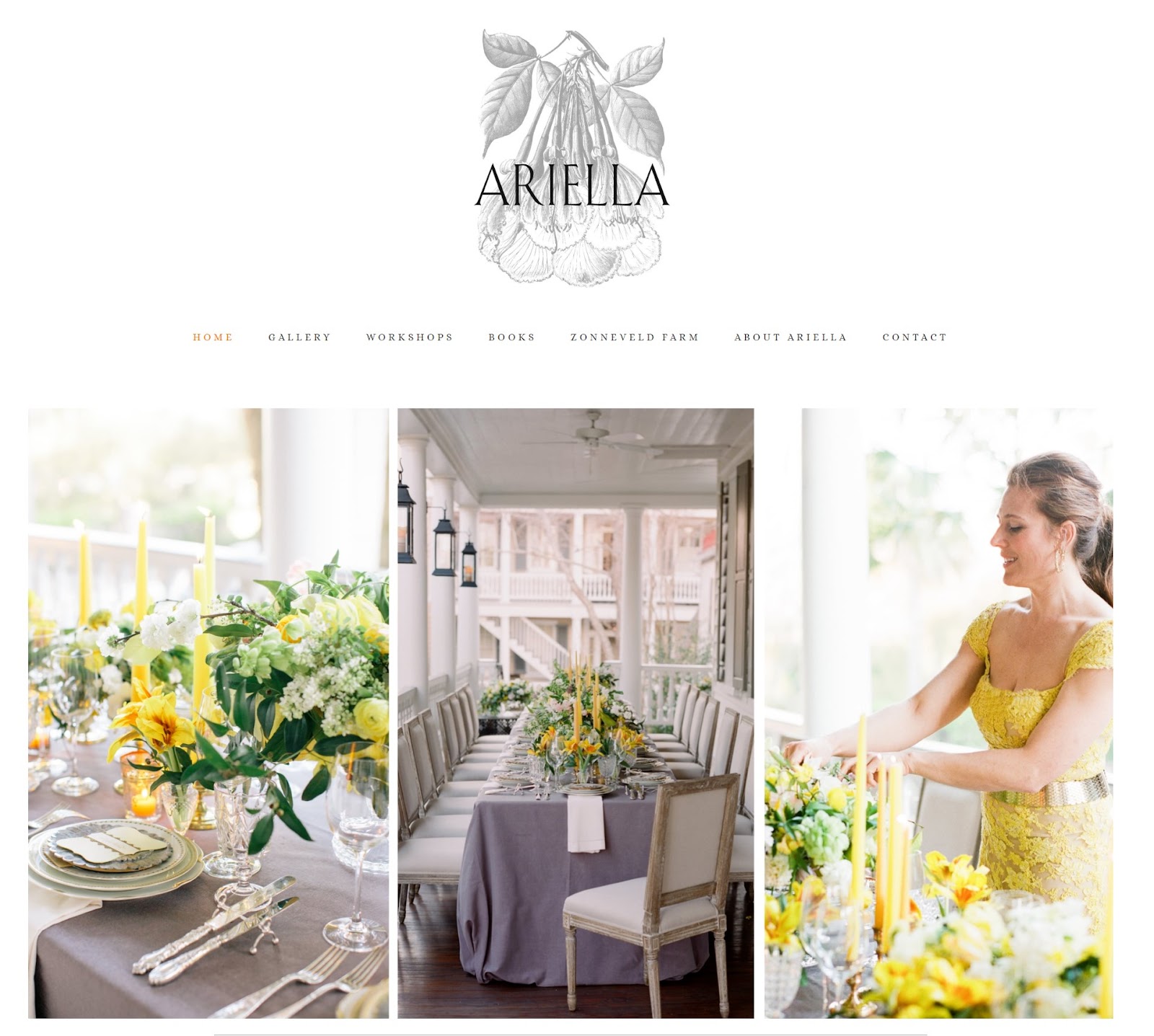 Visit website at: https://ariellaflowers.com Floral designer Ariella Chezar uses an auto-scrolling slideshow to capture couple's interest the moment they land on her page, giving them a sample of her sumptuous floral designs. Interested couples can then fill out a client questionnaire or sign up to her newsletter to learn more about her floral services.
12. Davis Row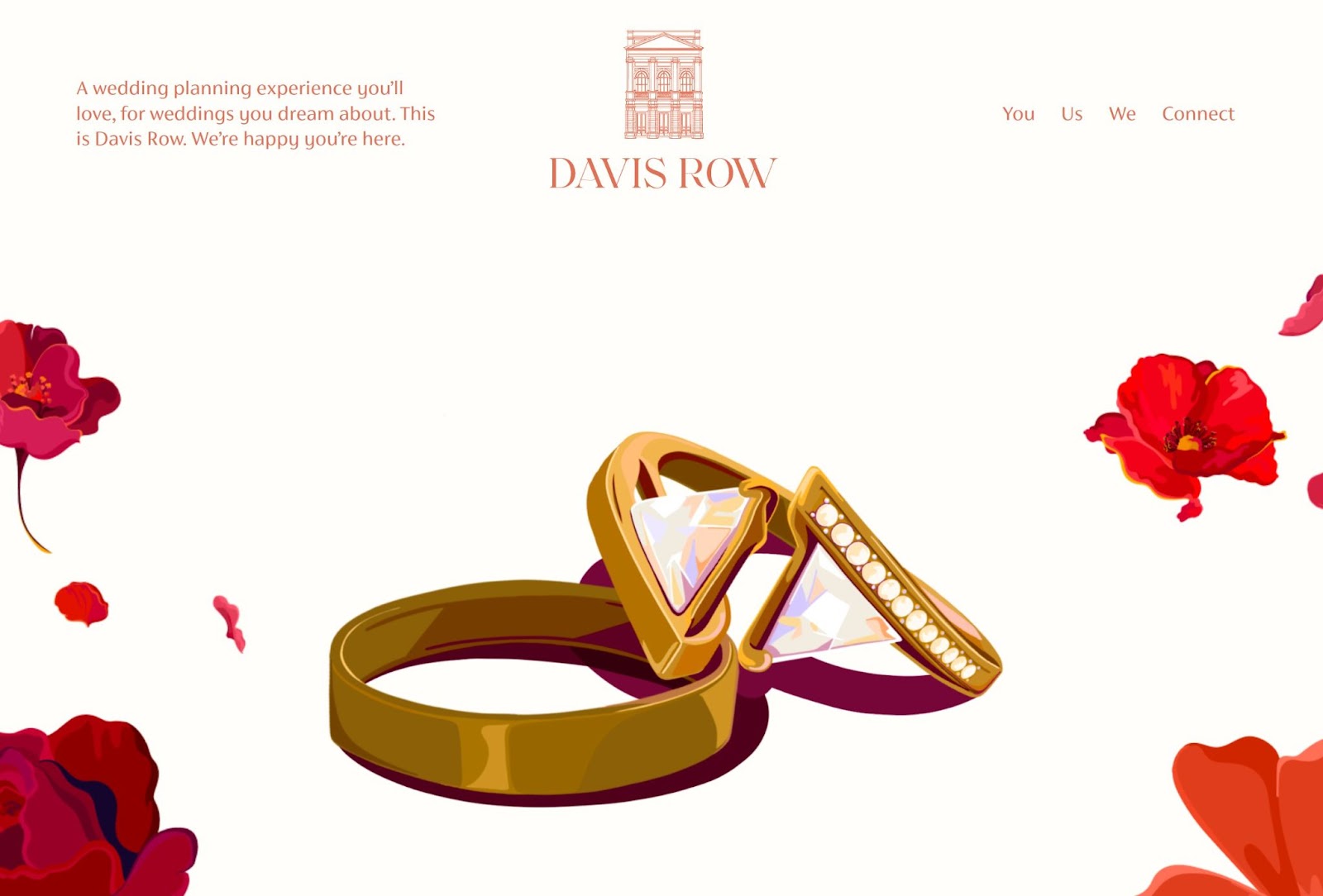 Visit website at: https://www.davisrow.com Animated illustrations give the Davs Row website a fun, contemporary feel while the client-focused text immediately establishes empathy and trust. Gorgeous photo galleries and client testimonials are just a short scroll down the page.
13. Danny & Nat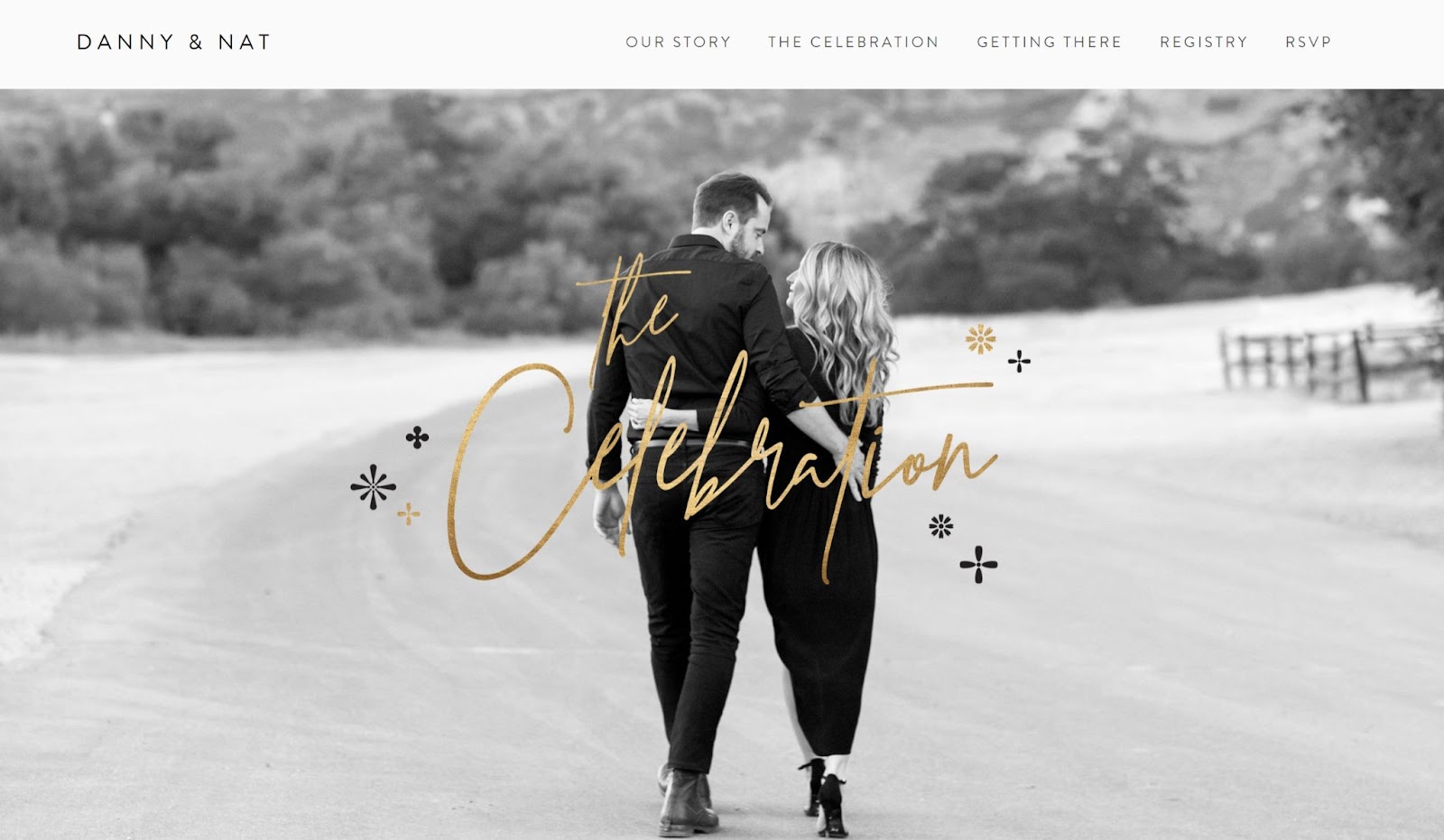 Visit website at: https://dannyandnat.com
The black and white color palette lends a subtle elegance to this couple's stylish wedding website.
What's more, every page – from the RSVP to the celebration details – is visually consistent and thoughtfully designed to make it easy for guests to find the information they need.
14. Jose Villa Photography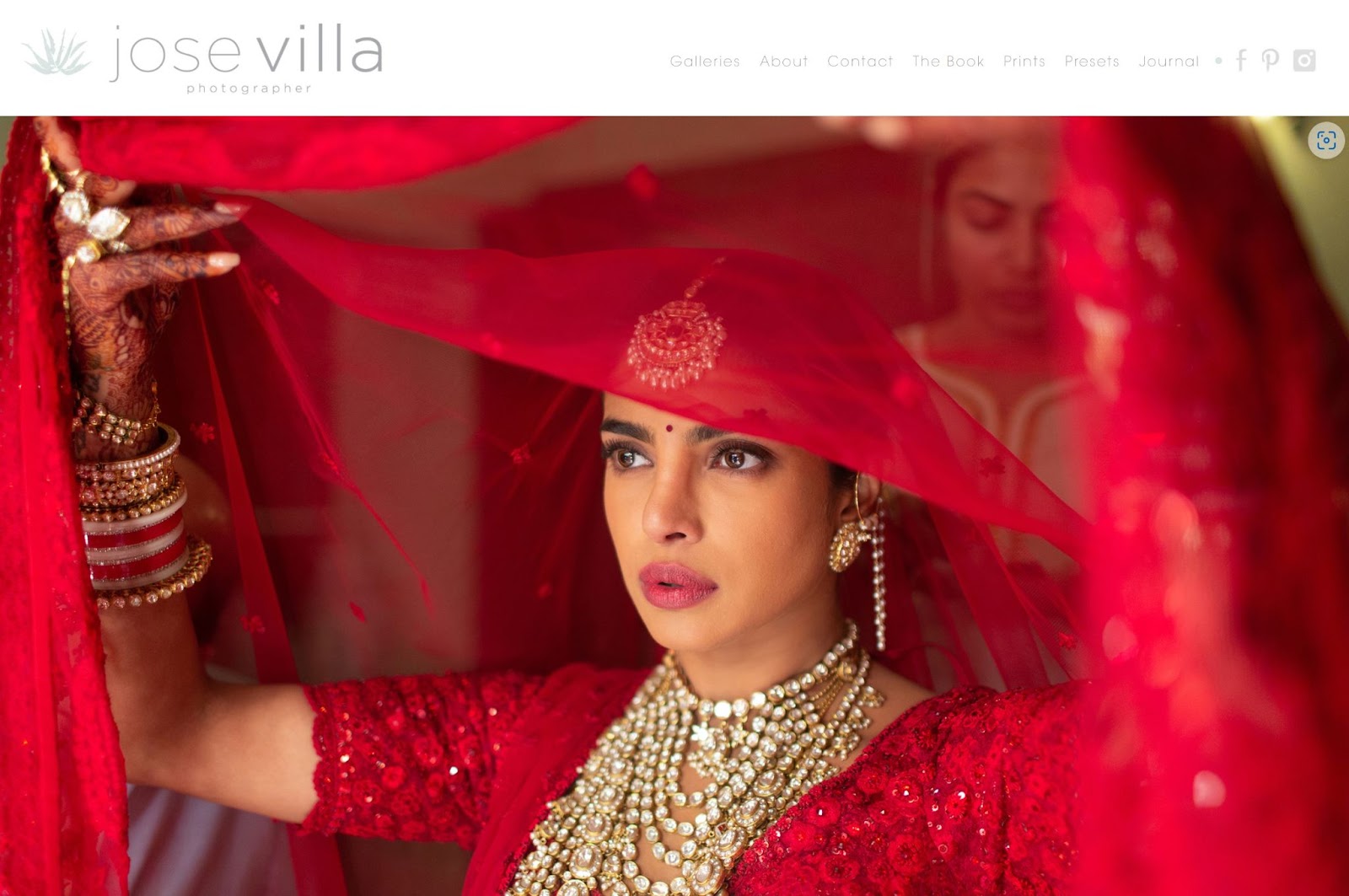 Visit website at: https://josevilla.com Photographer Jose Villa's website uses a splash page to grab attention and invites visitors to explore further.
Other notable features are the expansive gallery pages and a visually focused blog
where he showcases oversized photos of wedding and engagement shoots.
15. Anna Campbell Bridal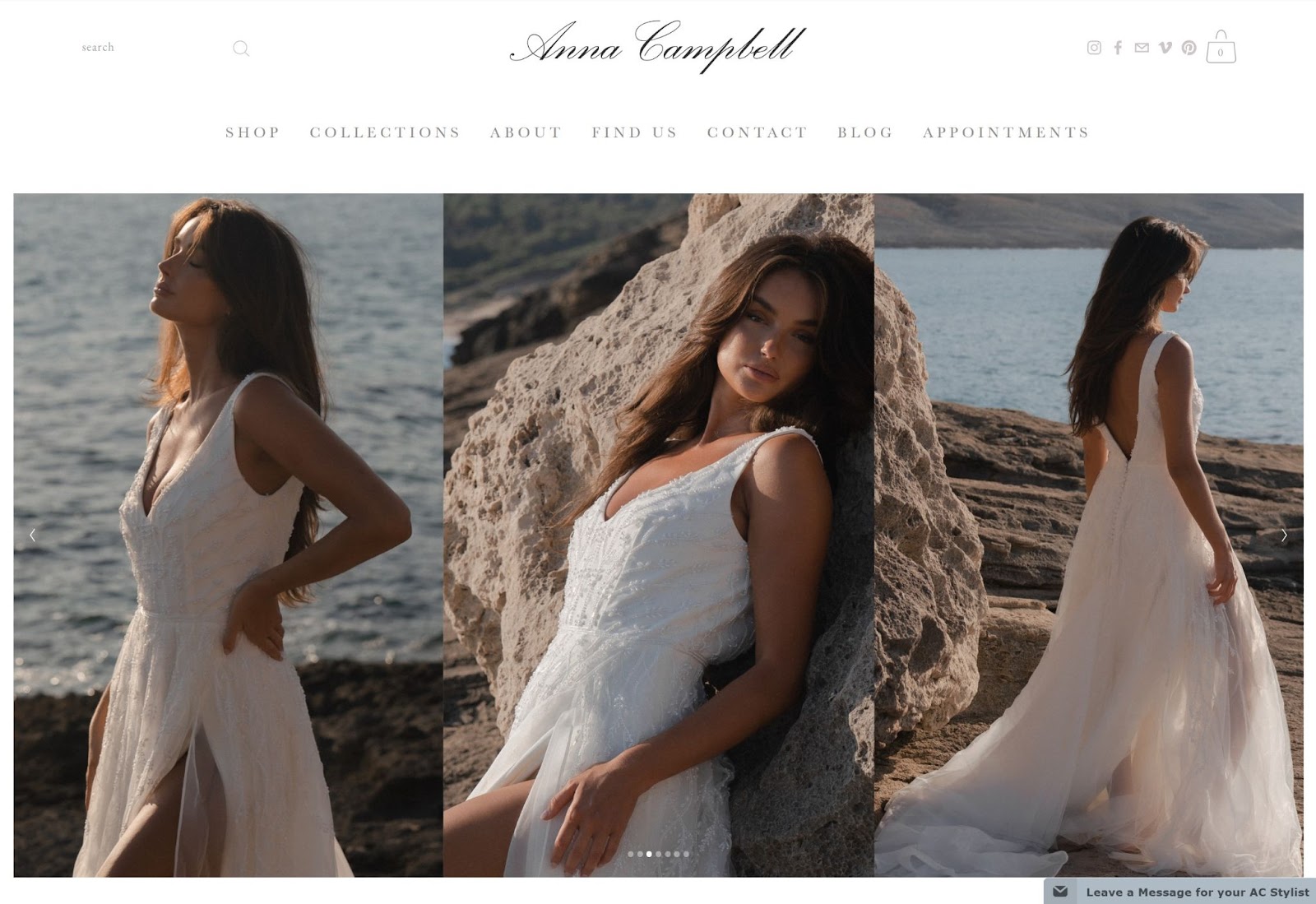 Visit website at: https://www.annacampbell.com Anna Campbell has wisely organized its bridal collection in multiple ways, including by season and style, to improve the shopping experience. This salon also lets brides set up a consultation to order a one-of-a-kind, handcrafted bridal gown.
16. Addie and Corson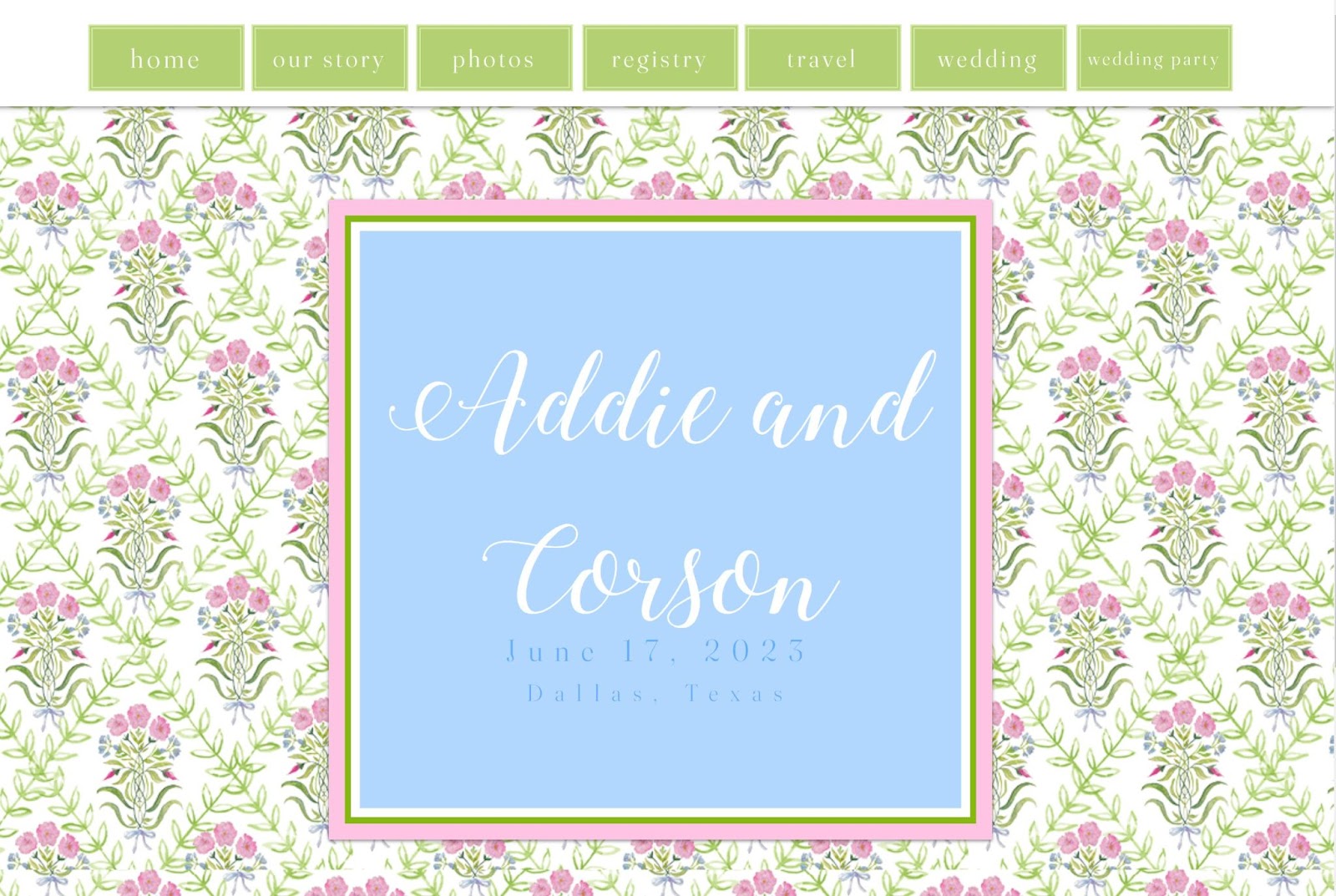 Visit website at: https://www.addie-corson.com The homepage of this invitation-style wedding website shines with a tapestry background. It conveys the joy the couple wants to share with family and friends through its colorful palette, which doesn't distract from their photos.
17. Elegant Affairs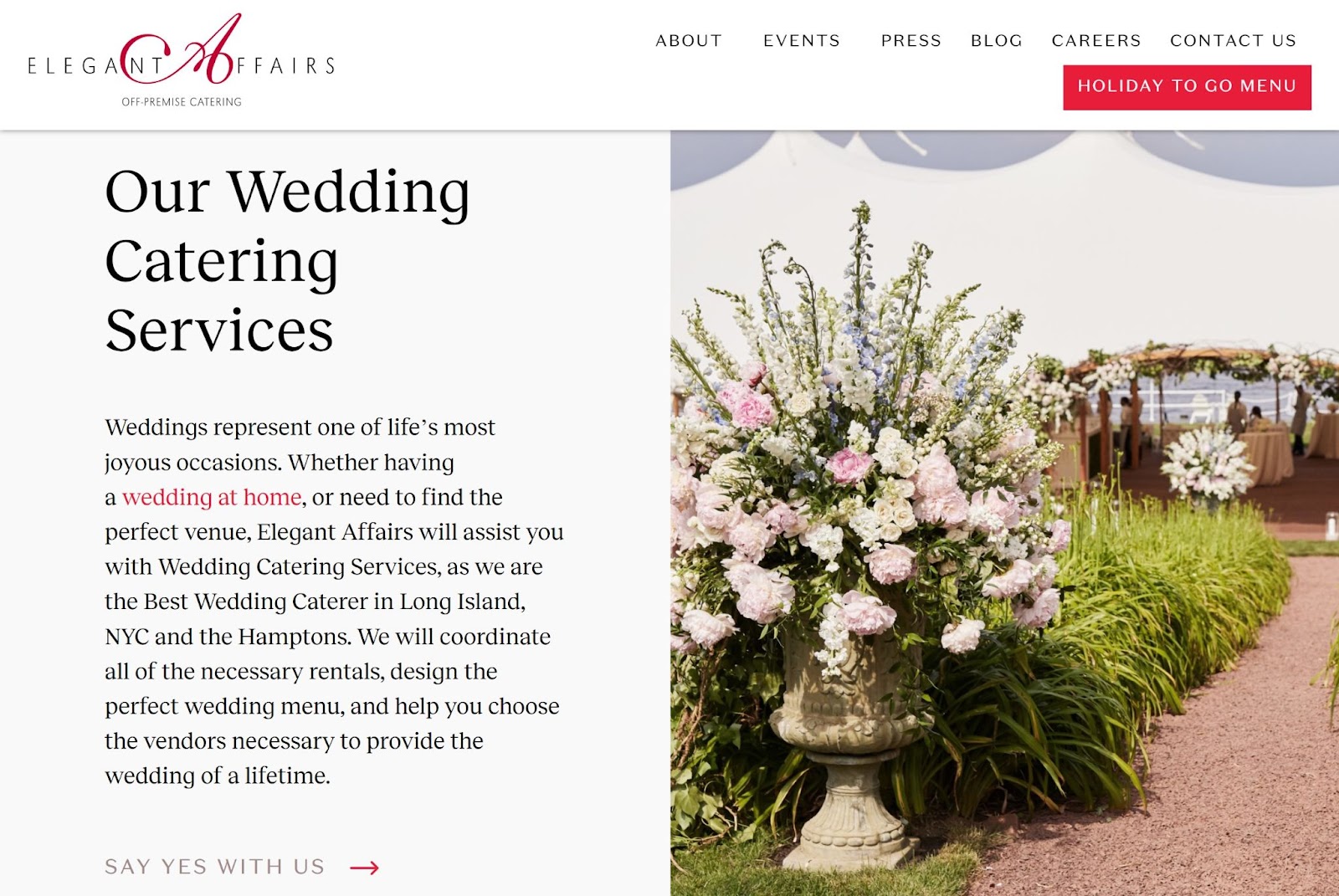 Visit website at: https://elegantaffairscaterers.com To promote your catering services, you'll want to include multiple galleries that show off camera-ready food. Elegant Affairs goes a step further and
shares videos of catered weddings, to give couples a fuller experience
of the services they can purchase to make their nuptials unforgettable.
18. Ashley Smith Events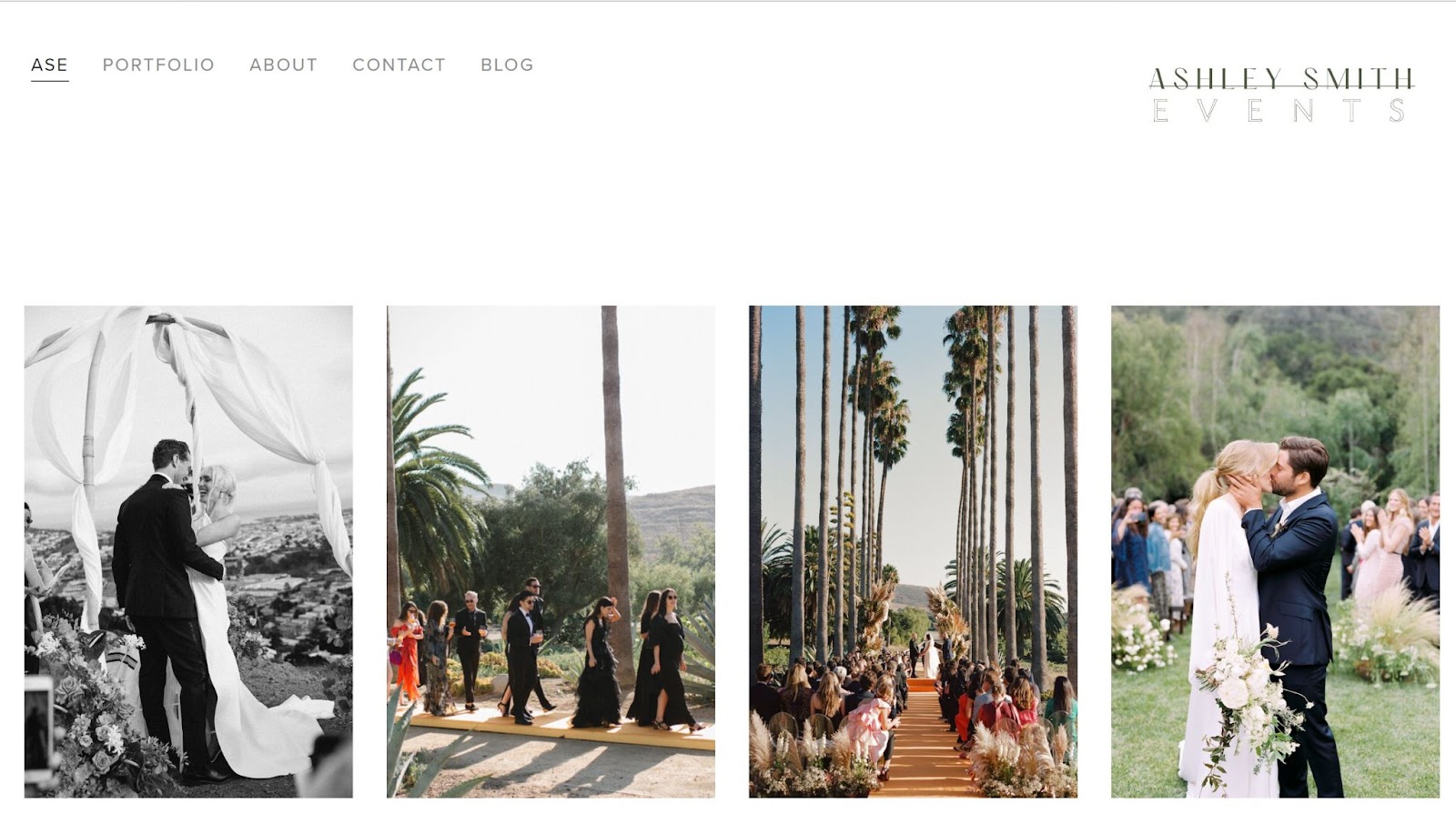 Visit website at: https://www.ashleysmithevents.com
This wedding planner's site is all about visuals of happy couples
– you'll find them on the homepage gallery, portfolio, and blog. At the same time, it includes all the essential features to drive interest, from glowing media accounts to an introduction to the team that will cater to a couple's every need.
3 Best Website Builders for Any Type of Wedding Website
Whether you're looking to create a personal or business wedding website, you'll want a builder that's going to make the design process as stress free as possible.
Wix, Squarespace, and Hostinger come with everything you need
, including plenty of good-looking templates, easy-to-use editors, and the tools and features needed to design a gorgeous website like the very best examples on this list.
Wix offers dozens of wedding templates for couples and businesses.
Drag-and-drop editing makes it super easy to create unique layouts, and you get plenty of customization options for changing colors, fonts, and other design elements. Essential pages and features are built in or can be added with a few clicks. Couples can
add a wedding countdown, create a
customized calendar, upload a wedding playlist, and send digital invitations.
Businesses will appreciate Wix tools for appointment booking, payment processing, and marketing and SEO.
Squarespace's fully responsive templates ensure your wedding website will look great and be easy to navigate on any screen size. Template designs are stunning, easy to tweak, and
ideal for businesses and couples looking for beautiful galleries.
If you're considering Squarespace for your wedding site, it's a good idea to test the service using its
14-day free trial.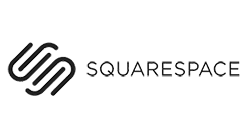 Save up to 30 % on your Squarespace plan today!
Plus get a free domain for one year!
1031 users used this coupon!
Well-designed templates and a beginner-friendly editor make Hostinger a good choice for couples and businesses that are looking for an affordable, easy-to-use builder with solid features. It only takes a few clicks to add design elements like an RSVP form, photo album, or registry.
Hostinger Website Builder's AI tools will even design a logo for your website, enhance your photos, or write content for you
– though expect to make your own tweaks for the best results.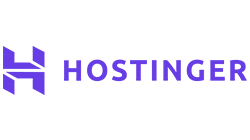 Save up to 85 % on your Hostinger Website Builder plan today!
Limited-time offer - Don't miss it!
65 users used this coupon!
Designing A Wedding Website Can Be Easy
Armed with inspiration from the real-life examples in this article, you can build a beautiful and functional wedding website that aligns with your vision and personality. Just make sure to choose the right website builder.
If in doubt,
I recommend going with Wix
. It's easy to use, it offers full creative control, and it has every feature you're likely to need built in. Once you've chosen a builder, you'll want to keep certain design tips in mind.
High-quality images/video will help you make a great first impression.
It's also important to establish a personal connection with invited guests/potential clients and make it easy for them to quickly find important information about your wedding event or business.
FAQ
What is the best builder for wedding websites?
Wix offers the best value when it comes to design, features, and customization. You can choose from dozens of Wix's unique-looking, designer-made templates to quickly create a one-of-a-kind website that matches your wedding theme or business brand.
How much does a wedding website cost?
You can build a free wedding website with Wix, although you'll probably want to upgrade to a personal plan to remove branding and get a free custom domain. The cost can be as little as a few dollars per month with Wix's special offers. If you're on a tight budget, Hostinger is another affordable option. If you want to check out more options, you can read our review of the 10 best website builders for 2023.
What should couples include on a wedding website?
Couples need to include essential details: the date and timetable, along with venues for the wedding, reception, and other activities. Other key information to include are accessible lodging, a map and ways to get there, a link to your gift registry, and a response form. It's also lovely to tell your own love story and present the bridal party to the guests.
How do you build a website for a wedding business?
To design a good wedding business website, you need to keep your target audience – the bride and groom – top of mind. High-quality images, video, and testimonials from previous clients will establish your expertise and build trust. Most important, you want to make it easy for couples to find essential information about your services, plans and pricing, and contact information. For help with creating your website, check out our step-by-step guide building a website in 2023.