You might think that the look of your website doesn't matter as much as your words, but the right template can help you make a good first impression on prospective clients.
 When I first started building my own website, I didn't know exactly what kind of design or layout to look for, but I did the research and am bringing my recommendations to you. A good template for writers should balance text and visual elements while not skimping on necessary functionality and features, like a blog, a portfolio for your writing, and contact forms for interested visitors to get in touch with you. If you're not sure what features you need, or you're overwhelmed with all the choices, don't worry.
I took an entire day to go through all of Squarespace's templates, and have handpicked the ones that are ideal for your writer or author website.
Squarespace Writer Templates I Like
Squarespace has
a lot of good choices
 when it comes to templates, but since there's no specific category for "writer templates," it can be tough to decide which one to go with – especially if you don't
really
know what you're looking for. With the right features and minor adjustments, many Squarespace templates will work well for writers.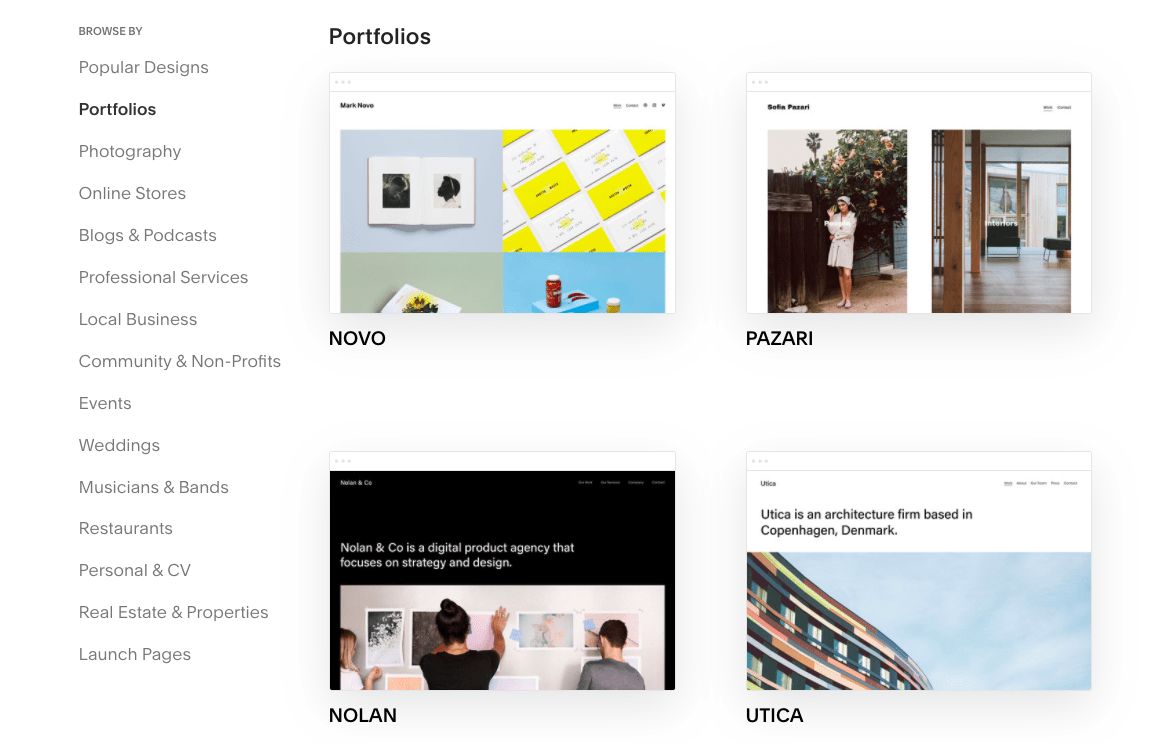 The template you choose needs to reflect what you hope to achieve with your writing website.
 Whether you're trying to promote and sell books, create an online portfolio to send to clients, or share your latest blog posts, Squarespace has the right template for you.
All of Squarespace's templates are mobile-responsive, so that's one less thing to worry about.
 It's also important to keep in mind that these templates are customizable, so even if the one you love doesn't have all of the elements you need, you can easily add the sections you're missing. Curious about what else Squarespace can do?
Check out our expert review
. Here are my top picks for Squarespace templates that will work best for writers.
Suhama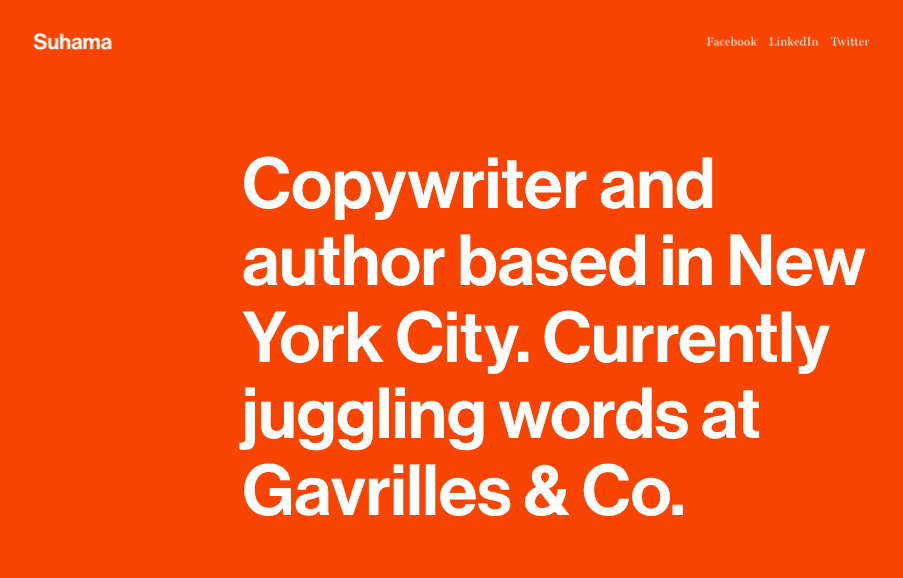 What I love most about the
Suhama
 template is that it manages to be simple and bold all at once. This template doesn't include any images or video sections, but its simplicity is what makes it visually striking.
Suhama
 doesn't hide anything. It's all on one page.
 Visitors are greeted by a bold typeface set against a clean background, and as they scroll, all the information they need is organized clearly in a minimalist design. There are different sections for your work and portfolio links, a short section to detail your experience, an About Me section, and, finally, a large contact button that takes your visitors to your contact information at the bottom so your visitors can get in touch with you easily. The social links at the top of this template do a good job of highlighting your online presence – something that might be important to new clients.
Suhama
 is ideal if you're looking to showcase a combination of your education and professional writing experience plus your writing portfolio on a website that is basic and straightforward but still captivating.
Stanton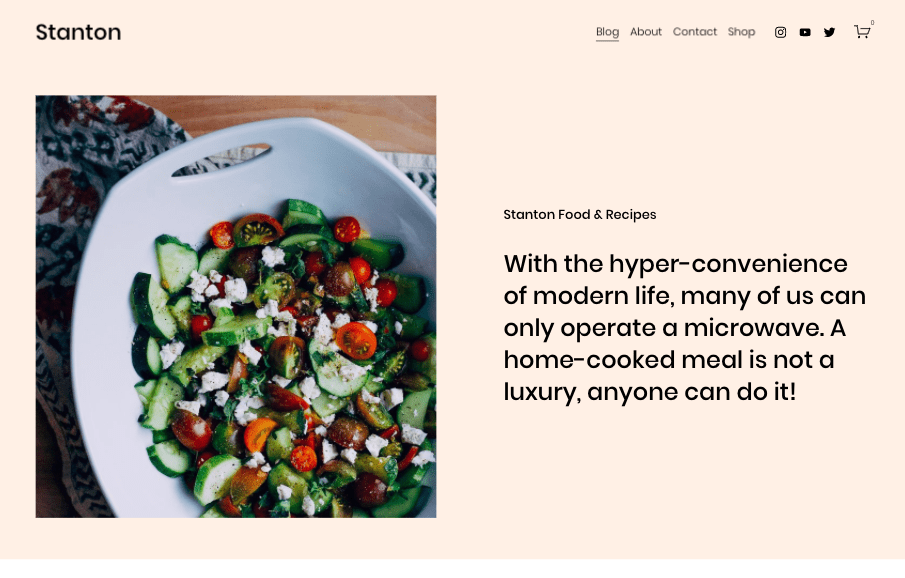 Stanton
's a great template if your focus is blogging and selling books.
 This template uses a lot more images than
Suhama
, but don't let that scare you away. The visuals here help draw visitors to your site and keep them there. The second section on the homepage is for your recent writing, giving your visitors a good understanding of who you are as a writer just from browsing the blog posts you've written recently. Scroll down further, and you'll find a section to promote your most recent book.
Stanton
 comes with a built-in online store, and I like how simple and non-distracting it is.
 Even if you only have one or two books to include here, the product boxes are situated on the page so that your shop doesn't look empty.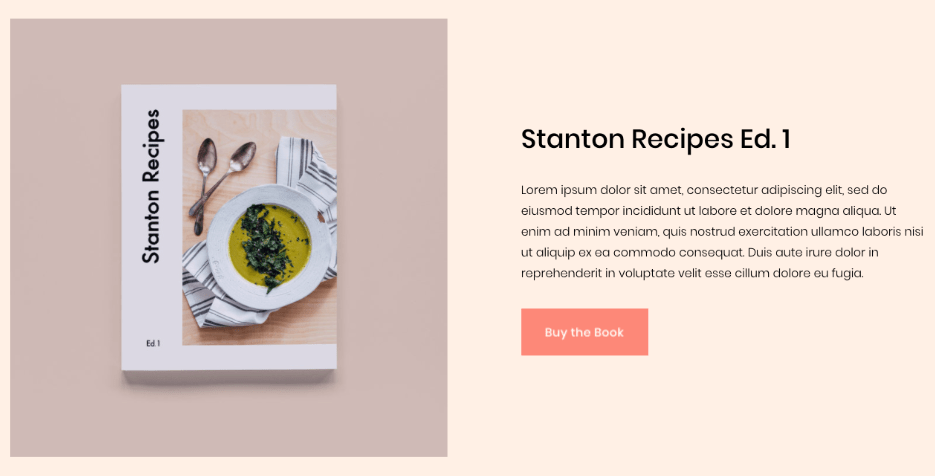 The last section on the homepage is a newsletter sign-up block. If you don't have a newsletter, you can replace this with a contact form. But if you're feeling bold, you can take advantage of Squarespace's built-in email marketing tool to start your first newsletter. Find out more about this and other features in
our full expert Squarespace review
.
Almar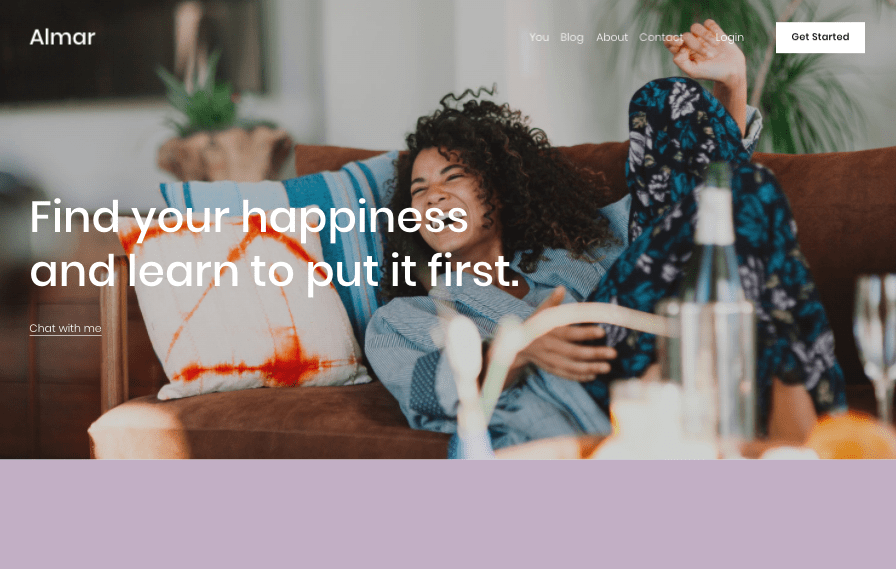 The
Almar
 template homepage design is perfect for a writer who wants to attract more clients.
The banner image and title are the first things a visitor sees with this template. I recommend adding a professional picture of yourself with an engaging title that explains who you are and what you do, something like "New York-based Content Writer," or "Your Name: Bestselling Author." The top sections on the homepage are great for adding a brief introduction about yourself, and the built-in buttons are ideal for linking your portfolio.
I love the addition of the logo section, giving you the ability to brand your website in your own unique way.
You can also add icons for quick access to your notable publications and the testimonial section is perfect for placing your shining references from editors who have worked with you.
Amal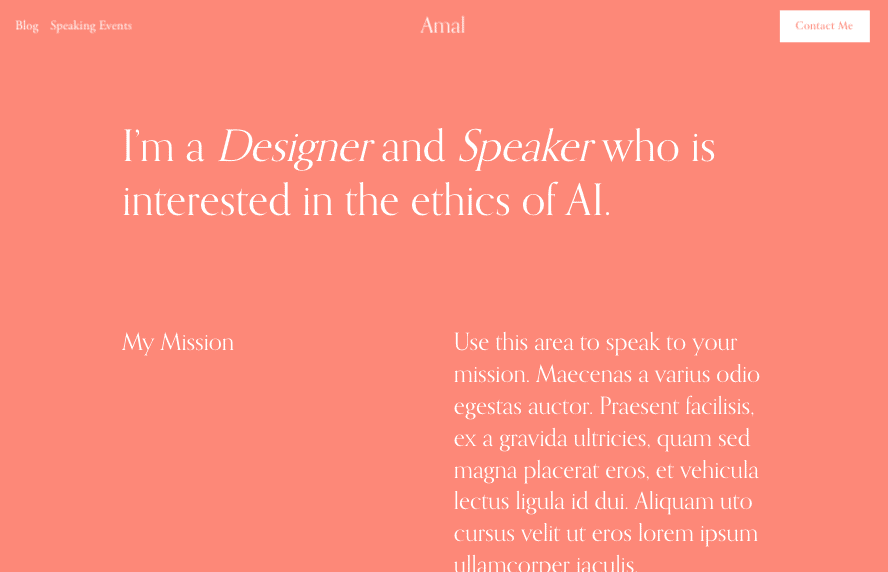 The minimalist, text-based style of
Amal
 is similar to
Suhama
, just with a few key differences. This template is very simple. The menu includes only a few options: a contact button on the homepage that takes visitors to a detailed contact form, space for a blog, and a page for upcoming speaking engagements. 
If you've recently launched a book and you're planning a book tour, then this template is a great choice.
This template is ideal for writers who don't really need a portfolio but do need a website to promote their work.
There's enough space with
Amal
 for you to highlight your writing with recent or top posts from your blog.
Squarespace Templates I Don't Recommend for Writers
There are some templates on Squarespace that seem like they would work for a writer, but when I tried to use them, they didn't perform well.
Choosing the wrong template leads to frustration and wasted time – time you
could have
 spent writing.
The few templates I wouldn't recommend using aren't exactly
bad
, but they won't satisfy your needs as a writer.
Harman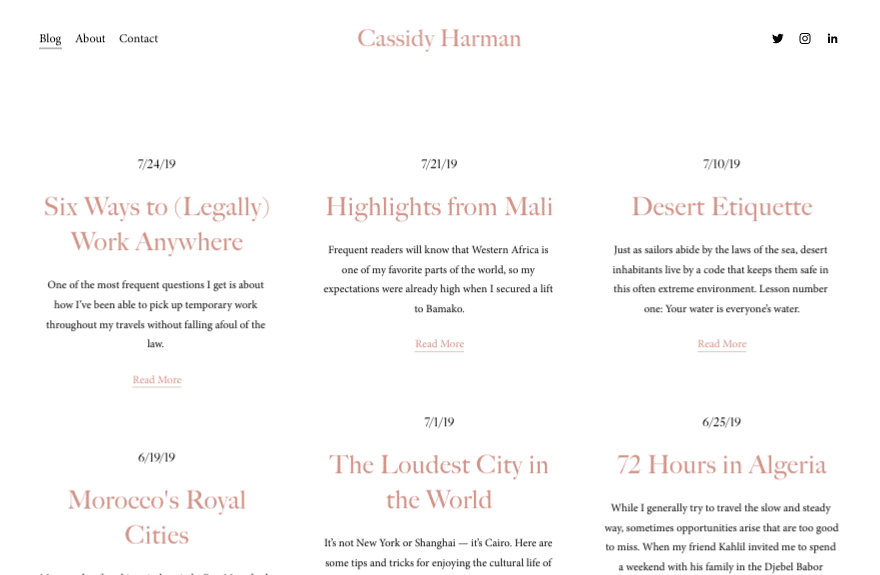 The
Harman
 template is geared towards bloggers, but
if you're a writer who is focused on more than just blogging, this template is
not
 the way to go.
Harman
's homepage is entirely made up of titles and blurbs of blog posts, which doesn't really make for an engaging website. Imagine landing on this homepage, and the first (and only) things you see are blog titles. No images. No introduction. No description of the type of writing you do, where you've been published, or your areas of expertise.
There are just not enough features on
Harman
 to work for writers looking to show off their work or connect with new clients.
 Sure, it's a text-based template, but I say it's
too
 heavy on the text. Writing might be your focus, but it's worth having some other elements on your website to break up the monotony and direct visitor attention to specific areas like a contact form or portfolio (which are both noticeably absent from
Harman
's homepage).
Grove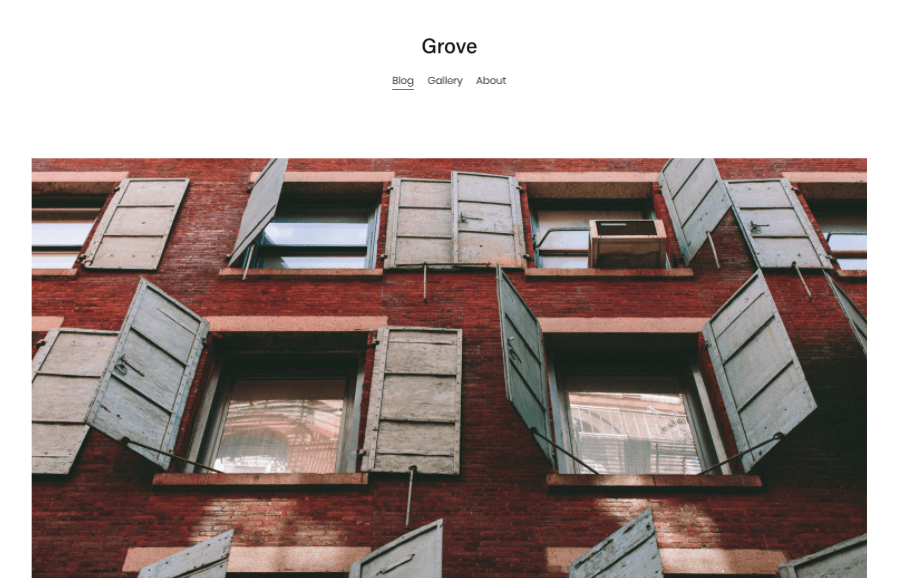 While
Grove
 boasts a simple and minimal design that can make a website stand out, it lacks any "wow" factor that makes it worth using.
It might be good for a basic blog, but it doesn't have enough built-in pages or sections where you can tell your readers about you or show off your writing experience.
Grove
 is also missing contact forms, so if a reader wants to get in touch after reading your latest blog post, they'll need to hunt for your email address. Of course, you can customize this template to add a portfolio or text blocks to talk about your skills or services, but
if you have to go through that much hassle, it's best just to choose another template from the start.
Grove
 lacks the necessary charm to keep a visitor's attention. On mobile, it looks bland and empty, which isn't the image you want to give people of yourself – and
especially
 not of your writing.
Otto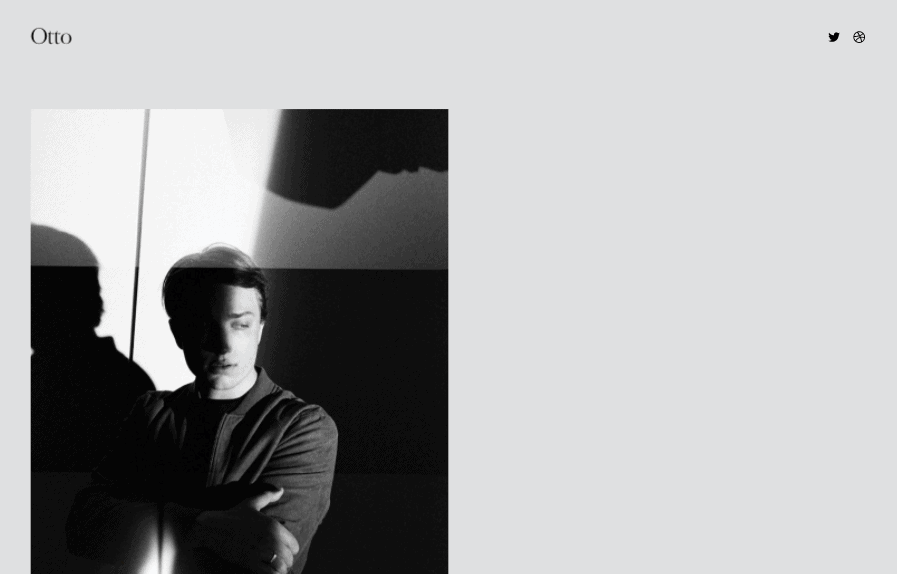 You'll find
Otto
 in the portfolio category, though I'm honestly not sure why, since there's not much of a portfolio there to speak of.
Otto
 seems to be going for the same concept as
Suhama
, with a one-page resume and portfolio type website, but it misses the mark – especially for writers and authors. The portfolio section isn't very appealing, the contact button at the bottom of the page is smaller than any of the text which makes it easy to miss, and the photo is off-center and makes the whole layout look unbalanced.
Otto
 might be better suited to someone in the visual arts, but
I would advise writers to find something a little less bare.
Other Squarespace Templates Writers Can Use
Just because a template isn't in the portfolio or blog section doesn't mean it can't work for your writing website.
 With a few small changes and a little creativity, you can use the following templates to create a website that stands out from the rest.
Zion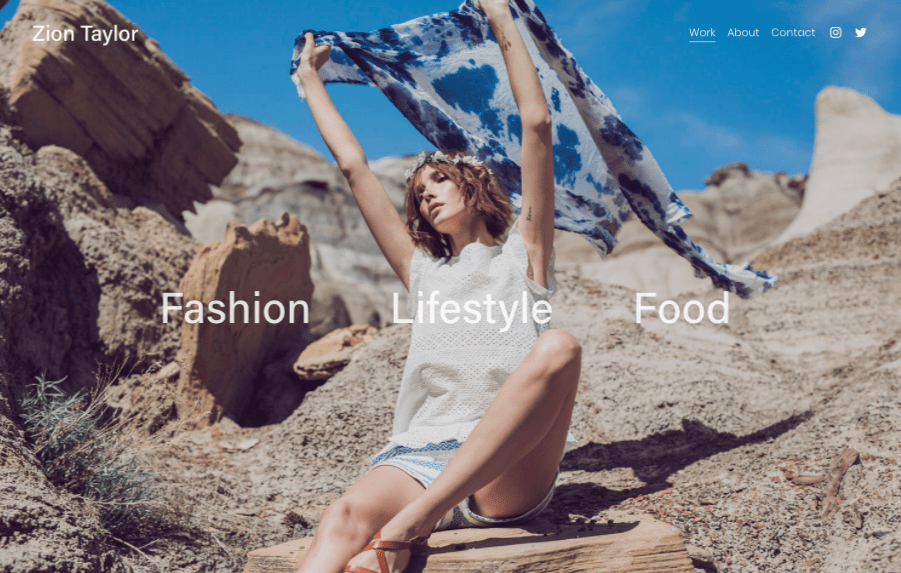 The
Zion
 template is image-heavy and seems more like a photography template – but hear me out. I really like the simplicity of this template. The homepage has a background of a few alternating images and three clickable categories. 
I'd recommend this template as a portfolio for someone who specializes in a few different types of writing.
 For example, to make
Zion
 work for you, you might make the clickable links point to the different subjects you write about, like travel, tech, or lifestyle, finance. As it stands, the
Zion
 template categories go to image portfolios, but you can choose a different page layout that includes more text and links to your work. Zion truly captivates visitors from the homepage and guides them to your portfolio. With the right adjustments, this template can become engaging for writers.
Bedford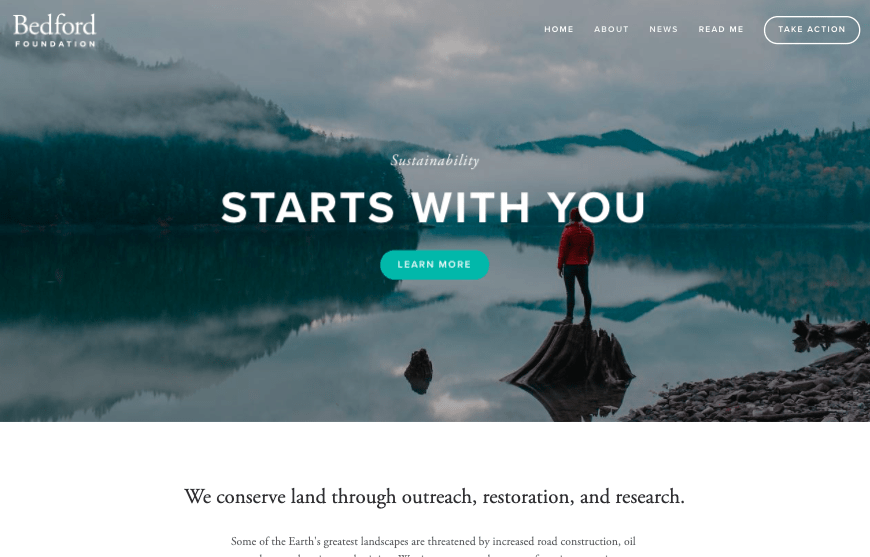 You can locate Bedford in the community and non-profit section of the earlier versions of Squarespace templates catalog. Bedford enjoys immense popularity as a Squarespace template, and there are excellent reasons for that.
This template is versatile enough to be used for a website in almost any industry, including writing.
 The banner image on the homepage grabs visitor attention and there are plenty of CTA buttons that you can use for visitors to contact you. The projects page is easily transformed into a portfolio, the news page can function as your blog, and the partners page is a great place to show off where you've already been published.
Bottom Line on Squarespace Templates for Writers
Your website is often the first thing clients or readers see about you and your work.
Until you're able to dazzle your readers with your words, you need to hold their attention with your website, which is why choosing the right template is so important.
Squarespace has many templates suited for writers, and though it may seem that many were designed with photographers in mind, don't be intimidated by all the images. Browse through the categories and try out a few of the ones I've mentioned.
Squarespace lets you change your template whenever you want, so you'll never be stuck with the first one you pick.
Take a look at other writers' websites for inspiration.
 Seeing these templates, or others, in action is a great way to gauge how you might use them for your own website.
FAQ
Is Squarespace good for writers?
In addition to having polished and professional-looking templates, Squarespace has some features that are particularly convenient for authors and bloggers. You can customize individual posts in terms of fonts and colors and organize them according to categories or tags. You have the options of enabling or disabling reader comments, displaying the author's profile, and even setting posts to be reviewed by colleagues before publishing. You also have access to basic SEO and social media sharing functions to grow your audience. To read more about all that Squarespace has to offer, check out our expert review.
Can you customize Squarespace templates?
You can fully customize Squarespace templates and make both subtle and drastic design changes according to your preference. It's easy to modify colors, fonts, and layouts, allowing you to alter the overall look and feel of your website without losing any content. Additionally, if you're willing to invest extra, you have the option to have a customized template created specifically for you. Regardless of which pricing option you choose, make sure to take advantage of any current coupons to get a discount on Squarespace's annual plans.
Does Squarespace have templates for writers and authors?
Squarespace has a Blog & Podcast section of the template gallery, which contains designs that are tailored specifically for blogging purposes. However, you shouldn't limit your search to this category alone, as you are likely to find equally suitable designs in other sections, such as Personal and Portfolio. If you're looking for templates that have been specifically designed for writers, check out our list of the best website builders for 2023, which have plenty more options to choose from.
Is Wix or Squarespace better?
It all depends on your needs and preferences. Squarespace comes with many writer-friendly features, but Wix also has a lot to offer. It has a free plan and templates that are specifically designed for literary arts, with preset sections for books, an author's bio, press reviews, and upcoming events. You can display your books for sale through the Amazon app and allow visitors to download files from your site, such as free excerpts. To make a better comparison, check out our expert review of Wix and our expert review of Squarespace.