There are interactive templates designed for courses or events, and then there are landing page templates
 that focus on showing people what your organization is all about. For this article, I've selected top examples of both kinds of templates from the
15 designs available
in Squarespace's
Community & Non-profit
category.
To come up with this list, I took a close look at both the design and functionality of each template. I've also pointed out some templates to skip, plus
a couple from other categories
that work surprisingly well for school or community organizations.
Squarespace Templates That Make the Grade
Most of the best options for community and education organizations come from the Community & Non-profits category. I also recommend scrolling to the bottom of the page and clicking on the link to check out more templates from an "earlier version" of the platform. All of these templates (old or new) are mobile-responsive, so they'll automatically look good on any size device.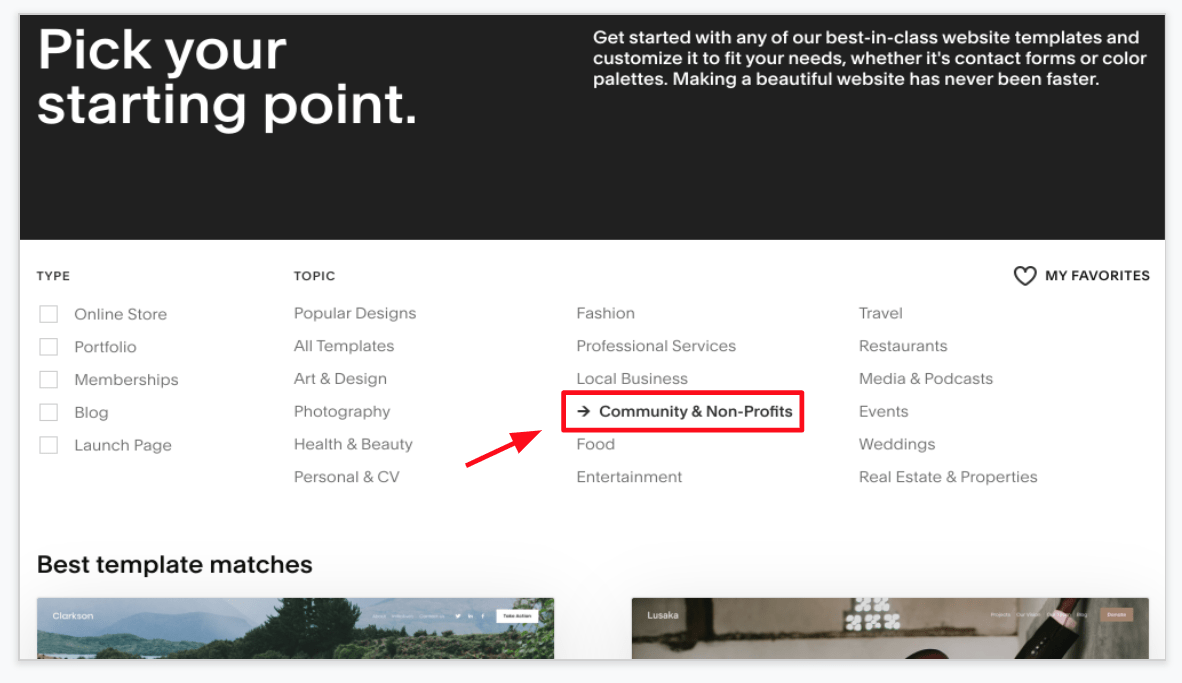 Since Squarespace lets you tweak almost every page element in its editor, you could technically take a template from any category and build the perfect website. But sticking with one that's built for organizations or schools can save you lots of time and resources.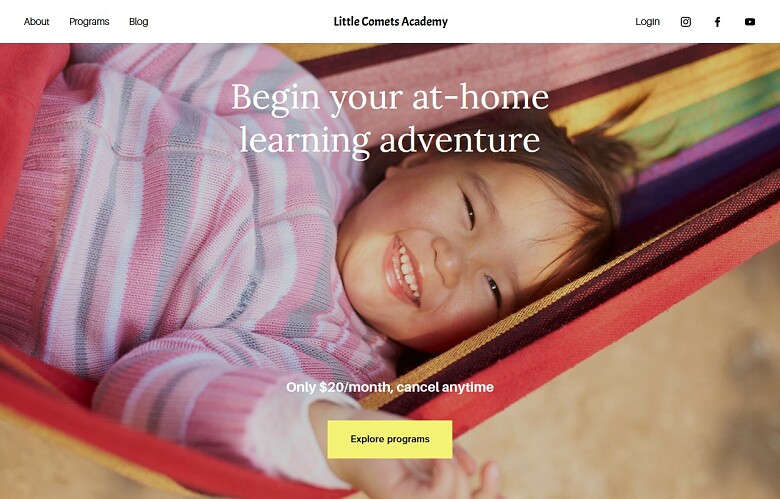 Of all the templates in the Community & Non-profits category,
Comet
has the most features built in.
It comes with signup forms, a members-only area for current students, and the ability to manage monthly subscriptions. Not only can you use your website as a hub for student activity, but you can also manage your enrollments from one easy dashboard.
Comet
is a great choice if you want to put your programs front and center and really show what each one has to offer. It's got lots of helpful features for online educators, but could be used to drive signups for in-person classes as well.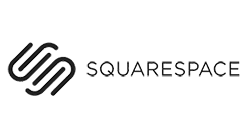 Save up to 30 % on your Squarespace plan today!
Plus get a free domain for one year!
1031 users used this coupon!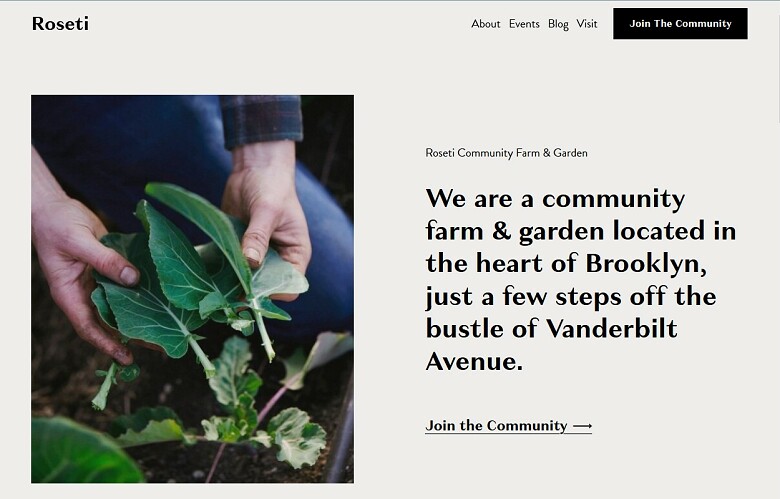 Roseti
 is a template designed for sharing community events – which also makes it
great for getting the word out about your upcoming courses or workshops,
whether online or in the classroom. Each event link has a title and brief description as well as an image and date. I especially like how each post displays the date in the top-right corner of the image like a calendar. This template would work well if you host weekly workshops or have lots of events to display.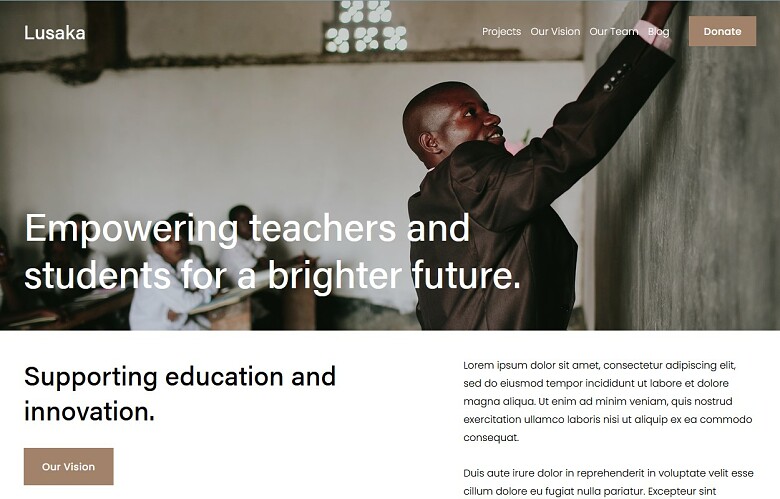 Lusaka
 works well
if you want a mission-focused website that promotes your programs
without getting into advanced features like memberships or scheduling
.
 This template would be a great choice if you offer in-person programs or services that don't need to be managed online. Of course, the template does have key interactive elements like
a donation button and a contact form
 so that prospective students or sponsors can get in touch. Each section of the page is well marked out and calls attention to an important element of your organization, whether it's the large header image and mission description, the individual sections for your different activities, or the testimonial pull quotes.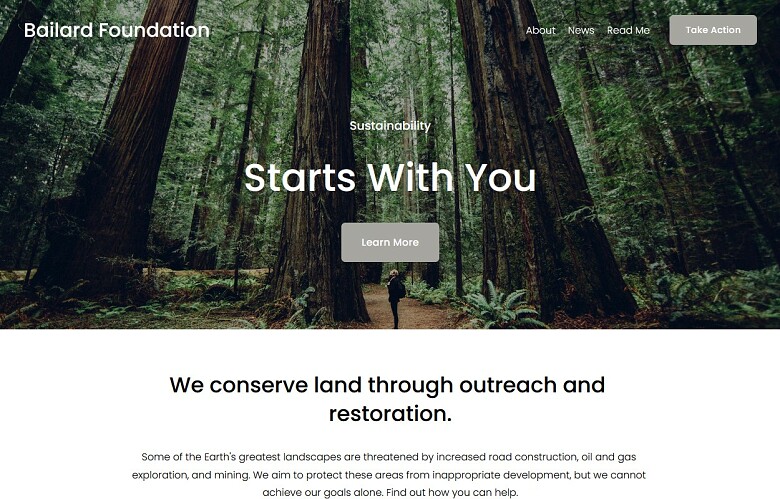 Bailard
is simple – and that's why I like it. Its
minimalist design
helps you focus on what's most important about your organization and lets each element pack a punch. There's a nice balance of large text and white space that gives your content lots of room to breathe.
It's especially good if you want to keep your descriptions short or let the photos of your program speak for themselves.
This template could be great for a small school that's just getting started or an organization that already has an online presence (for example, on social media).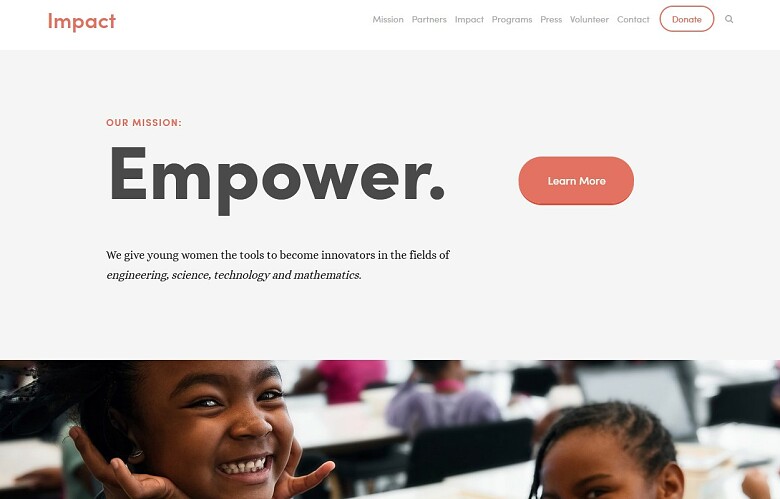 Impact
is the opposite of
Bailard,
as it lets you pack in lots of information on your site. But instead of squeezing it all together,
Impact
wisely spreads your content out across several uniquely designed and well-defined sections. Features such as overlapping images and effects like parallax scrolling add personality to the overall design while large fonts and spacing help give weight to your words.
Impact
would be a great choice if your institution is large or already established.
 It gives you lots of room to introduce all your different programs
, your partners, success stories, and more.
See More Squarespace Templates >>
Squarespace Templates That Didn't Get a Pass Mark
Not every Squarespace template for community and education makes the grade. While I was researching this article, I found a few I wouldn't recommend.

Compared to other templates,
Kent
 has smaller images and is mostly text.
 Walls of text. Sections and font sizes vary, but there's just not enough here to grab your visitor's attention.
Bedford
has larger images,
 but the text is just too small to pass the readability test,
 plus there's too much white space on the sides. The layout is actually similar to
Bailard
, but that template feels airy and balanced, whereas
Bedford
just feels… off.
Other Squarespace Templates That Work Well for Education
You can find templates that work well for community websites in some surprising categories. Personally, I found some great ones in categories like
Professional Services
and
Local Business
. These templates naturally suit educators as they integrate memberships and courses. Certain templates present a distinctive method to showcase your school or organization, offering a creative option for individuals in search of a website that distinguishes itself from others.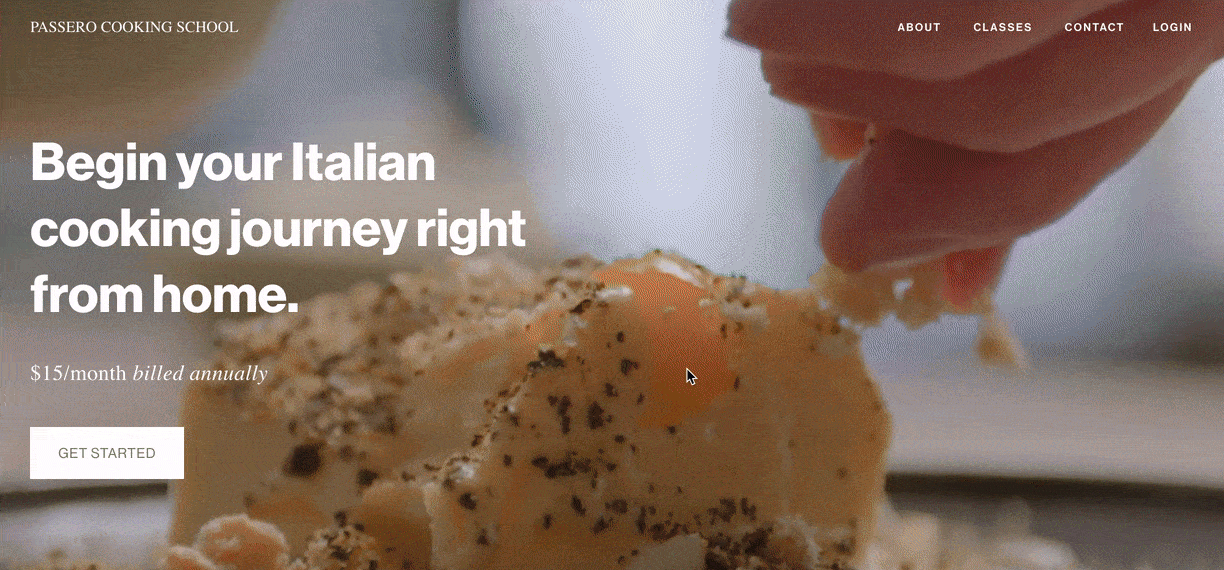 Passero
is listed in the
Food
and
Professional Services
 categories, but it's actually built for teachers! The demo is for cooking classes, but it could be used for any type of online or in-person course. If you have
great video footage or appealing photos
 from your classes, this template is a great choice. The header video, photo gallery, and other large backgrounds will help visitors imagine themselves at your course or event. Most importantly,
the template helps you drive conversions
with a CTA button that allows visitors to enroll in courses right from the homepage.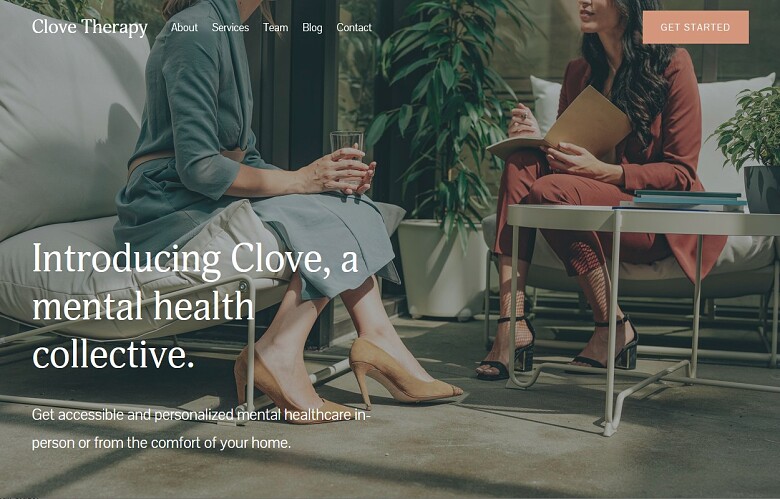 Students want to know they're in good hands with teachers who are highly qualified. If your educators have impressive resumes,
Clove
 lets you put the spotlight directly on your team and their achievements.
This template from the
Professional Services
 category was designed with therapists in mind, but it could easily work for a school or organization that focuses on the human element.
The large images help your visitors meet the teachers as well as tour your facilities and location.
 I also like the fun illustrations in the Services section of the page, which is a creative way to present your specializations or programs.
Choosing the Right Squarespace Template for Your Organization
Your website should be specific about how your organization provides value to its members, students, or community.
It also needs to have a clear purpose, such as providing information, driving sign-ups for a specific course, or getting visitors to become members of your association. You know best what sets your organization apart and what kind of website it needs, whether it's a straightforward landing page or a comprehensive membership site. This list showcases a variety of Squarespace templates that excel for both purposes, along with a few options from other categories you might not have thought about. Now it's up to you to decide which one is the perfect fit. And once you do, you can test it for free using
Squarespace's 14-day trial
.
FAQ
What is the most basic Squarespace template?
Bailard is the simplest community/education template that still boasts an excellent design and delivers powerfully. You can employ it to create a smooth landing page that concentrates on the basics or expand it by introducing new sections and personalizing other page elements. Squarespace also has a handful of really simple one-page templates in other categories. Local Business templates like Archer just have text and a sign-up form, while Bogart is a simple background image with a contact button.
Can you buy Squarespace templates?
All Squarespace templates are available for free if you're on a paid subscription. You can't buy them individually or use them without a plan, however. The Personal plan gives you access to basic features, while the Business plan on up lets you accept donations and payments. For more in-depth info on how the subscription plans compare, head over to our Squarespace pricing guide.
Can you edit the code in Squarespace?
You can't edit the existing code in a Squarespace template, but you can add custom code (HTML, CSS, or JavaScript) via the Code Block or Code Injection options. You can also use the CSS Editor to make style changes if Squarespace's regular editor doesn't have the option you want. For more on what you can and can't do with this website builder, read our expert Squarespace review.
Do you get an education discount on Squarespace?
Yes! Squarespace's academic discount will give you 50% off your plan, but you have to use an email address from an eligible school. There are other discounts available too, so be sure to check out all the deals on our Squarespace coupons page.
Is Squarespace better than Wix?
Squarespace has sleek, professional templates that are known for their trendy minimalist design. It's better for content-heavy sites, and its editor and blogging tools are fairly user-friendly. On the other hand, Wix has a wider selection of 900+ templates and boasts an intuitive drag-and-drop editor that makes it easy for beginners to start customizing their site. For more info on how these two website builders stack up, read our head-to-head comparison of Wix and Squarespace. Or, if you're looking for more options, check out our full list of the top 10 website builders in 2023.