but some will require more customization than others
. The right template should include essential features like an address and location section (with a map), prominent contact information, a service schedule, and plenty of room for large photos. Although Squarespace doesn't have any templates built specifically for churches, a few of its designs have all those features and more. Of the
15 templates in the Community & Nonprofits category
, several work really well. And there are
 some surprisingly good options in other categories, too.
I looked through dozens of Squarespace templates and
found the ones that are best suited for churches,
as well as a couple I think you should avoid. And just in case you're looking for a template that was built specifically for religious sites, I've included a
few templates from Wix
.
Squarespace Templates That Work Well for Churches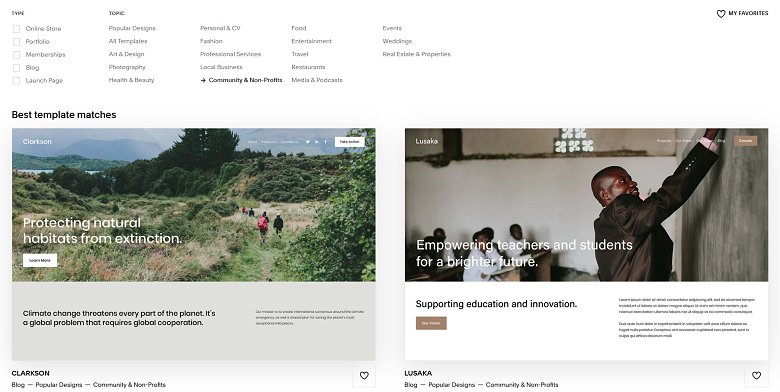 The Community & Nonprofits category has a couple templates that will work well for churches, but you shouldn't limit your choices to this group. You'll find some great options in surprising places!
Here are my favorites.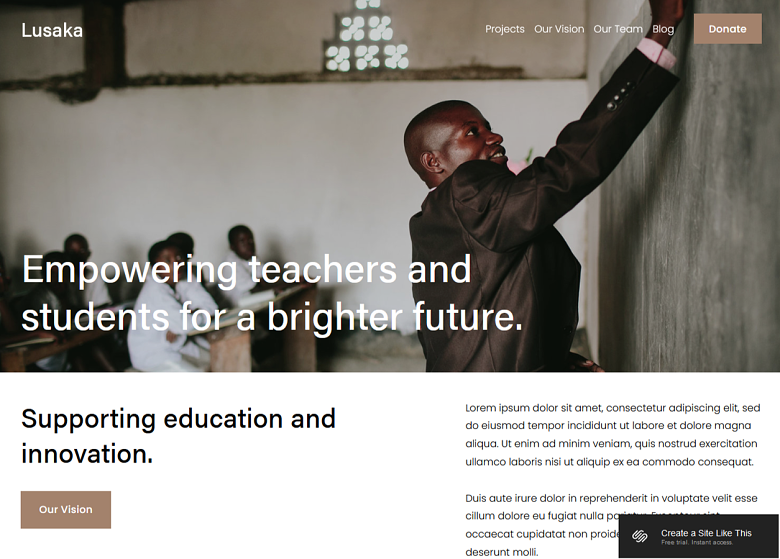 Lusaka
is a straightforward template that lets you
focus on sharing your church's core mission
. You can highlight your work in the community or with charities, or share the aspects of your church that make it truly unique. This template lets you include snippets from each page right on the homepage using a combination of photos and links. Two of the features that I like the most are the
Donation
 button in the navigation bar and the contact form at the bottom of the homepage so visitors can get in touch.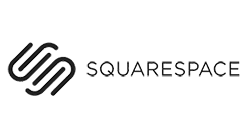 Save up to 30 % on your Squarespace plan today!
Plus get a free domain for one year!
1031 users used this coupon!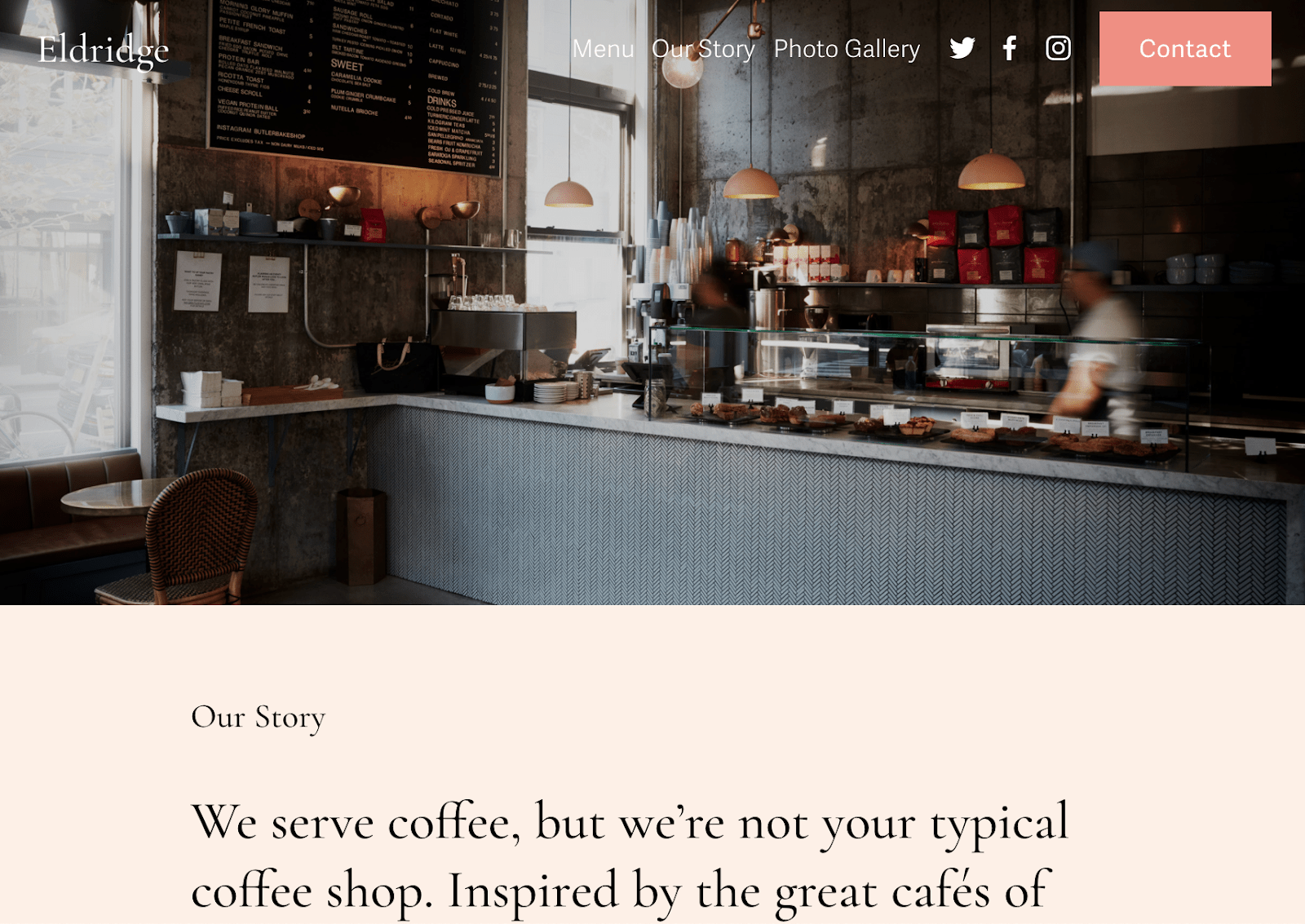 Eldridge
might be built for a café, but with some edits, it could actually be perfect for a church. The homepage is very easy to read and features a menu section (paired with a large photo) that could
easily be tweaked to show your service times.
The Our Story and Photo Gallery pages let you display
huge photos of your church in action
so your visitors can get a feel for your services. The light, cream-colored palette gives
Eldridge
a calm, peaceful look, and the default font choice is pretty classy, too.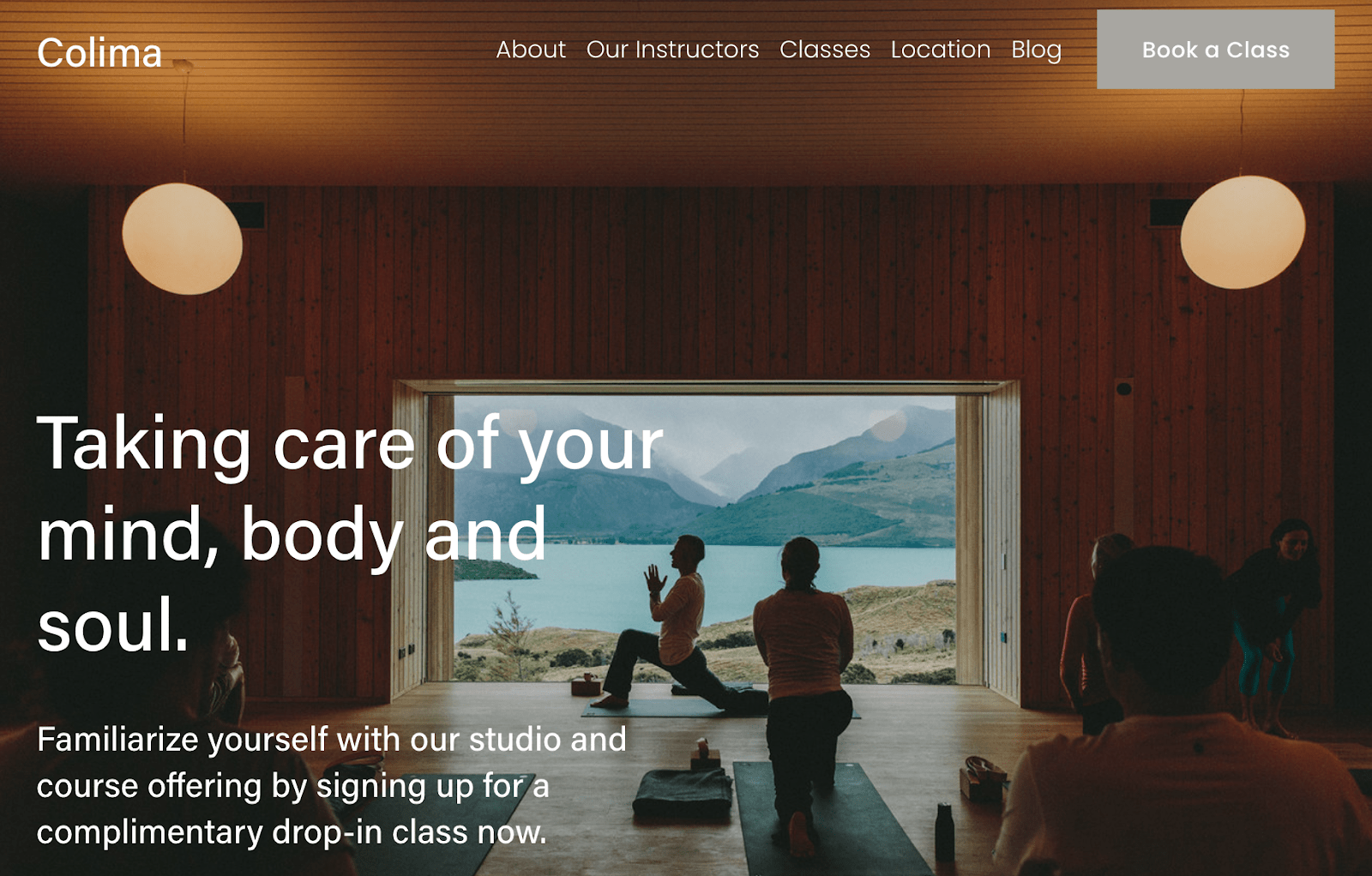 Colima
is built for offering classes, so it's got a lot more functionality than just a simple landing page. This would be a
 great template if your church holds lots of events,
 such as bible studies, prayer groups, or food drives. You can create a separate page for each gathering, and even have visitors register for different events (my favorite feature!) if you want to be super organized. The other pages on this template are also useful for churches. The Our Instructors page could easily become an Our Pastors page, and the fully functional Blog page would be
 perfect for sharing your latest sermons or church updates.
 The dedicated Location page gives you plenty of space for your address, a map, and directions so visitors can find you.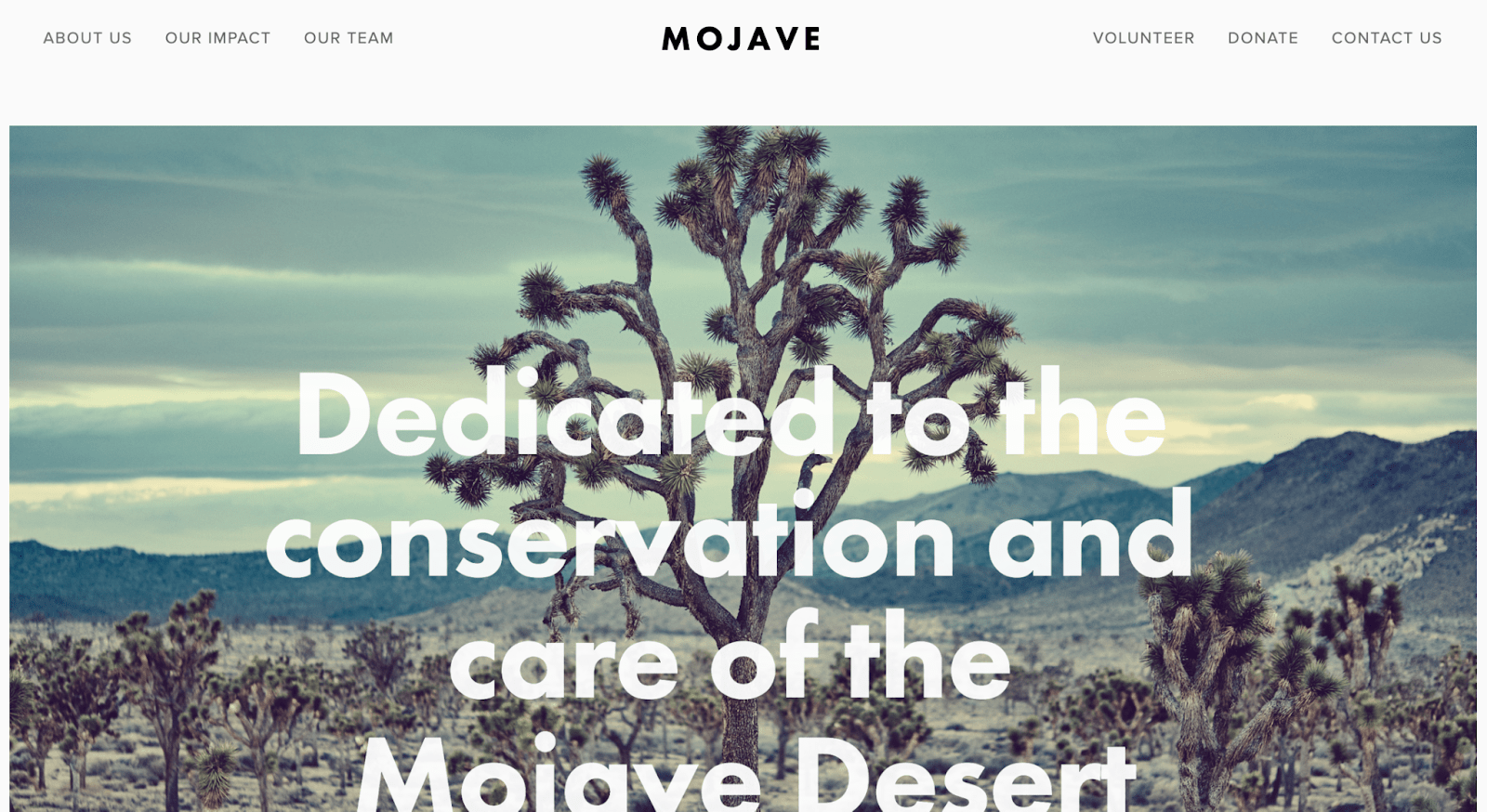 Mojave
is visually stunning with massive images and parallax scrolling effects –
perfect for modern churches that have great visual content. The homepage provides lots of space for your most meaningful information – your church's mission, goals for your community, and storied history. You can also include inspirational quotes from your members or pastor, or Bible verses that have special meaning for your community. Meanwhile, a call-to-action (CTA) section and buttons in the navigation bar help you
recruit volunteers and collect donations.
And if you have even more meaningful content to share, the great-looking About Us and Our Impact pages let you go into greater depth with both info and images. There's also a prominent Contact Us page with a contact form and map, so
 first-time visitors can easily get in touch.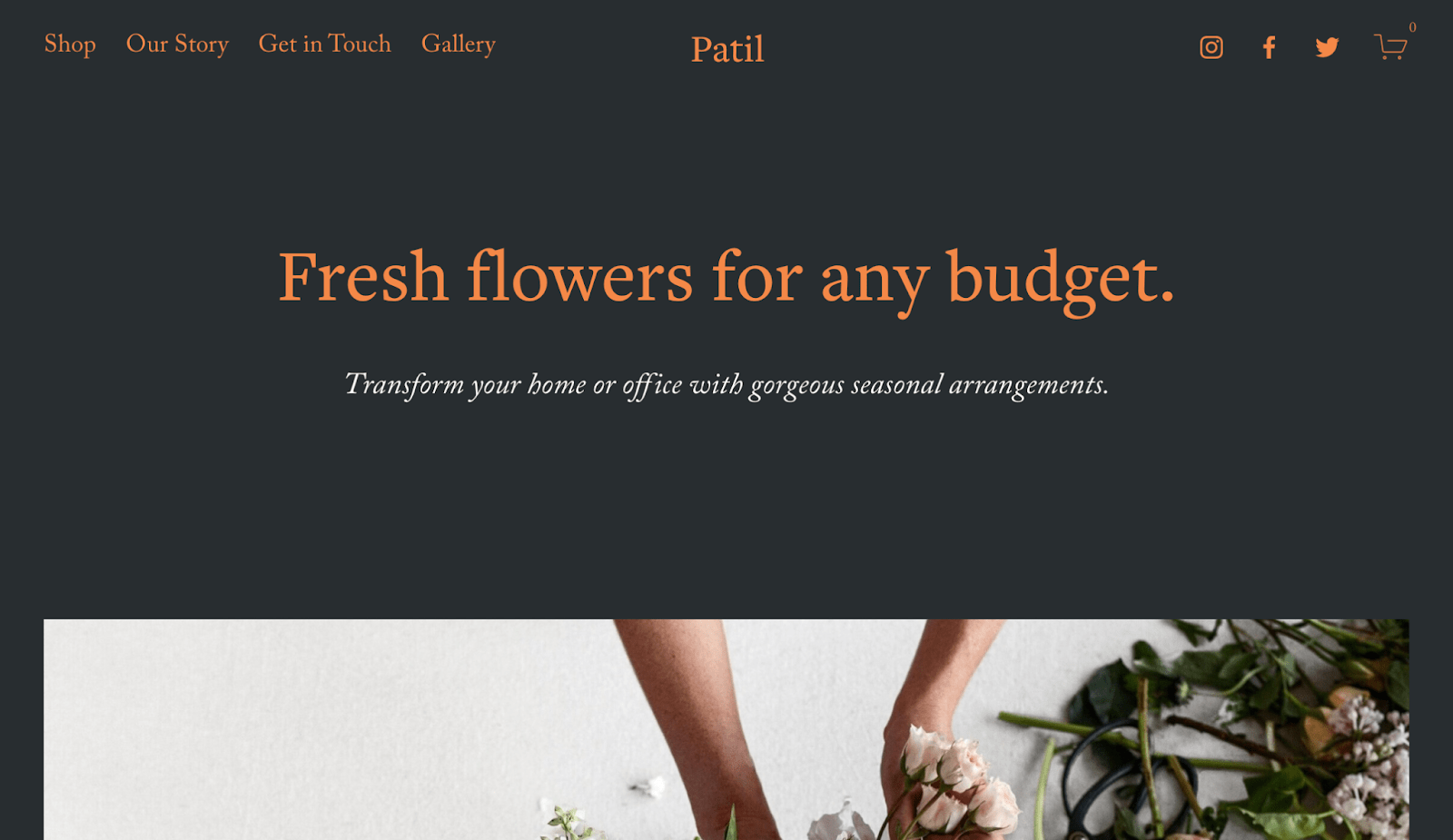 Patil
's design elements give this template
a
 traditional, reserved feel
, and the block of text at the top is a great place to highlight what sets your church apart or quote a verse of Scripture. It's built for an online store, but you could easily tweak the Store page to link to your church events and other offerings. I especially like the
stylish CTA section on the homepage,
 which lets you invite visitors to learn more about your church.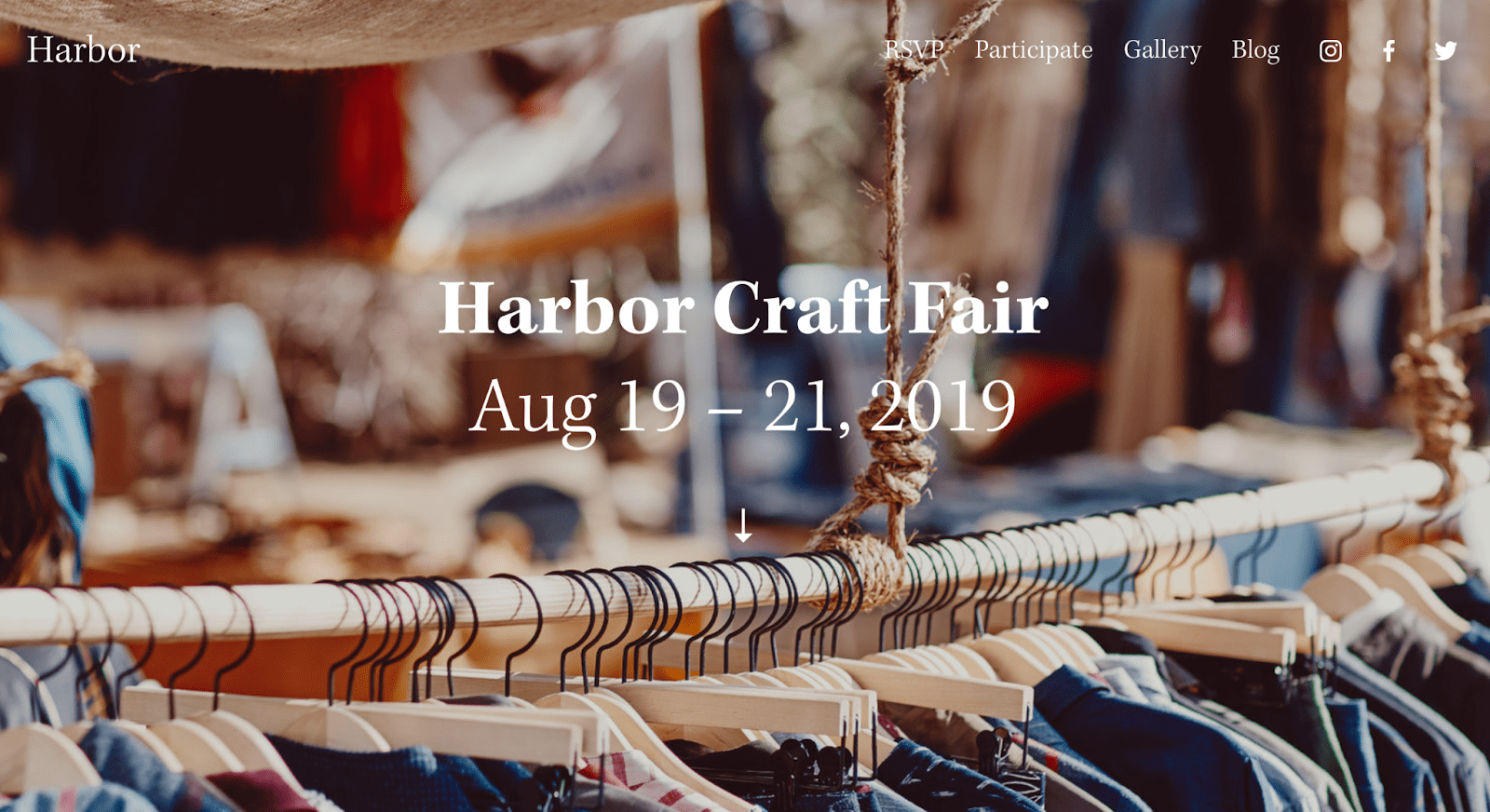 Harbor,
from the Events category, is an
image-packed template
 that starts off simple with a large header and full-screen photo. Here, you could just include your church's name and location or, as in the demo, the date of any upcoming celebrations or holiday services. The rest of the page is divided into two columns with titles and short paragraphs for you to lay out all the important info about your church. The Workshops & Events section
 cleverly combines photos with overlaid text to showcase events,
like your services, community events, and Bible study times. The template also features a large map, an RSVP button for scheduled events, as well as Gallery and Blog pages.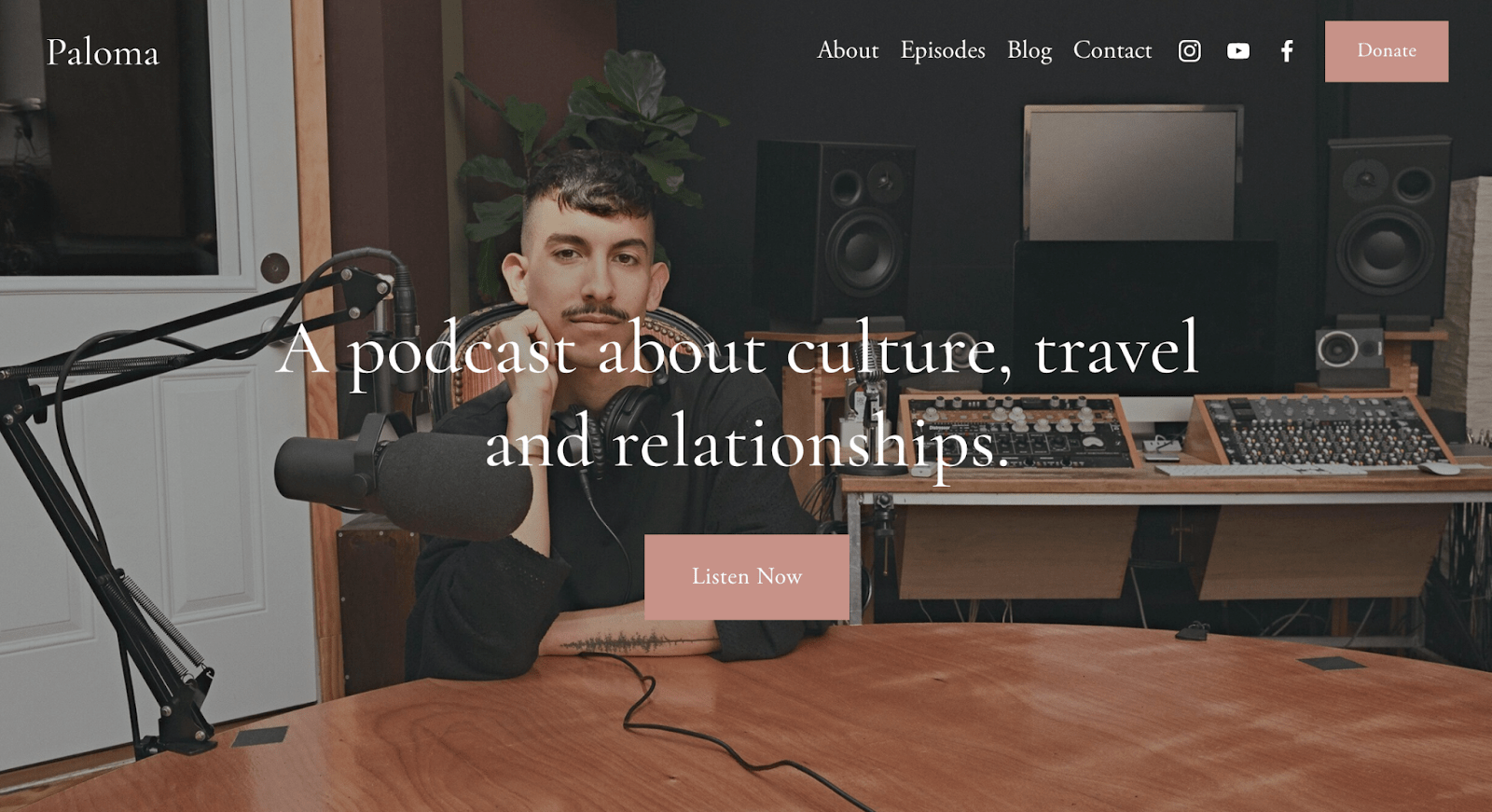 Blogging and podcasting template
Paloma
could be ideal if you want to use your website to
share your church's sermons and messages
. The Latest Episodes section on the homepage includes a link to each full sermon with a date, image, and preview snippet.
Paloma
also has a regular blog, so you can
update your community about church events.
Meanwhile, the About page lets you introduce your church and your pastoral staff all in one place.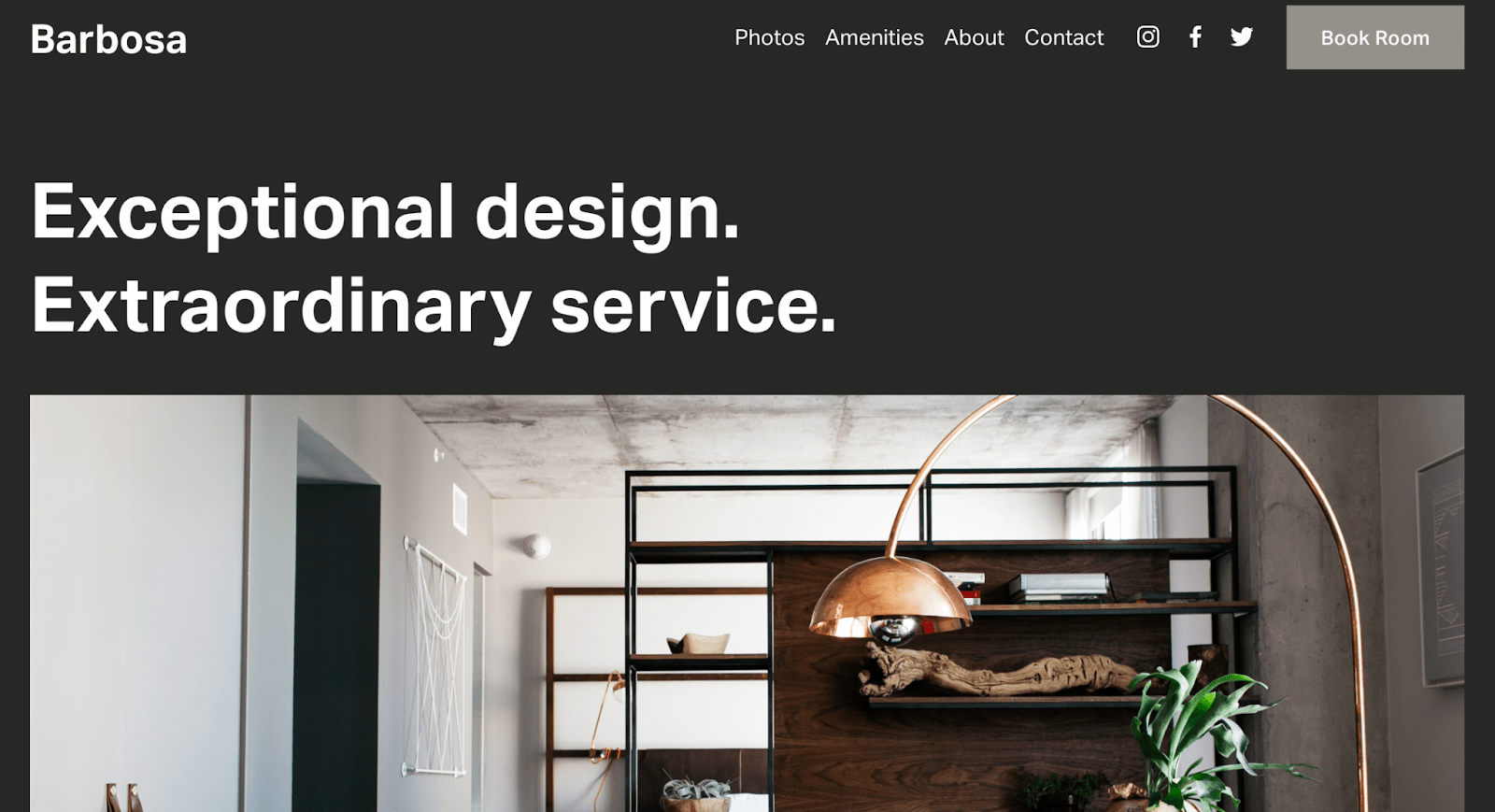 Barbosa 
is a contemporary template built for hotels that lets you link to your important pages from the homepage, much like
Lusaka.
For example, you can
give visitors a virtual tour of your worship space,
 share info about your groups and gatherings, and tell potential congregants all about who you are. The header image has a bold tagline text just above where you could highlight your denomination or simply your church's name. And the
Book Room
CTA button in the top-right navigation menu could be changed to a
signup for a church newsletter,
 for instance.
Squarespace Templates That Aren't Right for Churches
So far I've focused on the standouts. However, some of the templates in Squarespace's Community & Nonprofits category just aren't going to work for churches – they've got too many unnecessary features.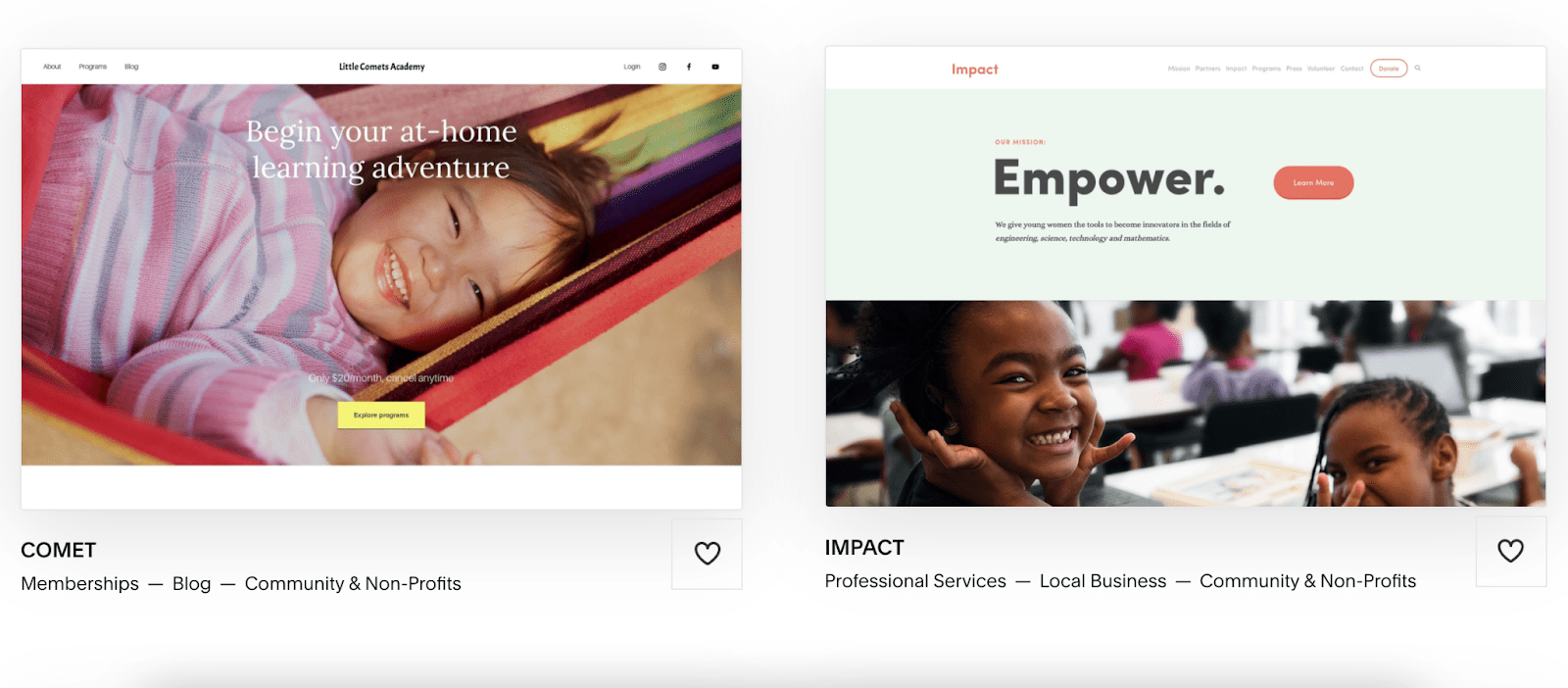 Comet,
for example, is designed for organizations that offer online classes. It's built around a set of
 members-only and subscription features that are either unnecessary or too exclusive
 for churches.
Impact
 is a landing page template that has
 far too many sections
 and a long, long scroll. It looks good, but you probably don't want to overwhelm potential congregants with details and statistics about your church, so I'd steer away from this one.
A Few Wix Templates Built Just for Churches
As you can see, there's plenty of Squarespace templates you can turn into a beautiful church website. But because they're not specifically built for religious organizations, they'll all need a few tweaks. If you're looking for templates that come ready-made for churches (and you're not yet committed to Squarespace), you might want to take a look at Wix, a builder with
18 templates in the
Religion
category
. Here are a couple of my favorites.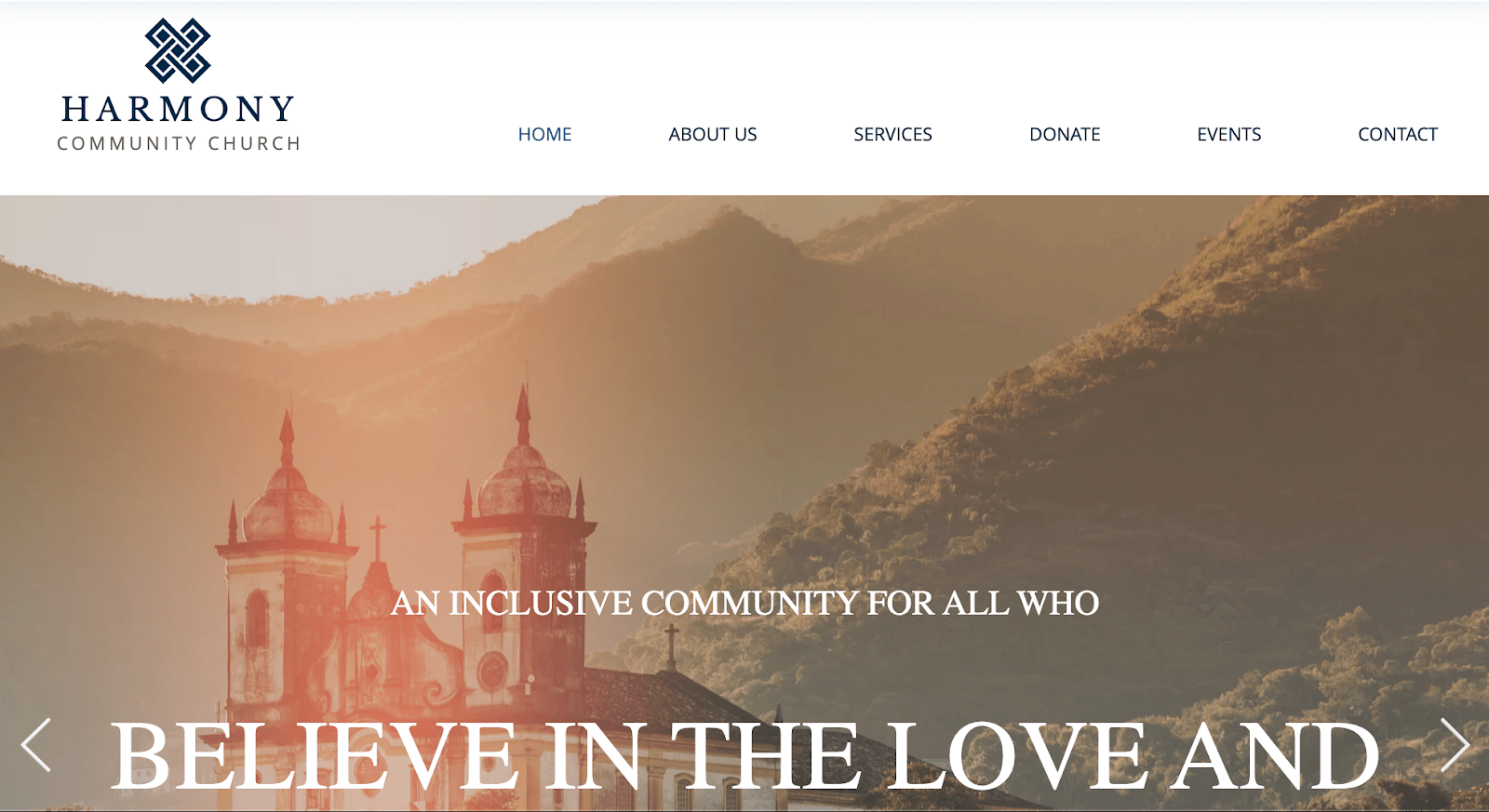 The simply (but aptly) titled
Church
template features
 a large image slider
 that lets you show multiple images in rotation. This lets you place panoramic shots of your church and photos from your services, all in one place on the page. What I like most about this template, though, is the
Next Events section just below the header.
Here, you can clearly lay out your upcoming classes and services – and there's even room for a relevant Bible verse.
See More Wix Templates for Churches >>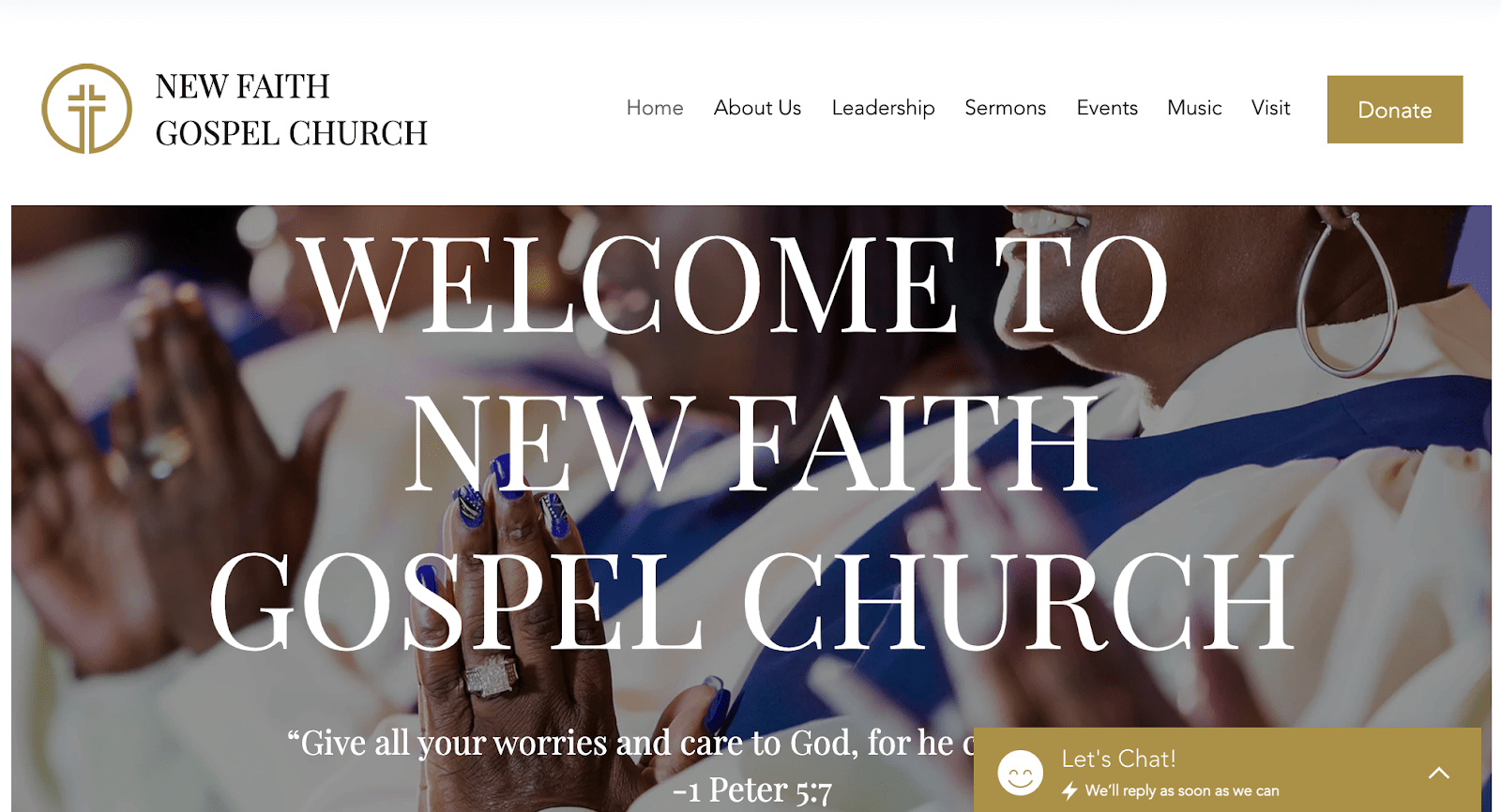 Gospel Church
 has pretty much all the church-related functionality you could think of.
 The homepage welcomes visitors with a large message and Bible verse, as well as a
Join Us
 CTA button linking to a section that describes how to attend your services, join the congregation, or join the choir. You can share videos of recent sermons, present your pastors and other staff, and link to your church events all on the homepage. And this template even includes a
dedicated page to play your choir's audio files,
 if you've got a vibrant music ministry!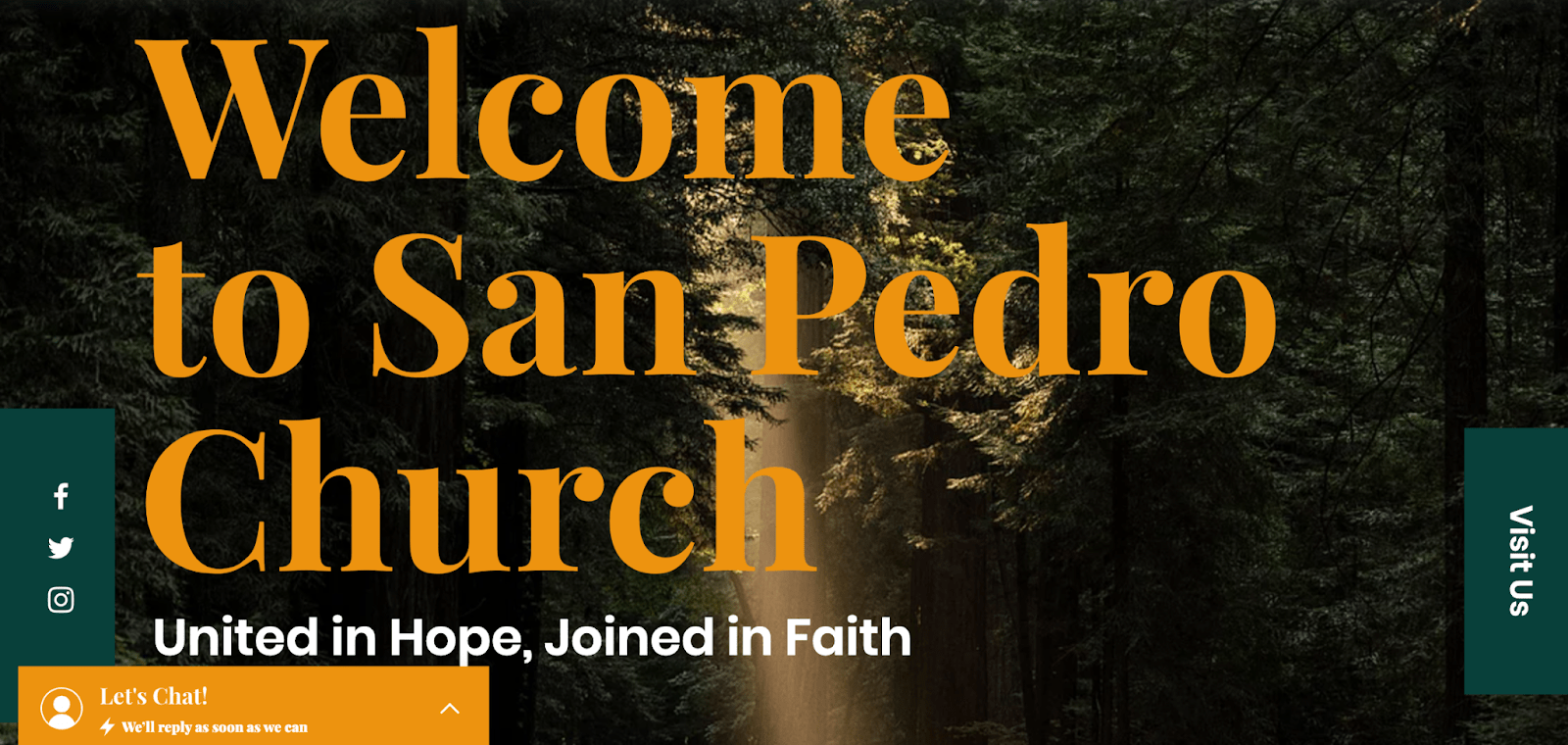 Catholic Church
is a stylish template with parallax-scrolling images – but it's also very practical, with a prominent schedule section divided into two categories (mass and confessions) that lets visitors book times online. The default color scheme of the template enhances the visibility of your text, links, and buttons, making them stand out. Additionally, the template features prominently placed links on the side of the page, directing visitors to your church's social media accounts and contact details.
Building a Great Website for Your Church
Your church's website doesn't need to be complicated –
it just needs to provide visitors with the most important information about your community and events. Whether you want to just share the basics or do some more in-depth outreach toward potential visitors, I recommend the Squarespace templates listed here. Any of these templates will let you create a great website for your church
without spending loads of time customizing every single page.
That said, if you're looking for a template that's built specifically for religious organizations, you might want to give Wix a try instead. Unlike Squarespace, Wix has
a free plan
 that stays free.
FAQ
Do I need a website for my church?
Having a website is important because it lets you reach out to visitors in your own way, and showcase what's special about your community. Along with your social media accounts, a website is a great tool for building your church's online presence. Squarespace has some beautiful templates that can work well for religious organizations, but if you're not convinced by this list, you can read our review of the best website builders for churches in 2023 to see some more options.
Is Squarespace easy to use?
Squarespace's editor is very intuitive, and it lets you add tons of features to your website, including a donation button and events scheduling. Plus, if your church has a blog or is thinking about adding one to its outreach toolkit, Squarespace is a user-friendly, powerful website builder that many bloggers swear by. These are just a couple of reasons why Squarespace is featured in our list of the 10 best website builders in 2023.
How much does Squarespace cost?
Squarespace has four pricing tiers, beginning with the affordable Personal Plan. There is no free plan, but Squarespace does offer a 14-day free trial. Before you start building, be sure to check out our coupons page for the latest discounts. Or, for more info on Squarespace's pricing and features, go to our in-depth Squarespace review.
Which is better, Squarespace or Wix?
Squarespace's templates are professionally designed and are overall better looking, although there aren't any church-specific designs. On the other hand, Wix is very easy to use and has a number of templates built just for churches (even on the free plan). Check out our head-to-head comparison of Squarespace and Wix to see which one would work best for you.