Some of the strongest options aren't even in the Portfolio category.
Squarespace offers
16 dedicated portfolio templates
 (and numerous other templates with portfolio pages). I've pulled out the four best choices here – plus three other templates that were designed to build different types of websites but
also
 work great for portfolio sites. And just to be safe, I'll call out a couple templates you should definitely avoid. Oh, one more thing. I'm also including
a couple standout portfolio templates from Wix
, which could be a better option if you're looking for a free option or if you're just so ridiculously creative that you want to have complete control over the customization of your site.
Squarespace Portfolio Templates That I Love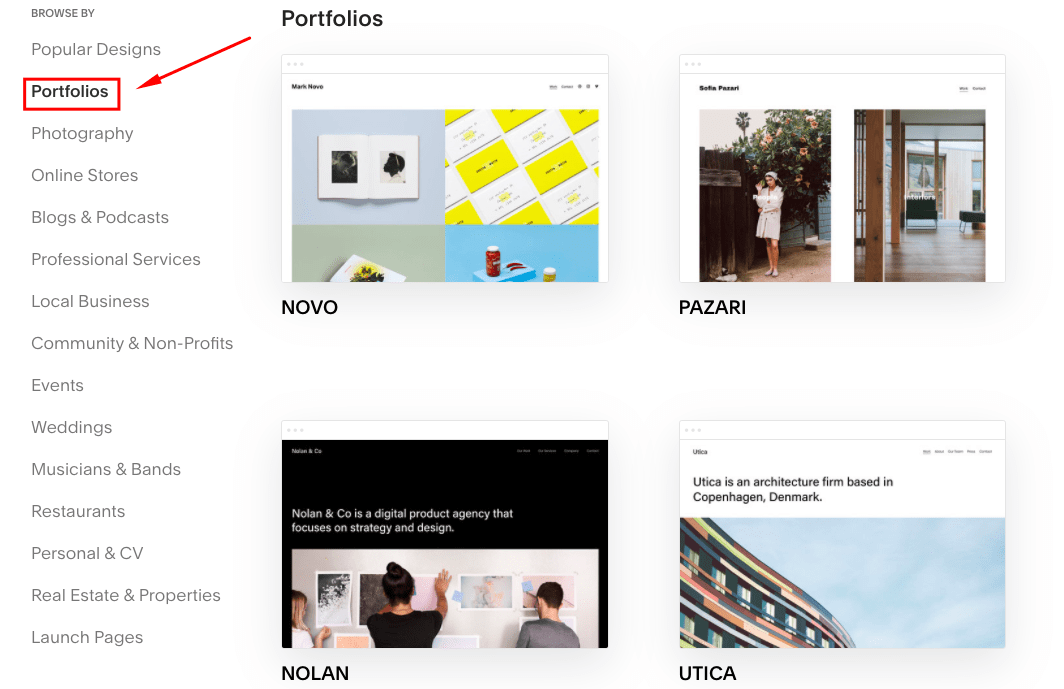 Squarespace's portfolio templates all have one thing in common:
They put your work at the forefront with minimal distractions.
I'll focus on templates that are more suited to visual portfolios and are ideal for photographers, designers, architects, etc. If you need to display written work, you
can
 add text to some of these templates, but be sure to also check out our recommendations for the best Squarespace templates for writers. Whatever your specialty or industry, if you want to create an engaging, visually appealing portfolio, any of these four templates can make that happen.
Pazari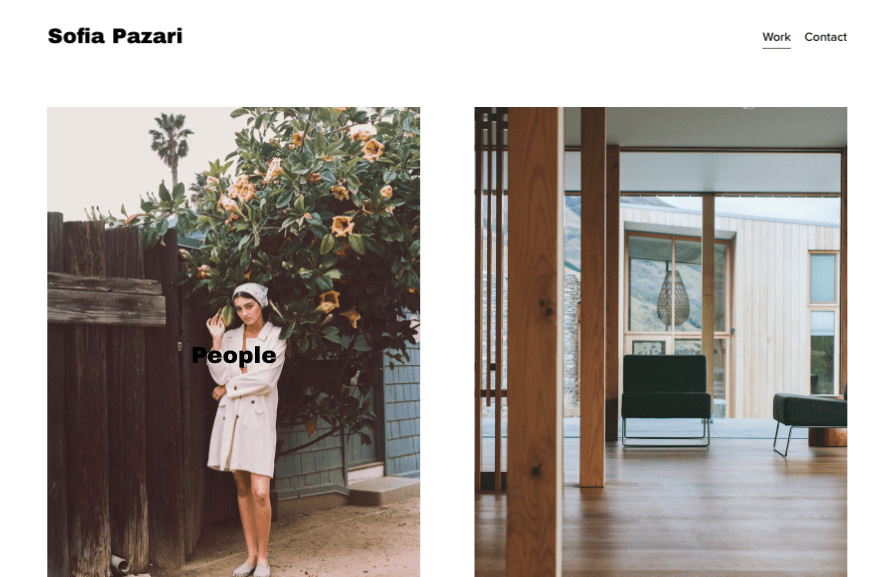 The Pazari template is simple and clean,
 displaying large images front-and-center to maximize impact. The homepage displays a cover image for each category of work you want to showcase. For example, a photographer might include cover images for people, landscapes, homes, etc. When a visitor clicks on, say, the
People
 cover image, it takes them to a page where they can see all the photos in the category.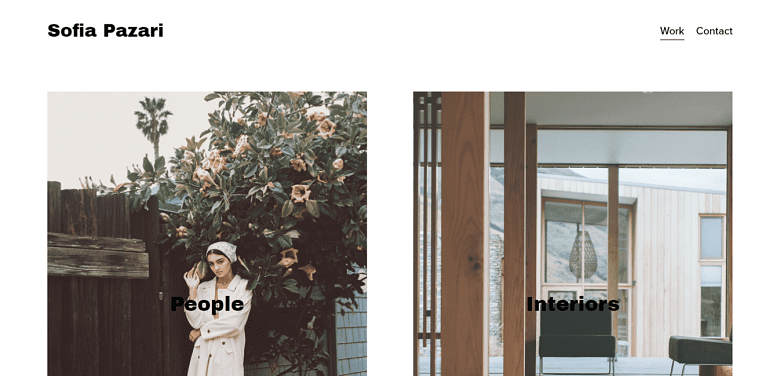 On these project pages,
the images are large and take up the width of your screen
. I like how the galleries in
Pazari
 use large-scale photos instead of smaller images or thumbnails. By default, there are no text boxes above or below the images to display titles or descriptions, but you can easily add them.
Nevins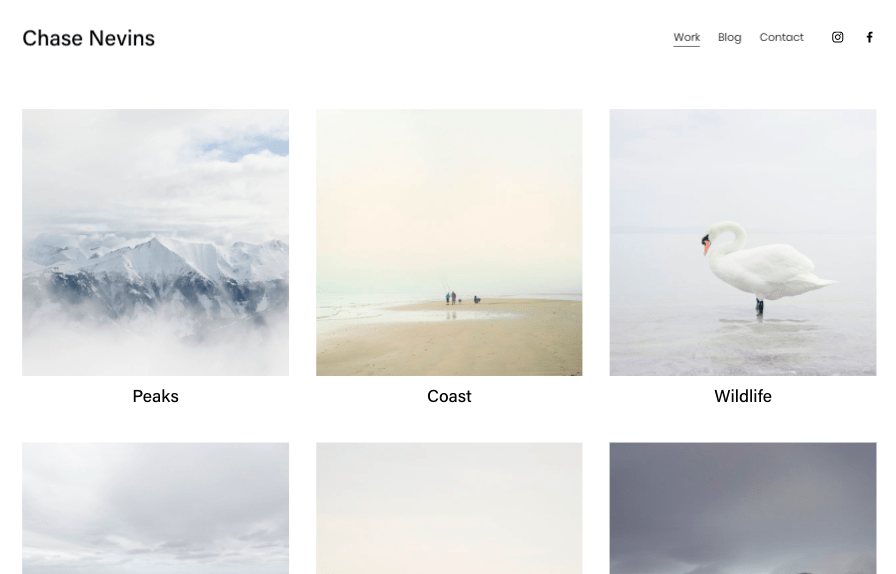 Nevins
 might look similar to the
Pazari
 template since they both have a minimalistic design, but
this template includes a few more features.
Like the
Pazari
 template, the homepage displays a cover image for each category of work you want to display  (e.g., pictures of Peaks, Coast, Wildlife). The difference here is that the images on the home page are smaller, allowing you to display three images on each row. Also, the description appears in the white space
below
 each image, rather than on top of it. Finally, individual category pages start with a short text blurb by default, so
you can write descriptions for each project
. The
Nevins
 template also includes a blogging feature, social media icons that link to social media pages, and a contact page.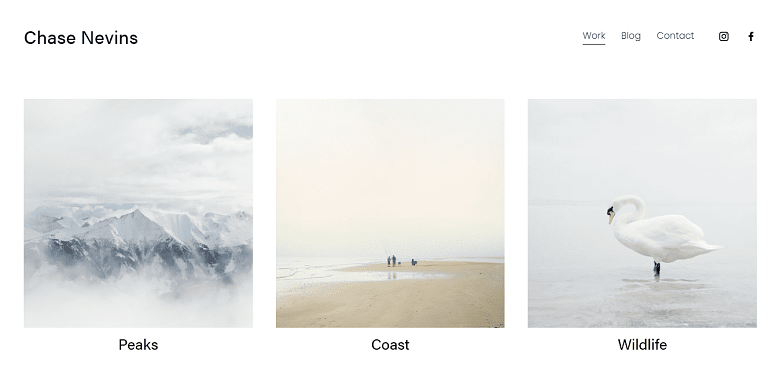 Novo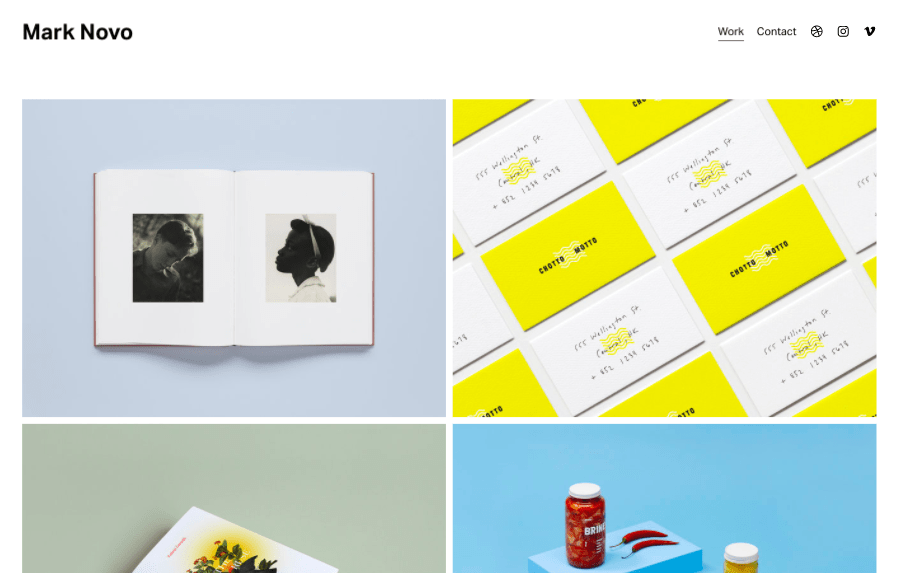 The
Novo
 template displays the project cover images two-by-two, in a tight formation with only a thin, white line separating between them. Since the images are so close together, there is no room for text above or below them.
Instead, the text pops up as the visitor hovers over the image.
When you click on each category image, it takes you to the corresponding category page, which includes a full-screen hero image followed by text and additional photos.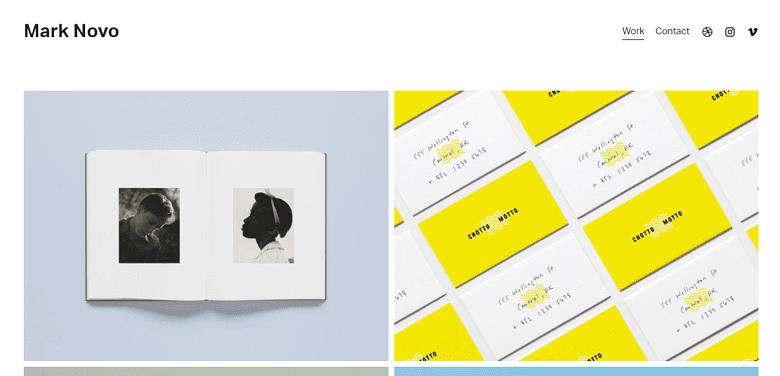 Novo can work well for logo designers, interior designers, fashion designers – anyone who wants a portfolio with artistic flair.
Nolan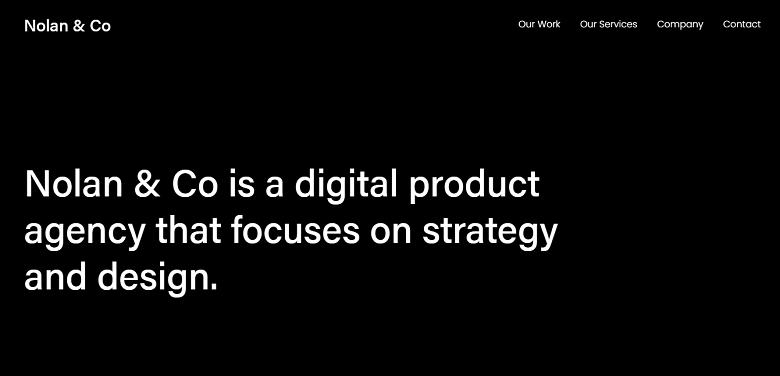 Nolan
 is a little different from the other portfolio templates I've listed above.
Its additional pages (Work, Services, Company) make it an ideal choice for creative agencies,
 but the text is fully customizable, so you could change the page titles and content to whatever you need – for instance, an
About Me
 page, a
Bio
 page, or even a full resume. You can also easily delete any pages you don't need.
Nolan
 comes with
multiple Call-to-Action (CTA) buttons.
 The portfolio pages include plenty of space for text and large images, making them ideal for displaying web design, graphic design, marketing materials, and other visual content.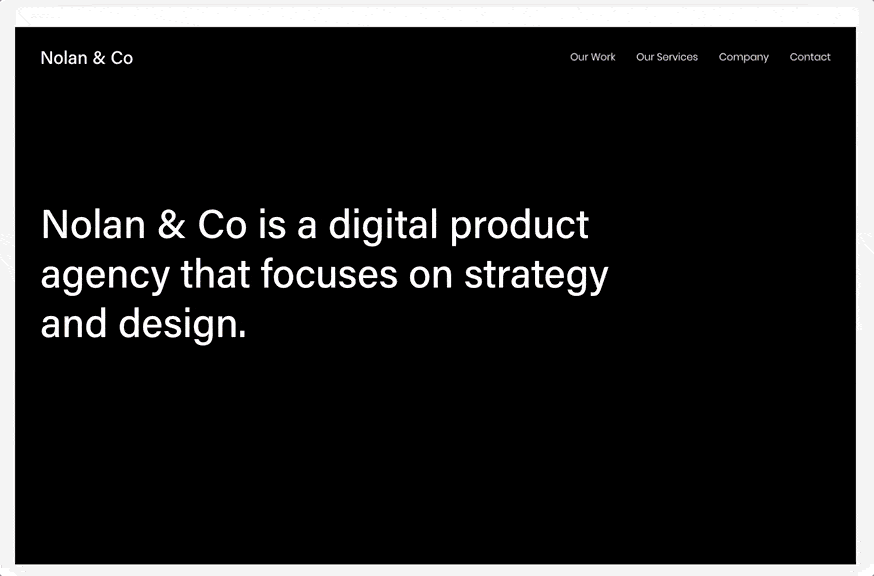 Squarespace Portfolio Templates to Avoid
There are a few templates in the Portfolio category that I don't recommend using.
They either don't have the right features, or the layout isn't ideal for displaying your work.

Beyond having a terrible color scheme,
the Cami template (above left) has some problems
. It displays a collection of images, but unlike in other templates, they're not clickable. That means they don't lead to a separate page where you can share more details about a project or your work. Instead,
your visitors have to scroll through a long list of images
and text to find the samples they need.
Cami
 can work if you only have a small number of images, but assuming you want to grow your business and get more clients, you'll need to create new pages and add links to the additional samples you want to display.
The Elliott template (above right) also has several issues.
 Instead of displaying full-screen images where you can focus on one photo at a time, look at the picture above and notice how
the previous image and the upcoming image appear on either side
. That's a huge distraction!  Plus, there's no space to add a written description of your images. Your visitors will be able to scroll through any number of galleries you add. However, you can't include any text alongside those images.
Other Squarespace Portfolio Templates to Consider
Just because it's not in the
Portfolio
 section of Squarespace's template catalog doesn't mean you can't use it!
These templates aren't specifically designed for portfolio sites, but they have a lot of the same elements you'd need.
 After some minor customization, you might even prefer one of them to the portfolio templates. Here are a few website templates I recommend considering for your digital portfolio.
Carson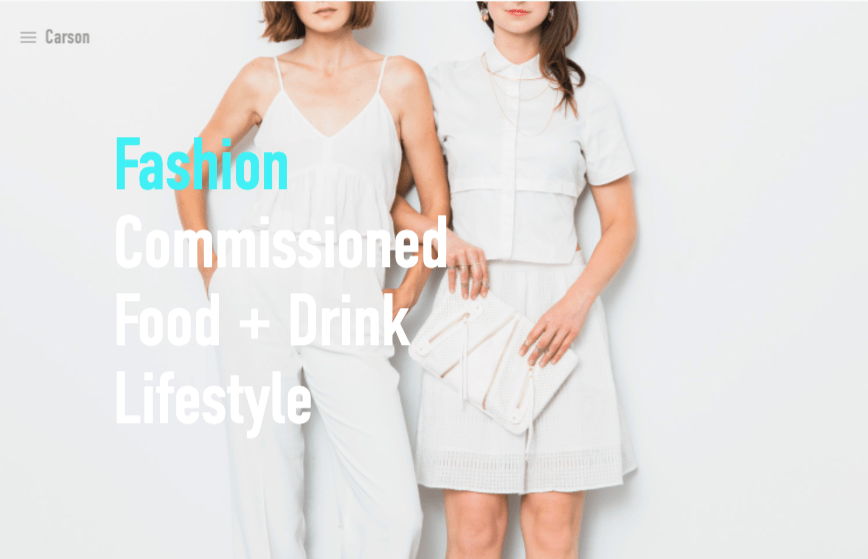 This template has a very straightforward homepage that puts the focus on your portfolio.
 You'll find a full-screen image along with some hyperlinked titles. When you click on each title, it takes you to a designated page where you can share a little information about the set of images you're sharing. Each page is made up of a gallery of full-screen images, and when visitors finish scrolling through the page, it takes them back to the homepage so they can visit other pages. The menu at the top includes links to
lists of past clients and a contact page
. My one issue with this template is that these important menu items can get lost alongside the large images, but you can make the menus stand out by changing the text to a color that pops.
Lange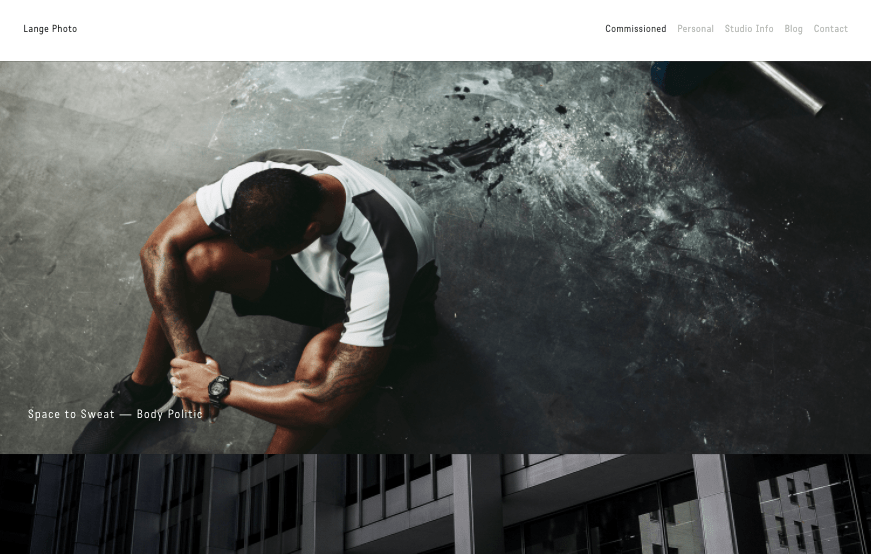 Similar to
Carson
,
Lange
 employs full-screen images to boldly display your photos.
However, unlike Carson, it also has other elements you might find appealing.
The images on the homepage are clickable and take visitors to another page where you can add some information about your work. You can add both full-screen and smaller images to highlight different aspects of your project, and you can intersperse text boxes in between images.
The menu bar on the Lange template is a lot more noticeable than the one in the Carson template,
 so visitors can easily navigate to a blog, your contact page, and an info page where you can add details about yourself and your experience.
Wells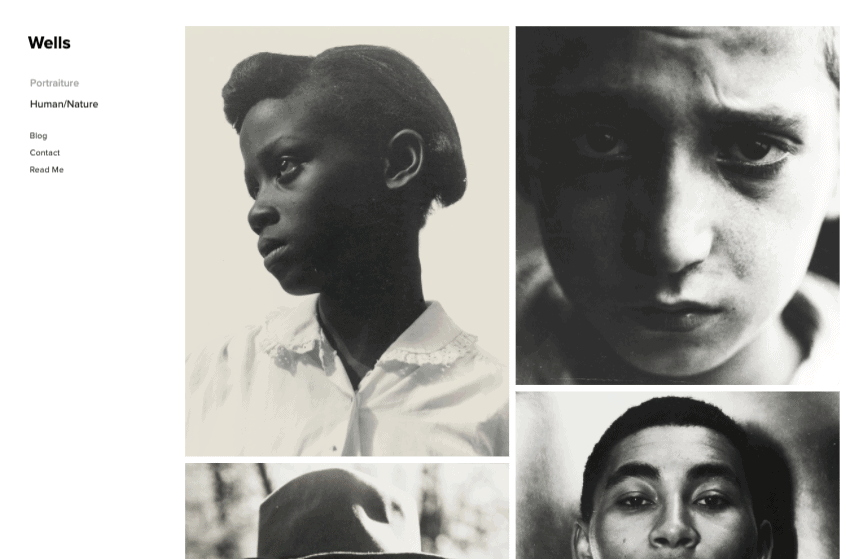 This template uses a simple, image-focused design.
The image gallery shows photos of different sizes stacked closely together, creating an artistic collage that draws the viewer in.
The left-hand side menu bar is less conventional than the other layouts, and you can include links to a blog, a contact page, and an
About
 page. You can also set up different pages to display separate projects or categories of work. Plus, you can add social media icons to link to your Instagram, Facebook page, etc.
Wells might seem overly simple at a glance, but this template puts your images front-and-center and displays them in a visually engaging way that encourages visitors to scroll and see your work in all its glory.
It's nice to have choices, and Wix is a good alternative – especially if you're interested in a free plan that gives you more creative freedom. There are
literally dozens of templates
 all specifically designed to showcase your portfolio. Just keep in mind that the templates aren't mobile responsive, so you may need to make some additional adjustments to make sure your portfolio looks good on all devices.
Creative Portfolio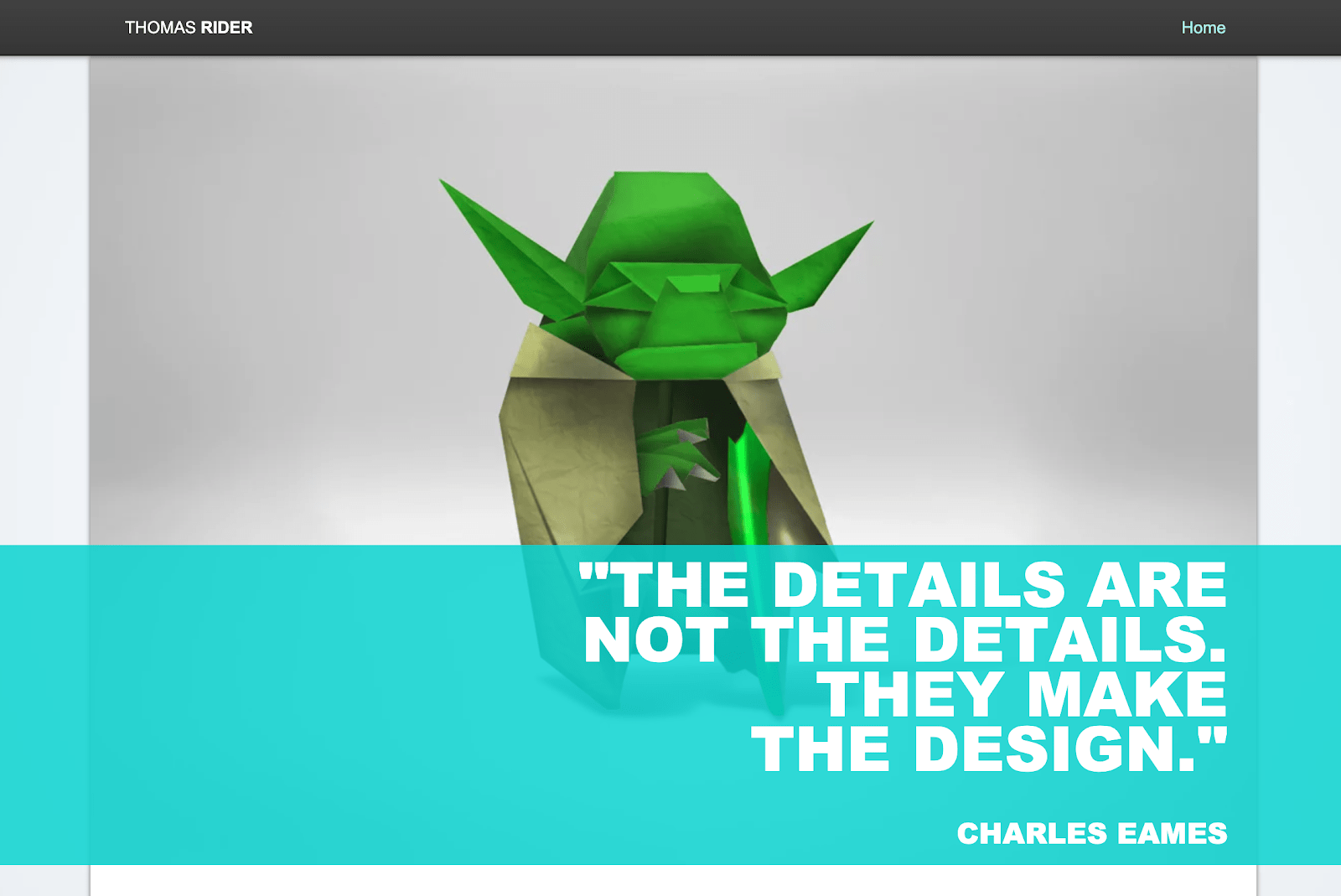 I love this template for a couple big reasons. First off, the bold placeholder for a quote is an awesome way to immediately make a statement about who you are and what you do. You can also program the hero image to rotate. Between these two factors,
visitors can get an in-depth understanding of your work without having to lift a finger.
And if someone
does
 make the minimal effort of scrolling down, they'll see a gallery of your work, including brief descriptions if they hover over an image. This template seriously removes all of the heavy lifting.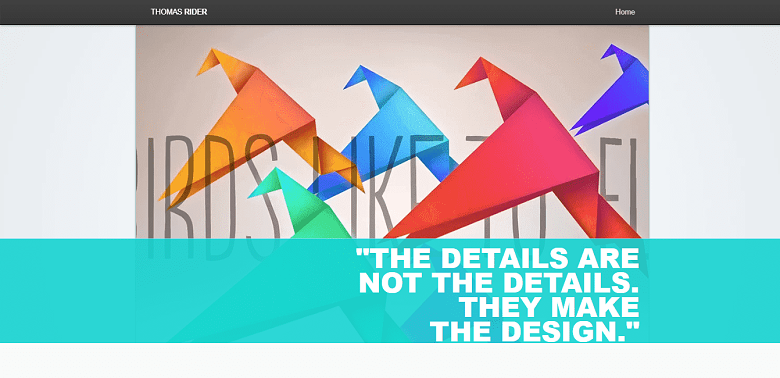 Textile Designer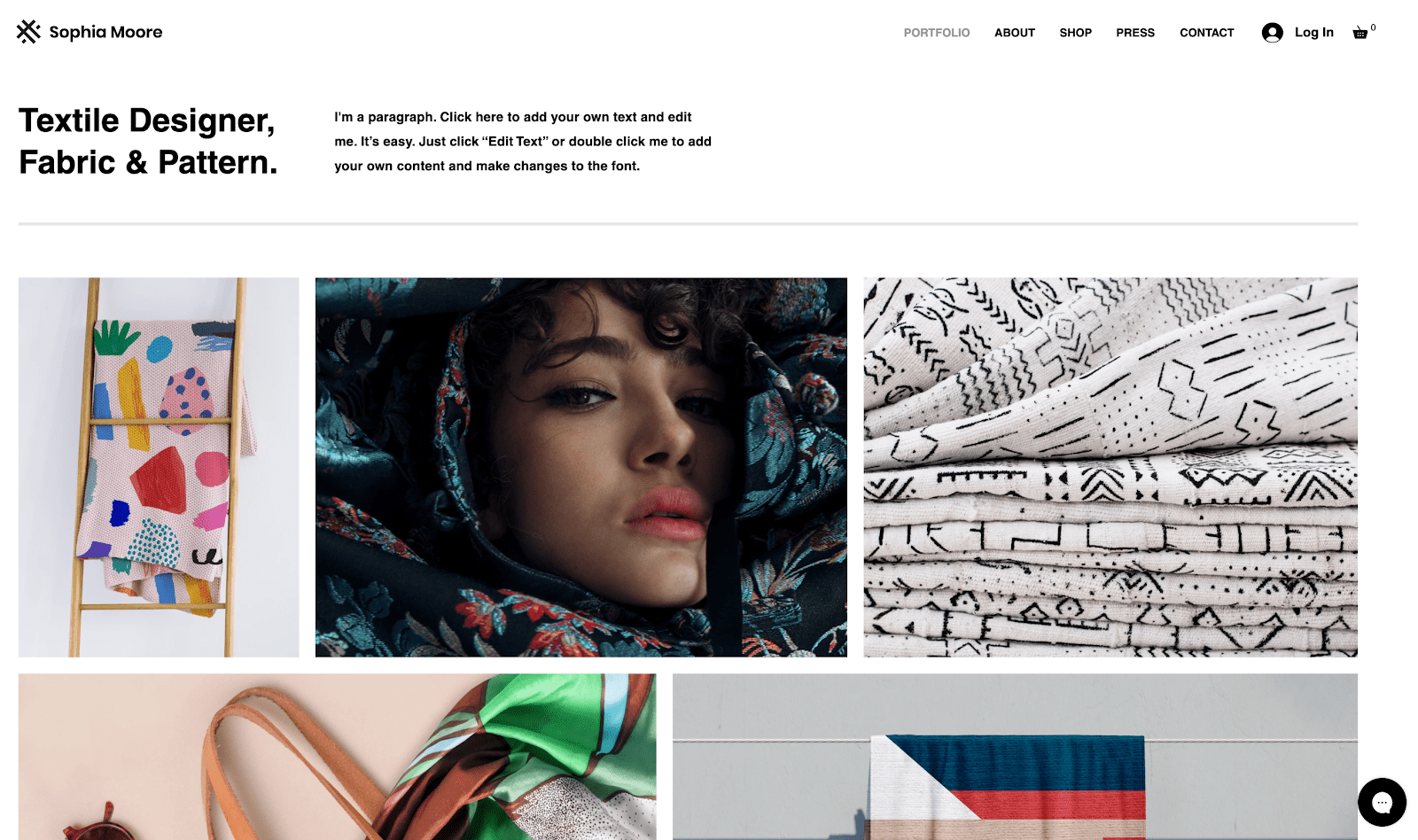 The
Textile Designer
 is another portfolio template from Wix that really checks a lot of boxes – especially if you are looking for
 a professional option that can help you sell your work
. I like how the featured photos are different sizes, so you can really pick an image that will best fit the space. The template comes equipped with an online shop and – my favorite part – 
a way for customers to message you
 and chat real-time (in the bottom right corner). This is huge for conversions!
The Right Template Will Help Your Portfolio Stand Out
Most buying decisions are emotional, and when someone reviews your portfolio, you need to impress them the second they land on your page.
Choosing the best template for your portfolio will help you position yourself as a professional and a leader in your field.
If you're unsure about how to start your digital portfolio, check out what others in your field are up to. Write down what you like in other portfolios and what you want to steer clear of. This can guide you in making selections from the many templates offered by Squarespace.
FAQ
Which Squarespace template is best?
The best Squarespace template for you will depend on what you want your website to achieve. The template categories make it easy to find the right one, since they tend to be preloaded with relevant features. For example, portfolio templates focus on visual displays of images, whereas the best Squarespace templates for restaurants will have placeholders for menus or online ordering.
Is Squarespace good for portfolios?
Yes. Squarespace is great for showcasing your work because its templates are generally well-designed and provide plenty of space for images. If you are looking for alternatives, any of the best website builders can help you put together a beautiful and well-organized portfolio.
How do I create a portfolio with Squarespace?
Creating a portfolio with Squarespace is easy. If you choose a template that has all of the features you want, it's just a matter of swapping out the placeholder text and images with your own content. To learn more about all of the features that Squarespace has to offer, check out our expert review.
Does Squarespace have free templates?
No. Unfortunately, Squarespace does not have a free plan – but it does have a 14-day free trial. To make sure that you get the very best deal on your Squarespace plan, be sure to check out our Squarespace coupon page. Alternatively, if you want to create a portfolio site for free, you might be better off with a competitor – Wix has a free plan and 500+ templates to choose from.