I looked through tons of Squarespace templates and realized that several of its designs could work really well
. Squarespace's templates are highly professional without looking salesy, and compared to some alternatives from dedicated landing page builders, they really stand out. Squarespace also provides
other essential features like analytics and email marketing tools, as well as social media integrations
. All in all, it can be a great option for effective landing pages. I looked at all 48 of what Squarespace calls
Launch Page templates
and picked the best ones. I also came across a couple you should stay away from… plus
some templates I found in other categories
that could work really well.
Squarespace Landing Page Templates That I'm Sold On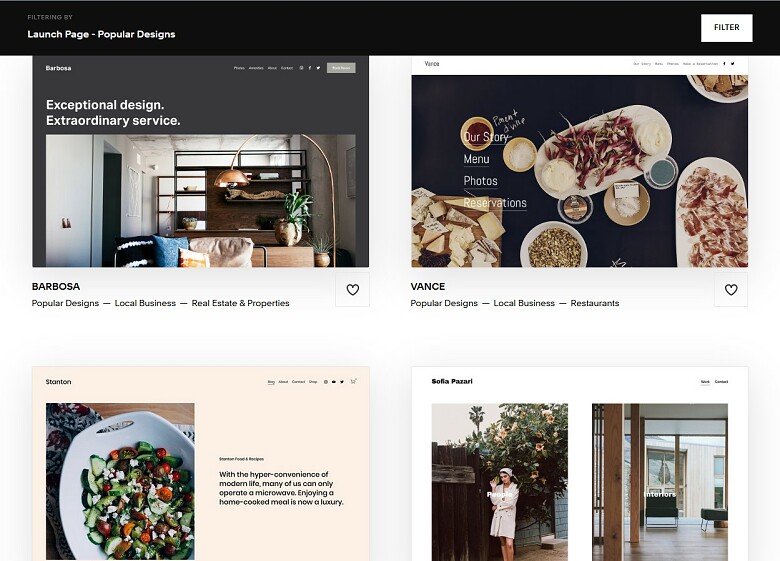 You can find some great landing page templates by exploring Squarespace's Launch Page category. Not all designs will work for landing pages though, so
don't be afraid to scroll to uncover the real gems
. Once you check the Launch Page box, you can further filter your options by topic. For example, if your landing page is for a consulting agency, you can select Professional Services and browse from there. Here are five of my favorite Launch Page templates from Squarespace.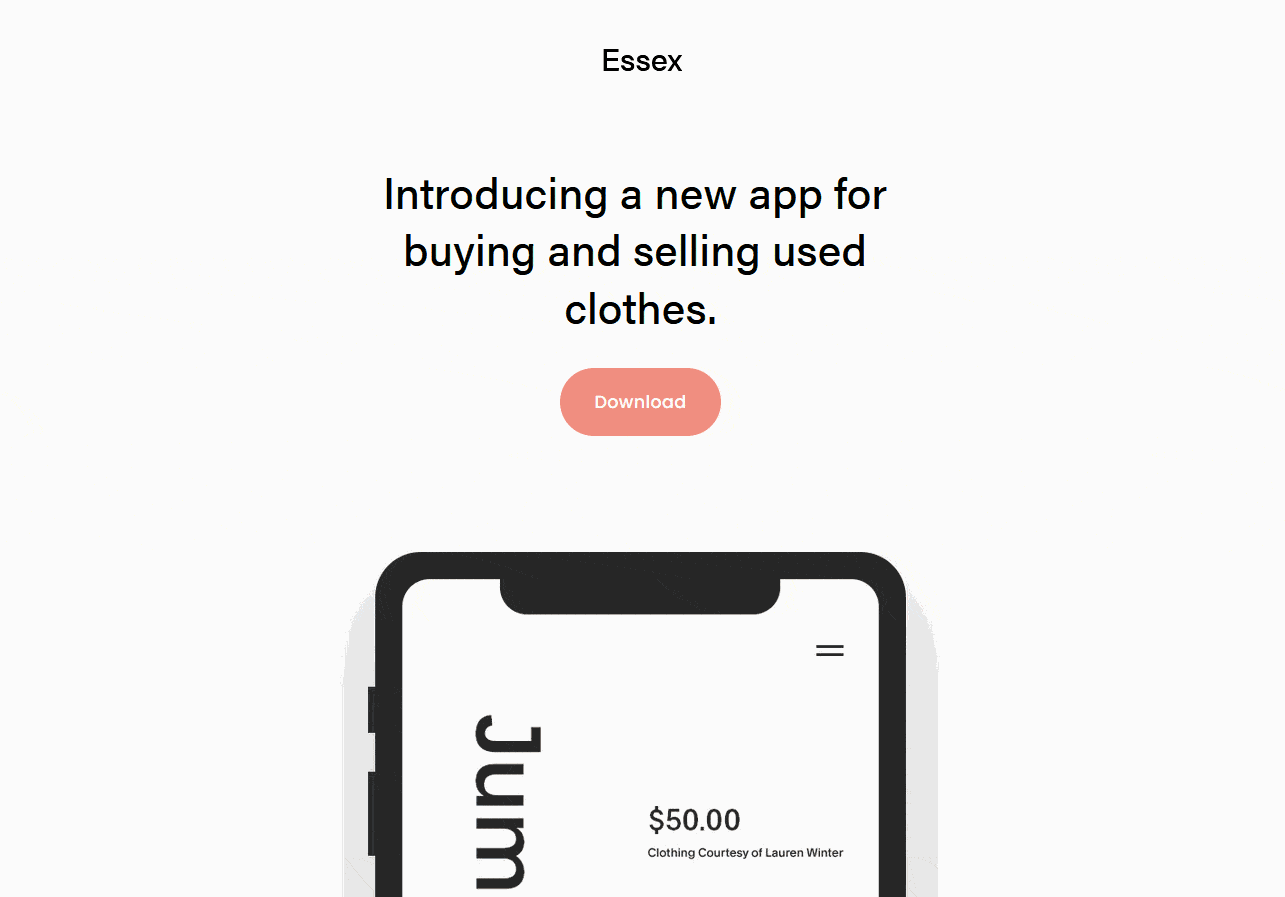 Essex
is simple. Really simple. It's the most basic on the list, with just a headline, a single call-to-action button, and one image.
It's a great choice if you're directing users to your page from other online spaces like social media
, and they just need a nudge (rather than a grandiose pitch) to take action. The demo is built for apps but it could be a great choice for other digital products or downloads as well.
I'd also recommend this template as a great starting point for building your own landing page.
Since Squarespace lets you add and rearrange pre-designed blocks of content like testimonials, pricing tables, and more, you can craft your own landing page if you're up for the creative challenge.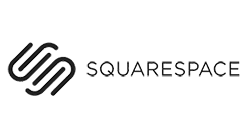 Save up to 30 % on your Squarespace plan today!
Plus get a free domain for one year!
1031 users used this coupon!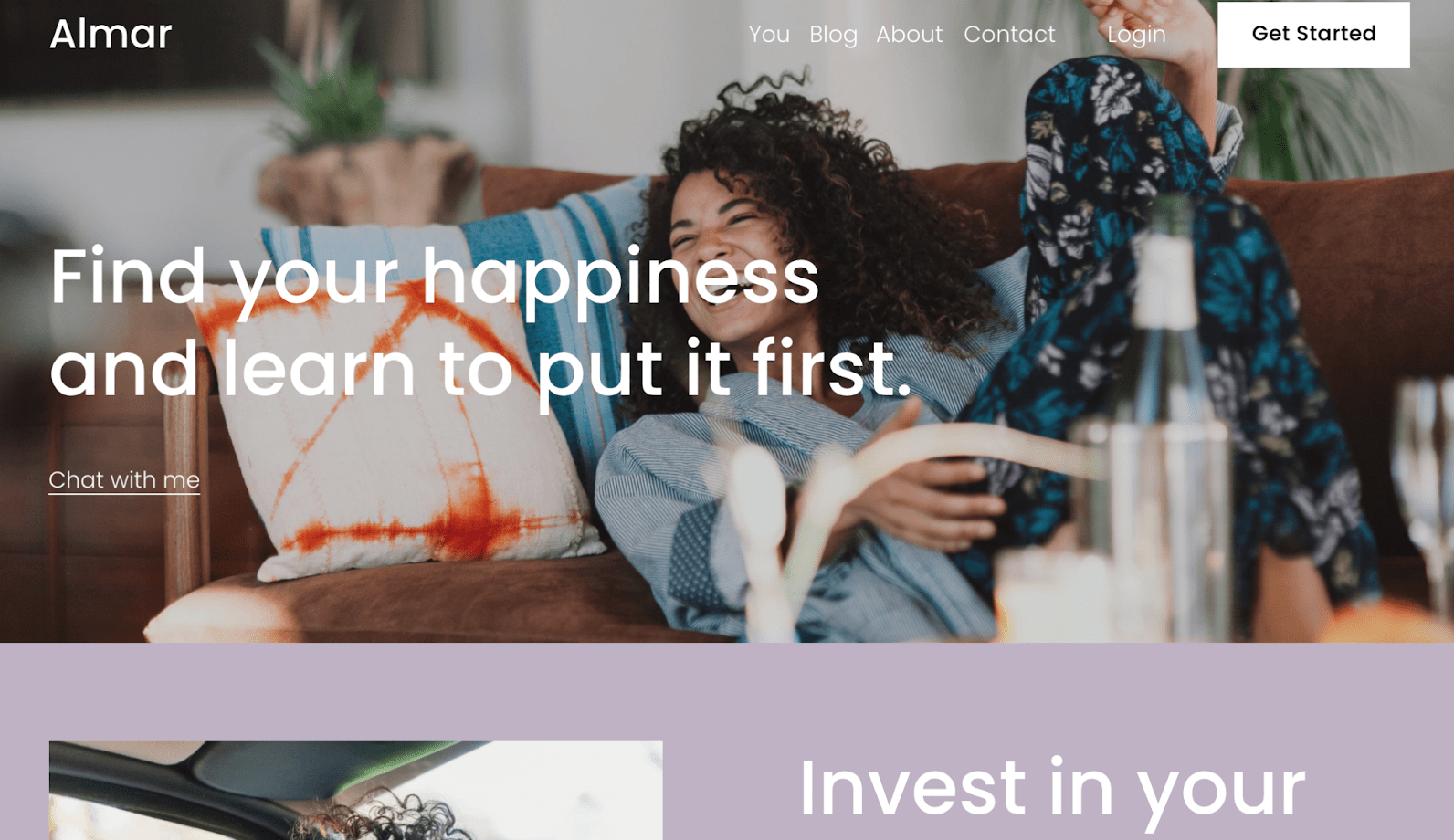 I really like
Almar
. It's a great all-around template geared towards services like consulting or agencies. It kicks off with a large, attention-grabbing headline and a full-width hero image. This template also includes Squarepsace's Logo Wall section, which is a great way to display your social proof. This way,
you can easily show off the logos of your partners or the online publications you've been featured in
. There's also room for your testimonials, multiple call-to-action buttons, and a quick sign-up form right on the page.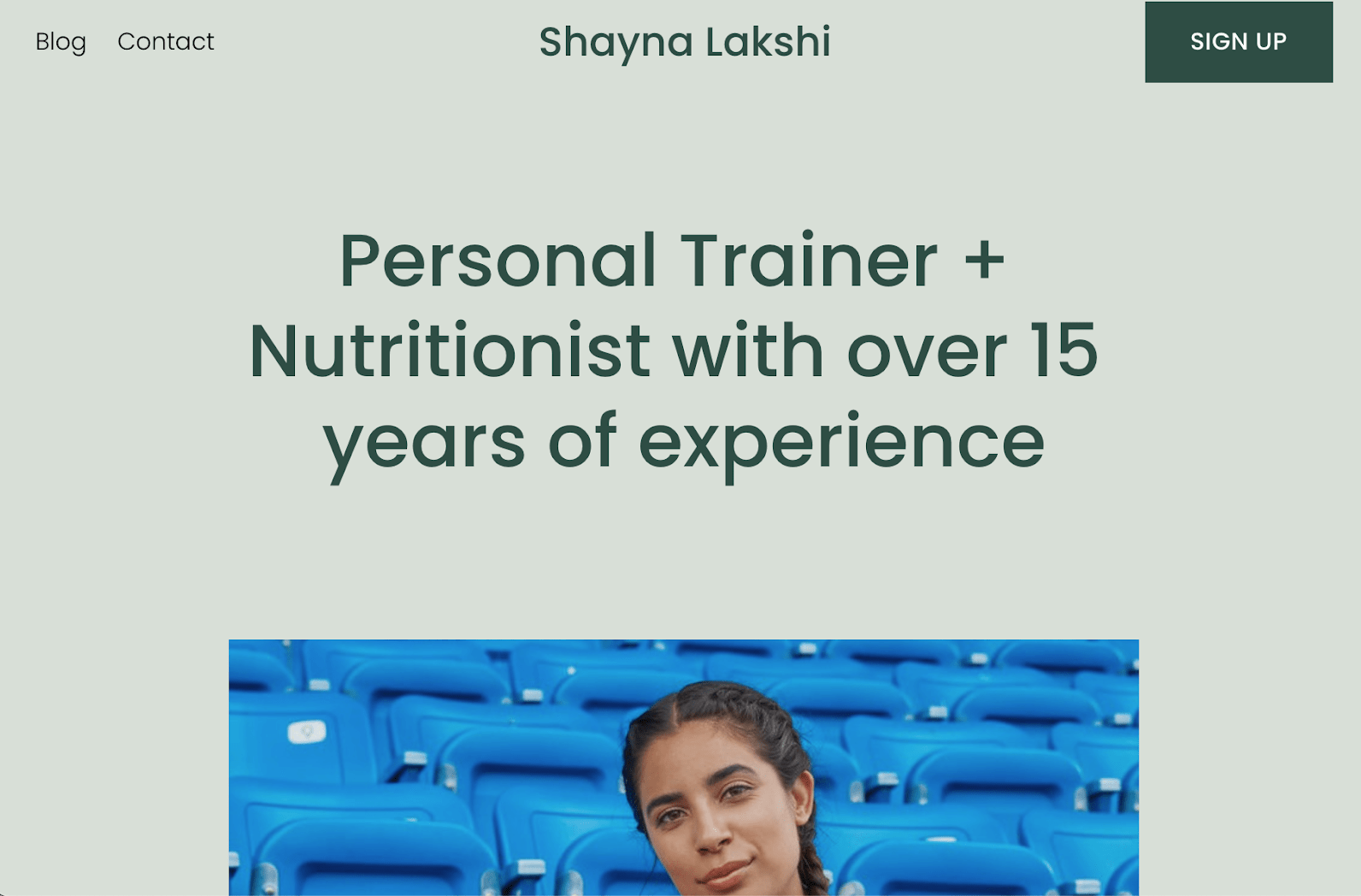 I recommend
Lakshi
for your landing page if your product or service involves in-depth info and you want to keep your visitors on the page.
It's loaded with different sections that do a good job of breaking up your copy and making your layout visually compelling.
Every section looks great, but I especially like the services section – the background image really makes it stand out on the page. You can use your copy to lay out exactly why your services are amazing and seal the deal with a
Sign Up
button.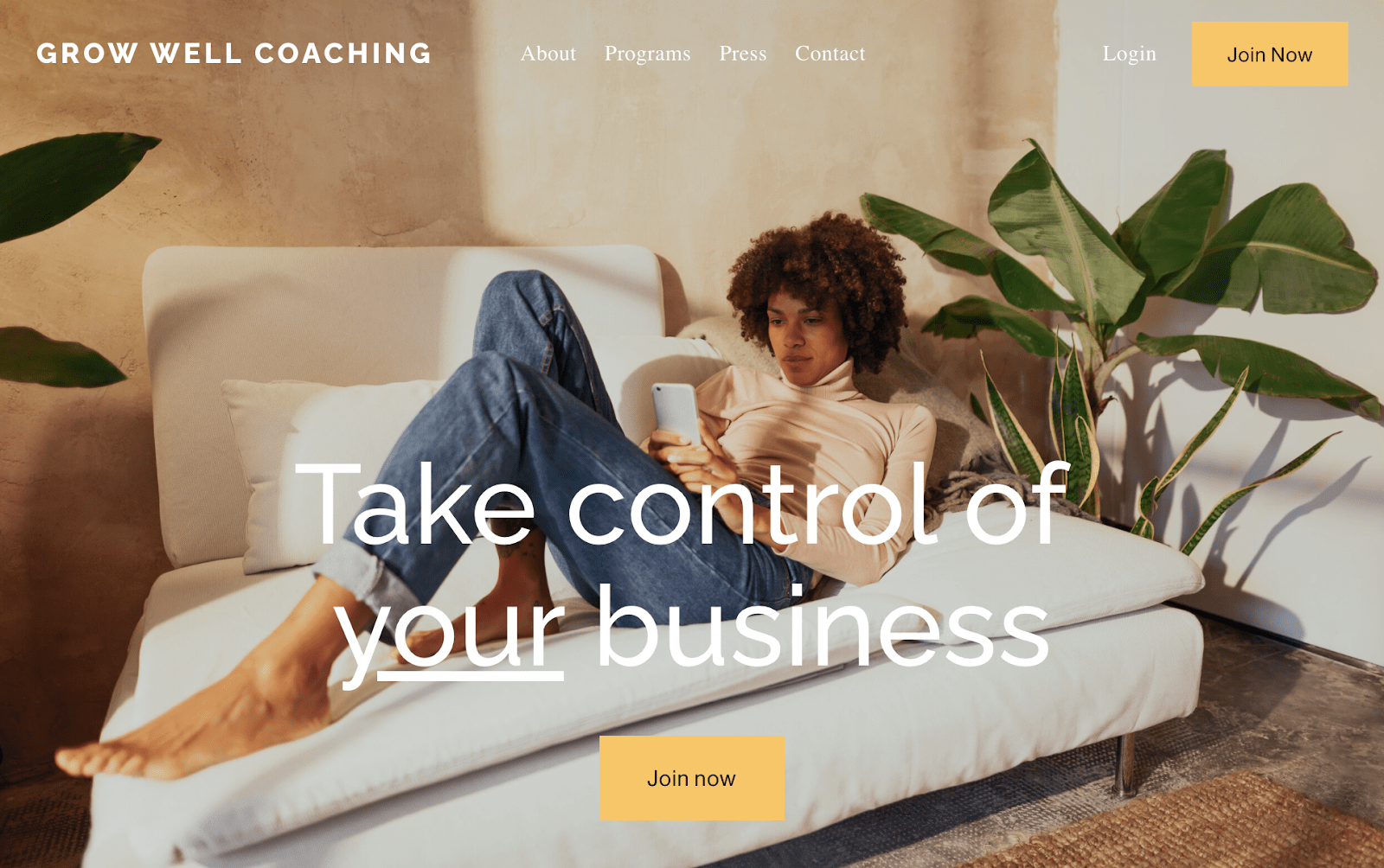 Growwell, another template that shines with big, beautiful headlines and images, offers lots of stylish space to unpack your services, just like Lakshi does. Additionally, it includes a pricing table, allowing you to showcase your plans right up front. More importantly, I love how this template handles testimonials.
You can share your glowing reviews in a way that looks professionally designed and really gives significance to each one.
There's room for your happy users' names, their titles, photos, and quotes so each review looks distinct and important.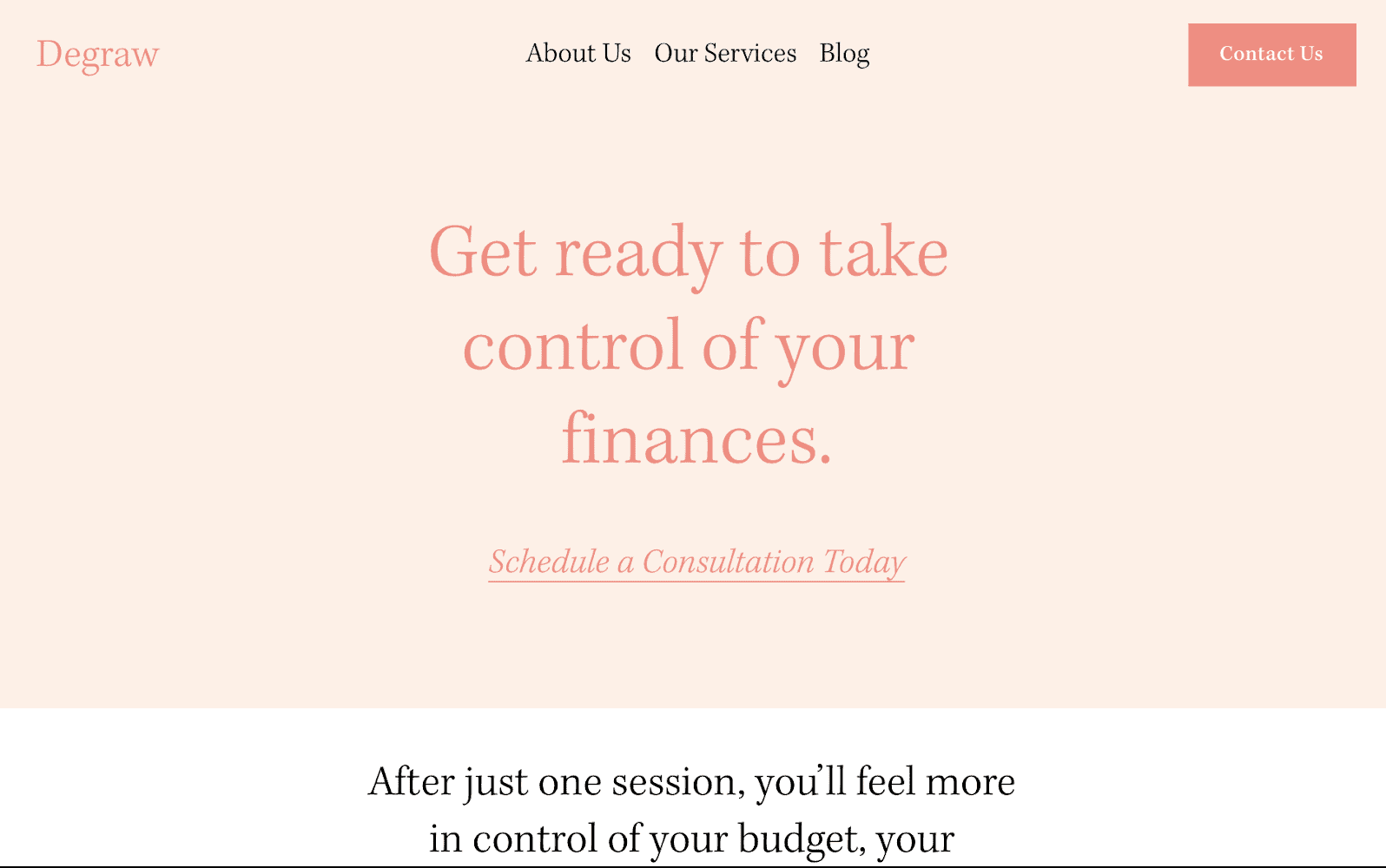 With
Degraw
, there's no image anywhere near the top of the page, but that doesn't have to be a dealbreaker, since you can let your conversion-optimized copy do the talking.
The one-two combo of header and subheader is actually an effective way to present your value proposition and explain how your service or product works.
Once your visitors start scrolling, they'll see your images, services, and a creative testimonials section that pairs quotes with customer photos. If your reviewers are willing to have their picture on your website, this format looks really good and could give your testimonials more credibility than just a quote next to a teeny tiny avatar.
Squarespace Landing Page Templates I Don't Recommend
As I said above, not all of the Launch Page templates work well for landing pages. For instance, I would avoid the two templates below, even if they look good at first glance.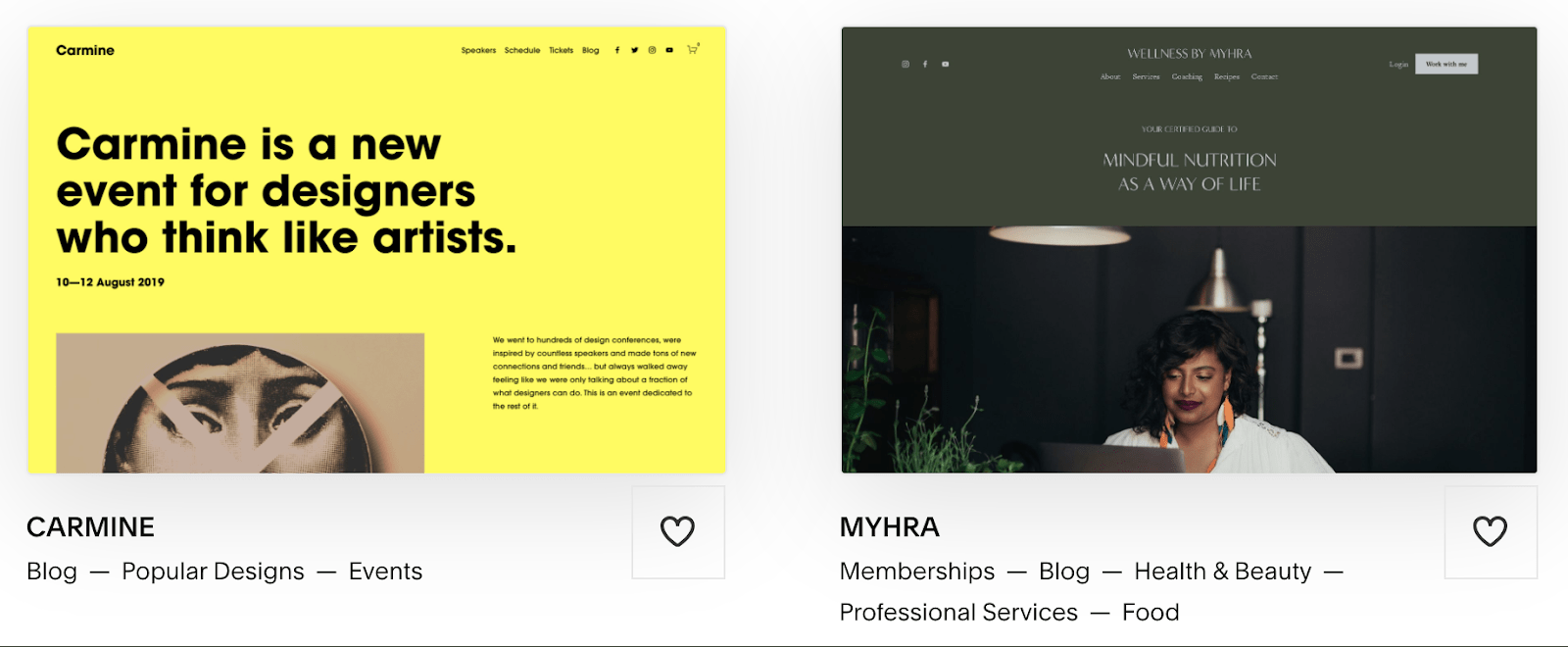 Carmine
really pops with bright colors and huge text. But it actually pops a little too much –
it's the visual equivalent of using a megaphone to shout at your visitors
. This approach might work well for exciting events, but for the most part, you don't want to "yell" at potential clients. Plus, the call-to-action button literally takes up the entire page. Myhra is entirely different from Carmine. Its deep hues and typefaces create a relaxed appearance that's overly subdued. Since the colors are so a like, all the components on the page mix together and nothing truly pops out. That's a major sales mistake – your crucial pitch will disappear into the pine-green backdrop and excessively artistic design.
Other Squarespace Landing Page Templates That Work Surprisingly Well
I was a bit surprised to find a couple of templates in the Events category that would make great landing pages.
These templates are efficient and feature a single call to action
, so they could be great for specialized services or individual products.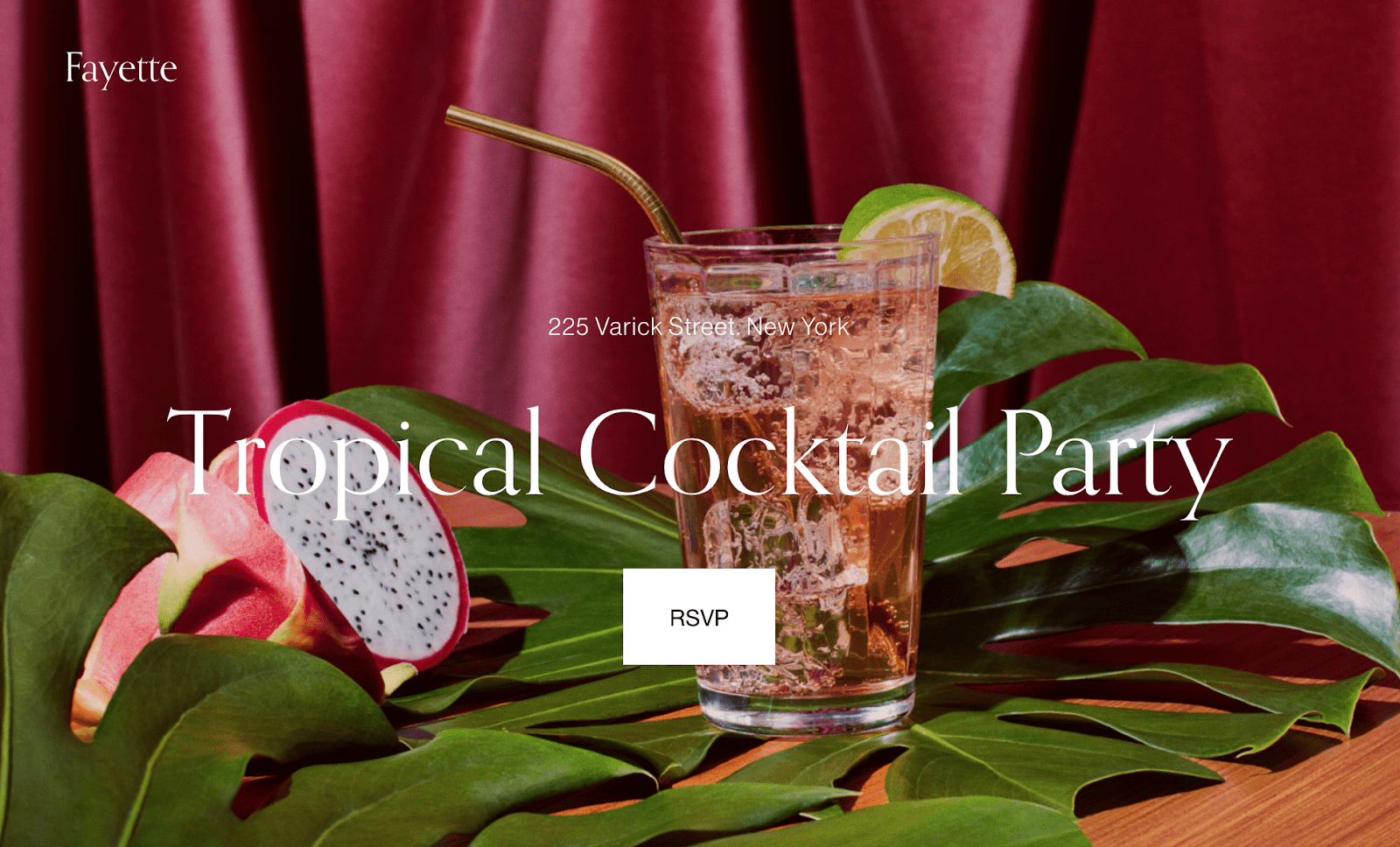 Fayette
has a classy, refined look that would work well for luxury items or premium services. It doesn't include a ton of room for copy,
but that means you can keep things clear and concise for your visitors
. You can swap out the RSVP title and buttons with your own call to action to turn this party template into a unique landing page.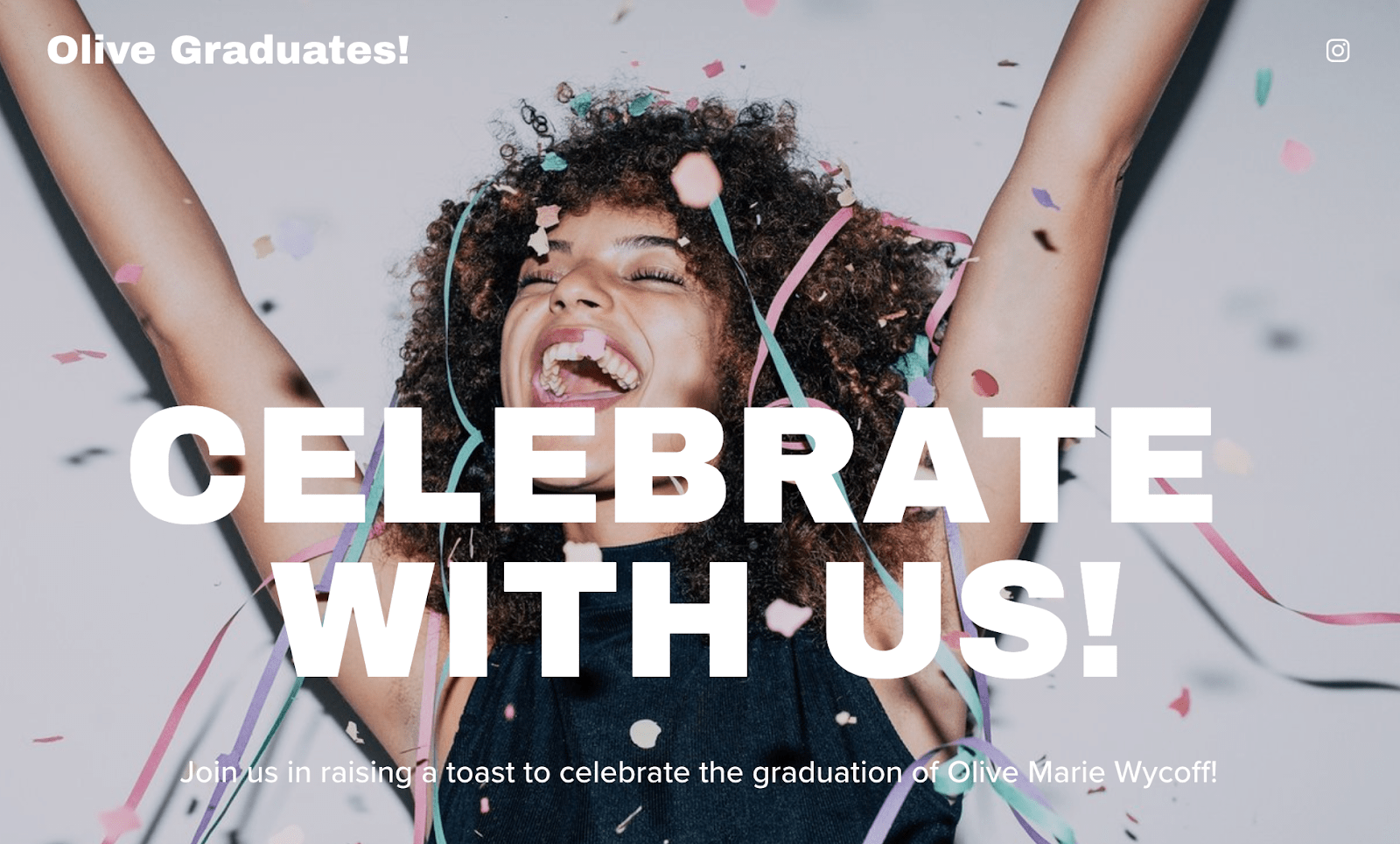 Wycoff
is built for celebrations, so it will
give your landing page a positive vibe
even after you tweak it from a party invitation to a sales tool. The bold fonts are large, but not as overpowering as
Carmine's
. And just like with
Fayette
, all you need to do is change the button to
Subscribe
or
Book
an Appointment
to convince your visitors to take the next step.
Finding the Best Squarespace Templates for Your Landing Page
With a wide selection of excellent designs and an array of powerful marketing tools,
Squarespace can be a good choice when you want to build a high-converting landing page.
All the templates on this list have different strengths, but each one has what it takes to move visitors through the sales funnel. Once you've found a good starting point, it's easy to add any must-have sections with Squarepace's editor.
The right combination of a good template, well-written copy, compelling visuals, and recommendations can make the difference.
FAQ
Can you create a landing page on Squarespace?
Yes. Just find a template you like (there are lots of good landing page options in the Launch Page category) and click on the Start With This Design button on the template preview page. Once the template is loaded into the editor, you can easily change the photos and text, and add the sections you need. To get started at a discount, check out our Squarespace coupons page for the latest deals. Or, if you're not set on Squarespace, you might want to check out our list of the 10 best website builders in 2023 for more great options.
How do I change my landing page on Squarespace?
You can change the structure of your landing page by switching out its section blocks. Just click Add Section in the editor and choose the type which best suits your needs. To change the look of your landing page, click Design, then Site Styles to see detailed options. If you need more help, check out our in-depth Squarespace review.
How do I add a splash page in Squarespace?
It's easy to add a splash page to your existing website by adding a page in the Squarespace editor. You can choose to start with a blank page or one of the prebuilt page layouts. Once you've found the right starting point, you can rearrange the page's sections, as well as customize colors and fonts.
How do you structure a landing page?
Your landing page should have one clear goal and be optimized for conversion. A good structure should include:
Your unique offer
Attention-grabbing images
The benefits of your solution
Social proof (recommendations and testimonials)
A clear call to action
To take the guesswork out of building your page, you can opt for a dedicated landing page builder. You'll find several great options on our list of the best landing page creators in 2023.