1. Best Value: GoRetro
This 100% free retrospective tool is jam-packed with features to make the process of running retros smooth, simple, fun, and productive. Users can build unlimited boards and add unlimited teammates, allow for comments, easily sort and filter cards and comments, and use that to start a discussion between your team members, along with a voting mechanism to help arrive at important decisions and action items. Built-in action items, a happiness index to gauge the team's wellbeing, and out-of-the-box retrospective templates (Start-Stop-Continue, Mad-Sad-Glad, Lean Coffee, 4Ls, and more) to choose from make GoRetro the perfect tool to ensure productivity and collaboration in any retro, whether remote or onsite. And since it is 100% free, you just cannot beat its value for any dev team.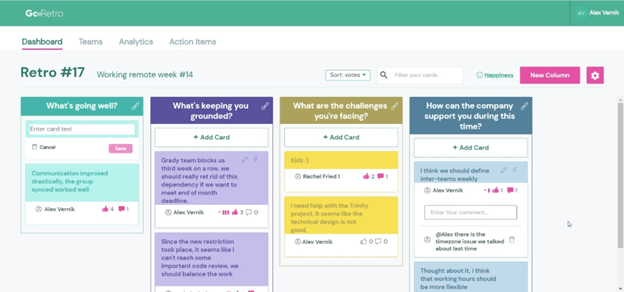 2. Best for Team Health: TeamMood
Ensuring mental and emotional health is always critical for a high-performing team, especially during times of disruption. And that's where TeamMood shines. It helps you check in on the team's wellbeing in an easy and intuitive way. Team members receive daily emails checking on their mood that take less than 5 seconds to respond to, so they can get on with their day and you know how they're doing each day. Also, with anonymous submissions, it means your team members are more likely to answer truthfully, allowing for a more accurate gauge of team sentiment over time.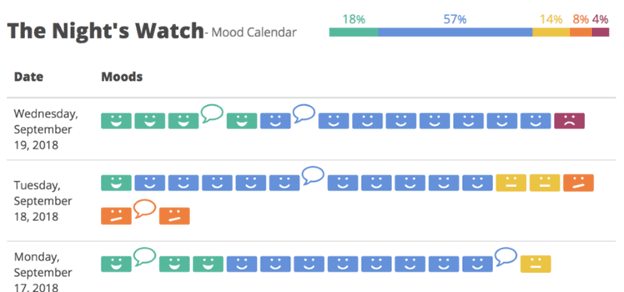 3. Most Versatile: Geekbot
Geekbot is the "Swiss army knife" of retrospective tools, offering support for multiple agile ceremonies in one. It is used to automate standups, surveys, daily reports, and, of course, retrospectives. Geekbot will bring you peace of mind by keeping your team on the same page, getting more done, and staying analytical by measuring engagement and productivity. A plus is that it's run through Slack, so you can keep up with everyone and move your key activities to your favorite Slack channel.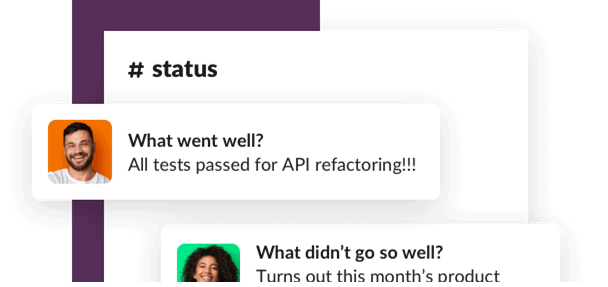 4. Most Connected: Parabol
This heavy-duty retro meeting app comes packed with features and a host of integrations (including Atlassian Jira, Github, and Slack) designed to fit into team workflows and ensure full team participation. Parabol is perfect for Scrum Masters who want to create a team-building meeting or hold a Lessons Learned meeting. The app will automatically generate a meeting summary at the end of every meeting that is emailed or delivered via Slack to every team member, making it easy for everyone to review the main points and understand where to go from there.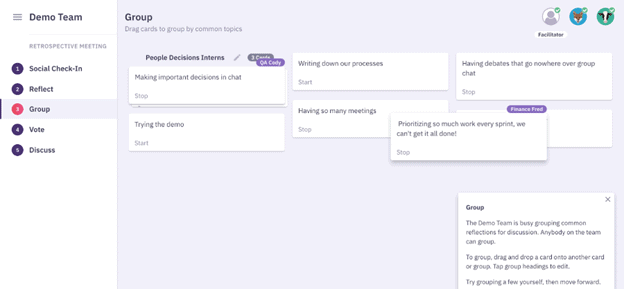 5. Best for Keeping Things Fresh: Scrum Toolkit
Since the shift to remote work, scrum masters have turned to games and new formats to avoid stale retros. Scrum Toolkit makes it easy to keep things fresh: if you want to add some fun into your meetings and boost engagement, this is a great place to start. Games that balance fun and productivity help get the ball rolling in meetings and ensure constant team participation. All information is shared in real time, as if the team were all together in the same room, and teams can easily refer back to previous meetings because everything is saved.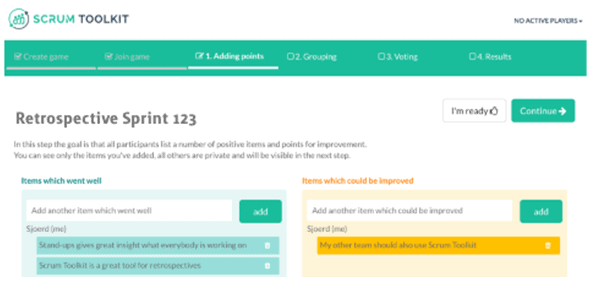 6. Most Uplifting: Outro
Which of us doesn't need some more positivity and, well…team love these days? Enter Outro, an app designed as a dedicated place for positivity. Outro is built to help teammates recognize each others' accomplishments, drive continuous improvement, and end each sprint on a high note. The whole idea behind this retrospective tool is to create a positive atmosphere in which team members are recognized for their accomplishments and are encouraged to continue improving. Features like shout-outs and concerns ensure that a happy team equals a productive team.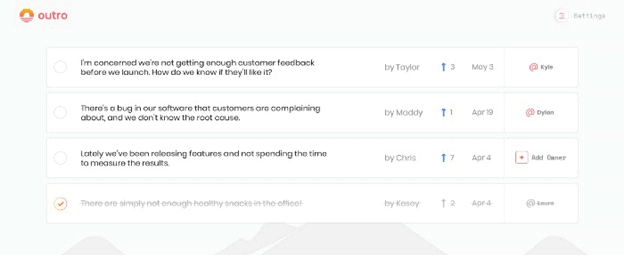 7. Best for Unbiased Retros: RetroBox
The best retrospectives involve authentic, imaginative interactions between team members. But being human, we're all prone to numerous forms of bias – like what we recall and what we choose to share with the team. RetroBox is designed for bias-free and focused agile retrospectives. The app helps teams break out of common cognitive failure modes like recency bias and anchoring bias by continuously collecting anonymous feedback. And it all works on Slack, which makes it easy for your team to integrate into your regular workload.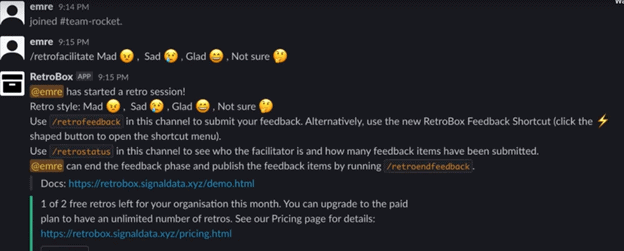 8. Best for Tracking Progress: bttr
The best dev teams benchmark and track their progress for continuous improvement, and Bttr makes this easy with tools designed to measure and monitor team performance over time. Boards assign teams or projects, and they continuously gather feedback, prioritize crucial topics, and monitor progress from one sprint to the next. You can conveniently monitor your team's progress by specifying the sprint duration and the preferred repetition time frame within. During that period, you can effortlessly observe your team's advancement.