Too often, what's billed as a "simple" WordPress theme or website template is anything but.
You learn too late that a simple-looking theme requires complex backend customization, leaving you frustrated and confused. Or that the promise of a "client-friendly" template was just a mirage.
I've spent the past week testing "simple" templates and have picked nine that actually qualify.
They're clean, organized, and easy-to-navigate – plus, each one comes with a page builder that makes it easy for you to personalize the design. And if you're looking for an even easier way to get a simple website up and running, I'll also share a tip on how to
get a custom design at an affordable price
.
WordPress Themes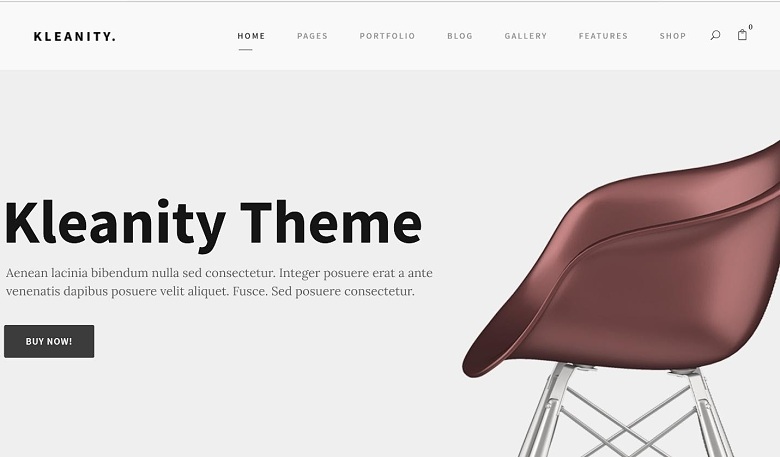 Kleanity
from
ThemeForest
proves that a simple design doesn't have to sacrifice on flexibility or features. This elegant, modern theme has
nine different demos to choose from
. You start by picking the one that best suits your brand – creative, online store, professional service, or business site.
The GoodLayers drag-and-drop page builder makes it easy to set up your site the way you want it.
For one, it gives you lots of customization options for portfolios or product galleries. You can choose the number of columns, include hover effects, opt to frame your images, or simply make it all about the photos – no white space, no text, just visuals.
Kleanity
is fully compatible with WooCommerce (for online shops) and the WordPress Multilingual plugin, which lets you optimize your site for SEO in multiple languages.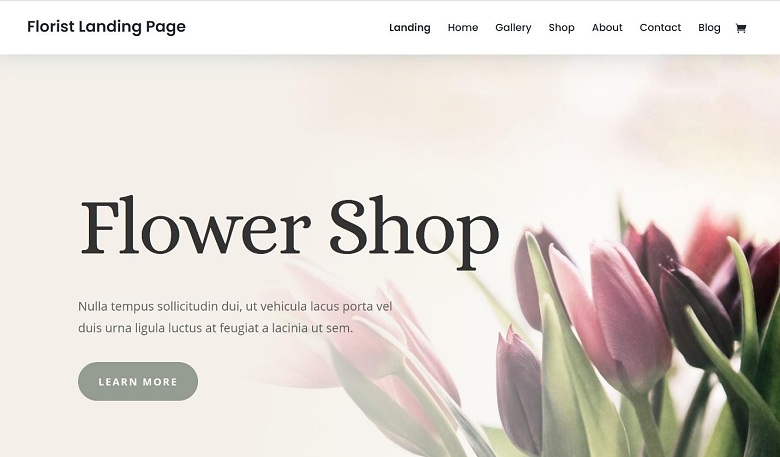 The
Florist Landing Page
layout pack from
Divi
is a captivating template that
offers ample functionality but is easy to customize
. The homepage's asymmetric design, bold font, effective use of white space, and inviting CTA button encourage your users to explore your site. You can use the landing page layout to
build a one-page website that's easy to navigate
. But if you prefer a multi-page site,
Florist Landing Page
comes with gallery, shop, about, and blog layouts too. All these built-in features mean it could work equally well for artists, photographers, designers, and boutique shops. Plus, Divi's drag-and-drop visual builder makes it easy to
change colors, fonts, photos, and content,
and see it all in real time.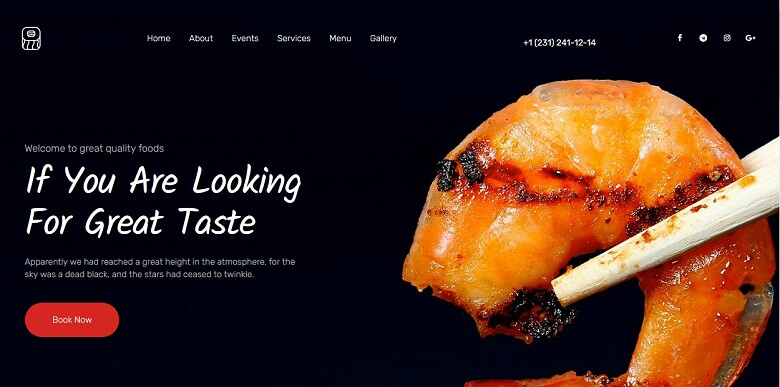 European Cuisine
from
TemplateMonster
is a responsive, image-forward template that's
a good option for any food-related business
. It's a sharp-looking but simple theme that keeps your landing page clean and focused with a bold header, but doesn't scrimp on what's important –
menu, services page, reservations, contact information, and social media integrations
. Parallax elements and sliders enhance the user experience but never overwhelm. You can use
the gallery page
to share photos of your menu items and unique eating space, and you can even add video content. The
Elementor drag-and-drop page builder plugin
makes it easy for you to personalize your site design even if you don't have any coding experience.
Website Builders
What's simple to one person may seem complex to another. Even simple WordPress themes generally require some level of skill and may be challenging for beginners. So, before you commit, you may want to consider using a template from a website builder instead.
What builders offer is a genuinely simple approach to site creation that anyone can master.
You can choose from hundreds of gorgeous templates, find one that suits your personality or business needs, and create an eye-catching website that's easy for users to navigate. Best of all,
you won't have to give up the features and tools
that will help you grow your business, promote your creative work, and connect with your audience.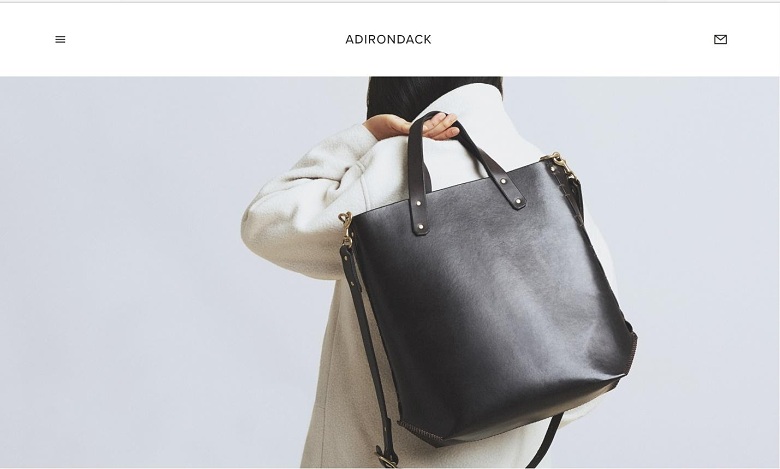 If you're looking for a template that speaks softly but carries a big punch, look no further than
Adirondack
from Squarespace. It's a prime example of how
an uncluttered design and smart use of negative space
can make it easier for users to focus on your content and message. Nothing distracts from the homepage image. Even the navigation bar stays hidden until users move their cursor over the landing page.
But everything you need is there – product galleries, e-commerce tools, blog, contact, and email link.
Adirondack
is a good option for designers and online stores that want their creations or products to stand out.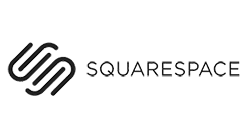 Save up to 30 % on your Squarespace plan today!
Plus get a free domain for one year!
1031 users used this coupon!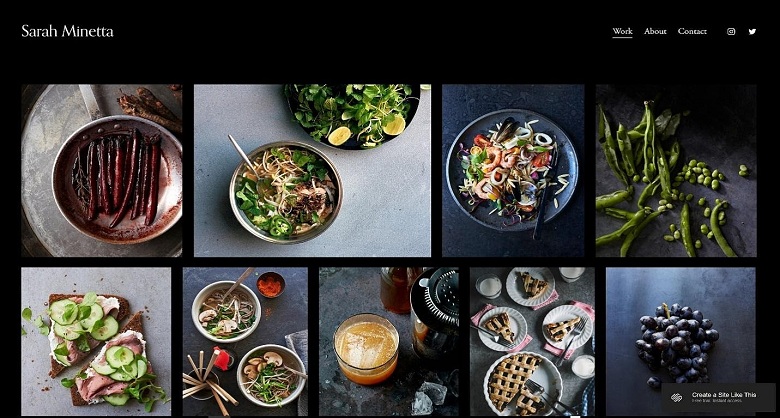 Minetta
is a sophisticated Squarespace template that uses black space and white text to offset its images to good effect – they become much bolder, brighter, and more vivid. It's a clever approach that's
well suited to a photography, visual art, or design website
. This is a template that keeps it simple, but doesn't forget essentials like
social media links, contact CTAs, and an About summary
.
Minetta
would also work well for bloggers, models, and visual storytellers of all kinds – basically, anyone who wants
a focused website that lets their creative work shine
.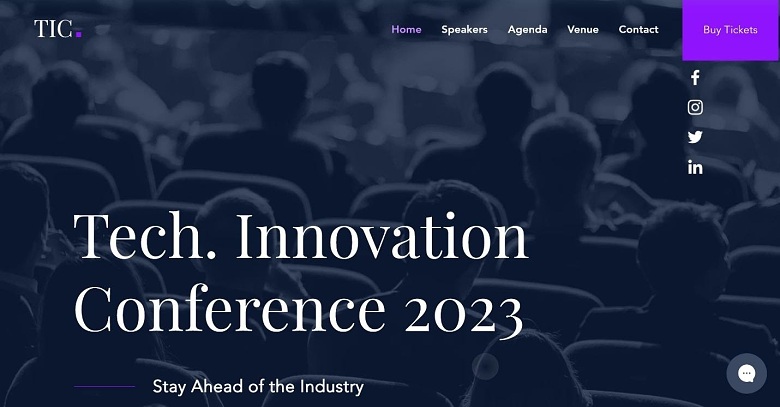 Wix's
Tech Conference Landing Page
has everything you need to promote your event, whether it's a symposium, annual convention, exposition, or inspirational summit. The cleverly limited color scheme and simple typeface are enhanced with
parallax fade-in effects
. As users scroll down, certain elements pop into view, encouraging them to focus on your message and images.
Clear content strips include an agenda, speaker details, and the date, venue, and location of your event.
I love the bold purple accents and how the
Buy tickets
button and floating social media sidebar are locked into place. The integrated
Wix Events App
makes it easy to sell tickets, collect RSVPs, and even check in your guests on mobile. All you have to do is add Wix Payments or a third-party payment processor to your site.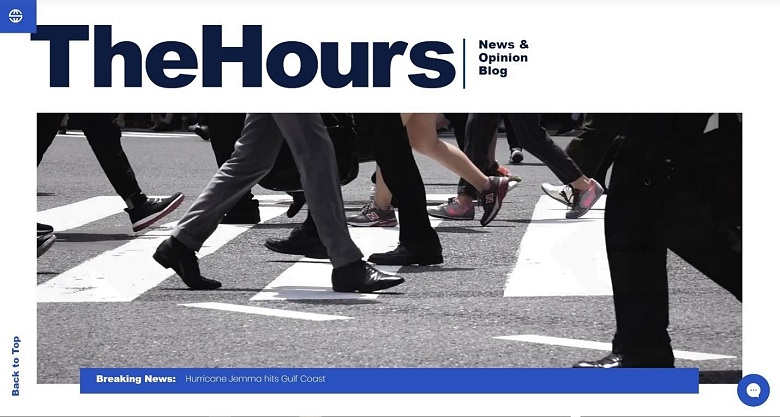 The
News Blog
template from Wix pairs a larger-than-life bold-text header with a homepage video that uses an unconventional viewpoint to draw users in. The design creates
a sense of immediacy, movement, and action
. Its clean font, contemporary design, and spare color palette with bright-blue accents would work for
digital publications, business blogs, financial analysts, consultants, and news outlets
that want to capture audiences with their informative, timely content.
News Blog
comes with features you can use to build followers and make your website profitable, like
a newsletter sign-up form
and an
Advertise with Us
CTA.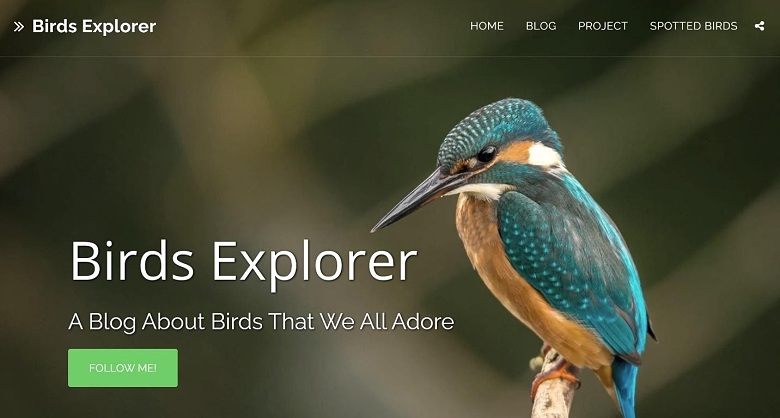 Birds Explorer
from SITE123 is all about beautiful photos and concise text sections. While it's designed for blogs, it would also work for photographers, nonprofits, educational organizations, environmental groups, or even tour companies. A built-in Project page lets you
share details about your creative work, group mission, or special programs
. There are lots of CTAs sprinkled throughout, starting with the bold
Follow
me
button on the landing page. There's also a contact form and newsletter sign-up, as well as a
Learn more
button on each blog post. One feature I really like is
the cool hover effect built into the photo gallery
. When users mouse over an image, they can click on the green "eye" to zoom in and bring up a full-screen slideshow. Nonprofits will want to add a Donate page and button, which is easy to do on SITE123's editing sidebar.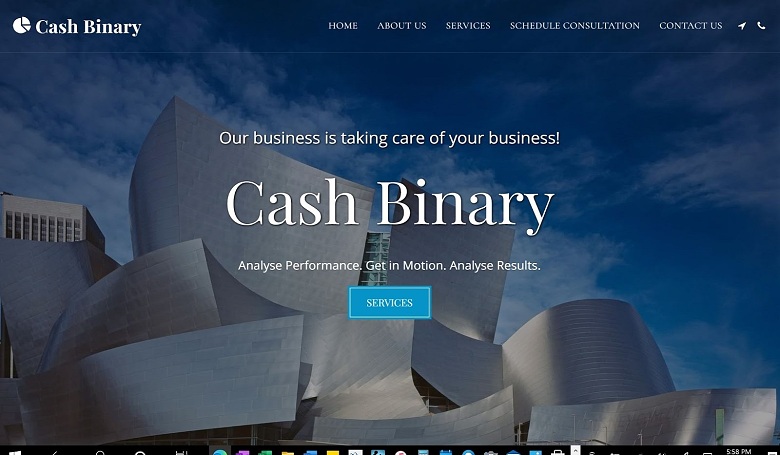 Cash Binary
is a multipurpose template from SITE123. The restrained color palette, crisp font, and well-organized content sections make it a good choice for businesses and professional services that need
a website that projects expertise
.
This template packs lots of features into a single page.
There's an About section, where you can share what makes your firm unique, a Services section with multiple
Learn More
CTAs, and, most importantly, a scheduling tool that lets clients book appointments online.
Cash Binary
allows you to demonstrate your competence without ever seeming bland or boring, as
images and parallax effects animate the long scroll
.
Get a Custom Website Template at a Great Price
If you simply don't have the time to customize a theme or template, you can always turn to a professional designer with the experience to bring your vision to life. And if you don't want to break the bank in the process, you might want to consider
Fiverr
 – a platform where top-rated web designers create original websites for about the same price you'd pay for a ready-made theme
. Freelancers like
robertmawdsley
will design an elegant, modern one-page website for businesses or creatives and deliver it within three days. Clients love his work and responsive customer support – his reviews are all five-star. Even his basic package includes two rounds of revisions.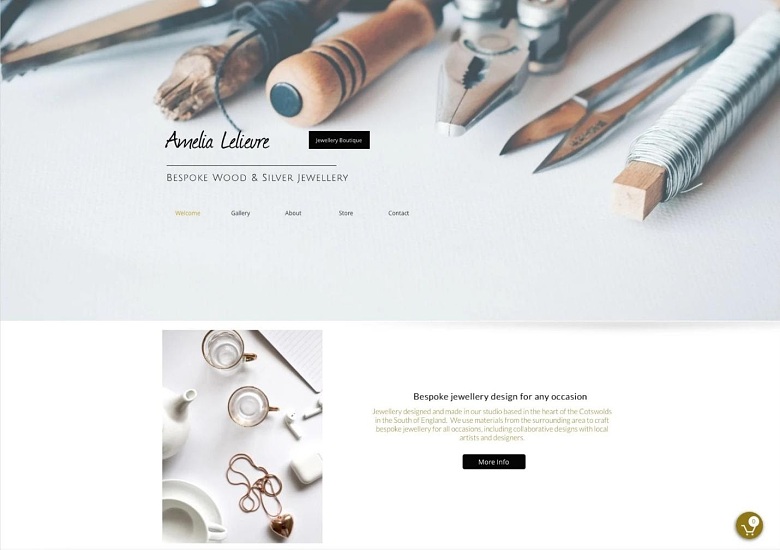 Similarly,
paulgillespie
will work with you to create an easy-to-navigate site designed specifically for your niche.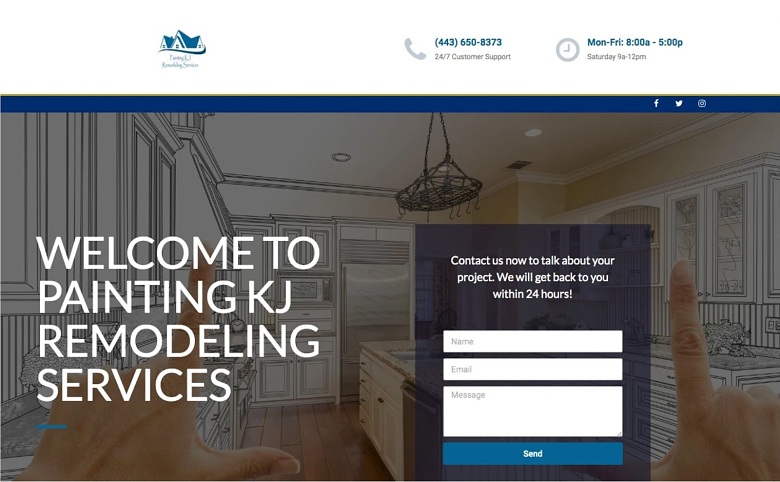 Keep It Simple – A Good Approach to Website Design
You can easily customize the best simple WordPress themes and website templates. Most of them include a drag-and-drop builder or visual editing tool, allowing you to preview your site's live appearance. That said, you also want
an eye-catching landing page and an uncluttered design
that invites users to explore and learn more. Simple templates should strip out unnecessary distractions so you can draw users' attention to what matters, whether that's your business services, creative work, online store products, or blog posts.
Your simple website will have some definite advantages.
It'll load faster, may be easier for search engines to crawl (leading to improved rankings), and will likely have higher levels of engagement. So, what are you waiting for? Pick a template and start building!
FAQ
Which simple website template is the best?
It depends on your website's needs. For example, Wix's Tech Conference Landing Page is a bold, stylish choice for high-profile events. For online stores that sell fashion and beauty items, the chic design of Adirondack from Squarespace projects a premium look and feel. Or, if you want to start a travel or eco-friendly blog, you can't go wrong with SITE123's Birds Explorer.
What is the easiest WordPress theme for beginners?
Divi from Elegant Themes is my favorite WordPress theme for beginners. It has an easy-to-use, drag-and-drop page builder, so you can see the changes you make to fonts, colors, images, and other design elements in real time. Divi also has dozens of layout packs that let you build either a multi-page or a one-page website. There's a bunch of tutorials to walk you through the creation process and 24/7 live chat or email support.
What are the best free website templates?
Wix has the best selection, with over 900 free website templates to choose from. Its template designs are distinctive, even within the same category, so you have the flexibility to create a unique website that reflects your personal brand. SITE123 also offers a good range of free website templates, though there are fewer to choose from and many templates have a similar look. But with most builders, you have to upgrade to a paid plan to connect a custom domain, and access premium features like e-commerce. For the best deals, head over to our coupon page.
Which website builder is best for small businesses?
It's a toss-up between Wix and Squarespace. Wix's selling point is its variety and flexibility: it offers tons of templates (even on the free plan), near-complete creative freedom, and the easiest, most intuitive page builder. Plus, it's got hundreds of apps and plugins to add functionality to your website. Squarespace, on the other hand, has the edge when it comes to e-commerce, making it a more natural choice for online stores and some small businesses. And though it doesn't have a free plan, Squarespace business and e-commerce plans are more affordable than Wix's equivalents. For more website builder options, see our review of the 10 best website builders in 2023.