If you're operating a restaurant, you know it can be a struggle. Up to 75% of restaurants fail in the first five years of business. That's why it's crucial that you establish a customer base as early as possible and provide your customers with value-added services they can't find everywhere else.
A restaurant website is a great tool in not only advertising your business but also generating orders and reservations. By using one of the best website builders to create your restaurant website, you allow customers to find your business, learn about your menu, and even order or make a reservation online.
Wix
You've seen the myriad of online and TV ads for Wix, but you may not know that it boasts a broad array of tools that will help you get your restaurant online. Its extensive library of templates features various restaurant templates that are mobile-optimized and include ShoutOut email marketing and Google Analytics.
Wix's App Market includes various tools helpful for restaurateurs, including:
Restaurant Social Bar
Online Business Card
Wix Restaurant Menus
Open for Business
What's better than restaurant templates and helpful apps? How about a full restaurant system? Wix offers Wix Restaurants, an all-in-one restaurant system where you can post your menu, take reservations and orders online, and even receive payments. For those looking for a complete pre-packaged setup, this is a great place to start.
If you want the full restaurant system, you have to go with Unlimited or VIP. If you just want to get your menu online, the Combo plan is best, as the Connect Domain plan doesn't allow you to take reservations, and it doesn't provide you with the Pro Menu Builder features of Wix Restaurants, either.
The only real downside to using Wix for restaurants is that you're confined to the designs and the modification options in the templates. Wix doesn't allow for deep editing of websites, whether by editing CSS or adding third-party apps and widgets. That said, Wix does not charge a commission for allowing you to accept orders online, saving you money over other websites.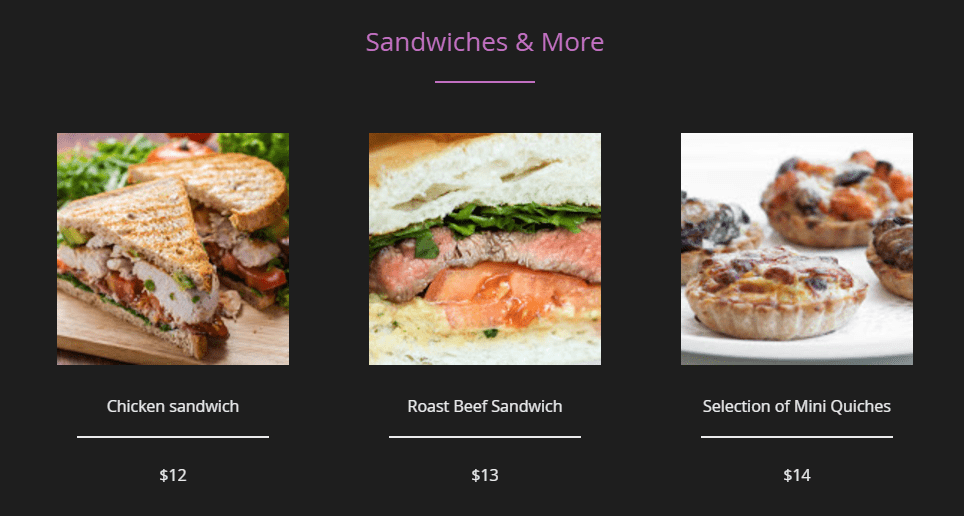 Site123
Site123 can also help you get your restaurant website built quickly and easily. Like Wix, it offers a selection of over 20 restaurant templates with loads of helpful features. Also, Site123 provides the following two standard features:
Restaurant Menu
Restaurant Reservations
Restaurant Menu allows you to put your full menu online along with operating hours and more. Site123 offers a full tutorial webpage that walks you through how to use it.
The Restaurant Reservation feature will allow your customers to make reservations and set their tableside. You can set up a grace period for reservations and offer the ability to confirm reservations automatically.
If you go with Site123, you have to use Premium to get the advantages of setting up a restaurant website. The main downside to Site123 is that it has fewer templates compared with other websites. However, the low pricing combined with the available features may make it perfect for those who need a web presence without breaking their budget.
WordPress.com
Of all the builders on this list, you'll have greater options for designing your restaurant website with WordPress. This platform offers the most extensive selection of free and premium templates of any web builder, period — not just on this list.
Also, WordPress has add-ons for most any type of feature you can imagine. Whether you want to post your menu, accept online orders, take reservations, or pay your bill online, WordPress has options for adding these features.
While you could go with the Premium plan, Business unlocks all features and allows you to install custom plug-ins and themes on your website.
The main downside to WordPress is that it isn't a drag-and-drop builder like the others on this list. There's a learning curve for beginners, but for those with web design experience or for those who don't mind learning more to help their business grow, this may be a good choice.
Weebly
Weebly offers you a simple solution for creating restaurant websites, and while I'd normally go through all the features including templates, instead I'll focus more on Weebly's available apps in their App Center.
The App Center offers multiple free and paid tools that you can use to create your restaurant. After selecting a restaurant template, you can search for apps that include the following:
OpenMenu
OpenMenu Deals
Menu
Restaurant System
Out of the apps on the website, if I had to pick one, I'd choose the Restaurant System. It offers all of the following features:
Create your online menu
Accept online reservations
Accept online order
The best part about this setup is that you get it with 0% commission (for the app). You may still incur a transaction fee through Weebly's payment system. However, if you go with the Business plan, you don't get a commission. Frankly, you could pay for a year of the business plan with just a couple of online orders.
The only downside to choosing Weebly is that it doesn't offer certain features such as customer logins or order history, so you really can't do things like automated loyalty programs. Otherwise, this is another reliable option for setting up a complete restaurant solution.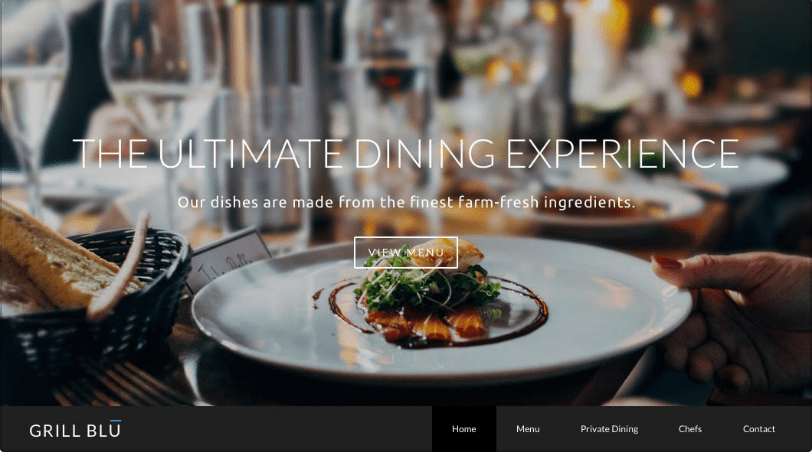 SimpleSite
SimpleSite is excellent at creating simple websites, but the downside to this is that it doesn't have the robustness of other providers. For instance, while SimpleSite does offer a couple of "restaurant templates," it doesn't provide the same advanced features as others website builders.
If you want to set up a menu, for example, you have to set it up manually like you would a blog post using simple tables or lists. Also, you don't have the options for taking orders or reservations online.
That said, you could feasibly use the E-commerce plan to make a restaurant website, and you could set up your products in menu style categories. It takes a bit more work, but technically you could set up for online ordering.
If you want to set up a webstore for your restaurant, choose the E-commerce plan, as it offers the features you'd need to get the store online.
In all honesty, out of the providers listed, SimpleSite is probably least suited to making a restaurant website. It lacks features that others on this list provide, and its templates are probably the least inspiring of the group.
Jimdo
Compared with most other website builders on this list, Jimdo offers the fewest features. You're not going to find automated restaurant tools or menu builders with Jimdo. What it does offer is a simple way to build your website with the ability to add your own tools.
One drawback to building with some of the other builders is that you don't have the option of embedding your own widgets or apps. By contrast, Jimdo allows you to embed your code and widgets using website design elements.
In addition to offering pre-configured templates, Jimdo provides a tutorial on how to build your own restaurant website, including how to add elements such as PDF menus and more. If you go with Jimdo, the Business plan is more than sufficient. If you need more help with SEO, then you may want to upgrade.
Jimdo is more suited for those who want to build a restaurant website but don't want to be confined to only the design elements of web builders like Wix or Weebly.
Make Your Restaurant a Success With an Awesome Restaurant Website
What's the key to running a successful restaurant? A steady stream of customers, of course. While providing a stunning menu is a great start, customers want a convenient dining experience, and that can start with a great website.
When you create a restaurant website using one of the website builders above, you make it easier for customers to find your business and whet their appetite with your complete menu. After you've gotten them hooked, seal the deal with either online reservations or online ordering. By making your restaurant accessible online, you'll make the dining experience more convenient for your customers, which in turn will turn them into happy regulars.