The website builders on this list are really free.
 I can guarantee that because I've thoroughly tested them all myself. So you don't have to worry about wasting time and energy putting together a website, only to discover that – oopsie! – there are actually a bunch of hidden fees you need to pay before you go live. In a couple of instances, these web builders offer extra features that some restaurant owners might think are worth paying for – but I'll be super upfront about it, so it's a "going-into-it-with-your-eyes-wide-open" kind of situation. Not that you
have
to pay anything by any means.
You can build a perfectly decent restaurant website with any one of these builders without having to shell out a penny
. Whether you want a simple site for your no-frills greasy spoon and or a few more bells and whistles for your swanky upmarket bistro, you'll find a good option on this list. That's because all of these builders come with most, if not all, of the features restaurant websites need – totally for free. Let's take a look.
Short on Time? These are the Best Free Website Builders for Restaurants in 2023:
Wix – Largest selection of fully customizable restaurant templates
Squarespace –Easy to use, elegant editor with a 14-day free trial and cheap plans
SITE123 – Super easy-to-use builder with a generous free plan
What We Look For in the Best Free Website Builders for Restaurants
Just because a website builder is free doesn't mean it should scrimp on features.
There are certain essential features that all restaurant websites need,
 like mobile-friendly templates and the ability to add menus. All the builders on this list offer these fundamentals. I also looked for some other key features:
Free really means free: If you're looking for a free website builder, you're not interested in free trials or hidden costs. You can build a functioning restaurant website with any one of these builders and never have to pay a dime.
Affordable add-ons: Alas, not every feature comes for free, and you may decide that there's a functionality your website just can't do without. These builders offer high-quality extras that won't break the bank.
Design flexibility: Your restaurant website should match your unique branding, so I looked at how much these builders let you personalize your website.
Ease of use: You're a restaurant owner, not a developer. These website builders all have little to speak of in the way of a learning curve – and you definitely don't need any coding experience! That means you can focus on what you do best: running your business.
Probably the most well-known option on this list, Wix offers loads of easy-to-use features that will help get your restaurant online. Of all of the website builders on this list, it also has the
most extensive library of templates
, offering more than 60 restaurant-specific, mobile-optimized themes, which are further divided into five subcategories:
Catering & Chef
Restaurant
Cafe & Bakery
Bar & Club
Food & Drinks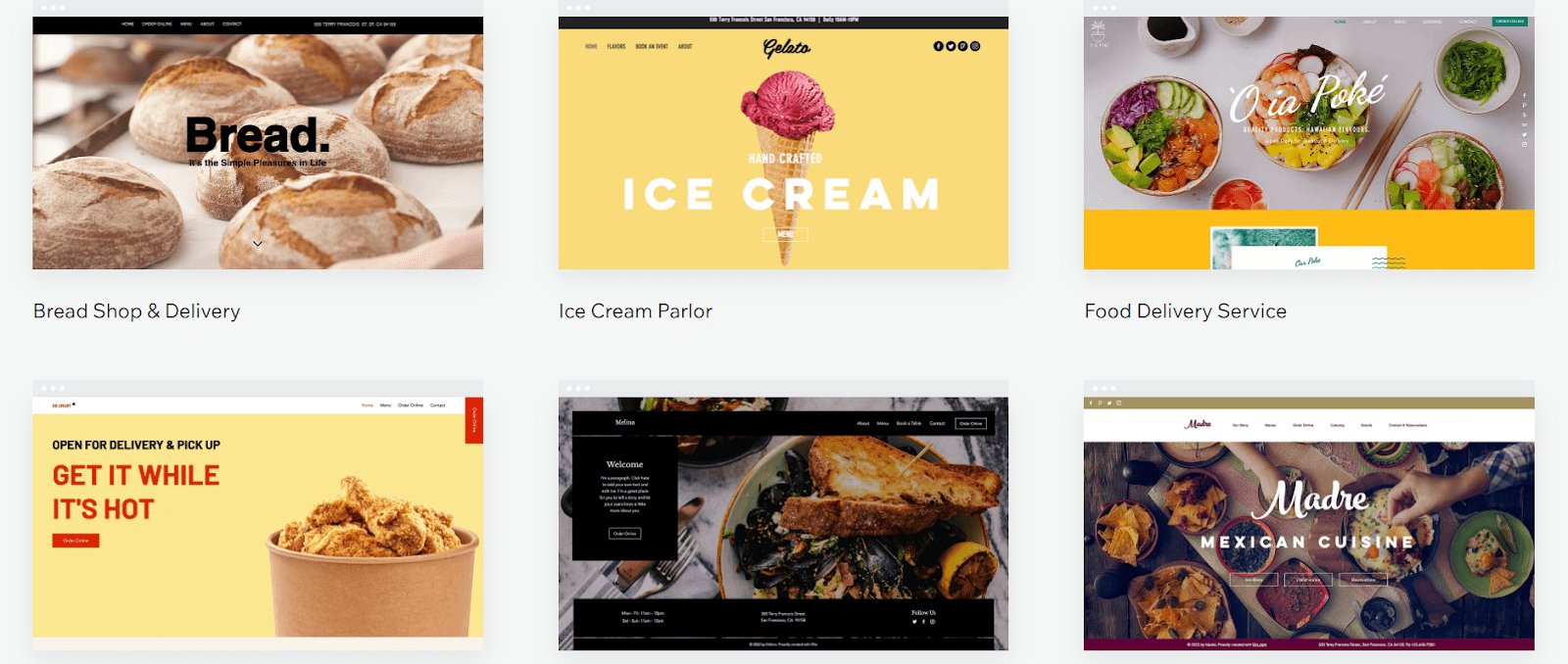 Not only are there options to suit all tastes, but
each one is also fully customizable.
 So, in the unlikely event you can't find one you like, you can personalize it pretty much any which way to make it just as unique as your business – and match your restaurant's branding.
The other
major feature is
Wix Restaurants,
a collection of add-ons with all the tools you need to manage your restaurant website.
Wix Restaurants dashboard
 lets you set up your restaurant. Just enter your restaurant's address and opening hours and start promoting it by offering discounts and coupons.
There are also three Wix apps you can use to get the most out of your online restaurants:
Wix Restaurants Menus App

 allows you to add an interactive menu to your website. You can create multiple menus (e.g. Breakfast, Lunch, Dinner), menu sections (e.g. Starters, Main Courses, Desserts), and dish options (e.g. Small, Large).
The other two apps are only available with a Wix premium plan. Upgrading gives you access to:
Wix Restaurants Orders App

, which lets you take phone and online orders and receive payments commission-free.

Wix Reservations App

, which allows guests to book tables at your restaurant.
The fact that Wix makes you pay for these useful tools is unfortunate – especially since some of the website builders on this list include them in their free plans. But, that being said,
not all website builders offer the same amount of power and flexibility as Wix
, so you may decide that upgrading to even one of the cheaper paid plans is worth it in the long run. Even without the online orders and reservations functionality, the Wix free plan has a couple of other great features:
Mobile-friendly websites – Wix automatically creates a mobile-friendly version of your website, which you can edit using the mobile editor. Important when so many of your customers are looking for their next bite to eat on their phones!
Wix Mobile App – This lets you manage your restaurant directly from your phone. For example, you can update your menu if items are out of stock, or respond to customer inquiries.
Suite of SEO tools – Get your website found with Wix's free SEO tools, including website analytics, performance reports, and a personalized step-by-step plan to help you rise in search results.
For a full list of features, check out our
in-depth Wix review
.
Number of templates for restaurants
60+
Restaurant menus, reservations, and food orders included with free plan?
Menus only
Customizability
Virtually unlimited customization options
Starting price of paid plans

$

16.00
Squarespace is second to none for stylish, minimalistic designs. Over 100-high quality templates and excellent design options make it the perfect choice if you're going for that "premium" look. 
You don't even have to choose a restaurant-specific template. The grid editor gives you plenty of customization options while retaining a well-structured layout. 
It's not as customizable as Wix, but that could be a good thing. The Squarespace editor makes it hard to create a truly bad-looking site, but it doesn't compromise on personalization options. This means that you can have a website that still screams "you" without screaming "don't eat here" or "I don't know what I'm doing."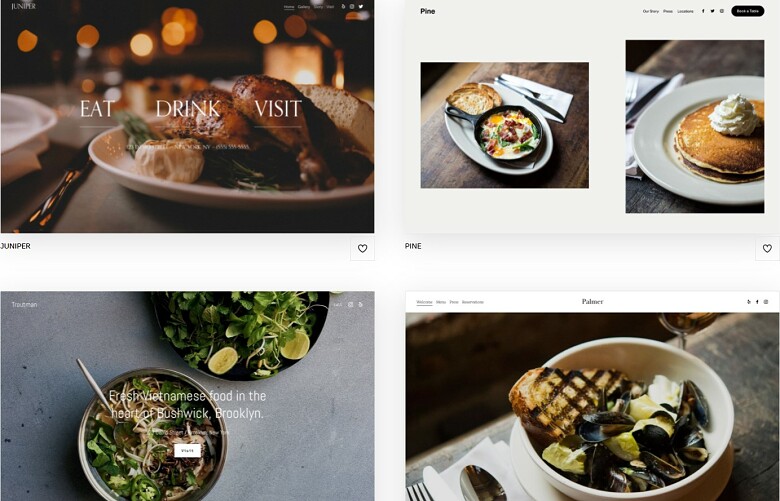 It's not all about the looks, though. Add a side of features like custom menus, booking integrations, and a point-of-sale system for your to-go orders, and Squarespace starts looking really appealing.  
It might not be free. But any plan comes with a 14-day free trial, and the personal plan is one of the cheapest ad-free, custom-domain plans on this list. 
Squarespace also offers features such as:
Integrated SEO – Squarespace offers SEO features to help you rank higher in search results from the start.
Mobile-responsive sites – Squarespace is fully mobile-responsive. That means that you don't have to edit twice to have a great-looking mobile site. 
Integrated marketing – Promote your restaurant online with everything from social media campaigns to a subscription program.
If you want to learn more, check out our Squarespace review.
Number of templates for restaurants
16
Restaurant menus, reservations, and food orders included with free plan?
Yes
Customizability
Amazing customization within a set structure.
Starting price of paid plans

$

16.00
If Wix is all about design and customizability, then SITE123 is about speed and simplicity. However, that's not to say it doesn't have anything else to offer. In fact, the SITE123 free plan comes with two standard features that should make restaurant owners sit up and listen:
restaurant menus AND reservations
. That's right! The free plan lets you put your full menu on your website and even upload photos to showcase each of your dishes. You can also access the restaurant reservation feature so your customers can reserve tables right from your website. This tool also lets you set reservation grace periods (how long you'll wait for late customers before canceling their reservations) and choose whether to confirm reservations automatically or manually.
So straightaway you're getting more with SITE123 than you would with the Wix free plan.
But as always, that comes with a tradeoff. If you're building a free website, SITE123 is pretty limited in some regards. 
For example, you only get six restaurant templates to choose from.
They're all mobile-responsive, but they also all look pretty similar, and there's not a lot you can do to change that.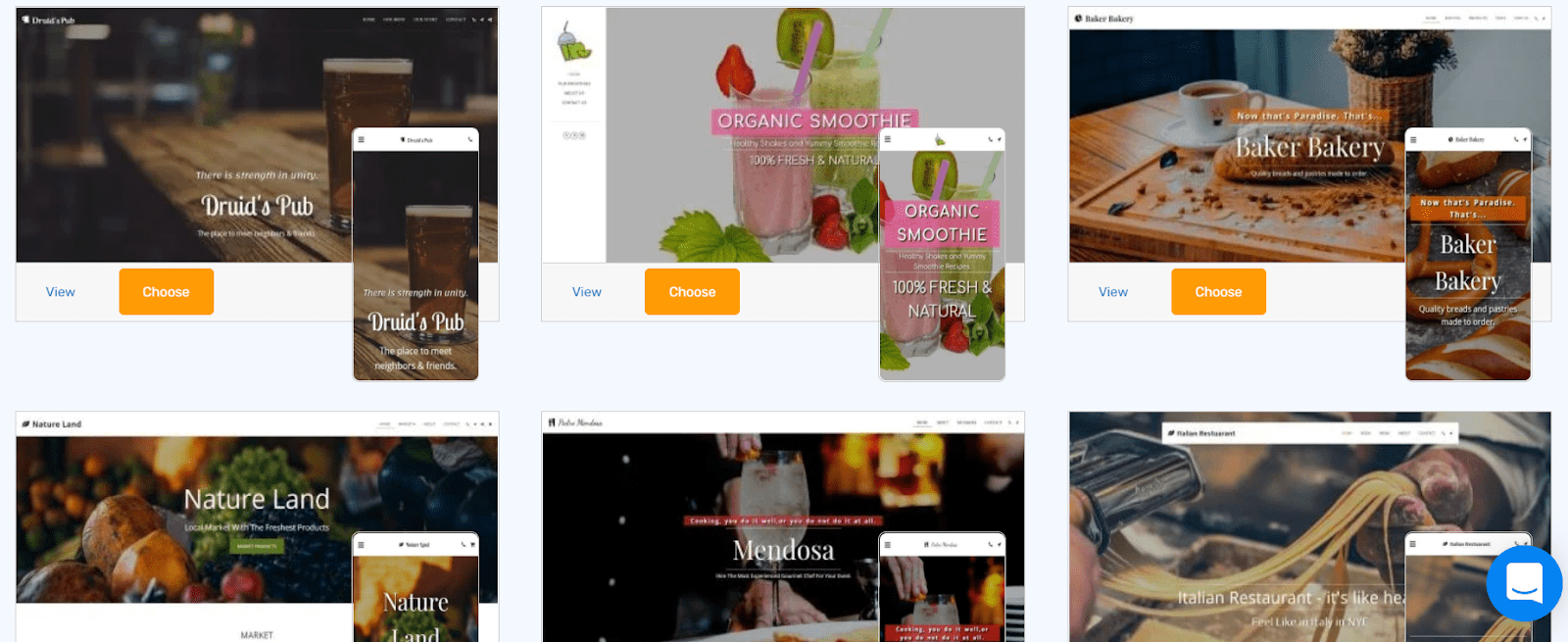 That's because
SITE123's major drawback is the lack of customization options available on the free plan
. You can only use templates in their most basic form, meaning you can only make limited changes to fonts, colors, and design elements. On the plus side, however, not having a bunch of options to fiddle with means setting up a website with SITE123 could not be quicker or easier.
If you do want to unlock more customization options, you need to upgrade to a paid plan.
Just keep in mind that
this won't give you access to any other restaurant-specific apps.
 If you wanted to be able to take food orders online, for example, you'd have to embed a third-party tool in your site (or link to it). Which isn't exactly ideal. SITE123 offers some other useful tools with its free plan, even if they aren't terribly robust:
Responsive web pages – All SITE123 layouts are responsive, so your site will look good on all kinds of devices.
Contact form builder – This data-collecting tool is super easy to use, so you can quickly build up a bank of email addresses for your marketing list.
SEO tools – SITE123's SEO tools really aren't bad: you can edit meta titles and meta tags, submit sitemaps, and more.
Unsure if SITE123 is right for you? Read our
full expert review
.
Number of templates for restaurants
6
Restaurant menus, reservations, and food orders included with free plan?
Menus and reservations only
Customizability
Very limited
Starting price of paid plans

$

12.80
Of all of the website builders on this list,
Square Online offers the most features with its free plan
 – you get menus, reservations, online ordering, and so much more. This is actually pretty – no, really – cool. Paying nothing to access pretty much all of a website builder's features is very rare. And Square Online's got a lot in the way of stuff for restaurant websites, including:
Pickup and delivery options
The ability to add service charges or offer discounts
Order scheduling – Let your customers place their pickup orders for a future date and time
Order staggering – Limit the number of orders you can accept in a set time period
Integration with on-demand delivery services – Have services like DoorDash or Postmates deliver your orders to customers, commission-free
Connect with other Square solutions – Including Square POS, Loyalty, Marketing, and Gift Cards
As with all the builders on this list, the free plan comes with Square Online ads in the footer of your website and your domain name will end in .
square.site
. You'll also only be able to accept payments through Square (perfectly understandable). The major caveat, though, is that
Square Online charges you transaction fees for food orders made on your site
–
so it's not, like,
free
free. You'll be looking at a fee of 2.9% + 30¢ per transaction. Of course, whether or not this is a good deal for you depends on how many orders you expect to take. Compared to what the competition is charging for the same features,
Square Online will be a much better deal for some smaller restaurants.
I must emphasize that Square Online ranks as perhaps the least intuitive website builder on this list. While testing, I found myself taking some time to grasp its functionalities because the immediate preview of my homepage, which is a standard expectation with website builders, was not readily available.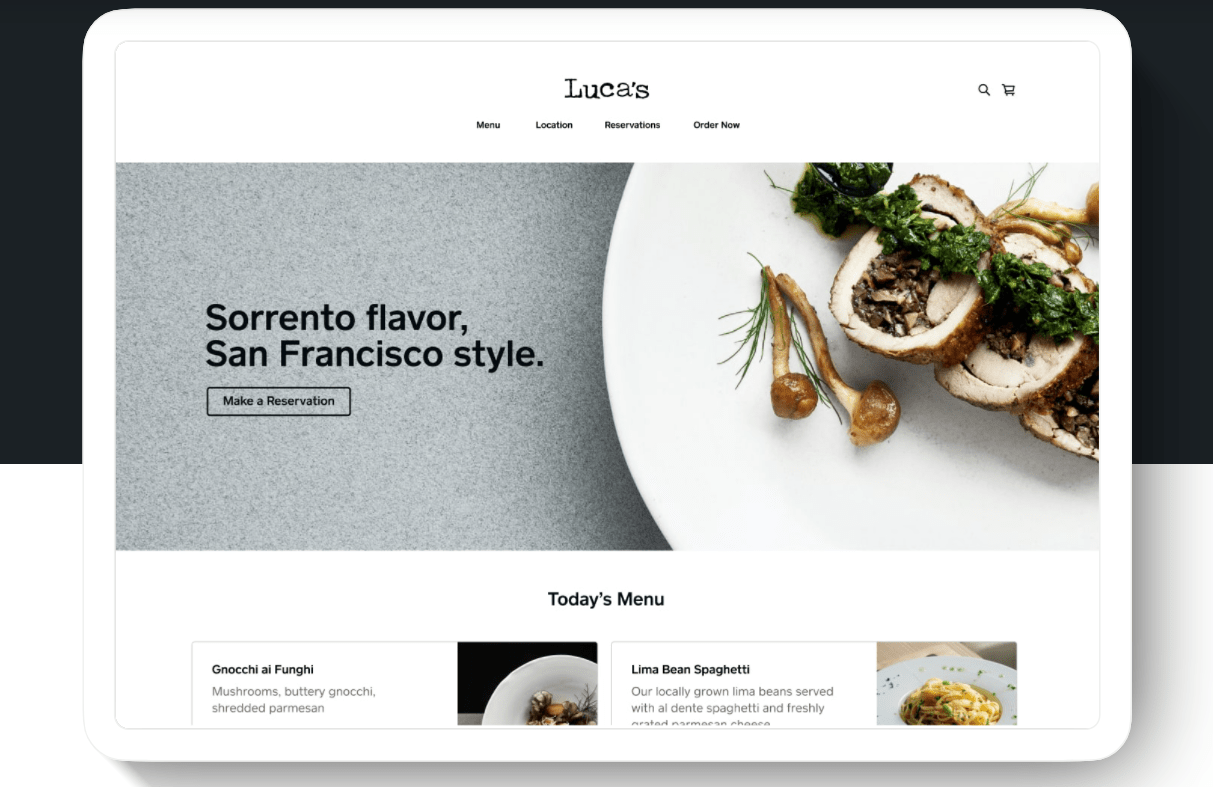 It also doesn't offer a lot in the way of design flexibility. There seems to be only one default template,
 which you can then customize with different colors, fonts, text sizes, and so on – but there's not really much to play around with in terms of layout. This means you can get your site up and running pretty fast – and on the plus side you can't really get the design
wrong
, if aesthetics aren't your forte. But this could quickly become frustrating if you wanted full creative control. Learn more about Square's features in our
expert review
.
Number of templates for restaurants
No dedicated restaurant templates, per se
Restaurant menus, reservations and food orders included with free plan?
Yes
Customizability
Relatively limited
Starting price of paid plans

$

12.00
Another website builder that offers
a free plan
well-suited to restaurant websites is Hostinger Website Builder, the new kid on the block. This budget-friendly option provides seven well-designed, if a little basic, mobile-friendly templates for restaurants.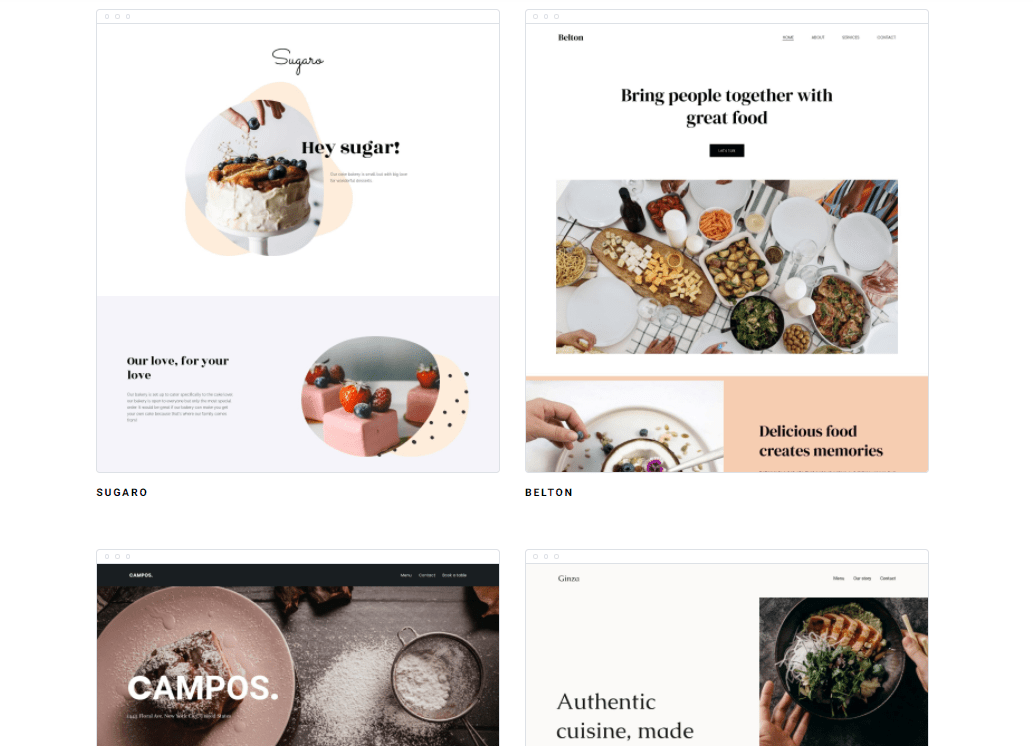 Hostinger Website Builder scores well on the ease-of-use front, pairing a grid-based-layout editor with a bunch of Artificial Intelligence (AI) tools that let you get your site up and running quickly.
Seriously, setting up your restaurant website couldn't be easier.
The Hostinger Website Builder offers a range of AI tools to assist with various tasks. These tools include a writer, a business name generator, a logo maker, and even a business slogan generator. While I personally have reservations about employing an AI copywriter for my website, if you're interested in using one, you now have a clear resource to consider. As ever, the downside to all this ease of use is that
your customization options are limited
. Once you've chosen your template, you can only change the colors, not the fonts. And there's no way of switching templates further down the line. Like many of the other builders on this list,
Hostinger includes a built-in website menu tool
 so your customers can check out your dishes online before strolling up to your restaurant. The free plan also lets you:
Add maps – The map integration lets you pinpoint your restaurant location.
Embed reviews – You can embed your restaurant's reviews on Google, TripAdvisor, and Yelp directly in your website.
SEO tools – Hostinger Website Builder also offers some basic SEO tools, including the ability to edit page titles, meta descriptions, and image alt texts.
Unfortunately, there's currently not any way to add widgets for restaurant reservations or online orders to your Hostinger website. Curious to find out more? We've got the lowdown on Hostinger in our
expert review
.
Number of templates for restaurants
7
Restaurant menus, reservations and food orders included with free plan?
Menus only
Customizability
Limited customization options
Starting price of paid plans

$

2.49
If you've heard of WordPress.com before, you probably know it comes with a pretty steep learning curve. Indeed, it's probably the least beginner-friendly option on this list. On top of this, the
WordPress.com free plan is probably the most limited of all the ones I've discussed so far.
But here's the reason why WordPress.com made it onto this list:
 if you're willing to dig a little deeper into the technical side of things, it's unmatched in terms of power and flexibility,
especially if you're willing to upgrade to one of the paid plans. Seriously, the world's your oyster. It doesn't have any themes specifically for restaurants, but you can cross-filter by "food" and "business" to bring up approximately 20 decent options.
If you filter out the paid (or "premium") themes, you end up with 11 that work for restaurants.
 They're not going to be winning any design awards anytime soon, but they're not bad. Most of them are mobile-responsive, too.

In terms of features, WordPress.com's free plan is pretty basic.
We're discussing only basic web hosting characteristics, an SSL certificate, and 3GB of storage. If you're after a straightforward website with few interaction possibilities and, perhaps, a PDF menu, this is totally okay, though a bit… uninspiring.
But when it comes to WordPress.com's paid plans, they offer a lot for not too much money
(especially when you compare them with other website builders). So if you're looking to build more of a fancy restaurant website, you might consider upgrading. From the "Business" plan upwards, you get access to plugins that allow you to:
Create interactive menus – With tools like FoodPress and WPPizza
Take restaurant reservations – With plugins like OpenTable
Display restaurant reviews – From review websites like Yelp
Learn more about WordPress.com in our
full review
.
Number of templates for restaurants
11
Restaurant menus, reservations and food orders included with free plan?
No
Customizability
Virtually unlimited, although some customization options are only available on premium plans
Starting price of paid plans

$

45.00
What Does a Restaurant Owner Look for in a Website?
So there you have it. Whatever you're looking for in a website builder, all the options in this article will enable you to build a high-quality, professional-looking website with zero to minimal financial outlay. But if you asked me to choose my favorite, I'd say this:
If you're looking for a free plan with all of the features and don't mind sacrificing a bit of creative control, I would say Square Online has the most to offer.
It's the only builder on this list that includes menus, reservations and orders in its free plan. You'll pay a small commission fee on online sales, but that will only become an issue if you're taking in a high volume of food orders. On the other hand
, if you really care about customization and creating a specific look of your website but are OK staying with basic functionality for now, I think
Wix comes out the winner
. You always have the option of upgrading your plan at some point in the future to add more features like online reservations and orders.
Finally, if you're looking for a truly professional option to attract more customers, and you don't mind paying a little bit to get it, Squarespace is the way to go.
Builder
Stand-out Features
Wix

60 fully customizable restaurant-specific templates
Manage all restaurant functions in one place with the Wix Restaurant Apps

Squarespace

Over 100 award-winning templates
Amazing integrated SEO tools

SITE123

Simple and easy-to-use builder
Option to choose between automatic or manual reservation confirmations

Square Online

Restaurant menus, reservations, and online food orders all included in the free plan
Integration with on-demand delivery services

Hostinger Website Builder

Suite of AI tools to make website building easier than ever
Embed your restaurant's reviews from Google, TripAdvisor and Yelp

WordPress.com

Plenty of customization options
Virtually unlimited third-party plugins to add extra features (Business & eCommerce plans only)
FAQ
How much does it cost to make a website for a restaurant?
It's perfectly possible to build a professional-looking restaurant website for free. With Square Online's free plan this is complete with tools like interactive menus, table reservations, and online food ordering. However, most website builders reserve some of the more advanced restaurant features for premium users – and upgrading is the only way you can get rid of advertising on your website. If you do decide to upgrade, make sure you check out our coupons page to take advantage of the best deals.
Is Wix actually free?
Yes. Wix has a forever-free plan that comes with a number of features, including up to 500MB of storage and bandwidth, customer support, and access to the Wix App Market. However, your free Wix website will display Wix advertising and you won't be able to use a custom domain name. Many people choose to upgrade to one of the Wix premium plans to remove Wix branding and get access to some of the builder's more advanced features. If that's what you decide to do, make sure you check for any Wix discounts first.
Does Google have a free website builder?
Google offers a free website builder called Google Sites. It's extremely simple to use – you just upload the information you want to appear on your website, like photos, posts, menus, services, and your business's story, and Google will generate a site for you that you can edit as you like. Read our in-depth review of Google Sites for more info. Curious about other website builder options? Check out our picks for the best website builders in 2023.
How can I design a menu for my restaurant?
Designing a menu for your restaurant can be as simple as drawing up a Word document and adding a few pieces of clip art – not that we recommend you do that! Many restaurateurs overlook how important menu design can be. There are lots of online menu makers with templates that can get you started. However, if you want to put your best foot forward and reel in potential customers with an attractive, eye-catching design, you might consider hiring a designer. If you're not sure where to look, try heading over to Fiverr, a platform that matches top-quality freelancers with businesses.