right now
, and you don't want to waste any more energy looking for a host. I get it. That's why I tested the most popular podcast hosts so you don't have to. Following months of research, I have to say that there are many disappointing providers out there.
Some have plans that lack essential features, while others are outrageously expensive.
I've only included podcast hosts with generous plans, solid performance, and a simple interface that anyone can use.
Plus, these podcast hosts are trustworthy
.
None of them will suddenly suspend your podcast if you happen to get a lot of traffic. Nor will they hike their prices as soon as you get a taste of success.
Short on Time? These Are the Best Podcast Hosts in 2023:
Captivate – Generous entry-level plan with gorgeous podcast players, private podcasting, and growth-oriented tools
Transistor – Simple dashboard and in-depth analytics, ideal for hosting multiple shows on the same account
Castos – Unlimited podcast hosting with built-in transcriptions, YouTube republishing, and editing add-ons
What Is Podcast Hosting and How Is It Different From Web Hosting?
Website hosting, and especially shared hosting, is designed to store databases, plain-text files, and some media files like images and video – basically the type of files you'd need to run a website.
Podcast audio files can be very large, and most web hosts don't provide the storage space or bandwidth to handle more than a few episodes.
When you use too much bandwidth on a shared hosting plan, this affects the performance of other websites hosted on the same server. A lot of people streaming or downloading your podcast will probably take up a ton of bandwidth,
so your host will likely throttle your site's bandwidth to compensate – or they might just shut your site down entirely.
Even plans that claim to offer "unlimited" resources always come with limits. You'll need to check each provider's Terms of Service to find out what these actually are, but make no mistake: they are there. That's why you need specialized podcast (or media) hosting. These services are slightly more expensive, but
they give you all the storage space and bandwidth you need to distribute your content reliably.
They also ensure that your podcasts can be downloaded quickly, so your listeners don't have to wait around while your episode buffers.
What We Look For in the Best Podcast Hosts
When I researched and tested dozens of podcast hosts to find the most reliable services, these were my priorities:
Generous plans. Most hosts let you upload as many episodes as you like but limit your monthly downloads. I looked for providers that offer plenty of downloads even on the entry-level plans, so you won't have to upgrade until you get some serious traffic.
Reliable performance. Have no doubt about it: trying to listen to a podcast that is constantly buffering or takes a long time to download can be seriously frustrating. That's why I've only included hosts you can count on to deliver a smooth listening experience.
Ease of use. Most of these podcast hosts have user-friendly interfaces with step-by-step instructions for set-up, making them easy to use even if you have no previous experience with web hosting.
Built-in analytics and marketing tools. All of the hosts on my list offer detailed statistics on audience demographics, and many provide simple tools you can use to promote your podcast on social media and other platforms.
Monetization. From traditional ads to affiliate marketing, and simple donations to premium subscription-based content , these hosts will help you set everything up. Some will charge you for it, while others will do it for free.
Website integration. You need a website to promote, archive, and monetize your podcast. I looked for hosts that will help you build one, or at least give you an easy way to integrate your podcast into an existing WordPress site.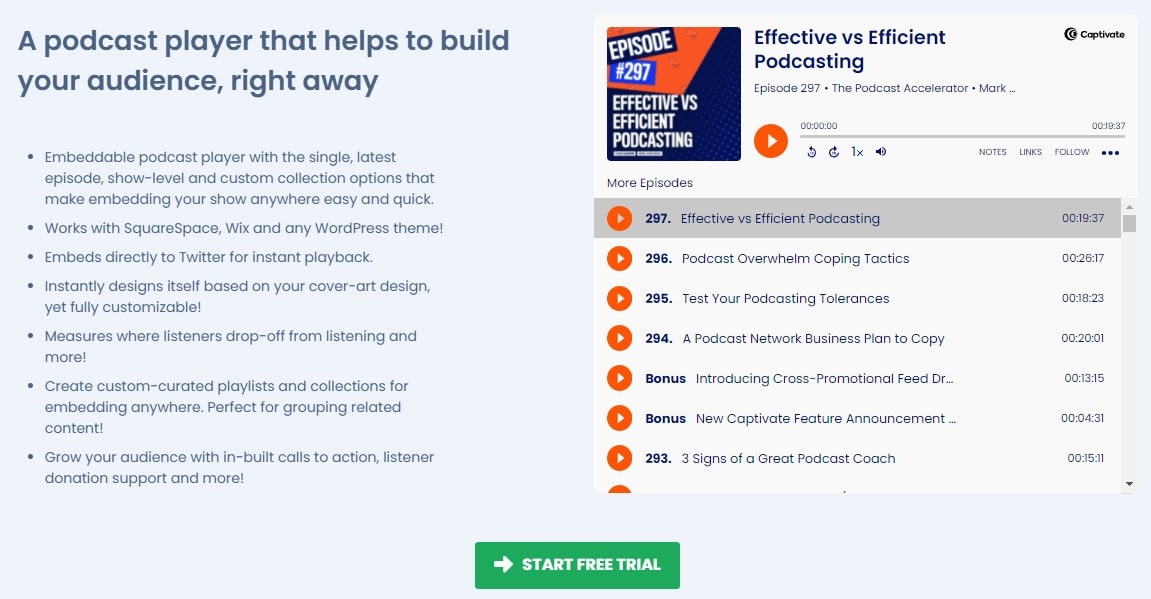 Captivate is affordable, easy to use, and lives up to its promise to put growth first
. You can submit your show to all major podcast directories straight from the dashboard, and Captivate automatically generates buttons on your website to send listeners to these platforms. It's just as easy to share episodes on Facebook and Twitter.
The dashboard is intuitive and easy to navigate, and there's a brief tutorial on every screen.
If you're a beginner, this is a great way to learn your way around. Signing up is straightforward, and so is uploading new content. Even as a seasoned podcaster, there are lots of things to love about Captivate. For starters,
this host doesn't alter your media files in any way, so if you want to encode your episodes at a high bitrate for crisp audio, you can.
Private podcasting is also available on all plans
, so you can easily monetize your show by offering premium content to subscribers.
Features:
A generous entry-level plan. The entry-level Podcaster plan comes with 12,000 downloads per month, which gives you plenty of room to build your audience. You can upload an unlimited number of episodes, and you have access to all of the host's features without having to upgrade to a more expensive plan.
Superb players. Captivate's podcast players are beautifully designed to match your cover art. The players are fully responsive, and they're equipped with sharing buttons, play speed settings, and other useful tools.
One-click sponsor pitch. This is a unique feature that comes with Captivate's analytics dashboard. You can use it to automatically generate a neat PDF pitch for sponsors, which includes important analytics and details about your podcast.
Responsive website. If you already have a WordPress website, you can use the Captivate Sync plugin to easily embed your podcast. Otherwise, you can rely on Captivate's simple builder to create a nice-looking, responsive, and fully customizable website for your podcast.
Storage space

Unlimited

Downloads (per month)

12,000 – 150,000

Marketing tools

Stylish website, detailed analytics, sponsor pitch, automatic share links and buttons

Private podcasting

Yes

(on all plans)

Starting price
$17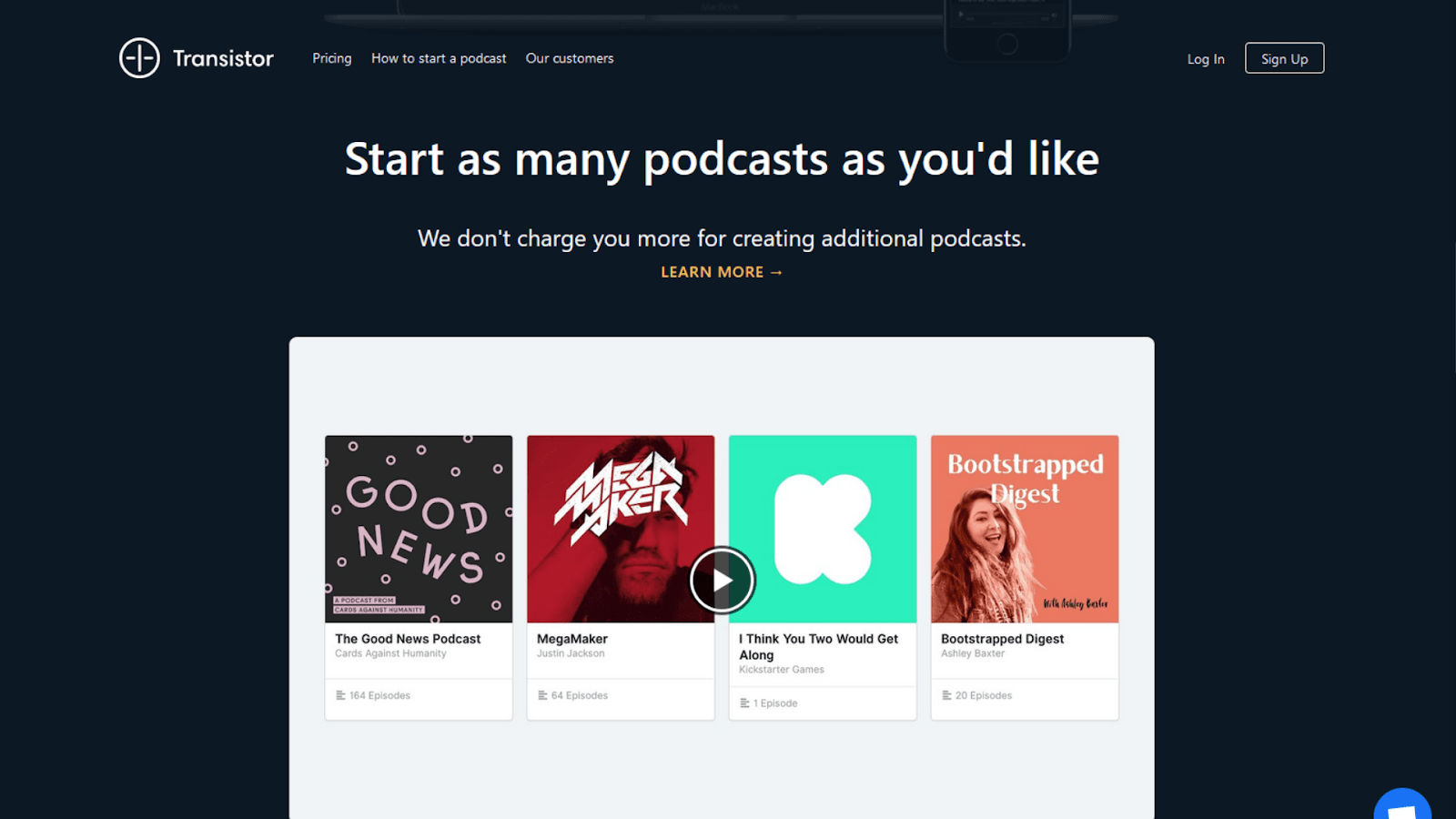 If you want to host more than one RSS feed, most podcast hosting services will charge you extra. Not Transistor, though.
Transistor lets you create as many podcasts as you want, so long as you don't exceed the monthly downloads cap.
The cheapest plan includes unlimited upload and storage
, 15,000 monthly downloads, and a basic podcast website.
Transistor's dashboard is clean and minimalist, so you're not overwhelmed with options that you don't need right away.
There's no built-in tutorial, but Transistor does have an extensive knowledge base with tons of useful guides. Plus, if you get stuck, you can use the live chat feature to contact support.
You can easily embed Transistor's podcast players into any existing website.
There are three types of players: multi-episode, most recent episode, and single episode. Their design is a bit simple, but all the essential elements are there, including a speed setting, a share button, and the option to subscribe.
Features:
Built-in private podcasting. Private podcasting lets you set up a separate feed for subscribers and is available on the Professional and Business plans. You can use it either to monetize your show, or to distribute content to employees or students.
Detailed analytics. Transistor provides useful statistics on the number of downloads for each episode, an estimated total number of subscribers (across multiple platforms), your listeners' preferred player apps, your listeners' locations, and more.
Great email features. Transistor integrates with popular email marketing services like MailChimp, making it easier to stay in touch with your audience. For example, you can set up an automated email campaign to notify your subscribers about new episodes (and send them the RSS feed).
One-click distribution. Submitting your podcast to Spotify Podcasts, Apple Podcasts, Google Podcasts, and other major podcast directories is quick and simple. Once you've set it up, all new episodes are automatically distributed.
Storage space

Unlimited

Downloads 

15,000 – 200,000

Marketing tools

Basic website, extensive analytics, built-in newsletter features, share links

Private podcasting

Yes

(on certain plans)

Starting price
$19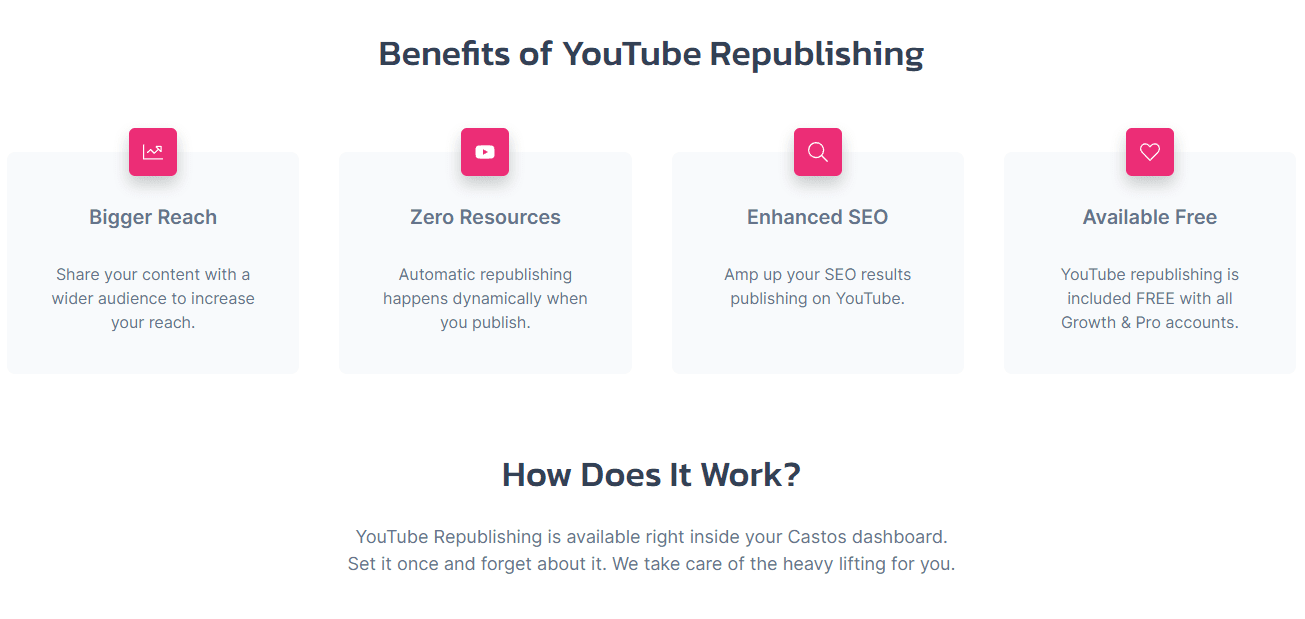 Castos is one of the few podcast hosting services to offer
truly unlimited podcast hosting
.
You can start multiple shows, upload as many episodes as you want, and there's no cap on monthly downloads.
If you already have a website and just want an easy way to embed a podcast player, Castos' WordPress integration plugin (Seriously Simple Podcasting) is… seriously easy to use.
Once the plugin is installed, you can add, remove, or schedule episodes directly from within WordPress.
That said, some features are locked behind the more expensive plans. For example,
Castos has a tool that lets you automatically republish your podcasts on YouTube.
Castos will convert your audio file to a video file with your cover art in the background, then post the video to your YouTube account. But to gain access to this service, you have to upgrade to the Growth or Pro plan.
Features:
Video podcast hosting. If you want to host a video podcast, Castos' Pro plan includes video file hosting. It also comes with advanced analytics about your listeners and subscribers. The plan only supports 500 subscribers though, so you'll have to contact support if your show really takes off.
Untouched media files. Castos makes no changes to your media files, ever. What you upload is what your listeners will download, including the original bitrate, title, and meta description.
Automatic transcriptions. For an extra fee, Castos will create transcripts of your podcasts and publish them alongside each episode. This can boost your SEO and increase the accessibility of your show.
Podcast editing. If you're not sure how to go from raw recordings to polished episodes, you can pay Castos to help. The entry-level audio editing plan includes intro/outro music and effects, audio engineering, and the trimming of filler content.
Storage space

Unlimited

Downloads 

Unlimited

Marketing tools

Basic webpage, extensive analytics on certain plans, automatic republishing to other platforms

Private podcasting

Yes

(on all plans)

Starting price
$19
Podbean's Unlimited Audio plan is the cheapest option on my list, and it lets you host a single podcast with unlimited uploads and bandwidth.
It also includes all the basic features you'd expect from a decent podcast host: neat, embeddable players, in-depth analytics, and a basic podcast site. But what I really like about Podbean is its live streaming feature.
Using the Podbean app, you can set up live podcasts (with up to four other streamers) and engage with your audience in real-time.
Listeners can send you questions, or even call in to the show as long as they use the app. Once the live stream is over, you can post the audio right away or download it for editing. The one thing I don't like about Podbean is that you can't set up subscription-based content if you're on the entry-level plan. Instead,
monetization tools focus primarily on ads, which might not be the best approach for a new podcast.
Features:
Podbean mobile app. The app works similarly to Apple Podcasts and Spotify, but is limited to podcasts published with Podbean. Listeners who use the app can easily follow your channel, buy premium content, or subscribe (if you're on the right plan). You can also use it to record and upload content.
Patron program. This is Podbean's built-in version of Patreon, and it allows listeners to support your channel by setting up recurring donations. However, you can only access the program if you opt for the Unlimited Plus or Business plan.
Auto-sharing on social media. To save you time, Podbean can automatically post your new episodes on social media. You just have to turn on auto-sharing and point Podbean to the right social media channels.
Customizable web page. If you don't have a website, you can use Podbean's web page editor to create a basic home page. Compared to what other hosts offer, there are tons of themes available, but you can't add multiple pages or a blog.
Storage space

Unlimited

Downloads 

Unlimited

Marketing tools

Basic webpage, detailed analytics, social media auto-sharing

Private podcasting

Yes

(on certain plans)

Starting price
$0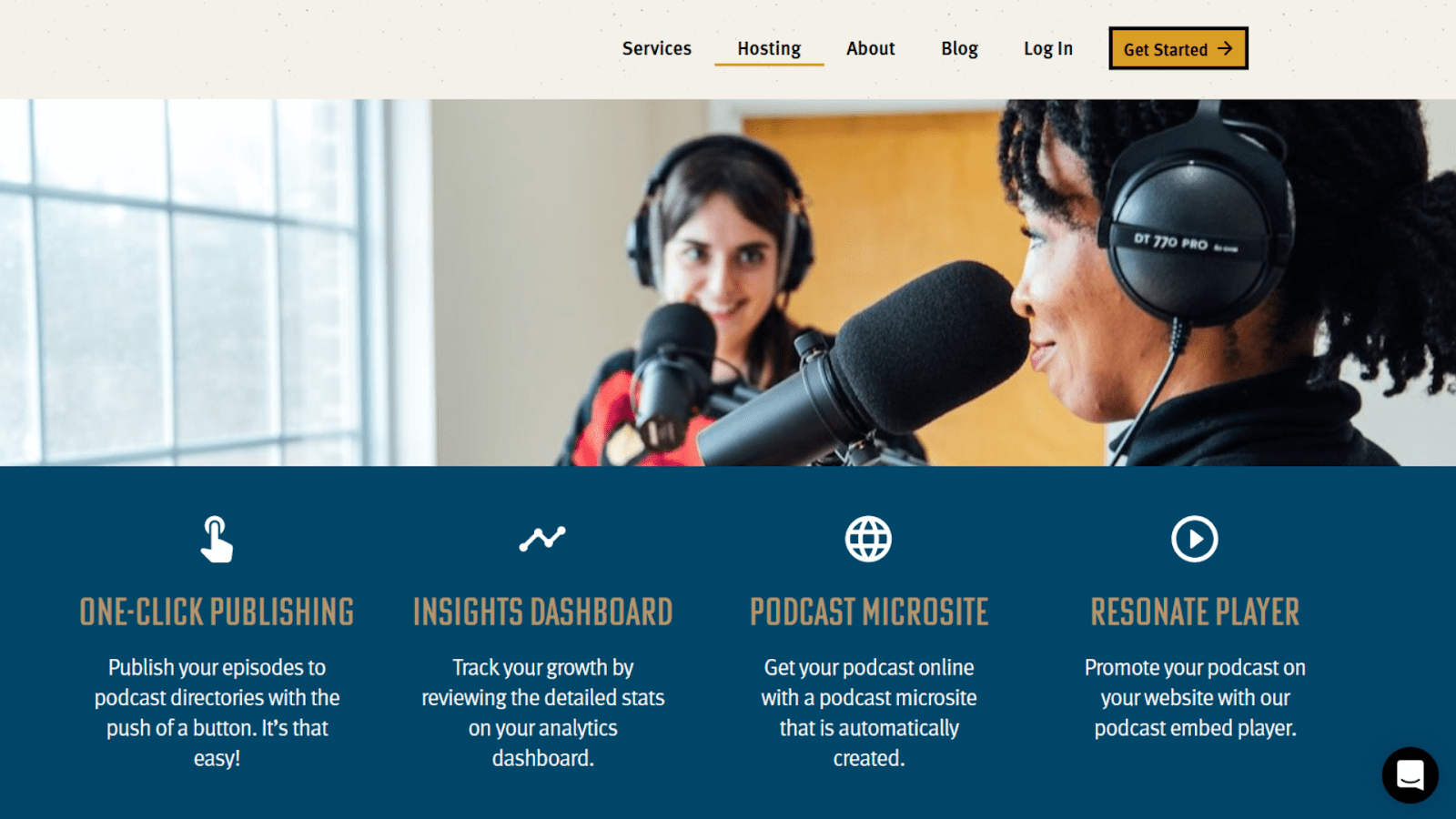 If you're looking for the easiest way to start podcasting, this is it.
Resonate Recordings does all the heavy lifting for you,
from launching your show to post-production and hosting.
That said, everything costs extra, so get ready to splurge if you want the complete service.
Resonate Recordings has three reasonably priced podcast hosting plans with unlimited bandwidth and almost all the basic features you'll need.
For example, the entry-level plan lets you upload an unlimited number of episodes, and comes with an embeddable player, as well as detailed analytics. The one thing that's missing from the low-tier plan is a website, which is only included in the more expensive Premium and Professional subscriptions.
If you opt for Resonate's Basic plan, you'll have to create your own site and embed the Resonate player for your listeners.
Features:
Podcast launch services. Depending on how much you're willing to pay, Resonate will create your music and website for you, set up your hosting, produce a great trailer episode, and distribute your podcast to popular directories.
Audio and video production. Resonate Recordings offers a broad range of production services for your podcast, including audio mixing, noise reduction, ID3 tagging, and professional editing. It's not cheap – especially if you include video – but, if you can afford it, this kind of editing can really help your podcast stand out.
User engagement stats. One unique feature of Resonate's podcast player is that it tracks some of your listeners' behaviors while playing an episode. Actions like play, pause, or scrub are logged and processed into neat stats to help you understand how your listeners engage with your content.
Turnkey marketing strategies. To help you promote your content, Resonate can create SEO-friendly show notes, transcriptions, social media audiograms, and more. Again, this is a fairly expensive add-on service, but can help you market your podcast.
Storage space

Unlimited

Downloads 

Unlimited

Marketing tools

Social media audiograms (paid), microsite (on certain plans), detailed analytics

Private podcasting

Yes

(on all plans)

Starting price
$25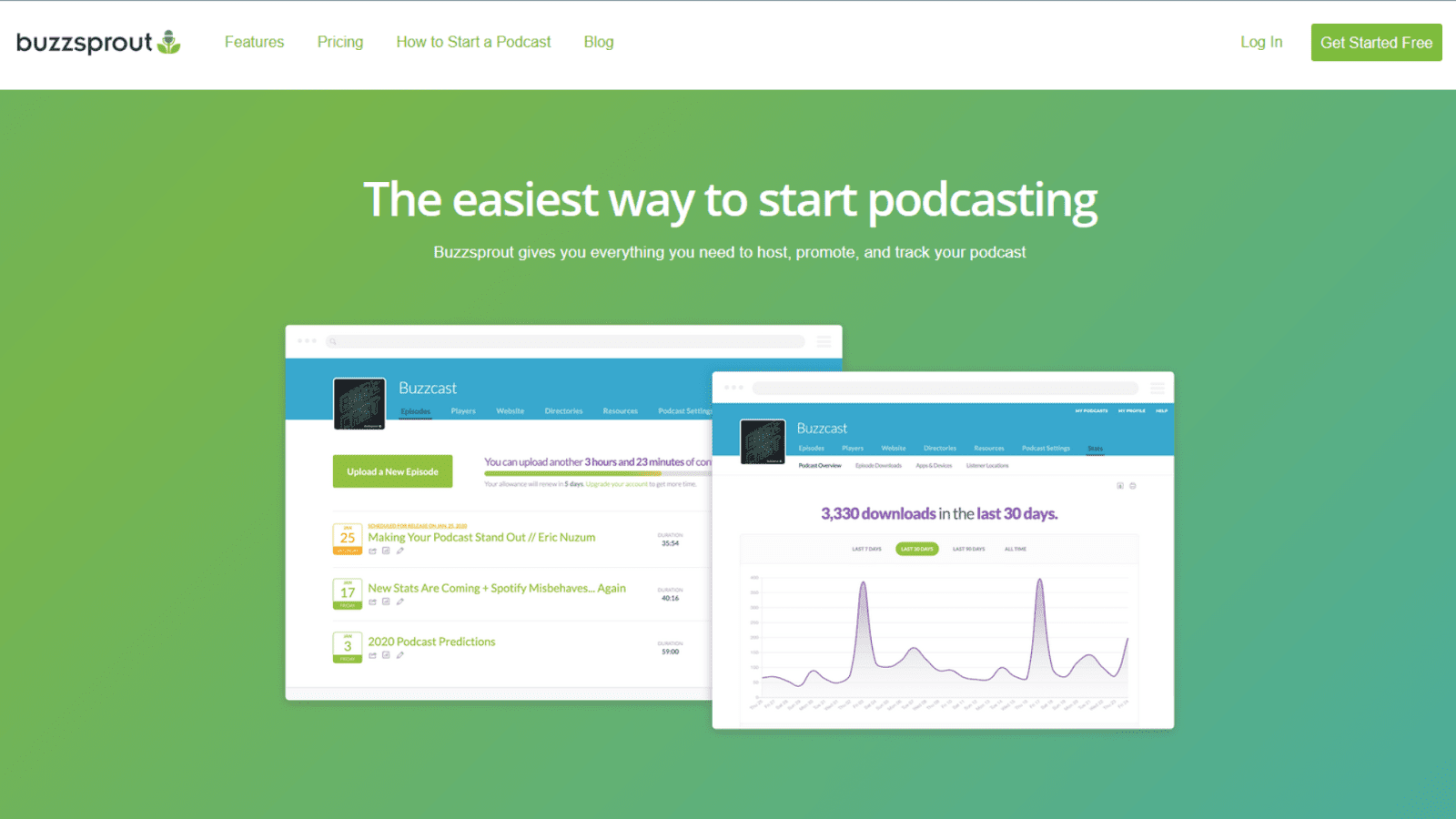 Buzzsprout is super popular, and there are certainly things to like about it.
The host is built with beginners in mind, so it's very easy to start a podcast using its platform.
There are guidelines to help you through every step of the sign-up process, and uploading your first video to YouTube is just as easy. However, Buzzsprout makes a few important compromises for the sake of simplicity. For example,
it changes your media files to a standard format and automatically adds ID3 tags.
This is great for beginners, but if you're an experienced podcaster and you want to encode your audio at a high bitrate,
you have to pay extra for Buzzsprout to leave your files unchanged.
It's also worth noting that Buzzsprout's pricing works a little differently compared to other hosts on this list. For instance,
the entry-level paid plan
 includes unlimited downloads but only three hours of audio per month,
so if you plan to have multiple episodes per month, this plan probably isn't for you
.
There's no built-in private podcasting, so
you'll have to rely on ads and affiliate marketing to monetize your show.
Features:
Audio mastering. For a small monthly fee, you can use Buzzsprout's automated Magic Mastering tool to give your sound a professional finish. The edits follow the industry best practices for both spoken word and music productions.
Video soundbites. Select the cover art and up to 60 seconds of an episode to automatically create an attractive trailer you can share on social media.
Chapter markers. These are built into the Buzzsprout player, so your listeners can pick their favorite parts of each episode. The markers are also a great way to show listeners what they can expect from every show.
Unlimited team members. You can add as many collaborators as you want to your podcast. Each team member gets their own account and login details.
Storage space

3 to 12 hours

(audio recording)

Downloads 

Unlimited

Marketing tools

Basic website, video soundbites, detailed analytics

Private podcasting

No

Starting price
$6
Which Podcast Host Should You Pick for Your Show?
All of the hosts on this list offer generous plans, are easy to use, and will provide detailed analytics. But the right podcast host for you depends on your needs.
If you're just starting out with your first podcast, Captivate is your best bet.
It's affordable, super easy to use, and has an entry-level plan with all the features you'll need to host and grow your podcast. You don't have to pay more to unlock essential tools, so you can establish a stable following before you upgrade to a more expensive plan.
If you want to host multiple podcasts from the same account, go with Transistor.
It's the cheapest way to manage several shows, and it has some of the best analytics in the industry. The built-in private podcasting tools are a nice bonus. Or, if you need help with editing your podcast and your budget is flexible, consider either Castos or Resonate Recordings.
Castos is more affordable overall
and integrates easily with WordPress, while
Resonate Recordings offers a wider range of premium services
for launching and promoting your podcast.
| | | | | | |
| --- | --- | --- | --- | --- | --- |
| | Standout Features | Unlimited downloads | Free Trial | Starting Price | |
| Captivate | Beautiful podcast players, lots of growth-oriented tools | ✘ | 7 Days | $17 | |
| Transistor | Unlimited podcasts per account, in-depth analytics | ✘ | 14 Days | $19 | |
| Castos | Fantastic WordPress plugin, YouTube republishing tool | ✔ | 14 Days | $19 | |
| Podbean | Cheap entry-level plan, live streaming | ✔ | 7 Days on free plan | $0 | |
| Resonate Recordings | Complete podcast editing and hosting services | ✔ | 14 Days | $25 | |
| Buzzsprout | Super easy to use, video soundbites for social sharing | ✔ | Free plan for 90 days | $6 | |
FAQ
What is the best podcast hosting site?
There are a few great options out there, so the answer depends on your specific needs. Captivate has the best entry-level podcast hosting plan, with unlimited storage and a generous number of downloads per month. It's also very easy to use and comes with beautifully designed, embeddable players. If you want to host multiple shows on the same account, I'd go with Transistor. The dashboard and players are more minimalist, but you get extensive analytics to track your podcast's progress, and you can set up private broadcasts for your subscribers. Or, if you want help editing your podcast, check out Castos. It's one of the most affordable podcast production services, and integrates easily with your WordPress site. If you don't have a host for your WordPress site yet, you'll find lots of affordable options on our list of the best web hosting services in 2023.
Where can I host a podcast for free?
Most of the top-rated podcast hosting services have free trials. These are a great way to get to know a platform before you need to upgrade. Captivate, for example, has a seven-day trial that you can use to test the service risk-free. Podbean and Buzzsprout have free plans, but these can be pretty restrictive. With Podbean, for instance, you can only store five hours of audio recording at a time, and your monthly bandwidth is capped at 100GB. That said, if your podcast takes off, you can always upgrade to a paid subscription.
Which is better, Podbean or Buzzsprout?
Personally, I prefer Podbean. Buzzsprout is super easy to use, but it converts all uploaded files to a standard format, so you can't use a higher bitrate for high-quality audio. The entry-level plan lets you upload no more than three hours of audio per month, and there's no built-in private podcasting for subscribers. Podbean is just as easy to use, but gives you unlimited upload, storage, and bandwidth, even on the cheapest plan. The host doesn't change your audio files in any way, and it has a great Patron system for subscribers.
Can I host my podcast on my website?
Not really. Podcasts are very large files, so your web host will likely suspend or ban your account if you try to upload them to your website. When your listeners download your content, you'll also be using up a ton of bandwidth, which would eventually cause your website to crash. What you can do is to store your audio files on a specialized podcast hosting platform and embed a podcast player into your website. Lots of podcast hosts, including Castos, Captivate and Transistor, have superb players that you can easily embed into WordPress sites. Castos also offers an easy-to-use plugin that lets you manage your podcast hosting from within your WordPress dashboard. To set this up, you'll also need web hosting. But don't worry – you'll find lots of affordable options by checking out our coupon page.